Durable and modern are two words that best describe the American Standard bathtubs. American Standard is not just a brand known for luxurious bathtubs, the brand also has a wide range of simple bathtub options for those who prefer a minimalist bathroom space.
Let's take a closer at these 9 favorites!
9 Most Favorite American Standard Tubs Review.
1.  American Standard Princeton Left Drain Rectangular Alcove Bathtub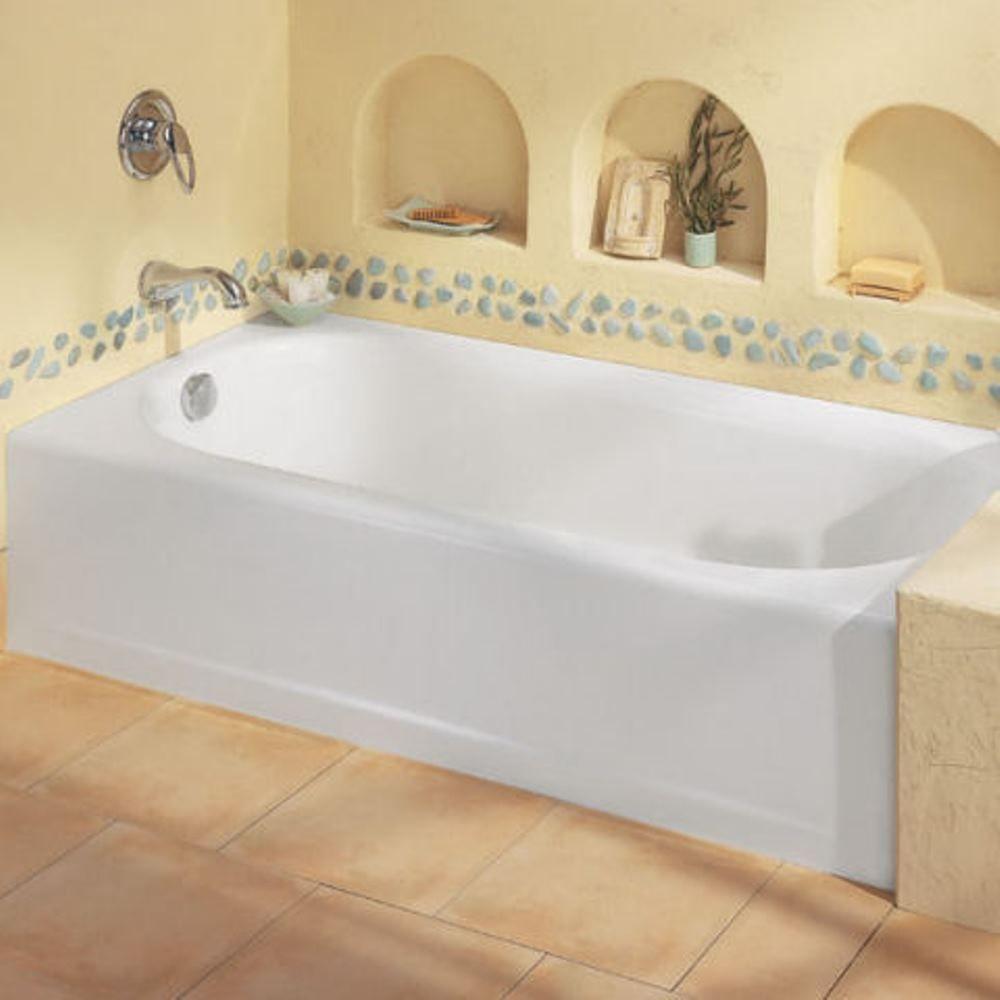 The American Standard Princeton 5 feet tub is a left drain rectangular bathtub that you can install at a recess in the wall. This one has a white finish, which is a standard color for a minimalist bathroom.
In addition, this can hold up to 42 gallons of water.
Best Features:
A durable bathtub made from high-quality Americast material
You can easily install this tub as Americast is lighter than cast iron.
It has a lumbar support to ensure that you feel comfortable when soaking in the tub.
The tub is non-slip for your safety.
With a built-in flange which serves as an additional support for the tub
Can retain heat longer than the other brands
Limited lifetime warranty
2.  American Standard Cambridge Alcove Bathtub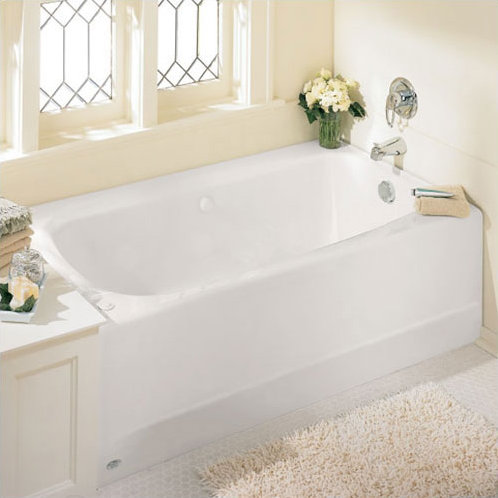 The Cambridge bathtub is also an alcove style tub, but this one can hold more water. Its maximum water capacity is up to 50 gallons of water.
If you have a bigger build or just prefer bathtub with more space but still want to maintain that simplistic look, then the American Standard Cambridge Alcove Bathtub is a great choice.
It is available in various colors, but the white one gives the most elegant feel. It has its drain placement on the left, but you can also order one with a right drain placement.
Best Features:
50% lighter than cast iron as it is made from Americast, which is a lot easier to install
You can choose the placement of the drain, either left or right.
Non-slip resistant material
ADA compliant, so it is safe to use for people with disability
Can be used both for commercial and residential purposes
With a sloped back for comfort
Limited lifetime warranty
3.  American Standard EverClean Rectangular Alcove Whirlpool Bathtub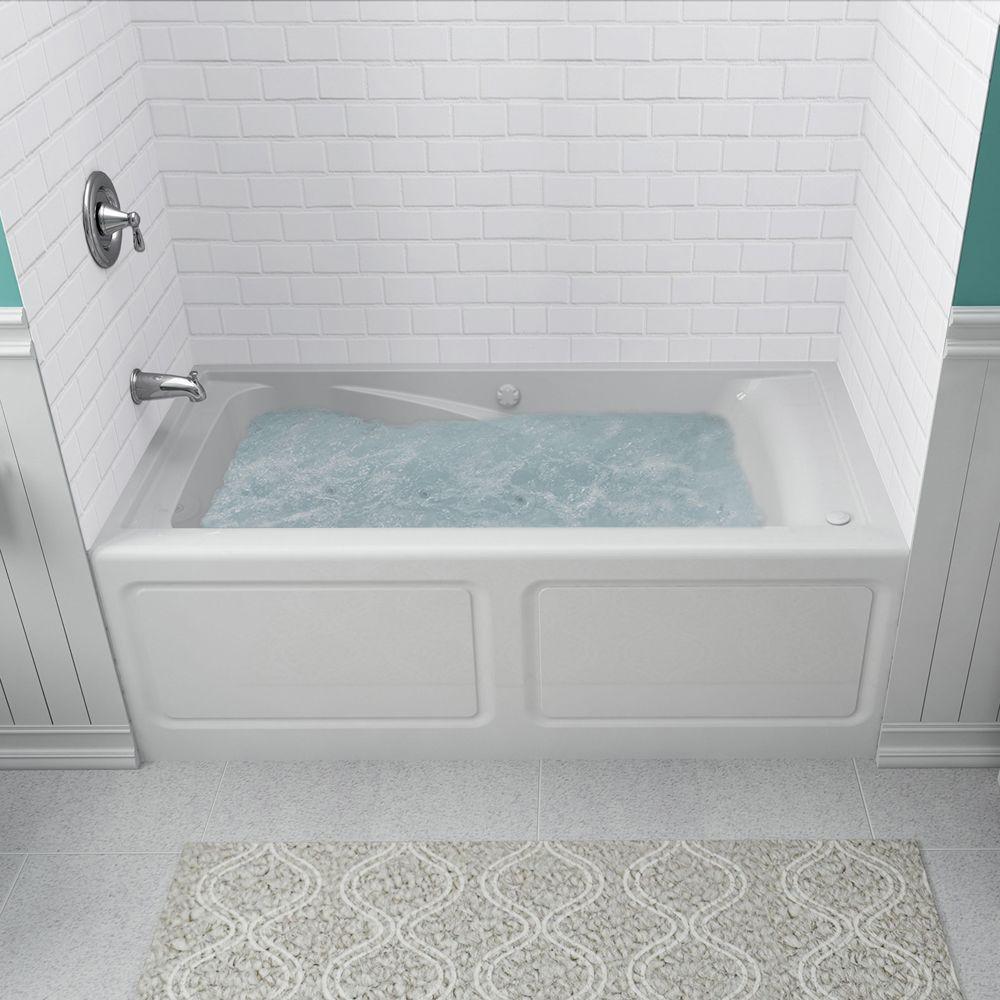 American Standard continues to impress a lot of customers since the launch of their new bathtub system, the EverClean Whirlpool bathtubs.
This Rectangular Alcove Whirlpool Bathtub utilizes the EverClean technology which prevents the growth of bacteria in your tub. These bacteria are the common cause of bad odor, mold, and mildew in your tub water.
This tub can hold up to 70 gallons of water and has a left drain placement.
Best Features:
Maintains clean and crisp water, thanks to its EverClean circulation technology
Have low-profile jets that are slim and flat, giving you a more comfortable bathtub experience
Slip-resistant tub floor
With a heater connection system (you need to buy the heater separately)
The best American Standard Bathtub for deep soaking
4.  American Standard Cadet Freestanding Bathtub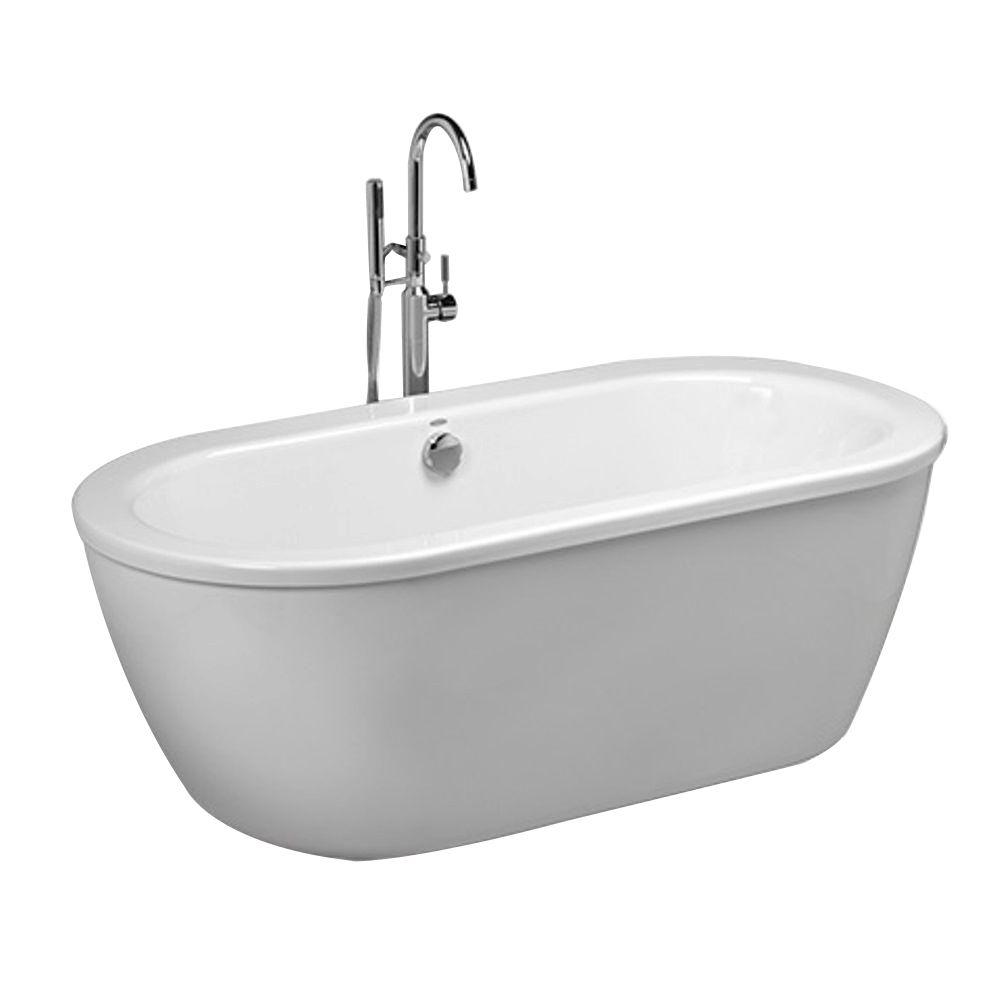 Do you fancy a freestanding tub? Then this tub is for you. It is made from acrylic and is available in Arctic white color.
This tub can hold only 58 gallons of water and has a modern style to suit your taste.
Oval freestanding tubs are a great statement piece in your bathroom. In fact, most luxury bathtubs nowadays have a freestanding design.
Best Features:
It's a classic freestanding tub that can instantly add character to your plain-looking bathroom.
Returnable within 90 days from purchase
Certified by the American National Standards Institute
Its drain placement is reversible.
One of the best American Standard tubs with amazing warranty service: 10 years limited warranty for residential use, 3 years for commercial use, 3 years for pump motor, and 2 years for electronic components and fittings
5.  American Standard EverClean Corner Drop-in Whirlpool Bathtub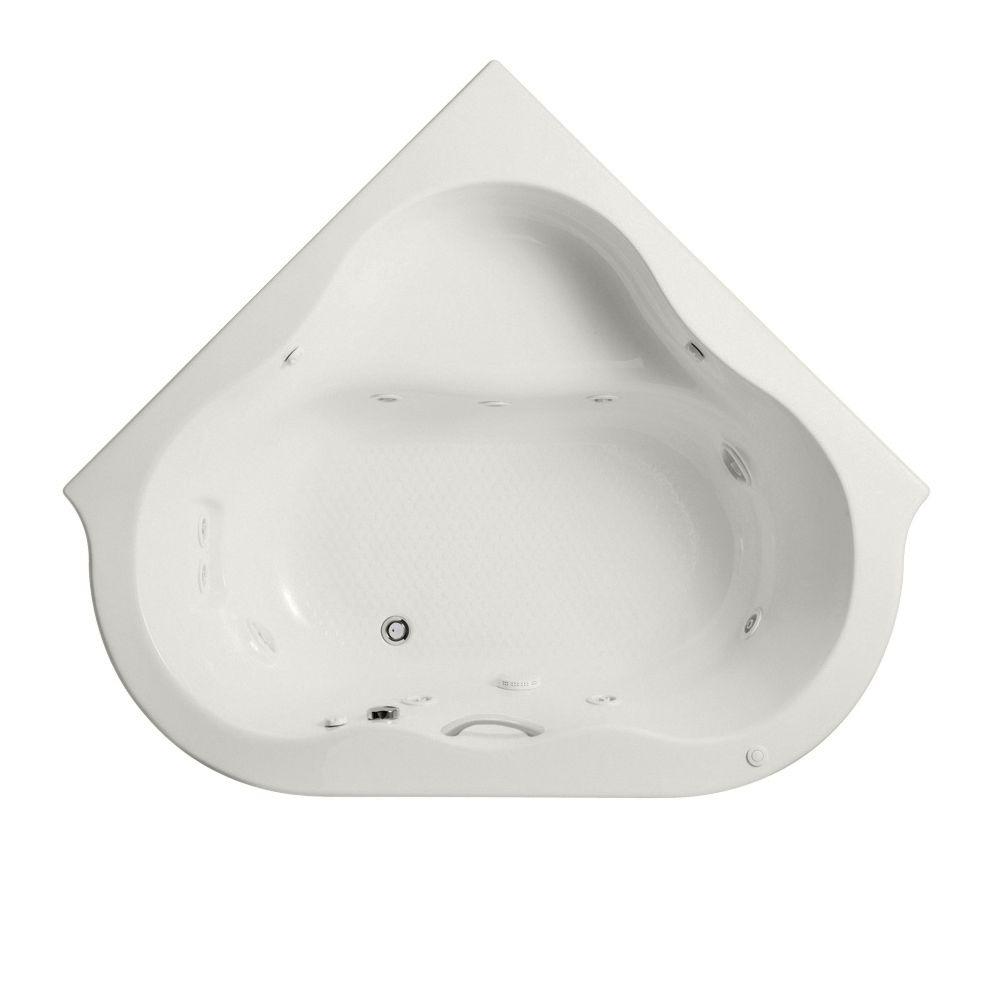 The corner drop in bathtub is perhaps one of the most interesting American Standard tubs on the market recently.
It's a jetted whirlpool oval shape tub but has an extension to fit the corner of the room. It also integrates the EverClean circulation system.
Furthermore, it can hold up to 86 gallons of water.
Best Features:
It's a minimalist yet modern bathtub.
With antimicrobial EverClean system that prevents the growth of odor-causing bacteria
Its jets are adjustable to any directions with 3 setting options.
Has non-slip tub floor
Made from acrylic with fiberglass reinforcement to ensure the tub lasts longer than most tubs on the market
6.  American Standard Cadet Reversible Whirlpool Bathtub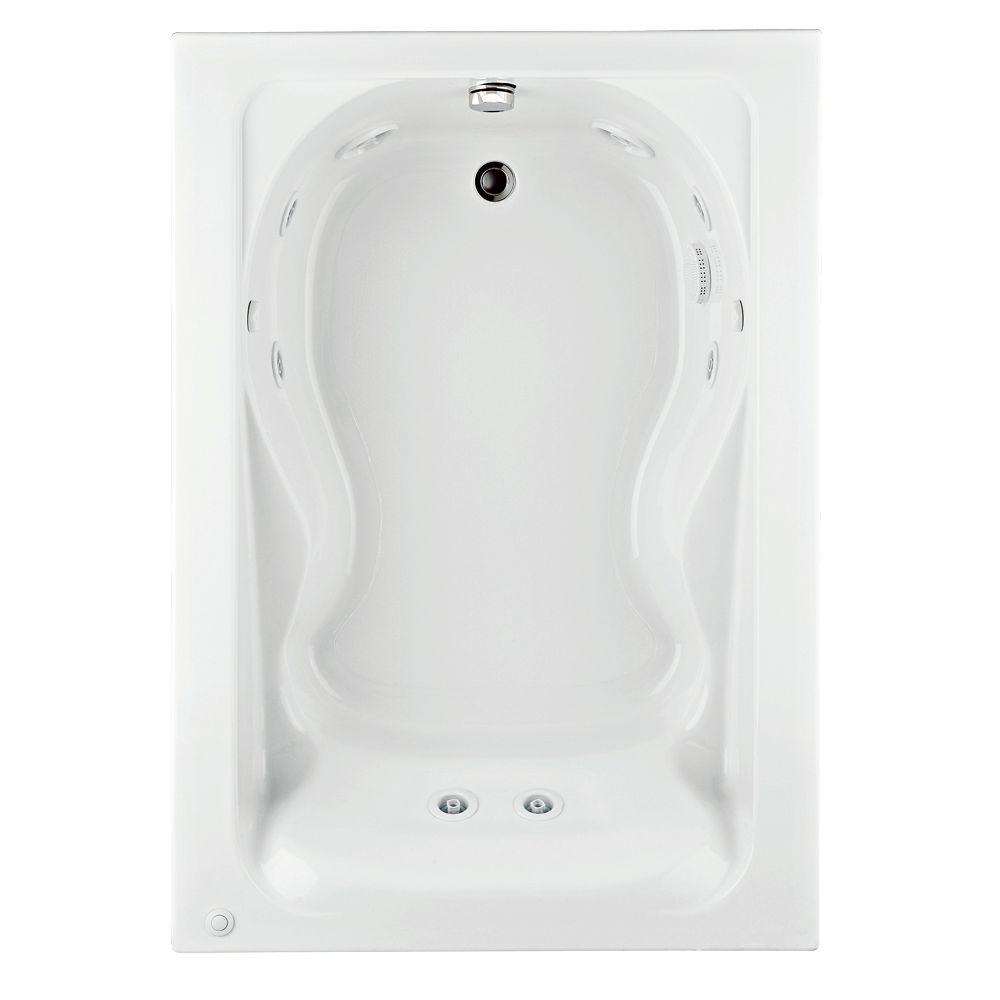 This is a whirlpool bathtub with reversible and adjustable jets. Made from acrylic, the tub has a glass-like appearance but with better transparency.
You can fill the tub with up to 63 gallons of water.
Best Features:
With a total of 8 whirlpool jets, plus 3 setting options
Low-noise, thanks to its 2 silent air volume controls
Has a safe-t-heater connection system
With fiberglass reinforcement for a more durable construction
7.  American Standard Savona Oval Whirlpool Bathtub
The Savona oval bathtub by American Standard is also a whirlpool tub with an EverClean hydro massage system.
This is an acrylic bathtub engineered with great features such as a pre-leveled tub bottom, antimicrobial system, and adjustable jets.
A lot of customers in different American Standard bathtub reviews rank this one as the best ever tub with air control and massage jets.
Best Features:
It's a drop in tub, so the installation is pretty straight forward.
Fiberglass reinforced for added durability
With limited lifetime warranty
Its jets are low-noise, so you can have a restful soaking time.
Its circulation system stops mold, mildew, and other bacteria to thrive in the tub and its pipes.
8.  American Standard Cadet Left Drain EverClean Whirlpool Bathtub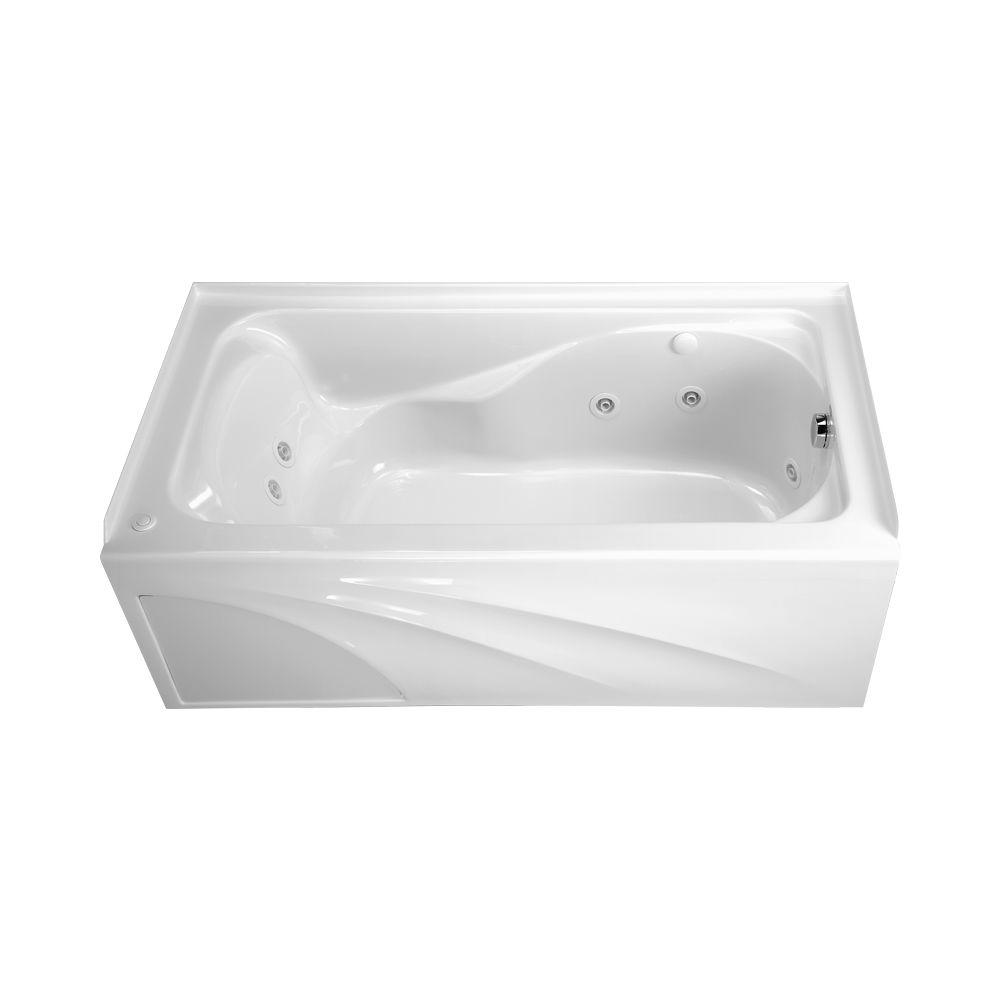 Looking for the best American Standard bathtub that is stylish and efficient? You've got the best model right here!
This left drain classic style cadet whirlpool bathtub has one of the most advanced bathtub features. It can hold water up to 55 gallons.
Moreover, a lot of its users commend how comfortable the tub is. You can also expect to use this tub for a long time as it is made from premium acrylic and fiberglass materials.
Best Features:
With EverClean antimicrobial system for bacteria-free water circulation
Adjustable jets allow for a more personalized tub soaking experience
Its fiberglass reinforced acrylic material makes the tub even more durable.
It has a built-in flange for your bathtub shower and faucet.
9.  American Standard Back to Wall Rectangular Whirlpool Bathtub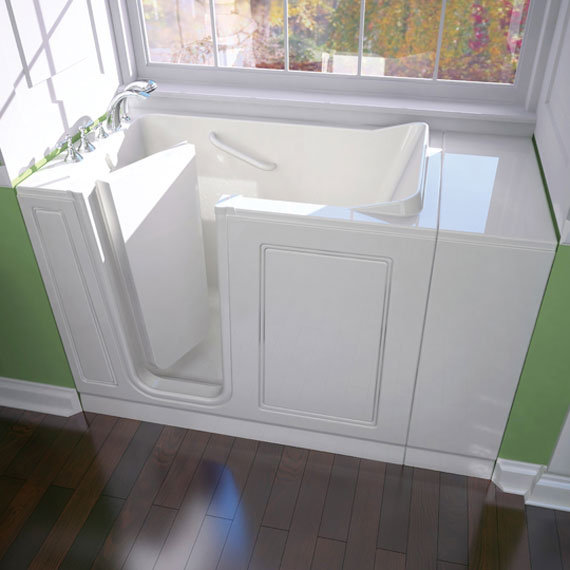 This left drain bathtub is a bit smaller with only 45-gallons of water as its maximum water capacity. Still, the walk in bathtub offers good value to your money.
It may be small in size, but this is packed with amazing features that you can't find in other American Standard Tubs.
Read on below to find out why this tub makes the cut on our list!
Best Features:
Made from premium acrylic material with fiberglass reinforcement
With a built-in chair height seat
The tub floor is textures to minimize slips
Enjoy 15 years of tub shell warranty and another 10 years for the components warranty
How to Install a Bathtub…American Standard's Americast (Step-by-Step)
Conclusion
American Standard has proven itself as one of the most reliable bathtub brands that offer quality bathtubs and other bathroom fixtures.
If we are to recommend the best-value bathtub from the list, it will be the American Standard Cadet Left Drain EverClean Whirlpool Bathtub. It has an antimicrobial water circulation system, which is a must to maintain a germ-free tub water. Also, its jets are adjustable, and lastly, it's cheaper than most American Standard tubs.