If you're the type of person who's looking for luxury features when considering toilets for your bathroom, then Ariel Bath is the brand you're looking at. However, Ariel Bath does have a lot of models to choose from so it may be a bit overwhelming if one doesn't know how to choose.
To make things easier, we broke down all the best Ariel Bath models as per our experience and made a list of Ariel Bath Toilet Reviews so that you can make a more intelligent choice for toilets.
Ariel Bath Toilets Reviews + Customer Feedback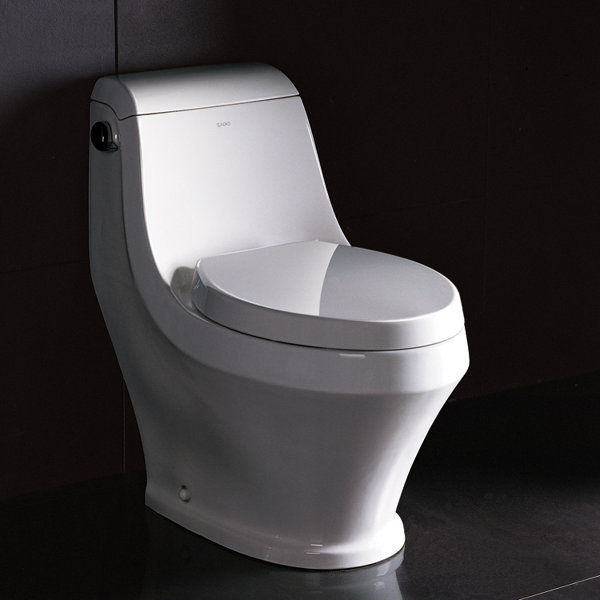 This toilet is quite simple yet stunning and elegant. It is very versatile and can fit in a lot of various toilet designs to luxury designs to even the more modern or contemporary bathrooms.
However, what really separates it from the other Ariel Bath Toilets would be its durability. Since it is made out of only top grade materials, it has a long shelf life and a great finish to boot. Aside from looks, it is also a powerful toilet with 1.6 gallons of water per flush or GPF.
What Customers Had to Say
Overall, customers love how it is extremely durable and easy to clean. With its slick finish, dirt doesn't stick on it like other toilets do. Its long shelf life and robust built definitely warrants it to be one of the best toilets in this list.
On the other hand, a lot of customers complain how loose its seat it. There doesn't seem to be a way to fully tighten it to the point where you won't slide off when you sit down.
It has a fully elongated design.
With a flush power of 1.6 GPF
Very durable and robust structure
Has a 12-inch one fit technology
It has an anti-slam toilet seat.
2.  Ariel Bath Royal 1.6 GPF Elongated Toilet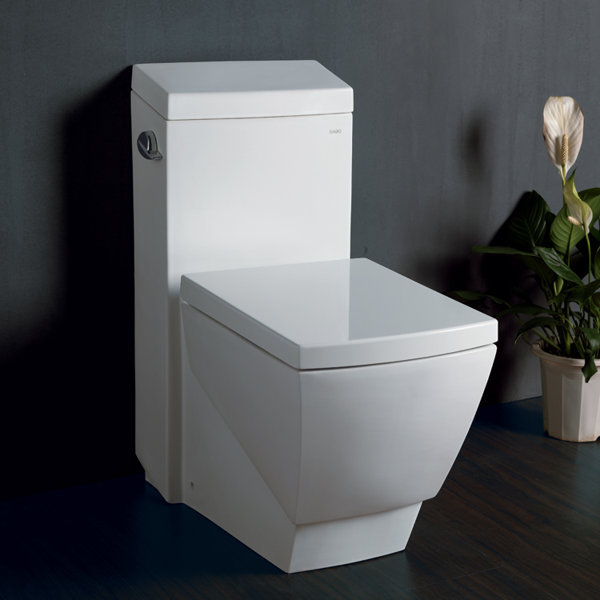 The first thing that you'll probably notice about this toilet would be its design. It has an extremely unique, sleek design as compared to a lot of other contemporary toilet designs.
The back is a sleek, rectangle shape that makes it very easy to fit into any toilets. Aside from its compact shape, its overall structure borrows influence from modern, contemporary designs, making it a great toilet for bathrooms with contemporary interior.
What Customers Had to Say
The first thing that most of the customers would comment on the toilet would be how beautiful it is. Its petite shape is perfect for all bathroom sizes and is quite versatile with most designs.
However, most customers have also commented on how hard it is to install as the instructions are not detailed enough. Other than that though, the general sentiment of the product is rather positive.
Has a beautiful, modern design.
It is compact and can fit in bathrooms of pretty much any size.
Comes with a wax ring kit.
It has a GPF of 1.6.
This uses high quality glazed finish to prevent growth of microbes.
3.  Ariel Bath Platinum Adriana Dual Flush Toilet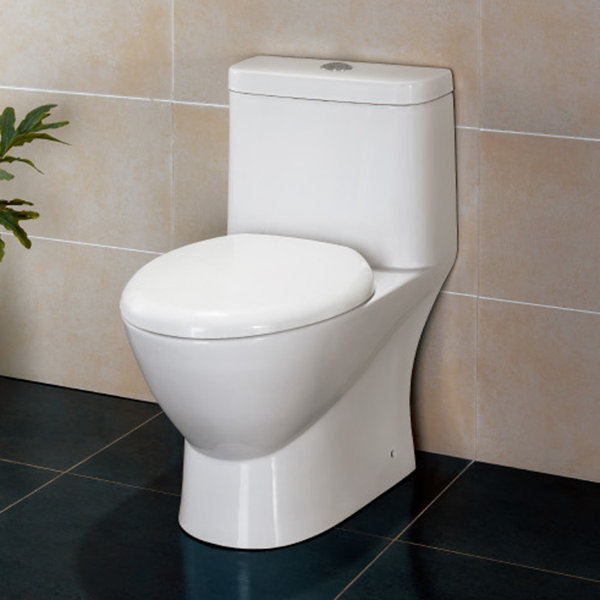 If you're not into flushes that are noisy or too strong that the water splashes upward, then you'll love this toilet.
The Ariel Bath Platinum is a dual flush toilet that features 0.8 GPF and 1.6 GPF flushes. The great thing about this product is that its flushes are very calm in movement and can suck anything down without making use of too much force.
What Customers Had to Say
A lot of customers commented on how efficient the flush is. However, most of the comments are about how smooth the finish of the toilet is, making it extremely easy to clean.
Due to the material, it's really easy to slide the dirt without that much effort. However, many customers have complained of dripping sounds after flushing and some other noises that may make some customers a little uncomfortable.
With a dual flush of 0.8 GPF and 1.6 GPF.
It has a slick glazed finish making it easy to clean.
Has an S trap configuration
It includes a toilet seat.
Has a low water level and uses up to 20% less water than other toilets
4.  Ariel Bath Monterey Contemporary Toilet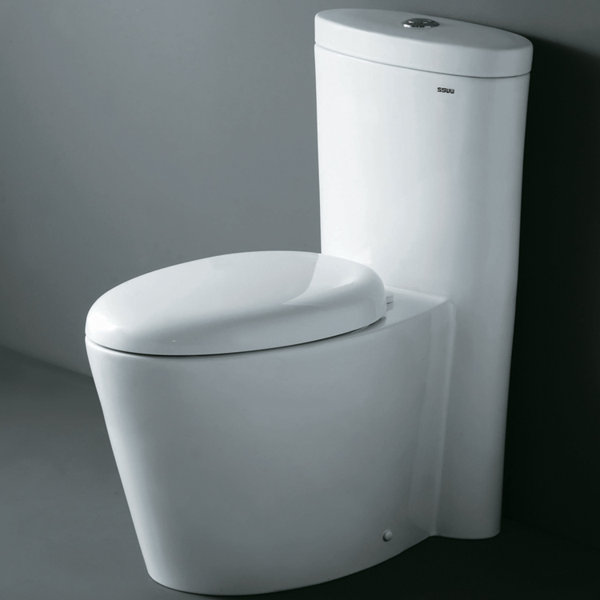 Unlike most of the other Ariel Bath toilets mentioned on the list, this one is probably the easiest to install. The plumbing is a bit different than the other toilets but not too difficult if you plan for it.
Just like the previously mentioned toilet, this one has a dual flush of 0.8 GPF and 1.6 GPF respectively. What makes it a bit different would be its contemporary design similar to the Ariel Bath Royal.
This kind of design makes it perfect for luxury design or modern designed toilets.
What Customers Had to Say
Customers love the fact that it looks so modern and it has a dual flush. The dual flush makes it easy to flush water and solid waste separately so that the toilet won't be pressured too much.
But many people have complained that it is has the tendency to leak a little which may present a bit of a problem in the long term. However, this can be prevented with proper plumbing.
It has a beautiful contemporary design.
With a dual flush feature.
Has a smooth, easy to clean white finish.
Its finish is stain proof.
Comes with a glazed inner exhaust pipe.
5.  Ariel Bath Athena Contemporary 1.6 GPF Toilet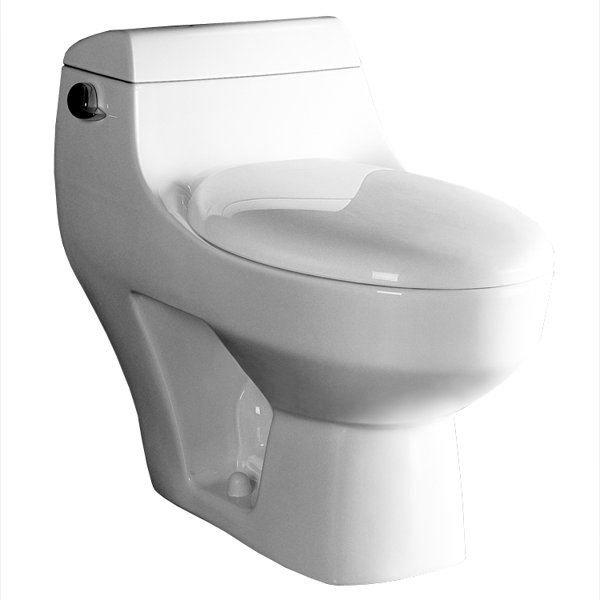 Our last toilet on the list is the Ariel Bath Athena Contemporary 1.6 GPF Toilet. It happens to be the most uniquely designed and also one of the best Ariel Bath Toilets around.
First of all, it has a 1.6 GPF flush which makes it a very powerful toilet. Also, it has a unique feature that is not found in other toilets on the list—an overflow prevention feature.
Overflowing is a big problem that a lot of homeowners suffer when their toilets get clogged. With this feature, it is actually possible to prevent this sort of thing from happening.
What Customers Had to Say
Being the most compact toilet on the list, many customers have commented on how well it goes in any toilet. Since it doesn't take up that much space, it gives off a more subtle, but modern charm that most toilets don't give. Also, it's easy to maneuver during installation since it's pretty light.
Also, customers have noted a few challenges to installation. First, no toilet seat bolts were found in the package, so separate ones had to be bought. Also, attaching the water supply was also a bit tough but manageable.
It has a flush power of 1.6 GPF.
Has an anti-overflow feature.
Lightweight and easy to carry.
It has a very beautiful, modern design.
This uses a 12-inch one fit technology.
Conclusion
That ends our list of Ariel Bath Toilet Reviews for the best Ariel Bath toilets. Now, if you were to ask which of the five we consider the best, we'd definitely tell you the Ariel Bath Athena Contemporary 1.6 GPF Toilet.
First off, it has a compact and lightweight design plus a very powerful flush. However, what makes it the most unique would be an anti-overflow feature. This covers the problem a lot of homeowners have when using toilets.
Our choice was made by comparing the features of all the options. We chose the ones that had the best features and narrowed down our list. Also, we chose our winner based on most useful features for homeowners. That's why we chose Athena.
See more: Ariel Bath Toilets