Most people opt not to swim in their above ground pools during fall and winter seasons simply because they don't want to feel the bitter cold. However, summertime doesn't last that long and fall rolls in. That's when the weather starts to get freezing.
Fortunately, there is a way to swim even though the weather gets colder. That way is to simply buy the best above ground pool heater for your pool.
Of course, choosing the best one is pretty difficult because there are so many variants with different features. The choices make picking out a good one rather overwhelming. So, to make things easier, we created a list of above ground pool heater reviews so you'll know which brands carry the best pool heaters.
What You Need to Know Before Buying a Heater for Your Pool 
Before we go on to the best above ground pool heater reviews, there are a few things that you have to know about.
For this review, we narrowed down the choices to 10 products. With 10 choices, you can at least pick out the one that appeals to you the most.
But the question is, how do you pick out the one that best suits you? After all, how do you know which one you're looking for if you haven't bought one of these devices before?
That's where the buying guide comes in. The buying guide will list down factors that you can take into consideration so that you'll know which one you'll like the most.
Take a look at the factors of our buying guide below:
Max Temperature
The first thing that you have to take into consideration is the max temperature that your heater can give. Generally, this will depend on the type of energy source that you're using (we'll go into detail about that later). Usually, solar-powered ones can increase the temperature of your pool by around 10 degrees Fahrenheit.
However, electric ones can go as far as even 40 degrees Fahrenheit. The gas ones, although very expensive to maintain, are the ones that can lift temperature to even higher levels than 40 degrees Fahrenheit.
For us, the one that you choose will entirely depend on your swimming habits. If you just want to extend the summer season a bit, then you may not need that strong of an appliance.
At the end of summer, a 10-degree Fahrenheit increase will already do (unless you're totally afraid of the cold).
However, you may need something a little stronger if you're planning on swimming even during the middle of the colder seasons like fall.
Size
The size is important because it determines how much space around your pool, you'll have to free in order to install it.
At the very least, we recommend that you save around 80 square feet of space where you can put your heater. Some may be smaller, but at least you have enough room to keep them in.
By planning ahead, you won't be caught off by the size margins.
Energy Source
This is probably one of the most important factors you need to consider because it determines the type of heater you're going to buy. Generally, there are three types to choose from based on energy source. These are the solar heaters, electric heaters, and the gas-powered heaters.
If you're looking for something powerful, we recommend that you get the gas-powered heaters since they can produce the highest levels of heat. However, propane is pretty expensive to buy regularly so the next alternative is the electric heater. Electric heaters need to be close to an outlet to work though.
So, the next best thing is to get a solar-powered heater. This one does not need an electrical source or a propane tank to power up. Rather, they get solar power to produce heat. The only problem is that solar-powered heaters are not as strong as propane types.
In any case, you will decide based on what you're looking for. By knowing the main pros and cons of the three, you can choose the one that suits your needs the most.
Ease of Use
The factor for ease of use is determined by how many features are made available that make the appliance user-friendly. For instance, there are machines that come with heat dials that make it easy for you to control the heat.
There are also some that come with electric ignition features so it's easy to heat up. Better yet, there are also some that come with remote controls so that you can control temperature even from a distance.
We wouldn't say that this factor is that crucial. However, it's a pretty good factor to consider if you're a beginner at using pool heaters or if you don't want to think too much when using one.
Quality
The last thing to take into consideration is the quality of the product. When we were picking out the best above ground pools heaters, we first made sure that the brands behind the respective products are reputable.
We did this by looking at the genuine customer reviews of the brand so that we'll get their overall customer sentiment. In any case, the reputation of the brand can be a good indicator of the quality of the product. That's why we ensure that only products from reputable brands were mentioned.
10 Most Popular Above Ground Pool Heater (Great Reviews)
Now that we've gone through the buying guide, we're one step closer to picking out the best above ground pool heater. 
The next step is to check out our top picks and pick one out of the 10 choices.
Here they are:
1.  Sunheater Universal Solar Pool Heater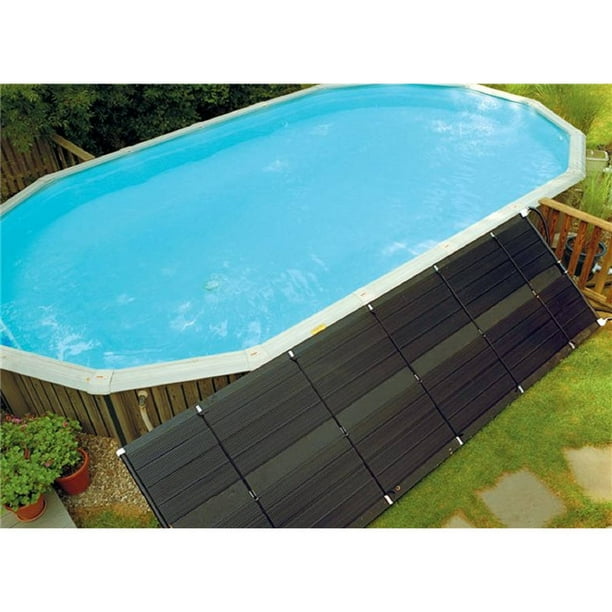 First up on the list is the Sunheater Universal Pool Heater. This is a heater powered by the sun's energy that is extremely easy to install. It can simply be placed right beside your above ground pool and is able to take in sun rays. At the same time, it is also compatible with in-ground pools if that is the pool that you have.
Very easy to install
Maximum exposure to sunlight providing solar heat
Can be installed even on roofs
Raises pool temperature to up to 10 degrees Fahrenheit
Perfect for above ground and in-ground pools
2.  Fafco Solar Bear Heating System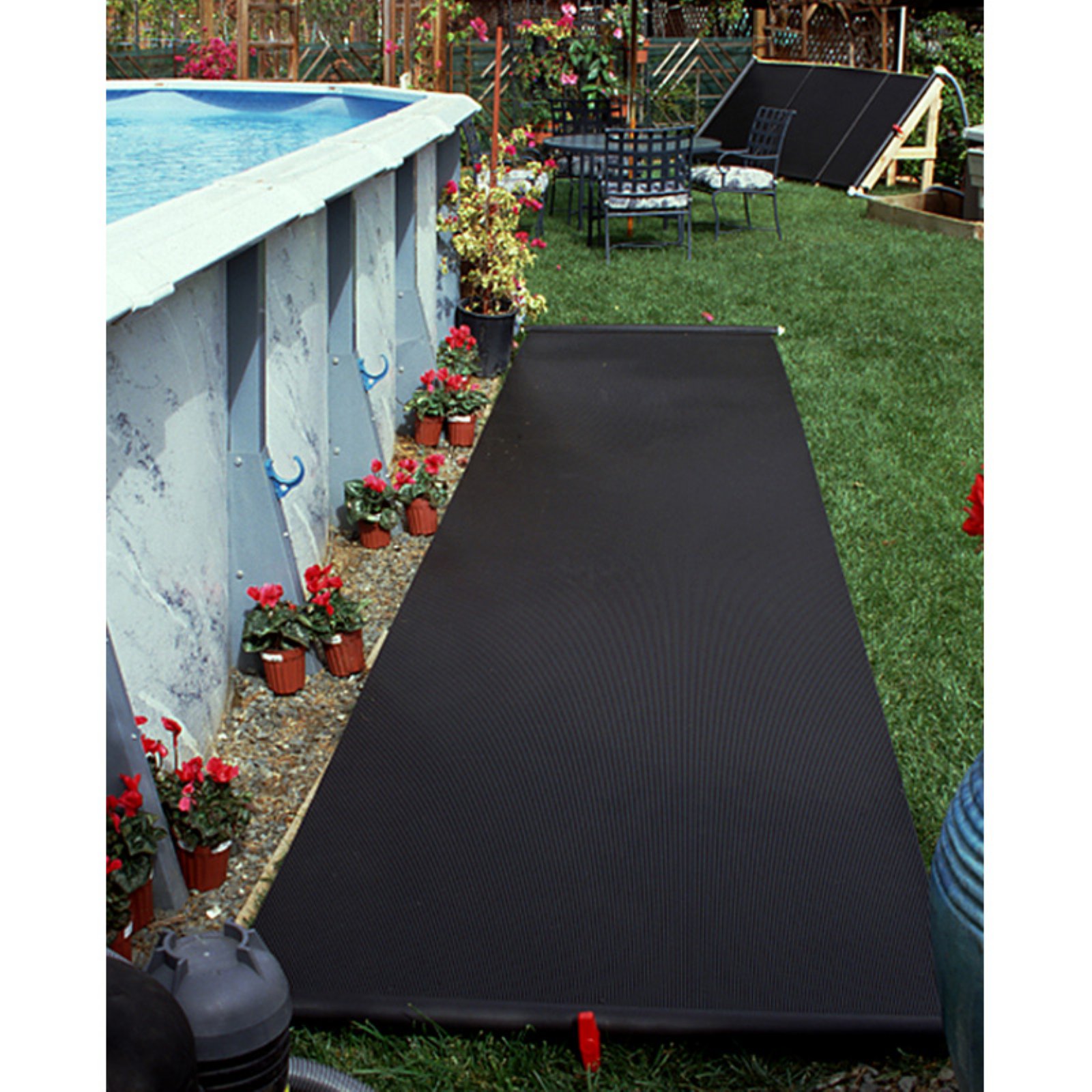 We'd say that this heater is a very sturdy one that can be mounted to the ground without much problem. As it works with the pool pump, it is able to properly circulate pool water throughout the heater, allowing it to optimally heat up your pool. Just tilt it at 30 degrees south and you'll get good heating.
Wide and flexible construction
Sturdy when mounted on ground
Works with a pool pump
Can heat pool up by 10 degrees Fahrenheit
Lightweight built
Takes quite a long time to heat the pool to its most optimal state
3.  Smartpool Sun Heater for Above Ground Pools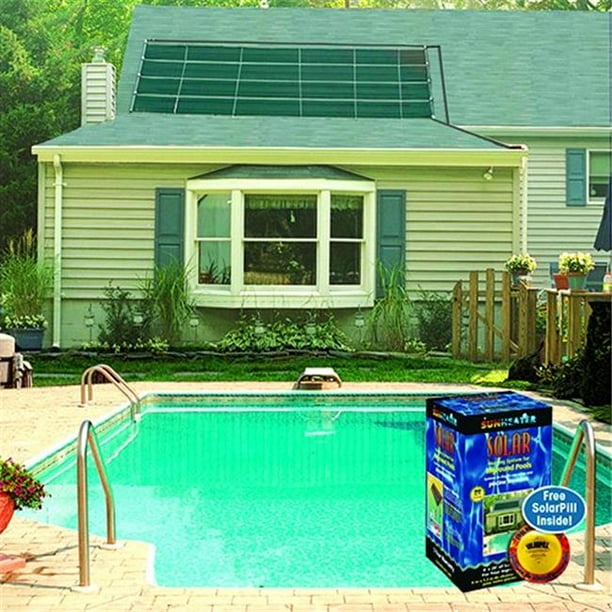 If you're looking for something that's lightweight, this one is a pretty good choice. After all, it's lighter in weight and smaller in size as compared to the other two panels. Thus, it is easier to transport.
However, it still is able to heat up a pool to around 10 degrees Fahrenheit when faced close to the sun. The lightweight built doesn't affect its efficiency at all. It just makes it easier to carry around.
Very light
Heating capacity of 10 degrees Fahrenheit
Has efficient polypropelyne collector
Can be easily installed on the roof
Fast heating
Cannot optimally heat medium to big sized pools
4.  KokidoKeops Solar Dome Heater
The first thing that you'll notice about this heater is its size and shape. Unlike most wide rectangular panels, this one comes in the shape of a UFO making it compact. We recommend that you get this heater if you're the type that likes to save space. It definitely is one of the best solar pool heaters you can find around.
Ergonomic size
Has a protective cover
Very modern design
Can easily heat up a 10-foot pool
Easy to use
Does not work that well with salt pools
Slow to heat up pools
5.  GAME SolarPro Curved Solar Panel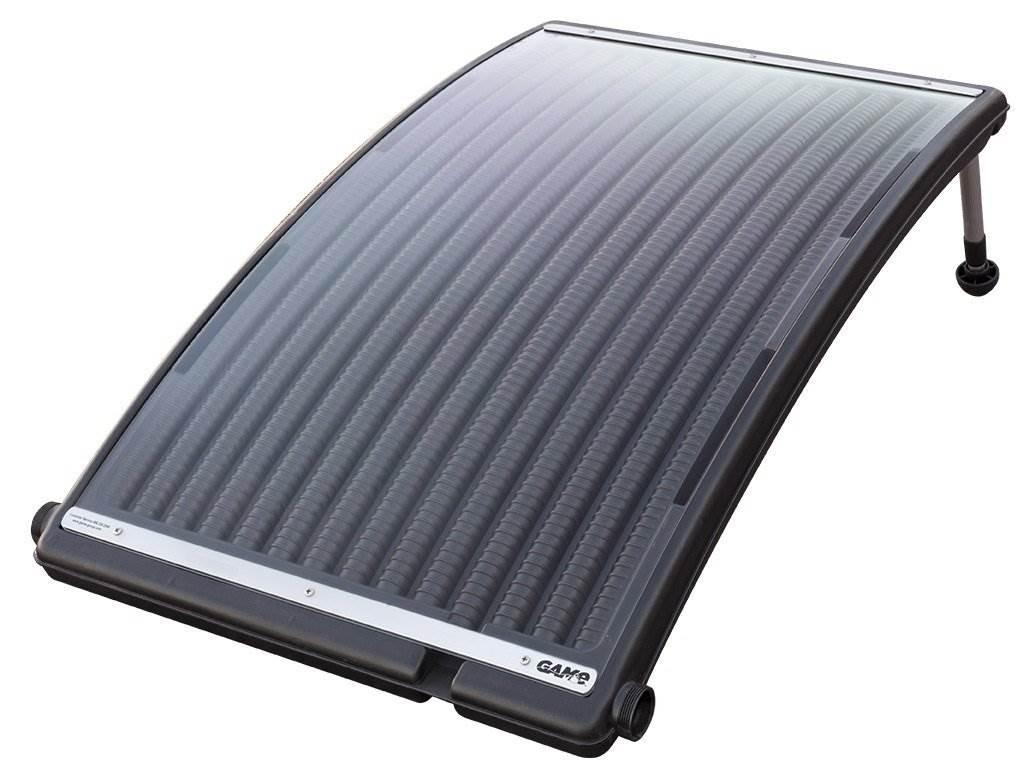 This is one of the most durable solar heaters you'll find on this list. Sure, it may not be that strong when it comes to heating, but it does last very long. If you want a product that won't wear out that fast, we suggest that this one is the one to buy since it's made out of only high-quality materials. It also has a unique curve shape, allowing it to fully capture a lot of heat.
Very durable
Heats pool to up to 5 degrees Fahrenheit
Curved shape maximizes heat collection making heating more consistent
Comes with adjustable legs
Allows various plumbing options
Takes four days to heat up 8000-gallon pool
6.  Fibropool Above Ground Pool Heater
This is the first electric pool heater that we'll mention in this review and it doesn't disappoint. It has a power of 120v allowing you to heat your 7500-gallon pool to up to 40 degrees Fahrenheit. Other than power, it is also pretty energy efficient. When using this pool heater, you'll probably only need to spend an estimated 16 cents per hour for electricity.
Powerful operation
Fast heating
Very energy efficient
Has a heating capacity of 40 degrees Fahrenheit
Uses clean electricity
Takes up quite a bit of space
7.  Hayward 11 Kilowatt Electric Heater
What we like the most about this heater is that it is very safe and straightforward to use. You'll know once it's turned on because it has an indicator light that will tell you it's already operating. Other than that, it also has a safety sensor, ensuring that it is working properly. It's a great feature to have if you often worry about safety concerns regarding heaters.
Heater indicator light
Safety sensor included
Heater dial to control heat
Small and compact shape
Strong heating capacity
Has the tendency to overheat
8.  EcoSmart Smart Pool Heater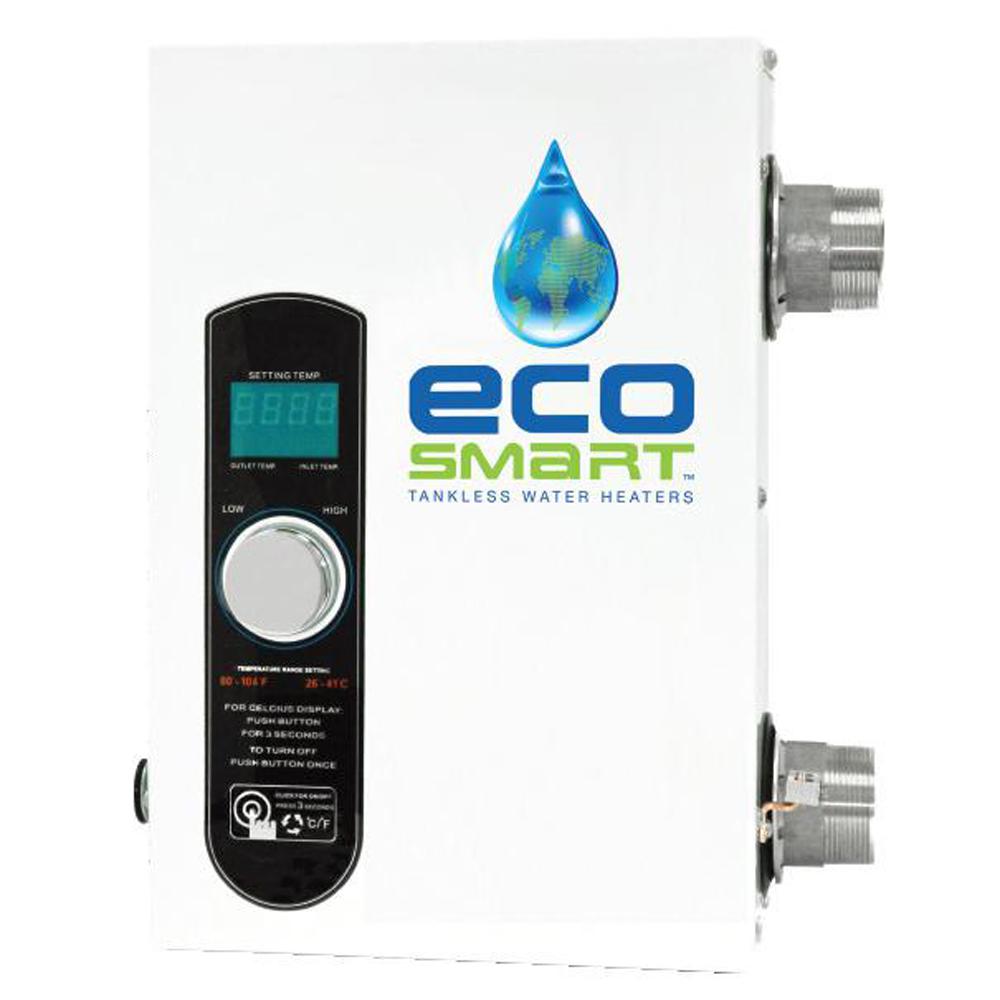 Just as the name implies, this is a smart pool heater that can be controlled with ease. You can say that it's one of the most user-friendly pool heaters on this list. It comes with a remote control where you can control temperature per 1-degree increments. That way, you'll get the temperature of your pool just right.
Flow activation feature
Remote control unit
Easy control of temperature
Compact size
240 volts
Not very energy efficient
9.  Hayward 100,000 BTU Propane Heater
The Hayward 100,000 BTU propane pool heater allows you the choice to either use natural gas or propane. For this variant though, you'll be using propane heater along with electronic ignition. With this electronic ignition, you can easily use it. It also has a draft technology, so it can work in various weather types.
Easy electronic ignition
Draft technology
120-volt electric cord included
Does not overheat
Heat dial
Very heavy
Doesn't last that long
10.  Pentair MasterTemp Propane Heater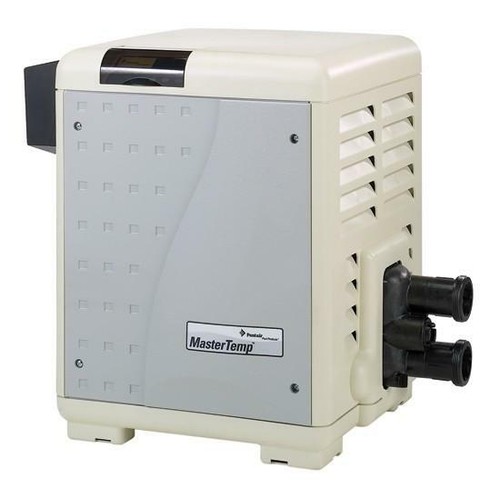 If you're looking for pure power, then this is the one that you can get. It heats up water with a power of 250,000 BTU which is extremely impressive. This is great to have if you're looking to swim during the cold weather.
High power of 250,000 BTU
Energy efficient
Decreased NOx smoke emissions
Very durable built
Uses natural gas
Very heavy
Uses a lot of gas
Conclusion
Those are the best above ground pool heater product variants that you can find in the market. In our opinion, the Fibropool Above Ground Pool Heater is considered the best of the best. We feel that this is the best because it's well rounded.
It is powerful, energy efficient, and uses clean energy. Unlike its propane counterparts, this one is eco-friendlier since it doesn't have emissions. Sure, it may be a bit big but it's worth it.