What does a pool liner do? Pool liners help keep the water inside the pool walls and stop water leakage. They can also give your pool a clean and well-maintained appearance. Liners in the pool protect it from algae growth. This growth can give the poor an unclean look. Properly maintained pool liners can avoid this.
These liners cover the whole pool area. This ranges from the floors to the walls. They can also provide your pool with a more revamped look. There are different designs and patterns to choose from.
How do you determine a good pool liner? Some factors to consider include cost and durability. You also need to consider how easy it is to set it up and remove. Based on the type of pool you have, there are many things to consider.
Understanding Vinyl Pool Liner Thickness
One of the most common types of pool liners is vinyl. This is because of its durability and cost. Proper measurement is essential for best results. First, it is important to understand the terms used for measurement. This will be useful for product comparison. It also helps avoid confusion and misleading information.
Some people think that vinyl's thickness is measured in the gauge. This can lead to taking the wrong measurements. Incorrect numbers can cause problems during setup. It can make the vinyl become loose or stretched out.
Using gauge for vinyl is inaccurate. There is no fixed gauge measurement for it. Instead, the unit mil aids in measuring vinyl thickness. One mil is equivalent to a thousandth of an inch.
There are different levels of thickness available. Understanding this can help in selecting the best pool vinyl liner for your needs.
Unit of thickness used for thin plastics; 1 gauge =  1⁄100 mil =  1⁄100,000 inch =  25.4⁄100,000 millimetre = 0.254 micrometre
Top 6 Best Pool Liner Reviews
1.  Smartline 24-ft Round Waterfall Pool Liner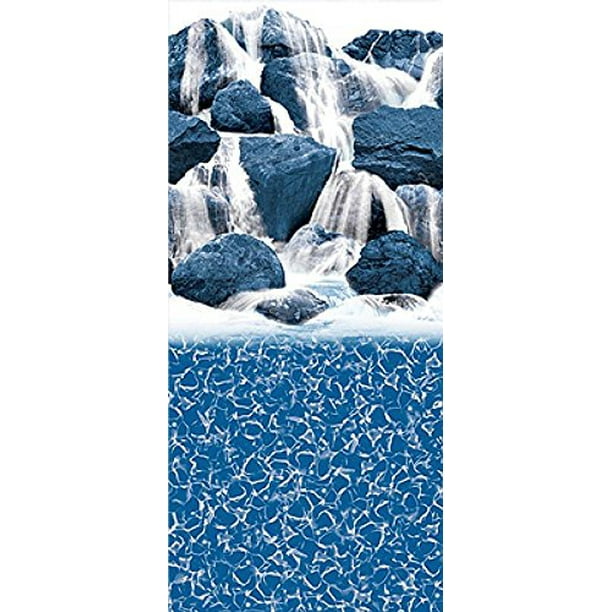 This pool liner is known for its beautiful waterfall pattern that can add the sight of nature to your pool. It measures 48 x 52 inches in wall heights and is best installed between 70-80 degrees temperatures.
Pros:
It's easy to install. Just secure that the bottom seam is near the pool's cover and the liner can be put into place in no time.
Smartline's pool liner is made of high-quality material. It can withstand chemical, abrasion, and UV exposure.
You'll have a 25-year limited warranty, and this includes a protection against defective material and poor workmanship.
This makes use of Lamiclear technology, which makes the pool liner durable and easy to maintain.
With 25-gauge vinyl material
Cons:
Before installation, you need to expose the pool liner to the sunlight for at least an hour. This is to warm up the material and prevent it from creasing and wrinkling when in contact with water.
There is a required temperature during installation (70-80 degrees).
2.  In the Swim 24-ft Round Overlap Pool Liner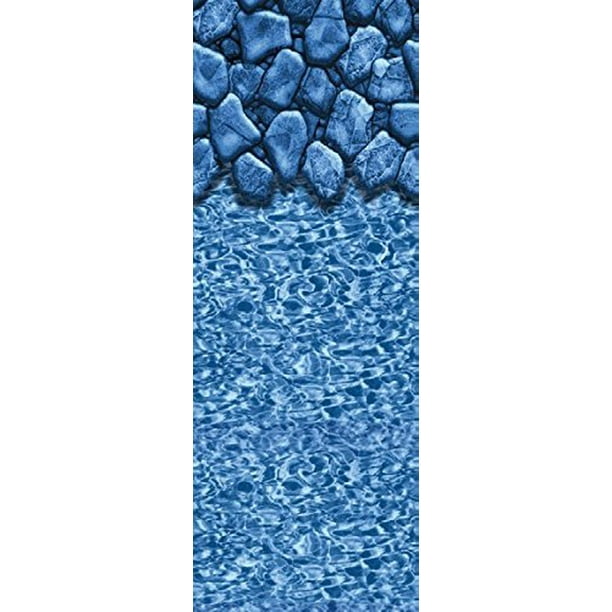 If the waterfall pattern is not your cup of tea, how about a boulder swirl? This In the Swim pool liner has a stunning boulder swirl design that will surely captivate your sense of sight.
It fits swimming pools with 48-inches by 52-inches walls.
Pros:
This has a thickness of 20-gauge vinyl material.
You will have a total of 15-year warranty upon purchasing this pool liner.
In the Swim 24-ft pool liner features double welded seams to ensure that it can last and withstand years of use. The double welded seams also add to the liner's durability even during winter.
Users of this pool liner vouch for its easy installation process.
Cons:
This doesn't work for tube type above ground pools.
Long exposure to sunlight (without water) should be avoided as it can cause wrinkles to the liner's material.
3.  Harris 27-ft Round Overlap Pool Liner
Another swimming pool liner that features a magnificent boulder swirl design is this round overlap pool liner by Harris. This one is a sized bigger though with a total of 27-ft round size.
If you have a bigger swimming pool, then this pool liner is a good one to consider.
Pros:
A lot of its users love the pool liner's beautiful pattern; says it complements well with their modern home.
This is equipped with a 20-gauge thick vinyl material that is 100% virgin.
Best used in pools with a liner clip on the top ledge
You can guarantee that this is built to last longer with its superior durability.
This pool liner is also UV-resistant.
Cons:
You can only use this pool liner with pools that have steel sides and clips that hold the liner in place.
4.  Swimline 60-inches Round Expandable Pool Liner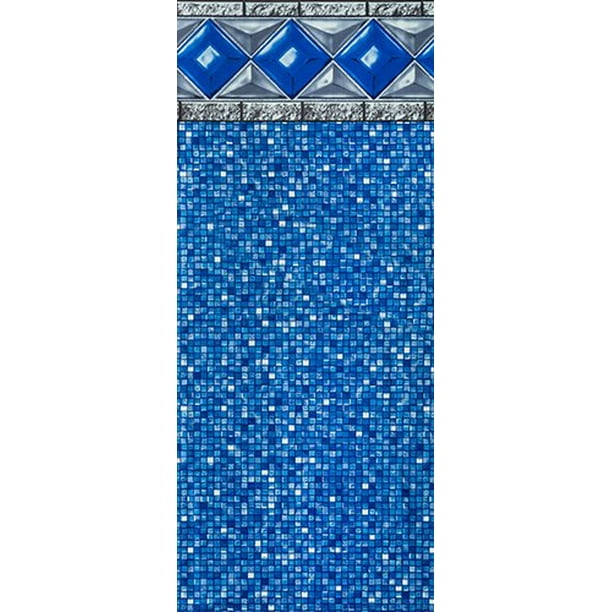 Houses with a small-sized pool will be delighted to have this 18-ft pool liner. It is 60-inches deep and is best used with above ground pools.
Even though this pool liner has a small size, its durability and material are top-notch. Thus, it deserves a spot on our list of best pool liners.
Pros:
This is the perfect pool liner for small-sized round pools.
Its seams are welded, making the liner even stronger.
With 25-gauge vinyl material that is thick enough to last for years
The Swimline 60-inches pool liner is chemical and fade-resistant.
It is also protected against UV rays.
Has an incredible 25-years of limited warranty
Cons:
The small size is a con for those who have bigger pools.
This one doesn't have an interesting pattern. But if you prefer a minimalist pool design, then this is a good pick.
5.  Smartline 16-ft by 32-ft Oval Pool Liner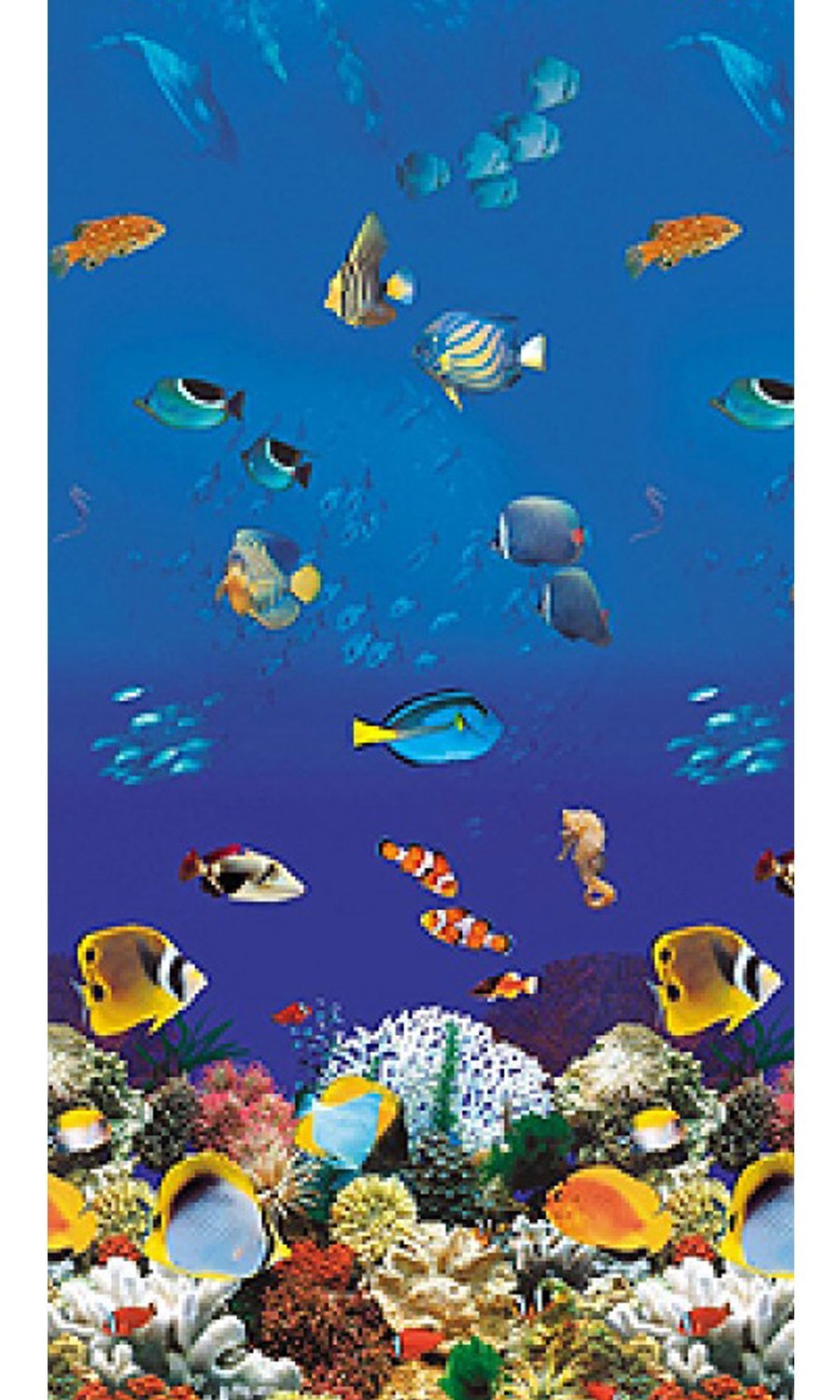 Kids enjoy their swimming time even more when the pool has an interesting design. This 16-ft by 32-ft pool liner by Smartline has a fun fish design.
Nicknamed as the 'Dory Pool,' this swimming pool liner is considered as one of the best pool liners for kids. It fits perfectly and can transform your pool into a tropical lagoon.
Pros:
You'll have no issues installing this pool liner.
Pool liners by Smartline are all made from 100% virgin vinyl material in North America. You can guarantee that this pool liner has undergone quality control.
Its vinyl material is vulcanized to ensure that it can handle tough weather conditions and extreme temperatures.
With 25-years limited warranty
Cons:
A bead has to be inserted around the top edge of the pool to install this pool liner securely.
Can be used in above ground pools with steel sides only
6.  Splash Pools 48-inches by 52-inches Blue Pool Liner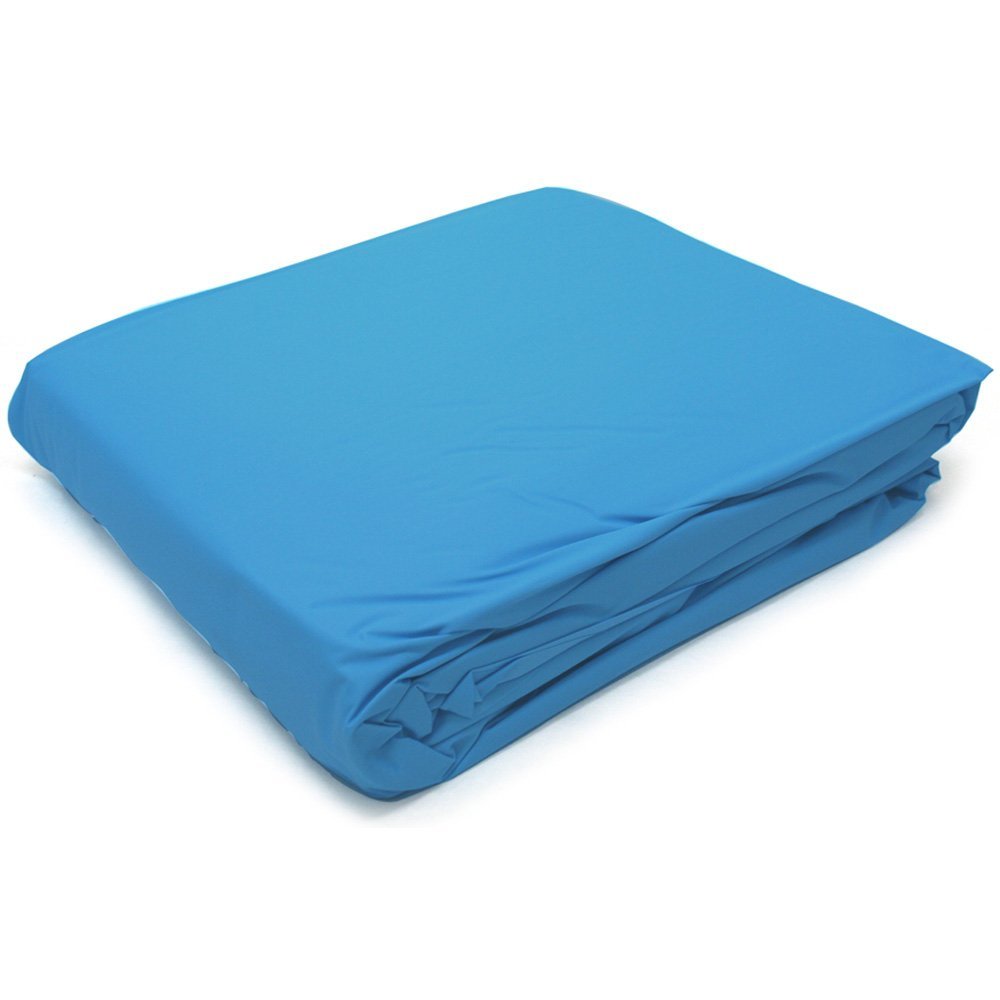 A highly resilient pool liner is what Splash Pools promises. As simple as it may look, but this pool liner has impressive features.
Resilient, durable, and has welded seams are just some of its advantages. This pool liner makes a good replacement liner for pools with 48-inches by 52-inches depth.
Pros:
This pool liner has a perfect fit.
If you are looking for an all-weather pool liner replacement, then this is the best choice. A lot of its users are happy with the liner's quality so far.
You can use this liner for longer years with its 20-gauge thick vinyl material.
This liner can hold its color longer as compared to other pool liners on the market today.
Cons:
Not a good fit for inground pools
Installation needs effort; watching a YouTube tutorial is highly recommended.
Pool Liner Types
Overlap Liners
This type usually uses plastic coping strips. Attached to the pool to keep them in place, these liners usually have part of the liner draped outside the pool's walls. These are slightly cheaper than other types. If you have a budget type pool, then this one is suitable for you.
Uni-bead or J-Hook Liners
If you have never set up pool liners before, this may be your best choice. The liner looks like an upturned letter "J" or a hook. The hook's long head measures around 1-1/2". It is also ideal for those who want liners with designs. This way, above ground pools can take on the looks of in ground ones.
Beaded Liners
One of the features of beaded liners is that they don't overlap. Its design allows it to fit in a pool's track. This makes it easier to prevent liners from hanging over your pool's walls. Ensure to get exact wall measurements to avoid creases. This is important when buying this type.
The removal of the overlapping liner is great. However, this allows water to seep between the liner and the wall. This may cause damages to the pool walls over a period of time.
Expandable Liners
This is a variety of an overlap liner. Made of 60" of vinyl, these are ideal for pools with a deep center. Its bottom area is made of around 72" of vinyl. This allows it to support pool centers that are up to two feet deep.
Pros and Cons of Pool Liners
We know that vinyl is one of the most commonly used pool liner. What makes vinyl one of the best above ground pool liners? What are its disadvantages? What other options are there? Let's have a look:
Vinyl
Many pool owners use vinyl. This is because it is easier to obtain. It is less expensive than concrete or fiberglass. This is also practical to use. It is easy to set up and install. There are also different sizes and shapes to choose from. Also, its texture is not rough to touch. This results to an overall smooth finish.
Vinyl can get worn out over a period of time. It can get tears and punctures over time. Its average lifespan is around 7 to 10 years. If you move your pool, you can no longer use the liner again. It's because you can only stretch it once.
We mentioned custom size and shape as a good thing. However, it can also be the other way around. Custom pool liners can create dead spots that collect water. This will need regular maintenance and clean up. This is why correct measurements and proper set-up are vital.
Fiberglass
One of the issues with vinyl liners are the pool steps. They can look creased up. You can solve this problem by using fiberglass pool liners. Fiberglass liners include these parts in the mold. There is no need to shape them yourself.
One of its benefits is lesser cost and effort in maintaining the liner and the pool. It does not require the frequent replacement usually needed by vinyl. Long-term cost is also cheaper.
The initial cost of fiberglass liners can be a turn-off for some. It causes you to spend an extra $5000-$10,000. Fiberglass pool liners have limits in terms of pool depth and width. You can't also fit it in pools that are around 9 feet and deeper. The same goes with pools that are wider than 18 feet.
Concrete
You can fully customize the design, shape and size of the pool. Unlike fiberglass, you are not limited to a certain depth or width. You do not need to worry about tears or breaks. It is extremely durable and tough.
Concrete pools take longer to construct. Finishing it can take up to four months. Concrete pools have small holes where water can pass through. These holes can become homes for algae. Removing these involve weekly scrubbing of the walls. Otherwise, the other option is to use chemicals. These chemicals can maintain balance in the pool water.
How to Select an In Ground Pool Liner?
The first step in installing an in ground pool liner is to make sure to gather the right measurements. Excessive numbers can cause loose and wrinkled results. Short measurements can cause too much stretching. This can lead to poor durability over a period of time. In ground pools usually have different levels of depths. Consider this when taking measurements.
After that, the next step is to know the thickness of the liner that you will be using. The usual thickness used is 20 mil. Other options are 28 mil on the wall with 20 mil floor thickness and 27 mil thick pool liner. There is also the 30 mil thick liner.
20 mil liners are the cheapest among these choices. Durability is average and usually lasts up to almost a decade. You can use this up to 10 years, provided it goes through proper maintenance. If not, it can last for only around 3-5 years.
27 mil liners are also great options for in ground pools. They offer added durability and improved protection against UV rays. UV rays can damage the liner material and shorten its lifespan.
30 mil is the most durable and offers better protection against sharp objects. However, the thicker the pool liner is, the more difficult it is to install it. The thicker options also cost extra every time you upgrade to a thicker one.
After deciding on the thickness, check the design, pattern and color choices. You may choose designs and patterns that match your home's décor.
You can have a light color pattern or go for a darker theme. Light colored pool liners can easily show stains when light reflects on it. Dark-colored ones usually provide a better overall appearance. Darker colors provide a sense of depth. This makes it harder for stains to show.
After considering all these factors, you are ready to choose which in ground pool liner will work best for you.
How to Select Above Ground Pool Liners
Just like in ground pools, proper measurements are also essential in choosing the best above ground pool liners. After making these calculations, choose the type of liner that will work best. Depending on the type of above ground pool, you can determine the kind of pool liner to use. Factors, like the pool size and shape, can help in making a decision.
If you have a standard pool, you may not want to fuss about designs, patterns, or aesthetics. In this case, the overlap liner may be your best option. These liners hang over the side of the walls of above ground pools. This makes borders and designs unusable. Overlap liners are usually made up of one standard color and pattern.
Some pools have the overlap style, but owners may want to have more design choices. In this case, you can opt for a J-Hook or Unibead pool liner.
You can select beaded liners if you do not want excess liner material to hang over your pool walls. This is where precise measurements come in. Correct numbers can help in proper setup. Since you can fit this liner properly, you can choose from different patterns and designs. This will provide your above ground pool with a better look.
If you can't fit your pool with the options above because of the extra depth, the expandable type is your best choice. It offers more material to use for pools with deep center.
In any of these choices, it is important to have correct measurements to prevent wrinkles, creases and damage to the pool liners.
Most above ground pool liners are easier to measure than in ground ones. This is because the floor surface is usually flat and uniform. You mostly just need to get the depth and diameter. If you are replacing an old pool liner, you can refer to the measurements found in the packaging of the old pool liner. If it is not available, have someone help you take the numbers using a standard tape measure.
Determining practicality, cost and design can help you select the best above ground pool liners in the market. Other factors include brand reputation and product reviews. How to install the pool liner must also be a factor.
If you prefer to install it without professional help, check if the product makes it possible to do so. You also need to gather tools such as knives, drainage tools, and cutters to make self-installation successful.
Conclusion
Investing in quality pool liners can save you money in the long run. A subpar product may result to more frequent replacements and waste of expenses.
As we can observe, there are many factors that come into play when selecting an appropriate and useful pool liner. Consult and research various in ground and above ground pool liner reviews that can help in formulating the best decision.
Choosing a good pool liner is important because its purpose is not limited to just providing that layer between your pool and the pool water. It does not only hold the water. It also keeps the pool clean and easy to maintain. It also provides a personal touch to the swimming experience. This is possible by using designs and patterns based on your preference.
Choosing the right pool liner is challenging and confusing. Our guide aims to assist you in making this process easier. We also hope that it helps you make a firm decision. Through the right set-up of the right product, you can make swimming a great experience for you and your family.