Buying a pool is a big decision. You want to make sure you get the best you can for your money instead of something you will have to pour even more money and time into. Above ground pools are a great option for anyone looking for a way to get all the benefits of a swimming pool without the huge costs of an in-ground pool installation.
If you want to find the best above ground pool, you need to get some background knowledge about what makes an above ground pool good or bad. Here in this buyer's guide for above ground pools, I'll give you the information you need to help you make the best decision to fit your needs as an individual or a family.
Best Above Ground Pool Reviews
Out of the pools available for purchase, these are some of the top rated above ground pools offered to fit a variety of needs:
1. Intex Easy Set 18ft X 48in Pool Set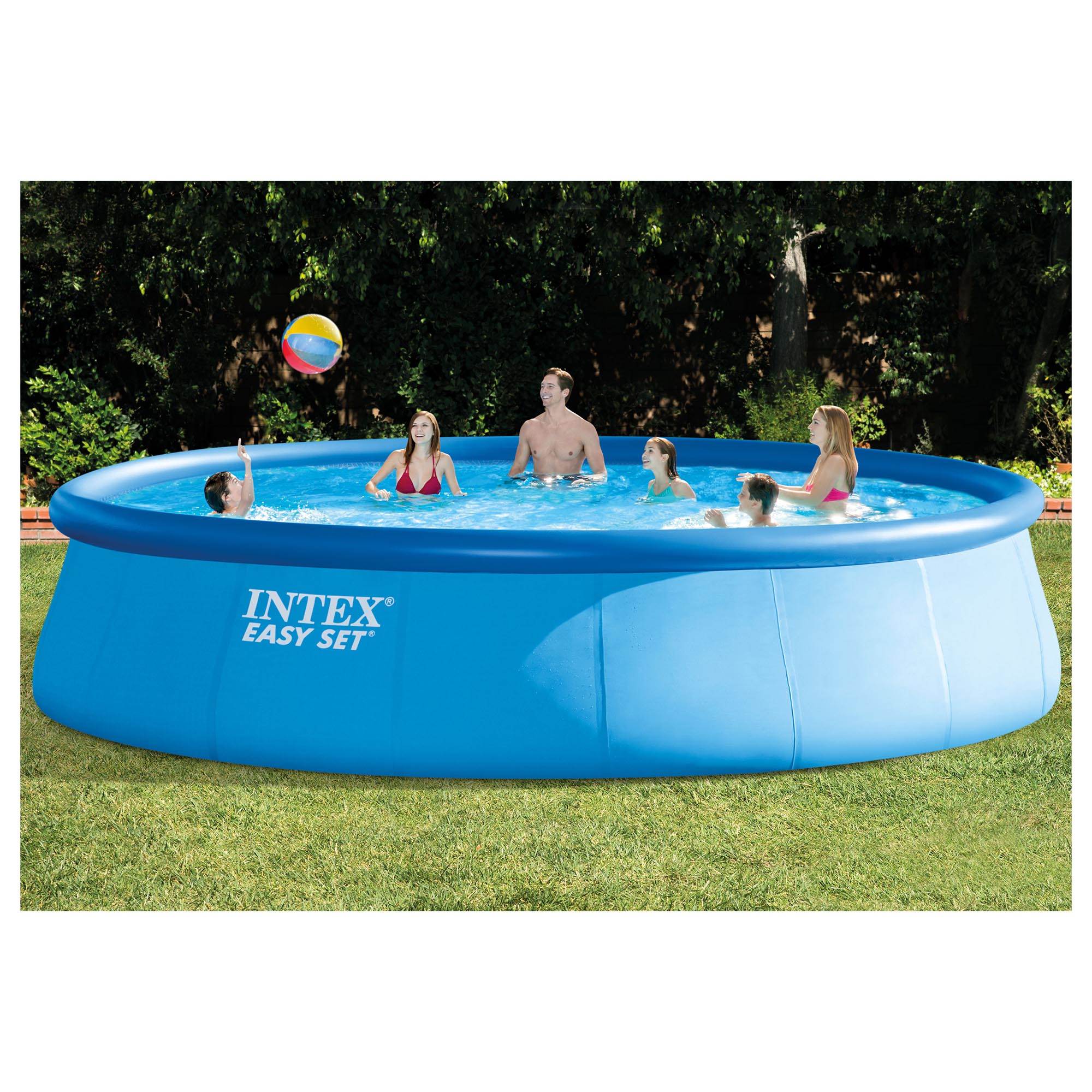 This product is one of the best above ground pools available on the market. This has the capacity of 5,455 gallons and is made of high-quality laminated PVC sidewalls, making the pool highly durable. Furthermore, the product includes a Krystal Clear Cartridge Filter pump that ensures good circulation of water, making it clear, clean, and refreshing. This also comes with a ground cloth, pool ladder, and debris cover.
8-feet x 30-inch
12-feet x 30-inch
13-feet x 33-inch
15-feet x 33-inch
15-feet x 42-inch
15-feet x 48-inch
18-feet x 48-inch;
This above ground pool features a Ground Fault Interrupter, which automatically shuts off the pump whenever the electrical current is exposed to the water.
This can be easily installed and filled in with water in as fast as 30 minutes.
This can hold water of up to 5,455 gallons, which is 80% more than the capacity of a small in-ground swimming pool.
This comes with a ladder for easy access to the pool.
This also includes a ground cloth and a debris cover that keep the pool off any ground debris.
This product is made of durably laminated PVC sidewalls that keep the pool sturdy enough for all the activities and actions while having fun inside the pool.
This also features new dual suction outlet fittings, which greatly improve the circulation of the water.
What Did Customers Have To Say:
Customer reviews revealed that the durability and the large sizes available keep the fun going. This can actually allow a large population of up to 15 to 20 people. Most negative comments refer to the type of location where the pool should be installed, which is preferably completely flat.
The debris cover and ground cloth are washable.
The pool pump can be easily cleaned and is also highly durable.
This includes a DVD that shows proper installation and maintenance.
This also comes with a convenient drain plug.
This is not ideal to be set on a sandy and muddy areas, as well as areas with soft and loose soil.
2.  Intex Prism Frame Pool Set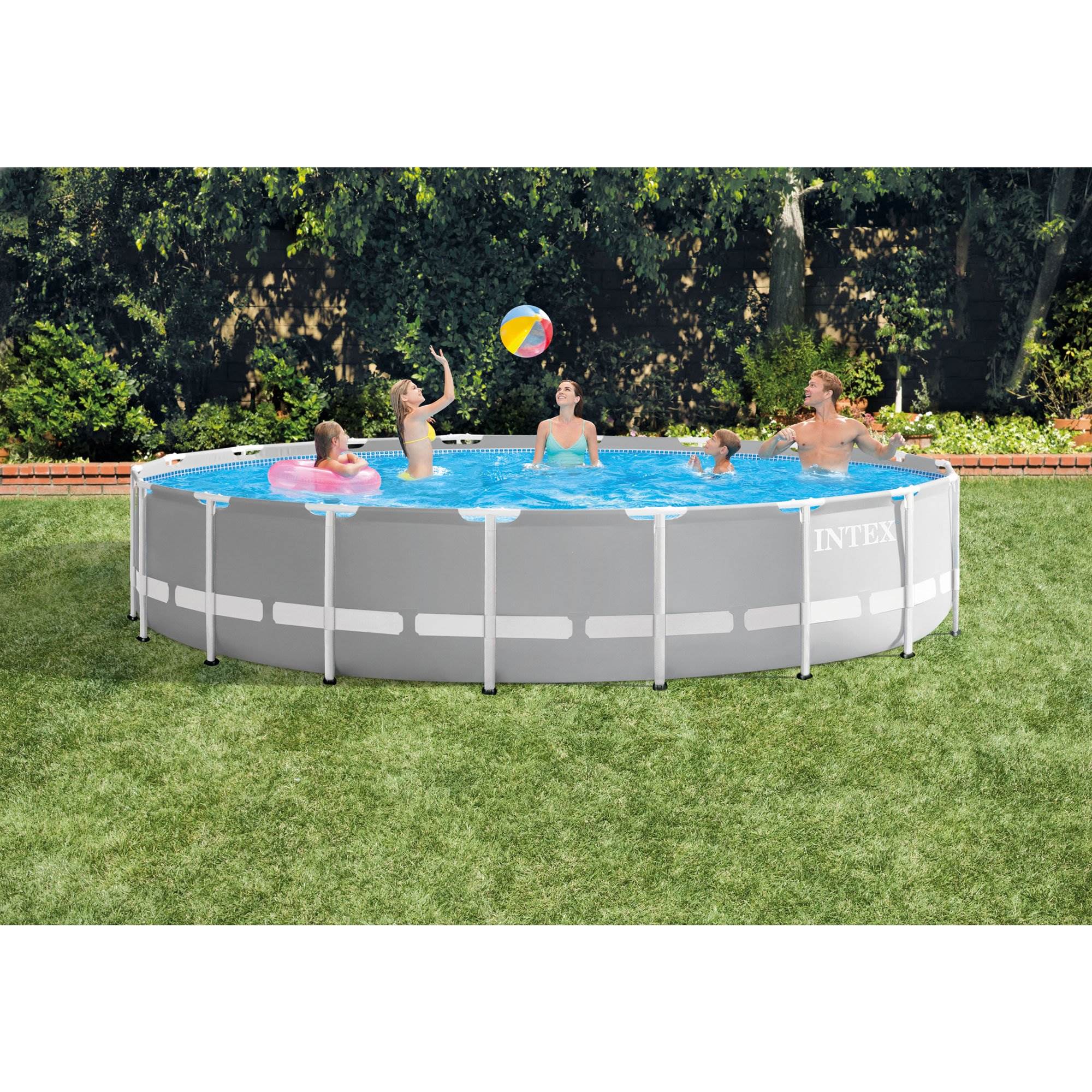 This is surely one of the more durable brands being made with thicker flooring to increase shelf life. Aside from its durable powder coated metal frames, another thing that makes this pool set stand out from many other brands is its powerful pump.
If you're very particular with pump strength and efficiency, then you'll love this pool. To be a little bit more specific, the pump has a flow rate of 1500 gallons per hour and includes a cartridge filter that reaches a max of 120 volts.
Lastly, it has a total water capacity of about 6423 gallons, allowing you and your friends to soak yourself into the pool.
10 feet x 30 inches
12 feet x 30 inches
14 feet x 42 inches
15 feet x 48 inches
18 feet x 48 inches
Durable powder coated metal frame
Lovely design
Increased thickness for the floor
1500 gallons per hour flow rate pump
6423-gallon water capacity
What did customers have to say?
There are two main things that the customers talk about when they talk about this pool.
You'll notice that the first thing that most customers talk about is the pool's sturdiness. The frame and the increased floor thickness do give it an edge over many other pools when it comes to durability.
Second, they talk about how well the pump works. As compared to other pools, this pump is very strong and also very reliable in moving water in and out of the pool.
Durable pool frame
Very strong pump
High water capacity
Sturdy pool ladder
Filter is on the smaller size
Liner isn't very durable
3.  Intex Ultra XTR Pool Set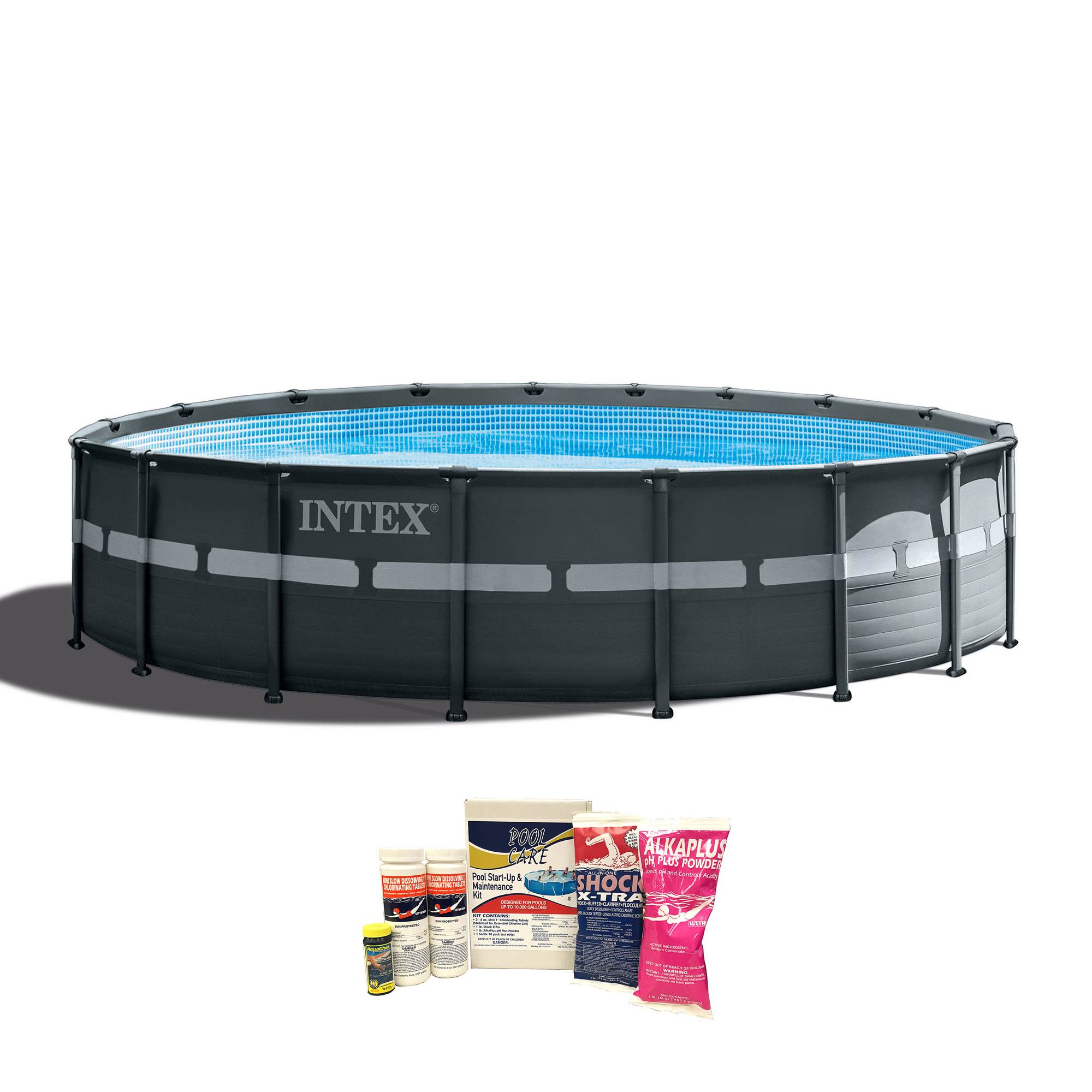 In general, Intex pool sets are pretty similar to each other. However, each of them do have their own specific advantages and features that others don't have. The next Intex pool set that we'll talk about is the Intex Ultra XTR Pool Set.
While the Intex Prism Frame Pool Set is already pretty known for its durability, this product variant turns it up a notch. This one has a frame that is made of galvanized steel, which makes it rust resistant.
To further protect it from rust, it also has a powder coating in both the inner and outer frames. This feature makes all parts pretty much rust proof. If you're looking for totally shelf life, this is a pretty good choice.
16 feet x 48inches
18 feet x 52 inches
20 feet x 48inches
24 feet x 52 inches
Galvanized steel frame
Comes with a locking system
Outer and inner powder coat
2100 gallons per hour flow rate pump
6981-gallon capacity
Intex 18ft X 52in Ultra XTR Pool Review
What did customers have to say?
Just like the previous Intex model, customers also love the strength of this pump. In fact, this pump is actually stronger. That's a testament to how good Intex is at manufacturing their pool pumps.
Other than that, customers also love the fact that the whole pool frame is made of high-quality parts making it very sturdy. They believe that this pool isn't the type that will buck down to bad weather.
Rust proof built
Strong filter pump
Very long shelf life
High level sturdiness
Vague set up instructions
Vacuum suction does not take in small debris that well
4.  Intex 18ft X 48in Metal Frame Pool Set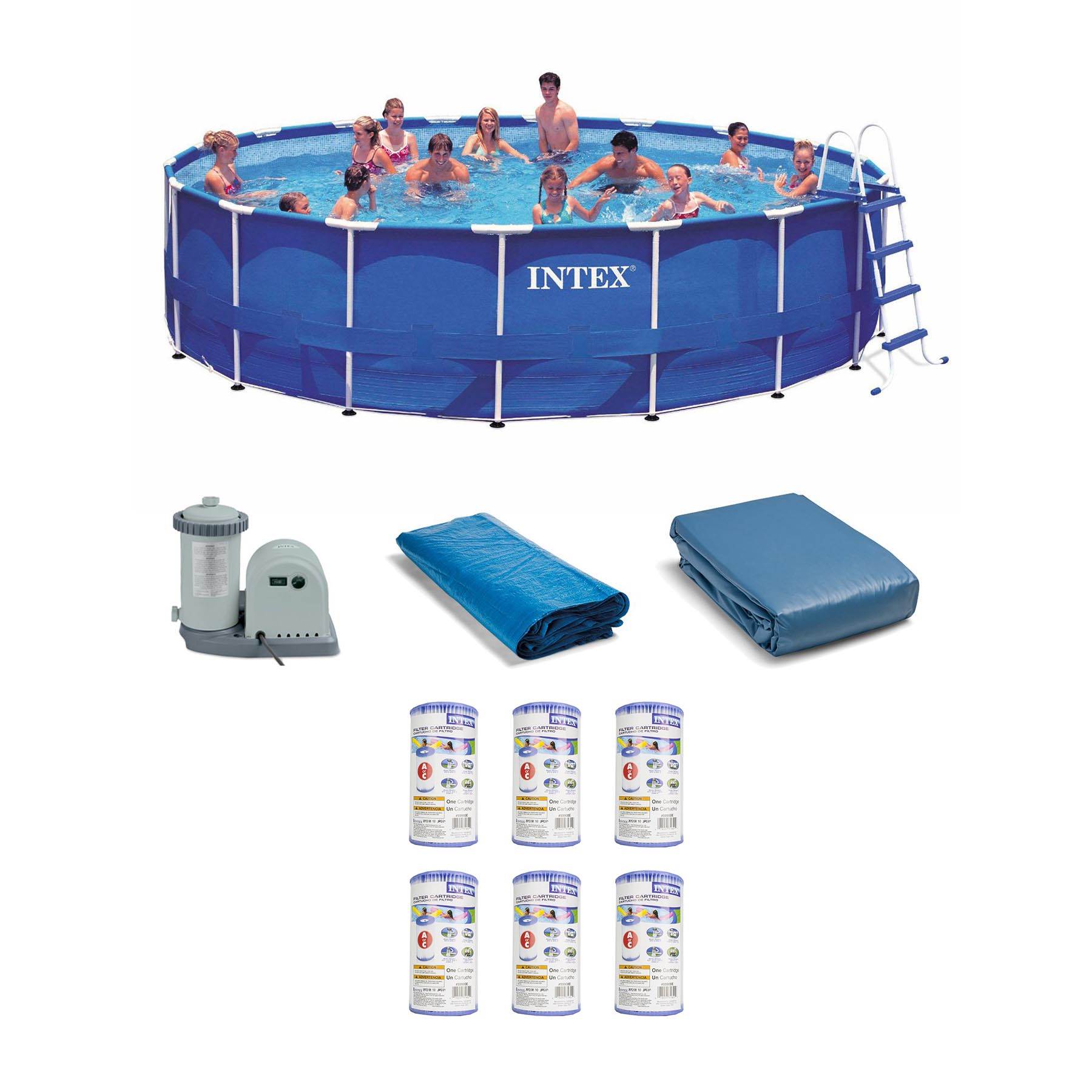 This product features one of the strongest steel frames and laminated PVC sidewalls, making it one of the best above ground pool that can be bought. This can actually hold 90% more water, which is up to 6,423 gallons. In addition, this pool includes new dual suction outlet fittings; these fittings improve the circulation of the water inside the pool. This feature also makes the water clean and clear.
10-feet x 30-inch
12-feet x 30-inch
14-feet x 42-inch
15-feet x 48-inch
15-feet x 42-inch
18-feet x 48-inch
This features a Krystal Clear Cartridge Filter pump that improves the clarity of the water inside the pool.
The steel frames are very durable, making the pool capable of occupying numerous swimmers.
This also features a Ground Fault Circuit Interrupter, which instantly shuts off the pump when the electric wires are wet.
This can be installed within 60 minutes.
This also includes a ladder, a ground cloth, and a debris cover.
This also comes with dual suction outlet fittings for an impressive water hygiene.
What did customers have to say?
Positive reviews highlighted the great quality of the materials used, as well as the sizes of the product. It is very durable, especially the steel frames. On the other hand, negative feedbacks referred to the quality and capacity of the pump. It is not the highest-quality pool set of its kind, and it is not that strong to circulate water in large sizes of pool.
The pump can be easily cleaned.
The ground cloth and debris cover can be washed.
Pets can also swim since the PVC sidewalls are three times durable.
This can survive severe temperature in winter if stored properly.
This comes with a drainage plug that be connected to a hose.
This should be installed on a well-leveled ground to avoid tip-offs.
The filter pumps for larger pools are not that strong enough to effectively circulate the water inside.
5.  Bestway Round Frame Above Ground Pool & Pump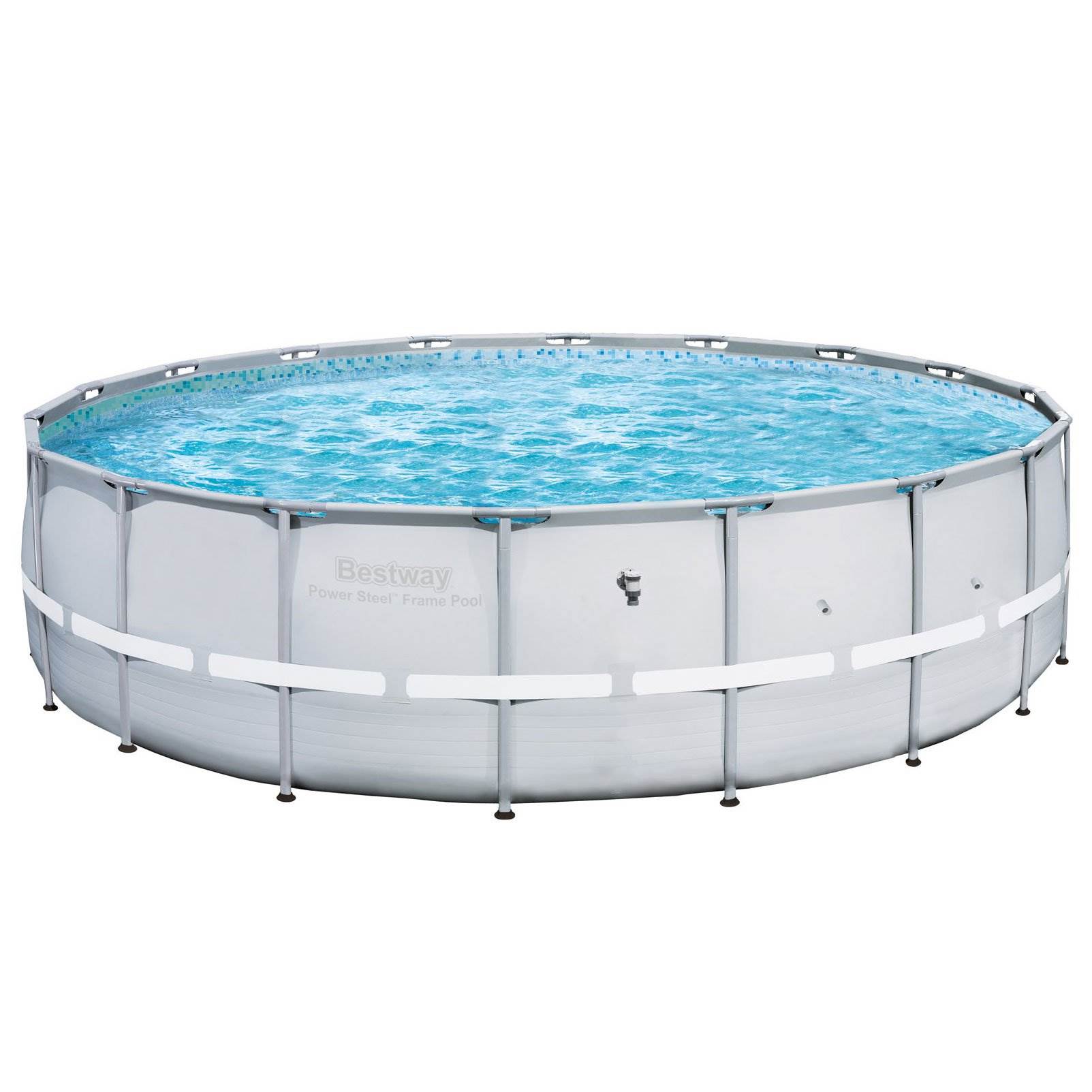 When you want to buy a good above ground pool, you'll want to look for the one that's really easy to set up.
Well, the Bestway Round Frame Above Ground Pool and Pump is as easy to install and set up as it gets.
It comes complete with everything you'll need to put up your pool. Plus, everything is laid out for you so that you won't have any problem with this DIY job.
Other than its ease of installation, you'll also love the fact that this pool is very durable. It is built from heavy-duty material as well as 3 ply polyester side walls. You can expect this above ground pool to last for a long time without easily wearing out.
14 feet x 48 inches
16 feet x 48 inches
18 feet x 4.3 inches
20 feet x 48 inches
22 feet x 4.3 inches
Easy DIY setup
Comes with a built-in flow control drain
Heavy duty and sturdy built
3 ply sidewalls
Solid foundation
What Do Customers have to Say
Because of the good reputation of the brand, many customers are satisfied with the product. Customers have commented how easy the pool is to set up, as well as how durable it is.
There are also some customers who have mentioned that the legs are so sturdy that they don't worry about the pool falling over.
Not hard to install
Has a long shelf life
Legs are very sturdy
Very easy to drain
The pump isn't that strong
Hose leaks a bit
6.  Summer Waves Elite Above Ground Swimming Pool with Metal Frame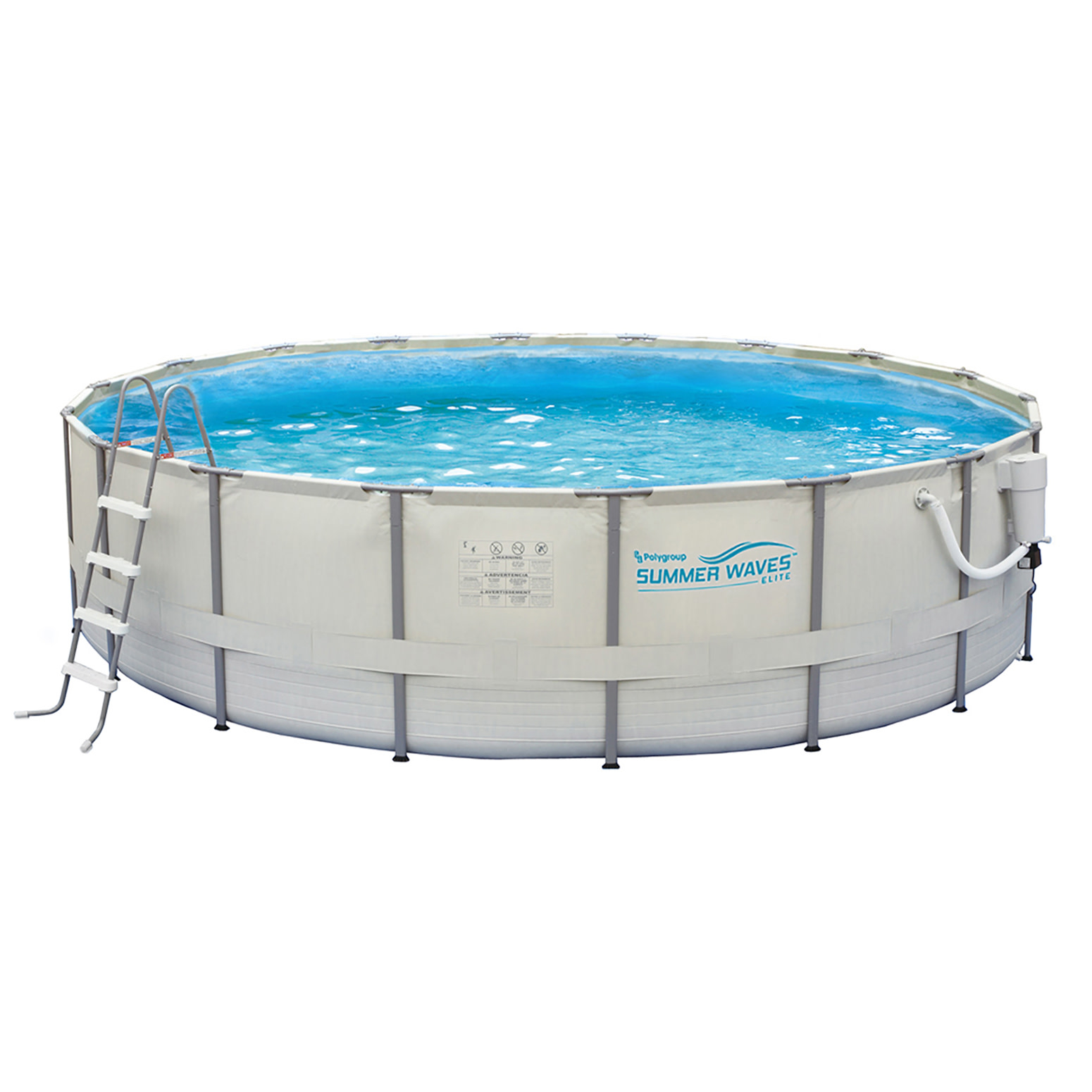 How does a pool party with a few best friends sounds like? It's a fun and relaxing way to catch up with each other, right? But there's just a little snag; you don't have an inground pool in your backyard.
No worries! This is exactly why Summer Waves Elite Above Ground Swimming Pool is created. This round pool can be easily assembled so that you and your friends can enjoy a night long pool party or have a great morning swimming session with the family.
The Summer Waves Elite Swimming Pool has a total capacity of 4,400 gallons of water and can accommodate an entire family. You can get this either in 15 feet Diameter x 48 inches Deep or 18 feet Diameter x 52 inches Deep.
Metal frame that is soft-sided yet durable
SkimmerPlus Filtration System
Patented Cartridge Filter
Huge water capacity of 4,400 gallon
What Did Customers Have to Say?
Just like any other product online, people have different opinions about this pool. However, users of this pool, in general, do agree that this is one of the most durable above ground pools in the market. Others say that the filtration technology of this pool is also superb.
It is constructed with heavy gauge PVC, which is reinforced with polyester mesh. Thus, you can guarantee its durability.
Aside from its durable PVC material, this pool also features a metal frame to ensure the pool can keep its shape and stand still.
The filtration system is the one responsible for the sanitation of your pool. Good thing Summer Waves Elite above ground pool is equipped with a SkimmerPlus filtration system, a type of system that gives a full-surface skimming in the pool.
It has a skimmer basket and an integral cartridge that cleans and screens out the dirt and debris from the water.
You can get this item at a very reasonable price.
There are only 2 sizes available.
A few users complain about the pump.
7.  Intex Ultra XTR Rectangular Pool Set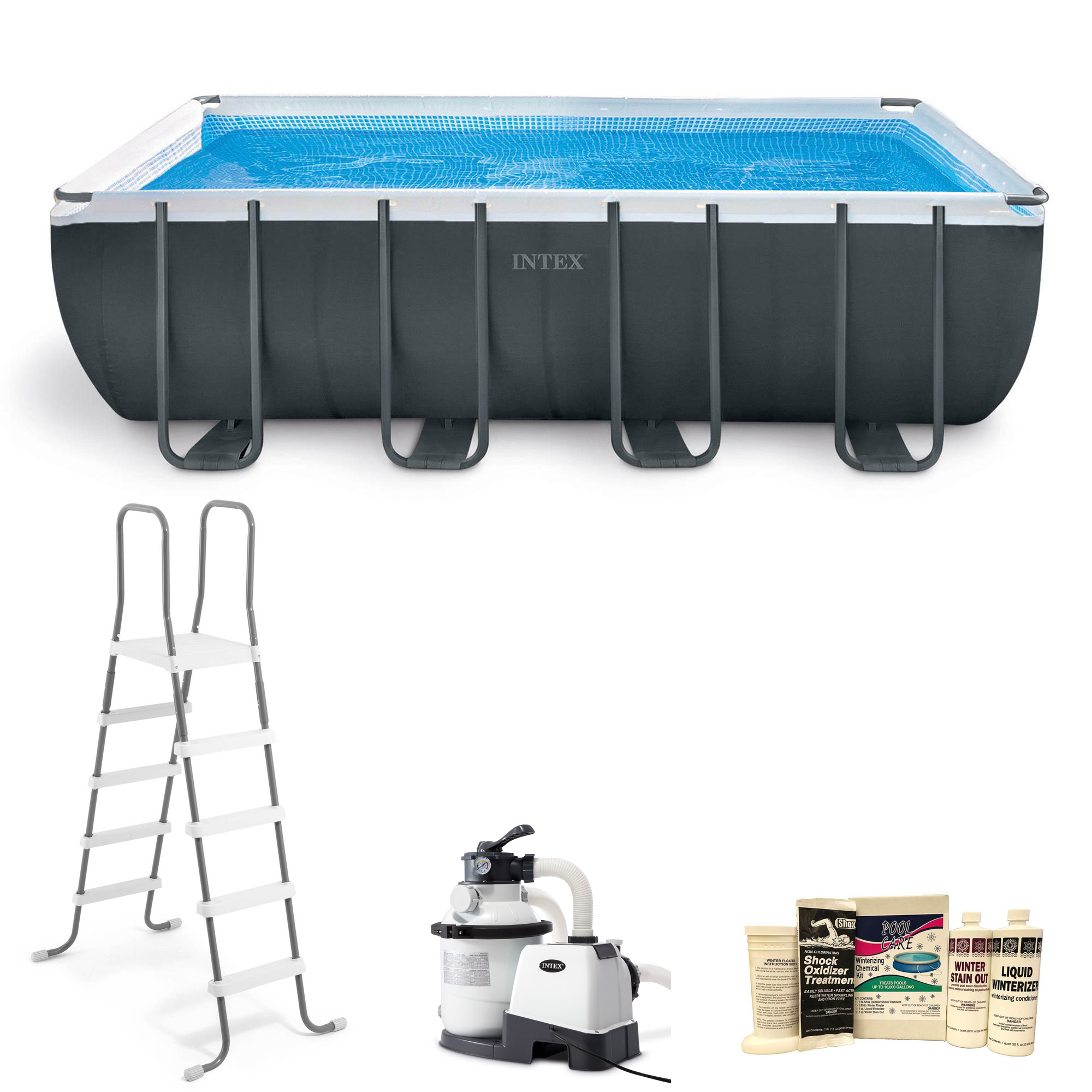 This Intex pool set is pretty much like the previously mentioned Intex Ultra XTR pool set. The only difference is that this one has a different shape. While the first one sports a circular shape, this one has a rectangular one.
There are many advantages to rectangle pools such as being able to house more people and giving you adequate space to practice laps. Just like its contemporary, it also has a frame that's made of galvanized steel that's rust proof.
18 feet x 9 feet x 52 inches
24 feet x 12 feet x 52 inches
32 feet x 16 feet x 52 inches
Long, rectangular shape
Galvanized steel frame
Powder coating
1200 gallon per hour flow rate pump
4545-gallon water capacity
What did customers have to say?
Since this Intex pool and the previously mentioned one are pretty much the same, the customers had the same sentiments for both. What made this particular variant stand out was its size.
Customers loved the fact that it was long enough for laps. In fact, one customer commented that their kids could practice swimming back on forth in this pool and still get a pretty good workout. Size and shape seem to be a favorite feature of this pool variant.
Long, beautiful frame
Rust proof built
Powerful pump
Comes with pool ladder
Does not come with necessary accessories
Vacuum suction does not take in small debris that well
8.  Intex Rectangular Ultra Frame Pool Set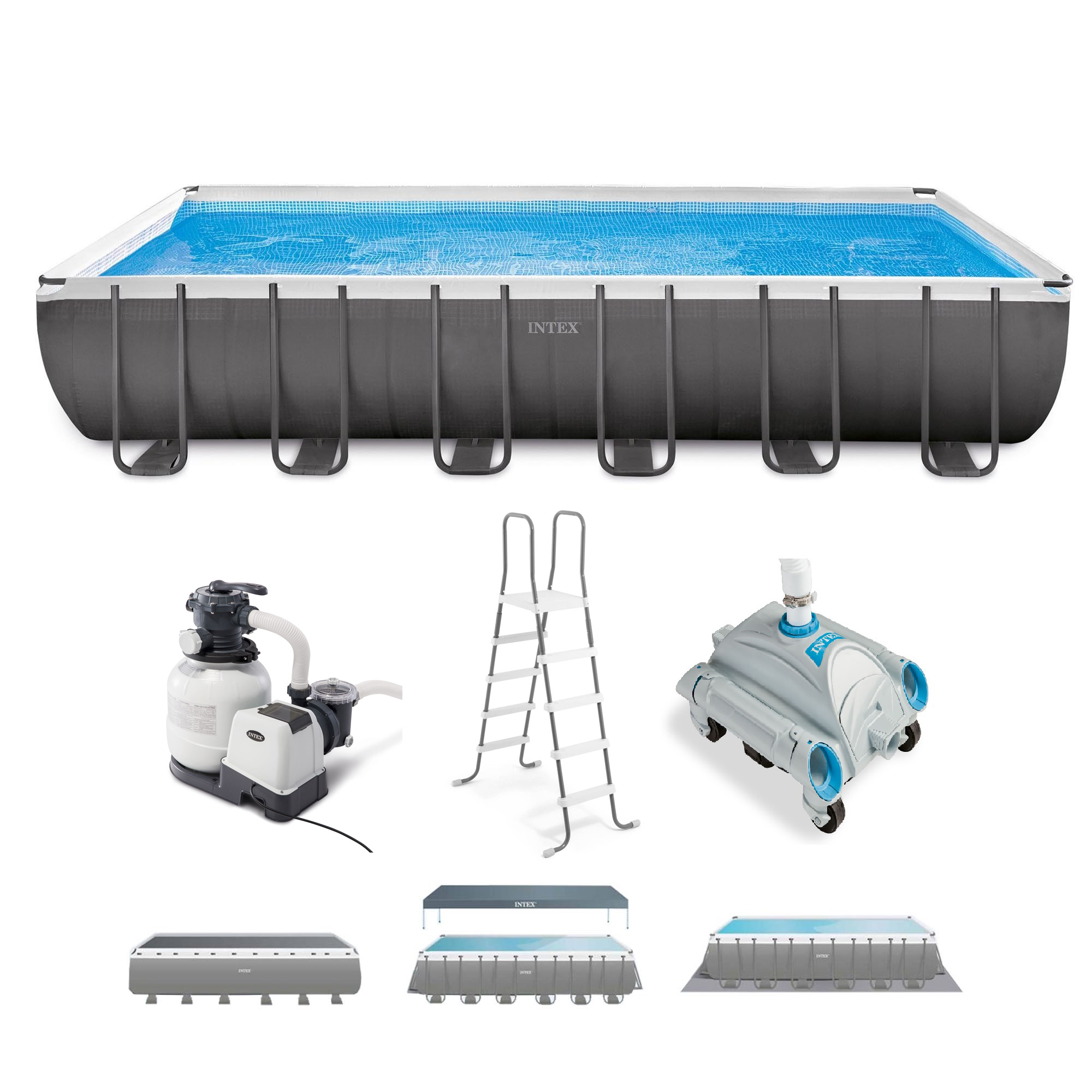 If you want a larger pool with the right shape for lap swimming, the Intex rectangular ultra frame might be the best above ground pool set for you. I recommend getting the deluxe pool set instead of the regular set, because it comes with a maintenance kit and volleyball set along with the other accessories.
Deluxe pool set includes maintenance kit, volleyball set, pool ladder, pump filter, ground cloth, maintenance DVD, and pool debris cover along with the pool itself
Sturdy design can withstand all sorts of play and exercise without any problems. This pool can last for years
This pool is compatible with a saltwater system if you choose to buy on to install
Pool size: 24' x 12' x 52" This pool has a water capacity of around 8,500 gallons.
What did customers have to say?
Positive reviews focused on the ease of using the sand filter and how well it worked for cleaning out the pool. Most negative reviewers mentioned that the support U-frames needed to be on a solid surface such as wood, rocks, or concrete, but this fact is not noted in the setup instructions.
Everything you need to set up an run your pool immediately is included in the pool set
Deluxe pool set includes a lot of fun extras that kids and adults can enjoy together
This pool is very attractive and will look great in your yard
Included sand filter is easy to keep maintained and works well with the pool
The large size of this pool can accommodate lots of swimmers
Pool frame is very strong with extra U-frame support bars around the sides
Included ladder is a little shaky
This is the older model of the pool and it may be discontinued by the manufacturer, making parts hard to come by if you need to replace anything
There is a newer model of this item:
9.  iPool Deluxe Above Ground Exercise Swimming Pool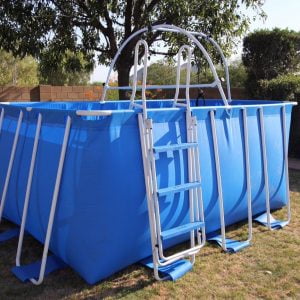 Anyone looking for an exercise pool can get a lot of benefit from this compact pool. It's small in size because there is a Velcro harness attached to the top that will hold you in place and help you experience the water resistance of lap swimming without needing a full sized pool. The water pool heater included in this set makes it comfortable enough to use all year around.
Velcro harness is large enough to hold people of many different sizes securely
This deluxe set comes with a water pool heater, filter pump, cover, pool ladder, ground mat, and patch repair kit
Compact footprint
Pool size: 10' x 6.5' x 3.1' (L x W x H) The water capacity of this pool is around 1,500 gallons.
What did customers have to say?
Positive reviewers focused on how the compact size of the pool made it easy to place anywhere indoors and outdoors. Another common praise was for the awesome customer service by Fitmax. Negative reviewers mentioned that the heater gave some trouble with electrical hookups and heater failure.
Compact size is easy to place in your yard or house
Pool set comes with everything you need to set up and use the pool
Pool heater allows for use all year
The harness is strong enough to hold a steady level of resistance
Perfect for athletes recovering from injury, those who want to practice swimming, or anyone else who loves to swim laps for exercise
Small size does not allow for anything except exercise in this pool
The heater may require professional installation
Currently unavailable.
10.  Blue Wave Martinique Above Ground Pool with Top Rail Metal Wall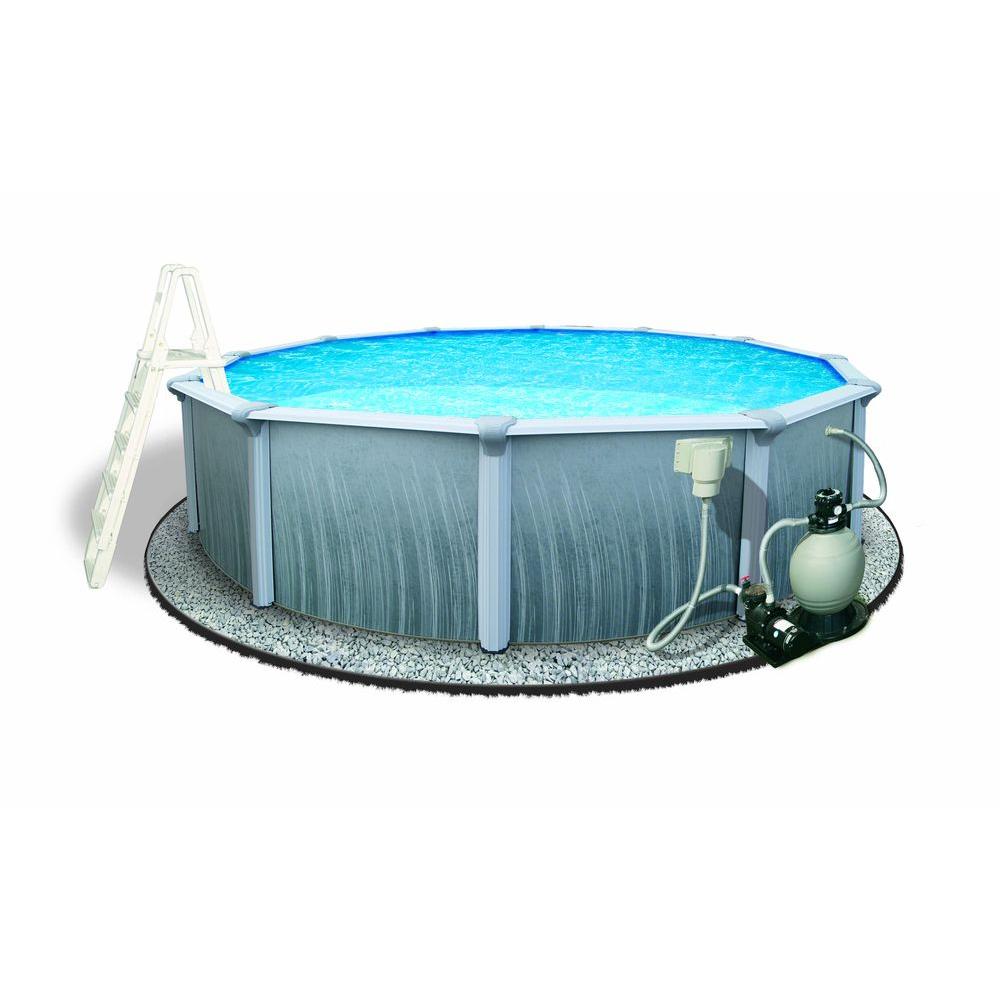 If you are going to search on the internet about reviews and user feedback of this pool, then you'd know that Blue Wave Martinique is a great value above ground pool.
Sure, this one might not have a full star rating, but knowing what the product can offer and its limitation will avoid unnecessary expectations and will lead you to appreciate the product more.
Blue Wave Martinique Above Ground Pool is a round pool with top railing metal wall to ensure the safety of the swimmers. It also comes with an A-frame ladder for an easy access into the pool.
On top of that, you have 5 different size choices. Blue Wave Martinique Above Ground Pool is available in the following sizes:
15 feet Diameter x 52 inches Deep
18 feet Diameter x 52 inches Deep
21 feet Diameter x 52 inches Deep
24 feet Diameter x 52 inches Deep
27 feet Diameter x 52 inches Deep
Various sizes are available
With Skimmer, filter, and pump included in the package
Has a Star Galfin Galvanization protection
Very easy to install
What Did Customers Have to Say?
Some customers love it, and a few don't. Those who commend the product said that the pool is made of high-quality material and has an impressive protective zinc coating.
On the other hand, complaints about the product are subjective and differ per user. One said the package arrived with some missing parts, which could be a packaging or delivery problem and doesn't concern the quality of the product itself.
There are a lot of sizes available for you to choose from.
This is an all-in-one swimming pool package, from the pump, filter to skimmer.
Blue Wave Martinique Above Ground Pool has 7 feet top rail that helps support the pool, as well as add to its durability.
This has the best warranty among all products on the list. Blue Wave offers a total of 25 years.
Made of top-notch material and can last long when taken care of.
This uses sand filtration, which is not an easy one to clean.
11.  Blue Wave Riviera Above Ground Pool Package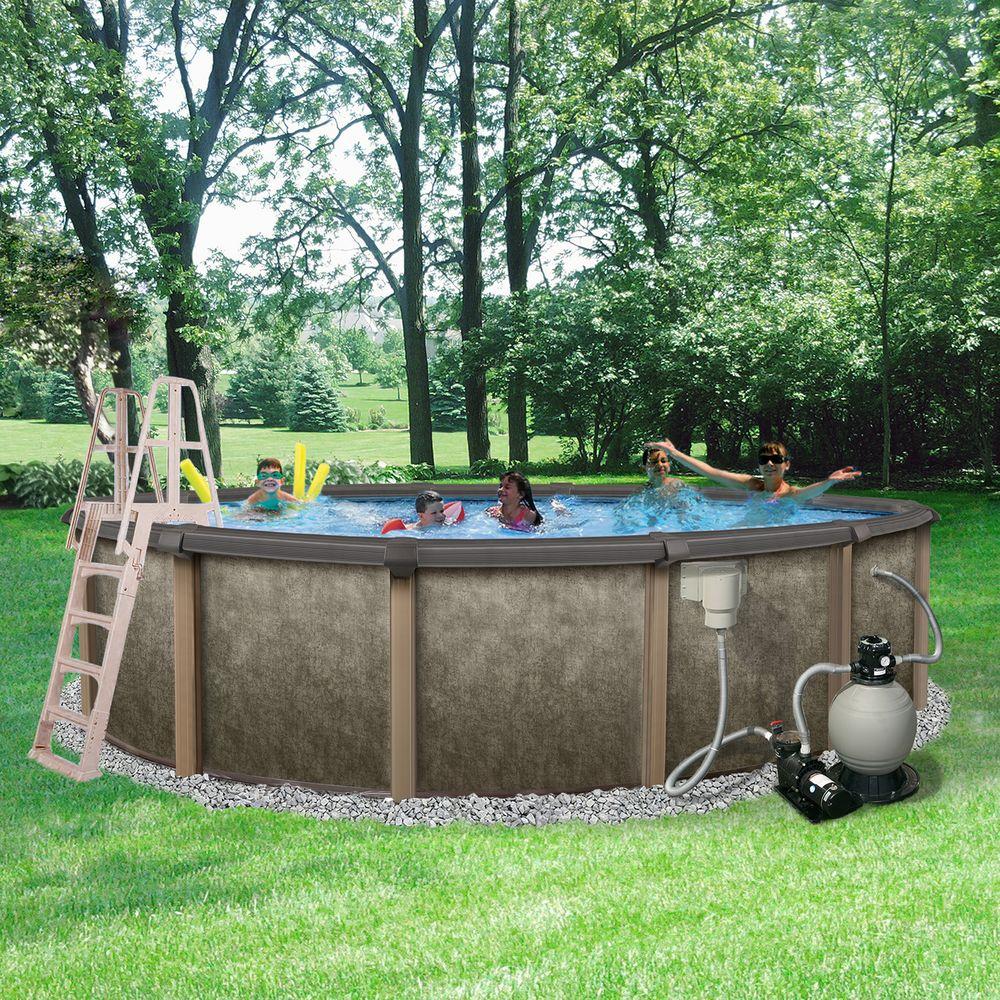 Probably the first thing that will catch your attention about this pool is its design. Unlike many other above ground pools, this one sports a very sophisticated and classy design.
In fact, we can even say that it looks like an above ground pool from another time. However, it's not just the aesthetics that make it appealing. It also has very impressive durability because of its UV inhibitors making it resistant to very harsh sunlight.
It is also rust proof and corrosion proof. It's pretty much like having beauty and reliability all rolled into one with this above ground pool package.
18 feet x 54 inches
27 feet x 54 inches
UV inhibitors included
Strong steel frame
Decorative design
18-inch sand filter
1 horsepower pump
What customers have to say about this pool
When it comes to overall quality, most customers agree that the pool rates very high. Overall resistance to various external factors makes this pool have a very long life.
Customers have also claimed that it is rather easy to set up as long as you have some help.
Salt pool compatible pool bottom
Corrosion and rust resistant resin railing
Chemical resistant built
Above 8000 pool capacity
Liner rips quite easily
Prone to some leaks
What are the benefits of an above ground pool?
Here are just a few of the benefits you can expect to receive from your new above ground pool:
Less investment than an in-ground pool. While in-ground pools cost thousands of dollars to install, above ground pools can be less than $150 in some cases. They might not last as long, but are easy to replace and even after buying multiple pools over the years you still won't have spent as much as you would have on an in-ground pool.
Quick and easy fun for the whole family! Once your pool arrives, you can open up the boxes, set it up, and begin filling it with water immediately. Even with the largest above ground pools you should be ready to swim in less than 2 days.
Freedom of portability and storage. If you don't like where you've set up the pool originally, you can drain it and move it to a new location. Additionally, over the cold months if you don't want to winterize your pool you can simply drain it, allow it to dry, and then leave it in a safe place for storage until the weather warms up again.
Hours of fun each day. What' better on a hot summer day than playing or relaxing in the water? Above ground pools are the perfect place to spend those sunny summer afternoons and they are a great way to keep the kids busy!
Above ground pools have found unique usages. With or without trainers, these are ideal for water therapy in those recovering from pain and joint problems. This is as true of humans as well as aging pets or pets with mobility problems. Shallow above ground pools can be safely used to retrain muscles and get strength back in a number of conditions from accidents and injuries to arthritis and paralysis. Research also reveals that autistic children receive unique benefits from swimming, especially swimming with animals. An above ground pool in the backyard makes all such treatments a possibility within easy reach.
What To Consider When Looking For The Best Above Ground Pool
Truly understanding what your need, it is easier to know which is the best type of above ground pool for you.
1. When is the best time to get an above ground pool?
Prices for pools can vary throughout the year. The cheapest deals appear from October and onwards through the winter season with prices getting higher again as late spring and summer draw near again. If you have a place to store the unopened boxes, you might want to take advantage of a good deal, however you should keep in mind that if the pool has a problem you will usually not be able to send it back after 30 – 60 days.
2. What type of pool should you get?
There are various types of above ground pools. The most common are the easy set pools and metal frame pools. Easy set pools have soft vinyl or PVC walls and an inflatable ring that lifts up the pool walls as you fill it with water. Metal frame pools are sturdier, as they have steel bars supporting the vinyl or PVC pool liner and can hold up more water in different pool shapes.
3. What shape of pool do you want?
Above ground pools usually come in circle, oval, rectangle, and occasionally square shapes. Depending on what you plan to do with the pool, the shape can make a big difference. Those who want to exercise should get rectangle pools for lap swimming, while those looking to swim recreationally can deal with any shape and should pay more attention to how much space they have to set up the pool.
4. Which brand should you buy?
I recommend getting a more popular or well known brand such as Intex or Bestway. These brands are from larger companies that will be able to handle any issues that may arise with your pool. Getting spare parts, filters, heaters, and other accessories is also easier when you have one of these brands.
5. How big of a pool do you need?
To answer this question you'll have to think about how many people will most likely be using the pool at one time. Do you expect to have a large crowd visiting your pool at once or not? Is your family large or small?
6. How easy is it to set up the pool?
If you're planning to set the pool up by yourself, you should find out how easy it is to set up before you order. The last thing you want is to take the boxes out and start setting the pool up before you realize you can't do it by yourself!
7. Is the pool safe?
This question is especially relevant if you have children of any ages. I would recommend that you check the appropriate ages for each pool before buying, as this will take into account how high the water level is as well as the safety of the design for children. Many of the above ground pools you'll find are great for children of 4 years or older, however some of the taller pools may be better for children 6 years or older.
8. What is the pool made of?
When you are looking for the best pool, you have to take into account how strong the pool will be. Spending hours patching up the pool, having to drain the water to fix it, ordering new parts, and shelling out money to replace leaky pieces takes away from the great fun of having a swimming pool in the first place! Make sure your pool is made of strong, durable materials that will last for years.
9. What's included with the purchase of the pool?
While getting the pool by itself might seem like a bargain price, buying a pool set is a wonderful way to be able to use your pool as soon as it arrives. Pool sets usually include the essentials such as a filter pump and pool ladder along with the pool itself.
10. Where can the pool be placed at my home?
Before you can know what type of pool you should get, it's important to plan out where you're going to place it on your property. Find a relatively flat area (that can be leveled out) and measure it to get an idea about how big of a pool you can get and what shape will fit the best.
How to buy an above ground pool
I think the easiest way to buy an above ground pool is through Amazon, Walmart, eBay, Homedepot. While you can find them at stores in your area, you might not have as much selection as you will online. Also, when you buy from Amazon you can get benefits such as warranties, best price comparisons, and more. Before you buy, you can check out honest user reviews for each pool you're interested in instead of just having a salesperson from your local store tell you all about how great the pool is!
Best ways to use above ground pools
Although above ground pools may not have some of the features that many people like about in-ground pools, they make for a wonderful substitute that can be used for many reasons. It's easy to use an above ground pool for exercise. If you purchase a larger rectangular pool you can do lap swimming, but even in other types of pools it's possible to exercise by doing resistance training in the water.
If you are more interested in playing and relaxing, above ground pools are perfect for that! Many of them are shallow enough that children can play in the water without much trouble and can really enjoy themselves by playing fun water games without having to worry about the deep end. You can also hop on an inflatable pool float and enjoy the sun and water while you float around in your above ground pool.
Some people that buy these types of pools will build a small wooden deck area around part of the pool with stairs leading up to the pool. This helps to make it easier to get in and out of the pool while also giving swimmers a place to relax when they're done swimming or else to have a snack or drink poolside.
How to Take Care of Your Pool
Whether buying the best above ground pool, fiberglass pool, or hot tub on the market, there are is one thing to keep in mind – in order to maintain a healthy pool environment you need to take care of the water! The two most obvious things to think about is water circulation, and of course, cleaning the sides and bottom of the pool itself.
Firstly, let's take a look at the importance of water circulation in a pool.
What is meant by pool circulation?
A pool's circulation system ensures that your pool water is flowing on the one hand, while it ensures all added chemicals are distributed throughout the pool. Your pool's circulation system includes the swimming pool pump, the pool filter, skimmers, drains, and returns. These parts all work together and see to it that your pool's water remains healthy.
"But how does it do that?" you might ask.  This is a great question!
Essentially, water is drawn out of the pool through the pool skimmers. The water then moves through the skimmer basket where larger pieces of debris such as leaves, for example, are removed. The water then moves through a filter, which removes anything not caught by the skimmer basket. Depending on the type of pool pump you have, the water may be treated (and heated) before it is returned to the pool. The end result is a pool with clean, safe water.
All you need to do now is add some pool toys, your swimming goggles, and your waterproof fitness tracker if swimming for fitness is your thing! If you want to add to the experience, you can even switch on your mp3 player for swimming!
Your next question may be "But what about that gooey, slimy stuff and leaves that accumulate on the sides and bottom of the pool?"
Well, although the pool circulatory system takes care of everything floating on top of the water, it is not enough to take care of whatever sinks to the bottom or accumulates on the sides! But for this, too, there is a solution! An automatic pool cleaner!
Frequently asked questions (FAQ)
Can these pools be delivered to my location?
Amazon shipment can be delivered all over the USA
What's the best way to fill an above ground pool?
Once you pick out the best above ground pool, you can either use your own water source such as a garden hose or have the necessary gallons of water delivered by a tanker truck to quickly fill the pool.
What kind of warranty is available?
Most of the pools listed above have a 1 year warranty when purchased new, but you'll want to check with the manufacturer to make sure.
What's the required maintenance for a pool?
Many pools simply need to be vacuumed once per week, skimmed to remove debris, and filtered in order to keep the water clean. Depending on what chemical method you're using, either saltwater or chlorine, the maintenance might be different.
How do I level out the ground to place my pool?
You can find more information about leveling the ground and installing an above ground pool here.
How deep are above ground pools?
Because the walls are submitted to a lot of pressure, the maximum height is around 54 inches, meaning that the maximum pool depth is about 52 inches.
How could I drain my above ground pool?
This depends on whether your pool comes with an outlet. If so, open it, and let the water flow out. Alternatively, you can attach a hose to the outlet and allow the water to flow out where you want.
You can also use an electric pump to do the job, or do it manually by siphoning out the water using hosepipes. For the latter, you need to insert one part of the hosepipe into the water and suck on the other end until the water starts coming through. Make sure not to swallow any water! The more hoses you insert into the pool, the quicker it will drain.
Do you need a fence around an above ground pool?
Strictly speaking, probably not, but this depends on the pool. Does it have stairs? Is it easily accessible by children or pets? The golden rule might apply here: rather be safe than sorry and install a fence.
Conclusion

If you're going to make a big decision such as buying an above ground pool, you'll want to make sure you're making the best decision to fit you and your family's needs. The best above ground pool for you might not be the same one as for someone else, as each buyer has their own specific needs. Hopefully, I've been able to give you some good advice and recommendations to assist you in your search for the perfect pool to enjoy this summer!