For first-time parents, bathing your baby is an important milestone that you want to do right. Sure, you can be very careful sitting your baby in the bathtub, but one wrong move and this can already cause accidents. Fortunately, baby bathtubs and seats are now easily available to make bath time convenient for you and your baby.
In this article, we'll tackle the types of bath seats that you can choose from. To help you out further, we'll also include the top 7 best baby bath seat and tub options that is worth your money.
Let's get started!
What is a baby bathtub or seat?
This is a bathtub/seat specifically designed for bathing newborn babies. Most baby bathtubs have a center seat that also allows the baby to sit up while bathing. Baby bathtubs come in different types which we will discuss in the succeeding section below.
Why should you use a baby bathtub or seat?
Believe it or not, bathing your newborn baby requires special skills that most first-time parents find difficult. In a bathing guideline released by Our Lady's Children's Hospital, Crumlin, they highly recommend the use of portable baby bath that is placed at a comfortable height.
This is to prevent back strain and back injury while bathing your baby. In addition, using a baby bath seat greatly supports the bathing activity, making it steady and comfortable.
Types of Baby Bath Seat and Tub
1.  Standard Baby Bathtub
The standard baby bathtub is usually made from durable plastic. It usually has a sloped interior to support your baby during bath time. Make sure to choose a sturdy plastic that is thick enough to hold the weight of your baby.
You might be wondering if the plastic material is safe for baby's bath time. As long as you buy your plastic baby bath from a certified manufacturer that passed the product safety test from designated bodies like the CPC or Children Product Certificate, then you can assure of its safety.
2.  Bucket Baby Bathtub
This type is shaped like a bucket, hence the name. This is also made of plastic and is great to hold your baby in an upright sitting position. While a bucket shape seems like an inconvenient, tight fit, it is actually great for babies who hate bathing. The upright position helps calm the baby, not to mention it helps you save water, too!
3.  Convertible Baby Bathtub
Convertible baby bathtub, as the name implies, can be converted to two or more positions. Most convertible baby bathtubs can be converted into upright sitting position or lying down position with the head elevated.
This type of bathtubs is preferred by many because it is suitable for newborns and infants. Some versions can even be used for toddlers.
This is also usually made from the durable plastic material. Moreover, it also comes in several detachable parts that allow you to switch up positions.
4.  Cushion Bathtub
If you want a more comfortable tub for your baby, then you can opt for the cushion bathtub. Unlike the standard and the convertible baby bathtub, the cushion bathtub doesn't hold water. This works by supporting your baby while bathing him or her in your regular bathtub.
All you need to do is place the cushion baby bathtub in your regular bathtub. The water will then fill up the cushion, giving you a safe section bath area for your baby's bath time. This is a great choice for babies who don't move much while bathing.
5.  Inflatable Baby Bathtub
If you want a more upgraded version of your baby's bathtub, then this inflatable bathtub is a great pick. You can get this type in a flat version but can be filled with air, making it float in your regular bathtub.
Most baby bath seat reviews ranked this as the most portable among the types. However, its portability is being traded off by being less steady and less durable than the standard and convertible types.
6.  Hammock Baby Bathtub
If the inflatable and cushion types are not enough, you can always go for this hammock type. This usually looks like the standard tub with an added hammock at the center to support the baby's body.
The hammock will support and hold your baby in place while you are free to use both hands to wash your baby's body. The hammock is usually made from non-slip foam pad for your baby's comfort.
7.  Luxury Baby Bathtub
This bathtub is the most advanced on the list. It is usually operated by batteries. This functions like a spa that creates a bubble and has a mini shower nozzle. The gentle swirl of the water, plus the fresh spray from the nozzle, will make it easier for you to soap and wash your baby.
The most notable disadvantage of the luxury baby bathtub is that this is heavier than the other baby bathtub types. This is also more expensive.
Top 7 Baby Bathtub/Seat Right Now!
Check out our top picks for the best baby bath seat and tub below!
1.  Fisher-Price Four-in-One Baby Bathtub and Seat with Sling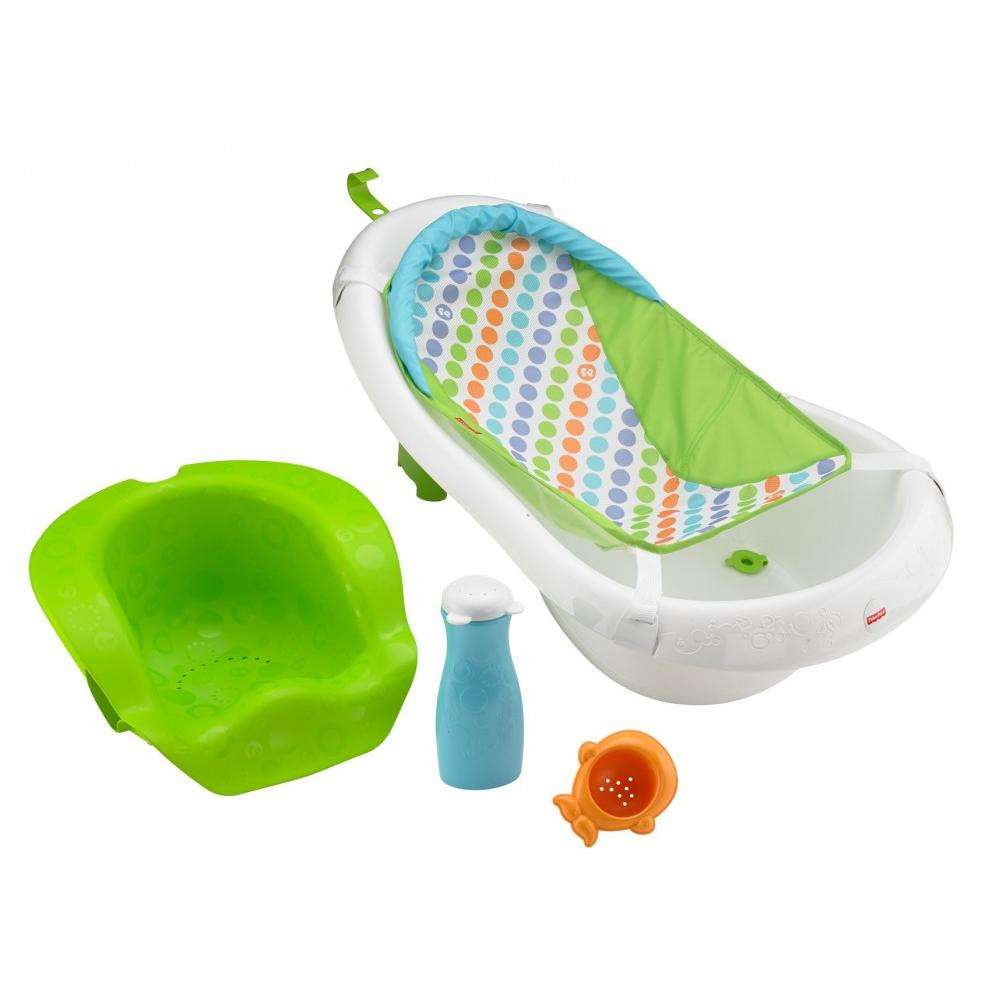 Fisher-Price is mostly known for offering educational toys for infants and children. But don't get fooled for this hammock type baby bathtub is a priced product that a lot of users love.
This is a combination of hammock and convertible bathtub and seat type. You can either use the hammock center to hold your baby in place or use the seat center to let your baby sit upright while bathing.
Key Features:
This is a 4-1 baby bathtub: 1) the mesh sling secures the baby with just enough amount of water; 2) the baby stopper prevents slipping and sliding; 3) the baby seat helps support sitting position, and 4) remove the additional parts to allow more room as your baby grows into a toddler.
This is easy to assemble
It is also easy to drain and requires less maintenance.
This comes with a hook for easy storage and drying.
2.  Angelcare Baby Bath Support in Aqua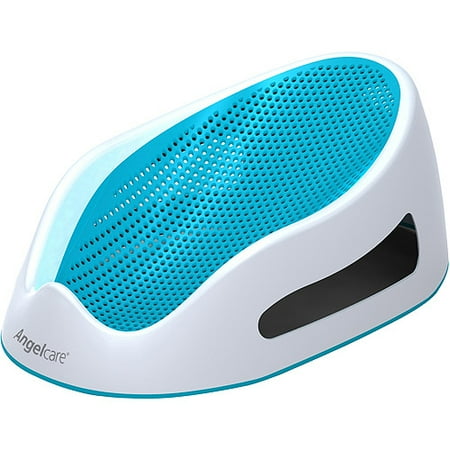 This is more of a baby bath seat with a stopper at the bottom to prevent the baby from slipping. This uses a mesh material which allows the water to be immediately drained. Aside from its affordable price, this is a favorite among parents because of it is lightweight with only 1.65 pounds weight.
Key Features:
This is hygienic and mildew-resistant as this does not hold water.
This can be cleaned easily.
The stopper at the bottom can comfortable sits the baby with it at the center of the baby's legs.
No assembly is required. This is ready to use.
It is very lightweight yet durable.
3.  Shnuggle Compact Bucket Baby Bathtub
This bucket type baby bathtub allows you to sit your baby comfortably inside. This makes bath time easier for both you and your baby. This can hold up two liters of water.
Key Features:
This is a lightweight bucket baby bathtub with an estimated weight of 7.3 (with water).
It has a foam backrest to allow your baby to slightly support your baby's back.
This bucket bathtub even features a non-slip feel to prevent slipping in case your baby tries to stand up.
This is perfect for babies from birth up to 12 months.
4.  Summer Infant Convertible Baby Bathtub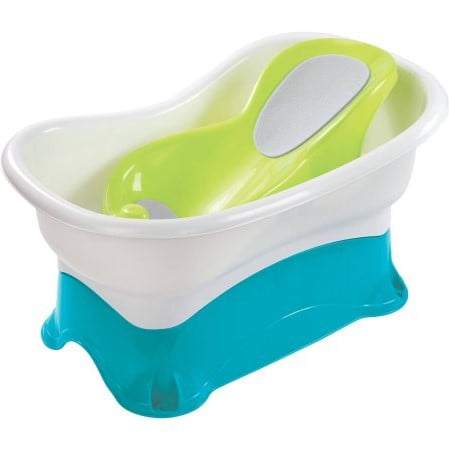 This baby bathtub is suitable for newborns and infants. You can use the raised bath center when bathing newborns or remove it to use the whole tub area for infants.
Key Features:
The raised bath center allows you to bath your baby comfortably.
It also has study platform to further raise the baby at a comfortable height. This reduces back strain for parents.
No assembly is needed. Just place the raised center inside or the platform at the bottom when you need them.
You can use the raised bath center alone and just bath your baby in the sink.
This is very easy to clean. Just wipe it with a clean cloth.
5.  Disney Inflatable Baby Bathtub in Winnie the Pooh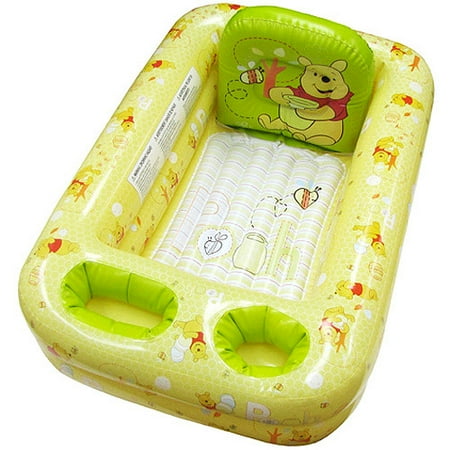 Want to make bath time more enjoyable for your infant baby? Get this inflatable bathtub by Disney. It features a cute Winnie the Pooh images all over the bathtub.
Key Features:
This is an air-cushioned bathtub.
It is also non-slip, owing to its surface being textured.
This can be deflated for easy storage.
This comes with two large pockets where you can place the soap and shampoo.
This is the best baby bath tub for toddlers.
This is also lightweight and portable.
6.  Summer Infant Sit-Up Baby Bath Seat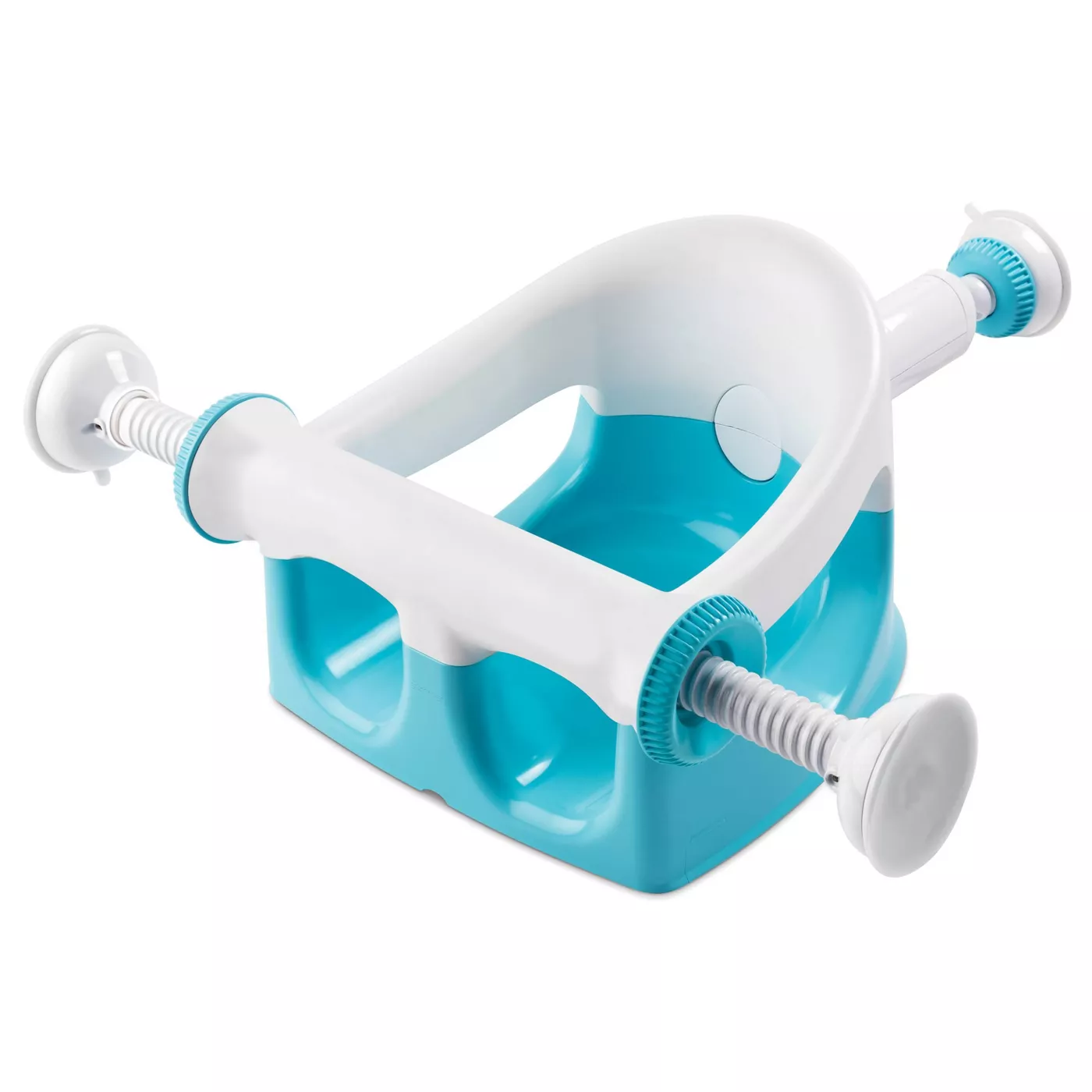 Sit-me-up bath seat has garnered popularity these days. If you're a fan of this bath seat, then you'll be glad that a reputable company like the Summer Infant Inc. now offers this amazing product. Complete with a backrest support, no wonder why this sit-me-up bath seat has become a favorite.
Key Features:
This easily fits in the standard-sized bathtubs (21-24 inches wide).
It has a hands-free support. So, you can use both hands when washing your baby.
It comes with a bath seat lock to secure your baby in place while ensuring his/her stability.
The backrest support secures your baby from the back in case of sudden movement.
7.  Boon Three-Stage Baby Bathtub
This may look like a standard baby bathtub, but it actually boasts a three-stage feature. This is suitable for newborn babies up to toddlers. This is small enough to fit in most double sinks but big enough to hold your toddler inside.
Key Features:
This is a hassle-free baby bathtub that can be used for newborns, infants, and toddlers— a great deal for your money!
It has a non-slip foam to avoid sudden slips when bathing.
It even has a color-changing drain plug to help you gauge the ideal water temperature for your baby.
Conclusion
If you want a comfortable and hassle-free bath time for you and your baby, then purchasing the best baby bath seat and tub is a smart choice.
Out of the 7 options on our list, we recommend the Fisher-Price Four-in-One Baby Bathtub and Seat with Sling. It offers the most functions and is also reasonably priced. With its 4-stage feature, you can use the tub up to when your baby becomes a toddler. This also requires less maintenance. Plus, it's easy to store.
Still, your personal preferences should be considered when deciding which baby bath seat and tub to buy.
Not entirely convinced of the products on our list? Check out other baby bath seat reviews and let us know if we missed out other great products. 🙂