Storage space is an essential aspect in anyone's home. To keep your home looking tidy, it is important to choose the right storage, especially in areas where you keep many of your supplies such as your kitchen and bathroom.
Since the bathroom is considered as one of the areas in your home that hold the most clutter, you need to find a good storage for it. In here, you will find washcloths, towels, toilet papers, hygiene and beauty supplies, and even rubber duckies for your kids.
If you are trying to solve your storage problems in this often-cluttered area, it is important to look for the best bathroom cabinets. Find out which is the perfect fit for your home with our comprehensive bathroom cabinets review.
Wall Mounted Bathroom Cabinets Vs. Free Standing Cabinets
Picking the best bathroom cabinets shouldn't feel like a difficult endeavor. But first, you need to decide what you need for your bathroom; either a wall-mounted cabinet or a free-standing one. So, how will you know which is the better option?
To help you decide what's the best bathroom cabinet for your home, we've listed down the things you need to know about these two types of storage:
Wall Mounted Bathroom Cabinets
Aside from its visual benefits, wall mounted bathroom vanities are specially designed to hide visible plumbing and store bathroom essentials. One of the advantages of this option is it doesn't take too much floor or desk space. They are also often mounted over your toilet for ease of use and convenience.
They can be made of wood, glass, or metal. You can even find other varieties with glass doors that are frosted, stained, or clear. It's a stylish option for your bathroom that brings a contemporary appearance while offering a good amount of storage space.
Having wall mounted bathroom cabinets is an efficient and organized way of storing your bathroom necessities. It doesn't simply keep your bathroom looking neat;it also helps protect your plumbing from damage. If you have a smaller bathroom, this is a great choice.
Free-Standing Bathroom Cabinet
If you're looking to give your bathroom an additional character, you can consider purchasing a free-standing bathroom cabinet. This type of bathroom storage resembles a typical stand alone furniture with the same storage capacity and plumping benefits of the more traditional option.
A free-standing bathroom cabinet also extends the line of vision of the room, giving it a wider look. The flooring also continues underneath the cabinet itself. If you're considering this option, you can also expect a number of perks.
First, you can customize the look of your free-standing bathroom cabinet. It can be patterned from actual furniture or matched with the rest of your home's theme. If you also want to have a bathroom mirror, you can actually have a customized free-standing cabinet that has one.
Also, a free-standing cabinet is actually a more economical option than the built-in ones. They are also commonly pre-fabricated and portable, making it easier for you to take them should you decide to move.
They also come in a variety of colors, sizes, designs, and textures. Whether you prefer a small earth-toned cabinet or a larger one that mimics solid wood, you can search for a great option that best suits your needs and preference.
Once you've made up your mind about the type of bathroom storage you want to get, it's time to decide what you will store in these cabinets. However, it will be more helpful if this is already determined prior to decide which of the two should you get. Being able to identify what will be stored in the cabinets will give you an idea what exactly you need for your bathroom. You are also more likely to pick the right cabinet size for your supplies.
When all of these important elements have been factored in, you can already choose the color, style, and material that you want your cabinets to have.
Product Reviews of the Best Bathroom Cabinets
1.  Birch Lane Free Standing Cabinet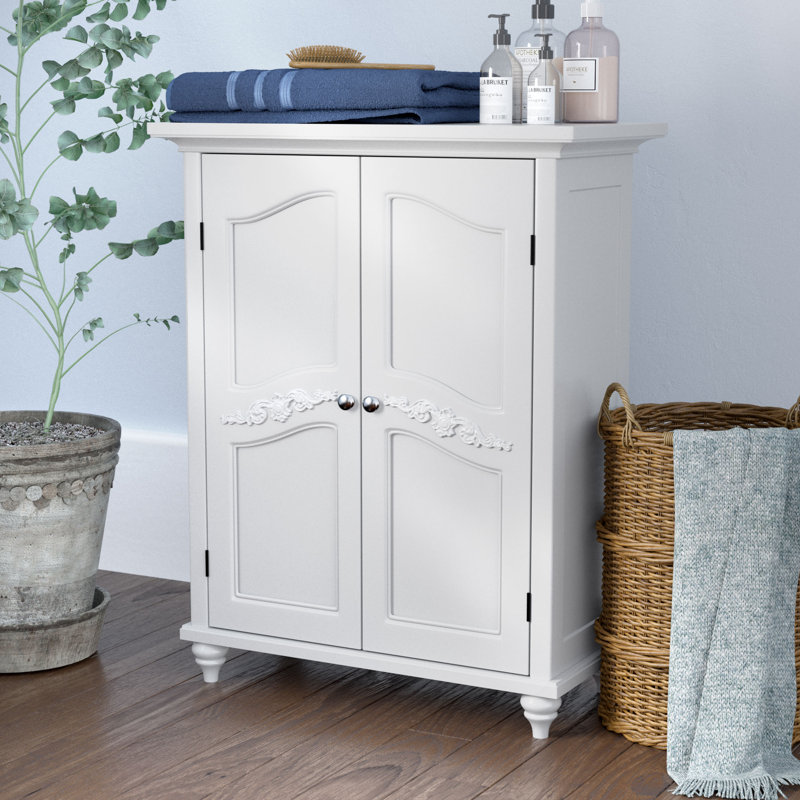 This free-standing cabinet from Birch Lane offers the traditional style of a cabinet while adding a touch of elegance to your bathroom. It comes in two different finishes, allowing you to pick the one that matches your home décor perfectly. Its ample space can house your storage needs.
Highlighted features:
It has four removable legs that make its free-standing structure more stable.
The product comes with two shelves that you can adjust based on your needs.
Each of its shelves can hold 15 lbs.
The cabinet provides sufficient space that can cater to your storage requirements.
This comes with an intricate pattern and elegant door handles that enhance its visual appeal.
2.  Beachcrest Home Gulf Free Standing Cabinet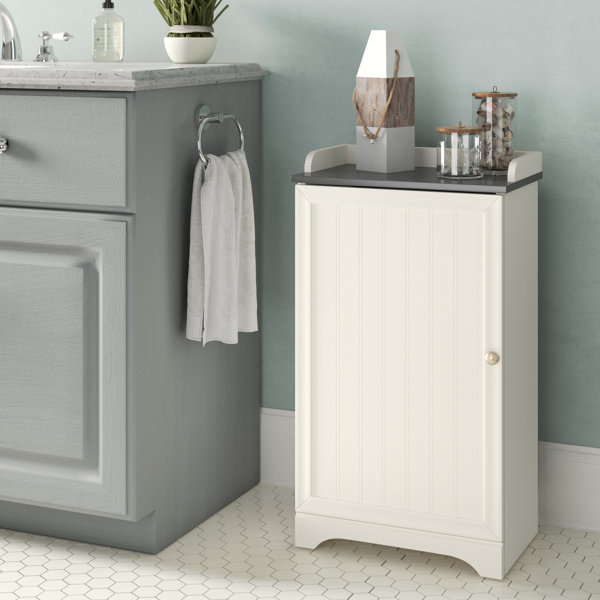 If you prefer a minimalist style, the Beachcrest Home Gulf Free Standing Cabinet might just be what you need. Despite its simple look, it can still accommodate your bathroom essentials with its two shelves. You can also put it up together easily.
Highlighted features:
Its frame and panel door come with a bead board insert.
You can protect the cabinet from getting wet by tacking the glides to lift it off the floor.
This is Phase 2-compliant.
The bathroom cabinet has an ample storage capacity that keeps your toiletries intact in a minimalist style.
Its gallery top has a faux-slate finish.
3.  Three Posts Bewley Free Standing Cabinet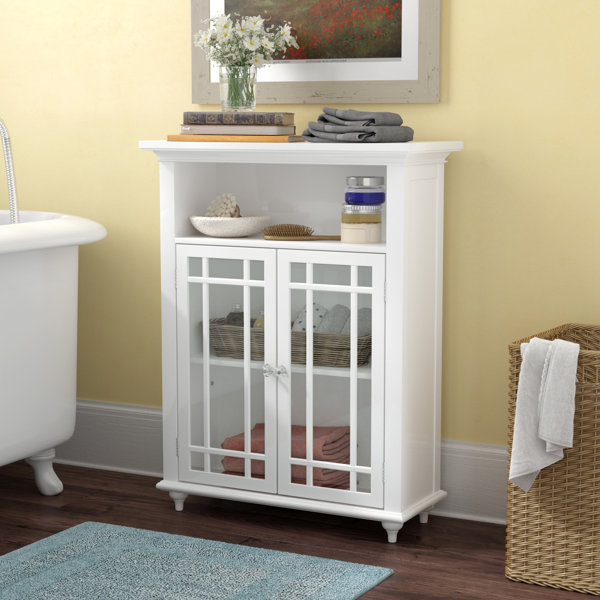 Despite its size, this cabinet can still house your washcloths, towels, toiletries, and other cleaning supplies. It combines practicality and functionality in a single item. The Bewley free-standing cabinet not only offers great storage, it also adds a nice touch to your bathroom.
Highlighted features:
You can easily assemble this free-standing cabinet.
It has a lot of room for storage despite it being small.
There is an open shelf for additional space and storage.
The product manual is easy to understand.
It offers great quality for its price.
4.  Darby Home Co Melba Free Standing Cabinet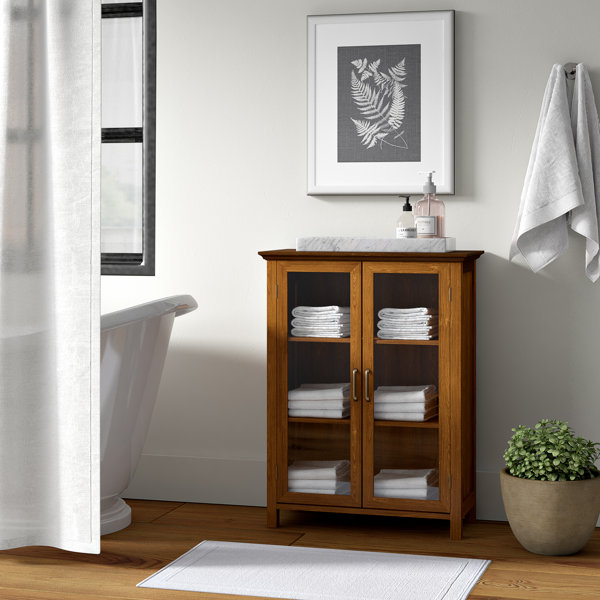 If you're looking to add an elegant, sophisticated touch to your bathroom, the Darby Home Co Melba free standing cabinet is your best bet. This double door cabinet can easily accommodate tall objects. It also comes with two adjustable shelves for added flexibility and convenience.
Highlighted features:
It's a great option if you have all products to store.
The cabinet can be assembled easily, and you have the option to adjust the shelves.
The product manual is easy to understand and follow.
Its tempered glass allows you to see through what's inside.
This Darby Home cabinet has a depth into it and feels sturdy
5.  Elegant Home Fashions Bourbon Corner Floor Cabinet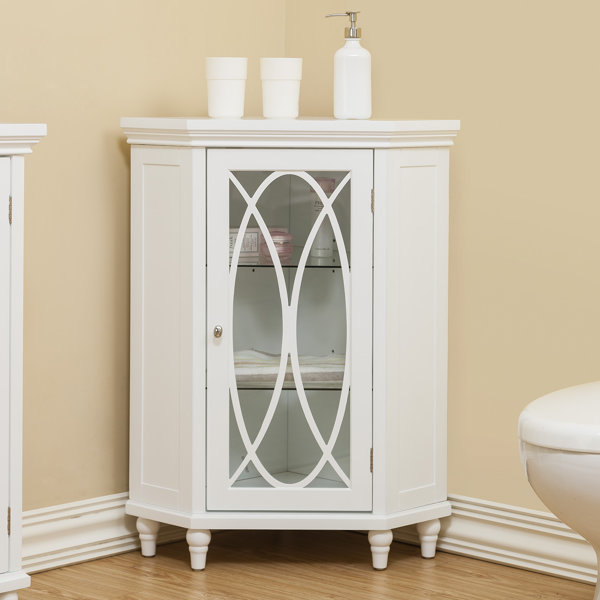 The Bourbon Corner floor cabinet by Elegant Home Fashions will give your bathroom a nice, elegant accent to it. This uniquely-shaped cabinet can store your hand towels and washcloths sturdily. Its glass shelves also give it a more sophisticated look.
Highlighted features:
You can adjust its tempered glass shelves to maximize your storage needs.
Its five rounded feet provide more stability for the product.
This cabinet is easy to assemble.
It's a sturdy piece perfect for small areas.
Buyers love the cabinet's design; it looks beautiful wherever you put it.
6.  Alcott Hill Caleb Wall Mounted Cabinet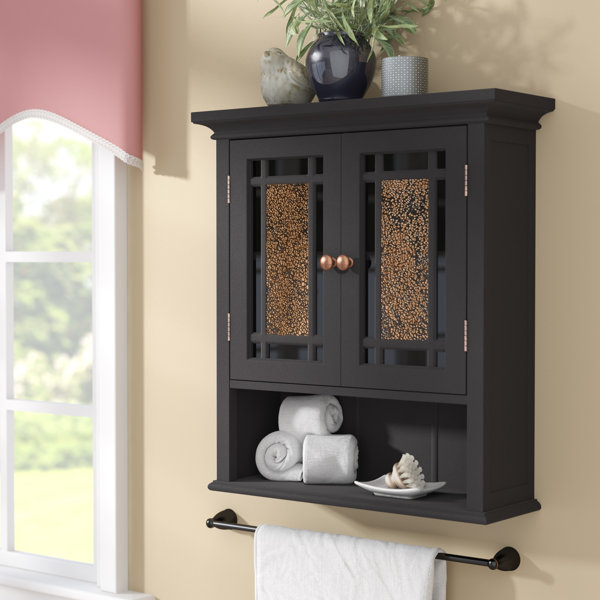 This item is a combination of traditional design and practical functionality. Its dapper design adds timelessness to its appeal. It is appropriately-sized to accommodate your medicines and small bathroom supplies.
Highlighted features:
The design gives an elegant look to your bathroom.
It provides good quality at a reasonable price.
This cabinet is ideal for small spaces with storage needs.
The cabinet itself feels sturdy and solid.
7.  Willa Arlo Interiors Whipple Wall Mounted Cabinet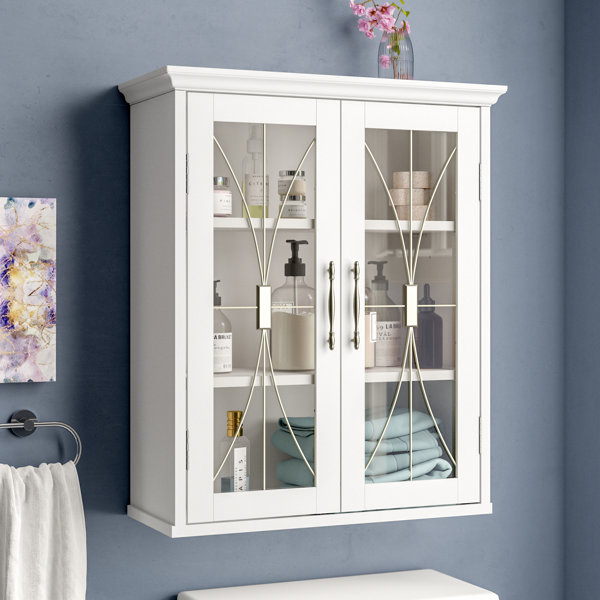 The Willa Arlo Interiors Whipple Cabinet is a beautiful addition to your bathroom. Combining neat design and functionality, this storage is a great choice for small bathrooms with little storage space.
Highlighted features:
This comes with instructions and hardware for easier assembly.
You'll have more space for storage.
It comes with adjustable shelves to accommodate taller items.
The appearance looks very elegant and beautiful.
The cabinet doesn't take up a lot of room.
8.  Charlton Home Brogden Wall Mounted Cabinet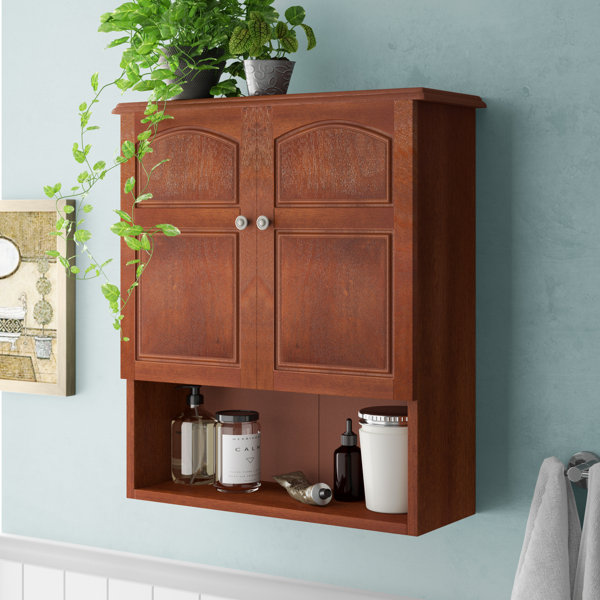 This two-door wall cabinet will help accentuate a traditional-themed bathroom.Its antique-looking doorknobs enhance its classic look. This cabinet also uses MDF wood for longevity and durability.
Highlighted features:
Its surface mount can be firmly mounted to the wall to ensure safety.
It comes with a fixed shelf and an adjustable one that allows you to refigure your space depending on your needs.
It offers nice quality for its price.
It is not difficult to assemble.
Itoffers great storage for your bathroom necessities.
9.  Darby Home Co Melba Wall Mounted Cabinet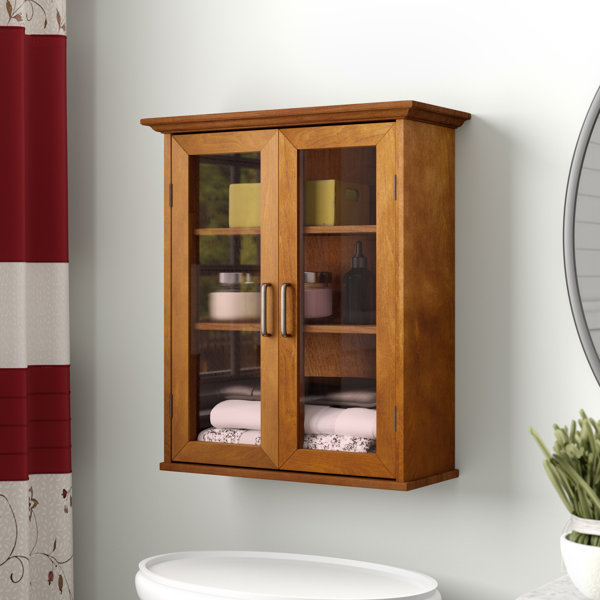 Say goodbye to your bathroom clutter with this neat, transitional wall mounted cabinet. Made from manufactured wood, this compact cabinet is a sturdy piece for your bathroom essentials. You can store your washcloths and toiletries securely in this cabinet even in a narrow-spaced bathroom.
Highlighted features:
It provides extra storage without crowding your small bathroom.
This product is quick and easy to assemble.
Instead of finishing nails, there are small screws.
It is easy to follow the product instructions.
It offers good quality for its price.
10.  Andover Mills Reichman Wall Mounted Cabinet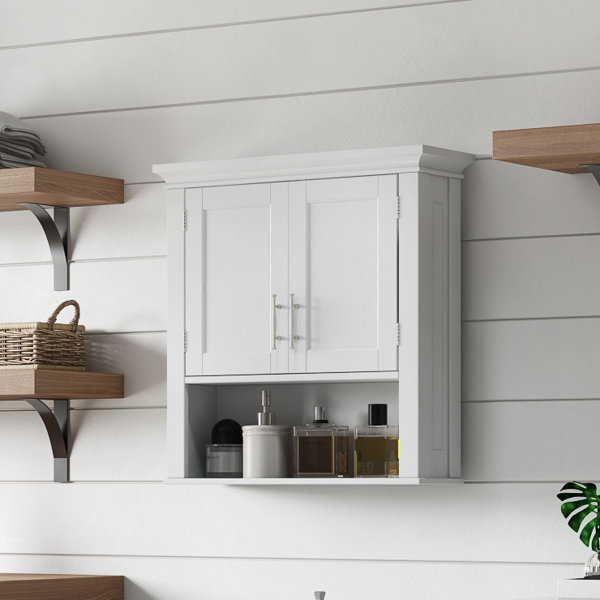 If you're looking to store your travel-size toiletries and hand towels, the Andover Mills Reichman wall mounted cabinet may be a perfect choice. Its elegant design matches classic and contemporary styles.
Highlighted features:
You can easily assemble this product.
Its size is perfect for all bathroom necessities such as toilet paper rolls, shampoos, and soaps.
The presence of the decorative handles give it an impressive appeal.
It offers great quality for its price.
Conclusion
After rounding up the comprehensive reviews on the best bathroom cabinets, two stood out from the rest. The Elegant Home Fashions Bourbon Corner Floor Cabinet proves to be an excellent free-standing bathroom cabinet with its unique, elegant design, and storage capacities.
Meantime, if you're looking for a wall-mounted cabinet, the Darby Home Co Melba is the best choice. It's a sturdy piece with a polished design that is ideal for any bathroom.
Bathroom cabinets are an essential piece to keep your bathrooms looking tidy and organized all the time. If you're looking for the best bathroom cabinets, we highly recommend you list down all your choices and compare the features. This way, you'll be able to identify which offers the best value for your money.
Did you find this article helpful? Let us know your thoughts.
<strong>Read more:</strong>