Bathroom faucets are functional fixtures that make each bathroom sink look unique and aesthetically pleasing. They come in many types, shapes, sizes, and technological capacity. Faucets which are interactive, convenient to use, and are agents of water conservation have also been a recent trend.
To find the best bathroom sink faucets, you'll have a lot of features to consider. The style should not be your main consideration though. Instead, look for one which is right for your bathroom sink that's within the budget. We'll show you just what you need as you read on!
The Best Bathroom Sink Faucets on the Market
1.  Kingston Brass Heritage Bathroom Sink Faucet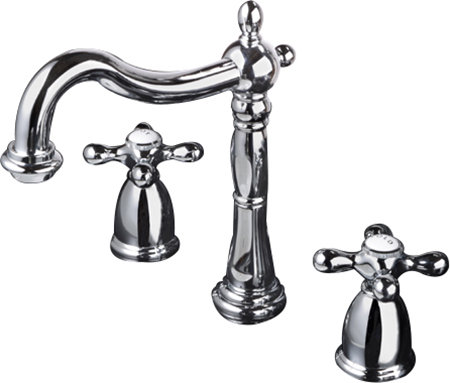 If your bathroom is classical-inspired, you might want to consider this bathroom sink faucet from Kingston Brass. It's a widespread faucet made of the durable brass material. The product manufacturer itself is a trusted one with a long history in service.
Highlighted features:
It comes with a pop-up drain assembly.
Made up of solid-brass material with swivel function.
Beautifully decorated in traditional design.
The product is suitable for standard US plumbing connections.
Comes with a 10-year warranty.
2.  Moen Eva Bathroom Sink Faucet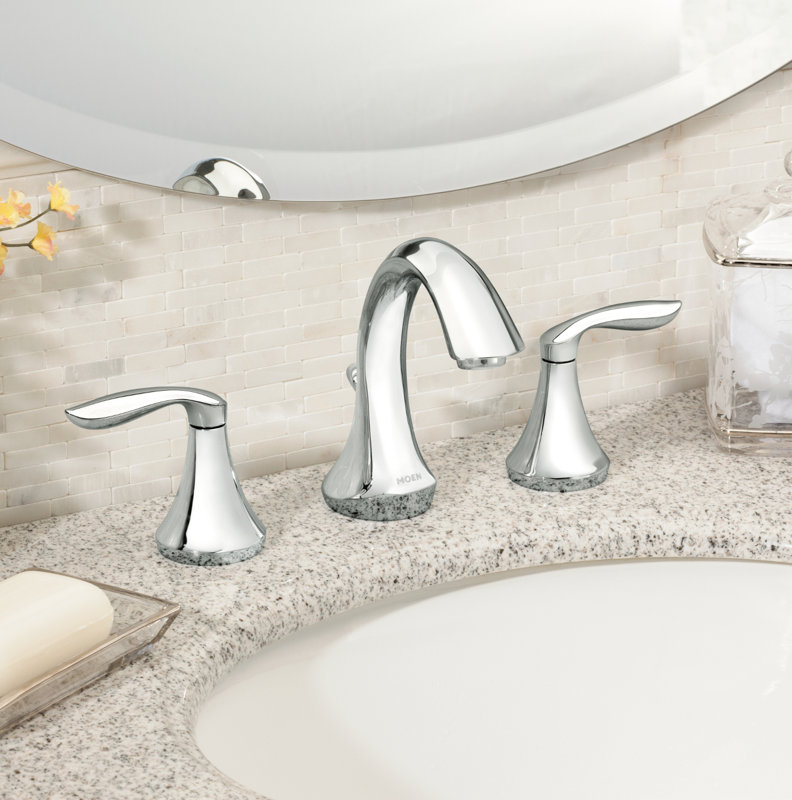 Moen Eva's bathroom sink faucet is of elegant timeless design. So, if are looking for a faucet that will beautify your bathroom with a sink of premium quality, you are looking at one. The product has two handles and has a flow rate of 2.2 gallons per minute.
Highlighted features:
Widespread bathroom faucet made of long-lasting metal.
Elegantly designed and is available in multiple finishes.
It has a flow rate of 2.2 gallons per minute.
Installed with a rough-in valve that regulates water flow and temperature.
Comes with a limited lifetime warranty.
3.  Delta Ara Bathroom Sink Faucet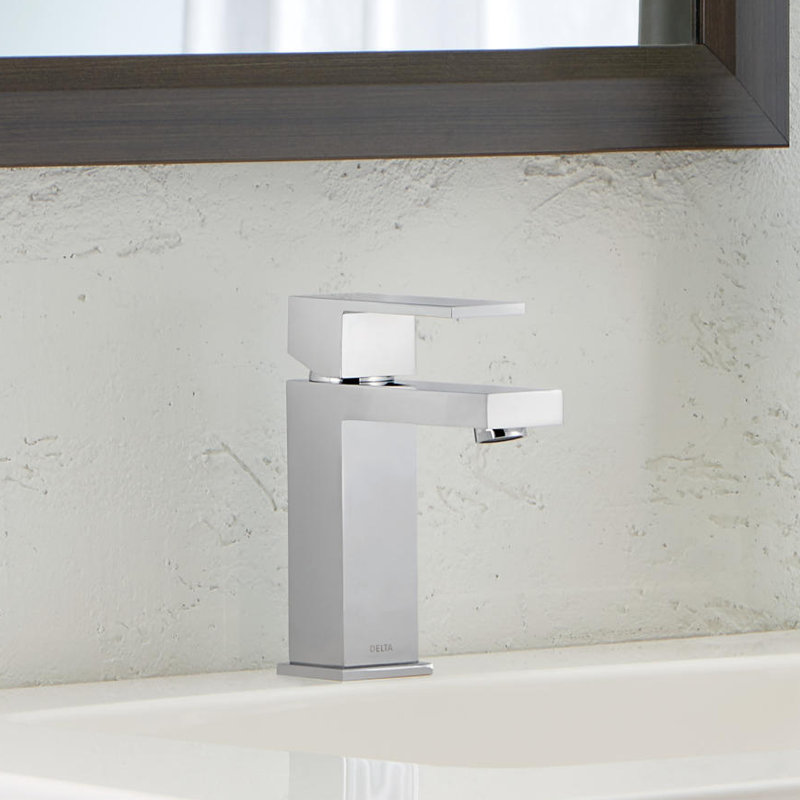 One of the best bathroom sink faucets on the market is an EPA WaterSense certified product. This means; you are supporting the worldwide initiative of water conservation when you purchase this product. What's more is that it is backed by a limited lifetime warranty!
Highlighted features:
It's a durable single hole faucet made of brass material.
You can save as much as 20% of your water consumption with it.
Your purchase comes with the faucet, drain assembly and rough in valve.
Suits both commercial and residential use.
It is backed by a limited lifetime warranty.
4.  Luxier Contemporary Sink Faucet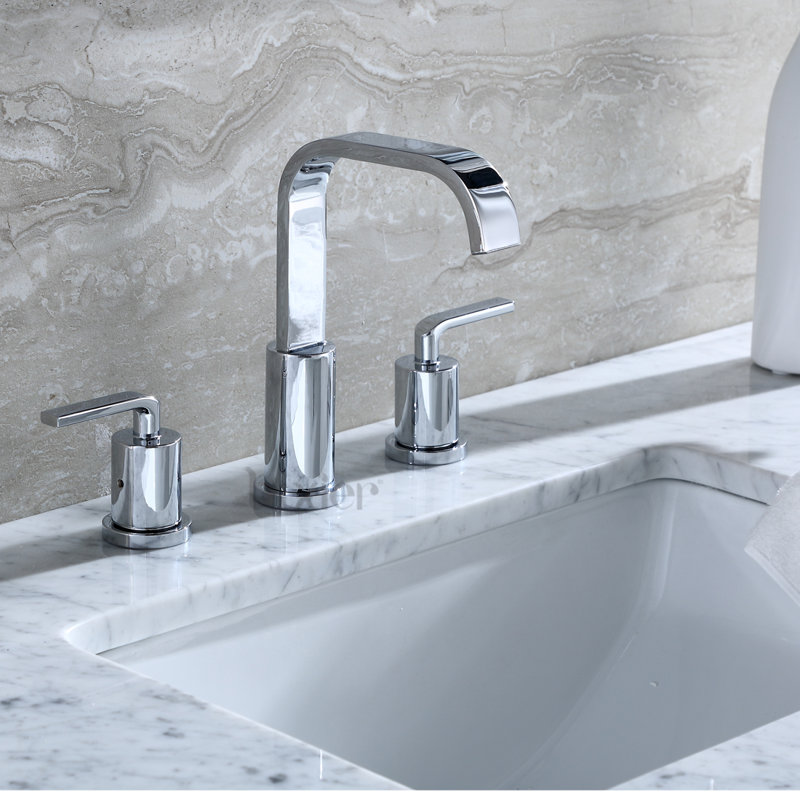 This product is for those who are trying to save on the bucks without sacrificing quality. Luxier's Contemporary Bathroom Sink Faucet is pocket-friendly. Despite being so, you are assured of an industry quality standard.
Highlighted features:
The product has a spot-resistant finish.
This bathroom faucet comes with a drain assembly.
It lasts longer than other competitors.
One of the most affordable ones on the market.
Comes with a limited lifetime warranty.
5.  Vigo Niko Sink Faucet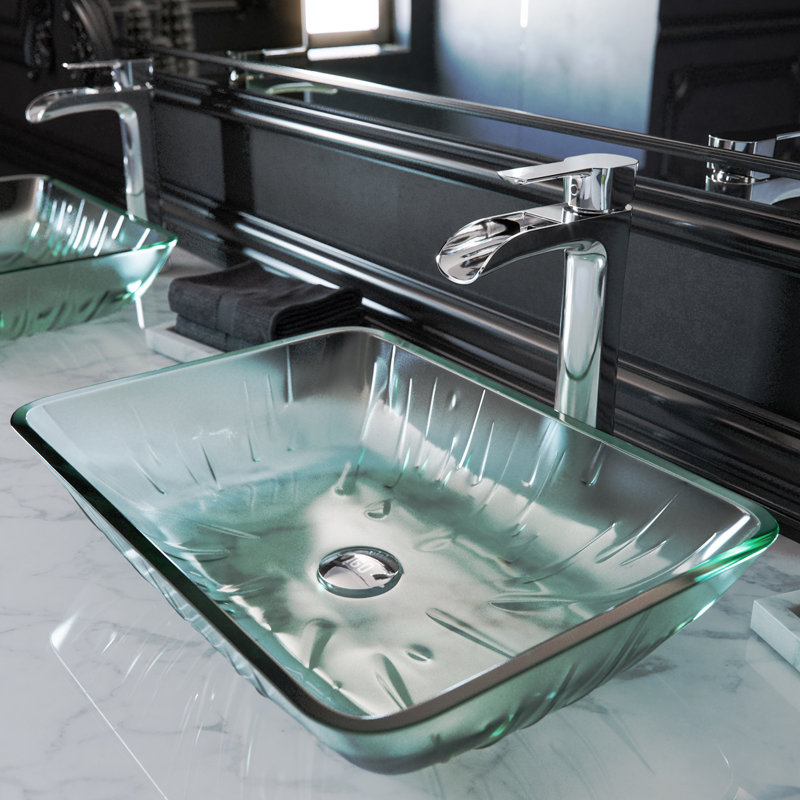 Your bathroom will have just the right amount of elegance with this bathroom sink faucet from Vigo Niko. It features a uniquely spaced spout that creates a waterfall effect. It is designed to exceed the industry durability standards, so it will surely be worth every penny.
Highlighted features:
The faucet and the drain assembly comes with each purchase.
The single lever will allow you to choose between hot or cold water flow.
Made with high-quality ceramic disc cartridge for minimal maintenance.
It's resistant to rust, corrosion, tarnish and stain.
Warranty-guaranteed (limited lifetime).
6.  Kraus Ramus Vessel Sink Faucet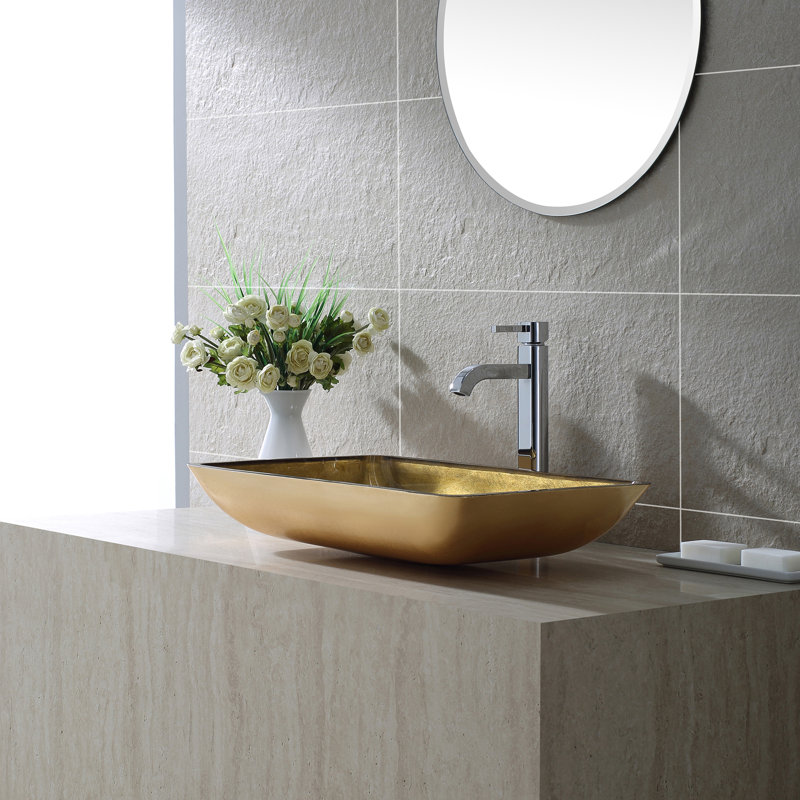 If your bathroom has a vessel sink in it, this bathroom sink faucet will likely complement your decor and style. It's packed with top-quality components such as the ceramic cartridge and the aerator that helps to reduce water waste.
Highlighted features:
It's a single-handle bathroom sink faucet made of heavy-duty brass material.
Reliable operation is ensured in its top-quality cartridge.
It comes with an industry best aerator to help each household manage water consumption.
Resistant to rust, corrosion, and stain.
Easy to clean and maintain; just wipe clean with dry cloth.
7.  Kohler Devonshire Bathroom Sink Faucet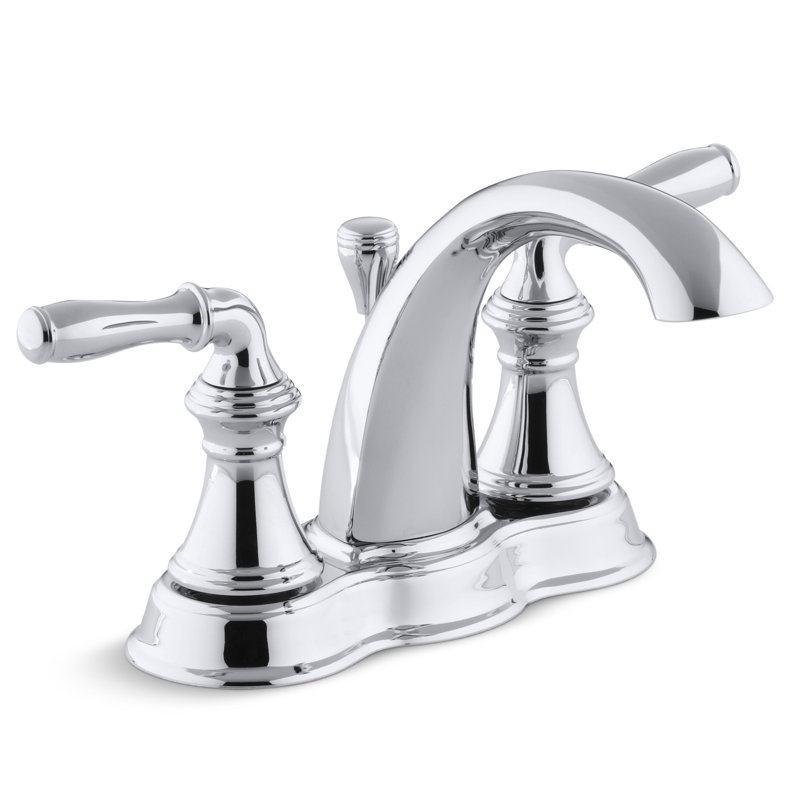 Among the bathroom sink faucets on this list that brags of its durable make is produced by Kohler. The product is made in the US and is constructed from premium materials that ensure reliability and durability.
Highlighted features:
The product is a two-handle center-set faucet from the Devonshire collection.
Its ceramic disc valves are designed to be two times more durable than industry standards.
It features a low-flow aerator and a deck-mount installation.
The faucet is able to resist corrosion and tarnish twice as much as other products.
It is an EPA WaterSense certified product.
8.  dCOR Design Carlson Bathroom Sink Faucet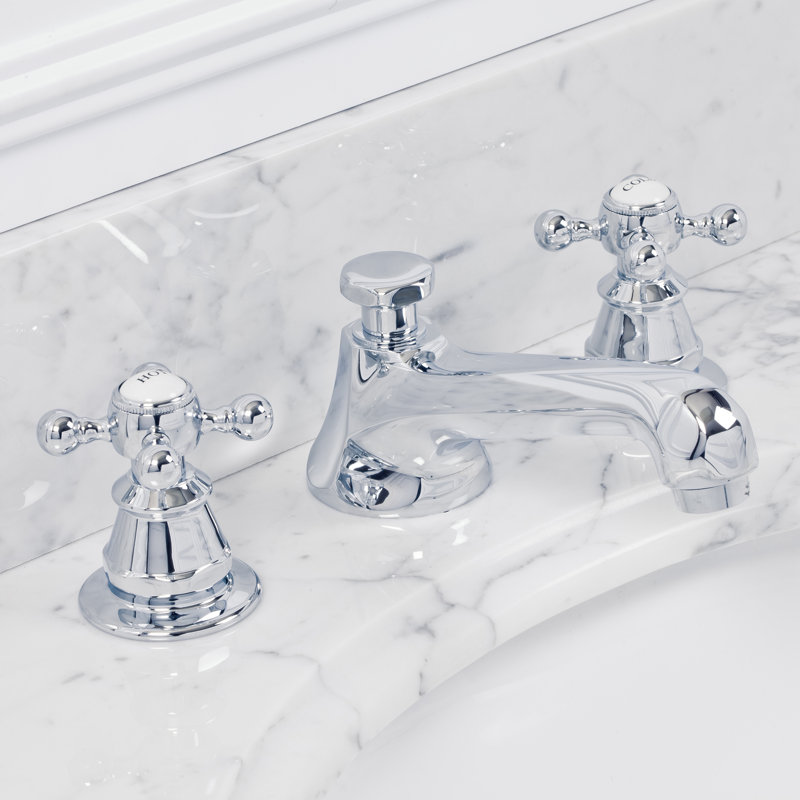 Just like many others on this list, this product can function as a bathtub faucet or a sink faucet. Inspired by the 1920's American classic, it can bring the elegance of yesteryear to your own bathroom.
Highlighted features:
It is made of 100% brass material lending credence to its durability.
Superior craftsmanship is evident in its customized handle style.
Your purchase comes with a pop-up drain assembly.
This widespread faucet is rust and corrosion-resistant.
Lifetime warranty is offered for the ceramic disc cartridges.
9.   Premier Faucet 284443 Sanibel Bathroom Sink Faucet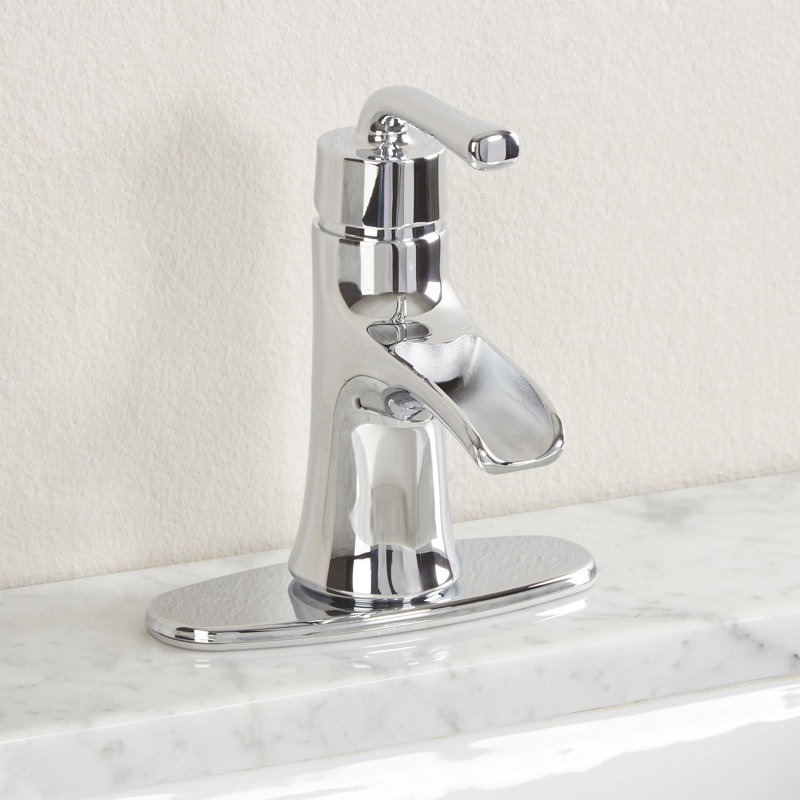 This product from Premier Faucet is a single-hole faucet with waterfall spout design. Though one of the most affordable ones on the market, the product does not fall back on design and durability. Best of all; it can help you save 20% more water.
Highlighted features:
It features a ceramic disc cartridge offering superior performance.
This single-hole faucet is made of durable brass material.
Your purchase comes with the faucet and a deck plate.
The product is certified by EPA WaterSense.
It comes with a lifetime product warranty.
10.  Red Barrel Studio Giancarlo Bathroom Sink Faucet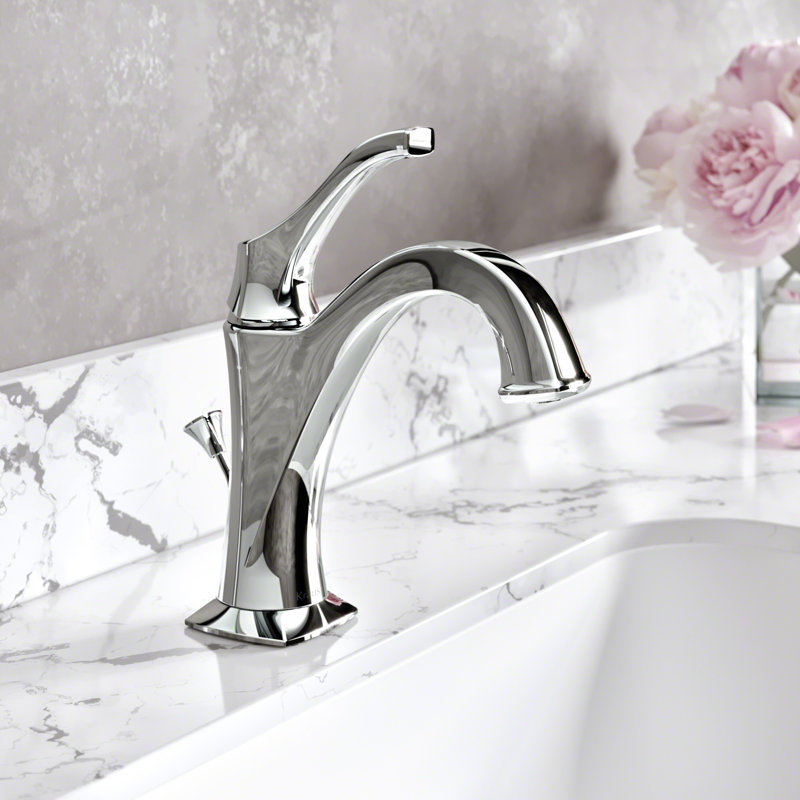 Another high-performing and eco-friendly bathroom sink faucet comes from Red Barrel Studio. The faucet is classically inspired and will give you a simple yet stunning centerpiece in the bathroom.
Highlighted features:
It has a stunning classical design.
It is made of a premium ceramic cartridge for long-lasting performance.
Enables users to save 20% more of their water consumption.
The faucet's finish makes it rust-resistant and spot-resistant.
Comes with a pull-up drain assembly that matches the overall look.
11.  Ultra Faucets Bathroom Sink Faucet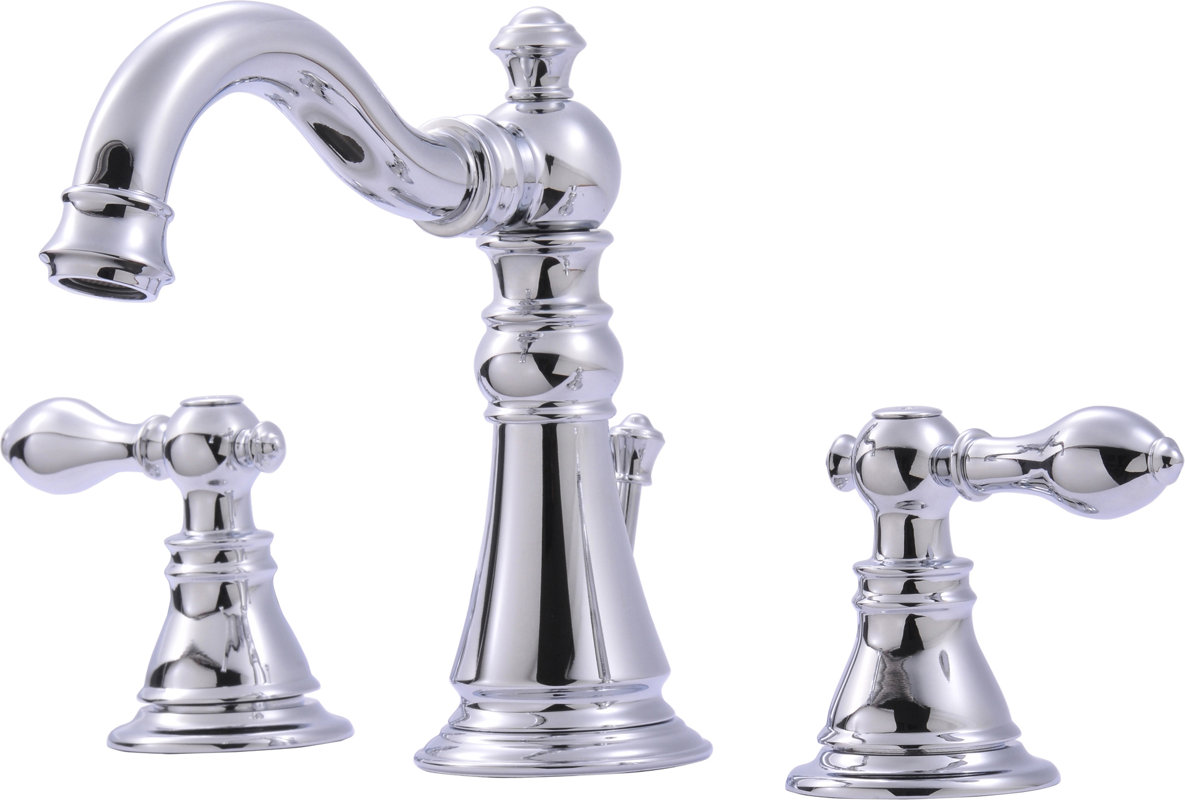 Ultra Faucets offers three different types of finishes to customers: Chrome, Brushed Nickel, and Oil Rubbed Bronze. Whichever you choose, it will surely be an excellent addition to your bathroom fixtures.
Highlighted features:
It is a widespread faucet with a clean vintage design.
Years of efficiency and durability is ensured in its solid brass make.
Along with the faucet, you can also get the drain assembly upon purchase.
The product can simply be wiped clean with a dry cloth.
Compliant with commercial and residential standards (ADA).
12.  Premier Faucet 284445 Sanibel Bathroom Sink Faucet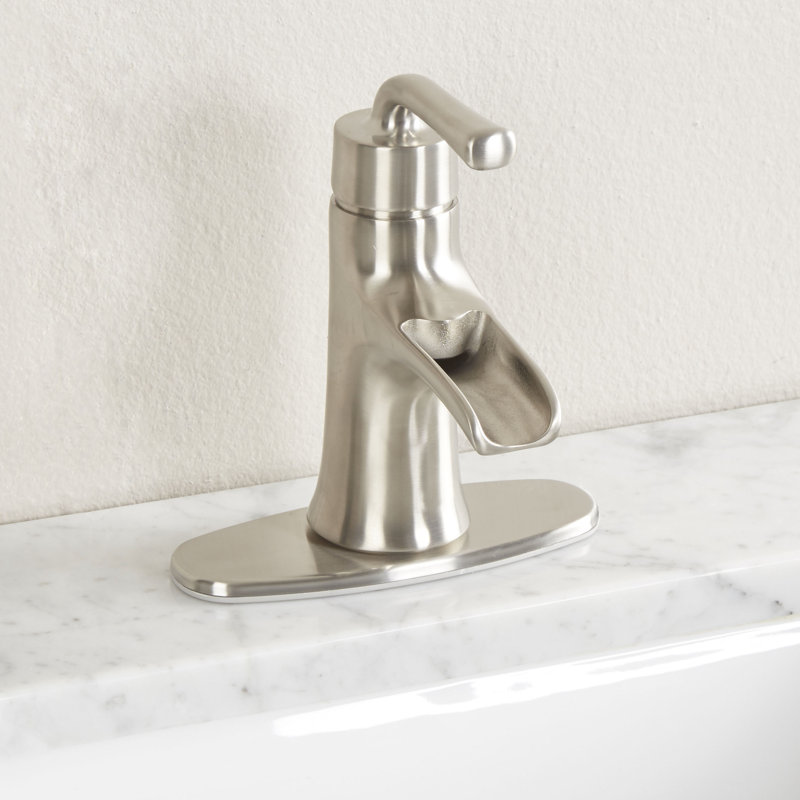 This single handle bathroom faucet by Premier Faucet offers an optional deck plate, which is suitable for one or three hole sinks. It has an attractive waterfall spout design and is built for superior performance.
Highlighted features:
It's a hard-wearing faucet from Sanibel collection.
It gives off 1.5 gallons per minute flow rate.
Your purchase comes with a brass pop-up drain assembly.
The product meets the industry's lead-free standards.
It is an EPA WaterSense certified product.
Different Types of Faucets and How to Choose the Right One for Your Bathroom
There are quite a few factors to consider when choosing the right faucet for your bathroom sink. First, the type of faucet you want should fit the existing or new sink installed in your bathroom. Other considerations are discussed in length below:
Types of Faucets
1.  Widespread Faucets
Widespread faucets consist of a single spout and two handles, which are at 6-16 inches' distance from each other. Though they are relatively larger than other bathroom faucets, smaller versions (mini spreads) are also available for purchase.
2.  Single-Hole Faucets
If you have a smaller sink or doesn't want too much drilling to be done, single-hole faucets may be right for you. The faucet has one lever that combines the mixing handles and the spout. To adjust the water temperature, simply turn the mixers to the right or left.
3.  Center-Set Faucets
Among the mostly used faucets is the Center-Set Faucet that features a small body containing the lever and two handles. The handles are at least 4-inches apart which you can set for cold and hot water controls. These are for comfort and space saving.
4.  Wall Mount Faucets
Those whose plumbing fixtures are set to the walls of their properties opt for Wall Mount faucets. Attached right above the sink basin, this fixture helps your bathroom become more organized. It basically fits anywhere you want it as well.
5.  Sprinkle Faucets
Sprinkle faucets give off a rectangular water pattern instead of the regular cylindrical ones. With this unique type of spout, water flows gently into the sink basin, thus establishing a unique appearance.
6.  Bridge Faucets
Bridge Faucets are called so because of the elegant bridge-like look it establishes. It has two water mixers mounted on your surface sink. In the middle, is the spout where cold or hot water flows.
Bathroom Faucet Features
Other than the cost of the materials and labor, there are several other features that you need to strictly consider. Here are some of them:
7.  Materials
Some of the go-to materials for bathroom sink faucets are brass, stainless steel, zinc, and plastic. Brass is one of the most popular and durable ones. It can be added to aluminum and tin to create sturdier and more resistant faucets.
8.  Finishes
Whatever your decorative preference is, the market has them all for you including the most modern protective finishes for your shower faucets. If you ever get overwhelmed with the list of options you have, just go visit any showroom and go for the display you are most attracted to.
Your finishes should look good with the overall design and style of your bathroom. Be sure you can handle the upkeep of the faucet finishes too.
9.  Styles
It is said that there are as many faucet styles are there are costumes for the most popular pop artists. Faucets with narrow tubes and roller-coaster curves have now appeared. Features from kitchen faucets have started to migrate to the bathroom as well.
Conclusion
Many of today's bathroom sink faucets are created with the highest quality of materials and the best designs. The competitive market has introduced you to an array of products geared towards making your life easier.
Among the 12 best bathroom sink faucets listed above, our personal favorite is the Vigo Niko Bathroom Sink Faucet. Not only is this waterfall faucet elegantly designed, it certainly is among the most durable ones out there too. Surely, your purchase will be worth it!
Did you find what you were looking for? Give us a like, or share and comment on this article to help others back. Good luck with your purchase!