Bathing has been around for centuries. Our ancestors may have bathed in streams, but the Romans started a more civilized bathing method with the introduction of built-in-baths in the rich folk's houses and public baths for the man on the street.
Today, just about every home has a bathroom, their bath of choice taking pride of place according to their individual style. But what makes people decide on what, exactly, is the best bathtub for their individual purposes? When deciding on the best bathtubs, it is all a matter of personal choice!
Try These Helpful Ways To Relax at Home after Work – Preventing Illness, Staying Healthy
Bathtub reviews
Are you still unsure of the best bathtub to suit your needs? Which are the best-rated bathtubs or best freestanding tubs? Or are you looking for the best luxury bathtub out there? Perhaps taking a look at a few of our bathtub reviews will help you decide on what will work for you.
1. Wyndham Collection Soaking Bathtubs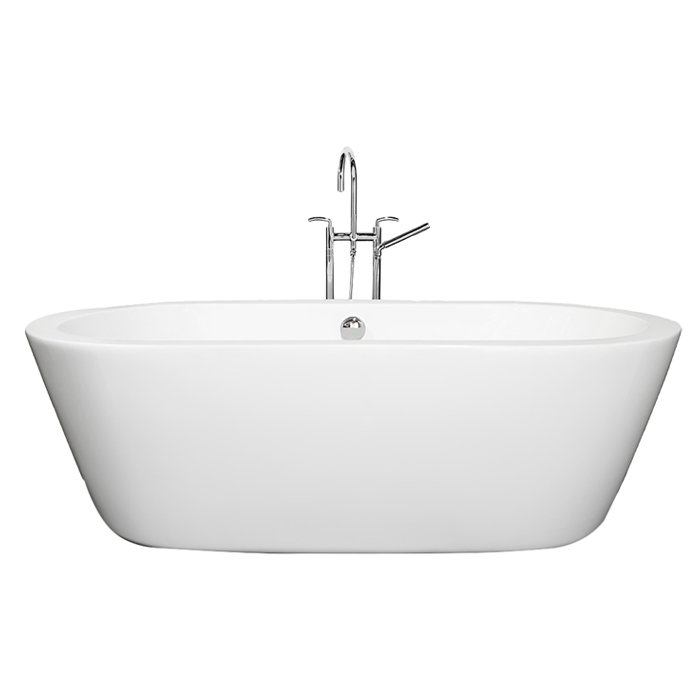 The Wyndham Collection sports a large variety of soaking bathtubs representing many sizes, shapes, and forms. Of these, the  Mermaid 71″ x 34″ Freestanding Soaking Bathtub caught our eye. The sleek, contemporary design gives any bathroom an added touch of sophistication, while the wide, flat edge is the perfect place for some aromatherapy candles. Easy to clean due to its sleek design and products used in manufacturing, stains, germs, and bad odors are a thing of the past.
See more: Wyndham Collection Soaking Bathtubs on Wayfair
Deeper than standard bathtubs
Base is adjustable, allowing for accurate leveling and stability
Constructed of lightweight acrylic, the tub is easy to handle and install, but durable as well
Drain assembly is included with purchase
The product construction materials ensures a warmer 'feel' to the tub, unlike the case of traditional enamel or steel tubs
Faucets are not included with purchase
It is only available with a center drain placement
2. Vanity Art Soaking Bathtubs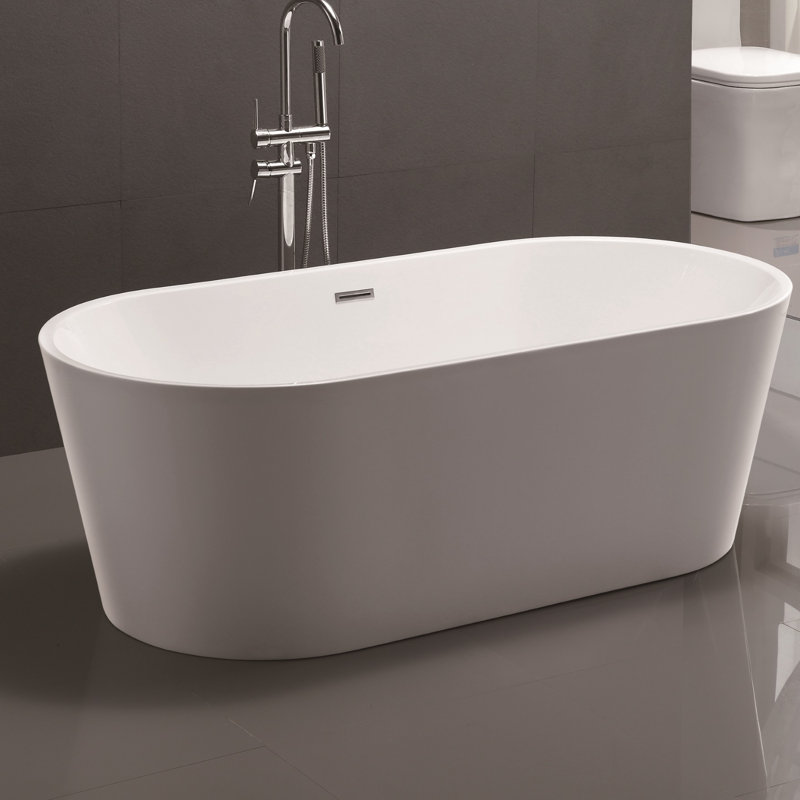 Vanity Art stock a range of soaking bathtubs that suit all styles and tastes, from more traditional to ultramodern. We reviewed their 59″ x 29.5″ Freestanding Soaking Bathtub. Ovular in shape with a center drain, side-lip overflow, and contemporary design, it spells not only style but serious comfort as well.
See more: Vanity Art Soaking Bathtubs on Wayfair
This bathtub sports self-leveling legs and a flexible drain hose
The overflow and drain have a chrome finish
The product can be installed on a concrete slab for added style
Made of durable acrylic
The faucet is not in included with purchase
There is no other option for drain placement
3. Kingston Brass Soaking Bathtubs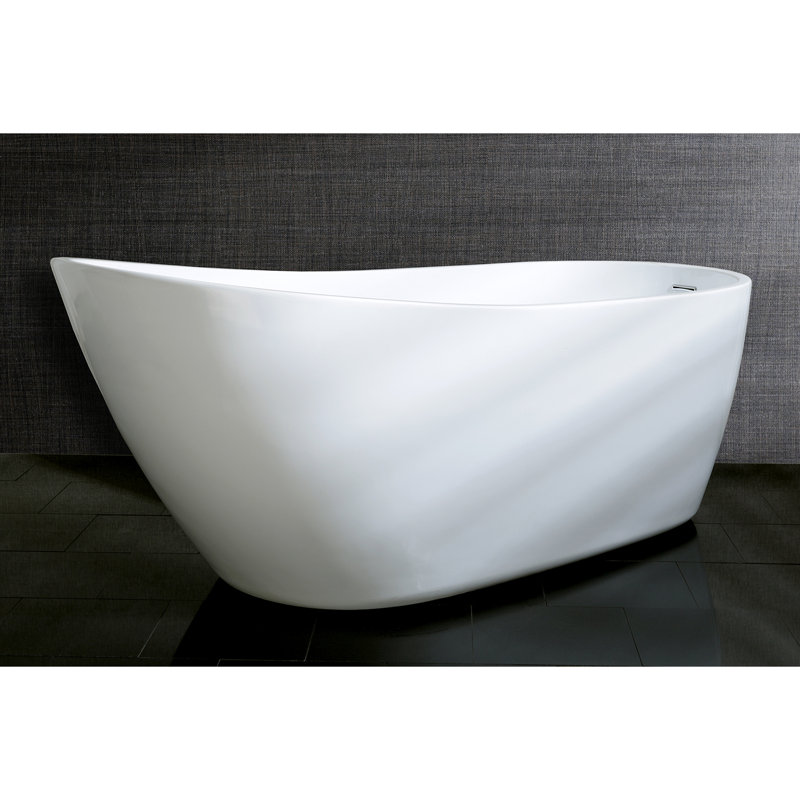 Kingston Brass soaking bathtubs are all manufactured from acrylic, to give ease of cleaning while resulting in a product not only warmer to the touch than conventional cast-iron bathtubs, but that is lighter as well. Our reviewed Kingston Brass soaking tub is the Aqua Eden 59″ x 28.6″ Soaking Bathtub. This free-standing, slipper-style bathtub has an elegant look and feel to it, while the waste and overflow that holds up to 52 gallons of water give you a real spa experience.
See more: Kingston Brass Soaking Bathtubs on Wayfair
The double walled construction ensures durability and strength
Has a beautifully smooth edge
Made of acrylic
Need to add silicone around the base or install wooden blocks in order to restrict movement
Product is not sold with faucets
4. Malta Soaking Bathtubs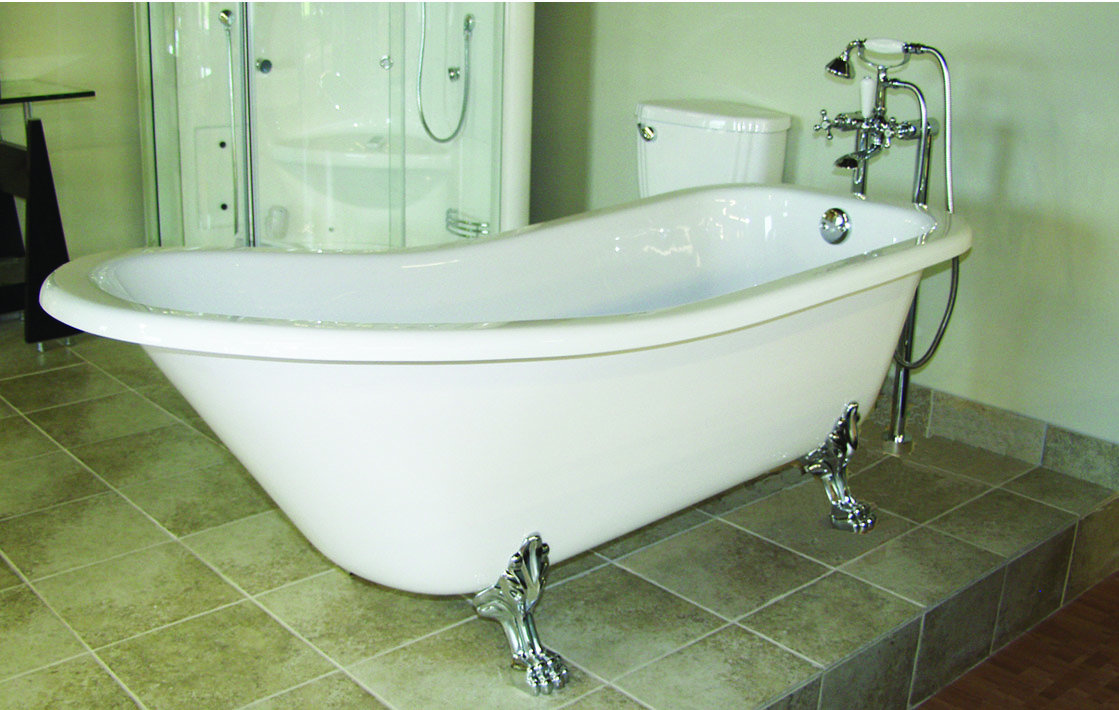 Malta offers prospective buyers a wide range of soaking bathtubs. If your taste is ultra-modern, or more traditional, Malta is sure to have a bathtub that will suit you. We reviewed the Picadilly 69.25″ x 28.75″ Bathtub by Malta, a more traditionally styled slipper bath, yet with a modern twist. Designed for comfort with quality at a premium, this soaking bathtub with its stunning clawed feet offers a chic feel to any bathroom.
See more: Malta Soaking Bathtubs on Wayfair
Made of durable, reinforced acrylic
Elegant chrome finished claw legs
Sports a high back soaker
Faucet is not included with purchase
May need additional plumbing as a floor mount faucet is recommended
5. Spa Escapes Soaking Bathtubs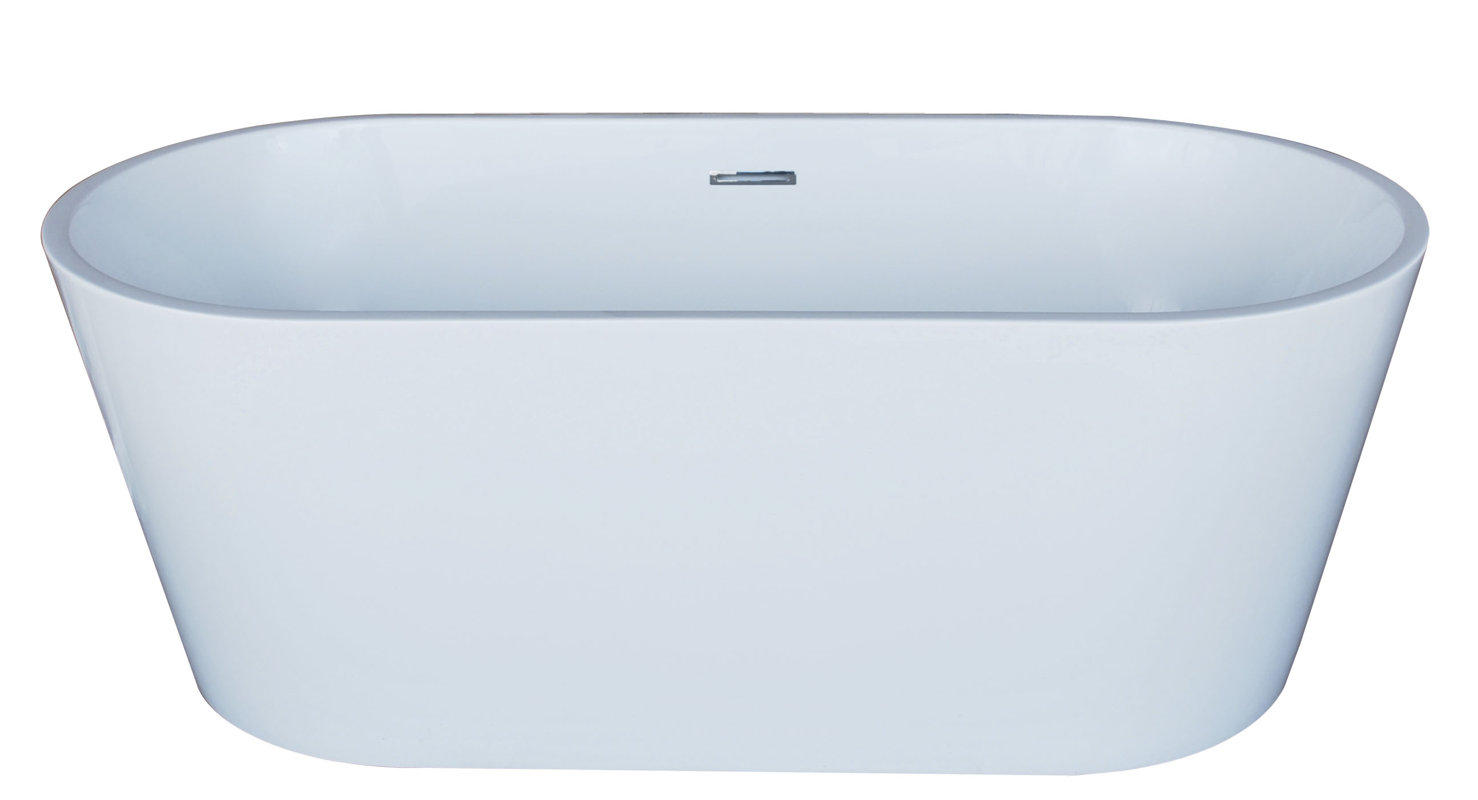 When the epitome of luxury is what you are looking for, Spa Escapes may just be the place for you to shop. This brand's detail is astounding and incorporates any shape and size of bathtub you are looking for, i.e. drop-in, freestanding, or corner tub. They are sure to have something that tickles your fancy. We reviewed the Elsa 66.88″ x 31.5″ Oval Acrylic Freestanding Bathtub, and typical of the brand, this bath is a sure winner.
See more: Spa Escapes Soaking Bathtubs on Wayfair
Has a built-in overflow and push operated drain
Affords the user a deep, full body soak
An acrylic surface with a high gloss finish
A chrome plated drain and overflow
Easy installation
Faucets are not included with the purchase
The only option is for a center drain placement
6. Vinnova Soaking Bathtubs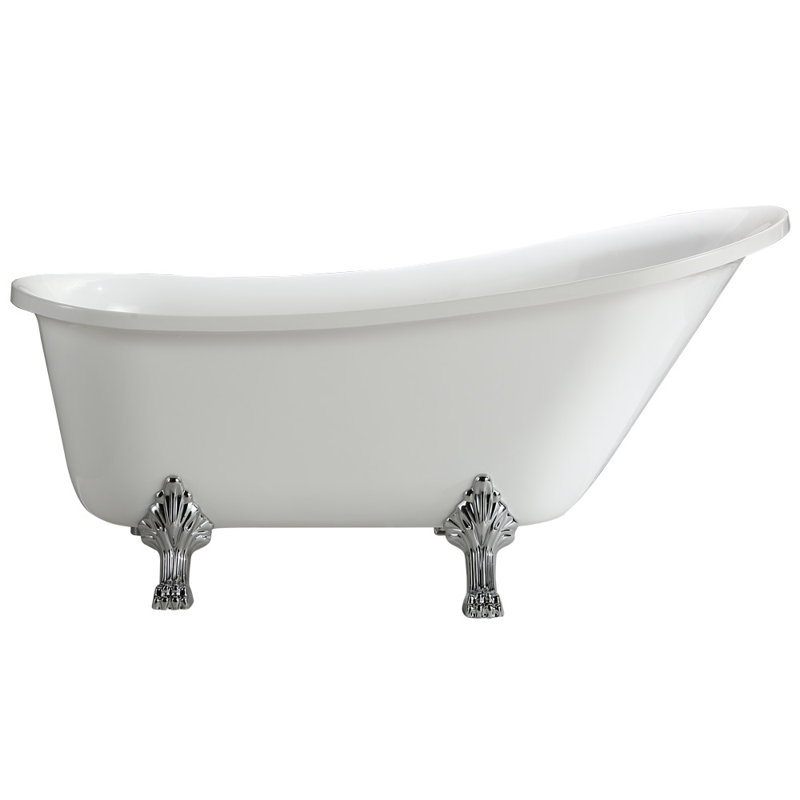 If class, comfort, and sophistication are your style, then the Vinnova range of tubs is worth looking at. Covering a variety of styles to suit most tastes, this brand is sure to have something even for the most discerning buyer. Our review covers the Jacqueline 63″ x 28″ Soaking Bathtub by Vinnova, a soaking bathtub built for the more traditional at heart.
See more: Vinnova Soaking Bathtubs on Wayfair
A classic, free-standing, slipper style bathtub with clawed feet
Sports a flexible drain hose
Made of durable acrylic
Claws and other features sport a silver finish
A free-standing faucet (not supplied with purchase) is recommended
7. Fine Fixtures Soaking Bathtubs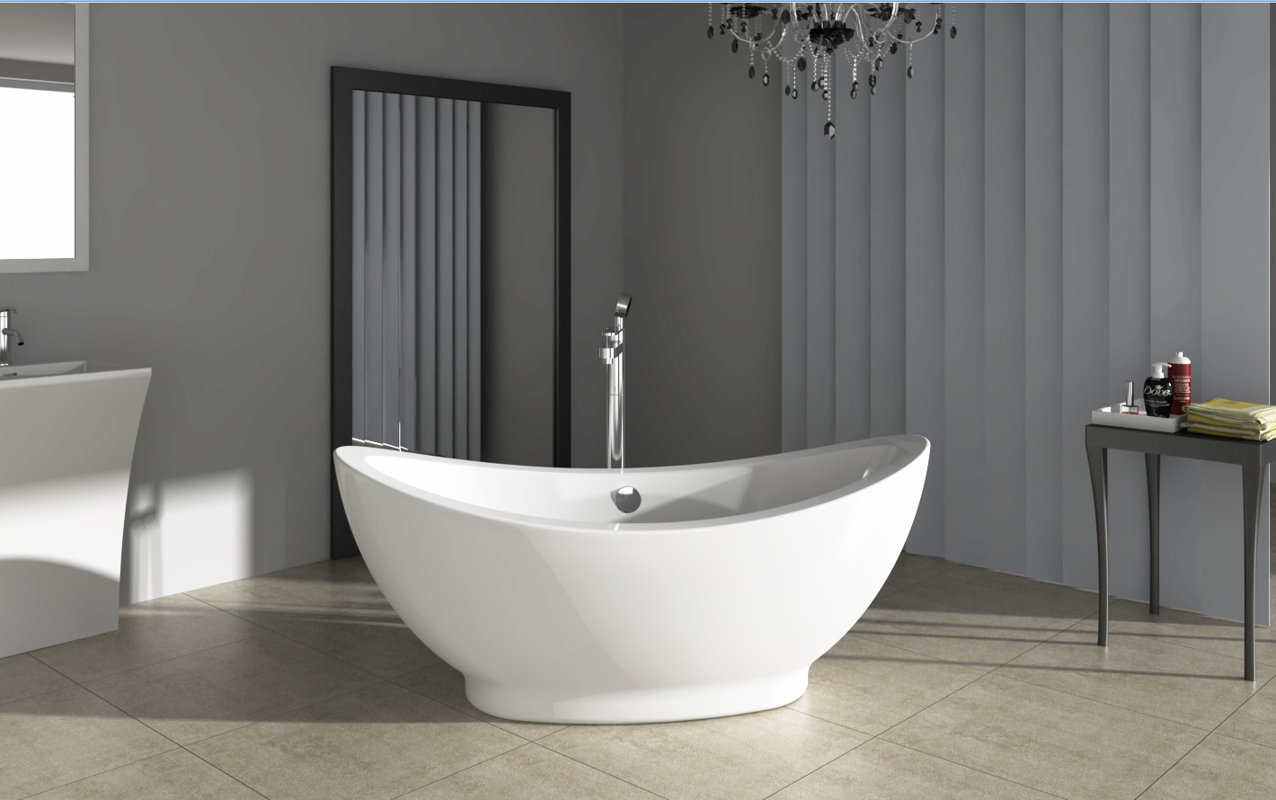 A brand that sports a variety of styles, from free-standing to drop in, Fine Fixtures soaking bathtubs are certainly worth looking at. Their flair for style and finishes make these tubs worthy of any bathroom. Our team reviewed the Fine Fixtures Freestanding 28″ x 65″ Bathtub and were suitably impressed by both its design and finish.
See more: Fine Fixtures soaking bathtubs on Wayfair
The double slipper pedestal design is both modern and upscale
Made of acrylic and reinforced with fiberglass for added durability
Backrest is inclined for comfort
Overflow hole and centered drain
Compatible with any freestanding faucet
Faucet is not included with purchase
Only comes with a centered drain
8. Aquatica Soaking Bathtubs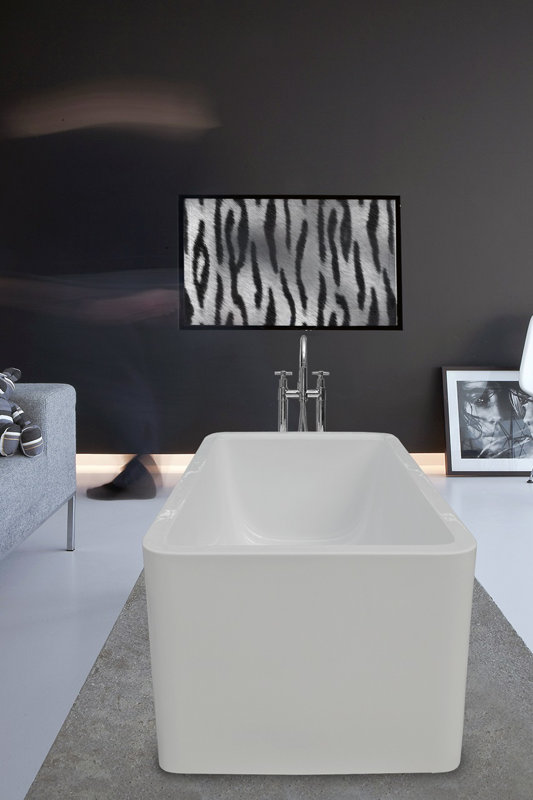 State of the art design with luxury in mind describes Aquatica's range of bathtubs to a T. Their tubs are not only elegantly stylish but come in a vast array of sizes and shapes. Whether you are looking for a corner bathtub, a freestanding tub, or a drop-in tub, all are given equal attention to detail. Our team reviewed their PureScape 55″ x 30″ Soaking Bathtub and were quite suitably impressed.
See more: Aquatica Soaking Bathtubs on Wayfair
A rectangular bath with an upscale, modern design sporting a high gloss finish
Solid, one-piece freestanding construction
An ergonomic design forming to your body's shape
Installation is quick and easy
A 100% heavy gauge sanitary grade precision acrylic construction
Provides great heat retention
Has a built-in metal base frame with adjustable height metal legs
Drain is chrome plated
Faucet not included with purchase
9. Alfi Brand Soaking Bathtubs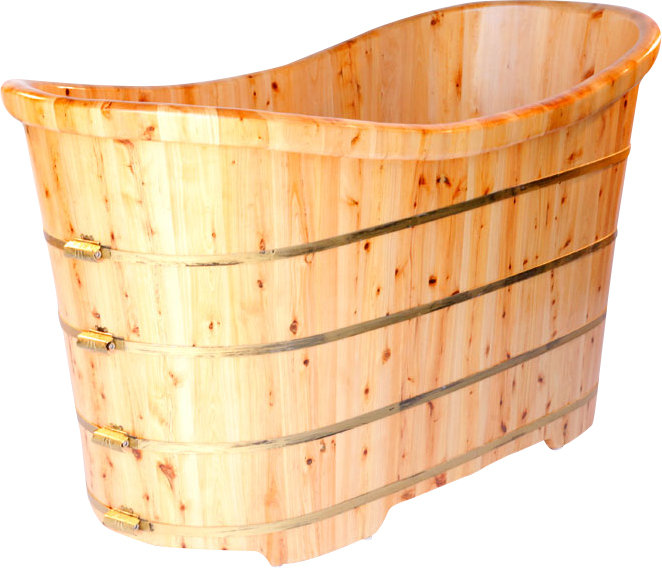 Whether you are into the rustic room or 'modern' is your keyword to bathing bliss, Alfi tends to fit the bill on both accounts. Their wide range of rustic and contemporary bathtubs are appealing to most tastes and styles. We went 'natural' with our product review and took a look at their wooden 63″ x 28.38″ Freestanding Soaking Bathtub. We were pleasantly surprised.
See more: Alfi Brand Soaking Bathtubs on Wayfair
A high-end wooden tub with a seamless finish
Classic freestanding double-slipper design
Center drain placement
Faucet not included with purchase
10. D'Vontz Soaking Bathtubs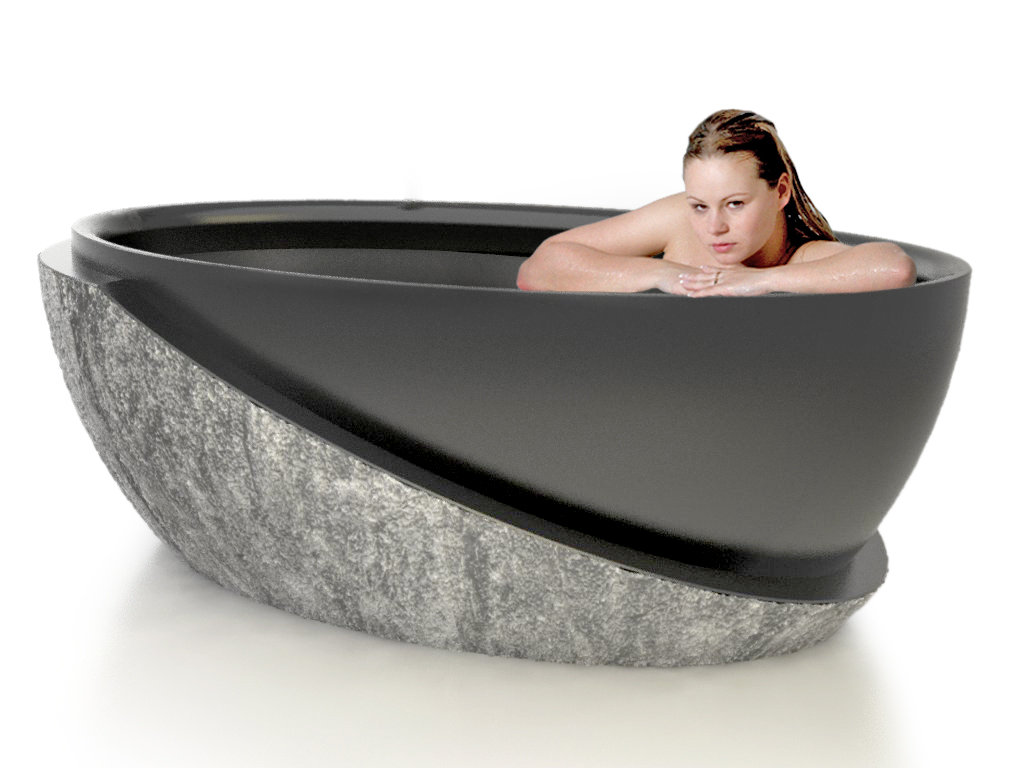 If you are into natural finishes such as natural stone or copper, look no further than at the D'Vontz striking range of bathtubs. Not only are their products made of natural elements, but are perfectly shaped into a range of styles. If you are into 'natural' and classy sophistication, do take a look at their range of tubs. One is sure to capture your imagination. We reviewed the D'VontzRoma Natural Stone 72″ x 40″ Bathtub made of natural stone and were pleasantly surprised at the artistry of this tub as well as its sophistication.
See more: D'Vontz Soaking Bathtubs on Wayfair
Crafted from natural granite/marble with all natural stone veining intact
Sophisticated, modern design
A universal drain placement
Faucet not included with purchase
11. KOHLER Alcove Bath with Integral Apron, Tile Flange and Left Hand Drain
This bathtub has a lightweight design and extra comfort feature.
See more: Kohler Soaking Bathtubs on Wayfair
Design boasts a convenient 19-inch step-over height while keeping the same depth as a standard bath
Bottom surface is textured in case of slippage
The molded lumbar support ensures a comfortable bathing experience
Product is light due to being manufactured from ExoCrylic material
Bath construction seems a bit flimsy
Needs to be built in
May need some expert help to install
12. Kohler K-1121-0 Underscore Drop-In Undermount Bathtub
The simple, crisp design is perfect for those with a contemporary bathroom style. The sloped backrest is a touch of added comfort.
See more: Kohler Soaking Bathtubs on Wayfair
Made of acrylic with a fiberglass reinforcement
Quartzite rim adds to the general appearance
Sturdy product
Smooth finishes
A drop-in undermount installation needs to be purchased separately
A slotted overflow bath drain needs to be purchased separately
May need professional help for installation
13. OVE Rachel 70-Inch Freestanding Acrylic Bathtub
This product is modern in style and freestanding. The sleek, defined lines compliments a modern décor while adding to your overall theme.
See more: Ove Decors Soaking Bathtubs on Wayfair
Made of durable acrylic that does not stain or fade
Fiberglass reinforced for durability
The waste and overflow are included
Lightweight yet sturdy design
You may find installation a little tricky
May need to purchase a separate floor standing tub filler as bath has no holes for faucet placement
Those with  a concrete floor may need to make adjustments to fit the bathtubs drainage hole
See Installation guidelines for OVE freestanding bathtub on Youtube
14. MAYKKE Barnet  Modern Oval Acrylic Bathtub Freestanding White Tub
The smooth interior and exterior finish of this modern oval design fits in with a contemporary style home or remodel.
See more: Maykke Products on Amazon
Includes drain with flexible hose and overflow assembly
Polished chrome trim
Made of acrylic
Boasts an internal overflow drain
Product has a one year warranty
Does not come with a tub filler
Need to install a floor standing tub filler as the bath is freestanding
May incur additional costs due to having to employ a plumber
15. FerdY Bathroom Freestanding Acrylic Soaking Bathtub
The smooth, glossy finish and great craftsmanship on this bathtub will make any homeowner proud.The adjustable feet allow for easy installation.
See more: FerdY Products on Amazon
Made of durable acrylic
Product has cUPC certification
Comes with a 2 years quality problem (under normal use)
Flexible drainage pipe and overflow included
Tub filler needs to be purchased additionally
May need the help of a professional plumber to install the floor standing filler
16. Kardiel HB-BT-PARVA-67-RO HelixbathParva Freestanding Acrylic Bathtub
The easy installation, rich glossy finish and square-angled style of this freestanding bathtub easily fits into the décor of most contemporary homes. This soaking tub gives a great spa experience.
See more: Kardiel Products on Amazon
Adjustable (for uneven floors)
A solid, one-piece construction
Made of acrylic, giving an easy clean surface
Product is heat retentive
Additional support supplied by two stainless steel 1 inch 'T' frames
Product does not come with a tub filler – one has to be purchased additionally
The services of a plumber a needed when installing a floor standing filler
Additional remodeling may be needed to the bathroom floor to incorporate drainage and water pipes if installing a floor standing filler
17. AKDY F210 Free Standing Acrylic Bathtub
The curved contours of this product add to your relaxation comfort while the design is upmarket and lush.
See more: AKDY Soaking Bathtubs on Wayfair
All installation fittings are supplied
Made of durable acrylic
One year limited parts warranty
Slow heat elimination keeps water warmer for longer
The bottom of the bath is treated for anti-skidding
Tub filler not included – needs to be purchased separately
May need to change existing drainage to accommodate the free standing tub
May need additional remodeling to the bathroom floor to accommodate a floor standing tub filler
18. American Standard Evolution  Soak Whirlpool Bath Tub 
A great option for when space is a problem, the whirlpool fits in a bathroom space with the added benefits of a hydro massage system.
See more: American Standard Soaking Bathtubs on Wayfair
Two molded-in armrests makes getting into and out of the bathtub easy
Constructed of acrylic with a fiberglass reinforcement for added strength
Has an antimicrobial additive into the circulation piping that protects from mold, mildew, algae and fungus buildup
Features a deck-mounted on and off switch and two silent air volume controls
The products has eight jets that target different areas of the body
Can fit two people
The Safe-T-Heater connection is sold separately
You need to order the deep soak max drain
It cannot be used as a standalone
Switches are difficult to operate with wet hands
See Video on Youtube
19. American Standard Cambridge Bath Tub with Right-Hand Drain
Light and easy to install, this bathtub already has finished side facing sparing you extra installation costs.
See more: American Standard Soaking Bathtubs on Wayfair
Made of extremely light americast material
As an integral apron meaning the side facing the bathroom is already there
Features a slip-resistant surface and beveled headrest
Sports a traditional water saving shower head-combination spray
Deeper than conventional baths
Fits into a standard bath alcove
The lumbar supportive contour ensures great back support
Not suitable as a stand-alone bathtub
May not fit a standard overflow system
The back support feature makes the tub smaller than it actually looks
20. American Standard Cadet Freestanding Tub
A freestanding tub takes your home décor up a few notches, spelling 'luxury'.
See more: American Standard Soaking Bathtubs on Wayfair
The product has a limited lifetime warranty with a fee lifetime in-home service
A patented overflow system works with a higher-positioned drain within the bathing well
Better body submergence is offered due to a deeper water depth
Product is made of fiberglass reinforced high-gloss acrylic
Includes a free-standing tub filler with hand spray and drain
The filler is not slab-mountable (crawl space is needed)
Edges of outer shell are slightly rough
It is not a single unit and needs fitting
The faucet is not American standard
See Video on Youtube
The Different Types of Bathtubs available
There are many types of bathtubs around, ranging in style, size, and even color. In fact, there is something to suit your style, color pallet, and décor. So choosing the best bathtub, these days, comes down to individual choice. So just what are the choices available when looking at the best bathtubs?
Standard Bathtubs
A standard bathtub is relatively long and shallow. It may be oval, rectangular, or curved. Seating may be added to the side or not, as well as handles to get out easier. Standard bathtubs are also often converted into a shower bath by adding a shower fixture to one wall. When taking a shower in a shower bath, you would typically need shower curtains or a glass enclosure to protect your floor from getting wet. Standard bathtubs may also have a hand shower feature for ease of use when washing your hair.
Standard bathtubs come in a vast variety of colors and are made of many different materials, including cast iron, acrylic, and glass fiber.
Claw-Foot Bathtubs
Claw-foot bathtubs were very popular during the Victorian era. They were traditionally made of cast iron and then lined with porcelain. These bathtubs tend to be both deeper and larger than a standard bathtub, and thus takes more water to fill. As the name suggests, it is a bathtub positioned on four clawed feet and by many considered the best soaking tub around.
This type of bathtub has made a recent comeback, although, these days, it is made of modern materials.
Claw-foot bathtubs come in four styles:
The roll rim tub – the top of the tub has a rounded edging
The slipper tub – one end is raised so that you are seated better
The double slipper tub – where both ends are raised
The double ended tub – where both ends are rounded or oval-shaped
A freestanding bathtub describes any bathtub that is not built in. It rests on top of your bathroom floor. A claw-foot bathtub is an example of a freestanding bath.
Soaking Bathtubs
A soaking bathtub is usually deeper than a bathtub. The aim of this type of bathtub is for relaxation.  A soaking tub, traditionally, does not have air vents like a hot tub. They are also great as a garden tub. A soaking bathtub is usually only big enough for one person.
A whirlpool bathtub is fitted with jets that allow air or water to move through at a high speed, creating bubbles. A whirlpool bathtub is also known as a Jacuzzi or hot tub.
These bathtubs come in various sizes, and can be in-ground or above ground and can be set up inside or outside. Some of them are also easily transportable.
Walk-In Bathtubs
A walk-in bathtub is ideal for those who have mobility issues. These tubs may look like a standard bathtub, but they have a side door that can open and shut. The door opens inwards, towards the bath, and is self-sealing.
Some of these bathtubs are manufactured with a built-in chair, although this is a matter of preference.  Certain of these bathtubs have sides that can be raised and lowers, while others have doors that retract into the sides of the bath.
Best Bathtubs Buyer's Guide
These days people seldom use their bathtub. Cleaning yourself these days seems to be limited to a quick shower, whether in the morning or at night. Bathtubs seem to be used, increasingly, as a means of relaxation; a time specifically put aside to soak away the strain of the hectic lives we lead in modern times. Therefore, when thinking about buying a bathtub, you need to give it some attention. You need to ask yourself certain questions so that you purchase the best bathtub for your wants, needs, and most importantly, space.
So what do you need to consider before buying a bathtub?
The type of tub
There are a large variety of tubs to choose from. Whether free-standing, a whirlpool, built-in, combination, or walk-in, each has its own set of specific pros and cons. It depends on your style and your needs. Bathtubs have become an integral part of a home's décor, and your bathtub style shows this
The space available
You may want a large, luxurious freestanding bathtub, but is your bathroom large enough to accommodate one? Bathrooms are increasingly becoming smaller. You may have to settle for a built-in. Does your bathroom not allow for a bathtub and additional shower space? Consider a bathtub with a shower attachment. There is always a way if you go looking for it.
The tub material
Nothing beats enamel-coated cast iron for durability. These tubs last forever. However, because of their weight, especially when filled, they are not suitable for all homes or need installation on a ground floor. They are also often not as large as bathtubs made of lightweight material.
These bathtubs tend to scratch or chip easily and are usually designed for only one person to fit into.
Fiberglass is lightweight and easy to mold into different shapes and inexpensive. It is, however, prone to scratches although those with an acrylic finish are quite durable. Fiberglass bathtubs are also more difficult to clean, while they color tends to fade in time.
Bathtubs made of porcelain-enameled steel are quite light and durable. The high-gloss finish makes cleaning a breeze.
Acrylic tubs are very popular. Acrylic is easy to mold and does not show scratches as easily as fiberglass. It is also much more durable. The high gloss finish makes for easy cleaning. Acrylic I mainly used in the manufacture of whirlpools because of its easy molding properties, allowing for a bathtub with added armrests and other features not traditionally found in bathtubs made from other materials.
Acrylic bathtubs are the most common tubs around today, are found in most homes, and are found in all shapes and sizes.
Cultured marble is a man-made material. It is made of a combination of crushed lime and polyester resin and finished off with a gel-coat. This type of bath offers many different colors and patterns and has a sleek, stylish look. The downside is that it is relatively expensive and needs more maintenance. It also scratches quite easily.
Resembling onyx or granite, polymer-based baths are finished with a polyester gel coat that mimics the look of stone. These baths are great at retaining heat but the gel coating is not as durable as acrylic.
Whether from natural marble or another type of stone, these bathtubs are extremely pricey, heavy, and need a floor structure that can hold their weight. Stone that is submitted to large variations in heat tends to crack or chip and cannot be mended. Most of these tubs also need sealing with a gel-coat that can give them a fake marble/stone look.
Wooden tubs are usually made of teak or certain other woods. Although strikingly beautiful, they do demand a high level of upkeep to keep them in pristine condition and to prevent them from leaking.
Installation
The floor underneath heavier bathtubs (especially after filled with water) may need reinforcement.
Not all bathtubs fit standard bathroom drainage or water supply fittings. You may need additional remodeling to incorporate this which implies the services of a qualified plumber.
Frequently Asked Questions
Besides the obvious pleasure of getting yourself clean, bathtubs are also a most relaxing experience. The warm water tends to relax your muscles, getting rid of your aches and pains. By adding essential oils to your tub, you also get the benefit of aromatherapy.
Is it dangerous to sleep in a full tub?
Falling asleep in a bathtub is dangerous. Your muscles are relaxed, and your reflexes are a little slower on the uptake. You could sink into the warm depths of the water and drown. Children, particular, are at risk of drowning in a bathtub, even if in a baby bathtub, and should never go unsupervised while bathing.
How do I clean a bathtub?
The first step is to clean the bathtub using clean water and a cloth. If there is any residue left over, a mild, non-abrasive detergent does the trick. For a more environmentally friendly option, mix equal parts vinegar and water in a spray bottle and spray the bath, leaving it for about 15 minutes before wiping. If the bath is very dirty, sprinkle your tub with baking soda and spray with your vinegar solution. Using a cloth or paper towel, use this mixture to scrub out your bath. Rinse with clean water once done.
Why do humans think up innovative things while on the toilet (pooping) or in a bathtub?
There are not many times that we, as humans, can totally relax and be by ourselves without anyone or anything to bother us or occupy our mind. Basically, the only time we get to relax and let our minds wander is while we are bathing or having a good old poop! This is also the time when the mind relaxes, and where we allow it to wander off on its own or dream. These are thus the times when we are more likely to get that "Eureka! I got it!" lightbulb-going-on moments.
Conclusion
Picking the best bathtub for you is a subjective matter. It depends on your space, wants, and style. What works for you, therefore, may not work for someone else. Having said that, and remembering that it is a subjective matter, the bathtub that stood out for us was the American Standard 2771VC.020 Evolution 5-Feet by 36-Inch Deep Soak Whirlpool Bath Tub with EverClean and Hydro Massage System I.
The main consideration was the luxury afforded by the hydro-massage system. This feature need not be used with every bath, but it is a 'nice to have'. Add to this the antimicrobial additive and armrests for additional comfort, and you have crossed all the T's in my book.
I can see myself relaxing in this bath with some candles on, a little light music, and a lovely glass of bubbly.