Bathing has been around for centuries. Our ancestors may have bathed in streams, but the Romans started a more civilized bathing method with the introduction of built-in-baths in the rich folk's houses and public baths for the man on the street.
Today, just about every home has a bathroom, their bath of choice taking pride of place according to their individual style. But what makes people decide on what, exactly, is the best bathtub for their individual purposes? When deciding on the best bathtubs, it is all a matter of personal choice!
21 Top Rated Bathtub Reviews
Are you still unsure of the best bathtub to suit your needs? Which are the best-rated bathtubs or best freestanding tubs? Or are you looking for the best luxury bathtub out there? Perhaps taking a look at a few of our bathtub reviews will help you decide on what will work for you.
1.  WoodBridge B-0006 Freestanding Soaking Tub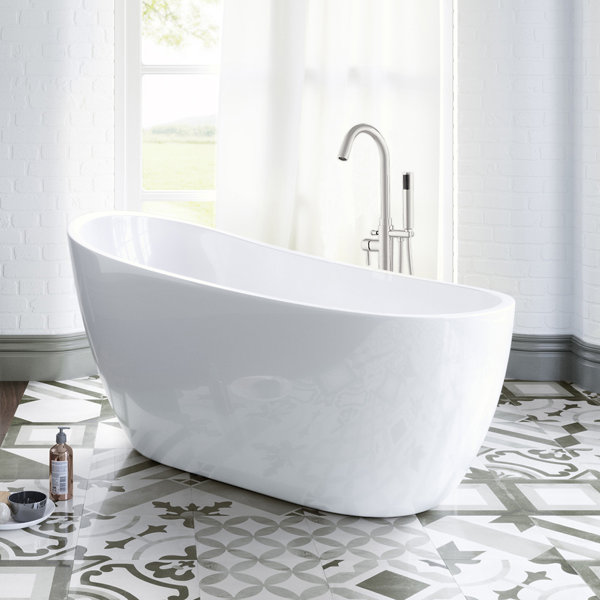 A beautiful oblong bathtub with smooth edges and deep basin-like body is what you'll get with the WoodBridge B-0006 Freestanding Soaking Tub.
With 54-inches by 29-inches dimension, you'll have enough space to lay down and be comfortable in the tub. It has a freestanding design, which allows you to place the bathtub anywhere you want to.
Whether you have a contemporary or a futuristic interior design, this bathtub will definitely fit in.
Made from Acrylic that is enhanced with fiberglass
Also has a brushed nickel hardware finish to complement the elegant look you are aiming for
The oval shape allows you to stretch your limbs comfortably.
It has 3 installation holes, so you have more freedom in terms of the placement of the tub.
With 55 gallons water capacity
Has 1-year product warranty
Approved by the Canadian Standards Association
See more: WoodBridge Bathtubs on Wayfair
2.  Kohler Greek Drop-in Soaking Tub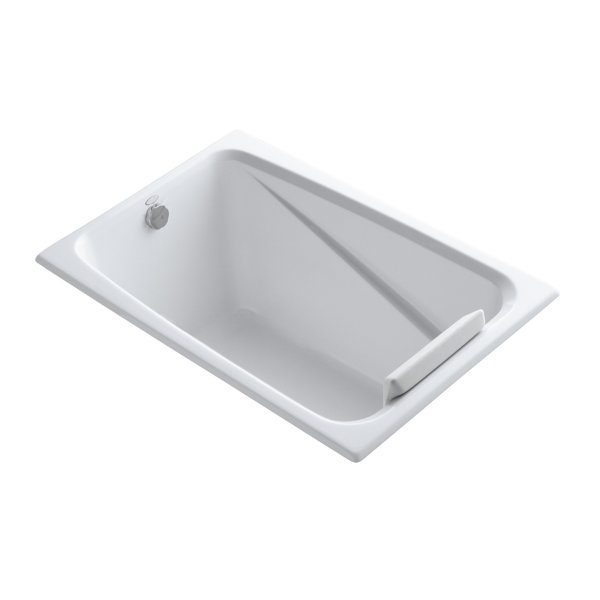 A classic rectangular bathtub is perfect for deep soaking. Kohler Greek Drop-in Soaking Tub is a 4-feet deep bathtub with a drop-in installation style.
People with a wider body built will be happy using this bathtub because it is spacious and has all the necessary soaking accessories. It has a dimension of 48-inches by 32-inches, perfect for petite yet curvy people.
Has an overflow drain
Easy to install with its drop-in alcove style
Comes with a repose vinyl bath pillow for added comfort
Made from premium acrylic material
The drain placement is reversible
You can choose different colors: white, almond, biscuit, sandbar, and dune.
See more: Kohler Bathtubs on Wayfair
3.  Wyndham Collection Mermaid Freestanding Soaking Tub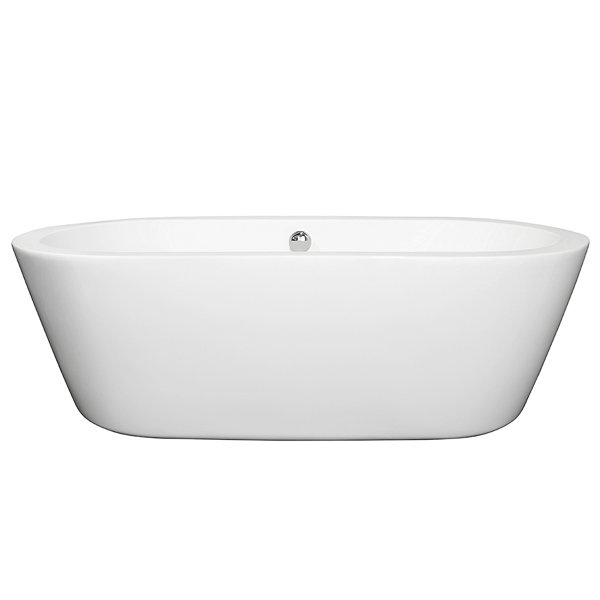 Enjoy a relaxing soak in the tub mermaid style. This tub got its name because it allows you to have a full-body soak as it can hold 63 gallons of water.
A very spacious bathtub like this is perfect for those who prefer to move around the tub while soaking. It has a total dimension of 71-inches by 34-inches and a deep, wide surface.
If you are looking for the best freestanding tub for the money, then this one definitely makes the cut.
With drain placement at the center
The base is adjustable for tub leveling and stability.
Made from durable acrylic material
Equipped with overflow drain and drain assembly
With 2-years limited product warranty
Tested and approved by the Canadian Standard Association
See more: Wyndham Collection Bathtubs on Wayfair
4.  Vanity VA6517 Freestanding Soaking Tub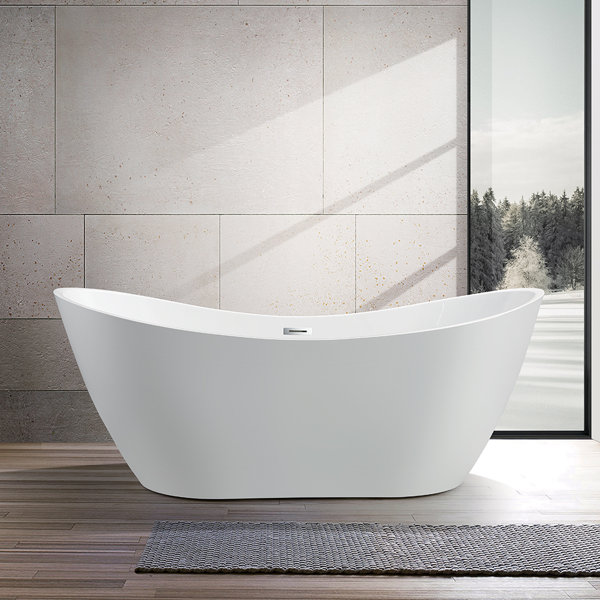 A perfect bathtub that is worthy for the gram? Vanity VA6517 Freestanding Soaking Bathtub is the perfect pick. It has a contemporary look coupled with high-quality design.
The tub has a smooth body with edges that slightly dipped at the center. This allows you easy access in the bathtub. People fell in love with the tub's simple yet eye-catching shape.
If you want a bathtub that would look good in both indoor and outdoor, then this is absolutely worth the investment.
People love the luxurious feel of this tub.
It has an overflow drain, perfect for a deep soak.
With acrylic as its primary material, plus a fiberglass enameled enhancement, you can guarantee that this tub lasts long.
Has a total water capacity of 63.4 gallons
It's a self-leveling bathtub
With a slipper tub design
Has 1-year limited manufacturer warranty
See more: Vanity Art Bathtubs on Wayfair
5.  Kingston Brass Aqua Eden Soaking Bathtub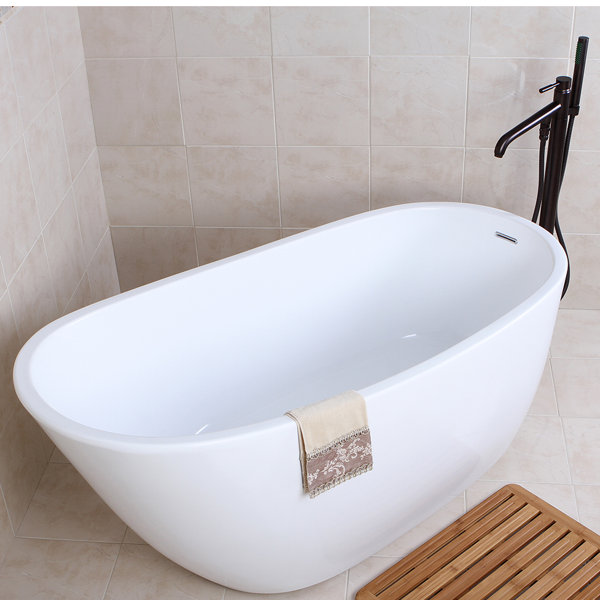 The Kingston Brass Aqua Eden Soaking Bathtubis the perfect bathtub choice for homeowners who still want to experience a spa-like soaking experience at home.
The tub is very lightweight as it is made from 100% acrylic material. It also has a smooth and shiny surface which looks great in any bathroom design. But the best thing about this bathtub model isits flexibility in installation and plumbing process.
It's a highly durable soaking bathtub although not as thick as the other tubs on the list.
The freestanding oval design is coated with porcelain enamel surface, which is scratch-free.
Has free-drilled holes for bathtub faucet, drain, and showerhead
You can also get this tub in various style such as single or double slipper tub design
Has a total water capacity of 52.4 gallons
Suitable for both residential and commercial use
Drain placement can either be at the center or right placement
See more: Kingston Brass Bathtubs on Wayfair
6.  AKDY BT0069 Soaking Bathtub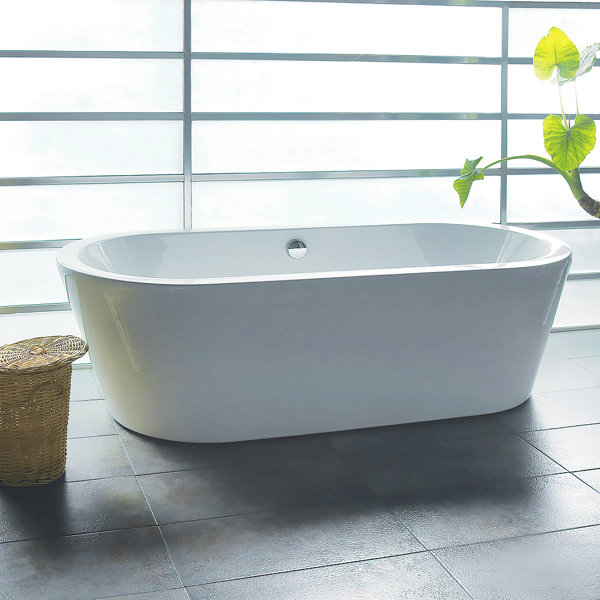 AKDY has been a constant in our best bathtub brand reviews. Why not? The brand has a wide range of amazing bathtub styles and designs that are perfect for residential and commercial use.
If you are looking for tubs that are great for children and elderly alike, then this AKDY BT0069 Soaking Tub is a great consideration.
This tub has low edge access, allowing the user to easily slip inside the tub. This may look short but actually hold a huge volume of water with up to 70 gallons.
Made from acrylic with glossy white finish
The oval shape allows the user to stretch comfortably inside the tub.
Offers 1-year product warranty
The extra-large space can accommodate up to 2 people.
It has a double walled design, which also helps retain the water temperature.
Has an ergonomic design, following the natural curve of your back for an ultimate soaking experience
See more: AKDY Bathtubs on Wayfair
7.  Spa Escapes Vivara Freestanding Bathtub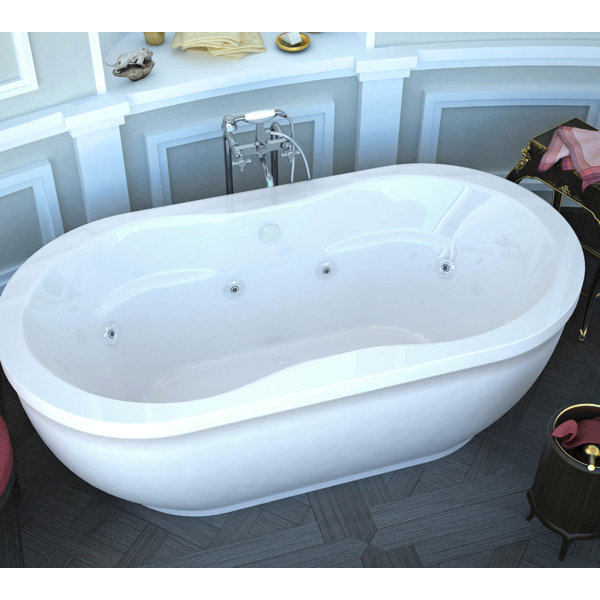 The Vivara bathtub is a high gloss acrylic tub reinforced with fiberglass. It has a stunning oval shape with two armrest and smooth edges.
This quality and beautiful freestanding bathtub gives your body exemplary relaxation in the most satisfying soak. What we love about this is the ample amount of jets in the tub. If you want to get a good soak accompanied with a fulfilling hydrotherapy massage, then Spa Escapes Vivara Freestanding Whirlpool Bathtub
Although this tub is quite difficult to install, many users of this bathtub still think that the product is worth it.
Has a total water capacity of 53 gallons
Made in the U.S.A.
The jets are actually adjustable, so you can go for soft massage to deep massage whichever you like.
Helps ease strained muscles and fatigue
Because the tub is equipped with whirlpool massage jets, it is a great tub for those with an active lifestyle like athletes.
See more: Spa Escapes Bathtubs on Wayfair
8.  Vinnova Jacqueline Soaking Bathtub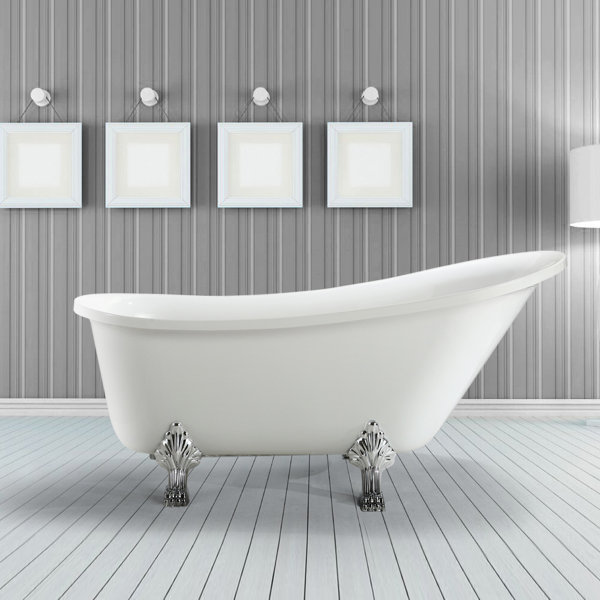 This intricately made soaking bathtub is a dream bathtub of those who want to transform their bathroom into a spa. The luxurious feel of this bathtub is evident.
At first glance, you can tell how carefully taught the design actually is. Furthermore, a lot of cool features and accessories also come with the product, which makes it one of the most coveted stylish freestanding tubs recently.
The only downside we find with this tub is that it has no overflow drain and that it can only hold up to 37 gallons of water.
With a gleaming silver finish and intricate ornate claw feet, a perfect contrast to the white lily tub
Voted as one of the best bathtubs with a luxurious design
1-year product warranty
The drain placement is reversible
This is a slipper bathtub that allows you to recline comfortably as you soak.
See more: Vinnova Bathtubs on Wayfair
9.  Fine Fixtures BT106-BT Drop-in Soaking Tub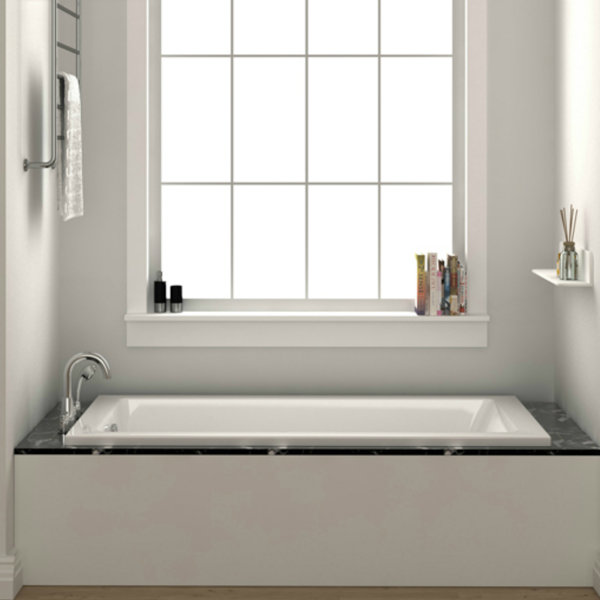 Fine Fixture offers this convenient bathtub for those who want a tub that can be easily installed and does not occupy too much space. Let's say this is a bathtub that every small apartment owner can indulge.
This 48-inches by 32-inches tub has a drop-in back to wall design. And since this is a drop-in tub, the installation process is quite straightforward. It also has the classic rectangular shape with a white finish.
This may be a space-saving bathtub, but it can hold up to 51.78 gallons of water, enough for a gratifying soak.
Drain placement can either be right or left
With 1-year warranty service
Listed with UL certification; UL is a listed safety science company
It's a self-leveling base bathtub
See more: Fine Fixtures Bathtubs on Wayfair
10.  Aquatica Olivia Corner Soaking Tub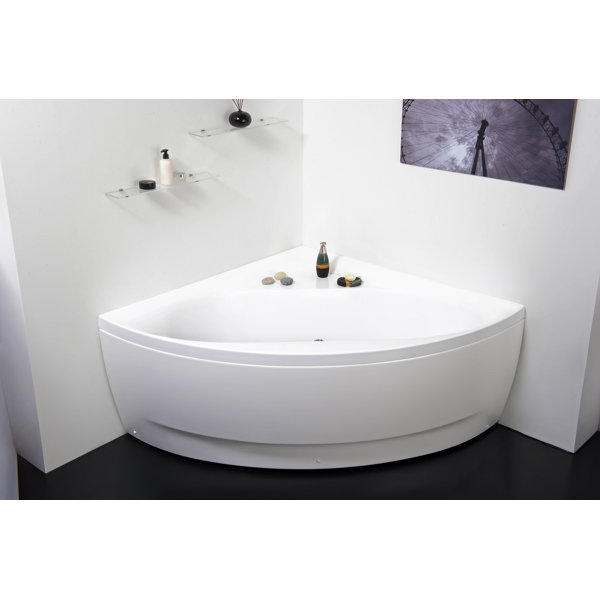 If you want an alcove type of bathtub, then the Aquatica Olivia Corner Soaking Tub is a great item to start with. The bath is pretty durable with its premium acrylic material that has an extra thick wall.
How water therapy is even more rewarding with this bath as it can retain heat longer than the other tubs on this list. It's a compact, durable tub with amazing features.
Has adjustable legs made of metal
It also has a metal base frame
The solid construction is definitely unmatched.
With overflow drain and waste kit
You'd be surprised to know that it can hold a lot of water with up to 74 gallons.
See more: Aquatica Bathtubs on Wayfair
11.  Ove Decors Terra Freestanding Bathtub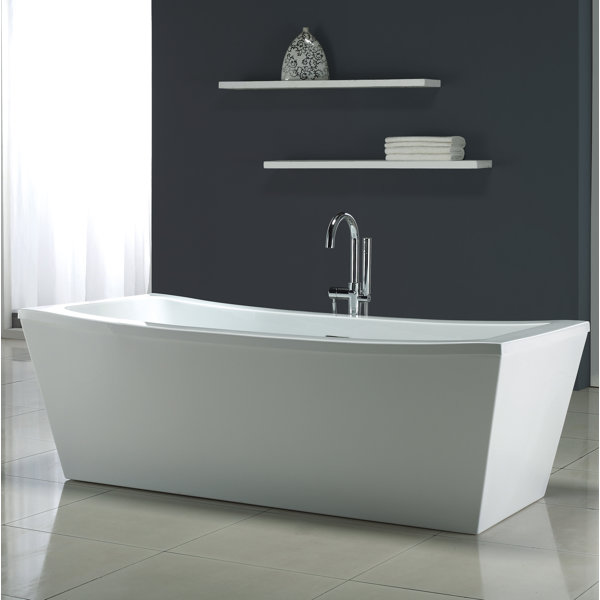 Overall, this bathtub has a distinct style to it. Instead of smooth, curved edges, this one has a box-like rectangular shape with sharp pointed edges.
It's almost too sleek for a woman's bathroom. Without a doubt, this could pass as the ultimate bathtub that every bachelor would ever want to achieve that masculine accent in their bathroom interior.
A sleek-looking bathtub with a completely modern look
This is the best soaking tub for bachelors who wants to add a unique character in their bathroom.
Complete with an overflow drain, drain assembly, and overflow and waste kit
A high-quality tub with CSA certification
Made from first-class acrylic material that is fiberglass reinforced
Holds 60 gallons of water
Offers a 5-year product warranty!
See more: Ove Decors Bathtubs on Wayfair
12.  Maykke Woodward Cast Iron Freestanding Bathtub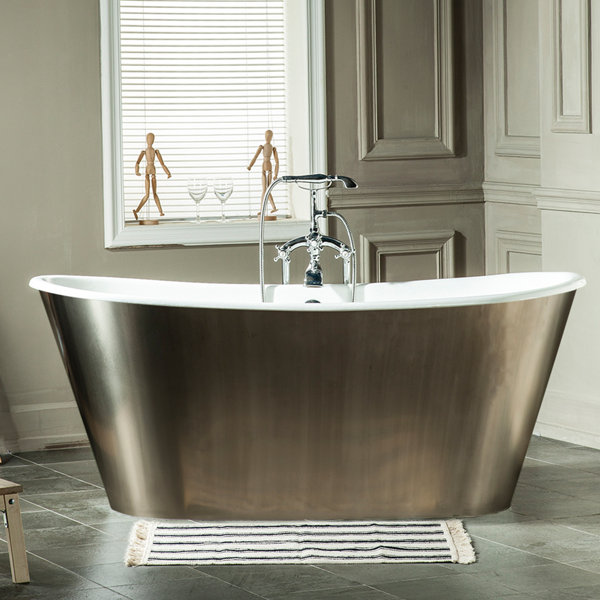 Wondering why most bathtubs have a white finish? That is because white is the universally accepted color for bathtubs. This is a safe color that can complement well to any bathroom interiors.
However, you can always take your style up a notch with this cast iron tub. It has a stainless-steel skirt that can instantly make your bathroom look and feel luxurious.
Cast iron is another popular bathtub material after acrylic. Although cast iron is durable, this one is also heavy. Because the material is traditional and heavy, cast iron bathtub also has limited style and design as compared to those tubs made from acrylic.
Still, if you aren't the type who constantly change your bathroom interior, then the cast iron bathtub would suit you well.
A durable soaking bathtub made from top quality cast iron
Has an overflow drain, tub waste, and drain assembly
Although it is heavy and traditional, this tub is very durable
With a slipper tub design
1-year product warranty
See more: Maykke Bathtubs on Wayfair
13.  KardielHelixBath Ephesus Bathtub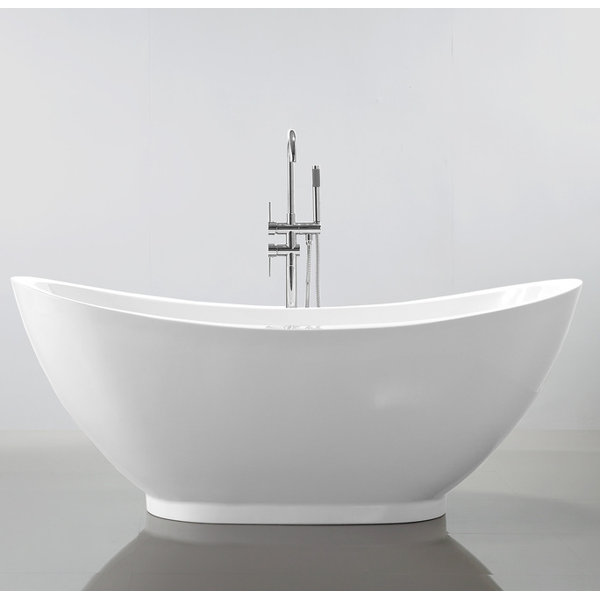 Relax and get a gratifying soak that you surely deserve with this classic HelixBath Ephesus Bathtub by Kardiel. And of all the bathtub on our list, this is the only bathtub that offers as 5-year limited warranty.
100% non-porous acrylic bathtub that is also easy to clean
Has a solid and sturdy construction
Complies with the Canadian and American standards
This is also fade resistant and easy to install
Can hold up to 62 gallons of water
Has an overflow drain
This is a double slipper bathtub.
See more: Kardiel Bathtubs on Wayfair
14.  American Standard Evolution Deep Alcove Bathtub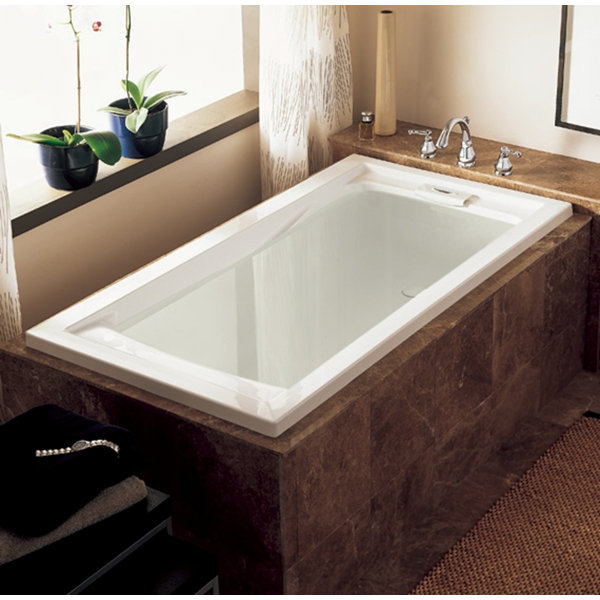 This is a drop-in alcove bathtub from the American Standard brand. This bathtub is highly praised by many users. You know why?
It has an advanced technology that not only helps keep your bathtub germ-free but also keep the water crisp and clean.
Has an EverClean sanitation system, which maintains a good circulation of the permanent glaze additive into the tub's piping
Made in the U.S.A.
The drain placement is also reversible.
This also doubles as whirlpool tub with 8 hi-flo, adjustable water jets
See more: American Standard Bathtubs on Wayfair
15.  A&E Bath and Shower Retro Freestanding Tub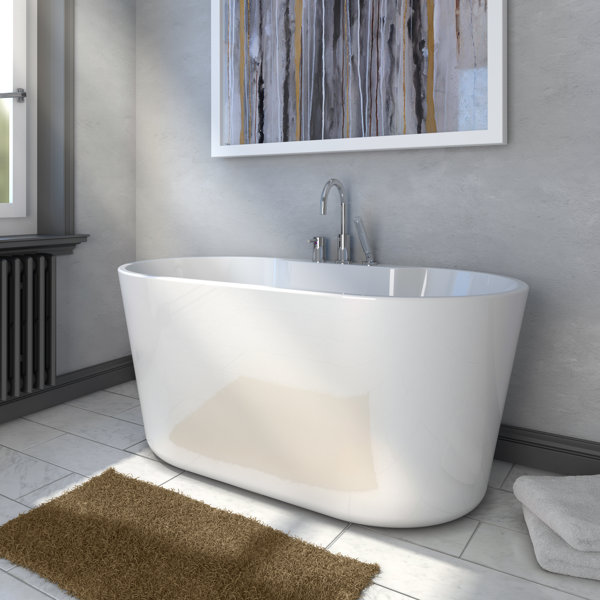 What is the best bathtub for smaller bathrooms? This A&E Bath and Shower Retro Tub is your best bet.
This is a modern, standard soaking tub complete with bathing and soaking features. While most tubs have a glossy white finish with stainless steel hardware, this one has high gloss finish with pure white hardware.
Has overflow drain, faucet, drain assembly, and shower included
Holds up to 63 gallons of water
The drain placement is at the center
With 1-year warranty
CSA certified
See more: A&E Bath and Shower Bathtubs on Wayfair
16.  Alfi Brand AB1148 Soaking Tub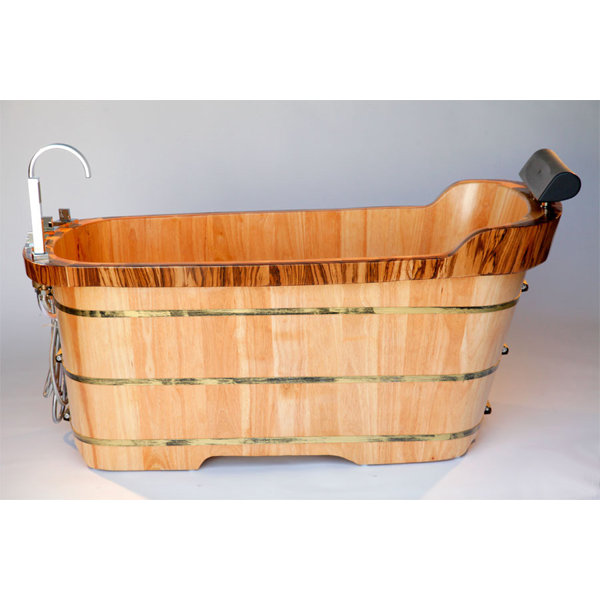 To complete the rustic or vintage look you are aiming for, you need to go all out in all aspect of your interior design. This includes the bathtub.
This dainty soaking bathtub by Alfi Brand is made of wood polished to perfection. It looks so vintage and elegant at the same time. Those who have cabins and cottages in the woods love how this tub compliments the surrounding nature.
A high-end wooden soaking tub that is really eye-catching.
Made from solid oak wood, a premium, durable hardwood material
Has a single slipper tub design so that you can comfortably relax
With 1-year manufacturer's defect warranty
Holds up to 78 gallons of water for a full-body soak
See more: Alfi Brand Bathtubs on Wayfair
17.  American Acrylic Soaker Corner Tub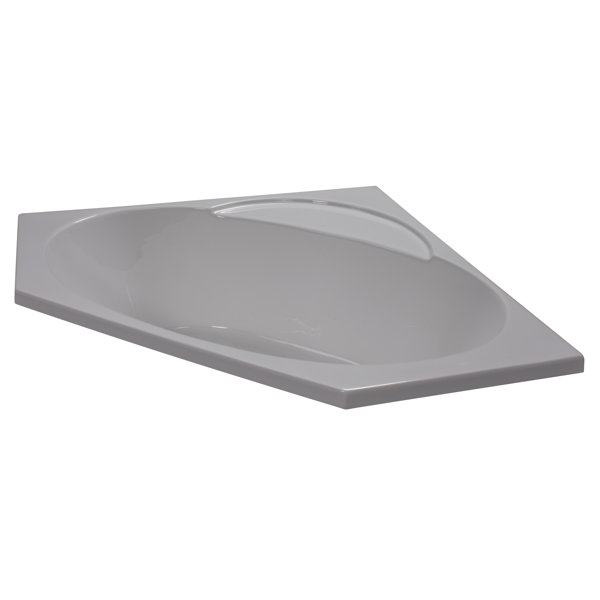 Some people are very creative, and they want that to reflect in every aspect of their home. This 48-inches by 48-inches soaker tub from American Acrylic is actually an oval shape but the armrests are so wide.
It's a very versatile bathtub with sleek lines and corners to provide optimum comfort as you recline and lay down in the tub.
Made from high-quality acrylic
Can hold 70 gallons of water
This is a bathtub that is slip-resistant, scratch-resistant, and stain-resistant.
You can guarantee that this tub is absolutely safe to use. It is toxic-free and lead-free.
With an overflow drain with the drain at the center
See more: American Acrylic Bathtubs on Wayfair
18.  EAGO AM505ETL Waterfall Whirlpool Bathtub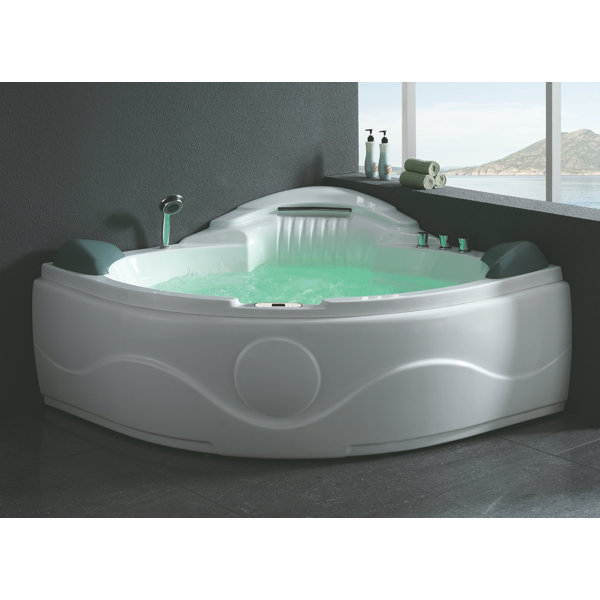 This bathtub is indeed in another level. Some people think that whirlpool bathtubs are only great for hotels and other serviced apartments. But this whirlpool tub by EAGO looks fantastic even in the corner of your bathroom.
It's a unique bathtub but is packed with great features, combining the elements that you love in a bathtub and a jacuzzi. We can totally agree that this waterfall whirlpool bathtub is a worthy investment.
This is a self-filling tub through its jets.
Made from MaxLoad high gloss acrylic which is reinforced with fiberglass and stainless steel
More resilient than other tubs
Circulates the water evenly, thus giving you a hydromassage-like experience
Easy to backwash, so you can get rid of the bacteria and mold build-up in the tub's piping system
See more: EAGO Bathtubs on Wayfair
19.  Orren Ellis Batts Freestanding Air Tub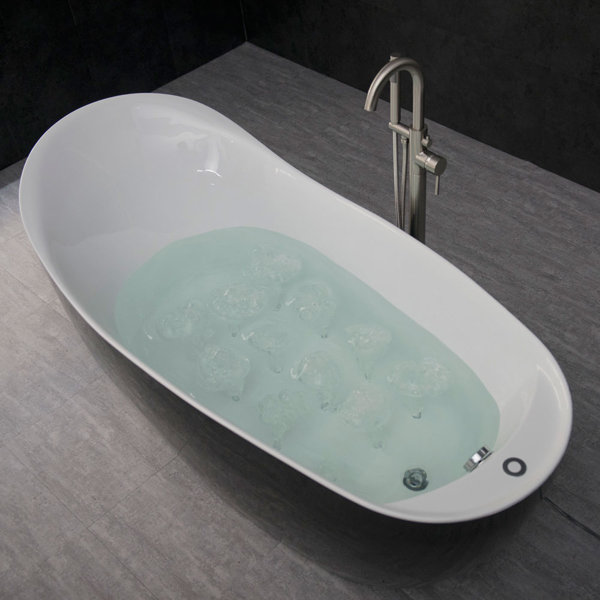 This bathtub uses jets of air to circulate the water, creating small bubbles for a subtle yet efficient massage sensation. Hence, you can instantly transform your bathroom into a luxurious spa.
In addition, the single slipper design also supports the natural curve of your back as you recline in the tub.This is an important aspect since you don't want to slouch in the tub nor to sit uncomfortably, right?
Manufactured with the highest craftsmanship and advanced technologies
Complete with drain assembly, overflow drain, and overflow / waste kit
Holds 50 gallons of water
1-year product warranty
This is a CSA certified bathtub, so you can guarantee that this has undergone quality inspection.
See more: Orren Ellis Bathtubs on Wayfair
20.  Premier Copper Products Hammered Copper Bathtub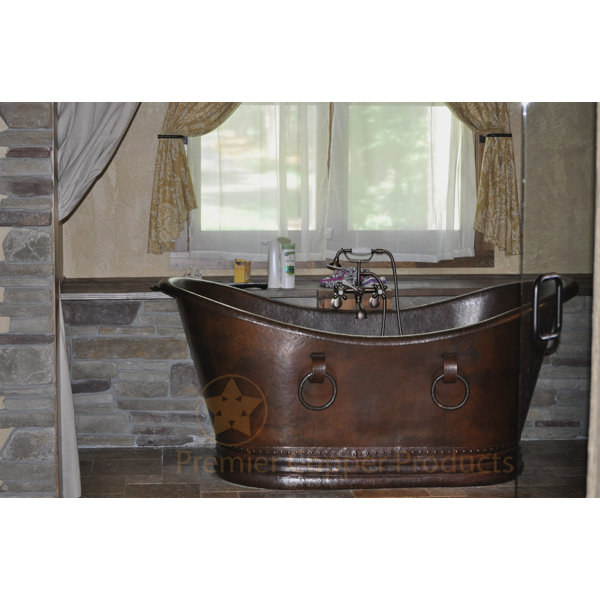 Get in the tub and feel like royalty just like back in the old days. This outstanding copper bathtub from Premier Copper is a gem that has a unique and intriguing design.
The first thing you'll notice with this tub is its copper body that is hammered to perfection. Did you also know that this is handcrafted in Mexico? The amount of effort and creative work done to achieve this stunning copper tub is pure hard work. And you can see that on the tub's design and craftsmanship.
This copper tub is perfect for those who take a liking to vintage-looking tubs.
This is a double slipper tub.
Copper is the main material with an oil rubbed bronze finish
It's actually a handmade bathtub that is 100% recyclable.
Can be wall mounted or deck mounted
With a limited lifetime warranty
This is easy to clean just use the recommended mild liquid cleaners (avoid strong cleaners).
Although it is made from recycled copper, this tub has antimicrobial property.
See more: Premier Copper Products Bathtubs on Wayfair
21.  Therapeutic Tubs Prairie Jetted Bathtub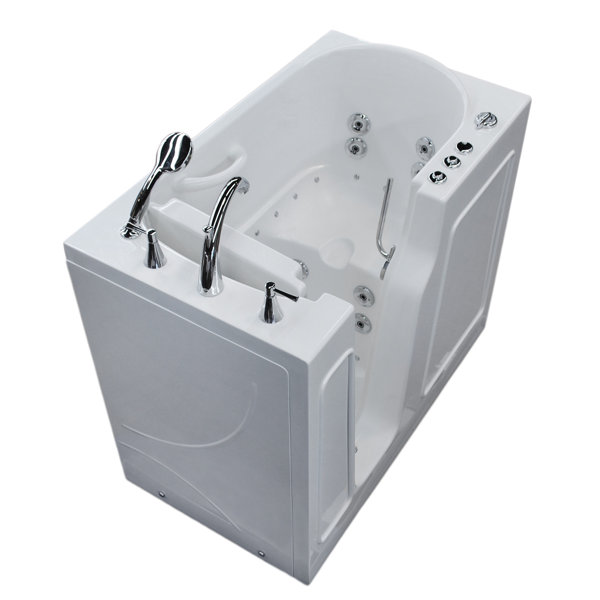 Last, but definitely not the least, in our list is this Prairie whirlpool and air jetted walk in bathtub. If you can't decide whether to get a whirlpool or an air tub, then this is your answered prayer. Why not get the best of both worlds?
This is a 45.7-inches by 26-inches bathtub equipped with a durable pump and a tap. While this tub may look overwhelming to some, it is actually designed with a lot of considerations. Look how the tub has all the elements needed to keep the user safe?
See, this tub is the ultimate tub for people across all ages+
A high-quality tub equipped with a lot of features to make your bath experience even more special
Has a safety grab and slip-resistant floor, plus a molded seat— perfect for seniors and children
The material is actually fiberglass
The front access panels are removable for easy cleaning and maintenance.
The drain placement is either right or left.
Made in the U.S.A.
The jets are also adjustable so you can control the strength of the water jets.
This can only hold 46 gallons of water, but the bubbles created by the air jets will slightly raise the water so it still feels like a full soaking sensation.
See more: Therapeutic Tubs Bathtubs on Wayfair
The Different Types of Bathtubs available
There are many types of bathtubs around, ranging in style, size, and even color. In fact, there is something to suit your style, color pallet, and décor. So choosing the best bathtub, these days, comes down to individual choice. So just what are the choices available when looking at the best bathtubs?
Standard Bathtubs
A standard bathtub is relatively long and shallow. It may be oval, rectangular, or curved. Seating may be added to the side or not, as well as handles to get out easier. Standard bathtubs are also often converted into a shower bath by adding a shower fixture to one wall. When taking a shower in a shower bath, you would typically need shower curtains or a glass enclosure to protect your floor from getting wet. Standard bathtubs may also have a hand shower feature for ease of use when washing your hair.
Standard bathtubs come in a vast variety of colors and are made of many different materials, including cast iron, acrylic, and glass fiber.
Claw-foot bathtubs were very popular during the Victorian era. They were traditionally made of cast iron and then lined with porcelain. These bathtubs tend to be both deeper and larger than a standard bathtub, and thus takes more water to fill. As the name suggests, it is a bathtub positioned on four clawed feet and by many considered the best soaking tub around.
This type of bathtub has made a recent comeback, although, these days, it is made of modern materials.
Claw-foot bathtubs come in four styles:
The roll rim tub – the top of the tub has a rounded edging
The slipper tub – one end is raised so that you are seated better
The double slipper tub – where both ends are raised
The double ended tub – where both ends are rounded or oval-shaped
A freestanding bathtub describes any bathtub that is not built in. It rests on top of your bathroom floor. A claw-foot bathtub is an example of a freestanding bath.
Soaking Bathtubs
A soaking bathtub is usually deeper than a bathtub. The aim of this type of bathtub is for relaxation.  A soaking tub, traditionally, does not have air vents like a hot tub. They are also great as a garden tub. A soaking bathtub is usually only big enough for one person.
A whirlpool bathtub is fitted with jets that allow air or water to move through at a high speed, creating bubbles. A whirlpool bathtub is also known as a Jacuzzi or hot tub.
These bathtubs come in various sizes, and can be in-ground or above ground and can be set up inside or outside. Some of them are also easily transportable.
Walk-In Bathtubs
A walk-in bathtub is ideal for those who have mobility issues. These tubs may look like a standard bathtub, but they have a side door that can open and shut. The door opens inwards, towards the bath, and is self-sealing.
Some of these bathtubs are manufactured with a built-in chair, although this is a matter of preference.  Certain of these bathtubs have sides that can be raised and lowers, while others have doors that retract into the sides of the bath.
Best Bathtubs Buyer's Guide
These days people seldom use their bathtub. Cleaning yourself these days seems to be limited to a quick shower, whether in the morning or at night. Bathtubs seem to be used, increasingly, as a means of relaxation; a time specifically put aside to soak away the strain of the hectic lives we lead in modern times. Therefore, when thinking about buying a bathtub, you need to give it some attention. You need to ask yourself certain questions so that you purchase the best bathtub for your wants, needs, and most importantly, space.
So what do you need to consider before buying a bathtub?
The type of tub
There are a large variety of tubs to choose from. Whether free-standing, a whirlpool, built-in, combination, or walk-in, each has its own set of specific pros and cons. It depends on your style and your needs. Bathtubs have become an integral part of a home's décor, and your bathtub style shows this
The space available
You may want a large, luxurious freestanding bathtub, but is your bathroom large enough to accommodate one? Bathrooms are increasingly becoming smaller. You may have to settle for a built-in. Does your bathroom not allow for a bathtub and additional shower space? Consider a bathtub with a shower attachment. There is always a way if you go looking for it.
The tub material
Nothing beats enamel-coated cast iron for durability. These tubs last forever. However, because of their weight, especially when filled, they are not suitable for all homes or need installation on a ground floor. They are also often not as large as bathtubs made of lightweight material.
These bathtubs tend to scratch or chip easily and are usually designed for only one person to fit into.
Fiberglass is lightweight and easy to mold into different shapes and inexpensive. It is, however, prone to scratches although those with an acrylic finish are quite durable. Fiberglass bathtubs are also more difficult to clean, while they color tends to fade in time.
Bathtubs made of porcelain-enameled steel are quite light and durable. The high-gloss finish makes cleaning a breeze.
Acrylic tubs are very popular. Acrylic is easy to mold and does not show scratches as easily as fiberglass. It is also much more durable. The high gloss finish makes for easy cleaning. Acrylic I mainly used in the manufacture of whirlpools because of its easy molding properties, allowing for a bathtub with added armrests and other features not traditionally found in bathtubs made from other materials.
Acrylic bathtubs are the most common tubs around today, are found in most homes, and are found in all shapes and sizes.
Cultured marble is a man-made material. It is made of a combination of crushed lime and polyester resin and finished off with a gel-coat. This type of bath offers many different colors and patterns and has a sleek, stylish look. The downside is that it is relatively expensive and needs more maintenance. It also scratches quite easily.
Resembling onyx or granite, polymer-based baths are finished with a polyester gel coat that mimics the look of stone. These baths are great at retaining heat but the gel coating is not as durable as acrylic.
Whether from natural marble or another type of stone, these bathtubs are extremely pricey, heavy, and need a floor structure that can hold their weight. Stone that is submitted to large variations in heat tends to crack or chip and cannot be mended. Most of these tubs also need sealing with a gel-coat that can give them a fake marble/stone look.
Wooden tubs are usually made of teak or certain other woods. Although strikingly beautiful, they do demand a high level of upkeep to keep them in pristine condition and to prevent them from leaking.
Installation
The floor underneath heavier bathtubs (especially after filled with water) may need reinforcement.
Not all bathtubs fit standard bathroom drainage or water supply fittings. You may need additional remodeling to incorporate this which implies the services of a qualified plumber.
Frequently Asked Questions
Are bathtubs useful?
Besides the obvious pleasure of getting yourself clean, bathtubs are also a most relaxing experience. The warm water tends to relax your muscles, getting rid of your aches and pains. By adding essential oils to your tub, you also get the benefit of aromatherapy.
Is it dangerous to sleep in a full tub?
Falling asleep in a bathtub is dangerous. Your muscles are relaxed, and your reflexes are a little slower on the uptake. You could sink into the warm depths of the water and drown. Children, particular, are at risk of drowning in a bathtub, even if in a baby bathtub, and should never go unsupervised while bathing.
How do I clean a bathtub?
The first step is to clean the bathtub using clean water and a cloth. If there is any residue left over, a mild, non-abrasive detergent does the trick. For a more environmentally friendly option, mix equal parts vinegar and water in a spray bottle and spray the bath, leaving it for about 15 minutes before wiping. If the bath is very dirty, sprinkle your tub with baking soda and spray with your vinegar solution. Using a cloth or paper towel, use this mixture to scrub out your bath. Rinse with clean water once done.
Why do humans think up innovative things while on the toilet (pooping) or in a bathtub?
There are not many times that we, as humans, can totally relax and be by ourselves without anyone or anything to bother us or occupy our mind. Basically, the only time we get to relax and let our minds wander is while we are bathing or having a good old poop! This is also the time when the mind relaxes, and where we allow it to wander off on its own or dream. These are thus the times when we are more likely to get that "Eureka! I got it!" lightbulb-going-on moments.
What is the difference between a bathtub and a soaking tub?
The main difference between the standard bathtub and soaking tub is the depth of the tub. Most average bathtubs are generally 2.5-feet by 5-feet in dimension and are 14 or 15 inches deep. The soaking tubs, on the other hand, are available in various sizes but are typically 20-inches.
The logic behind the soaking tub is pretty simple— to fully soak and cover the user's body.
What is a good size soaking tub?
People have different opinions as to which size is considered a good size for a soaking tub. This is a bit subjective as you have to consider the body structure of the user. However, in terms of depth, you should get a tub that is 22-inches deep.
Conclusion
Picking the best bathtub for you is a subjective matter. It depends on your space, wants, and style. What works for you, therefore, may not work for someone else. Having said that, and remembering that it is a subjective matter, the bathtub that stood out for us was the American Standard 7236V002.020 Evolution Bathtub with Form Fitted Back Rest, White.
I can see myself relaxing in this bath with some candles on, a little light music, and a lovely glass of bubbly.