Imagine no longer having to worry about running out of toilet paper or hurting yourself in the event of hemorrhoids. We have a list of the best bidet toilet seats that we have reviewed in order to make a perfect choice. Remember, if you have the best toilet money can buy, it only makes sense to add the best bidet attachment as well.
Bidet Toilet Seat Reviews
The following bidet reviews, we hope, will help you to pick the best bidet for your buck. They include bidet toilet seats as well as bidet attachment reviews.
1.  Luxe Bidet Neo 120 – Self Cleaning Nozzle – Fresh Water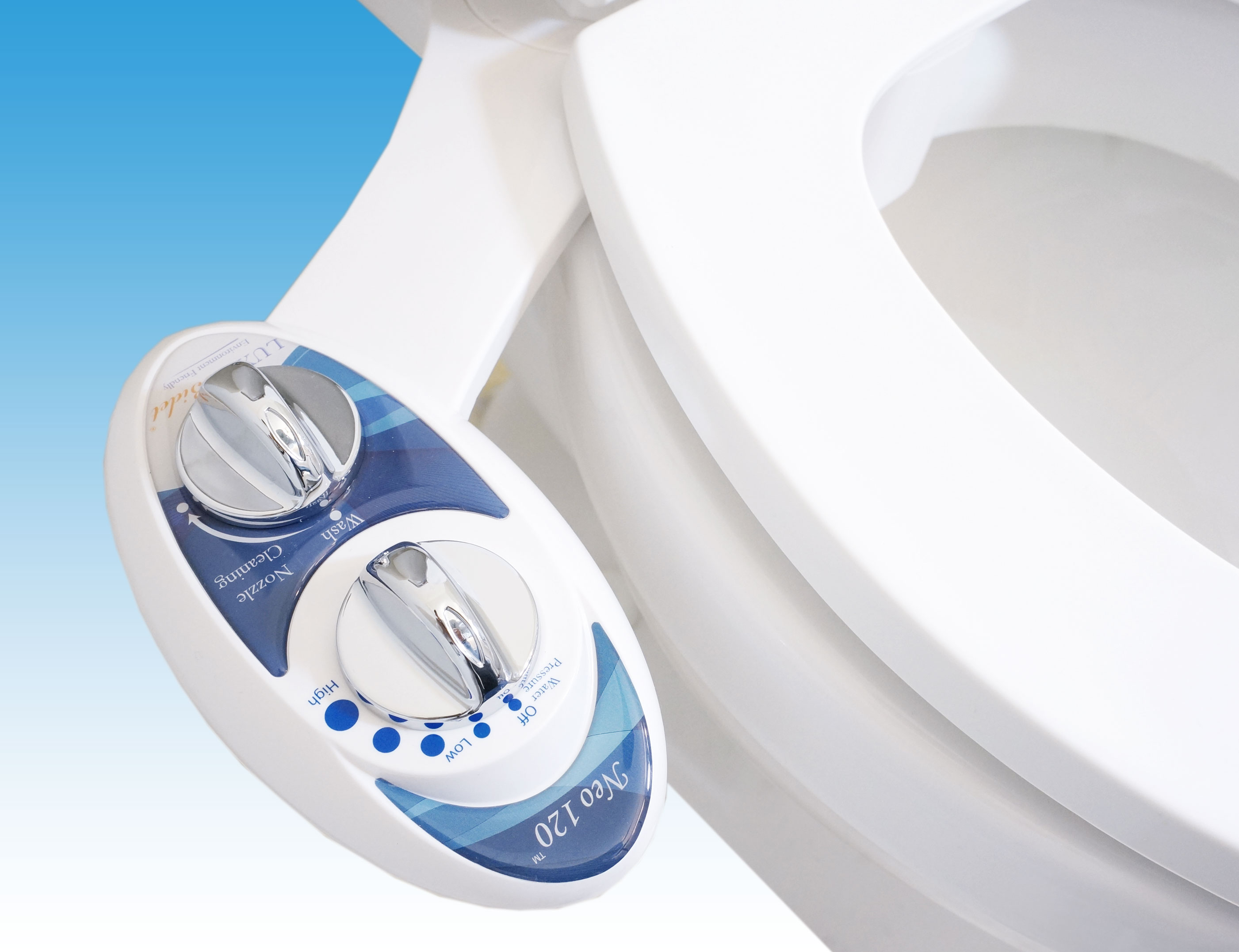 This product is easy to install yourself and is purchased together with all the needed plumbing accessories.
What customers have to say
Customers were very impressed with this product's ease of installation. It's great function as was also praised, while many are impressed with the fact that the use of toilet paper was at a minimum and usually only for drying purposes. Those with hemorrhoids, however, were the most impressed.
The Pros:
Has high-quality metal-ceramic core valves and a braided steel hose
The nozzle has a self-cleaning function
The bidet is curved to fit most toilet seats
It is an easy DIY installation
It has adjustable fitting plates for a secure attachment
All standard plumbing accessories needed are included
The Cons:
People who are 'sensitive' in their lower area may find the lowest setting a little discomforting, while they should probably not even attempt using it on the higher one
2.  BioBidet Bliss BB2000 Elongated White Bidet Smart Toilet Seat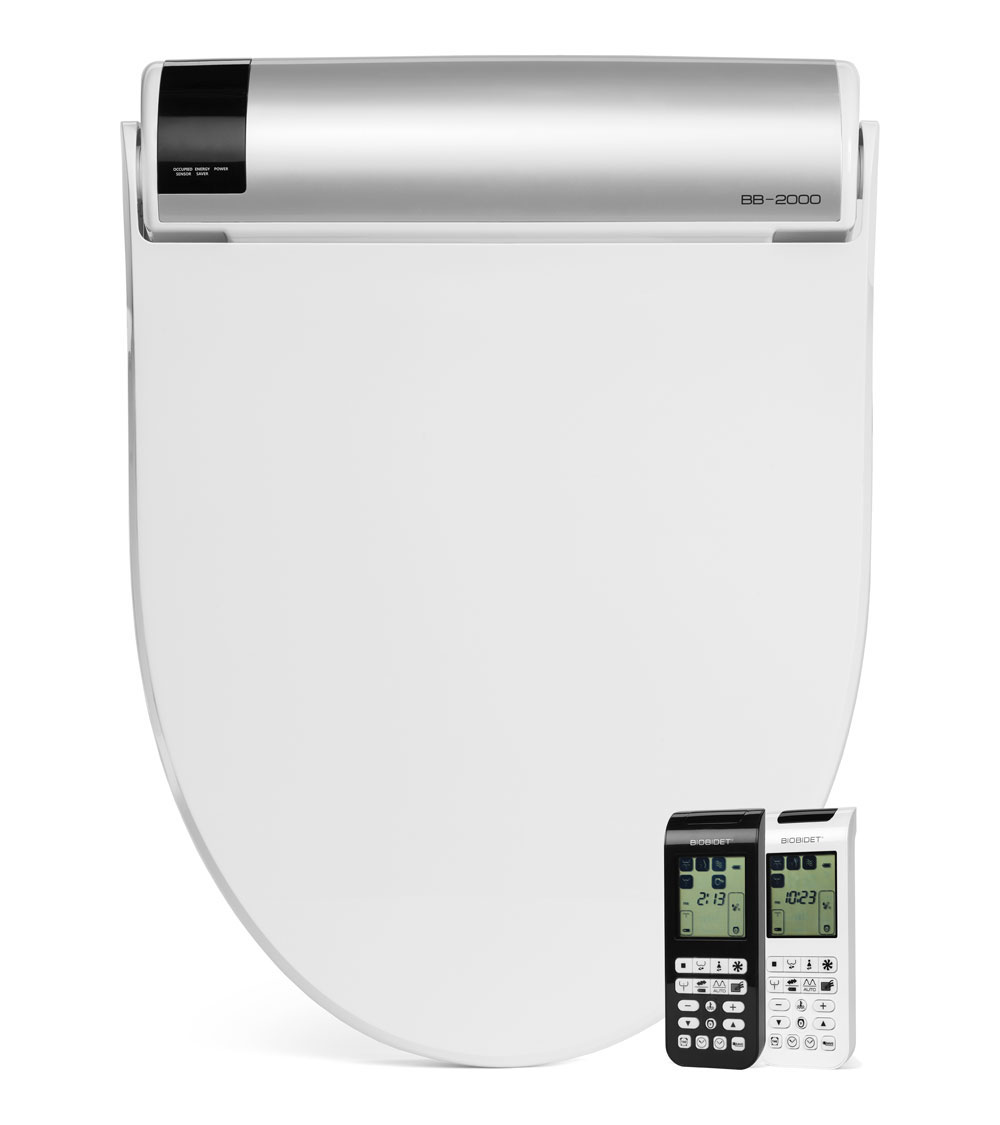 This bidet gives you various user options. To add to this, it gives you the option of a warmer wash which is great for the colder winter months.
What customers have to say
Overall, customers were very pleased with their purchase and commented on the great directions given as well as the ease of installation.
The Pros:
The three-in-one stainless steel nozzle offers the options of a posterior, feminine, or vortex wash
The toilet seat has a water heating option, adjustable heated seat, and slow closing lid
The energy saving mode reduces your electricity consumption
The product features an oscillating wide clean and pulsating massage technology with a bubble infusion action
The Cons:
It is relatively expensive because you need to buy the whole toilet seat
3.  KOHLER BN330-N0 Novita Electric Bidet Seat for Elongated Toilets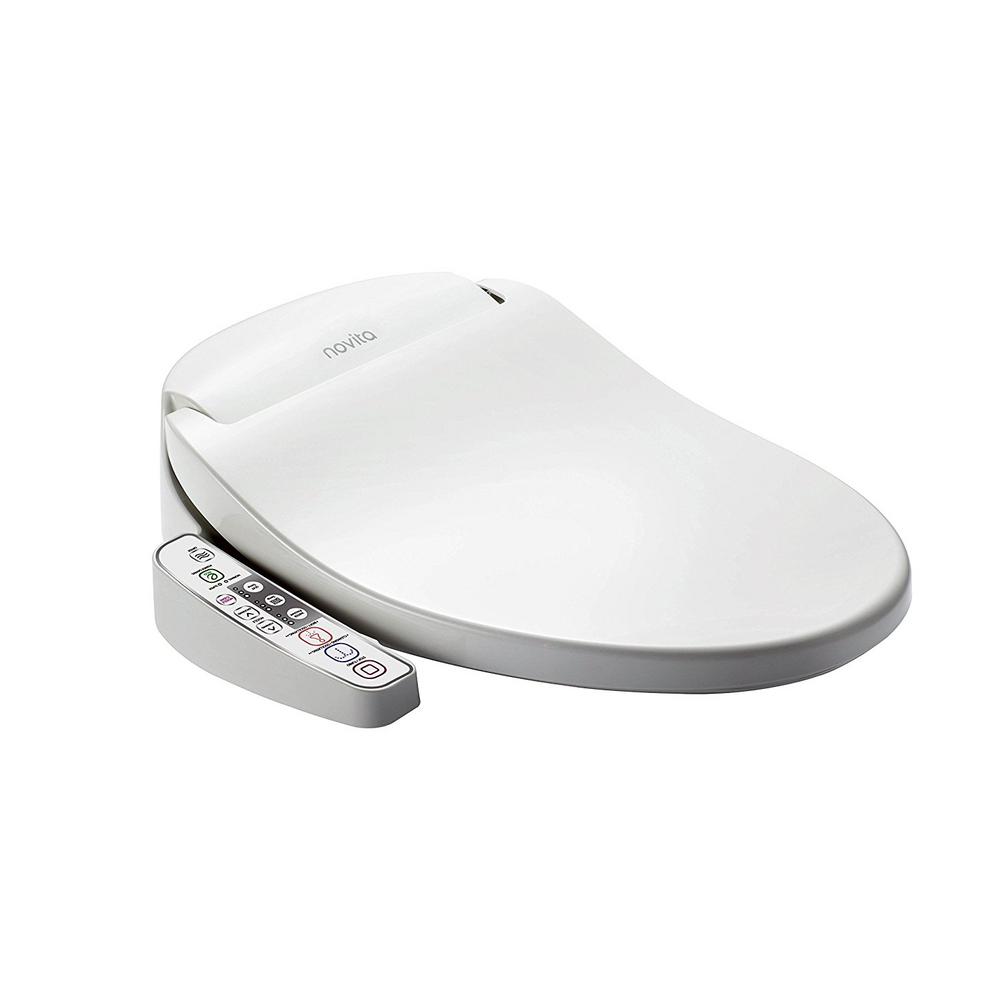 This bidet from Kohler has a compact design that is combined with hybrid heater technologies. The latter allows for instant and unlimited warm water, ensuring comfort of use even during the colder months.
What customers have to say
Most customers are very happy with their purchase of this bidet product. Some even call it one of their essentials, citing that besides working very well, they love the ease of comfort it brings them.
The Pros:
It has a sleek design that fits most elongated seats by means of quick-release brackets
The self-cleaning feature not only sanitizes the nozzle but retracts when not in use
It has a very compact design, standing only two inches in height
The hybrid heater technology gives an instant, constant supply of warm water
The Cons:
There are no cons as far as we can determine
4.  Brondell S1000-EW Swash 1000 Advanced Bidet Elongated Toilet Seat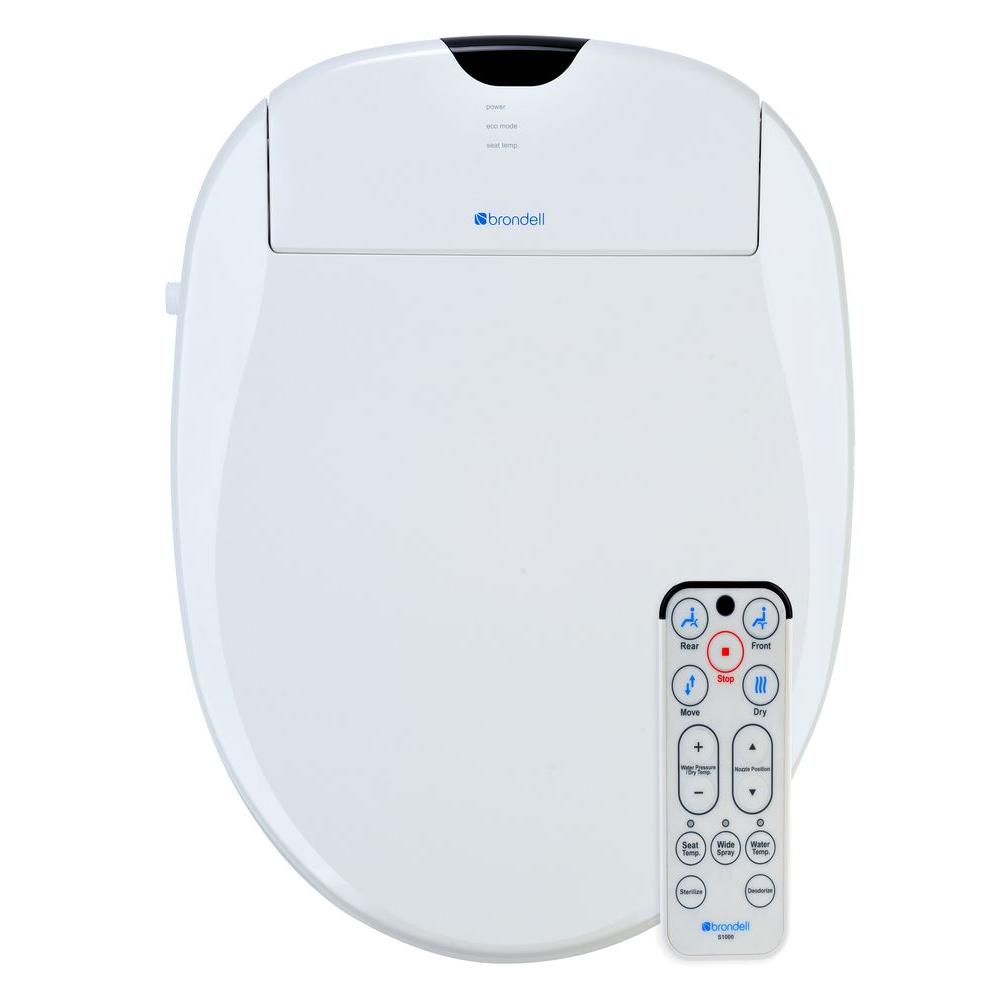 This bidet is a great option for someone who is looking for all the bells and whistles! Using ground-breaking technology, this bidet gives you numerous luxury features – even warm air to dry you afterward, meaning no toilet paper is necessary.
What customers have to say
Customers all seem to be positive about this particular bidet. They also mention that it is easy to use, gives a great bidet experience, and is relatively easy to install. 
The Pros:
The stainless-steel nozzle is adjustable
The nozzle is sterilized by means of nanotechnology
The warm air dryer is convenient and means no toilet paper is necessary
It has a built-in deodorizer that eliminates odors
The spray wash has a three-level width adjustment and a rotating nozzle
It washes with warm water
The Cons:
It is quite an expensive product
Spare parts to fix it are difficult to come by
5.  SmartBidet SB-2000 Electric Bidet Seat for Round Toilets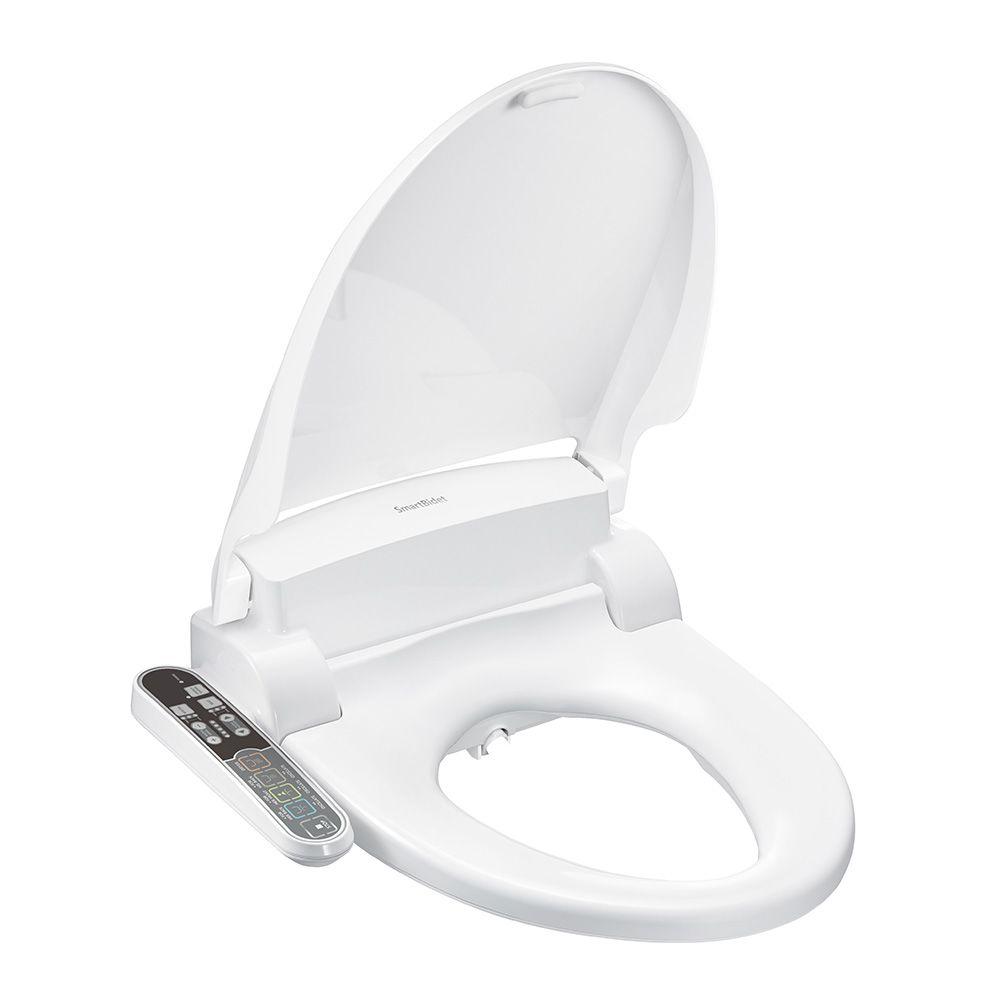 The SmartBidet is easy to install, offering you comfort and convenience while keeping good hygiene in mind. The stylish design, together with a multi-functional control panel, are but two of the stylish features associated with this product.
What customers have to say
Customers had positive comments on the his/her and other spray functions of this bidet. They were also impressed with the ease of installation.
The Pros:
The product has five adjustable water pressure levels, the water temperature levels, and 5 different nozzle positions
The heated seat has three different heat setting with a safety on and off sensor that activates when the seat is in use
The warm air dryer has 5 different levels, thereby eliminating the need for any toilet paper
It features an energy saving mode and a soft closing lid and seat
The bidet is easy to install
The Cons:
We are not aware of any cons at this point
6.  ALPHA JX Elongated Bidet Toilet Seat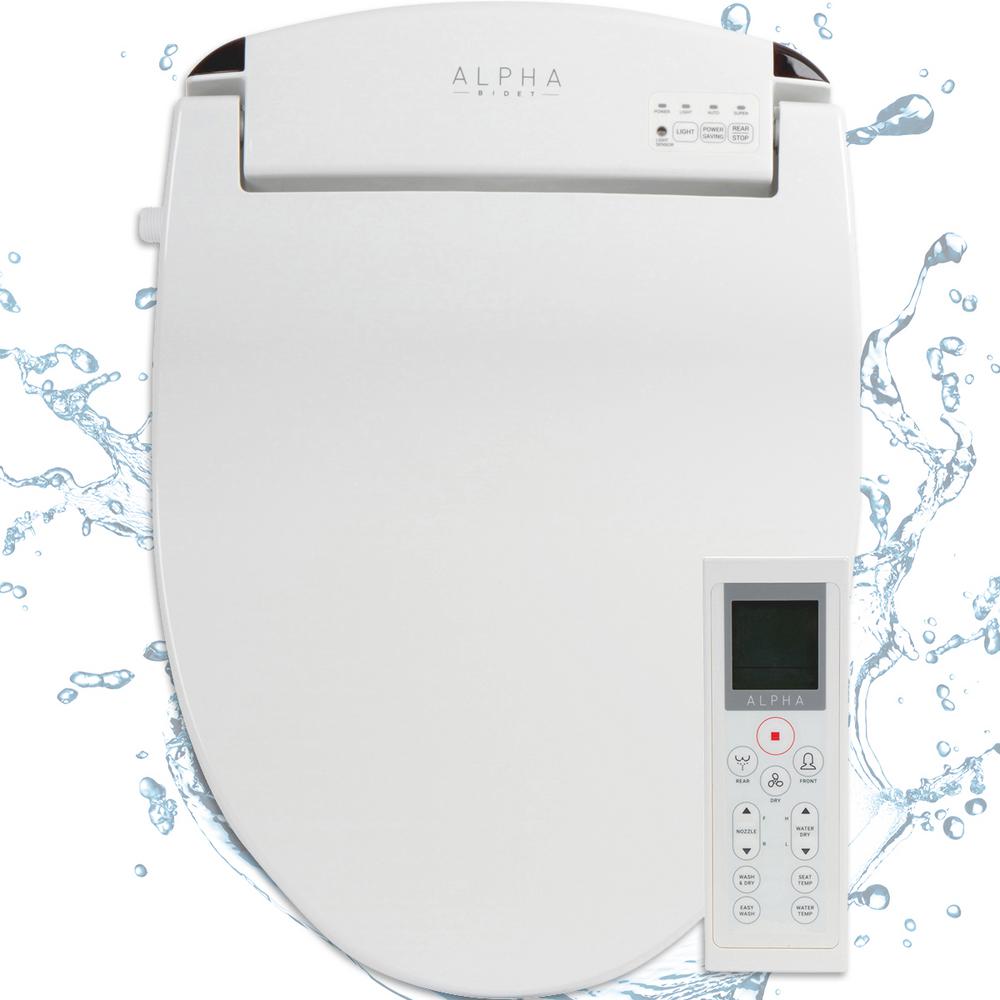 The warm and soothing tankless on-demand water heating provides an endless supply of warm water. The remote control option also affords ease of use.
What customers have to say
The overall consensus is that this bidet is very good value for money, functions very well, and is very easy to use.
The Pros:
Provides a warm, soothing experience with a continuous, on-demand tankless supply of water
It has a slim, low profile design
The aluminum wash nozzle is self-cleaning and anti-microbial
The white LED nightlight with ambient light sensor makes it great for night time use
The remote control is easy to use and sports shortcut buttons
The Cons:
We could not find anything negative to say
7.  Lotus Hygiene Systems ATS-500 Advanced Smart Toilet Seat Bidet
The lady wash of this bidet has a lady wash that gives a gentle, dedicated stream of water while the child wash is specially designed for use by children. The three-level seat temperature adjustment ensures maximum comfort.
What customers have to say
Clients like the fact that this bidet seat has great features yet at an affordable price. They also mention that this product is extremely hardy.
The Pros:
This product fits both round and elongated toilet models
It is kitted with a warm seat and warm air dryer control
The seat and water temperature each have three different settings
The product has a continuous warm water and child wash function
There are five adjustable water pressures as well as five oscillations functions and nozzle positions
The air dryer has five temperature levels
The Cons:
The accompanying power cord is slightly short, especially if the power point is a distance from the toilet
Some people find the lead a little short
8.  Advanced Clean AC 2.0 SpaLet Toilet Seat Bidet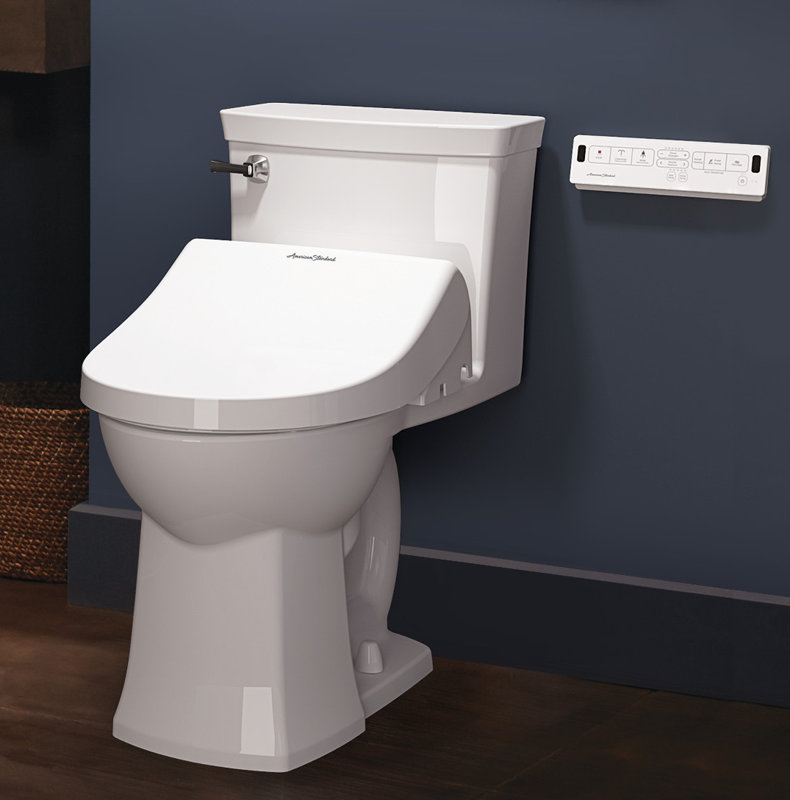 This product has two independent self-cleaning nozzles sporting four position adjustments that are perfect for both posterior as well as anterior cleaning.
What customers have to say
Overall, the clients were extremely satisfied with their purchase, its functionality, and its style. They also mentioned that installation instructions were easy to follow and the installation process itself a great DIY project anyone could undertake.
The Pros:
You have a heated seat temperature adjustment feature
The two independent self-cleaning nozzles have 4 positions adjustments
The product allows for both posterior and anterior cleaning
You have your pick of five different water pressure, water temperature, and seat heating settings
The Cons:
Some clients found the power cord a little too short
Hooking up to your water may be a little tricky for the inexperienced
9.  Toto SW574#01 Washlet Elongated Toilet Seat Bidet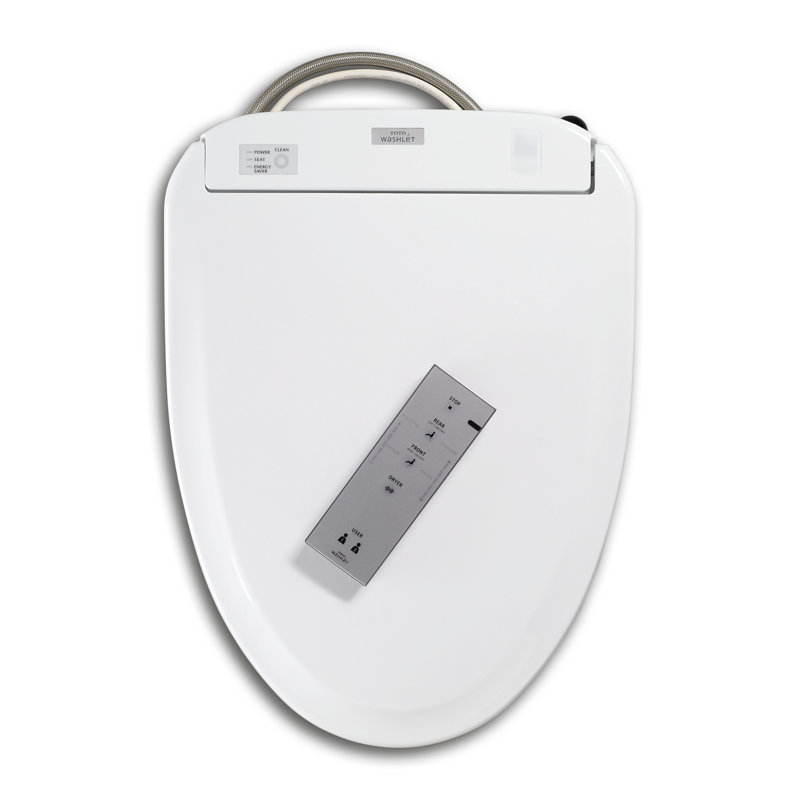 This is a fully-automated bidet that uses an advanced ewater+ slim design. It mists and cleans the toilet bowl by means of electrolyzed water after each use. It is a fully automated product that included both a heated seat and remote control.
What customers have to say
The majority of clients love this product. They find it efficient and multifunctional.
The Pros:
Features a front and rear warm wash feature with adjustable temperature and pressure controls
The seat gives the option of different heat settings
Sports an illuminated touchpad and 2 user memory
Has an automatic air deodorizer and warm air dryer with a remote control operation
Makes use of e-water on both the wands and bowl
Sports a night light
The mounting and connection hardware are included with purchase
The Cons:
It may be slightly more expensive than compatible products of its kind
It does not fit all toilets
What You Need To Consider When Buying A Bidet
Toilet seats usually come in two shapes, i.e. either round or elongated. While older toilets tend to have the former shape, newer toilets tend to be the latter. You need to choose a bidet that fits your particular toilet bowl.
The term 'you get what you pay for' applies. Usually, cheap options tend to wear out or break quicker than their more expensive, higher-end counterparts. Shopping around may be your best bet when you have a certain budget in mind. Remember, this is a long-term appliance you are purchasing.
If choosing a bidet that has a heated seat or water, do remember that you need an electrical outlet. Although it does not necessarily need to be close to your toilet, do remember that long leads could be unsightly. Not all bidets have this feature, however, but then you are looking at the cold seat and cold water option.
Do remember to take a woman's needs into consideration. For a woman, a frontal cleanse option is equally important, as it is an essential element in female hygiene.
Reservoir versus tankless bidet
A bidet sporting a reservoir takes up quite a bit of wall space and can only heat up a certain amount of water at a time. Typically, this means a single flush, and that someone else using the toilet directly after you will end up with a cold splash of water.
A tankless bidet, on the other hand, supplies a continuous stream of hot water and does not take up much room in a bathroom.
Conclusion
There are many bidet toilet seats and attachments available for you to pick from. Although pricing and your particular need may determine the product you choose to buy at the end of the day, our vote best bidet toilet seat went to the  Brondell S1000-EW Swash 1000 Advanced Bidet Elongated Toilet Seat, White. We felt that this product just stands apart from the rest, as it incorporates just about every feature we could want in this kind of a product.