Have you been out and about looking for the best bike shed your money can buy? We did all the hard work for you, scoured the internet, and searched for the best sheds in the market. Here are the top 9 bike sheds that we've found.
Top 9 Best Bike Shed Reviews
1.  Suncast Plastic Horizontal Tool Shed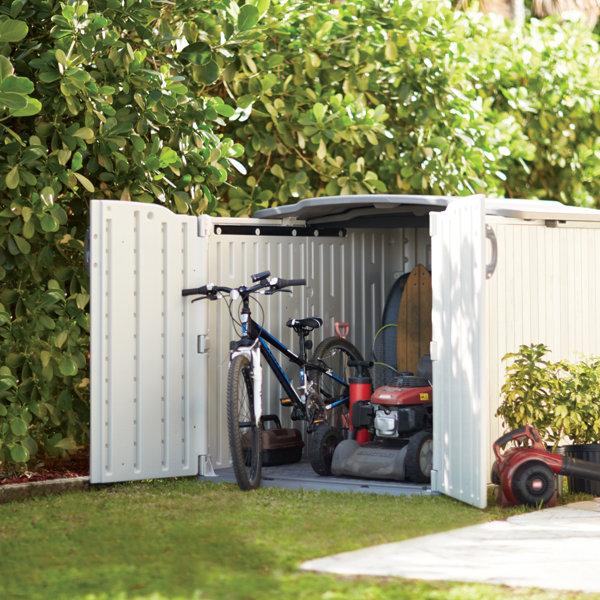 This horizontal shed from Suncast is a storage shed that stands out from many others because of its low profile. It has a large enough coverage area to accommodate as many as 5 bikes. It's also low enough that it's perfectly hidden within the standard 72-inch fence. It's a highly reviewed bike shed, and users find it very easy to assemble.
Best Features:
Built-in ventilation and impact-resistant floor included
Weather, UV, and water-resistant
Made of durable resin and plastic materials
Double-door for easy access and wide access point
98 cu. ft. capacity, with an overall dimension of 57.5 in. x 79.75 in. x  52 in. (W x D x H)
2.  Lifetime Plastic Traditional Storage Shed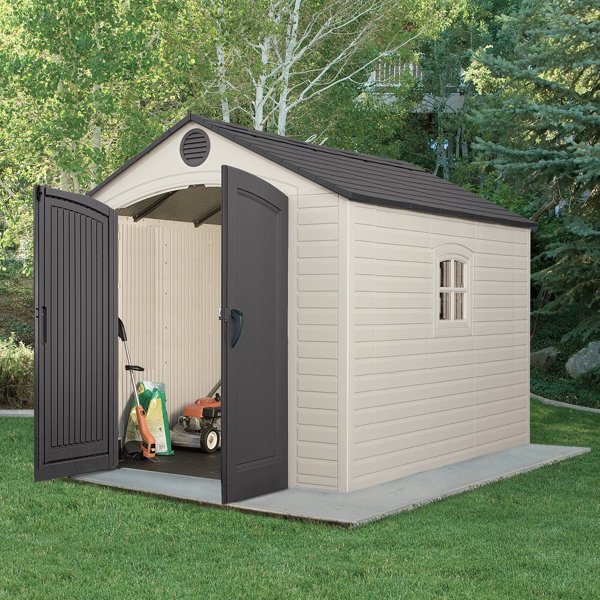 This Lifetime storage shed looks like a traditional, wooden storage shed. However, it's made from plastic and metal. It even features 2 small, circular vents and small windows that allow some natural light to slip inside. It's as sturdy as most modern plastic sheds go. It's even built with a double wall and steel-reinforced roof so you won't have to worry about your bikes and your tools being affected by storms and heavy winds.
Best Features:
Built-in ventilation and impact-resistant floor included
Made with durable steel and high-density polyethylene
Steel-reinforced double-door for wide access point and better security
Best to clean with a mild soap and a soft brush
Comes with customizable shelving for more storage space
491 cu. ft. capacity, with an overall dimension of 96 in. x 120 in. x 96 in. (W x D x H)
3.  Keter Factor Plastic Storage Shed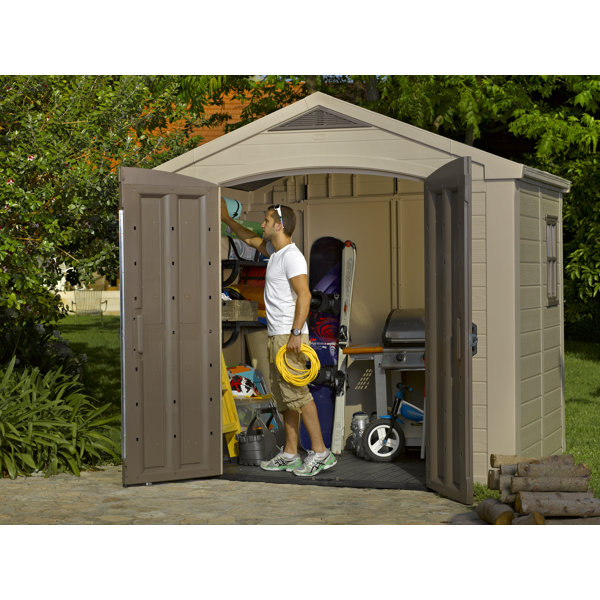 It looks just like any other wooden shed, but this storage shed from Keter Factor is actually made of plastic and polypropylene resin. The bike shed reviews for this storage shed highly rated its aesthetic appeal and durability. The windows and the skylight only add to its classic look, and the unique size can be the perfect fit for some people.
Best Features:
Built-in ventilation and sky light included for natural lighting
Lockable double-doors for wide access point and better security
Comes with bracketed shelves for storage space and organization
Easy to clean by washing or hosing off the exterior, or just wiping with a damp cloth
285 cu. ft. capacity, with an overall dimension of 101 in. x 71.5 in. x 95.5 in (W x D x H)
4.  Palram Skylight Plastic Storage Shed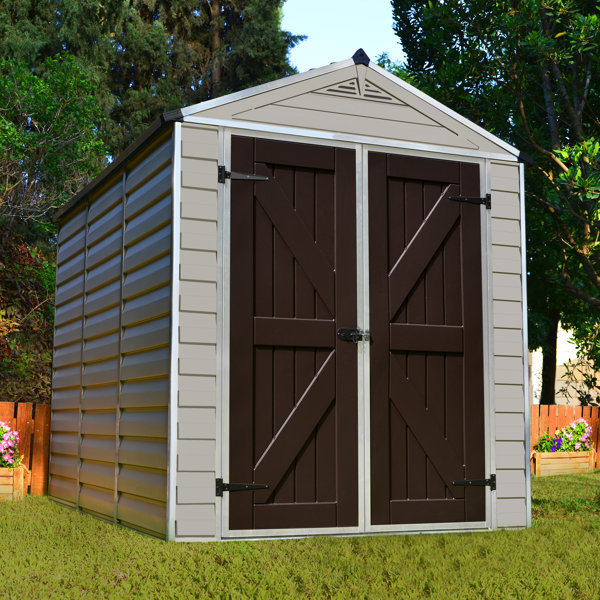 As one of the last of the plastic sheds in this list, this Palram storage shed is definitely not one of the least of them. While at first glance it might look flimsy because of the slim packaging and aluminum panels, buyers found that it was sturdy once it's been fully assembled. It's a straightforward storage shed that takes just a few hours to build solo.
Best Features:
Built-in ventilation and impact-resistant flooring included
Weather, UV, and water-resistant
Made of sturdy polycarbonate and lightweight aluminum
Lockable double-door for wide access point and skylight for natural lighting
255 cu. ft., with an overall dimension of 73 in. x 91 in. x 85 in. (W x D x H)
5.  Outsunny Metal Storage Shed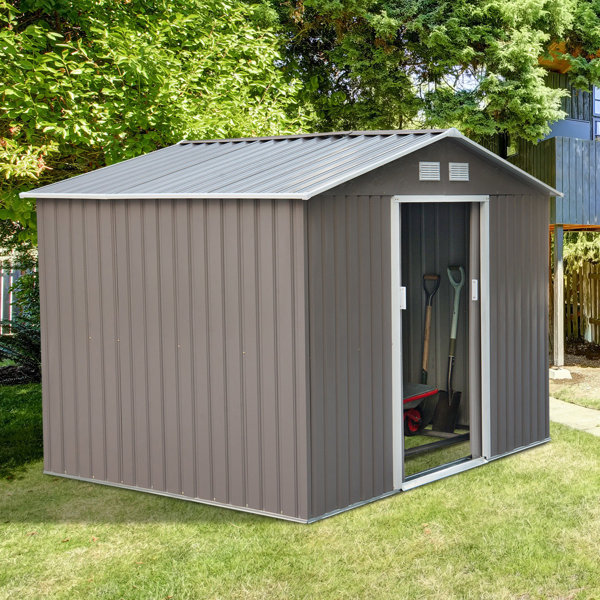 When you're big on safety from natural damages, metal sheds are the best option. This Outsunny storage shed is made of durable galvanized steel that is so easy to maintain that it doesn't need regular maintenance at all. The setup is a bit more difficult though according to reviews, and it doesn't come with flooring.
Best Features:
Built-in ventilation
Weather, UV, fire, moisture, and water-resistant
Made of galvanized steel
With a single, space-saving, and lockable sliding door
Overall dimension of 109.5 in. x 76.5 in. x 76 in. (W x D x H)
6.  Rowlinson Metal Horizontal Bike Shed
If you're looking for a compact bike shed, you'd probably want to take a look at this one from Rowlinson. It can accommodate 2 to 3 bikes, and is designed to take up as little space as possible. Assembly will definitely take more than one person, but will make use of only ordinary home and DIY tools.
Best Features:
Built-in vents and flooring included
Weather, UV, rot, rust, mildew, fire, and water-resistant
Made of PVC-coated steel
With a single, top-open door that is lockable on two sides
81 cu. ft., with an overall dimension of 77 in. x 35 in. x 52 in. (W x D x H)
7.  Rubbermaid Outdoor Shed
This outdoor shed has a low height so it can be easily hidden behind standard fencing. To fully access the items inside, you can slide the roof halfway back and open the double doors all the way. This gives you plenty of space to move around inside the shed. Rubbermaid is one of the most popular brands for plastic sheds, and are known to make durable, weather-resistant, all-around sheds.
Best Features:
Weather, rot, UV, and water-resistant
Made of durable plastic and impact-resistant flooring included
Double-wall construction
Lockable double doors and top-slide roof for even easier access
96 cu. ft., with an overall dimension of 57 in. x 76.25 in. x 53 in. (D x W x H)
8.  Yardstash Outdoor Storage Tent
If you don't have space for the best bike storage shed, then how about you try an outdoor storage tent? This storage tent from Yardstash is the perfect solution for those who just really want a small, accessible storage solution for 2 bikes with plenty of room for movement. Though it doesn't offer much protection from theft, it can definitely protect your bikes from dust, UV, pests, water, and extreme weather damage. It takes less than 30 minutes to set-up, and doesn't require any other tools.
Best Features:
Comes with flooring and mesh vent for all types of weather
Zippered access doors for easy access and storage, with sealed seams for water-resistance
Made of heavy-duty vinyl tarpaulin for protection against most weather conditions
With an overall dimension of 74 in. x 32 in. by 68 in. (W x D x H)
9.  Outdoor Living Today Solid Wood Tool Shed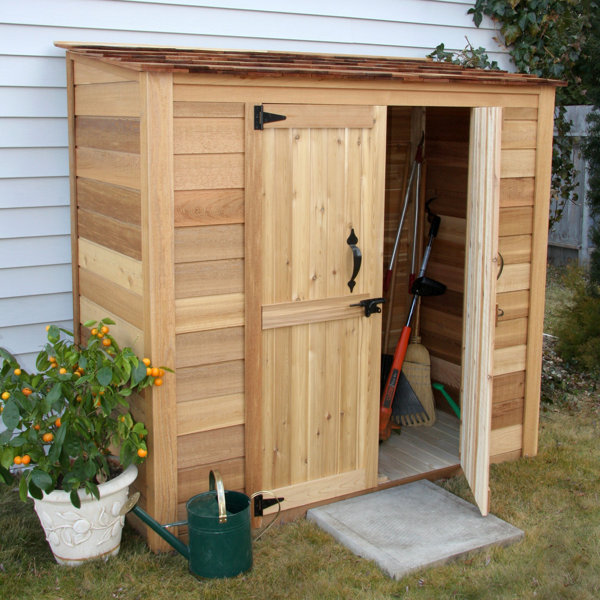 Are you looking for an eco-friendly bike shed? This storage shed from Outdoor Living Today is made of sustainable, eco-friendly wood material that is shipped unstained. You can have it stained the same color as your house's exterior so it matches the façade better. Reviews for this shed say that it's quite easy to set-up, though it would definitely need more than one person.
Best Features:
Comes with a built-in floor of the same wooden material
Weather and water-resistant
Double-door for wide access point, lockable from inside and out
Made of solid, eco-friendly, sustainable Western red cedar wood
108 cu. ft., with an overall dimension of 72 in. x 38.5 in. x 74. in (W x D x H)
A Guide to Buying the Best Bike Sheds
Investing in the best bike sheds can help you protect your bikes from weather hazards. The best bike shed security also extends to theft protection. There are just so many reasons why you'd want to get the best shed that money can buy, but how do you even choose the best one? What factors do you consider?
Storage area
A bike shed would have no use if it won't fit in the storage space that you have. Consider your storage area. Most urban households would have very little outside storage space. You might need a compact, space-efficient storage shed. And since most storage sheds require some assembly, you have to consider your working area as well.
Storage capacity
The bigger the shed, the more expensive it can be. Most bike sheds are also used as general storage. If you're planning to use the shed for more than just bike storage, you need to consider the total amount of storage space. This is most commonly known as storage capacity, and you may see this one measured in cubic feet.
How many bikes are you looking to store in the shed? How big are they? You need to buy a storage shed that can accommodate the number and the size of the bikes that you want to store. Limited storage areas may benefit from compact, vertical bike sheds, while those with ample storage areas may opt for larger, horizontal bike sheds.
Preferred material
Most bike sheds are either made of mainly plastic, metal, or wood. Each has its benefits and disadvantages.
These sheds are the cheaper options, but they're also some of the most durable. High-quality resin and polyethylene may be used, as these are resistant to cracks, dents, and chips. Plastic sheds need very little maintenance as well. You'd only need to use a mild detergent and a damp cloth to clean them up. One downside to plastic sheds is that they are not paintable like wood sheds. Therefore, they are not customizable. They may also be prone to condensation.
Wooden sheds are much harder to maintain than both metal and plastic ones. They require regular maintenance, especially if you want to keep them weather and water-resistant. If you're going with wood for your shed material, make sure that you're choosing high-quality wood. Low-quality ones may be more susceptible to termite attacks if they rot. The upside to using wooden sheds is that they are very easy to customize. You can paint and repaint them repeatedly over the years. Many would also go for this material because of the classic appeal of natural wood.
Metal sheds are the most popular types of storage sheds for a few, good reasons. Unlike wooden sheds, the coated steel that is most commonly used for metal sheds are very easy to maintain. It might not look as good as a wooden shed, but you can be sure about a metal shed's resistance, durability, and even fire-resistance. However, steel doesn't sit well with water and humidity. If you live in an area that experiences high humidity and long, rainy seasons, you might want to consider a more weather-resistant plastic shed.
Location
Where are you planning to put the bike shed? The best outdoor bike shed may not work as well if you put it inside your garage. The versatility of flat-pack or ready-to-assemble sheds makes them great alternatives for those who don't have the option to build sheds on their property at all. Of course, you might also be worried about the safety and the security of your bikes. This brings us to…
Safety and Security
You may consider your neighborhood to be safe in general. However, many bike enthusiasts would just rather be safe than sorry. The best bike shed security features can help protect your bikes from theft and damages.
In most cases, the security of the best bike storage shed depends on its location. For your bikes to be safe, it's best to put them in a well-lit area that's away from the main road. But, it must also be easily seen by those who live around the area. You may also want to consider installing better locks, better doors, or some type of monitoring system (e.g. a CCTV camera, movement sensor). You may also want to consider securing the shed to its foundation.
Conclusion
You may already have a list of storage sheds that you're looking at. Some of the storage sheds in this review may even be a part of the list. You can narrow this down to every shed that ticks off all the factors you're considering.
When you're looking for the best bike shed, you have to remember that it always depends on your wants and needs. The best storage shed is the perfect balance between your budget, location, space requirements, security needs, and material preference.