After a long day of work, the first thing that you'd most likely want to do is to get in the shower and take a long bath to wash away all your stress. This is why you'll need a luxury shower that can provide you with the best experience when you get home.
Are you looking for the best ceiling shower head for your bathroom that you can enjoy every day? Then you need to know what to look for in a shower head.
Check out our tips below and include them in your buying guide checklist. Plus, we've got the top 8 recommendations for this category.
5 Points to Consider When Choosing a Ceiling Shower Head
Let's start with how to choose the best ceiling shower head. How do you know which ceiling mounted shower head is the best for you?
This buying guide will help you go through the factors to consider when picking the good one. So when you're at the store, don't just let the salesperson lead you around to buy the most expensive brands. Take note of these 5 points so that you'll know which shower head is suited for you.
1. Water Flow
Water flow determines how powerful the shower is or how much water is sprayed by a rainfall shower head. This is generally measured in gallons per minute. The higher the amount, the better.
The standard water flow for most shower heads is about 2.5 gallons per minute. There are low flow heads that reach 1.25 gallons per minute, but 2.5 gallons per minute is a good rate.
The standard flow is good if you want full showers, but low flow heads are better for saving money on your water bill. You just have to make your choice on which one you want.
2. Size
Size refers to how big the shower head is. The size is measured by the diameter of the shower. The best luxury shower heads are around 8 inches or 10 inches in diameter. This size gives the best coverage. The coverage refers to how much of your body is covered by the water in one spray. 10-inch diameter is pretty good and is the coverage of most of the best rain shower head brands.
3. Spray Design/Pattern
The spray design refers to the pattern of the water when it comes out of the shower. There are various designs you can try, such as rainfall, massage, mist, drench, spray, or standard. The spray design you choose ultimately depends on your own preference.
Rainfall and massage are two of the most popular spray patterns recently.
4. Style
Style is also important so that your shower can fit your bathroom's design. This factor also depends on your own personal taste and preference. We recommend that you buy a shower head with a versatile style, so it can fit any bathroom.
5. Price and Branding
Usually, the really good ceiling shower head brands cost above $100. It's very important that you consider the brand before you buy because a high pressure rain shower head from less known brand may be cheap, but you can't be assured of its quality.
This is why the next section is dedicated to the best brands of ceiling shower heads you can find on the market. This will give you an idea of what to choose when you run down to the store.
Check out these ceiling shower head reviews below.
8 Best Ceiling Shower – Comprehensive Reviews
Check out these 8 best ceiling shower heads options and get to the products pros and cons.
1. Victorian 8 Inch Shower Head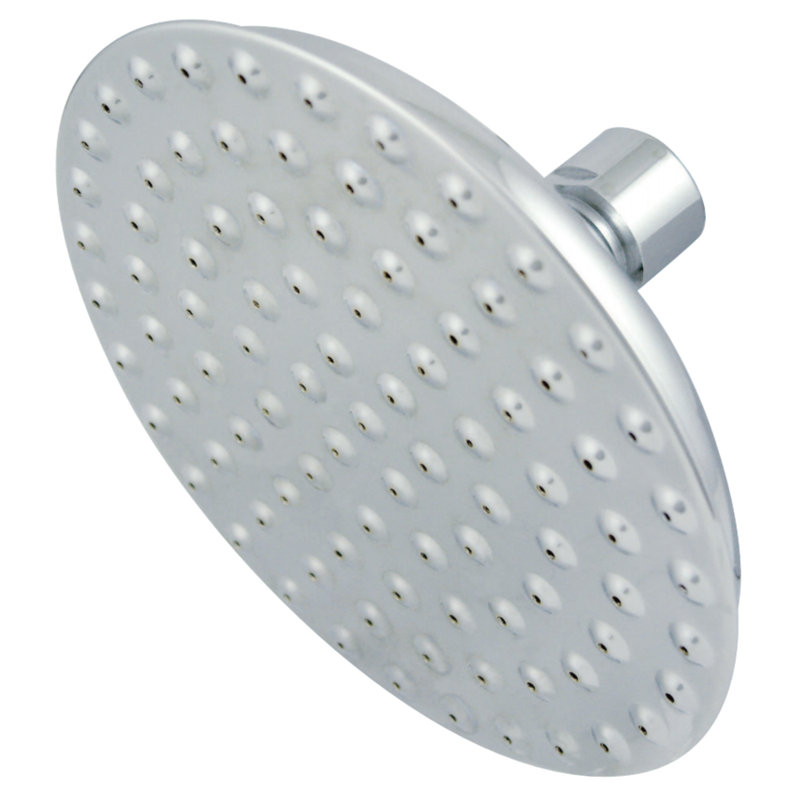 This showerhead is a very beautiful one that fits with any bathroom design. It has a good water flow of 2.2 gallons per minute and has a rain type spray design. Best of all, the head is pivoted, meaning you can point it in any direction.
What Did Customers Have to Say:
The customers commented on how well-designed the shower head is. Also, the majority of the customers agree that the price is good for the quality. It isn't too expensive, but it's a really good buy.
It has a beautiful polished chrome finish.
It has a good flow rate of 2.2 gallons per minute.
The head can be pivoted.
It has a nice rain shower design.
Though it has a good flow rate, the pressure isn't as strong as a lot of other brands.
It is a bit flimsy.
2. Delta Universal Touch Clean Rain Shower Head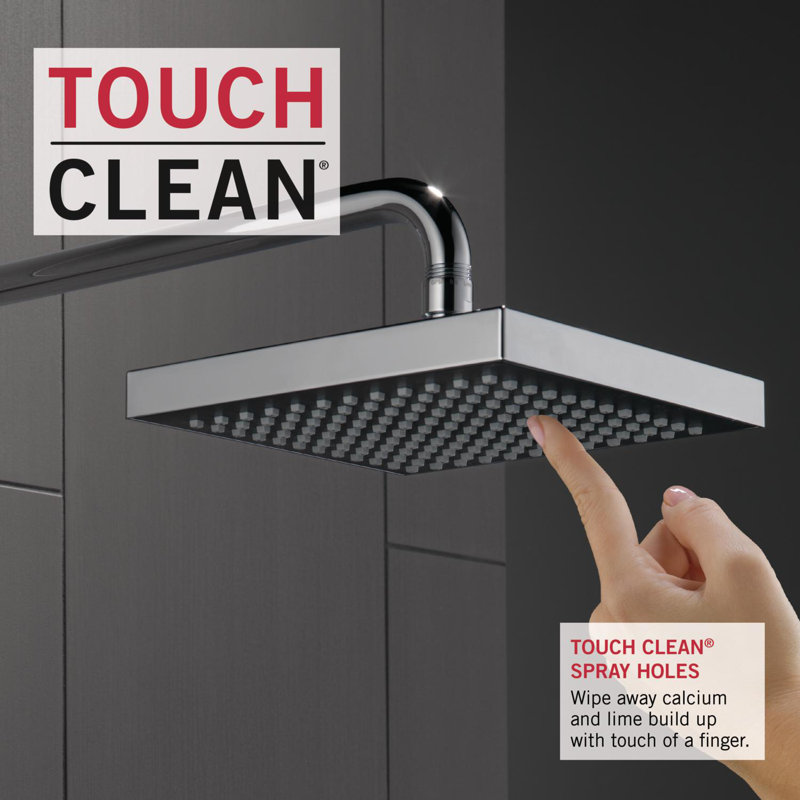 The Delta Universal Touch Clean shower head is a great shower for your home because of its amazing features. First off, it has a 2.5 gallon per minute flow rate, which is a must for most showers.
Lastly, it has rubber spray holes that filter out the lime and calcium, thus preventing any build-up. It's also really easy to install.
What Did Customers Have to Say:
The customers give this shower head some good feedback, which shows how satisfied they are with the product. Most customers gave positive feedback about the smooth flow of water that comes out of the shower. One thing that all customers do agree on, it's that this shower is very easy to install and equally easy to use. It's considered the whole package.
It has a strong flow rate of 2.5 gallons per minute.
It has a main spray setting of soft rain, which is very relaxing.
It sports a stunning rain can design.
It has a pretty long 2.5-inch head length.
It has rubber spray holes that can prevent the build-up of lime and calcium.
It won't work that well with hard water.
3. American Standard Rainfall Volume Shower Head Valve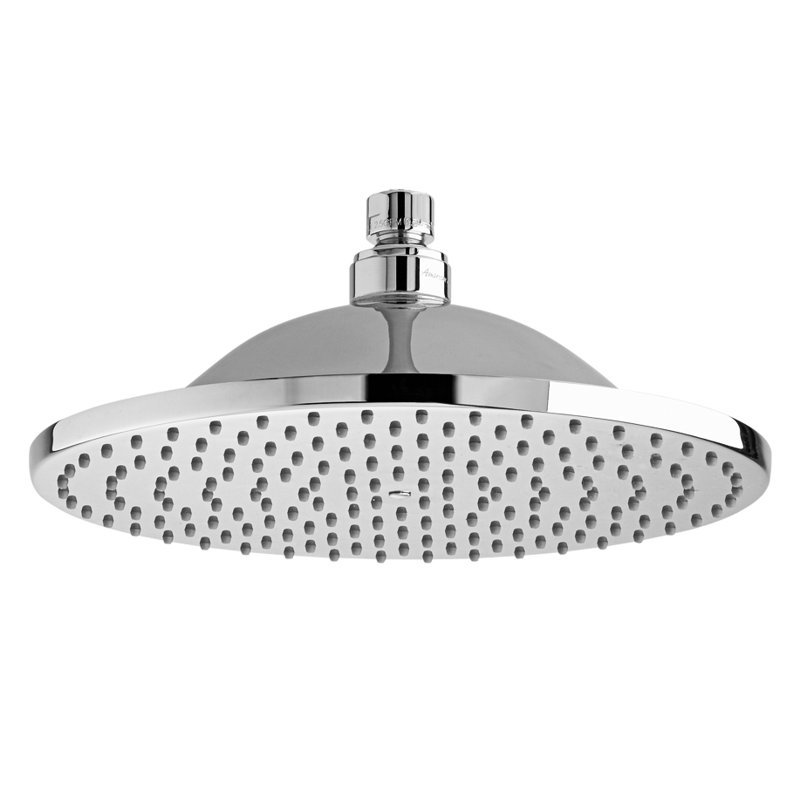 This showerhead has one of the most calming spray designs you can find. With gentle rain, American Standard's Rainfall Volume Shower Head gives a very calm and serene shower experience.
Aside from that, it also has a very classy design that goes well with all types of shower enclosures.
What Did Customers Have to Say:
While most of the customers agree that the price is pretty high for a metal shower. Meanwhile, they mostly love its features and give good comments about the quality.
Aside from the quality of the shower, it's also got a very beautiful brass polished chrome finish.
It has a good flow rate of 2.5.
It has a gorgeous polished chrome finish.
It offers a very soft rain shower experience.
The pressure is quite low.
It makes quite a bit of noise.
It's quite expensive for the features.
4. Whitehaus Starburst Rainfall Showerhead
The Whitehaus Starburst model is one of the most durable shower heads that you'll find, and it has a unique design.
Unlike most showerheads, this one is in the shape of a star where the ball in the middle is adjustable. The water comes out of the arms and forms raindrops when the shower turns on.
What Did Customers Have to Say:
The main comment given by the customers is the quality of the water flow coming from the shower. There are even customers that stated that the shower's flow is like actual rain flow.
It is very solid and durable.
The unique design gives it its rainfall type of effect.
It has an adjustable ball joint.
It has a medium flow rate of 2.
The shower holes are a bit uneven.
The shower sprays off in uneven directions.
5. Alfi Ultra Thin Square Rain Shower Head

If you're looking for quality and sturdiness, this Alfi model is known for being made of fine quality stainless steel, making it have a long shelf life.
Other than that, it also has a sophisticated steel finish that's rust free. It's also the shower that has the biggest coverage on the list with 324 nozzles.
What Did Customers Have to Say:
Customers commend the shower for lasting really long and for having a great and wide coverage. This makes it one of the most relaxing and popular showers on the list.
It has very wide coverage.
It has a swivel adapter for angling the shower.
It's made of quality stainless steel.
It has a flow rate of 1.8 gallons per minute.
It has a low volume of water.
6. Kohler Contemporary Square 10″ Rainhead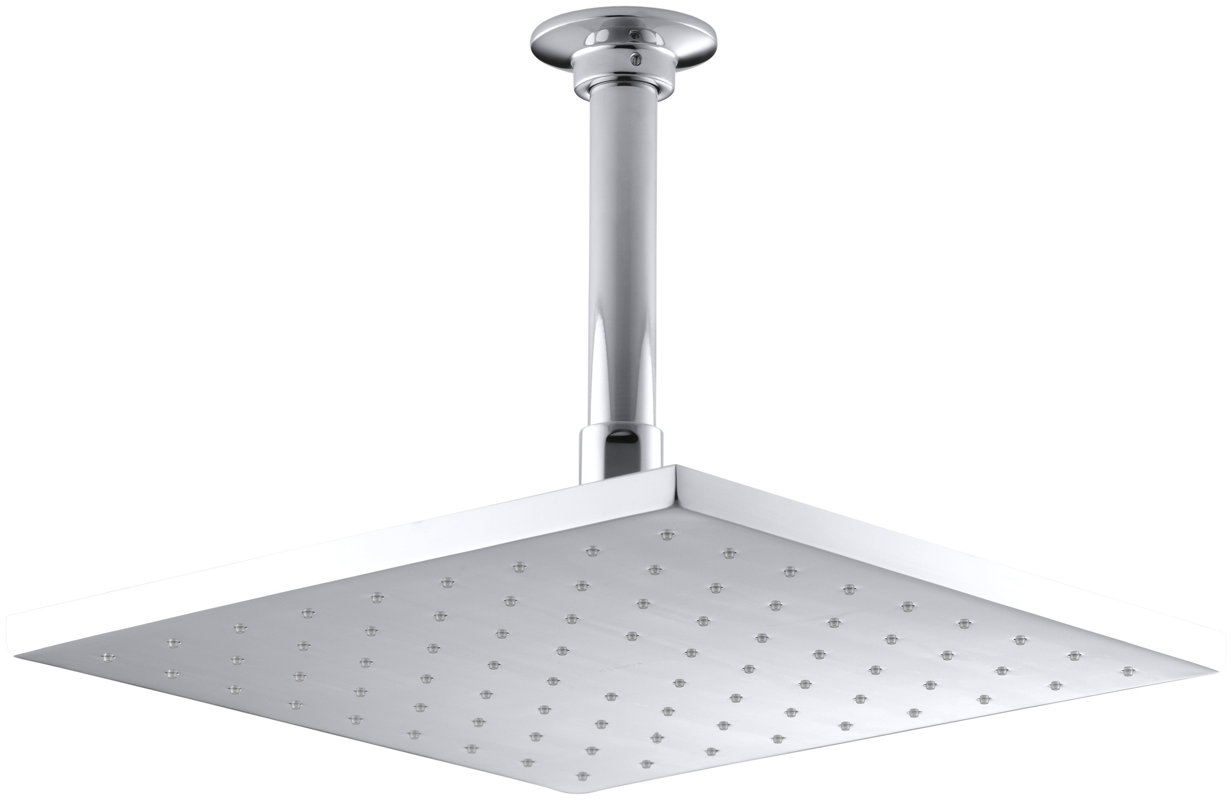 This Kohler model is known for its innovative Katalyst air-induction technology, which makes use of both air and water to make big water droplets. This allows the water to spray out powerfully when you take a shower.
This optimizes each drop which actually saves water since you won't have to take longer showers just to drench all parts of your body.
What Did Customers Have to Say:
This rain head shower is well loved by the customers for its prime quality. Not much can be said for the shower since everyone is very much satisfied with the product.
It has a Katalyst air-induction technology.
It has racetrack technology for full shooting force.
It has a full coverage with its wide structure.
It is made of durable and rust free titanium.
It has a flow rate of 2.5
7. Grohe Rainshower Retro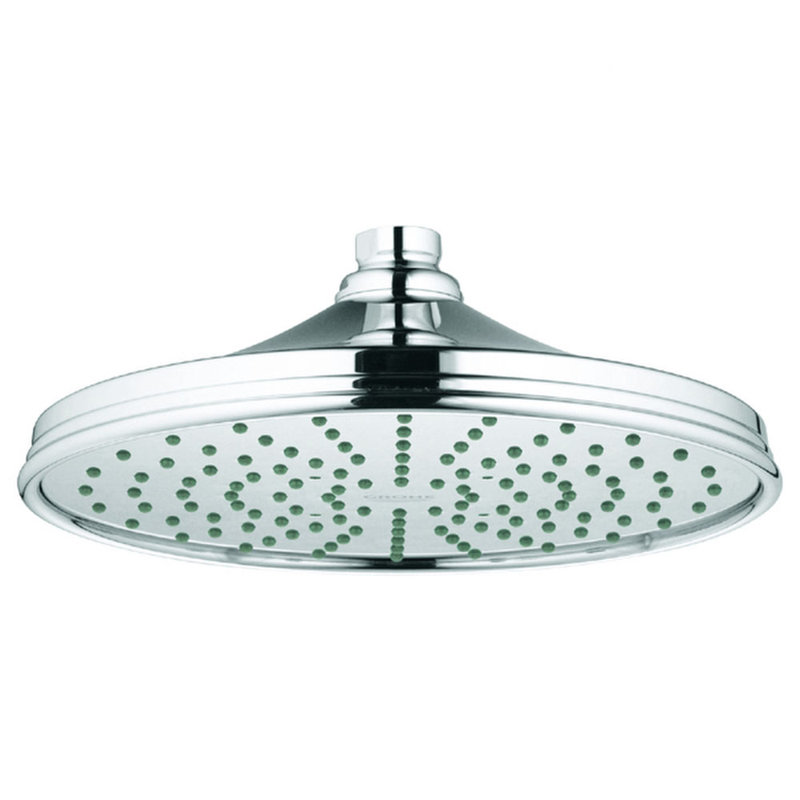 The Grohe Rainshower Retro is all about style and luxury. It's known for its shininess from its beautiful matte finish. It also comes with a Dreamspray, which provides users with a very luxurious shower after a long day.
What Did Customers Have to Say:
A 5 over 5 score is what the customers give to this amazing shower. When it comes to quality, sturdiness, durability, and overall style, this shower takes the top score for all customers who use it.
It uses an innovative Dreamspray feature.
It has a shiny matte finish.
It has 120 spray nozzles.
It has a very retro design that fits in any shower.
It's quite pricey.
It doesn't have that much coverage.
8. Hansgrohe Raindance C 180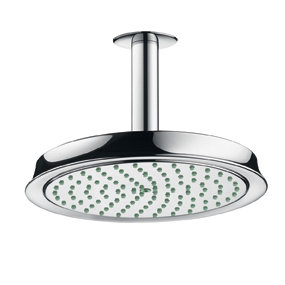 The Hansgrohe Raindance makes use of two technologies to make it one of the best on the list. It has a quickclean technology for efficiently cleaning dirt and lime in the shower. It also has an air power technology that can shoot out big drops of water for a full and complete shower experience.
What Did Customers Have to Say:
All the customers who bought this shower enjoy it with its powerful technology and wide coverage. Other than that, they also love the design as it looks very modern and beautiful.
The quickclean technology allows it to clean itself.
Its nozzles are anti-clog.
It has an air power technology for powerful water shooting.
It's quite expensive.
It's pretty difficult to install.
Conclusion
These are some of the best ceiling shower head brands that you'll be able to find on the market. If you want to narrow the choice further, the best of the 8 is definitely the Kohler Contemporary Square 10″ Rainhead. It combines wide coverage, powerful flow rate, very strong force, and durability. This shower head can give anyone the ultimate shower experience.