Looking to buy the best ceramic heater? Before you get overwhelmed with the various ceramic heaters out there, it's best to learn a thing or two about the products you are planning to buy.
In this article, you will be convinced that ceramic heaters are your best option for space heaters. You will also learn what you should look for in this type of heater, find some product reviews to check out and get answers to frequently asked questions about ceramic heaters.
But first things first, let's get on to the basics of ceramic heaters: how does it work?
How Do Ceramic Heaters Work?
Determining how ceramic space heaters work allows you to understand it better, thus, helping you make informed decisions when choosing a heating machine.
In this type of space heater, electricity goes through the ceramic to heat the unit. The aluminum inside will absorb the heat and then blow the hot air out using a fan.
Ceramic heaters remain cool because the exterior is made up of plastic. This plastic does not absorb the heat it produces.
Ceramic vs. Infrared Heaters
Both types of space heaters convert electrical energy into heat, but what sets these two popular heating machines apart?
Infrared heaters are great for quick and targeted heating. This is because they do not use convection and do not blow hot air out. This type of heater does not depend on the air in the room to produce heat. Instead, infrared heaters emit radiation in the form of waves.
Meanwhile, ceramic heaters use convection, which means it produces heat through electricity. This type of heater then blows hot air that fills the room, heating it up in the process.
Ceramic heaters also make use of thermostats, making it more cost-efficient and safer than infrared heaters.
Advantages of Ceramic Heaters
Ceramic heaters offer certain advantages that you can't find in other types of space heaters. Here's why you should use ceramic heaters.
Less Prone to Electric Fire
Since this type of heater uses ceramic to heat the machine, it reduces the risk of fire that most electric heaters pose. But like other heating units, ceramic heaters require free space, away from flammable materials.
Advanced Safety Features
Important safety features such as overheating sensors, programmable timer, and automatic shut off can be usually found in ceramic heaters. These features significantly reduce the risk of the unit catching fire.
The overheating sensors prevent heating units from reaching dangerous levels and excessive temperature. When it's about to overheat, the automatic shut off feature will kick in, preventing the ceramic heater from putting you at risk. The same goes for the programmable timer.
No Toxic Emissions
Unlike gas heaters, ceramic heaters operate on electricity. This eliminates the risk of toxic emissions that are present in gas heaters. When you use ceramic heaters, you are safe from carbon monoxide threats. Plus, they are also highly efficient, consuming a lower amount of electricity than other space heaters.
Safer for Kids and Pets
The exterior of ceramic heaters remains cool even after a few hours of operation. This means you don't have to worry about your kids and pets getting burned upon touching the unit. This makes it the preferred space heater type for families with children.
Convinced with how safe and efficient ceramic heaters are? It's time to search the market for your own space heater. But before that, read our buying guide below to determine the right ceramic heater for you.
Factors to Consider When Buying Ceramic Heaters
There are several factors that will tell if you're getting the right ceramic heater to heat up your place. From how much space heaters can heat your room to how safe they are, there are important things you should keep in mind when shopping for heating machines.
For starters, we listed down the most important features to look at when buying space heaters.
Heating Capacity
How much can the space heater cover? This is an important question you should be asking when looking for a space heater. But how can you tell the size of space a ceramic heater can cover?
Check the wattage rating. In general, a space heater uses 10 watts to heat a square foot of a room. Therefore, you need to know the size of the space in your room before buying a ceramic heater.
If you have 150 sq ft of room to cover, you need at least 1,500-watt heater at your disposal. But this does not apply to every unit, though. It would still depend on several factors like the unit's heating technology, the indoor environment, and the heater's application.
Energy Efficiency
An energy-efficient space heater can let you save up on the running cost. However, unlike air conditioning units, space heaters don't follow a standard level of efficiency like the EER ratings.
The best way to save up on energy is to look for heating units with special energy technology features like adjustable thermostats, automatic turn off, programmable timers, and energy-saving modes.
Getting the appropriate wattage of a ceramic heater to the size of your space will also help minimize power usage significantly.
Safety Features
Space heaters are fire hazards. It is important that these heating machines follow safety measures to reduce said risk.
One of the most important safety features that you should look for is the automatic shutdown. This feature, combined with a heat-detecting thermostat, eliminates the risk of catching fire. When space heaters overheat or are left unattended, they should automatically shut down.
A space heater should also have cool-to-the-touch features to prevent accidental burns. This is especially true if you have pets or children living with you.
Finally, a space heater should also be fully tested prior to reaching the market. You will know if it underwent the required test through the ETL rating for space heaters. It should be ETL-compliant to be sure it is safe to use.
Noise Level
Loud home appliances and HVAC can take its toll on you, and this also holds true for ceramic heaters. While many space heaters emit some noise when running, some are known to produce more than the tolerable level.
When looking for space heaters to buy, opt for the ones with little noise interruption. Some heating units are made with noise-reduction features.
Now that you know what to look for in a space heater, check out our personal picks of heating units you can find on the market today. Find out how these space heaters fare compared to other heating units available online.
Product Review of the Best Ceramic Heaters
Below are our picks for the best ceramic heaters available on the market today. These are all hot space heaters to warm you up in the cold season. Find out which stood out for us in terms of heating capacity, energy efficiency, safety features, and noise level in the following ceramic heater reviews.
1.  Lasko 6462 Full-Circle Warmth Ceramic Space Heater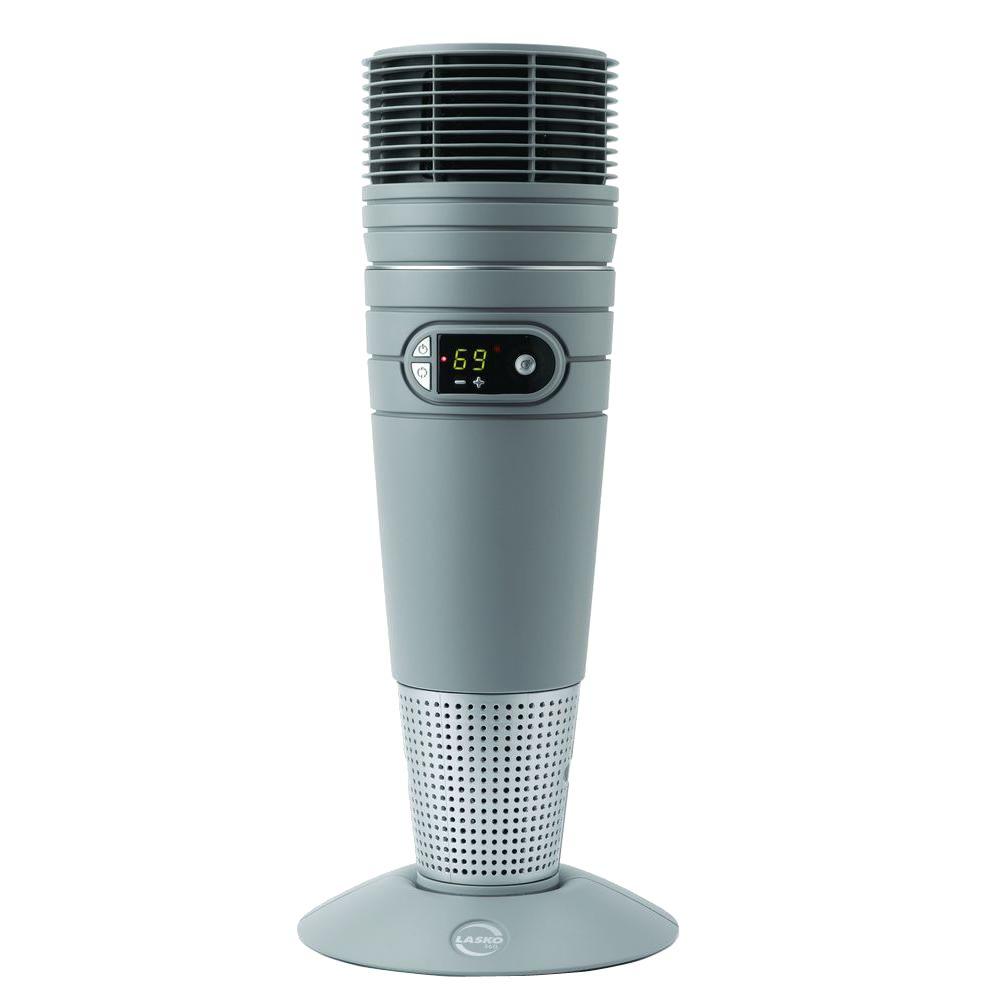 This ceramic space heater offers extended comfort all around your room thanks to its enhanced heat penetration. With its blower technology, this 25″ height ceramic heater offers multiple heat sweep settings that can be easily changed with a push of a button.
Key Features
Full circle warmth
3 heat sweep settings: 90°, 170°, and full 360°
Wireless remote control
Easy to clean filter
The Pros:
Great for large rooms up to 300 sq ft, thanks to its full circle warmth that distributes warm air throughout the entire room.
The multiple heat sweep settings cover a corner, section, or the entire room with warm air, great if you're sharing the room with someone who prefers cool air on his side of the room.
Does not overheat even if left for an extended period of time, and the heater's exterior also stays cool to the touch.
Easily adjustable ceramic space heater with a few clicks on the wireless remote control.
Does not take much time to clean, leaving you more hours for other tasks and your loved ones.
The Cons
Heats in 5°F increments, so you can't get to choose between 70°F to 75°F when you feel the first is too cold and the latter is too hot.
If you want to heat up an entire large room or only a portion of it, Lasko 6462 Full-Circle Warmth Ceramic Space Heater gets the job done for you. No need to fight over the temperature when sharing a room with other family members because of its multiple sweep settings.
2.  Lasko 751320 Ceramic Tower Space Heater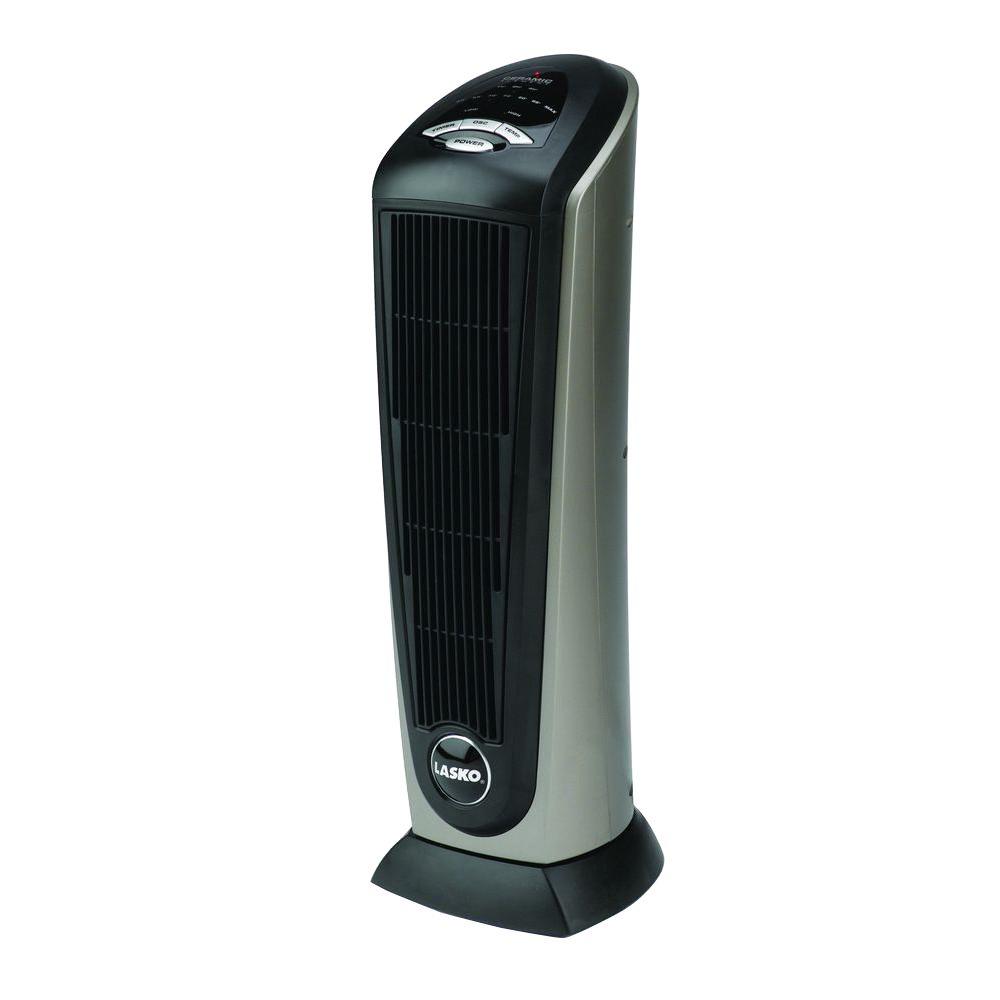 This ceramic heater is compact yet powerful, great if you're moving from room to room and needed warmth.
Key Features
Self-regulating ceramic element
Automatic overheat protection
Maximum heat power: 1500 watts
Area Heated (Sq. Ft.):300
The Pros:
Loaded with safety features such as self-regulation and overheat protection that reduces the risk of catching fire at home.
Generates enough electricity to warm you up, perfect for large rooms.
The Cons
Same heat increment issue as the previous ceramic heater, limiting the available heat temperature.
Much like the previous heater from the same manufacturing company, Lasko 751320 Ceramic Tower Space Heater boasts of its heat power to warm up spacious areas in your home. It is also energy-saving as a single ceramic heater of this kind is enough to heat up large rooms, giving comfort to more members in the family.
3.  Honeywell HCE840B HeatGenius Ceramic Heater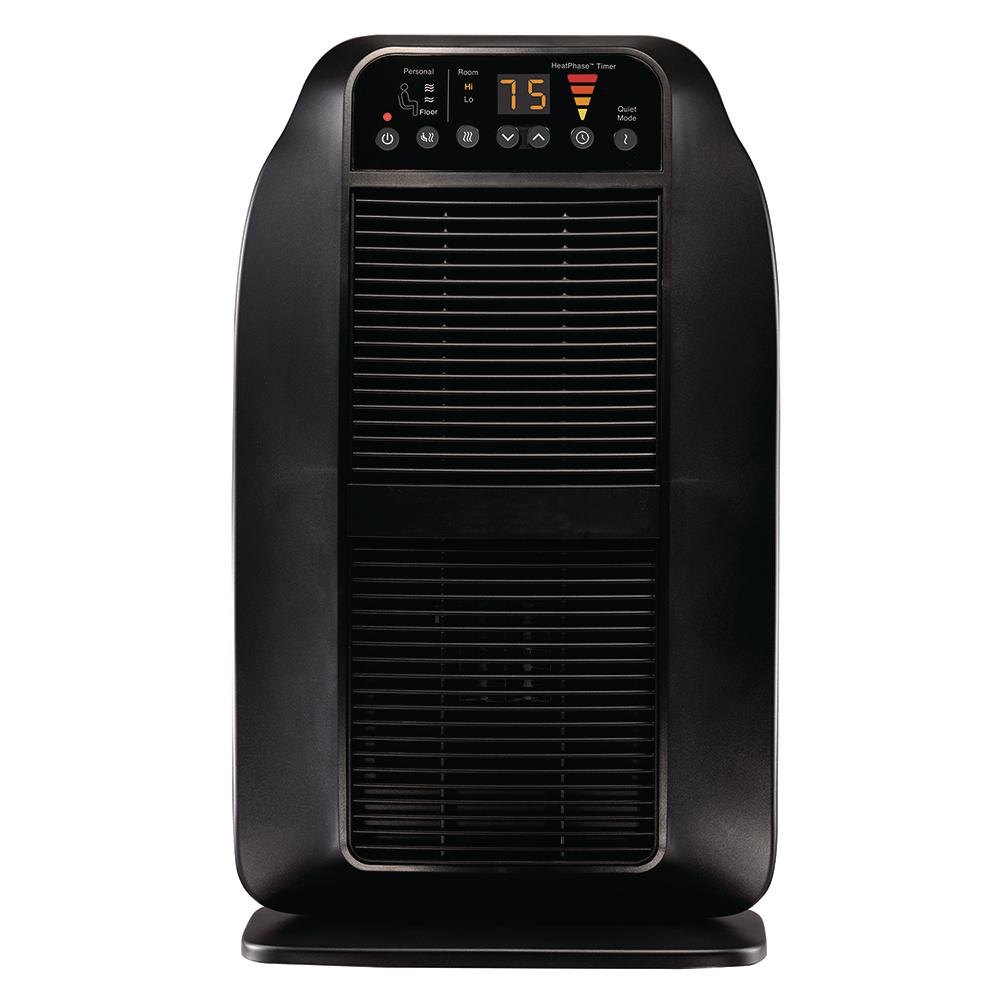 Banking on its programmable thermostat, smart controls, and auto-timer, this ceramic heater is not called 'heat genius' for nothing.
Key Features
Smart controls: 6 heat settings
Maximum heat power: 1500 watts
Auto-off heat timer up to 2 hours
Quiet
Easy to use
The Pros:
The smart controls feature allows you to heat up the entire room, the floor, or yourself only.
Quiet mode heats the room without unnecessary noise.
Gives you the right level of heat with its thermostat detection.
Automatically turns off after two hours.
The Cons
Requires space because of its size.
What we love about this ceramic heater is its quiet mode feature. Unlike other heaters that produce annoying noise, the Honeywell HCE840B HeatGenius Ceramic Heater allows you to relax as you heat up your room.
The smart controls feature, thermostat detection, and auto-timer also allow you to save up on energy, perfect if you're on a budget this coming cold season.
4.  PELONIS Ceramic Space Heater
This tower heater offers a compact design and small dimension that you can easily carry to another room. With the PELONIS Ceramic Space Heater, you get maximum power of 1500 watts to heat up large spaces, and it comes with a remote control.
Key Features
Maximum heat power: 1500 watts
Automatic-off heat timer up to 8 hours
Remote control
Portable
The Pros:
Sensitive temperature-reaction system which compares the room with the set temperature, enabling automatic turn off/on.
Heat in 1°F increments, allowing more control with the temperature you desire.
Can warm large rooms.
Tip and overheat protection for added safety.
The Cons
The PELONIS Ceramic Space Heater provides greater control over heat temperature compared with the other ceramic heaters mentioned above. It is also energy-saving, thanks to its automatic-off heat timer.
Like with the other brands, it is also ideal for heating up large rooms. The remote control that comes with it is also convenient in eliminating the annoyance of getting up to adjust the temperature.
However, the loud noise it produces can be annoying for everyone in the family.
5.  De'Longhi Silent System 24″ Tower Digital Ceramic Heater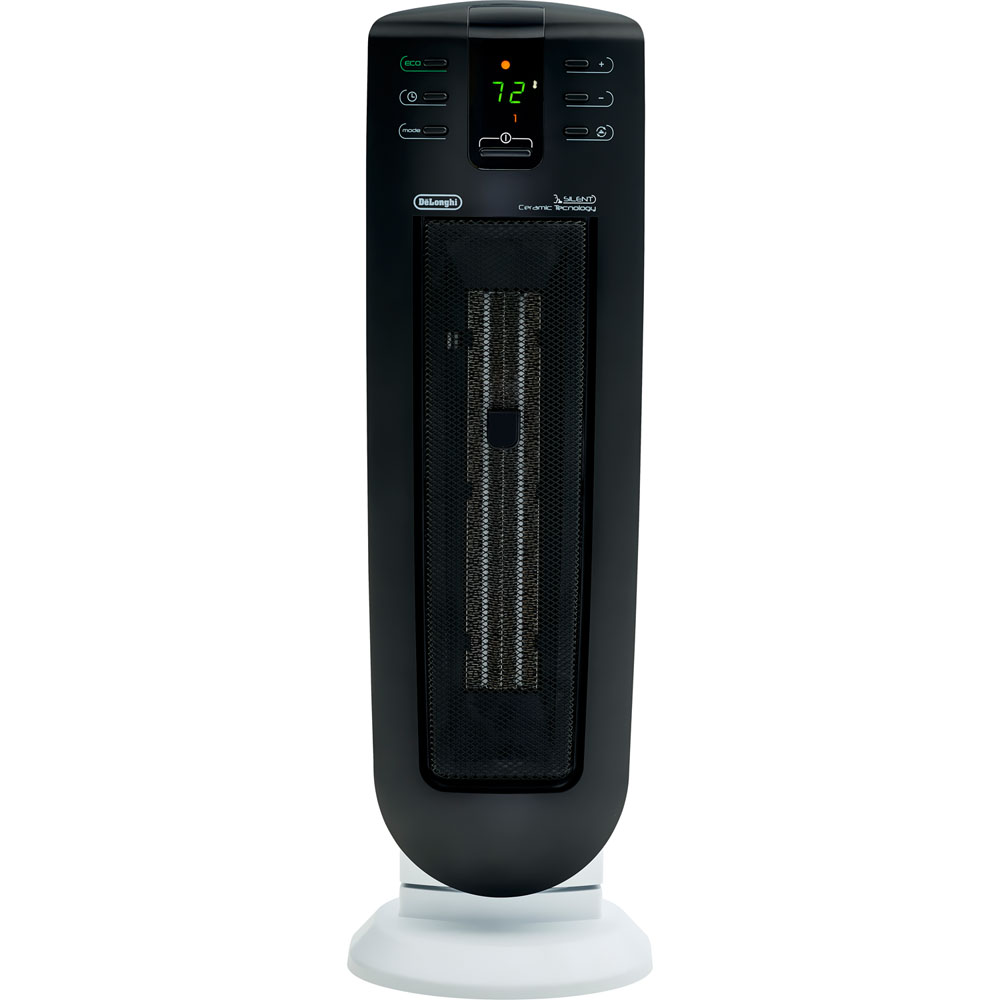 This ceramic heater boasts of its Silent System on top of loads of other features. It's an efficient machine to heat up medium to large rooms, and it comes with a lightweight design, making it a portable ceramic heater.
Key Features
Maximum heat power: 1500 watts
ECO function
Thermal shutoff
Digital controls with adjustable thermostat and multiple heat settings
Unique technology reducing noise
Manual programmable timer
Motorized oscillation
Remote control
The Pros:
Heats up large rooms with warm air thanks to its motorized oscillation
Energy-saving with automatic thermal off
Reduces noise by half
Manual programmable timer allows you to get the heat when you need most
The Cons
Loud beeping sound when pressing a button
What we love about this ceramic heater is the unique technology of its Silent System that reduces noise by half. No one would want to be annoyed with a loud noise coming from your heating machine when you want to relax, so the Silent System is A+ for us.
6.  Comfort Glow BDISC6 Original Brown Box Ceramic Disc Heater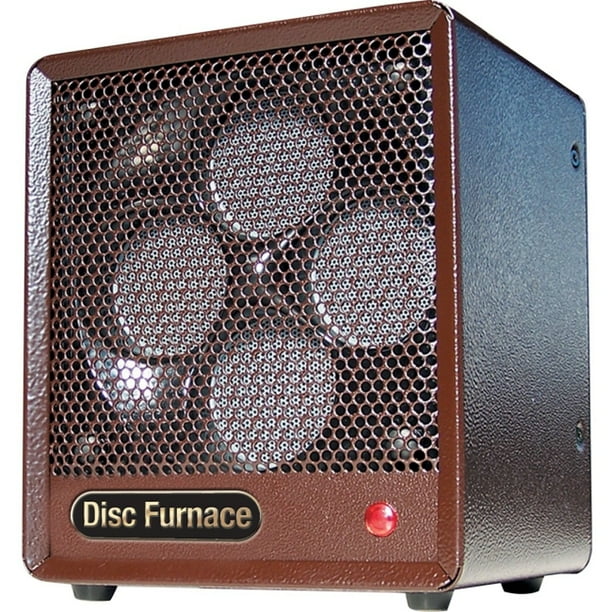 This ceramic heater provides instant heat up, and offers better efficiency than most portable electric heaters. The case is made of sturdy steel, which can be hard to find for mini-heaters like this.
Key Features
4 ceramic disc heating elements
Sturdy steel "brown box" housing
Electronic thermostat
External ambient temperature sensor
Accidental tip-over shut-off
The Pros:
Heats up instantly the moment you turn it on.
Even heat distribution because of the unique structure of each ceramic disc.
Automatically turns off when accidental tip-off happens, reducing the risk of catching fire.
Maintains consistent temperature, thanks to the built-in thermostat
The Cons
Emits bad odor after some time
Relatively short lifespan
The Comfort Glow BDISC6 Original Brown Box Ceramic Disc Heater is a powerful heater despite its size. It's known for its sturdy steel casing that protects users from the risk of fire.
However, it does not automatically stop when it reaches the desired temperature, so this may not be for those who are looking for cost-efficient ceramic heaters.
7.  Lasko 760000 Cyclonic Ceramic Heater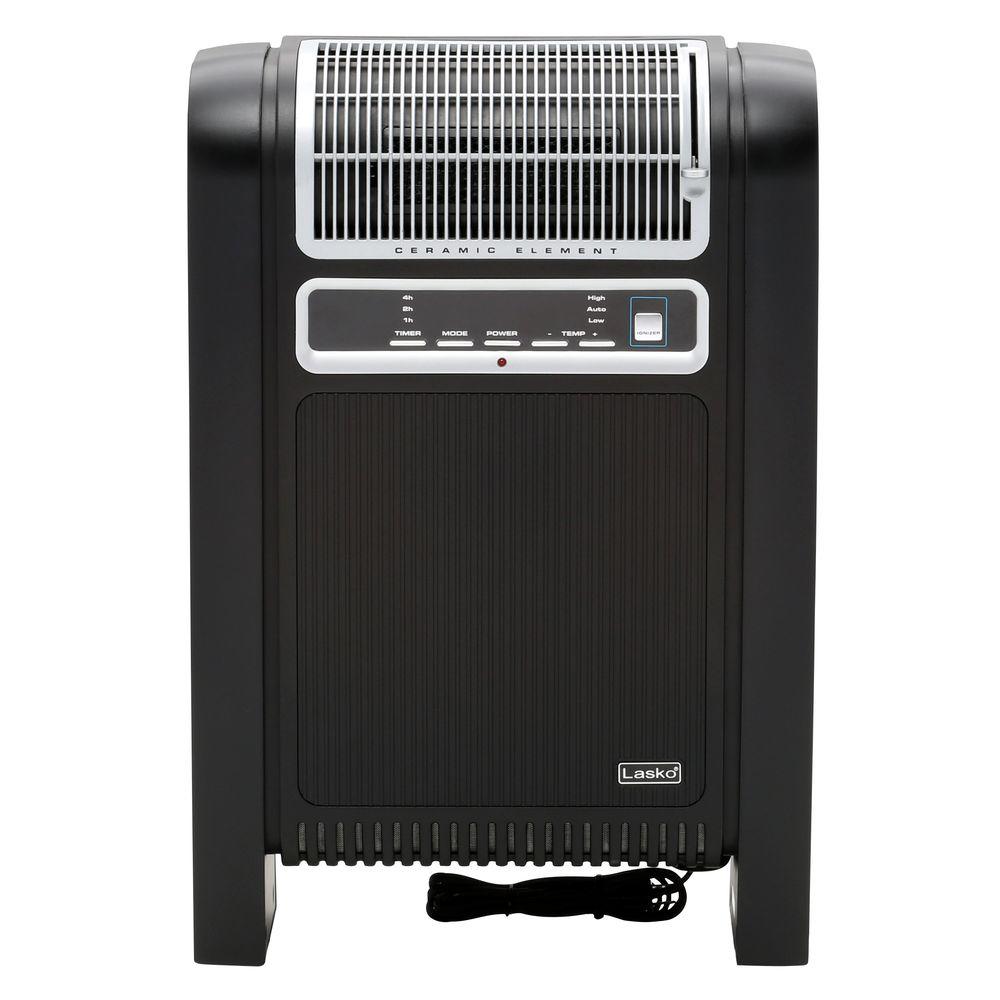 Here's another ceramic heater from Lasko that provides heat and comfort to large areas during the winter months. It circulates warm air evenly to warm up the entire room. This ceramic heater also saves space with its unique design, and it comes with remote control.
Key Features
Cyclonic heat penetration for immediate comfort
Multi-function remote control, high, low and thermostat controlled options
Fresh air ionizer feature
Self-regulating automatic overheat protection
The Pros:
Circulates heat evenly, making it cost-effective.
Airflow can be directed with its Glide-System Pivot Lever.
Fresh air ionizer to get rid of bad smell.
Can be placed right up the wall to save space.
Adjusts temperature conveniently with a remote control.
The Cons
Lasko is consistent in providing heat evenly throughout the room with its technology, and this unit is no exception. Plus, it's convenient to adjust the temperature without standing up thanks to its complimentary remote control.
The fresh air ionizer is also a cool feature as some ceramic heaters tend to give off bad odor across the room.
The Verdict:
Based on the guide we covered above, the De'Longhi Silent System 24″ Tower Digital Ceramic Heater wins the best ceramic heater race for us.
While almost all of the listed units comply with the buying guide we made, the ceramic heater from the De'Longhi line provides us one important factor that stands out: a specialized silent system.
Heat capacity, energy efficiency, safety features, and noise levels—the De'Longhi model easily beats the rest on this list.
FAQs
Want to know more about ceramic heaters? Below are some frequently asked questions about this specific heater tye.
Are ceramic heaters safe to leave overnight?
Although the majority of ceramic heaters have safety functions, it is still best to practice caution when using one. Avoid leaving ceramic or any kind of heater unattended.
Can ceramic heaters catch fire?
Yes, ceramic heaters can catch fire. In fact, the National Fire Protection Association says 30% of home fires come from heating units, and that includes ceramic heaters.
Ceramic heaters produce enough electricity to cause a fire. When placed near flammable materials, it increases the chance for ceramic heaters to catch fire. Circuit breaks from old ceramic heaters can also burn your homes down.
However, with proper caution, you can significantly reduce this risk.
Are ceramic heaters safe for babies?
The surface of ceramic heaters doesn't warm up as much. Hence, it can be safe to touch for babies and toddlers, eliminating the risk of burns inside the room.
How much does it cost to operate a ceramic heater?
There are various factors to consider when computing for the cost of running your ceramic heater. These include the temperature outdoors, the size of the room, the insulation in the room, and your local electric rate, among others.
But if your ceramic heater is running for an hour, the basic formula to compute for the base cost is:
KW x electric rate = total cost/hour
For instance, you are running a 1500 watt ceramic heater for an hour, and your local electric provider charges 8 cents per kW.
Convert 1500 watts into kW, which will be 1.5kW.
1.5kW x 8 cents = $0.12/hour
Running your ceramic heater would cost $0.12/hour. But again, there are other factors that may affect how much you are charged for running a ceramic heater that you should also consider.
The bottom-line:
Ceramic heaters are generally safer compared to other types of heaters. Thus, it's a worthy choice if you are looking for a way to heat up your home in the cold season.
While there is plenty of options for this type of heater alone, there is no need to get overwhelmed. With adequate knowledge about ceramic heaters, you can find the best ceramic heater perfect for your home. Follow the buying guide we have outlined above and you're bound to enjoy the comfort a ceramic heater brings.
Got more questions in mind? Drop us a message and we'd be glad to help you the best way we can.
Resources:
https://www.sylvane.com/heater-buying-tips.html
https://www.newair.com/blogs/learn/the-pros-and-cons-of-different-types-of-space-heaters-and-their-features
https://www.newair.com/blogs/learn/what-type-of-heater-do-i-need-2
https://www.newair.com/blogs/learn/are-ceramic-heaters-safe-to-leave-overnight-everything-you-need-to-know-about-space-heater-safety
https://www.livestrong.com/article/1006244-heaters-safe-children/