Chimineas are actually like those old school wood-burning stoves that produce heat via firewood. This is usually used as a heat source for patios or backyards. If you're interested to get one but don't know how, check out our top picks for the best chiminea in the market.
Best Chiminea Fireplaces Review
1.  Kay Home Products Deckmate Sonora Chiminea
This chiminea is undoubtedly one of the easiest to fuel and clean because of its large sliding door. This allows you to easily place big logs inside the chiminea without much problem. It also allows you to clean it with much ease since your hand can easily fit inside. Aside from that, it's also really sturdy so you won't worry about it toppling over. It also comes with a 360-degree view with a mesh in the middle. This lets you see the log burn and adds another dimension of comfort and coziness to the chiminea.
Big sliding door for wood burning
Sturdy cast iron material
360-degree view
Old world design
Not very durable
Easily chips
2.  Endless Summer Steel Pagoda Burner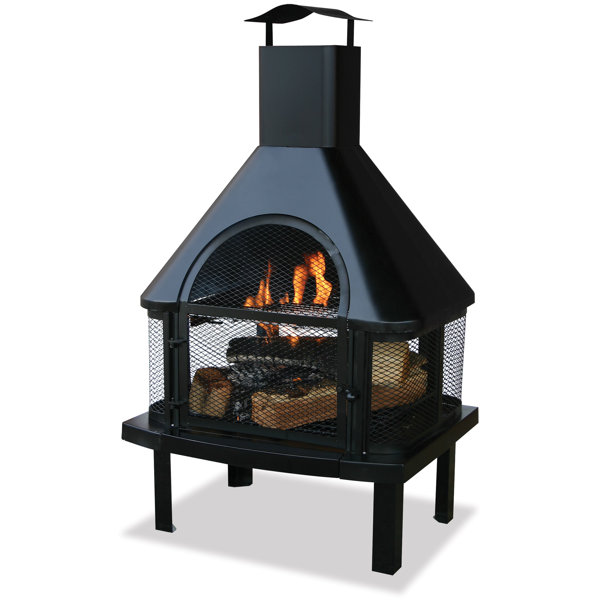 What you'll really appreciate about this chiminea is its pagoda shape and design. While it doesn't give an old-world feel, it is rather artistic and goes well with contemporary design furniture or even zen-inspired style of furniture. Another great thing about it is that it doesn't blast smoke in all directions. That's because it makes use of an exhaust control system that directs any emission in just one direction, minimizing the smoke that comes out of the chiminea. It also comes with a cooking grate just in case you want to have a barbeque.
Superior exhaust control system
Beautiful and versatile pagoda design
Big storage space for logs
Includes a cooking grate
Grate isn't big enough to cook food for a longer time
3.  Esschert Design Cast Iron Chiminea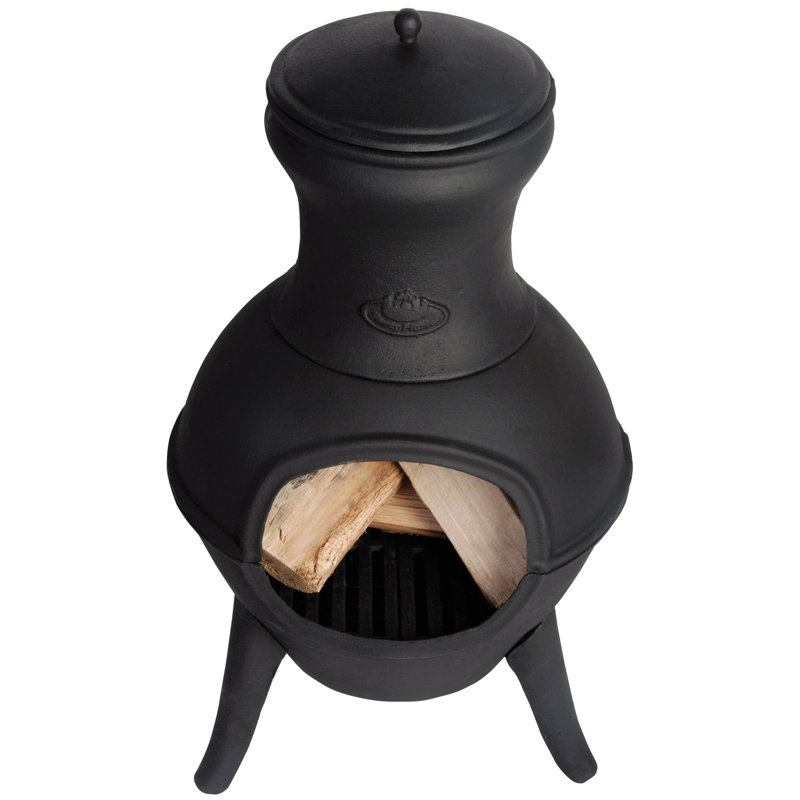 This simple but elegant chiminea is great as a centerpiece for any set of furniture. Whether you put it in the middle of your patio benches or maybe on your tabletop, it will look just fine. You'll also love its size because you won't have a hard time picking it up and transferring it from one place to another. If you're worried about smoke emissions, it does come with a lid so that the smoke won't escape to the environment.
Simple and succinct style
Comes with a lid
Portable size
Sturdy cast iron built
See more: Esschertdesign Chimineas on Wayfair
4.  Gardeco Sempra Clay Wood Burning Chiminea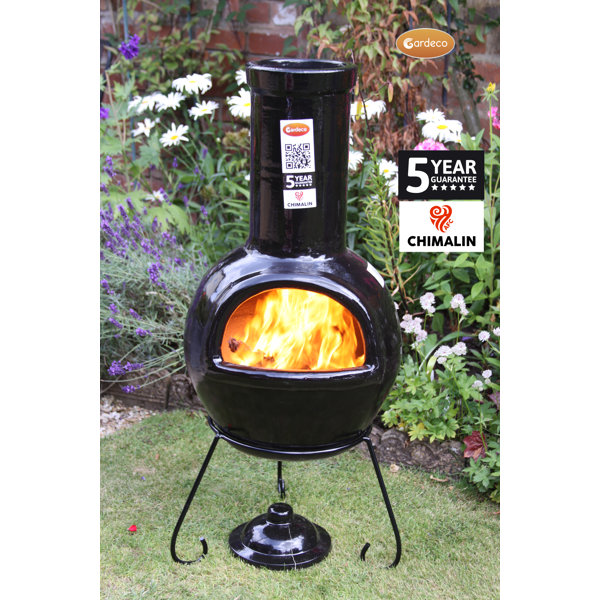 The great thing about this chiminea is that it can burn both wood logs and charcoal. Charcoal is sometimes the preferred fuel of some homeowners because it is cleaner to burn than wood. Also, charcoal tends to burn stronger than wood giving you more heat. So if you feel like burning charcoal instead of wood, you might want to consider this chiminea. You'll also notice that its design is pretty contemporary. So if you're the type of person who likes modern designs, you'll probably like this product. It also happens to be one of the best clay chiminea products we've come across.
Can burn charcoal and wood
Lessens fire cracking
Contemporary design
Can create a large fire
Comes with a metal stand and lid
Small size
Capacity doesn't give long-lasting heat
5.  Esschert Design Stove Pipe Chiminea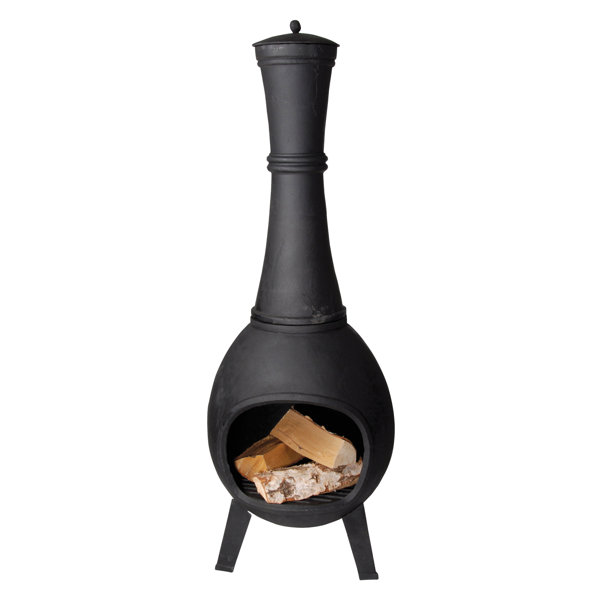 There is beauty in simplicity. That's what this chiminea is all about. It makes use of a sleek design making it not stand out too much but rather, blend in with the other pieces of furniture. If you're into a more minimalistic look, then we recommend you take a look at this chiminea.
Classic but minimalistic design
Comes with a lid
Cast iron built
Long and sleek shape
Doesn't give off that much strong heat compared to other products
6.  Sol 72 Basham Steel Chiminea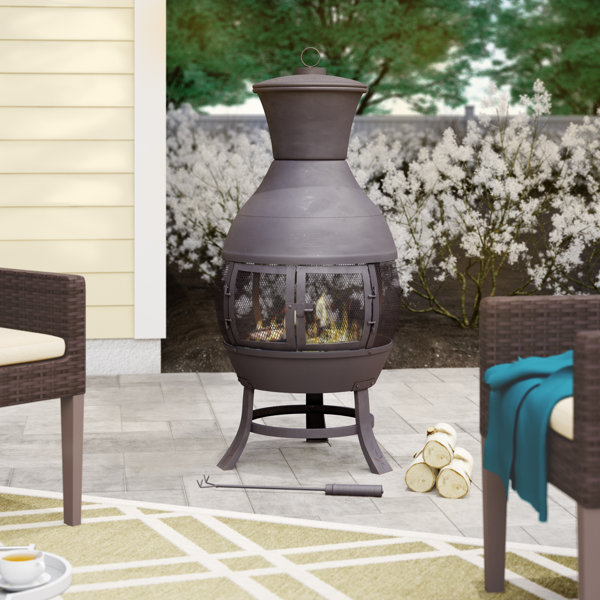 This chiminea can be left outside even if it rains or snows. Being made out of stainless steel, it's actually rather durable and doesn't get easily dented. So if you want a chiminea that you don't need to cover or store somewhere during stormy weather, we can recommend that you get this one. It also has a pretty unique design that goes well with more vintage exterior designs. It gives off a cozy and comfy vibe that most antique furniture can accentuate.
Compact structure and size
Stainless steel built
Weatherproof structure
Provides a cozy feel with its design
Has a wire center for easy fire lighting
7.  Kotulas Outdoor Cooking Chiminea
When it comes to versatility in cooking, this is actually one of the best chimineas for cooking in the market. This one allows you to cook a variety of food such as meat, veggies, and fish. You can also make a brick oven pizza using this cooking chiminea. The best thing about it is that its structure allows it to store heat so you can keep it burning for long periods of time. That's why you can actually make a lot of food while you're outside. You can also use this with both charcoal and wood fuel depending on what you want to cook.
Built for heat retention
Comes with grate for brick-style oven cooking
Comes with smokestack
Beautiful and unique design
Rusts quite easily
Heavy to lift
8.  CastleCreek Cabin Cooking Chiminea
We can say that this chiminea is pretty similar to the previously mentioned one in the sense that it can be used for cooking. The difference is that this one sports a cabin type of design. It's literally shaped like a small wooden house with a hole for.
Has heat retention feature
Beautiful cabin design
Includes a cooking grate
Not very durable
Creates a lot of smoke
9.  Darby Home Raymon Steel Chiminea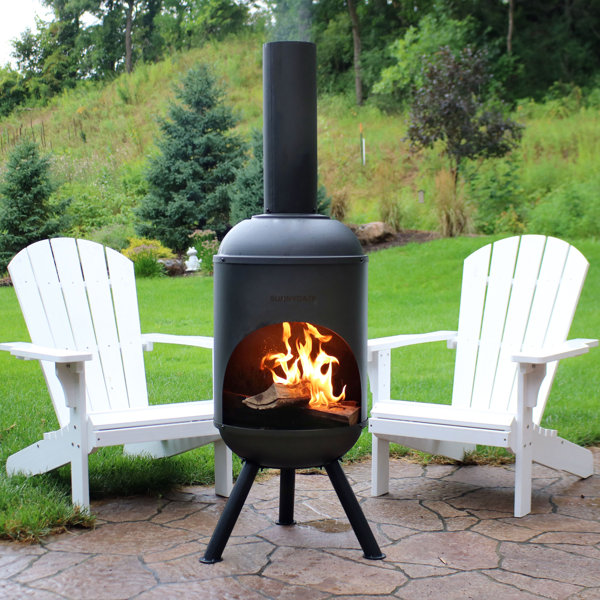 One of the most unique features of this chiminea is its design. Its design is really made for efficiency and strong burning. In a nutshell, this chiminea takes in the fresh air and moves it upward from the fire. Because of this sort of mechanism, you can get stronger heat as well as a cleaner burn without much emissions as well as ash. It's also safer than most chimineas because it makes use of a 19-inch diameter design making it very much enclosed. That way, fire sparks won't shoot out.
Strong and clean combustion
19-inch diameter enclosure
High safety
Lets out a lot of heavy smoke
10.  Foundry Select Arneson Chiminea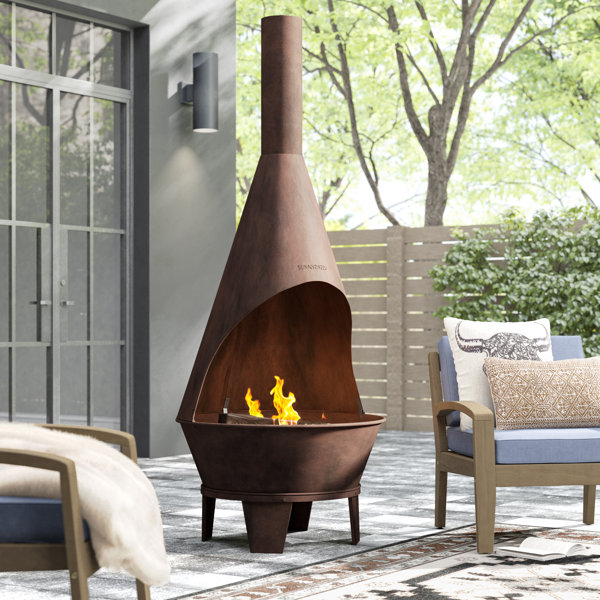 The really cool thing about this chiminea is that it's made out of weathered steel. It's similar to ordinary steel except that it adopts a more rusted color when exposed to various weather conditions. With the rusted look, it takes on a rather vintage vibe that adds a unique dimension to your patio design. It also sports a rather artistic structure and design.
Made out of weathered steel
Has an eastern-inspired artistic structure
Safe to used because of semi fully enclosed structure
Comes with a log crate for storing logs
Not many choices for cover compatible with it
Hard to find spare parts for the product
11.  Oakland Living Dragonfly Cast Iron Chiminea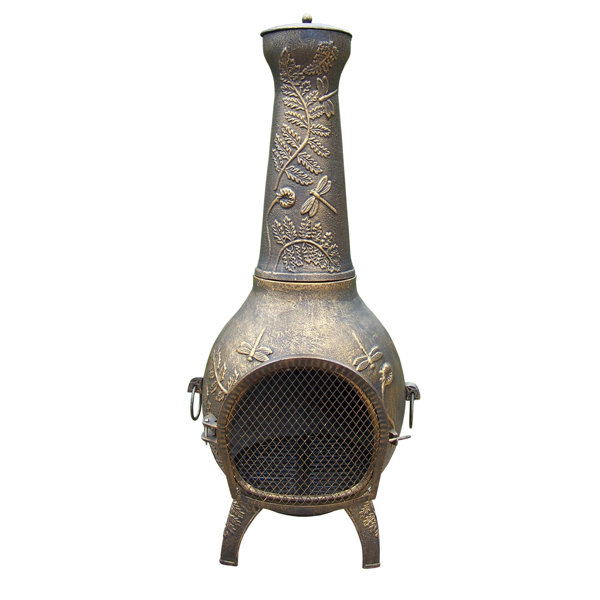 This is surely one of the best cast iron chimineas in the list because of its exquisite design. Its design replicates old world style pot stoves that were used by noble households. If you want to add a touch of elegance and sophistication to your patio, then this is the cast iron chiminea that you may want to consider buying. Aside from its design, it is also very durable being resistant to cracks and fading.
Hardened powder coat finishing
Resistant to chipping and cracking
Does not fade
Elegant design
Doesn't go with all furniture or exterior design
12.  The Blue Rooster Venetian Grill and Oven Chiminea
Cast aluminum chimineas are known to be the strongest and longest-lasting chimineas you can find. They don't rust, they don't corrode, and they don't fade even over a long period of time. This product, in particular, can last for years without wearing out. Aside from that, it's very easy to clean and produces almost no smoke emissions. It also has a large firebox allowing you to burn big logs.
Made of cast aluminum material
Very easy to use
Almost no smoke emission
Can burn big logs
Allows you to grill and bake food
Chiminea Buying Guide 
Even if we gave you 12 choices to pick from, you may have a hard time narrowing your choices to just one product if you don't know how to choose chimineas in the first place. As per our experience, the best chiminea outdoor fireplace for your situation depends on your individual needs and wants. For that, you'll need a buying guide to help you pick out the best chiminea fire pit. Our buying guide consists of several factors that you need to take into consideration when choosing a good chiminea. What you can do is understand these factors and apply them to your own preferences. Then, match these with the features of the choices we gave above. From there, you can make your choice. Take a look at the factors below:
Material
The first and most important factor that you have to consider is the material used to make your chiminea. Generally, there are 5 kinds of chimineas based on material. We'll go through them one by one so that you can understand their pros and cons.
The first type of material we'll talk about is clay. Clay types happen to be one of the oldest materials used for making chimineas. The clay types were usually used for cooking in the 17th century but are nowadays widely used for their decorative qualities. They're known for their beauty and old-world feel. In fact, they can give a very relaxing vibe along with any of your patio furniture. The only problem with these types is that they're rather high maintenance. They need to be covered and stored properly during cold seasons or they may wear out quicker than supposed to be. They also can't be wet otherwise the clay will depreciate fast.
Another type you can consider buying is the copper type. Copper is another material widely used in the old world for making chimineas. That's why it can also give you a vintage vibe if placed among your patio furniture. Of course, they are also not that easy to maintain as copper will usually develop some discoloration over time. But if you don't mind slight discoloration, it should be no problem. You also need to replace parts pretty often since copper parts wear out quite fast.
Cast iron chimineas are a stronger option than the previously mentioned two. They are known to be weather resistant so you can leave them outdoors during any season. They also don't wear out or crack as frequently as clay or copper. Lastly, they are generally more durable which means less maintenance work for you. The only disadvantage of cast iron is that it's extremely heavy to carry and may be subject to corrosion or rust over time.
You may also want to check out stainless steel chimineas if you want something that's more cost-effective. They are typically cheaper than the previously mentioned types of chimineas so you won't really mind replacing them once they rust. They are also pretty light and can be brought on camping trips. As mentioned above, they are not as durable as the previously mentioned three types so don't expect one to last for a long time.
The last type is the cast aluminum type. These are undoubtedly the most well-rounded types on this list. They are durable (rust and corrosion-proof), low maintenance, and lightweight. They also do not require any kind of storage or covering during certain seasons. You can leave it outside anytime you want to.  Of course, these kinds of features come with a price. Don't expect cast aluminum types to fall in the same price range as the other ones. They are more expensive to buy.
Fuel
For fuel, you usually either have the choice of a gas-burning chiminea or a wood-burning chiminea. Again, the choice really depends on your preferences. However, we recommend that you use wood-burning types if you want your chiminea to be a centerpiece or decoration because you don't need to think about ventilation. But if you need it as a heating source for different indoors or for your patio, we recommend a gas burner since these are stronger. However, you do need to take into consideration where you will install the ventilation system.
Base
The base is determined by whether or not the chiminea has legs or not. If it has legs, then you can just place the chiminea directly where you want it to be. However, the chimineas without legs will require you to install a fire safe base first. You won't want to input a legless chiminea directly on your porch (especially a wooden porch) since you might burn the floor without realizing. So when choosing between the two, take what we said into consideration.
Design
The last factor that you need to take into consideration is the design. Now, this factor is extremely subjective because this is determined by your own tastes in art. However, we recommend that you buy one depending on what type of furniture you have. For instance, if you have a vintage or antique set of patio furniture, stick to old-world designs. If you have contemporary style furniture, stick with modern designed chimineas
Chiminea Versus Fire Pit
Now that you know the best chimineas to choose from and know how to choose a good one, you may be thinking that you can just buy a fire pit instead of learning all these things. You actually can buy a fire pit as an alternative but it still depends on your own needs. You see, fire pits are rather different from chimineas. If you know the differences between the two, you'll know if fire pits are more suited for your needs or if it's the other way around. Here are some of the differences between the two:
Chimineas are generally safer than fire pits because chimineas are contained preventing sparks or flames from going out of the appliance.
Chimineas don't need as much tending as fire pits because the design allows the heat to be enclosed, prompting a longer burning period.
Chimineas come in various designs while fire pits may be a little more limited to just a few designs
Most fire pits don't need complex ventilation systems as compared to chimineas.
Fire pits are generally smaller than chimineas so they may be easier to carry around. However, this is also dependent on the weight of the material used for construction.
Fire pits are generally less conspicuous than chimineas so they tend to be more versatile as decorations.
These are some of the main differences between the two types of products. If you want to know whether a chiminea or fire pit is more suited toward your needs, you need to objectively examine the differences between the two. By knowing these main differences, you can understand which one caters to your preferences.
Conclusion
If you want to get the best chiminea for the money, all you have to do check out our chiminea reviews and our buying guide. If you have this guide at your side when you're picking out your favorite chiminea, you should have no problem choosing a good one. Just make sure to approach your shopping in a very objective manner and ignore all the buzz about which product you should buy. Just narrow down your choices with our list and buying guide so you won't have such a hard time trying to decide which one you should purchase.
Once you make your choice, you can enjoy your chiminea!