The regular flush toilets that we use highly contribute to the water crisis that a lot of countries are having because it uses too much water. That said, the best toilet for addressing those issues is the composting toilet.
With the number of brands, it's going to be pretty hard to find the best composting toilet for your home. To help you, we've come up with a list of the best composting toilet brands in the market along with a buying guide so you'll know which one to buy from the list.
Best Composting Toilet Reviews on The Market
1. Nature's Head Self Contained Composting Toilet
The Nature's Head composting toilet is a portable toilet that is very user-friendly and durable. It is a self-contained toilet that is also urine-separating at the same time. The great thing about it is that it doesn't make use of any water which makes it totally eco-friendly. It's very useful for those who like to go camping in RV's or boating. If you're looking for a rugged and reliable toilet, this one is for you.
Powerful toilet head
Can withstand the harsh environment, especially marine environments in boats
Portable and can be used in campers and boats
Does not produce any odor
Segragates urine in the composting tank
Robust and rugged design
Comes with an air recycling feature with its low volume air circulation fan
Self-contained type which allows for easy decomposing process
2.  Sun Mar Excel Electric Waterless High Capacity Self Contained Toilet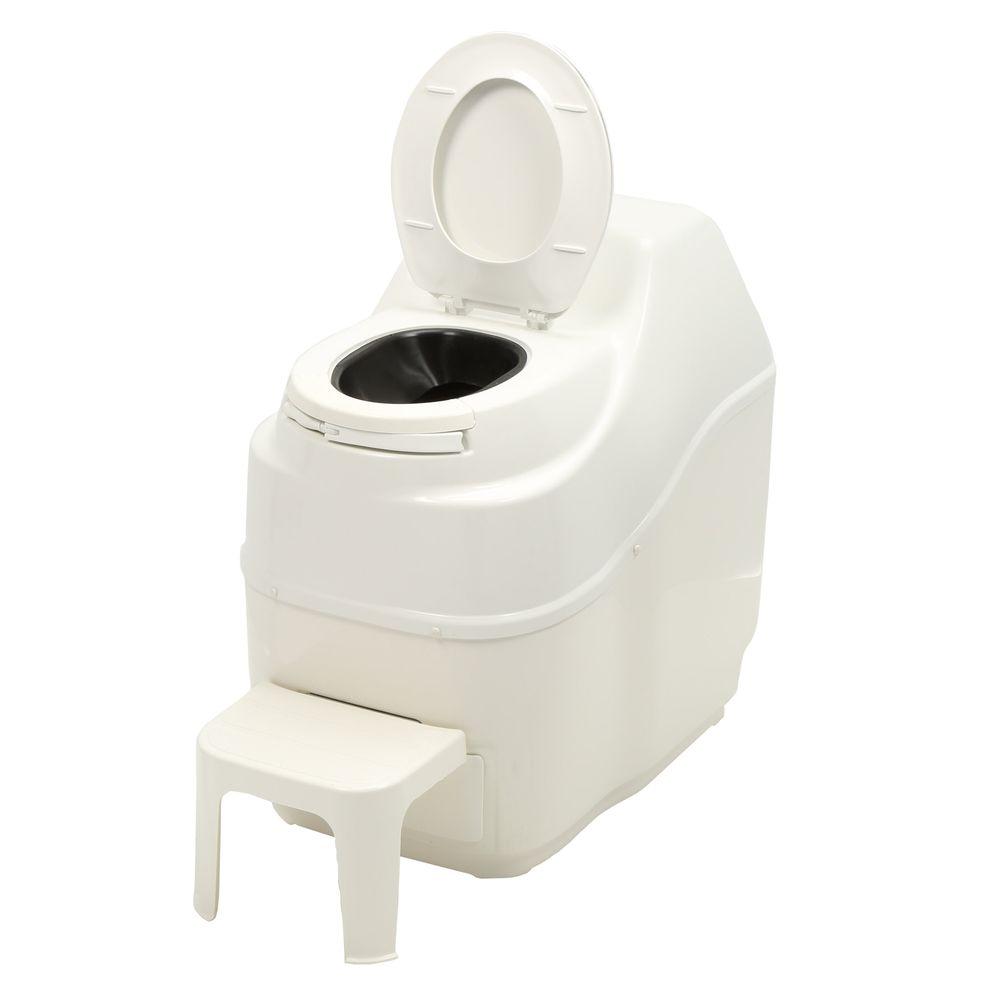 A lot of people like using the Excel because of its special high capacity bio-drum. The bio-drum makes use of advanced technology that can help with a fast decomposing process without the odor. In fact, the bio-drum makes this toilet the first ever to be certified by the National Sanitation Foundation. This makes it a very clean, eco-friendly, and safe option.
Efficient bio-drum for decomposing
Can handle even the toughest decomposing job
Great built for residential areas
No odor and mess
Includes a 2-inch vent at the back area
Includes a footrest on the bottom of the toilet
The emergency drain is present in case of a prolonged power outage
Does not make use of any water
3.  Sun Mar Centrex 2000 with Central Flush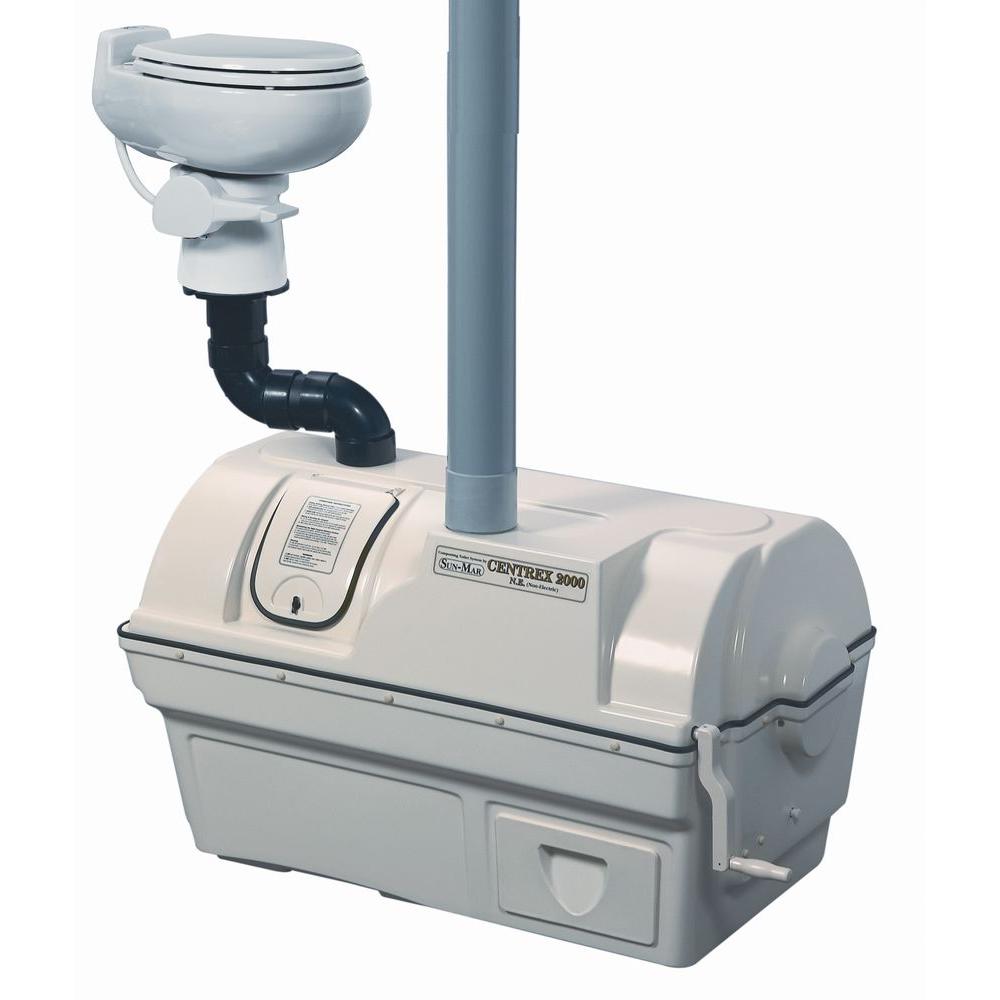 What this Sun Mar Centrex 2000 toilet is known for is its composting chamber with an extremely large capacity. It has a composting chamber with a big surface area allowing for high waste volume storage.
It can probably take the usage of around 9 adults depending on frequency. Aside from a bigger storage, the chambers also have a special heating element that makes use of electricity. The electricity powered chamber powers up 370 watts and makes the whole process faster and more efficient.
370-watt controlled heater
30-watt turbo fan with vent stack for evaporation
1-inch drain hose for excess liquid
Urine-diverting system
Comes with sealand low flush feature
Features a very large volume capacity of up to 9 adults
High-powered electric chamber
4.  Sun Mar Centrex 3000 Non Electric Waterless Composting Toilet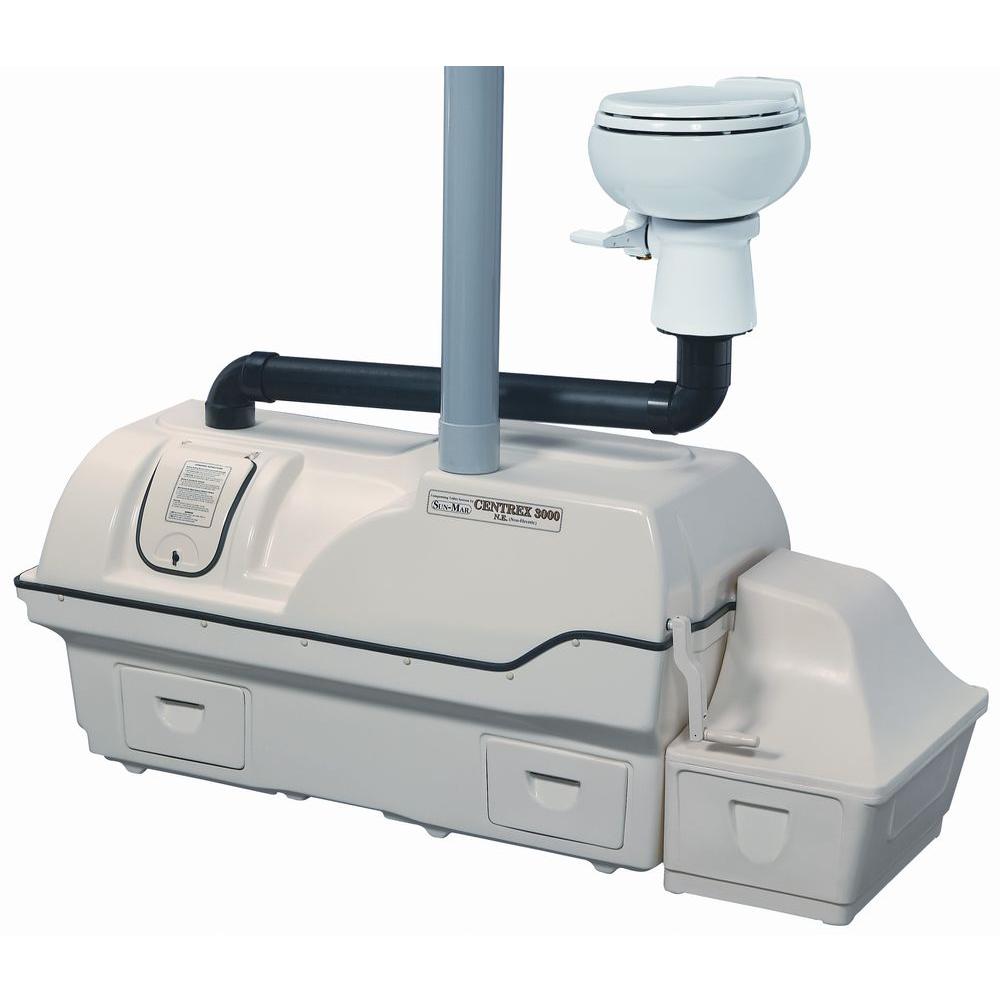 If you want to save money on water and electricity, then this is the toilet that you'll want to get. Instead of water, it makes use of air flow to push down the waste into the composting tank. The great thing about it is that it is eco-friendly and can take a very high volume of waste (of up to 10 adults). Another great thing about it is that it automatically drops waste at the collection area so it doesn't need to be turned over to be emptied.
Uses strong air flow instead of water for flushing
Does not use any electricity for the decomposing process
Very high volume tank of up to 10 adults
Comes with a 4-inch vent stack
Includes a 12-volt fan to promote air flow
Very easy compost releasing mechanism
5.  Separett Villa AC/DC Toilet
This composting toilet is known for its electric power that can be used for the decomposing process. It can get 12 volts of power from either a battery source or solar energy. If you want, you can also use AC power. It is also eco-friendly as it doesn't use water. Rather, it uses air flow from a vent fan so that you can save on your water bill. Also, it is urine diverting which only means the urine gets separated from the feces at the onset.
Versatile with power sources
Uses air flow instead of water
Urine-diverting system
Includes a very powerful vent fan for the flush mechanism
Off grid toilet that can also be on grid
Very compact size which is great for smaller houses
Composting Toilet Buying Guide
Now that we've provided you with a list of the best composting toilet brands, the next question is: which one to choose out of the 5? That's where our little buying guide comes in. Before you choose the composting toilet you like, you should take into consideration these factors:
The capacity, also known as the size of the toilet and the composting chamber, will depend on how many people use the toilet and how frequently they'll use the toilet. If there are a lot of people in the household, then it is recommended that you buy a bigger toilet with a higher capacity composting chamber so that the mechanism can take the load. If your household is not so big, then you don't need such a big composting chamber.
The decomposing rate refers to how fast the toilet can break the waste down and turn it into compost heap. Just to give you an idea, the electric models have a faster decomposing rate than non-electric models since electricity powers up the whole process already. Your choice will depend on what you can afford and whether you mind waiting for your compost heap or not.
Type of Composting System
Usually, there are two types of composting toilets for you to choose from when it comes to the decomposing process.These are the self-contained systems and the centralized systems.
The self-contained systems are the types that have composting chambers attached to the toilets themselves. Once the waste goes into the toilet, it then goes to a chamber where the process happens. The advantage of using a self-contained system is that there is no need for complicated piping since everything is just there in the toilet.
The centralized systems, on the other hand, make use of a composting chamber that is located elsewhere in your house like in your basement. It's similar to the structure of a traditional toilet but the waste is flushed to the composting chamber instead of the sewer. The advantage of this type is that it allows for a bigger composting chamber which means you don't need to empty it too often.
The type that you choose will depend on your desired capacity as well as budget since centralized systems are more expensive.
When urine mixes with the solid waste in the composting chamber, a strong odor will form. That's why there are urine diversion systems in the composting toilet systems to ensure that the urine and feces do not mix together to form sewage waste. The two types are the urine diverting systems and the non-urine diverting systems.
The urine diverting system automatically diverts urine to a different area when it enters the toilet. Usually, the urine goes straight to a drain or urine chamber.
The non-urine diverting system, on the other hand, doesn't divert the urine elsewhere. Rather, it leads the urine into the composting chamber but in a separate section from the feces. That way, they won't mix.
Take note that a composting toilet is a little bit bigger than traditional toilets. That's why you have to check whether your toilet can take the size or not. With regard to installation, the self-contained toilets won't present any problems since the whole system is there already.
The centralized ones, on the other hand, might give you a bit of trouble because it uses a different piping system compared to a traditional toilet. You have to find a place to store your composting chamber and you have to attach the chamber to your toilet. It will take a bit of work for that. That's why you have to check if your composting toilet can be installed in your house.
Conclusion
Out of all the products in the composting toilet reviews section, the best one would definitely be the Separett Villa Toilet. This toilet has a pretty high capacity for the volume of waste. Since it is powered electrically, it has a very high decomposing rate, possibly higher than the rest in the list.
It also doesn't make use of too much energy because it can be powered by both battery power and solar power so you don't always have to use energy. It is self-ccontained and has a urine diverter system, not to mention it's very easy to install. With regard to size, it won't have much problem fitting anywhere.
This was chosen after scrutinizing the features of this product along with the other products. It allowed us to have a more objective view of the products so that we can make the best choice.