These days, composting toilets are highly sought after because more and more people are becoming conscious of their water usage. People these days want to prevent using too much water, which is what usually happens when you flush. So instead of a flush toilet, composting toilets are the next and eco-friendlier alternative.
But how do you know which composting toilet is the best composting toilet for you? This is where our list will be very beneficial to you. We compiled a list of some of the best composting toilet brands of 2020 based on our experiences and top reviews from other customers. Thus, if you're looking for the best RV composting toilet, check out these top 6 brands.
Things to Consider When Buying a Composting Toilet 
Now that you know more about composting toilets, let's go a little bit deeper. In this section, we're going to discuss some of the important things when you're looking for a composting toilet.
This short buying guide will help you zero in on the best composting toilet for your needs. All you have to do is use the criteria and you're all set.
Here are the things you need to consider when looking for a composting toilet:
Type of Composting Toilet
The first thing that you have to take into consideration would be the type of composting toilet that you're going to get. There are typically two types namely the centralized system and the self-contained system.
For the centralized system, there is a storage tank that is connected to the toilet via a pipe. The tank can be found somewhere else in your home possibly far away from the toilet. The other type is the self-contained system wherein the tank is just right below or behind the toilet. This one tends to have a lower capacity but is portable.
Capacity
Capacity would refer to how much waste the toilet can hold at a given time. This is usually measured by how many adults can use it before the storage chamber is full. Typically, 9 adults are a pretty good measurement of a composting toilet with a good capacity. So just take note of this when you're buying your toilet.
Electric or Non-electric
This is pretty important because it would determine the decomposition speed of the toilet. Typically, the electric types would actually have a faster decomposition rate as compared to the non-electric types. The disadvantage of electric types would be the fact that you need to hook them up to a power source for them to work.
Size
Size is really important because you'll need to know whether it can fit your toilet or not. So, before you choose your toilet, first measure the dimensions of the place you want to install your toilet in then compare it to your list of choices. Find the one that best matches the size of the area you want to put it in.
Portability
Many people buy composting toilets for when they go on camping trips. So, if you want to find the best composting toilet for off grid, you'll need the toilet that is non-electric, has a self-contained system and doesn't weigh that much.
Take note that if you'll be bringing one in your RV, you'll need one that can fit in your RV. The best ones for RV are usually the self-contained ones since they take up less space. Also, you'll be safer with a non-electric type in the event that you won't be able to hook up a power source.
Urine Diversion
Urine diversion refers to a feature that allows the toilet to separate liquid from solid waste. Now, this feature is really important if you're planning to use the compost for gardening. Compost that comes from pure fecal matter are healthier for plants as compared to compost that comes from a combination of both.
Ease of Installation
Lastly, you'll definitely want to go with the one that is easier to install, especially if you're using it in an RV. Now, the centralized types are obviously harder to install because they have a separate compost tank. However, they tend to have a higher capacity than the self-contained units.
Also, electrical units are harder to install than non-electrical ones but electrical ones have a faster composting rate. So, with regard to this factor, it will really depend on your own preference with regard to ease of installation and what you're willing to sacrifice for that.
7 Best Composting Toilet Reviews
1.  Nature's Head Self Contained Composting Toilet
If you're looking for a compact toilet that you can bring with you on camping trips, then this is the one that you'll most likely be looking for. Not only is it lightweight and compact, but it is also a self-contained type of toilet, allowing you to bring it around without having to hook it up with an external storage tank.
Also, it comes with a hose a ventilation system, allowing you to prevent any odors from emerging out, especially if you're using it inside an RV. It's also really easy to assemble and disassemble just in case you need to bring it around a lot.
Overall, it's one of the best camping composting toilets that you'll be able to find in the market.
Highlighted Features:
Stainless steel hardware
Compact but durable built
Urine diverter present
Built-in ventilation system with circulation fan
Easy assembly and disassembly
Odor free function
Nature's Head Toilet Install & Review
2.  Separett Villa 9210
The Separett Villa 9210 is different from the Nature's Head toilet in a sense that it is an electrical composting toilet. The difference would lie in the composting rate of this toilet.
Electrical composting toilets generally have faster decomposing times, allowing this toilet to give you your compost heap in no time. Just like the Nature's Head product, this one also has a urine diverter.
Since it is an electrical composting toilet, you may think that it cannot be used for camping. However, it can be powered not only by a main electrical source but also via solar energy and battery power. With that, it can also be brought in RVs and campers.
Highlighted Features:
High decomposition rate
12 volts of electrical power
Solar power and battery power compatible
Urine diverter
Centralized toilet system
Separett USA VILLA 9215 PREVIEW
Currently unavailable.
3.  Sun Mar Excel Electric Self Contained Toilet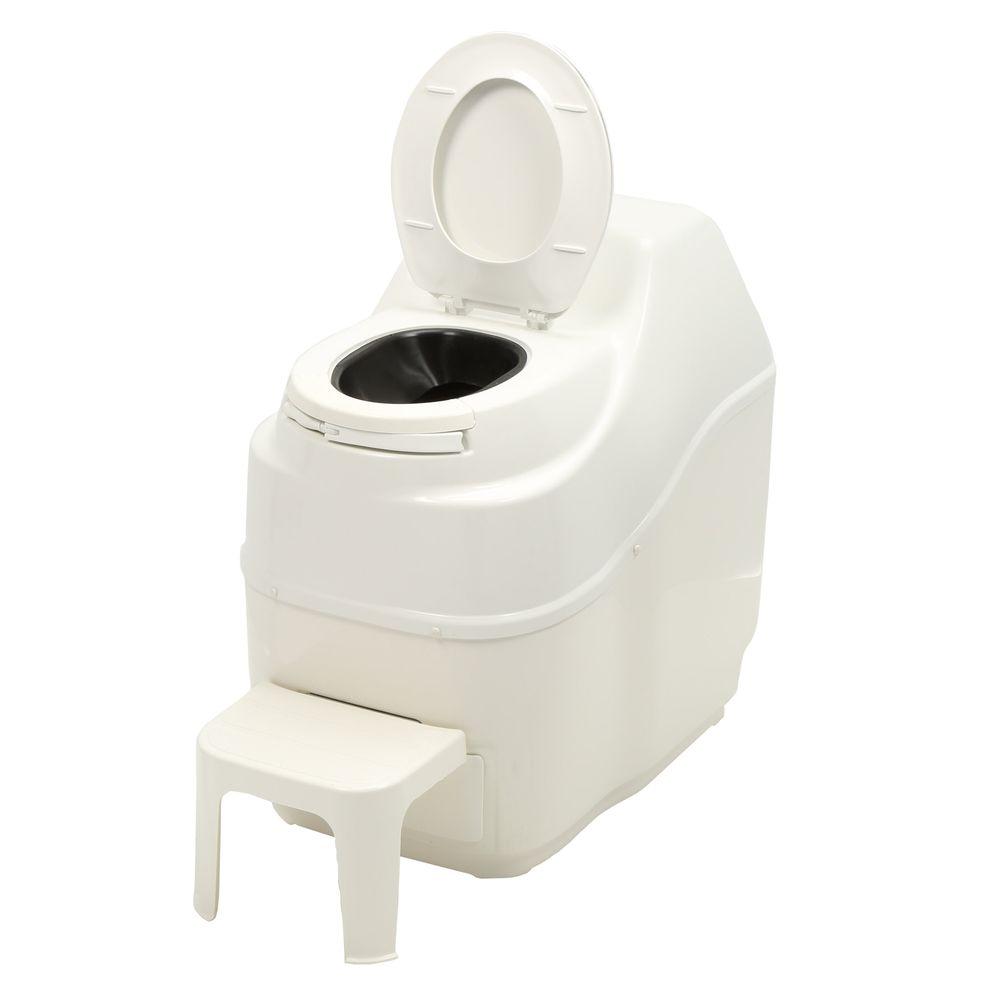 What makes this toilet really unique would be its bio drum waste storage tank. Not only does this bio drum have a very high capacity for volume of waste, but it also has an extra fast decomposition rate.
In fact, the advanced technology employed by the bio drum allows your toilet to have a decomposition rate that's higher than most other electrical composting toilets— without the smell. Aside from that, it even has an emergency drain in the event that there is a power outage and you can't access electrical energy.
In a nutshell, it is one of the best composting toilets for residential homes and apartments. While it is not the best for camping, it can actually be a good and eco-friendly alternative to your home bathroom's traditional type of toilet.
Highlighted Features:
Advanced bio drum
High decomposition rate
High volume capacity
2-inch ventilation for prevention of odor
Emergency drain
Waterless operations
Footrest inclusive
Odor free bio drum
4.  Sun Mar SpaceSaver Electric Self Contained Composting Toilet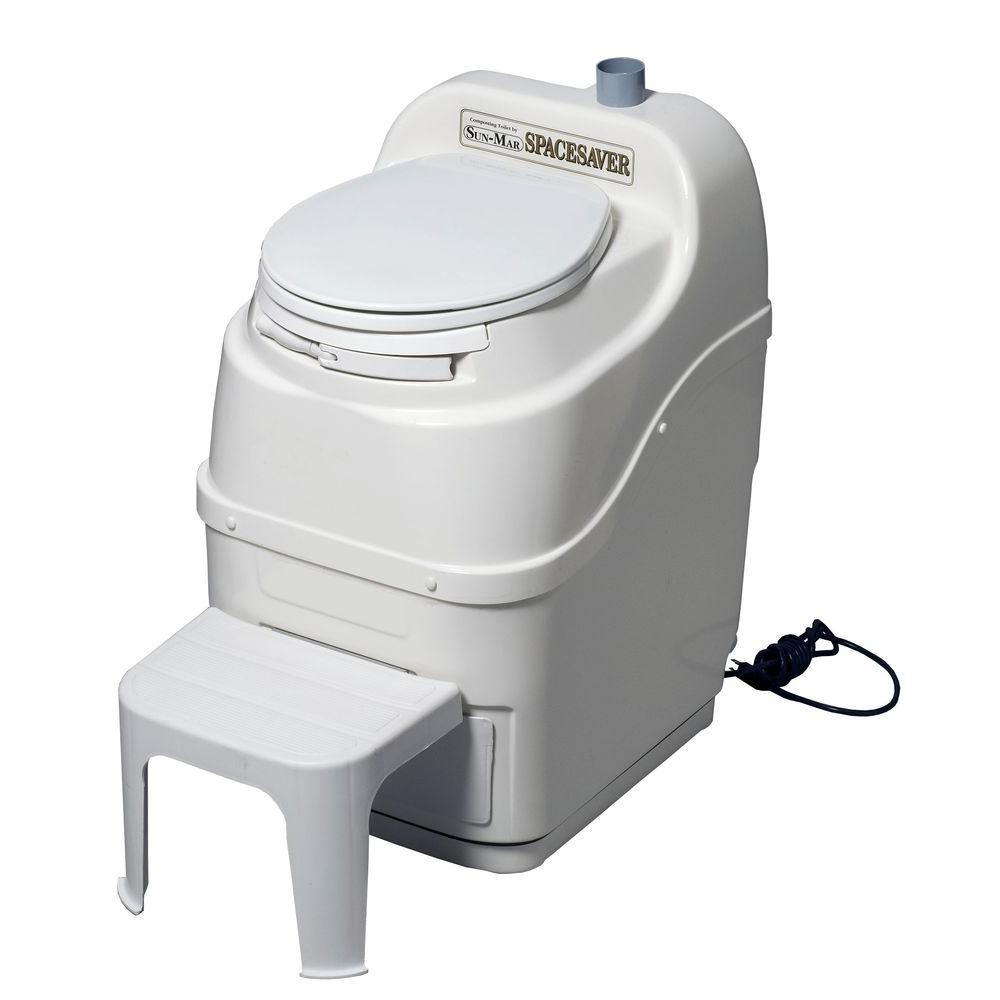 As the name implies, this one is a toilet that is designed for saving space. For regular use, this toilet can take the usage of up to 4 adults before you need to dump the existing waste. Of course, this limited capacity is due to the size of the toilet. It has dimensions of 19 x 23 inches, making it perfect for limited spaces.
This is a great toilet for apartments with small bathrooms and for trips in the RV. Not only is it very compact but it is also very easy to install, making it the perfect toilet for tiny spaces with only few people using it. Other features would include a strong fan for preventing odor and a 3-inch vent stack.
Highlighted Features:
Compact built for limited space
4 adult volume capacity
Strong ventilation fan
Elongated toilet seat
Self-contained system with built in storage tank
Easy to install
5.  Sun Mar Centrex 2000 with Central Flush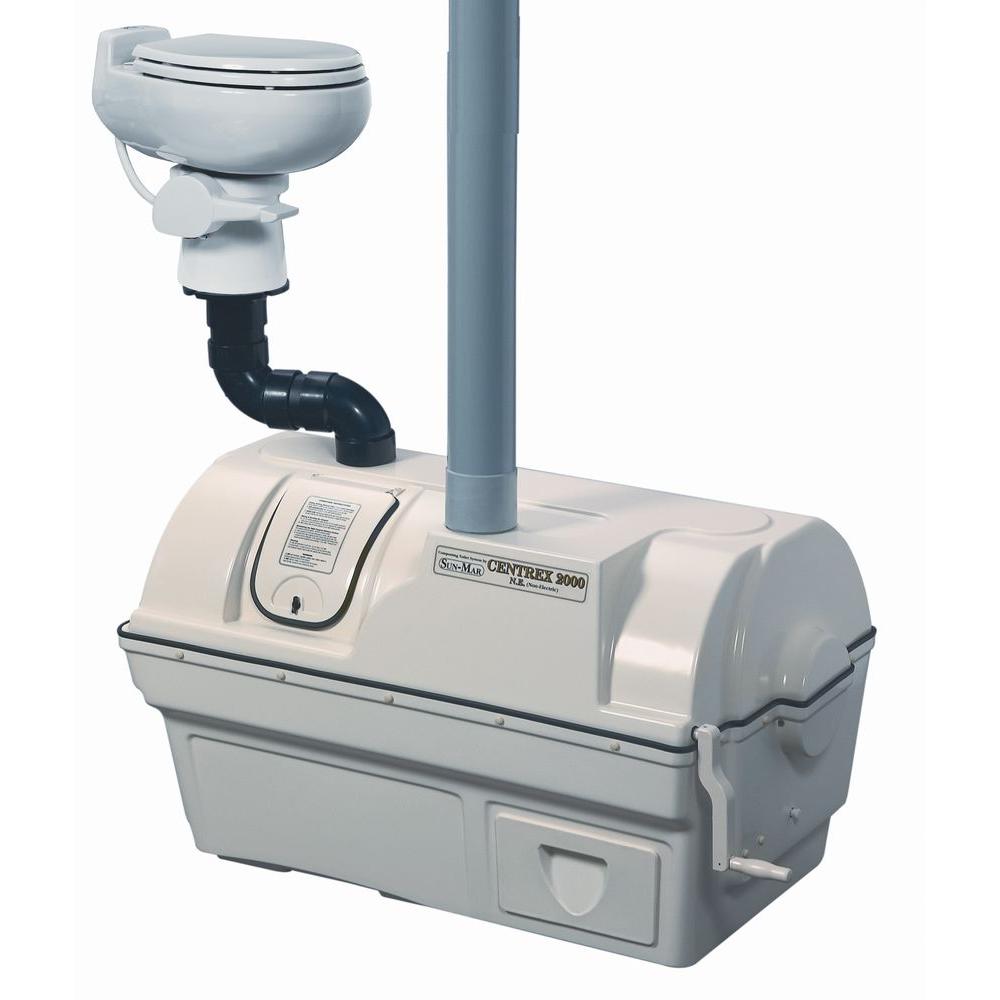 What this Sun Mar Centrex 2000 toilet is known for is its composting chamber with an extremely large capacity. It has a composting chamber with a big surface area allowing for high waste volume storage.
It can probably take the usage of around 9 adults depending on frequency. Aside from a bigger storage, the chambers also have a special heating element that makes use of electricity. The electricity powered chamber powers up 370 watts and makes the whole process faster and more efficient.
370-watt controlled heater
30-watt turbo fan with vent stack for evaporation
1-inch drain hose for excess liquid
Urine-diverting system
Comes with sealand low flush feature
Features a very large volume capacity of up to 9 adults
High-powered electric chamber
6.  Sun Mar Centrex 3000 High Capacity Composting Toilet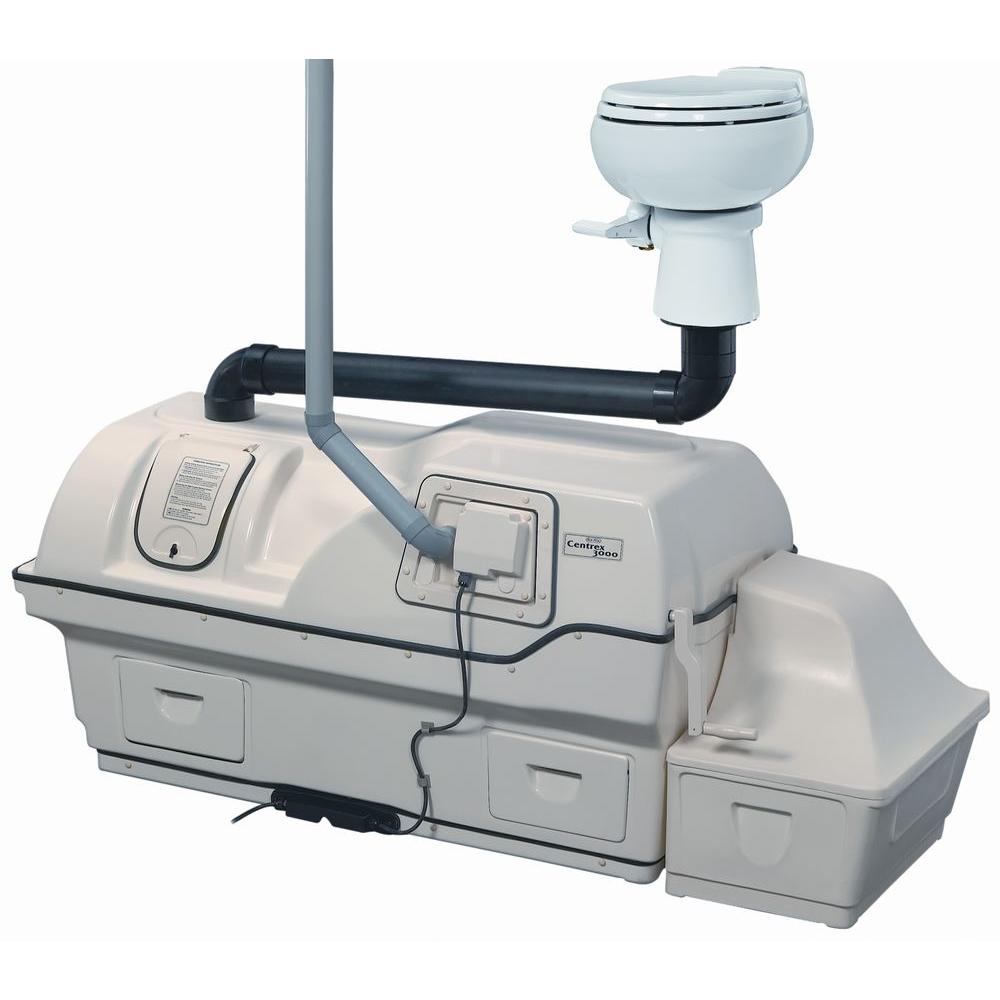 The Sun Mar Centrex 3000 product line is one of the more well-known ones by Sun Mar. The Sun Mar Centrex 3000 High Capacity Composting Toilet is an electrical composting toilet that has a pretty high decomposition rate because it uses electricity on the storage tank.
With regard to volume, this one can take the usage of up to 9 adults before having to dump the waste. Now, this toilet makes use of technology known as the continuous flow design, which is ideal for houses and medium sized apartments.
This feature allows the toilet to move waste from its built-in drum to another larger storage drum connected to the toilet from another part of the house. With that, you will not need to manually dump waste so much anymore.
Highlighted Features:
High decomposition rate
Continuous flow design
Volume capacity of 9 adults
Durable and sturdy design
1-inch drain hose included
Sunmar Centrex composting toilet instructions
7.  Sun Mar Centrex 3000 Non-Electric Composting Toilet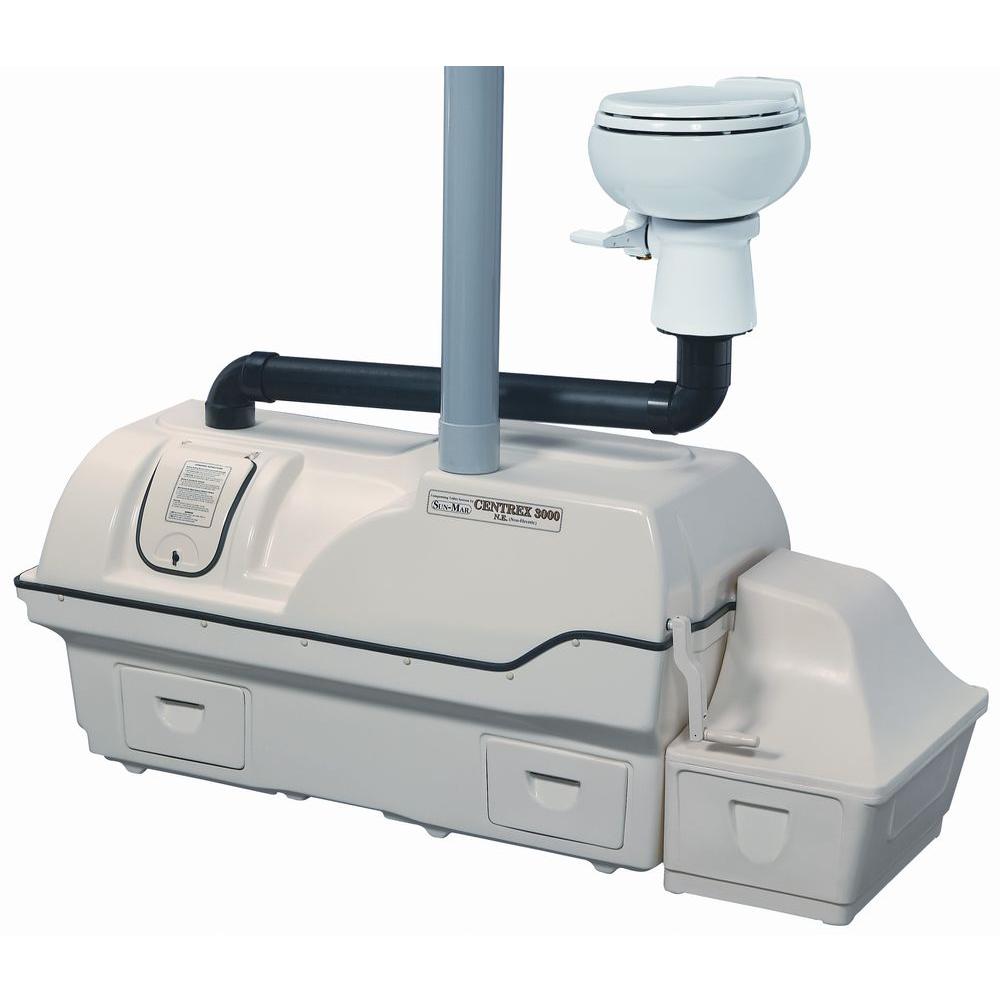 If you prefer to have a non-electric composting toilet, then this is the one that you should take a look at. It is both water free and non-electric, making you save money on both bills. Rather, it uses strong air pressure to move waste down the toilet. In fact, this toilet has one of the strongest air flow systems for flushing.
Aside from flushing power, it's also got a really high-volume capacity. The capacity would be of 10 adults. This means that around 10 adults can use the toilet before you need to dump the waste. It also has a pretty good odor prevention ventilation system with its 4-inch vent stack.
We can definitely say that this toilet is worth the money. It is a high-quality toilet that has all the features of a great composting toilet and can save you money in the long run.
Highlighted Features:
Strong air flow flush
Electricity and water saving
4 inch vent stack
10 adult volume capacity
Robust and durable structure
What Is a Composting Toilet
The main difference between a traditional toilet and a composting toilet would be its water usage. You can think of a composting toilet as a sort of dry toilet that brings down the feces into an area wherein the feces can be composted.
It is not connected to any water supply, meaning it can be brought anywhere you want. That's why composting toilets are the best types of toilets to bring while vacationing to the woods in an RV. It can easily be installed outside or inside the RV and does not need any connection to a water line since it doesn't use water anyway.
Some toilets have a urine-diverting dry toilet function. This function allows the toilet to separate the urine and feces to two separate storage tanks. That way, the dry waste can be optimally turned into compost that have the same efficacy as store bought manure.
How Does a Composting Toilet Work?
Even if you already know 7 of the best composting toilet for RV or for outdoor brands, it will be pretty difficult to make a decision to find the most suitable one for your own individual needs. That's why you should know more about composting toilets starting with how it works.
So, how does a composting toilet work anyway?
As the name implies, this type of toilet composts wastes instead of flushing it down the water system. The waste is brought to a composting storage chamber where the whole composting process begins. This is actually a more environmentally friendly version of waste management because it can turn the fecal matter into compost which can be used for planting. It prevents contamination in the water system and the creation of sewage sludge.
Pros & Cons of Composting Toilets
Now that you know more about the mechanism of composting toilets and how they differ from traditional toilets, a nudging question that you may probably have would be what the advantages of getting a composting toilet are.
In this section, we'll list down some of the main pros of composting toilets against traditional toilets along with the cons so that you'll know whether or not a composting toilet is for you.
Check out our list of pros and cons below:
Pros
Good for the Economy and the Environment
The first pro is that it's good for the environment. Obviously, not dumping your waste into the water system is good for keeping the water supply clean and not clogged. This is good for overall public health.
At the same time, it would technically recycle your waste and turn it into compost that can be used for growing plants. You will also save a lot of water because composting toilets don't require flushing.
Easy Installation
As compared to a traditional toilet, not much installation is really needed. All you need to do is find a suitable place to put your composting toilet, install the storage tank, and use it. There is no hooking of the toilet to a water supply as it doesn't need to use water. Just make sure you don't install it on garden soil since it can lead to some spread of disease.
Minimal Smell
Unlike traditional toilets, composting toilets will leave no smell since all feces will be brought to the storage tank. Also, most composting toilets would have smell decreasing properties and technology, allowing you to keep composting toilets in RVs without worrying about smell.
Money Saving
As mentioned above, water is not really needed for using composting toilets. Because of this, you get to save a lot of money on your water bill. Also, you get to save money on installation and maintenance since composting toilets don't require much plumbing. Overall, it's a money saver for you.
These are some of the advantages that come with owning a composite toilet. Now, just because composting toilets have a number of advantages over traditional toilets, it doesn't mean that it doesn't come with its own disadvantages. Here are a few that you'll need to take note of.
Cons
Needs Handling of Feces
Since you'll be working with a composting tank, then obviously you'll need to work with feces that's stored inside. There are people who just can't stand to work with feces. If you're not the type who can handle it, then this may not be for you.
Uses Energy
While it saves water, it'll be making use of energy to power up some exhaust fans that will be used for evaporating urine or any other liquid waste. However, it still won't use up that much energy, so you won't have to worry about paying a bomb during your electric bill payment day.
Higher Cost
While composting toilets can save you money in the long term, you will have to pay more in the short term. The initial price of a composting toilet is definitely higher than that of a traditional toilet
How to Use a Composting Toilet
If you're pretty new to composting toilets, you'll probably need a bit of getting used to with these types. The usage would pretty much be the same as traditional toilets, but the emptying of waste and the maintenance would be a bit different.
But we'll break it down for you so that you won't be caught off guard when you start using your new composting toilet.
Some of the important things that you need to take note of would be not to flush anything else aside from waste down the toilet. The reason for this is because there are certain chemicals and bacteria needed for the composting process in the tank.
If you add let's say tissue down the tank, it could change the entire composting process. Also, make sure never to use chemicals to clean the toilet as this could also change the composition of necessary bacteria for composting. Just clean the inside with water (warm water) and baking soda.
Now, the challenging part would be emptying the composting tank as most people are not very used to handling feces. When you empty the tank always be sure to wear a mask and some gloves. From there, you take the tank and empty it in a barre,l which you are supposed to bury 10cm deep.
If you want to use it on your garden, you also empty it in a barrel and apply it the same way that you'll apply manure. Also, don't forget to wash your hands thoroughly after you've done this.
TINY HOUSE Composting Toilet – How We Pee & Poop
Frequently Asked Questions
With all of that out of the way, you are now ready to choose your composite toilet. Now, you probably have some other questions that are top of your head that you'd want to ask.
In order to answer some unanswered questions, we've compiled a list of FAQs plus their respective answers.
Q: Are composting toilets legal in the US?
A: Generally, they are legal in most states under Sanitation regulations, but there are some conditions to being allowed to use composting toilets.
For instance, in Tennessee you cannot use composting toilets if you have running water available. You need to check your local regulations with regard to composting toilet usage in your state.
Q: Do composting toilets smell bad?
A: Generally, these toilets are actually odor free. However, they will smell bad if they are not maintained properly.
Q: Can you use toilet paper with a composting toilet?
A: Yes, toilet paper can be used for composting.
Q: How Do I Clean A Composting Toilet?
A: It's best that you don't use chemicals for when you clean your composting toilets because these chemicals can mess with the compost heap. The best way to clean it would be mixing water and baking soda inside.
Q: Do You Need Water for Composting Toilets?
A: You won't need water for composting toilets. That's why it's very popular in places that have water scarcity and also among campers who travel to the woods in their RVs.
Q: How much does a compost toilet cost?
A: This will depend on the brand of the toilet that you're looking at. However, most quality compost toilets would cost from $700 to up to $5,000. There are some that cost less, but generally, this is the price range of most quality compost toilets.
Q: Do you need to have a septic system when you have a composting toilet?
A: A septic system isn't needed because composting toilets have their own biodegradable waste management system.
Q: Can you pee in a composting toilet?
A: Yes, you can. In fact, a lot of composting toilets have urine diverters, separating the urine from the feces to make compost dumping easier.
Q: Do composting toilets need ventilation?
A: The vent is needed in order to take away the odor of the waste. A good vent system is one of the reasons why most compost toilets are odor free.
Q: How long does a composting toilet take to work?
A: If you're referring to how long it takes to create a good compost heap out of waste, it would usually take around 2 to 4 months.
Q: Do composting toilets use electricity?
A: Only the electrical composting toilet types do while the non-electric types don't.
Q: Are composting toilets safe?
A: Yes, composting toilets are very safe! The only danger that they would pose would be if ever the waste starts to leak from the drum. That said, you need to do regular maintenance on your toilet so that this kind of situation does not happen.
Conclusion
And that concludes our review and buying guide. Now, if we were to choose the best one product out of the six, then the title of winner will definitely fall on the Sun Mar Excel Electric Self Contained Toilet.
This is because of its innovative bio drum waste storage tank. The bio drum storage tank allows the toilet to decompose waste fast and without the odor. Of course, the electrical energy also contributes to the decomposition speed. Combine those two and you're able to get your compost heap in no time. Aside from that, it's also got a pretty high-volume capacity to come with its wide size.
What makes it really unique and separates it from the other products though, would be its emergency drain. Since it runs on electricity, it won't work well when the power goes out. Hence,in the event that it does, then the emergency drain will be there to dump everything down to the storage tank.
As a whole, this is probably one of the best residential composting toilets that you'll be able to find in the market. You can actually replace your traditional toilet with this one if you wanted to because it has the same efficiency. The main difference would be that this option is eco-friendlier.
Resources:
https://en.wikipedia.org/wiki/Composting_toilet
https://www.sciencedirect.com/topics/engineering/composting-toilet