In the year 2017, brass has been a constant favorite among interior designers when it comes to home fixtures. This includes kitchen and bathroom accessories. Hence, it is not at all surprising why many manufacturers are also quick in releasing their newest and the best copper shower head collection.
What Is Brass?
Brass is a type of metallic alloy made out of zinc and copper. However, people may use the terms brass and copper interchangeably. To make it clear, copper is a single metal while brass is an alloy made from copper and zinc (sometimes with other metal compositions).
Since the amount of copper and zinc in brass varies, this affects the range of colors of brass. It can go from having reddish to a yellowish tinge of color, depending on the amount of zinc added to the composition.
3 Best Characteristics of Brass
You might be wondering what makes interior designers and manufacturers love brass so much to the point of creating a special line of rain shower head and handheld shower head made from this metallic alloy.
Brass actually has a few advantages, such as the following:
1.  Durable
When buying bathroom accessories and other home fixtures, durability is one quality that you should always take into consideration. Fixtures made from brass (or copper for that matter) will last for a long time. This material is known for its hardness and strength that can withstand years of usage.
2.  Versatile
Brass as a durable material can be used in various bathroom accessories and necessities, not just in shower heads. It can be a great choice for tower handle, bathtub handrail, etc. The warm color that brass emits can add to the entire ambiance of the bathroom area— perfect for those who want a luxury shower experience.
3.  Corrosion-Resistant
This characteristic is made possible because of the presence of zinc in brass composition. Zinc coating is a favorite choice when it comes providing corrosion protective barrier to metals. However, although brass has corrosion-resistant property, the zinc content in brass may still break down if the brass is exposed to high levels of chlorine, such as chlorinated pool water.
Top 10 Best Brass Shower Head for Your Luxurious Bathroom
Want to give your bathroom an upgrade? Check out this 10 amazing brass shower heads that can instantly make your bathroom look stunning and expensive.
1.  ShowerMaxx Luxury Polished Brass Handheld Shower Head
Elegant and expensive-looking are two common comments about this polished brass shower head. If you're on the hunt for luxury shower head, then this should be on top of your list. From the shower head to the brass balls and shower hose, this product is entirely brass finished.
Self-cleaning jet nozzles made from silicone
Has six spray setting controller: Rainfall, Power Massage, Circular Massage, Rainfall & Power Massage, Rainfall & Circular & Power Massage, and the Water Saver mode
Comes with Teflon plumber tape for emergency leakage fixing.
2.  Aqua Elegante 6-Function Polished Brass Shower Head
Want to achieve a quality and luxury shower experience? The high-quality shower system of Aqua Elegante Brass shower head will surely suffice your desire. Engineered with the most durable brass material, coupled with impressive features, no doubt why a lot of homeowners love this product.
With 5-year warranty service
Self-cleaning silicone jet nozzles
Durable brass fittings
Safe to use with hard water
Easy to install
100% solid brass connector, thus having no leak and crack issues
Has 6 shower spray settings: Pulsating Massage, Gentle Rain, Saturating Power Blast, Water Saving, and Two mixed modes
3.  Kohler Devonshire (K-10391-AK-PB) Polished Brass Shower Head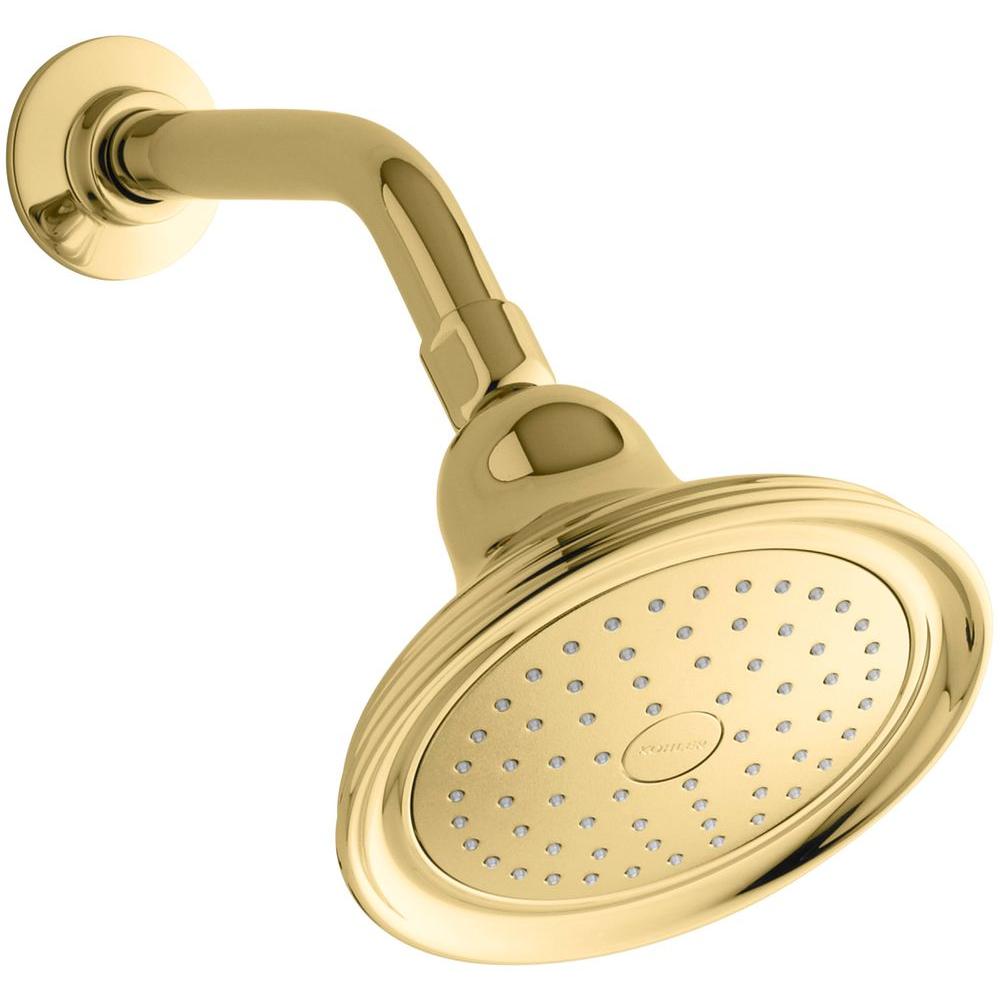 Powered with an air-induction technology, Kohler has once again wowed many homeowners with this Devonshire shower head in vibrant polished brass. If you are after elegance and performance, this shower head surely balances these two qualities. fall in love with this luxurious shower head by checking out its best features below!
5 GPM flow rate for high-pressure, full shower experience
Has a total of 66 nozzles
Produces large water droplets
Air-induction technology helps the air/water mixture for a powerful spray
4.  Speakman Adjustable Brass Shower Head with 360° Anystream Technology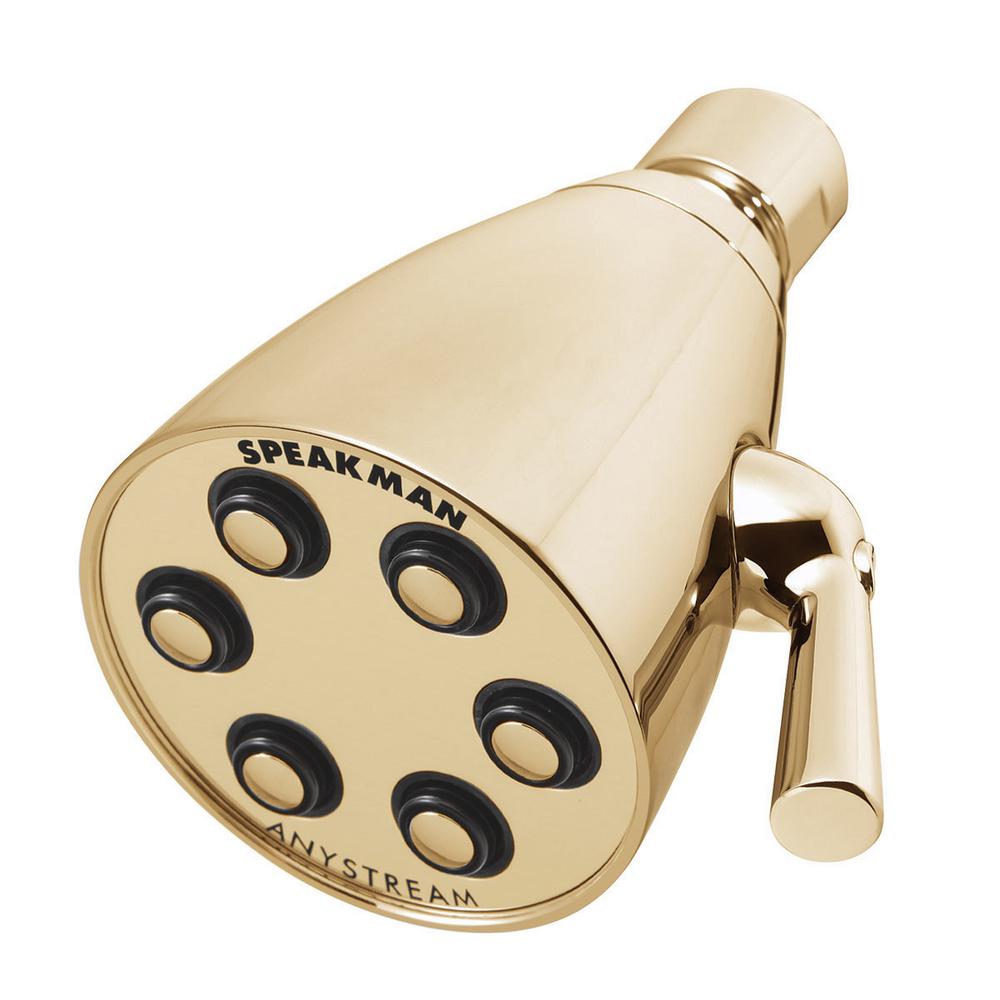 Not all showerheads can transition smoothly from one spray pattern to another. Well, that will not be an issue as Speakman integrated the 360° Anystream technology in this unit. This advanced technology allows you to rinse and shower without delay and spray interruptions.
Anystream technology for a seamless transition from one spray pattern to another
5 GPM flow rate
Fits almost all standard U.S. connectors
Made from solid brass for durability
Has a total of 48 sprays with 6 powerful jets
5.  LightInTheBox Solid Brass Wall Mount Showerhead Set
Some people love the vibrant glow of the polished brass while others prefer the muted version of the material. This solid brass showerhead set features an antique look that goes well with your rustic and vintage bathroom interior.
Has slim design perfect for wall mounting
High-quality and U.S. registered shower head
Anti-Erosion and anti-abrasion
Features Ceramic valve
Boasts high-temperature resistance
Cold and hot switch
6.  Hiendure Antique Brass Shower Head
Antique lovers would surely love the look of this brass shower head from Hiendure. This stunning piece of shower head is a great choice if you want a high-grade look without being too overbearing. The slim wall-mounting design of the shower head makes it easier to install even in a limited space.
Adjustable height; from 70 centimeters to 120 centimeters
Has 3 ways water spout
Has a premium antique look
Durable brass material
Has 8-inches showerhead diameter
7.  Rozin Rainfall Antique Brass Shower Head
Another antique brass shower head on our list is this equally stunning product from Rozin. It's a two function shower and can produce both hot and cold water. If you want a shower head unit with a beautiful antique brass material, then this is the product for you.
Cold and Hot Shower
Easy to install
Functions as Overhead and handheld shower head
Adjustable height; from 70 cm to 120 cm
Includes spray hose (also in antique brass)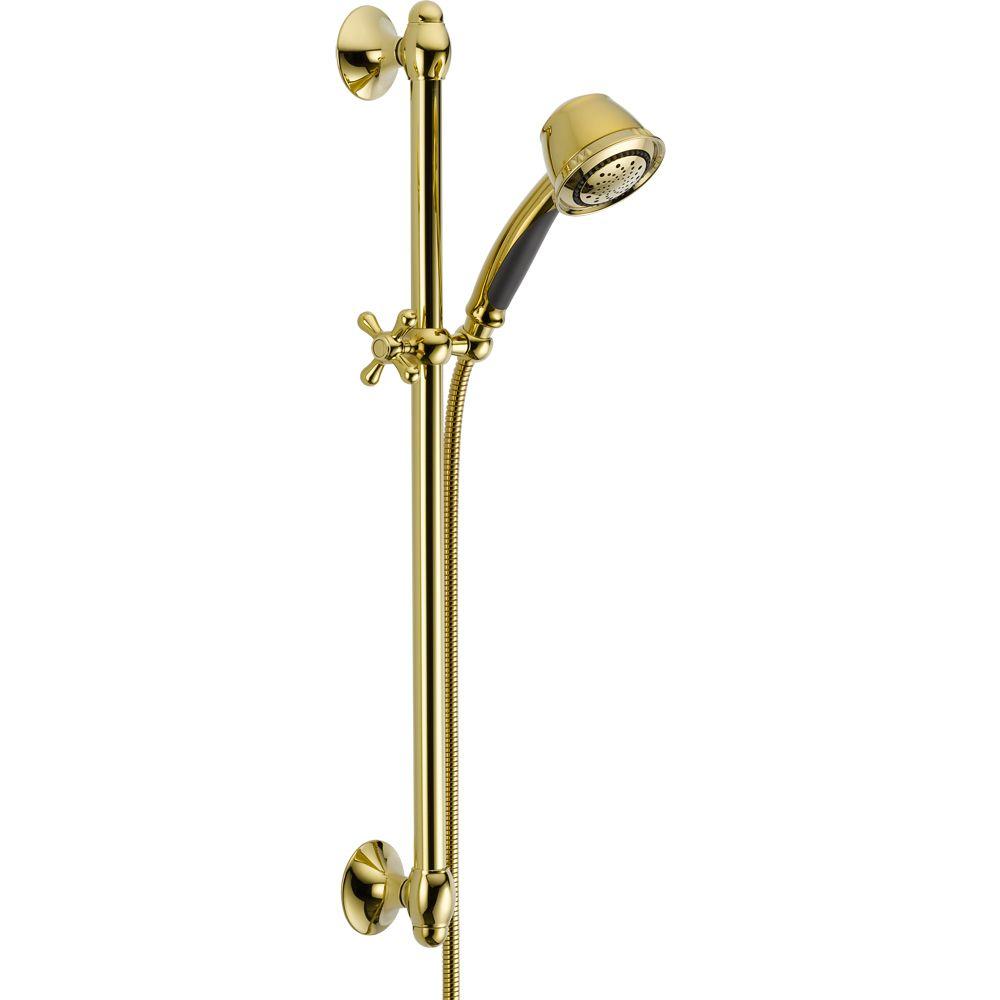 The Delta Faucet Company is a well-known brand that sells kitchen faucets, bathroom faucets, as well as showering products. The company aims to give their customers quality products that fit any style. Hence, for luxury shower head seekers, Delta Faucet offers this classic shower head in brilliant polished brass.
Features full shower spray
5 GPM high-pressure flow rate
Easy and quick to install
This shower head unit features three separate shower head pods. It has a solid brass construction but features a nice tinge of antique copper finish. Reports said that this product is now discontinued by the manufacturer, so if you want to get your hands on this antique copper for a change, then you better get it right now.
Has 6-inches brass shower arm and flange
Robust and durable material
Has 30 Spray jets
Can be cleaned easily
Adjustable shower pods
10.  SJQKA Rose Gold Copper Showerhead Set
Another alloy metal that is a popular choice for the best luxury shower head is rose gold. Thus, it's no wonder why this rose gold shower set from SJQKA has become people's favorite. It has a polished rose gold tone that can complement well with any modern bathroom interior design. Its aesthetics is not the only winning points of this shower head, its amazing features are also praised by its users.
Double shower head features: overhead and handheld
Wall-hanging type, making it a wall bathroom decor as well
Cold and Hot shower
Made from the copper material but has parts made from brass
Has rotatable brass shower lifting holder
Conclusion
Some people are very particular about their home decorations while there are those who put time and effort to beautify their bathroom. If you're the type of person who sees bathroom as your personal relaxation space, then installing luxurious brass and the topcopper shower head is a fulfilling move.
The best copper shower head on the list is the SJQKA Rose Gold Copper Showerhead Set while the best brass shower head is the LightInTheBox Solid Brass Wall Mount Showerhead Set.
If you have a penchant for antique-looking furniture, then you'll surely love the shower head from LightInTheBox. We love its slim wall-mounting design, perfect for both minimalist and highly decorated interior. LightInTheBox being a registered brand in the U.S. guarantees that their shower head products are checked and approved safe by governing bodies. It is also packed with useful features such as anti-erosion, anti-abrasion, plus a hot and cold switch with high-temperature resistance.
Overall, we think this antique brass shower head is a great deal. It is water-saver and has a reasonable price, too!