Digital showers are all the rage as technology is advancing more and more. These days, people love to customize the way they take showers using a digital control board for convenience.
If you don't know which is the best digital shower to buy, take a look at our digital shower reviews and buying guide.
5 Best Digital Shower for Modern Homes 
1.  Moen U Shower Smart Home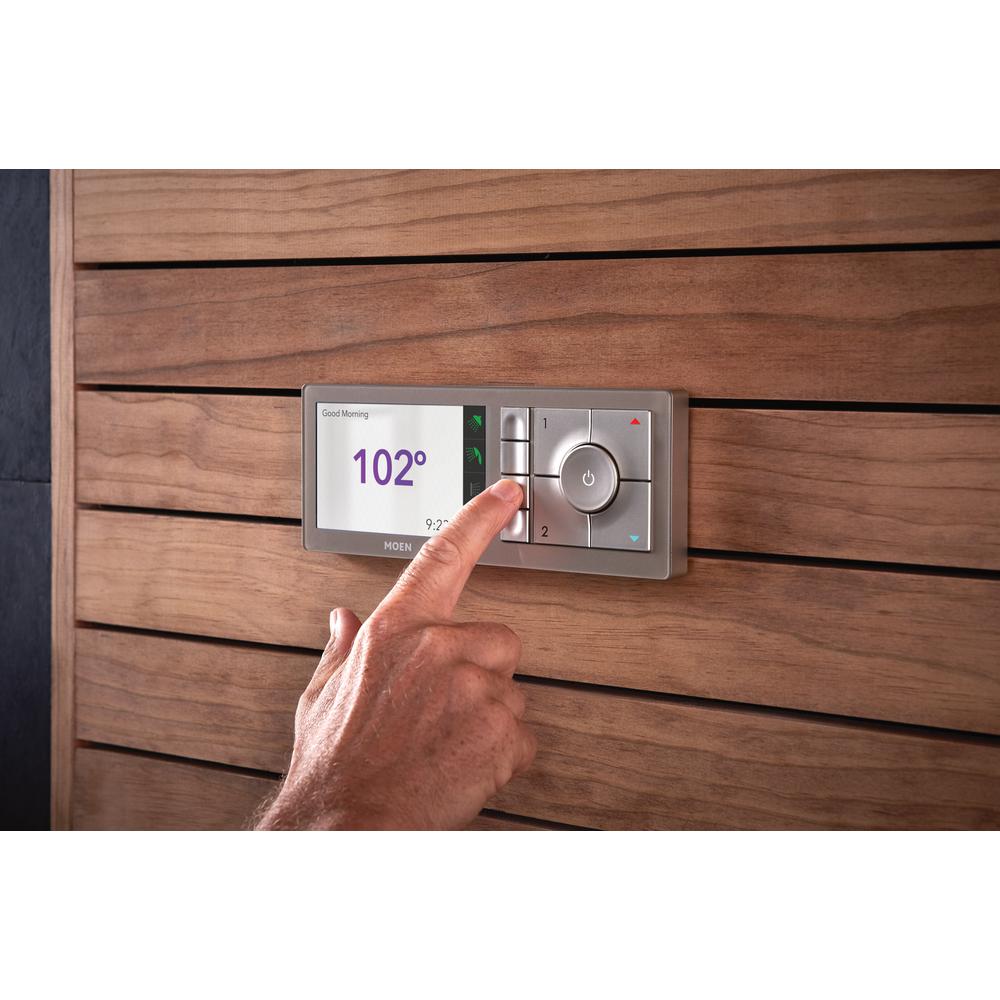 The Moen U Shower Smart Home unit is definitely one of the easiest to control. It can actually be used along with Amazon Alexa or a Moen app. Because of that, you can control your shower via voice. You simply have to tell Alexa how hot or how strong you want your shower to be and you'll get it.
Other than voice control, you can also control your shower via the remote control unit and your app. So, controlling is so easy with this product. Other features include an LCD screen, a pre-program temperature feature, and soft touch buttons for the remote control.
It's probably one of the easiest and most fun digital shower units to use on this list since it's one of the techiest.
Best Features:
Remote control activation
Voice control via Amazon Alexa
App control via Moen Smartphone app for both Android and iOS
WIFI connectivity
2.  Moen IO/Digital Vertical Control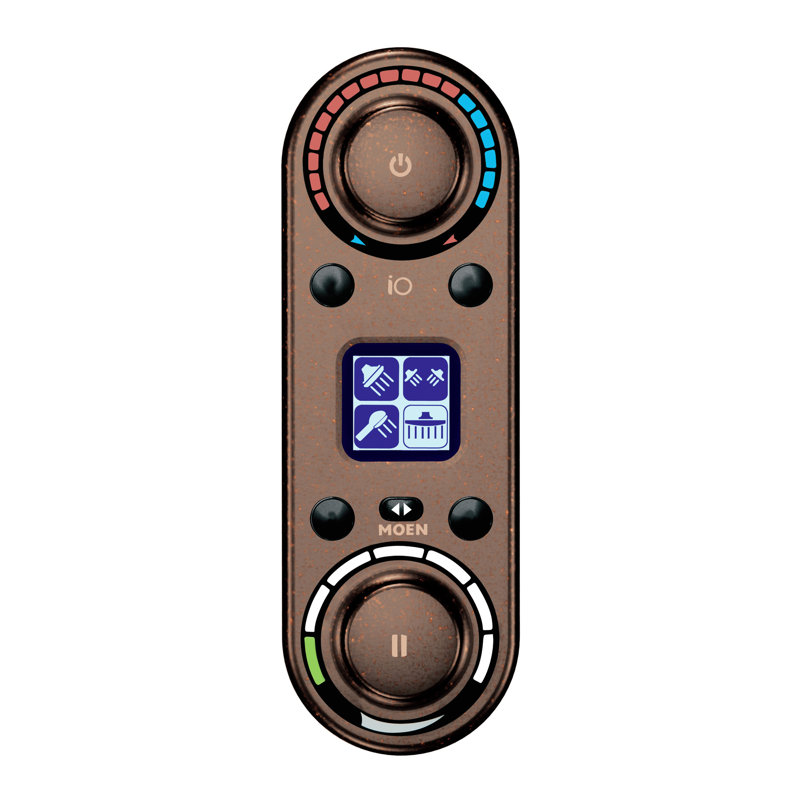 This is another Moen product that made it to our list. What you'll love about this product is its very unique finish. Unlike other digital showers that have metal or chrome polished finishes, this one has an oil-rubbed bronze finish, making it really durable.
Not only does the finish make it longer lasting, it also gives it a nice, dark brown look akin to vintage, Victorian type of accessory. While it is dark in color, it does have a bright display screen that you can easily control. Lastly, it has four shower mode options to choose from. This allows you to be versatile with the way you take a shower.
Best Features:
Unique oil-rubbed bronze look
Comes with an LCD screen
Easy temperature control
Moen ioDIGITAL valve
4 modes of shower control
High durability due to unique finish
3.  KOHLER DTV Prompt Digital Shower Control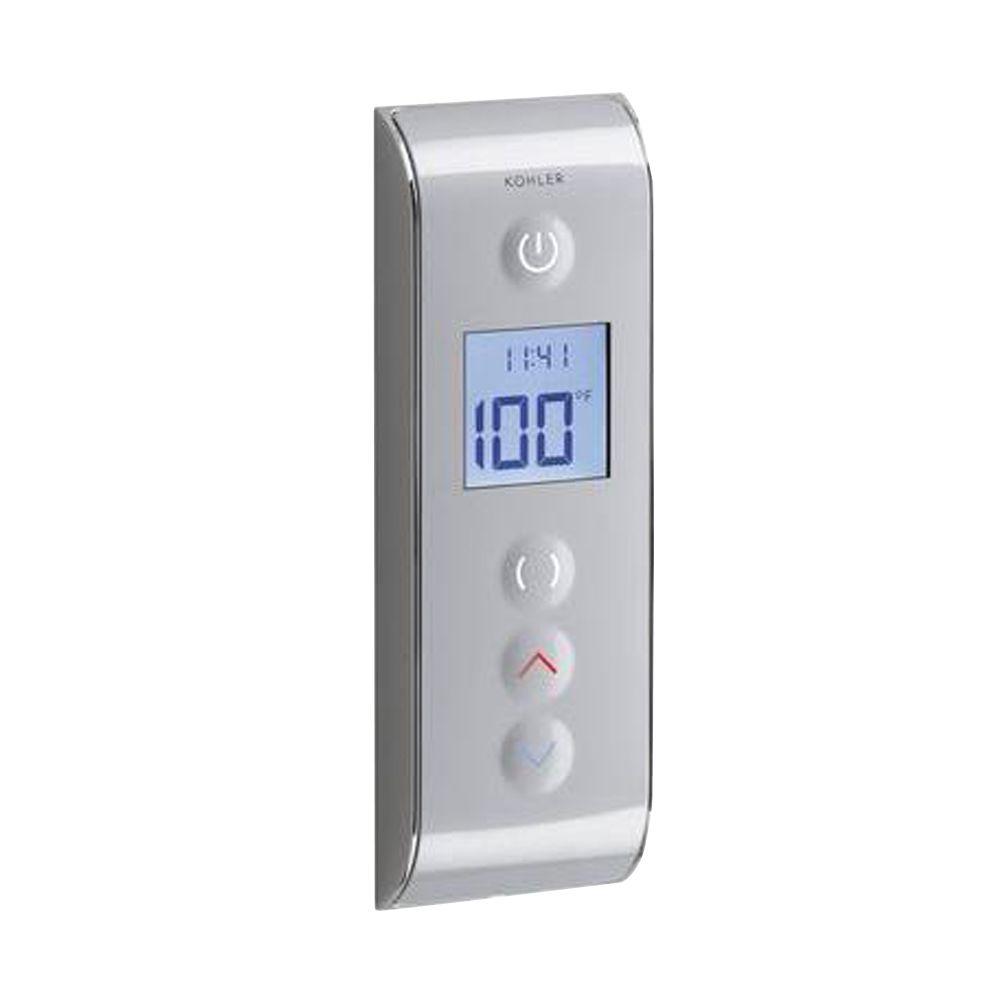 Aside from Moen, Kohler is also a really well-known brand of digital shower to grace the market. That's why the Kohler DTV Prompt made it to the list. First of all, there are three styles for you to choose from. There is the normal white, the satin chrome with polished chrome type, and the satin nickel with polished nickel type. The one you choose depends on what kind of look you're after.
Other than look, you'll also love the easy touch integrated diverter, which allows you to easily use more than one shower heads either together or one at a time. We can say that this is the best digital shower control system to buy if you're using a dual or multiple shower head system.
Best Features:
Multiple outlet application with diverter
13 GPM flow rate
Three different styles to choose from
One touch button function
Bright LCD
4.  KOHLER DTV and Digital Shower Control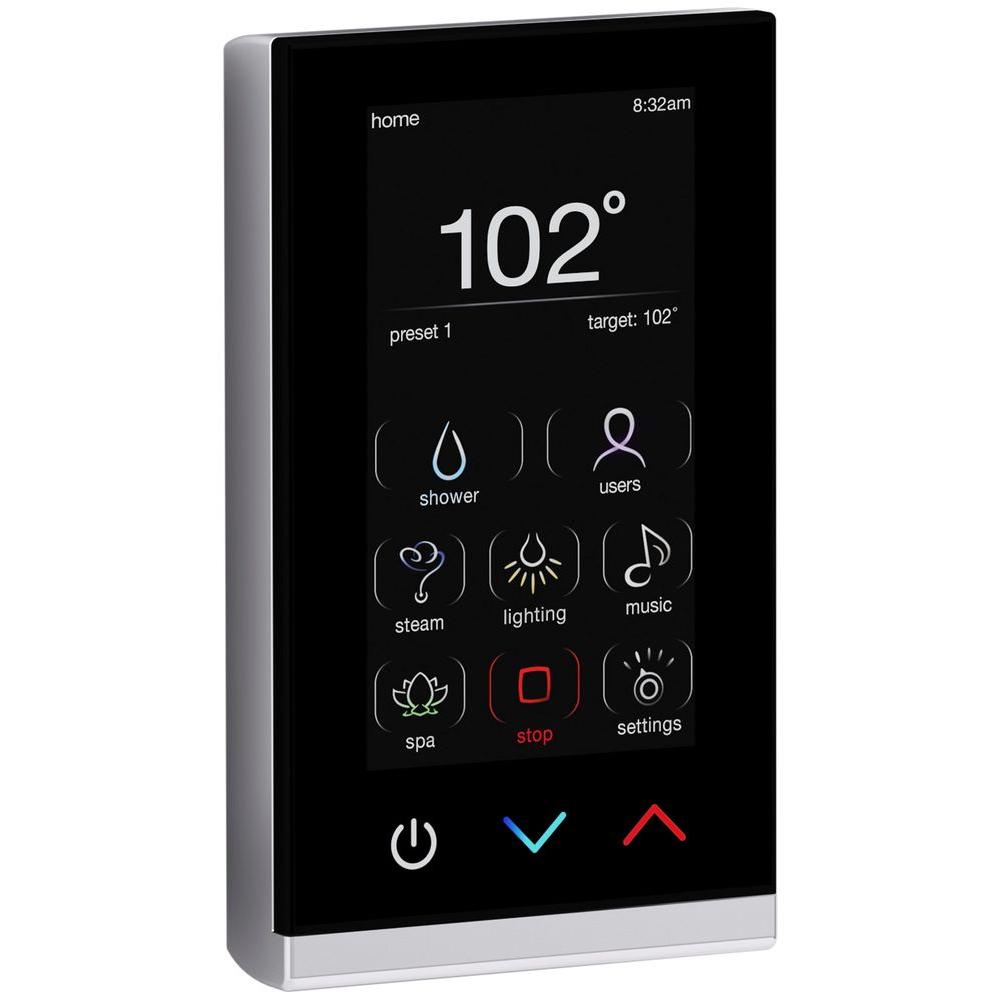 The Kohler DTV + Digital Shower Control is another Kohler brand to make it to the list. Just like the previously mentioned Kohler product, this one also has a valve that can control two shower heads.
However, this one goes a step further and is able to set two separate temperatures for both heads– even if you use them at the same time.
Other than that, it also has settings that you can control for chromatherapy, hydrotherapy and steam. If you're into steam therapy, then you'd love this product. It's the digital shower you'd pick if you want a shower experience like what the spa resorts give.
Best Features:
Six pre-programmed settings
Hydrotherapy and chromatherapy feature
Two digital control valves
Audio output feature
Steam and lighting control function
5.  GOWE Digital Shower Control System
The last on the list is the Gowe digital shower control system. This is a rather complete shower control system that comes with a head shower and a handheld shower at the same time. It's great for those who want a hotel experience since hotels have dual showers like these.
It also has a few safety features such as an auto safety shutdown, a max temperature feature, and a temperature accuracy function. In fact, the temperature limit comes with an alarm to warn you if the water is going overboard. It also comes with a patented thermostatic valve that can help save water and create a very efficient water flow.
Best Features:
Dual shower feature
Water flow and temperature adjuster
Patented intelligent thermostatic valve
Auto shutdown system
Precise temperature function
Hot and cold water inlet
Digital Shower Buying Guide 
While you may have narrowed your choices to just 5 of the best smart shower products, you only need one of these. When you choose the best digital shower system, you need to choose the one that suits your needs the most.
In order to do that, you need to choose intelligently by having a list of criteria. If you have a set of criteria, you can pick one that you can consider the best digital shower control.
You can use these criteria:
Spray Options
The first thing that you need to take into consideration is the number of spray options. This is something that you should consider no matter what kind of shower you choose.
The Grohe digital shower, for instance, has around 4. Of course, the more spray options the better but it really depends on your preference. 4 is actually good enough but anything less is not that advisable.
Max Temperature
Since digital showers can control temperature, you need to see how hot your digital shower head can reach. This is a good feature if you have children because it sets a ceiling as to which the temperature can't go any further.
With this feature, you won't have to worry about your children turning up the water to a temperature that may burn them.
Safety Features
Aside from this, you may also want to look into other safety features. One includes a thermostatic protection wherein the digital shower can control the transition of temperature from lower to higher or lower to higher. This allows the temperature to steadily move from one extreme to another so that you won't be caught off guard.
Another safety feature is an auto shutdown feature. This feature will completely shut down the digital shower should the hot water or cold water feature doesn't work anymore.
Number of Heads
Some showers actually have more than one heads that you can switch to and from. You can also use them at the same time. The water moves between two shower heads via digital shower valves.
The digital thermostatic shower valve separates the flow of water so that one can go out from one head or change to the other. This factor solely depends on your own preference. Some people like having one head that can be detached and the other on the ceiling. Again, the choice is up to you.
Limescale Cleaning
You need to take into consideration the limescale cleaning feature. You need to make sure that you have a very efficient limescale cleaning system for your digital shower since most electric showers have heating elements that can lead to quick limescale build-up.
Durability
Durability is something you want to highly consider because you'd want your digital shower to last. In order to determine the durability of your unit, you just need to find out its finish. Oil rubbed bronze finish gives high durability. Chrome polish or other types of finishes are also pretty good to choose.
Design
While design isn't such a crucial factor to think about, it helps if have a cool looking digital shower. Since most units are futuristic and modern looks, they go really well with toilets that have a contemporary interior design.
Other Cool Features
One of the main reasons why you'll choose a digital shower over a traditional shower is because of the cool features it offers. For instance, there are some showers that can be controlled by Amazon Alexa or by an app. Others have audio units for playing music and chromatherapy options.
The cool features that you'll want really depends on your preference. Choose the one that suits you the best.
How Does Digital Shower Work? 
These digital showers look flashy and cool yet so simple at the same time. With that in mind, you may wonder how they actually work.
Well, the mechanism of a digital temperature-controlled shower is pretty easy to understand. Basically, everything revolves around the digital thermostat. Traditional showers are controlled directly by a bulky heater.
Smart showers, on the other hand, have a heating element that can be controlled remotely. Digital control units can usually tell the shower heater to change thermostatic settings via wireless technology.
5 Frequently Asked Questions
While we've already explained some of the important things to know about digital showers, you may still have a few things that you don't understand. To cater to those lingering questions, we came up with a FAQs section that answers five of the most common questions any digital shower owner may have.
Q: Are digital showers compatible with any heating system?
A: Yes, it is, as long as you have a boiler somewhere located in your house.
Q: Can you pre-program the temperature on to your digital control unit so that you can have the perfect temperature every time?
A: Most of the digital showers that you can find in the market offers this feature. The ones we've mentioned also have this function.
Q: Can I control the water strength with the digital control unit?
A: Yes, you can along with the temperature. 
Q: How far should I install the control unit to my shower?
A: You can install it right outside your shower door so it won't get wet.
Q: Can I connect my control unit to my smartphone?
A: There are some digital showers that allow this function. An example is the Moen U Shower Smart Home, which is included on our list.
Conclusion
Now that we've gone through the digital shower control reviews and buying guide, you now have the capacity to decide which one is the best digital shower for your home. If you were to ask us which one of the 5 choices we pick for a winner, then we'd probably tell you that it's the GOWE Digital Shower Control System.
We picked this product because it's the most complete. It's a dual shower that has a lot of safety features and a plethora of cool control functions. These allow you to have a really good shower experience with all the convenience that you can get.