We know the problems a single shower head can cause. It is either too high or too low, while the children have problems taking a quick shower, and watching the family pooch is a nightmare. We also know the difficult task of trying to find that best dual shower head that simply fits. The one that checks all the boxes.That one that makes taking a shower not just another chore at the beginning or end of the day, but one that makes it a great experience.
We have gone through that whole process and done it for you. Take a look at what the team has put together – it is our take on the best dual shower heads around, with a review on each.
Best Dual Pressure Shower Head Reviews for Your Convenience
1. DreamSpa Ultra-Luxury Rainfall Shower Head / Handheld Combo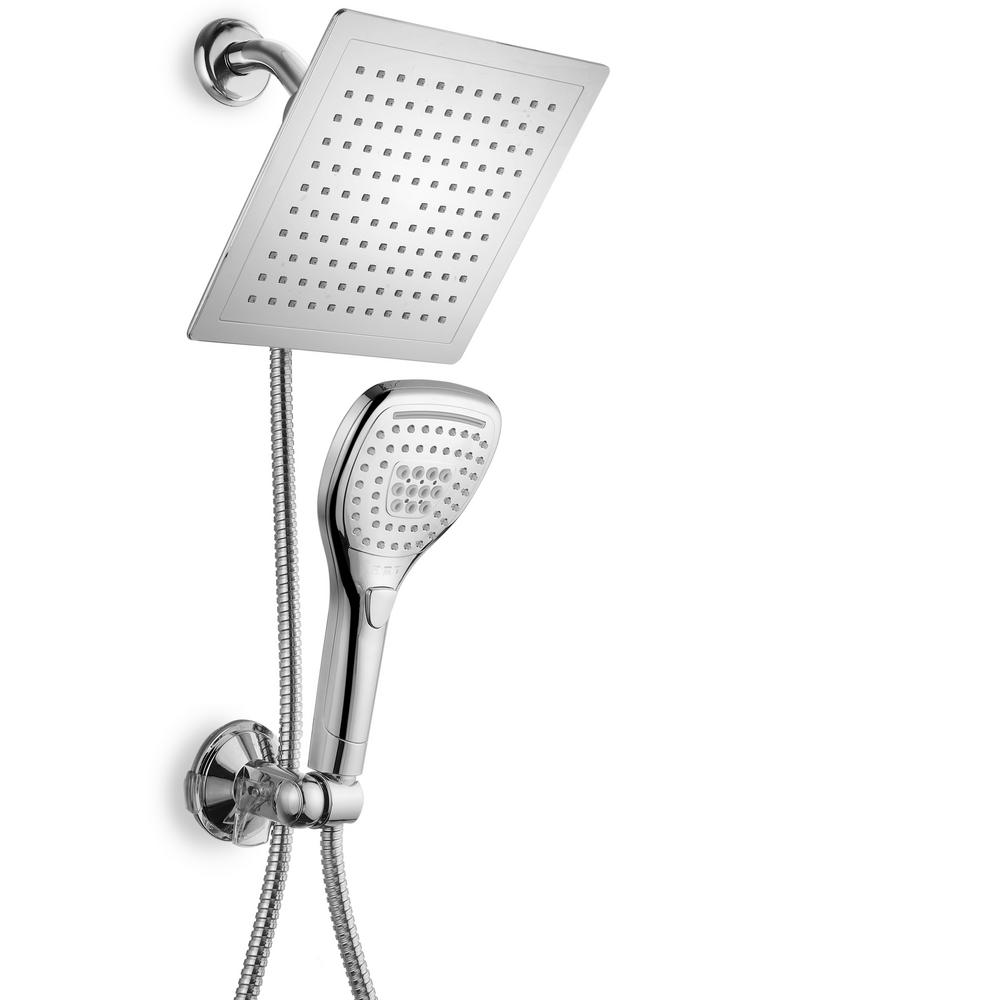 A tools-free, quick and easy installation makes this dual shower head a great option. The rainfall shower head spells luxury, with the added benefit of a convenient push-button flow control feature.
Why this one tickles our fancy:
You can change the hand shower setting with one hand – there is no dial that needs turning – just a thumb push does the job
The rain shower head is extra large, sporting a nine-inch face that ensures a great flow of water all over your body
The jets are easy to clean – just give them a rub
The main shower head is angle adjustable due to the solid brass ball joint nut
The handheld shower head also has a large fact – 4.75 inches, in fact – that gives a much wider water flow coverage
You can change the different setting on the handheld shower with the push of a button – choose from aeration massage, high-power rain, or luxurious waterfall – and enjoy the experience
The product has a quality chrome finish
2. AKDY Quad Function Rainfall Jet Shower Head & Wand Combo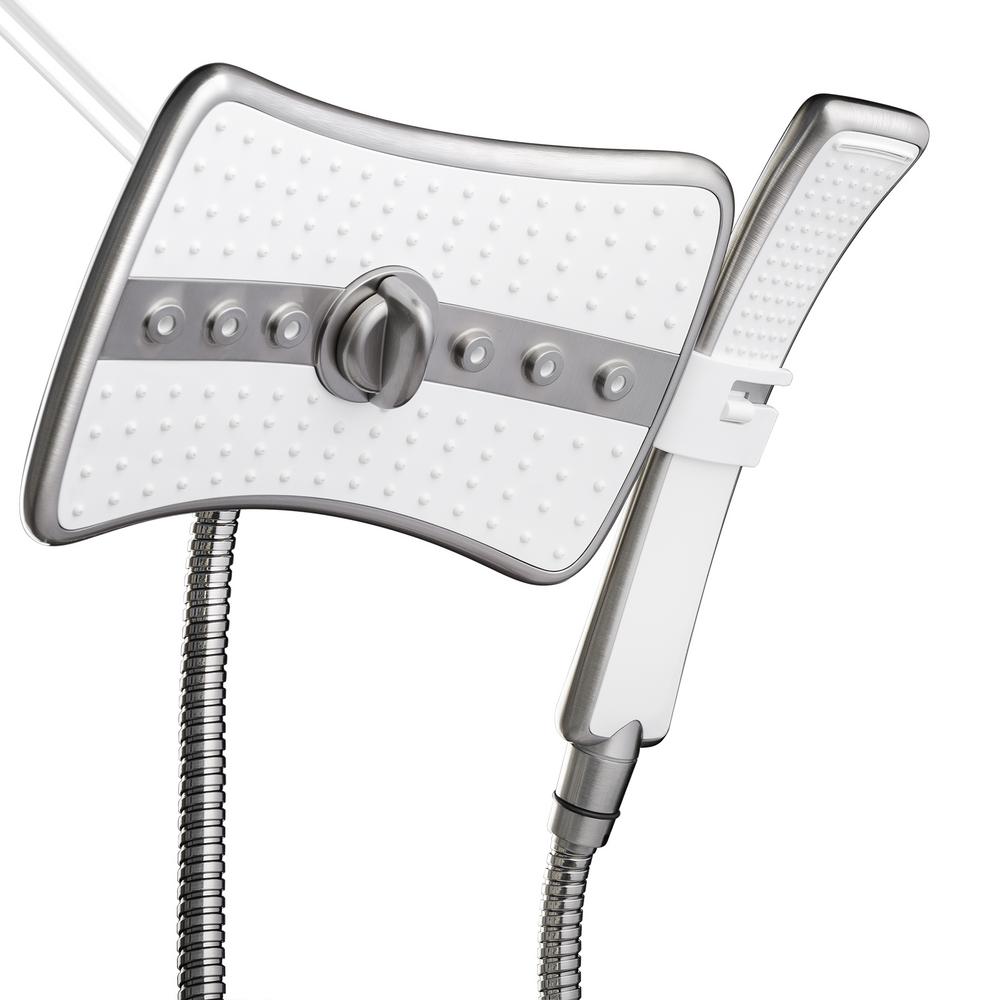 The AKDY 9"show head and wand duo make the grade because of the 2-way diverter and four different adjustable water modes. Multifunctional with high-efficiency nozzles and high-powered water jets makes this easy to install product suitable for a bathtub or shower enclosure installation.
This product made the grade to be on the list because:
Sports a 2-way diverter with four different adjustable water modes
Both the overhead and hand wand have a rain shower head
118 high-efficiency nozzles and six high-powered jets are incorporated into the overhead shower head
The hand wand sports sixty nozzles and a waterfall outlet
The overhead fixture is easily adjustable
The hand wand is connected via a generous five-inch flexible stainless steel hose
3. Ana Bath Anti-Clog Spray 5 Function Handheld Shower & Shower System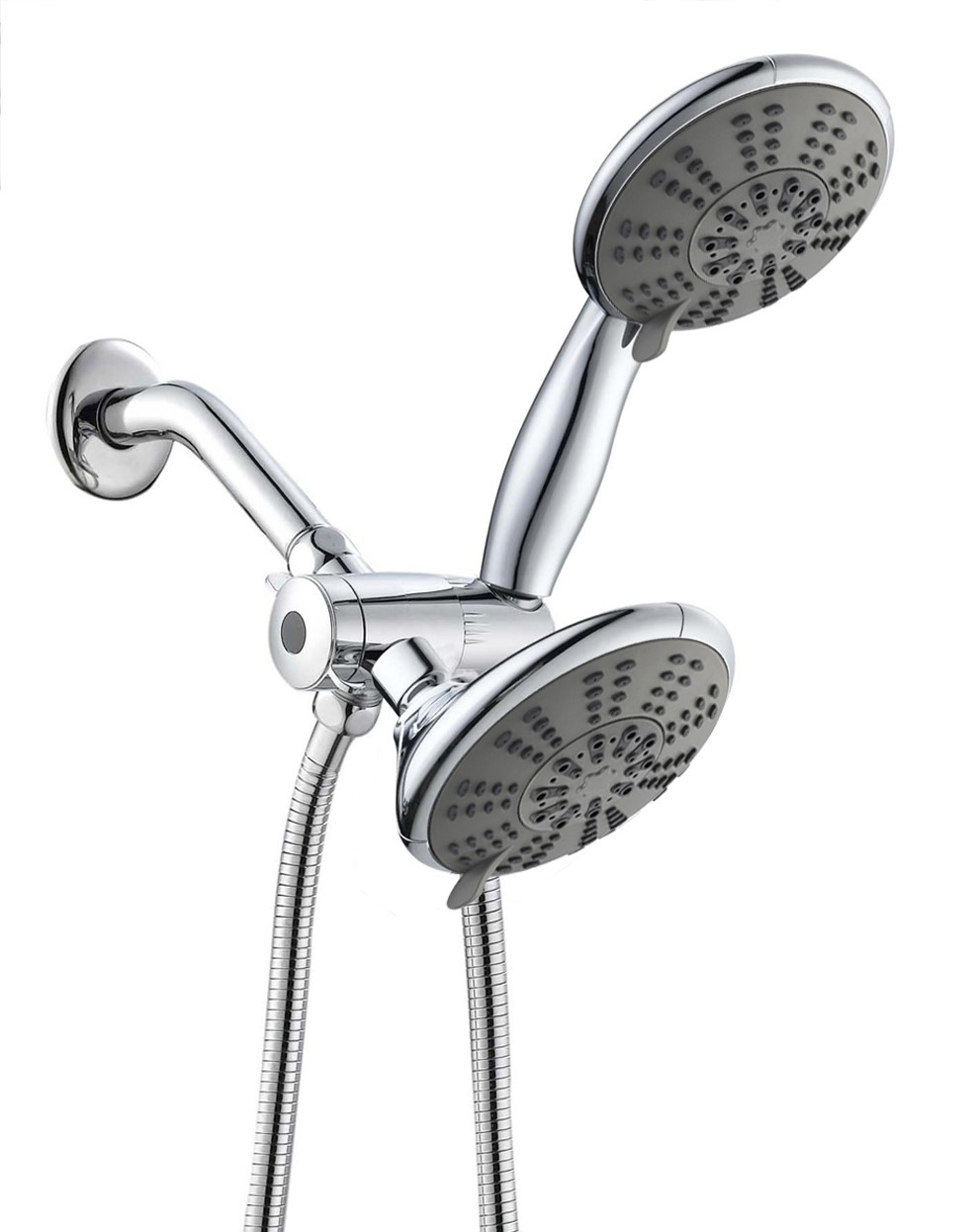 We loved this system because calcium and mineral deposits are so easy to remove, while the shower spray, which is five inches wide, covers a more extensive area than most shower heads. This luxury shower head gives a great spa-like experience.
This one fell into favor because:
Sports an easy to clean, anti-clog, five inches wide overhead shower head
The shower head has five different function – saturating, bubbling, massage spray, massage saturating mix, and bubbling saturating mix
The three-way diverter allows you to use either the handheld shower, overhead shower, or both at the same time
The stainless steel shower hose is a full five foot
Comes with a beautiful brush nickel finish
4. Moen Magnetix Handheld/Rain Shower Head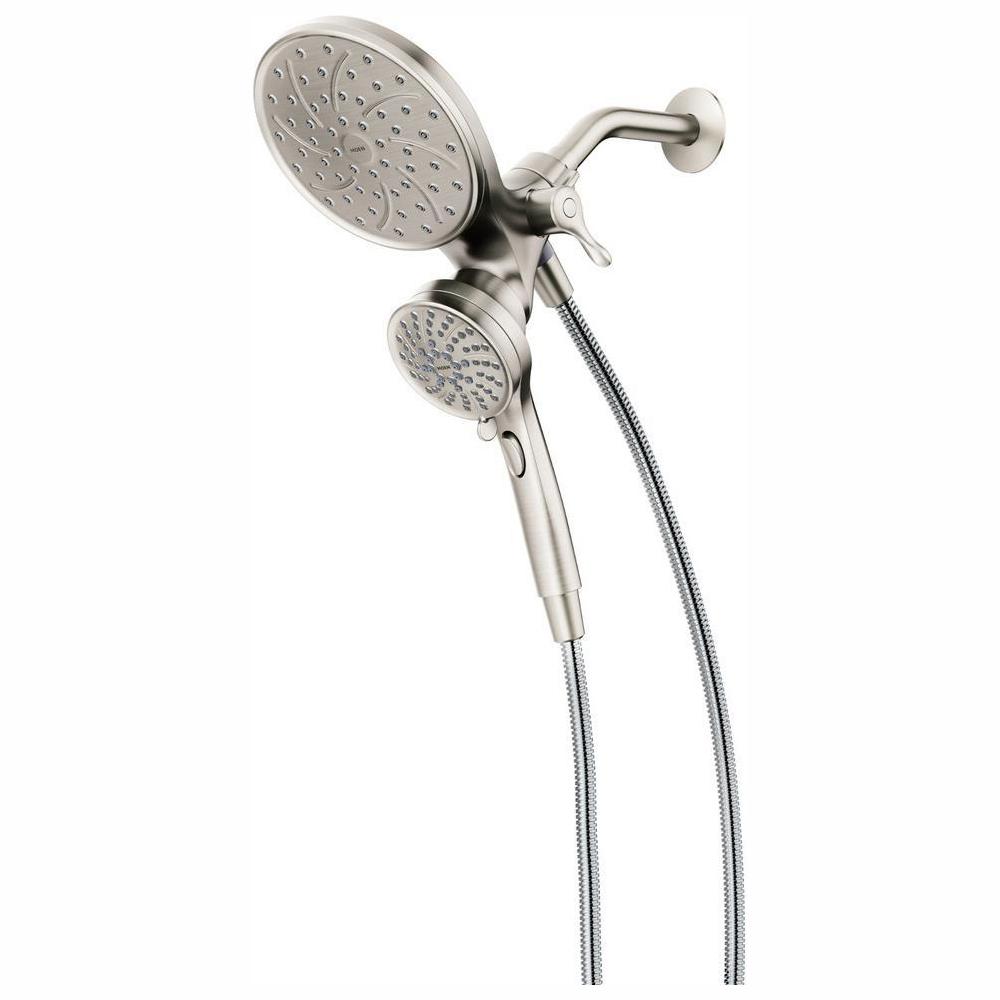 The Moen Magnetix Combo is a surefire contender as the best shower head and best handheld shower head. The reason is simple – it is taken apart and reassembled with a snap – the power of magnetism offers an easy release and return of the hand shower, even when your eyes are closed.
We feel the following makes this a great option:
The three-way diverter allows you to use both features individually, or at the same time
The longlasting chrome finish gives the stylish ensemble a classy feel
The magnetic docking system sees to the easy release and docking of the handheld shower head
Both the spray face and hand shower docks face forwards, thereby avoiding exterior splashing
Attached to the handheld shower is a kink-free metal hose that allows you to increase your area of reach
The handheld shower head also has a pause button for when you need it
5. LORDEAR Flexible Double Rain Hotel Spa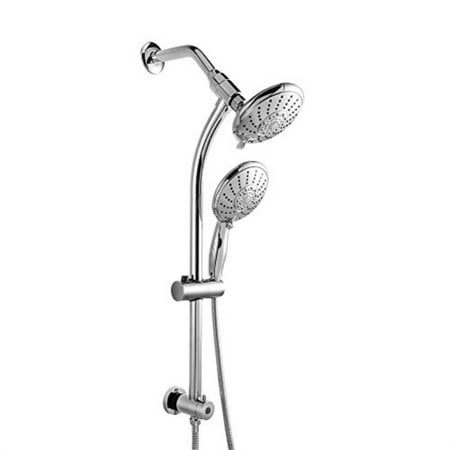 Perfect for either shorter or taller people, the sliding bar feature on the LORDEAR combination overhead and handheld shower makes this a great option for the entire family. Adults get the perfect shower experience, while by adjusting the height, children are also catered to.
This one came to our attention due to:
The slidebar feature allows for different heights
A suction cup anchors the bottom of the rod which holds the handheld shower attachment
Both the shower head and hand held shower height positions are adjustable
Shower heads have five functions, including spray, bubbles, massage, massage and bubbles, and spray and massage
The beautiful chrome finish makes this product a great addition to any bathroom
6. Delta In2ition 4-Spray 2 in 1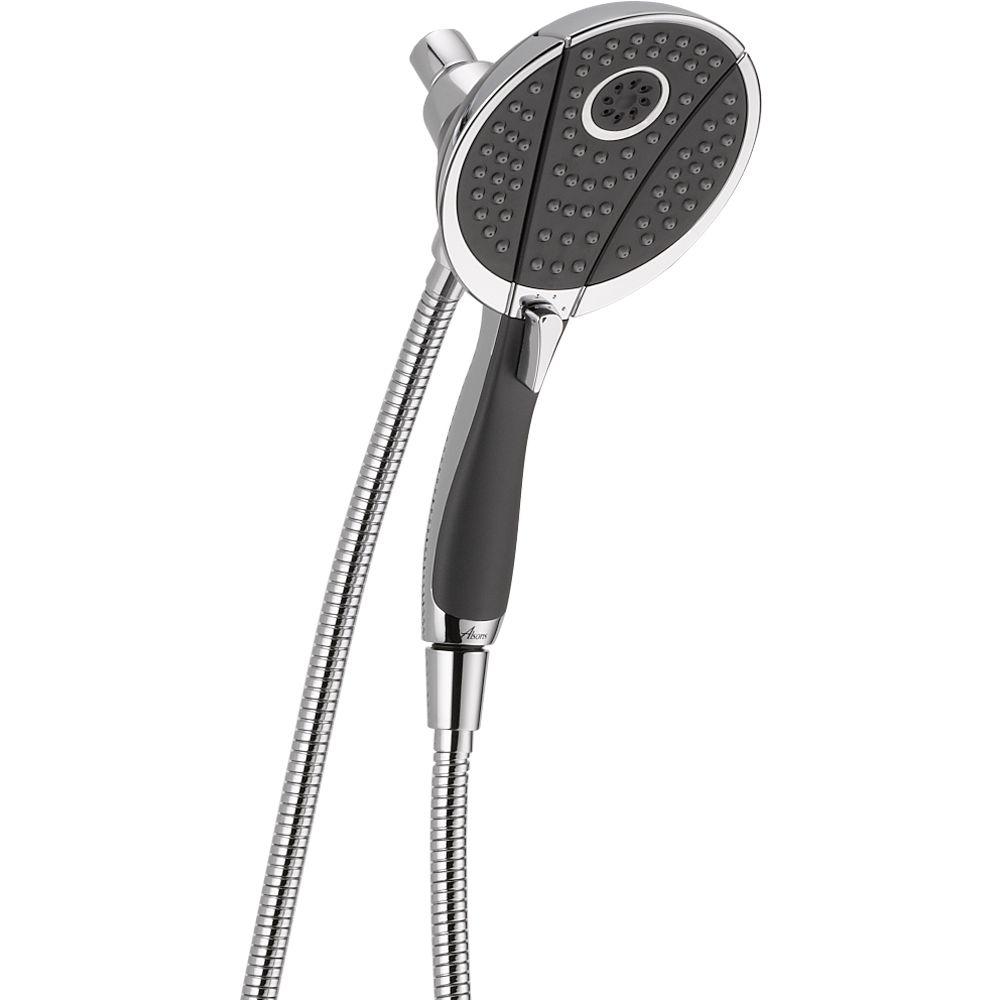 The DELTA 2 in 1 gives your bathroom a stylish look in beautiful chrome with a black finish. An added bonus? It is so easy to install!
This one made our list because:
We love the black on chrome finish
The two shower heads can be used together or separately, depending on your personal preference
It has three settings: full body spray, fast massage spray, and full spray with massage
The pause feature results in a trickle of water, giving you just enough water to lather and shave, all the while maintaining that perfect shower temperature
Installation is in minutes
7. Massager Dual Shower Head by Sunbeam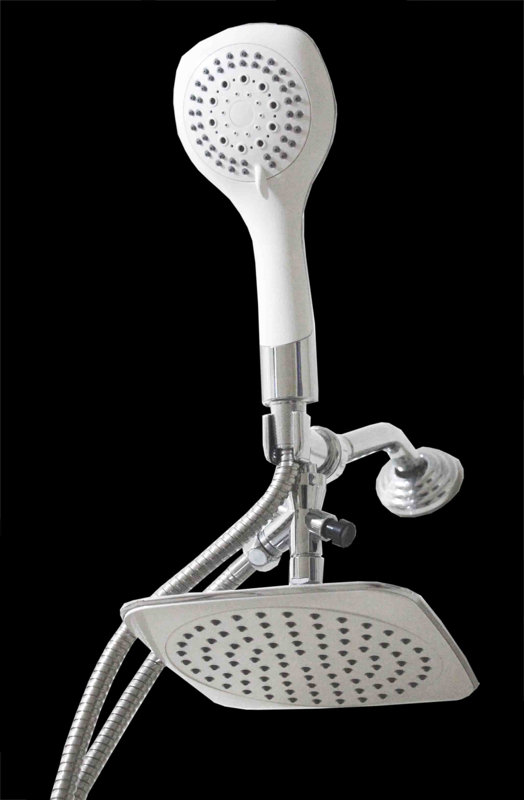 Sunbeam's contribution to our best dual shower head reviews is a study in simplicity in amazing, little-seen white!
Why we liked this simple combo:
It is classy, simple, and functional
We liked the all-white finish
The 48-inch hose length allows for versatility
8. Universal Showering Components 2 GMP Shower Head by Delta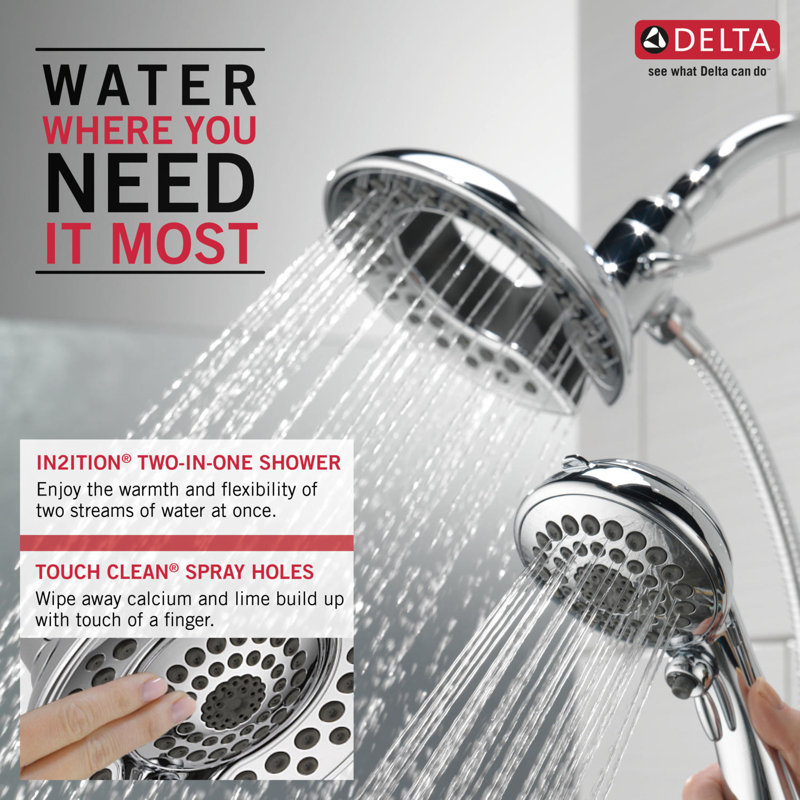 If you want a dual shower head that is something different, please take a look at the neat feature of this product – a hand shower that fits snuggly into the shower head. This is great for those who want the added feature of a hand shower without the extra hand shower attached to the feature.
This one blew us away because:
It has the look of a regular shower head with the advantage of having a hand held shower
Hand shower fits into the overhead shower head quite snugly
Both shower heads can be used simultaneously (giving you a double-dose of showering pleasure) or individually
The pause function allows water to run at a trickle, conserving water on the one hand while giving you the time to shower or take care of other necessities without losing water temperature
The different spray settings include a full body, a fast massage, a full spray with massage, and a slow massage
9. Freehander Shower Head by Grohe (Geneva)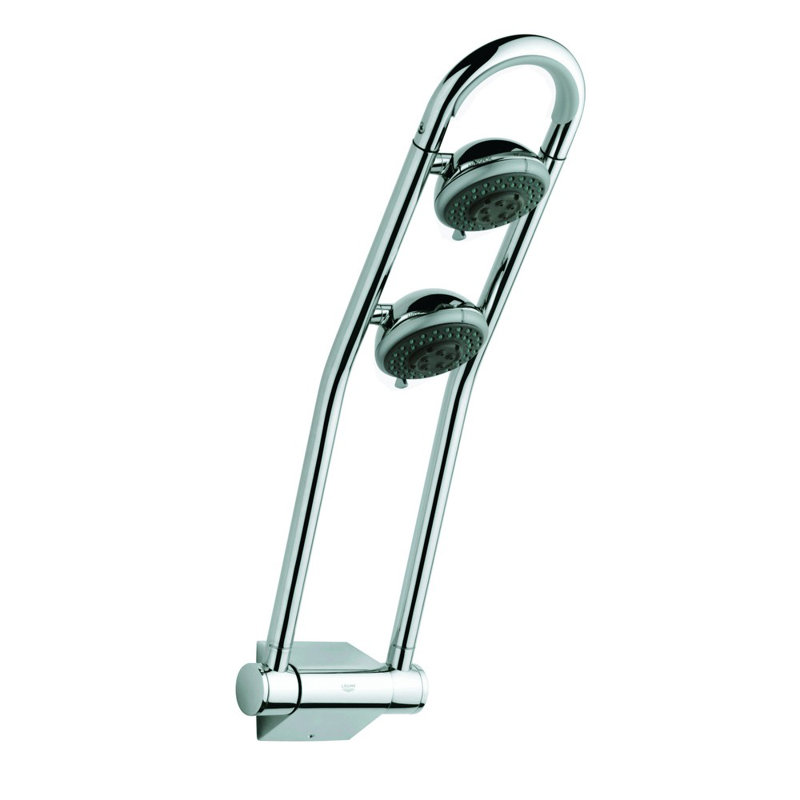 Attention to detail and style assures the Geneva being a great asset to any unpretentious traditional bathroom style.
The Geneva made our list because we liked:
The arched spouts design
The attention to detail
The understated elegance
Both shower heads have a speed clean anti-lime system
Two shower heads are situated on one pivot arm, with both being able to rotate a full 360 degrees
The tubular arm pivots 180 degrees
Sports self-locking joints and adjustable arm tension
The outer shower head includes a normal spray, pulsator, and eco water conserving spray function
A total of 18 shower spray combinations: 9 in the upward shower spray position, and 9 in the down body spray position
10. Professional Dual Shower Head by Elements of Design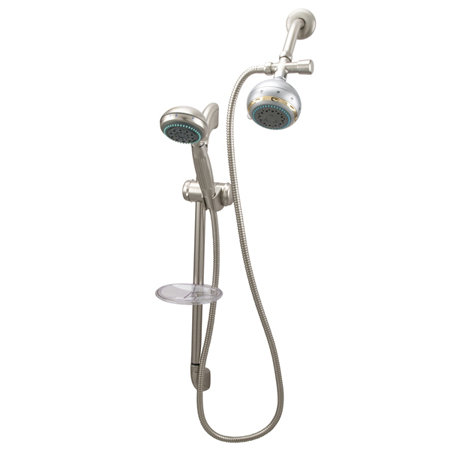 Contemporary, stylish, and functional, a product that does the job for which it is intended, the dual shower head from Elements of Design has a lovely chrome finish.
We liked this one because:
There are no frills attached
The dual shower heads are separate
The hand shower is attached to the separate slide bar
Faucet control is by means of a diverter
Conclusion
From the given list, you should have no problem getting a good idea about some of the best dual shower heads around. Picking the best dual shower head for your personal use, however, may take a little time. But take that time and think about it. It is not every day you go shopping for a new bathroom statement accessory.
After much head scratching, we decided our personal favorite is the 27007000Freehander Shower Head by Grohe (Geneva). Not only did we adore the stylish look of this dual shower head, but the understated elegance, detail to style, and different functions as well. Let us know whether you agree with our choice.