If you haven't got an electric fireplace insert in your home, then now is the best time to buy one. Electric fireplace is one of the most efficient and the safest way to generate heat when the winter comes.
Unlike the traditional fireplace in which you need to keep cutting wood to sustain the heat, the best electric fireplace insert lets you enjoy a comfortable warmth minus the wood chopping and constant fireplace cleaning.
12 Best Electric Fireplace Insert for a Cozy Room During Winter
 1.  AKDY 5200 BTU Electric Fireplace Insert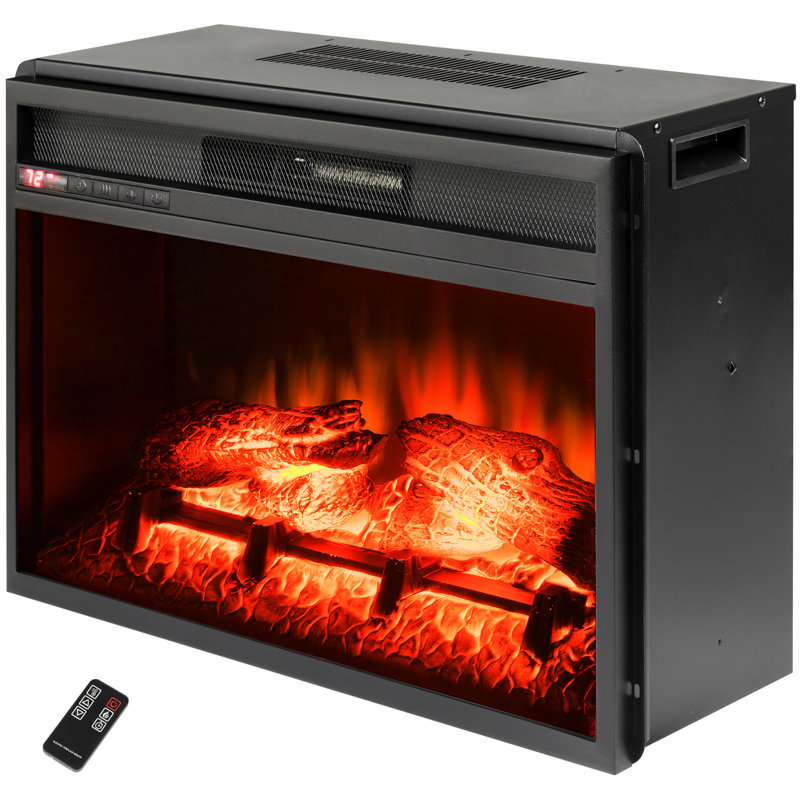 This is a free-standing plug-in type fireplace insert, which uses metal as its primary material. If you want an affordable firebox for your small room, then AKDY 5200 BTU electric fireplace insert is a great buy.
Best Features:
Takes 9 hours of burn time
Great for 400 square feet area
Features a flame flickering effect
With thermal overload protection
No assembly required
2.  Orren Ellis Iserman Recessed Electric Fireplace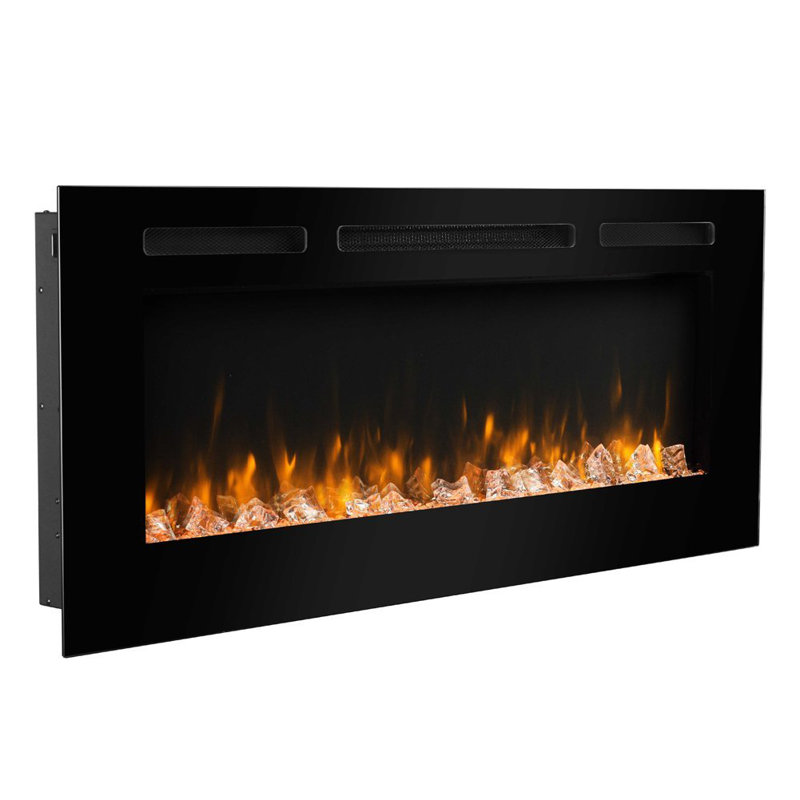 Perhaps you're looking for a wall-mounted option? Then don't miss out on Orren Ellis' offering, the Iserman Recessed electric fireplace insert. This insert mixes metal and glass for materials, making it a great option for modern homes.
Best Features:
3.  Real Flame 4780 BTU Electric Fireplace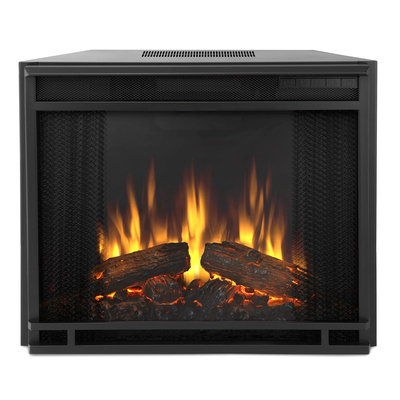 Sometimes, we just want to spice up the interior décor of our home as much as we want to warm it up. In that case, this solid pine wood electric fireplace insert by Real Flame is the one for you!
Best Features:
Aesthetically appealing, thanks to its solid pine wood construction
Ideal for both residential and commercial use
Flame effect is great with LED bulb
Adjustable thermostat and flame; flame is operational even without heat
Has safety stop feature
Certified safe
Requires no assembly
4.  Dynasty Fireplaces 5000 BTU Electric Fireplace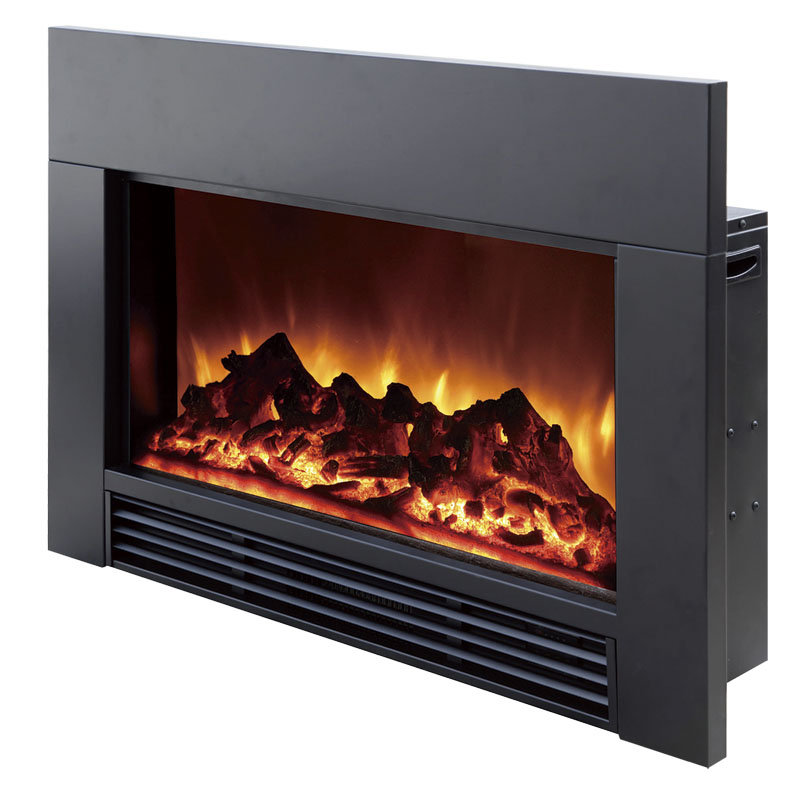 If a well-crafted fireplace insert is what you are after, then you need to buy one from a family-owned business. Introducing Dynasty Fireplaces' 5000 BTU plug-in unit! This is a wall-mounted insert that is made from metal, glass, and iron for the detailing.
Best Features:
With LED bulb
400 square feet heating coverage
Adjustable flame
Flame is functional without heat
Amazing flame flickering effect
Has safety stop and screen included
5.  Zipcode Design 4500 BTU Jenifer Electric Fireplace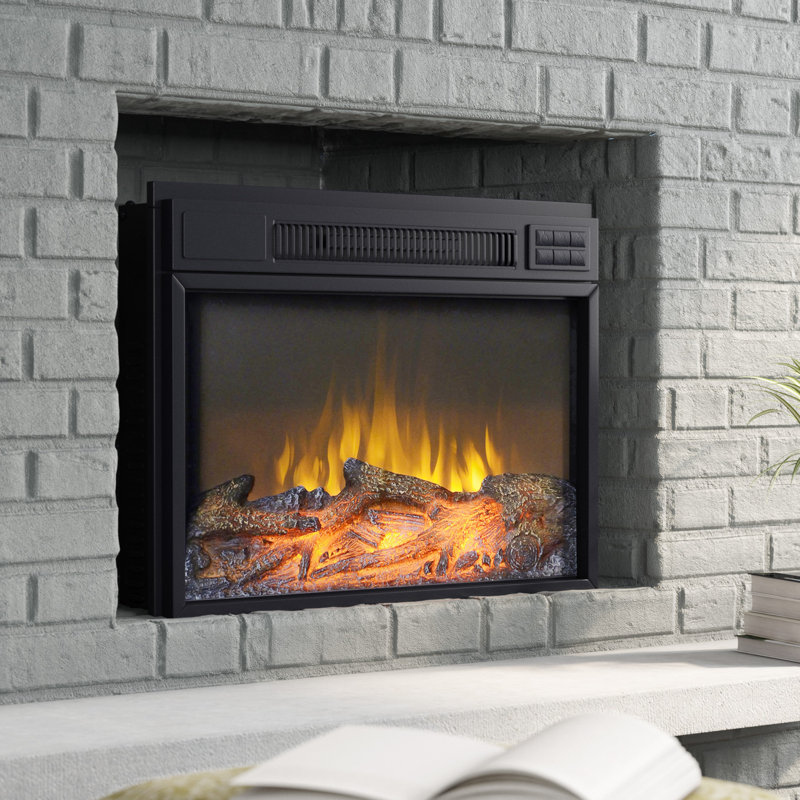 Zipcode Design has one of the best flame effect choices among the fireplace insert brands in the market. This 4500 BTU unit offers not just one but five flame effect options!
This unit requires assembly though.
Best Features:
LED technology
With automatic shut-off function
Great for indoor decoration
Flame effect is functional even without heat
Energy-efficient
6.  Ebern Designs 5200 BTU Gibbs Electric Fireplace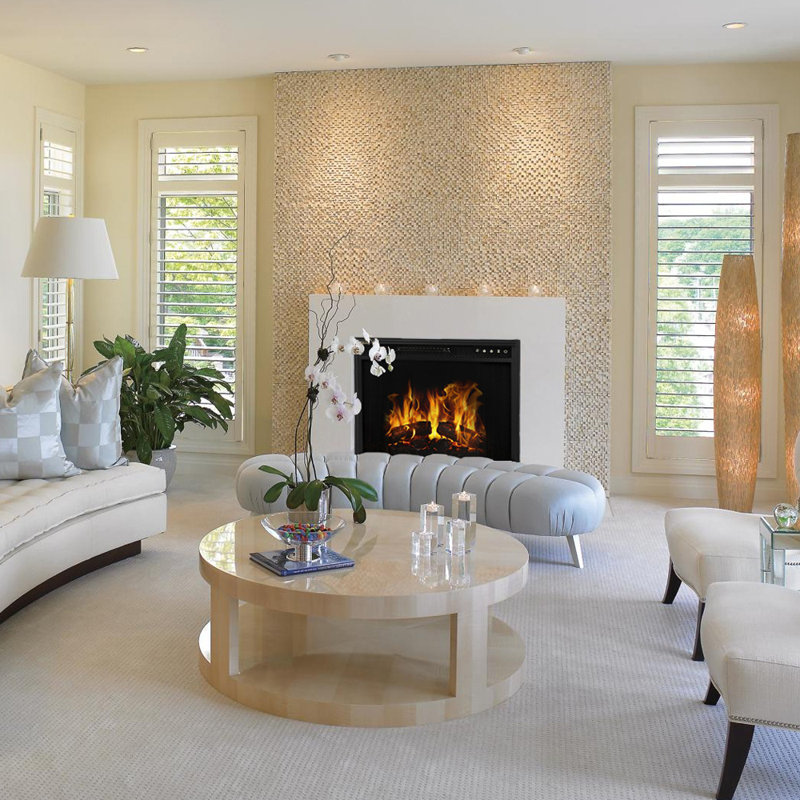 I love a fireplace insert that can easily complement and blend with my existing setting. This is why Ebern Designs is included on my go-to brand for the most versatile fireplace inserts.
Ebern Designs' 5200 BTU unit is a great product to provide beauty and warmth to your home.
Best Features:
Perfect for any mood setting you have in mind
Features Flickering flame with three flame speed options
With brightness and heat setting
Covers 400 square feet area
No assembly is needed
Makes use of LED bulb
7.  E-Flame USA Wall-mounted Electric Fireplace Insert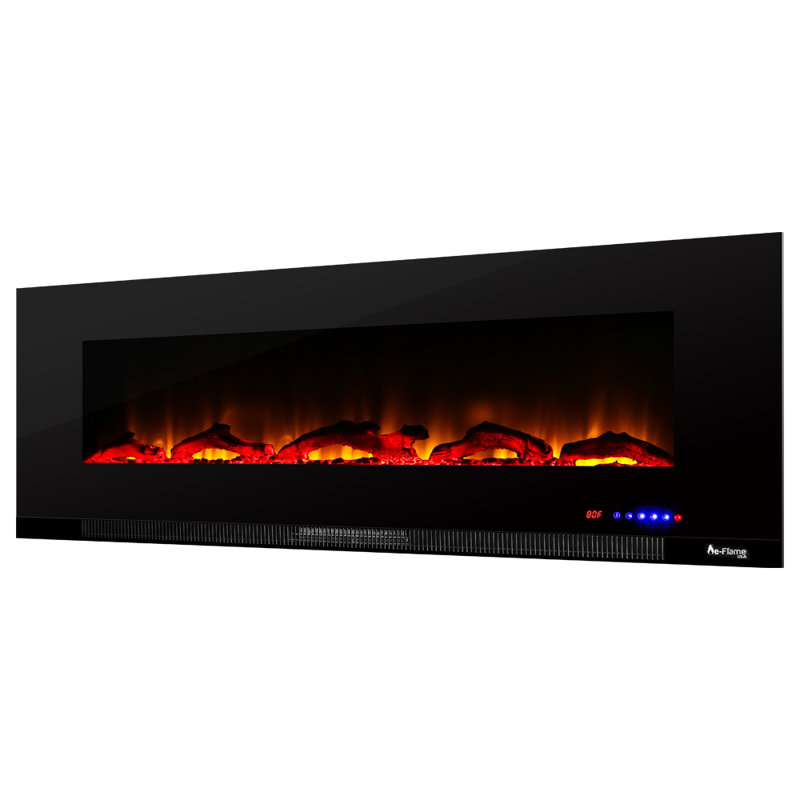 This fireplace insert has a rectangular shape, perfect for spacious living rooms. Now, you can enjoy cozy get-togethers in style even during winter.
Please note that this insert has no safety stop.
Best Features:
Wall-mounted design, perfect for contemporary living rooms
Has adjustable flame and flickering flame effect
Thermostat is adjustable.
Ready to use after purchase
Very elegant and is well-designed
8.  Charlton Home Easton Electric Fireplace Insert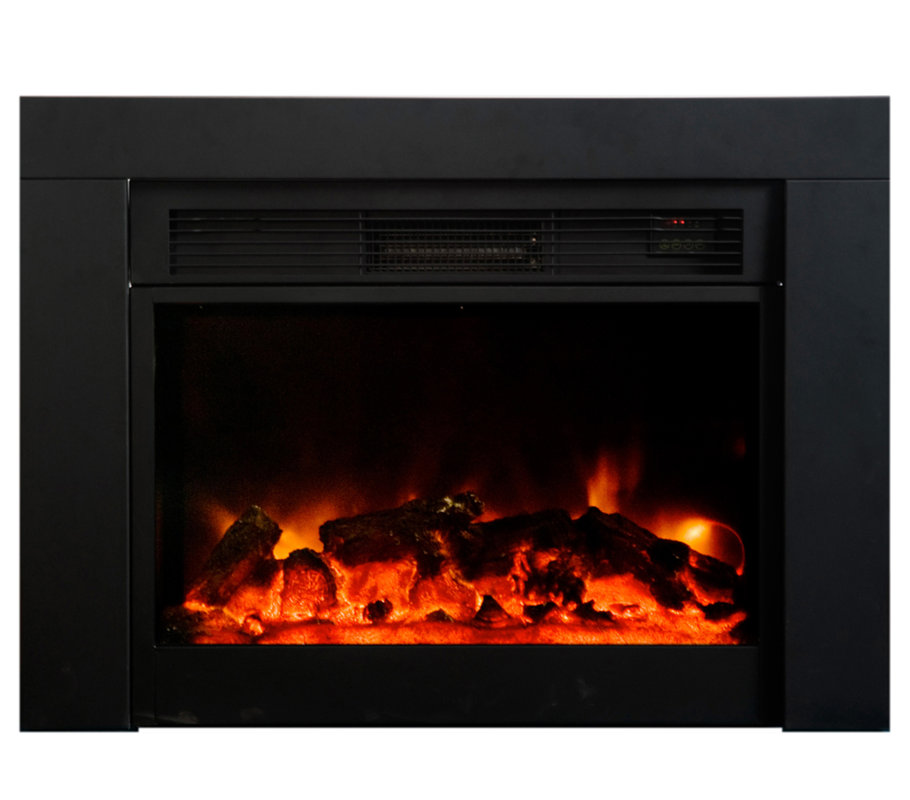 Fireplace insert is not just a stylish addition to your home; this piece of home equipment is also eco-friendly. Just like this Charlton Home Easton electric fireplace insert. It's a free-standing unit with 5000 BTU maximum output.
Although the brand state that it works great for 220 square feet areas; it is a bit smaller than the heating coverage of the other brands.
Best Features:
Has 2 burners inside
Bulb type is incandescent, so less energy is used
With trim-kit included
No assembly is required
9.  Hazelwood Home Electric Fireplace Insert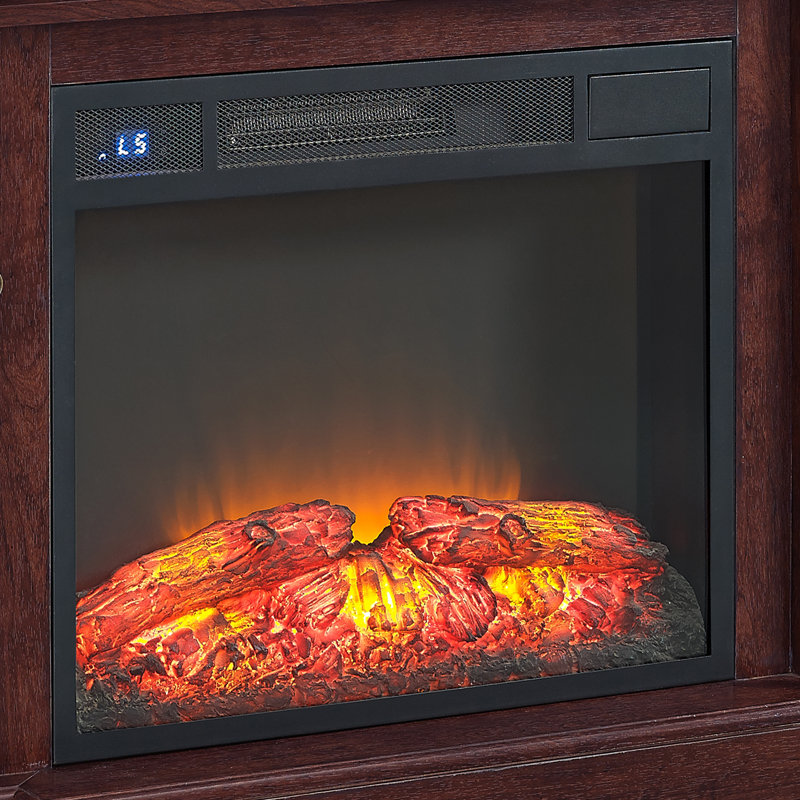 The best infrared heater unit on this list is none other than this 4440 BTU electric fireplace insert by Hazelwood. This plug-in fireplace insert is not just popular for its excellent heating power but as well as its interior décor potential.
Best Features:
Can be used inside your existing fireplace
Assembly is not needed
With an infrared heating technology that warms up the room quickly
Sleek and elegant design
Adjustable flame
10.  The Outdoor GreatRoom Company Fireplace Insert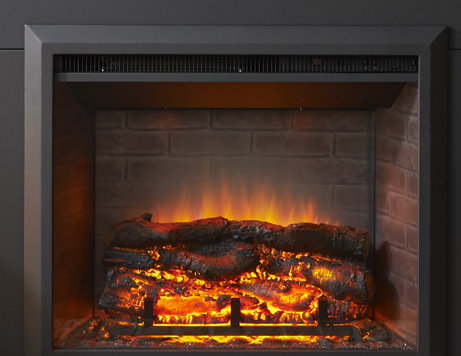 Looking for a small fan-forced fireplace insert? Consider getting this 510 BTU fireplace insert, which is best suited for 150 square feet area. You can guarantee a quality and upscale product as OGC is a trusted manufacturer of electric fireplaces.
Please be reminded that a Phillips screwdriver is needed for the assembly and installation.
Best Features:
Has 10,000-hour bulb life
Warms the room like the traditional fireplace minus the wood, of course!
The best fireplace insert to add a dramatic effect to the room
Comes with 6-inches electric cord
With flickering flame effect
Easy to clean; just use a clean dry cloth to wipe the unit
Flame is functional with or without turning on the heat setting
11.  Dynasty Fireplaces LED Fireplace Insert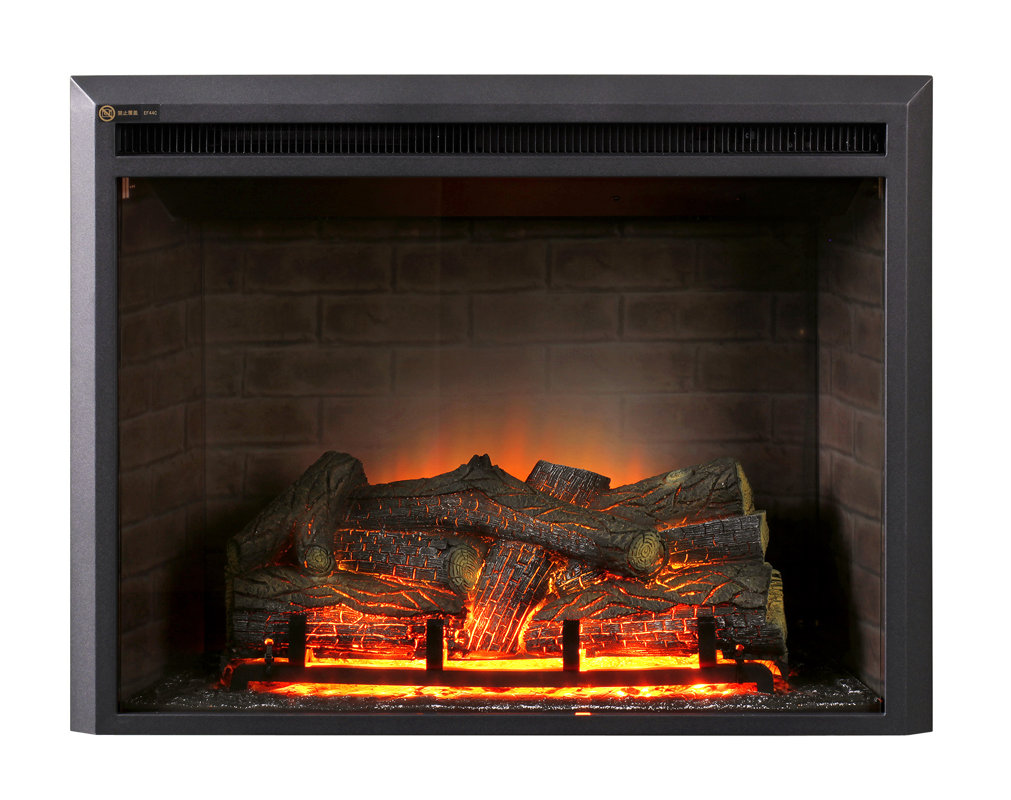 How does a colorful flame effect sound? You like it? Me too! I just love how beautiful and realistic the flame effect of this fireplace insert is.
Thought it is only ideal to heat up a 400-square feet room, a lot of its users vouch for the heat efficiency of the insert.
Best Features:
Very attractive
Durable, thanks to its well-constructed structure
Safe to use with its safety stop feature
Screen is included; glass material
CSA certified
12.  Modern Flames ZCR Series Electric Fireplace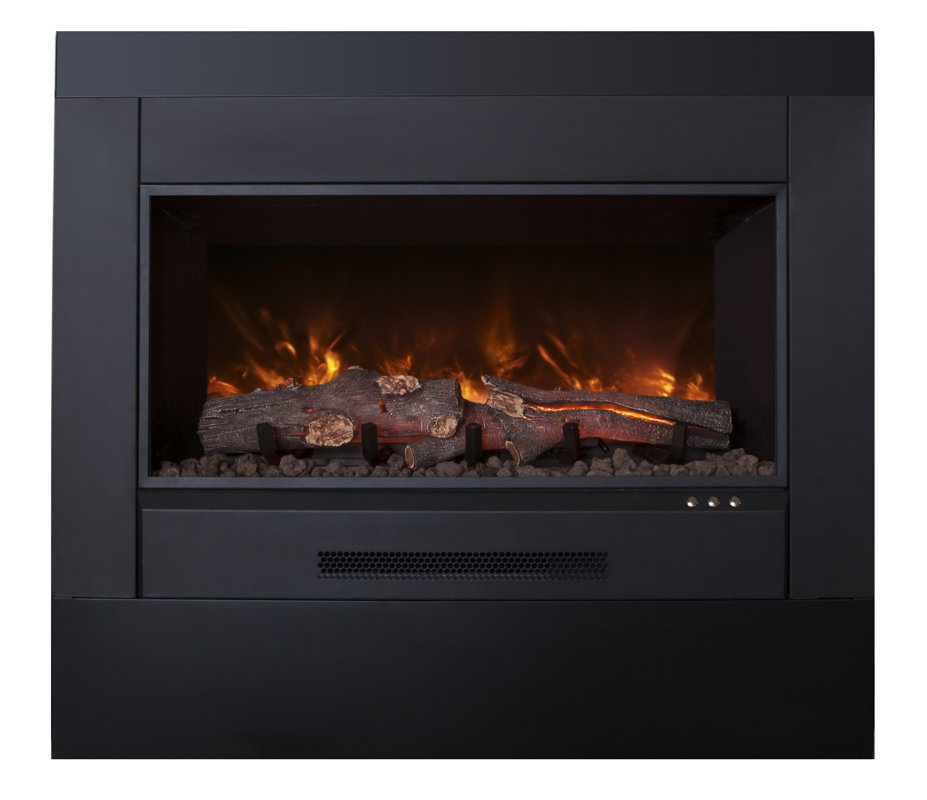 So far, I've introduced units that covers 400 square feet area. This time, it's a 5000-BTU fireplace insert that covers as much as 500 square feet.
This insert is a free-standing unit intended for a quick replacement for traditional wood-burning fireplaces.
Best Features:
With realistic Canyon Juniper logs
The flame's glow is realistic and beautiful.
Easy to use; just plug-in and it's ready.
The LED logs inside are hand-painted, making them look like the real ones.
Flame is adjustable
Includes safety stop and thermal overload protection
Comes with a brick-lined firebox
How Does an Electric Fireplace Work?
Most electric fireplace insert works by drawing in cool air from the surroundings and then heating the cool air inside. The heating coil inside is the one responsible for the heating process. Once the cool air is heated, the blower motor of the fireplace insert will blow the now warm air out into the room.
However, due to the advancement of technology, some electric fireplace inserts nowadays integrate infrared technology. This technology directly heats the air in the room without the harmful fumes or gases.
Buying Guide for the Best Fireplace Insert that Suits Your Needs!
Got a plan to buy an electric fireplace insert? Here's what you need to know to score the best product in the market!
Know Which Type Works for You.
There are three types of electric fireplace inserts to choose from. You can either have a log set insert or go for the plug-in insert and built-in insert.
If you have an old fireplace at home and still wants to use it somehow, then the log set insert is great for you. This requires less effort in installation as you only need to place the insert in the existing unused fireplace.
The log set insert makes use of a 3D log set with a base and a realistic flame effect projected at the back.
The plug-in type is slightly complicated than the log set, but it's nothing you can handle easily even without the help of an electrician. Just plug in the unit into your home's power outlet, and viola – you'll have this one working just fine.
Instead of a log set, this one features an encased box with a glass front and a realistic log set inside. In this type, the heat vents out from the top of the firebox, thus providing supplemental warmth throughout the room.
This type is the most complicated among the three types, specifically in the installation process but is the most elegant to look at and the most efficient.
Before the installation, you should be sure where to put the firebox as this type is designed for a more permanent installation. This means moving the location of the firebox is quite difficult after the initial installation.
You can plug the built-in insert into a standard plug-kit power outlet; however, expert suggests that you have this one hard-wired since this type utilizes large circuit capacity.
Furthermore, always hire an electrician to do the installation. Built-in insert is best handled by professionals for proper wiring.
Always consider the size and dimension.
According to most electric fireplace insert reviews, to fully experience the benefit of this machine, you have to properly size the fireplace insert for your home.
On the side note, if you plan to install a fireplace insert from scratch, then calculate how many BTU (British Thermal Unit) is needed to heat up the room. The climate also matters when doing the calculation. In winter, you need around 50 BTU per square feet.
So, if you have 500 square feet house, you need a fireplace insert that generates at least 25,000 BTU per hour. The more intense the winter is, the more BTU is needed per hour to heat the room effectively.
Conclusion
You must have your favorite best electric fireplace insert by now. Which fireplace insert you will most likely buy? Comment it down below.
As for me, It's the Hazelwood Home Electric Fireplace Insert that wins my heart. Firstly, it's BTU is impressive, the highest on the list. Also, its appearance is simple yet elegant, my type of look.
Lastly, the price is very affordable. It's the cheapest among all the 12 units. Though it is not made in the USA, but the feedback and comments of those who use the unit prove that this fireplace insert is definitely worth it.