A fireplace, any fireplace, not only lends to your home's ambiance but in many instances, may be one of its selling points. In most cases, a brick and mortar fireplace needs to be incorporated into your home's original building plans. To incorporate one into more modern homes that are not built with a fireplace as a feature, however, may be quite costly. An electric fireplace, however, fills in that gap, with many looking quite 'real' while being environmentally friendly as well. But what is the best electric fireplace for your home? How do you make the decision?
Read more: What It Takes to Be the Best Infrared Heater
The Three Basic Types of Electric Fireplaces
There are three basic types of fireplaces. All three are quite easy to install or use. It all depends on your own particular style and space where your new feature needs to sit. At the end of the day, choosing the best electric fireplace for you and your family is all about preference.
   The Wall-Mounted Electric Fireplace
When it comes to a wall-mounted electric fireplace, some literally hang on your wall. Others, however, can easily be installed inside your drywall. When opting for the latter, and you are not a good handyman, you may consider using the services of a professional, especially when considering building code compliance.
An insert fits inside a pre-existing fireplace. Setting them up inside your fireplace is relatively easy and only needs to be plugged into a standard electric outlet. Many of these fireplaces can be operated in such a way that they either give off heat or not. When choosing the latter you still get to create the ambiance of a log-burning fireplace, albeit artificial, without any heat. This allows you to enjoy a fire even during the summer months.
A fireplace mantel consists of two different parts. The first is the housing or mantel, and the second is the firebox, i.e. the part which gives off the heat. These days, fireplace mantels not only come in a huge variety of styles, but some have wheels attached. This, of course, gives you the flexibility of changing around your décor as and when you like. Others, again, have veered off from the traditional and have become fireplace/television set/bookshelf combos. In essence, they are great space savers and ideal for a smaller home.
The Pros Associated With An Electric Fireplace
The benefits of an electric fireplace are many!
They have little to no maintenance
A wood-burning fireplace creates a lot of ash and fumes that, when traveling up a chimney, result in soot. With an electric fireplace, you not only have no soot in your chimney that needs cleaning, but you do not have to remove any residue from your fireplace either. You just switch it on and enjoy the heat and ambiance provided.
An electric fireplace gives off no fumes or smells. This means your soft furnishings and curtains never smell like smoke. It does, however, give you the realistic look of a real fire plus the heat.
They are energy efficient
Your home's heating system is used a lot during the colder winter months. This, of course, results in an increase in your energy bills. An electric fireplace, on the other hands, allows you to effectively heat only the room (or rooms) that you are using without causing that huge increase in your utility bill.
For the most part, electric fireplaces need no or little installation, unless you opt for an in-wall heater that may need some professional help. For the most part, though, you simply position it where you want and plug it in an electric socket.
The choices are (almost) endless
Electric fireplaces come in a plethora of options as well as designs. This means you are sure to get one in the exact style you are looking for.
Regular fireplaces get hot, give off fumes, and are not child-friendly. Electric fireplaces, on the other hand, don't give off any smoke so they will not interfere with breathing. Also, while they might heat up a room, the surrounding is usually cool to the touch, so children will not get burnt so easily if they get close.
Electric Fireplace Reviews
The different options that we have selected are, in our opinion, a few of the best free-standing and best wall mounted fireplaces around. Going through them should give you an idea of what is available and may even prod you to choose one.
Fireplace & Mantel Package Electric Fireplaces:
1.  Electric Fireplace by Duraflame Electric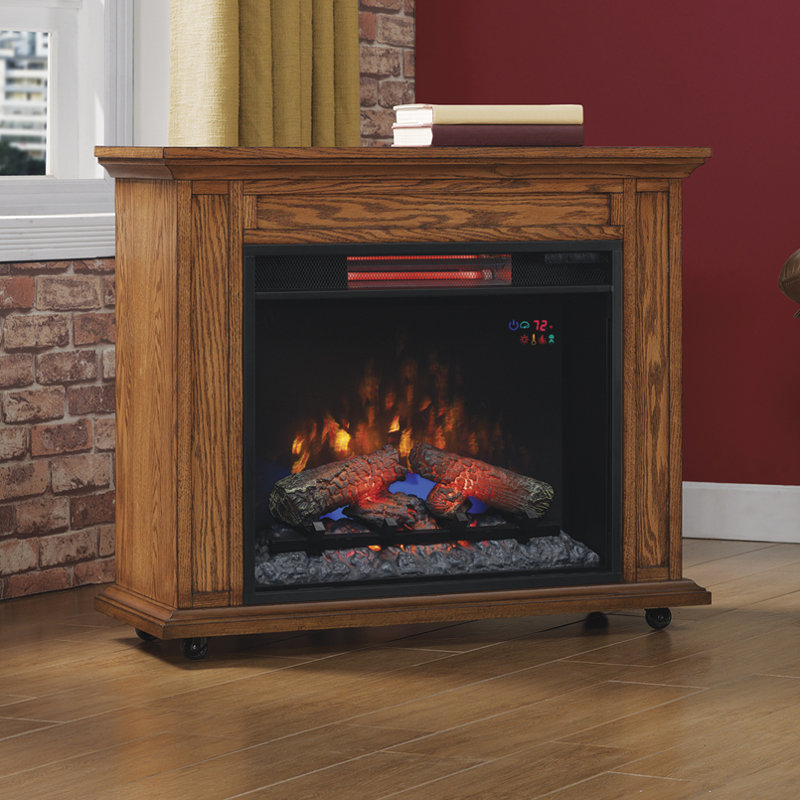 This infrared fireplace gives you the convenience of having a log-burning look-alike during the winter that you can keep indoors or remove during the summer.
The best features of this product include:
Design features realistic logs and an ember bed
The fireplace is mounted on locking casters that provide mobility
It has an anti-tipping counterweight for safety purposes
Can heat up to a thousand square feet
Features energy-efficient LED Spectrafire Plus flame technology
The product has five flame settings, five adjustable brightness settings, and five flame effect colors (Spedtrafire, Amethyst, Campfire, Sapphire, Midnight Fire, and auto cycle)
Uses electricity to work and has a remote control that operates with 2 AAA batteries
No assembly is needed
The adjustable thermostat allows you to adjust the temperature setting to your personal choice
The product is energy efficient and eco-friendly
It sports an electronic timer function – anything between thirty minutes and nine hours
See more: Duraflame Electric Electric Fireplaces on Wayfair
2.  Wendy Standard Electric Fireplace by Darby Home Co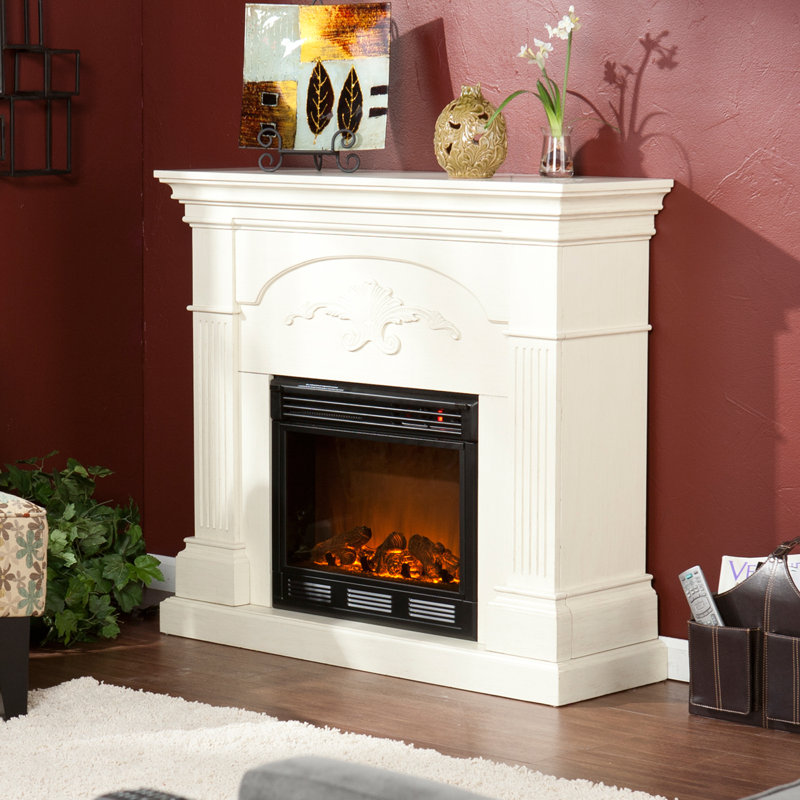 An elegant design that enhances any home's appeal, this beautifully designed electric fireplace has fluted side columns and a decorative scroll applique.
Best features of this product include:
The product is portable and easy to assemble
The fireplace realistic, multicolored flickering flames and glowing embers and features an interior brick design
The fireplace operates with energy efficient LED lights that do not need professional installation
A remote control offers you 4-way adjustability
An automatic shutoff and glass that remains cool to the touch is an added safety feature
See more: Darby Home Co Electric Fireplaces on Wayfair
3.  Silverton Electric Fireplace by Real Flame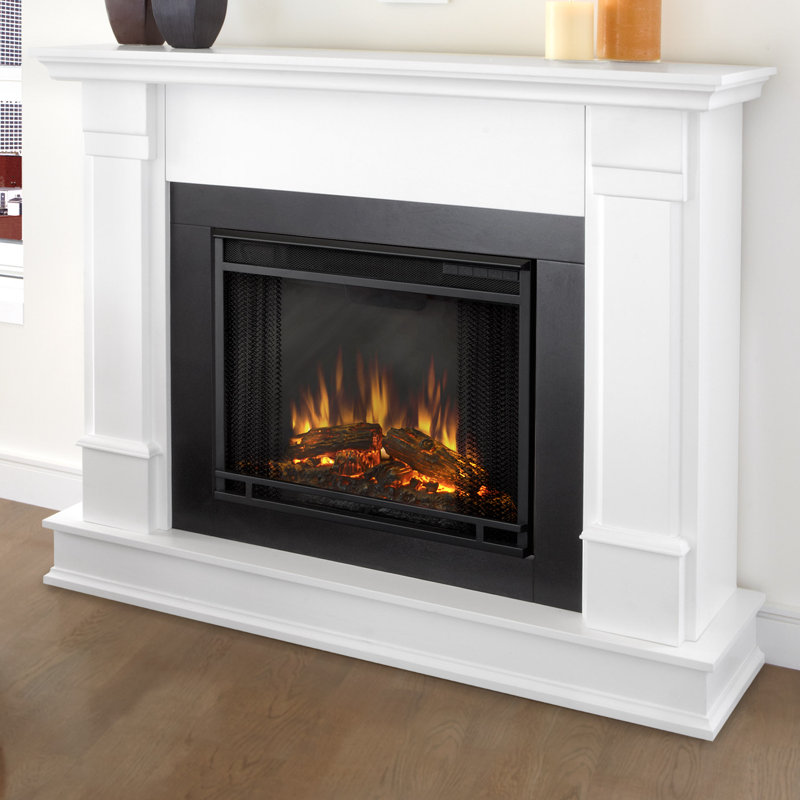 A mesh and glass screen provides added protection to this solid wood and veneered electric fireplace. The clean lines and contemporary style fits in with most interiors.
Best features of this product include:
A freestanding electric fireplace with programmable thermostat and adjustable temperature
Warms up to 100 square feet
The electric fireplace has an automatic shut off
Fireplace front gets hot when in use
See more: Real Flame Electric Fireplaces on Wayfair
4.  Southern Enterprises Tennyson Electric Fireplace with Bookcase, Ivory Finish
The ivory finish and classic design of this transitional electric fireplace make it the perfect addition to any room.
Best features of this product include:
The fireplace disperses radiant heat for up to 400 square feet
The product sports six fixed bookshelves while the mantel is large enough to support a 68.25 inches wide flat panel television set
Comes in a beautiful ivory finish with a floral design
The remote control has a child safety lock
See more: Southern Enterprises Electric Fireplaces on Amazon
Wall Mounted Electric Fireplaces:
5.  Clairevale Wall Mounted Electric Fireplace by Wade Logan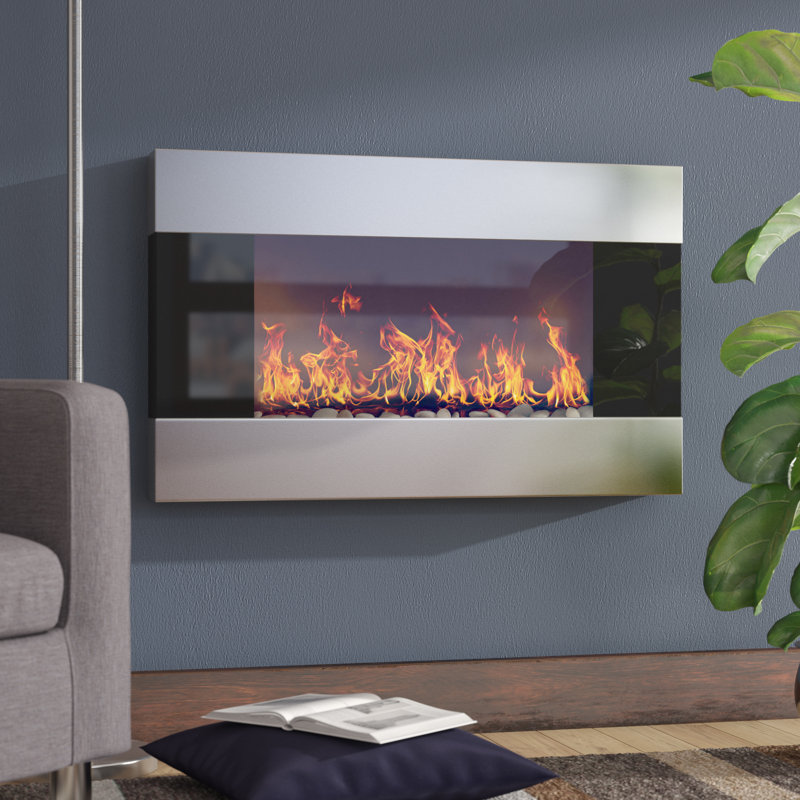 This wall-mounted electric fireplace makes it a good option for a home that needs to be child-friendly and warm. It also has a modern, clean stainless steel design.
Best features of this product include:
Heat is given off the top of the unit
The fireplace heats an area of up to 400 square sheet
The remote control enables you to adjust the flame brightness and to choose between two heat settings
You can add glass crystals to the fireplace
It has an animated flame
See more: Wade Logan Electric Fireplaces on Wayfair
6.  Felicity Wall Mounted Electric Fireplace by Classic Flame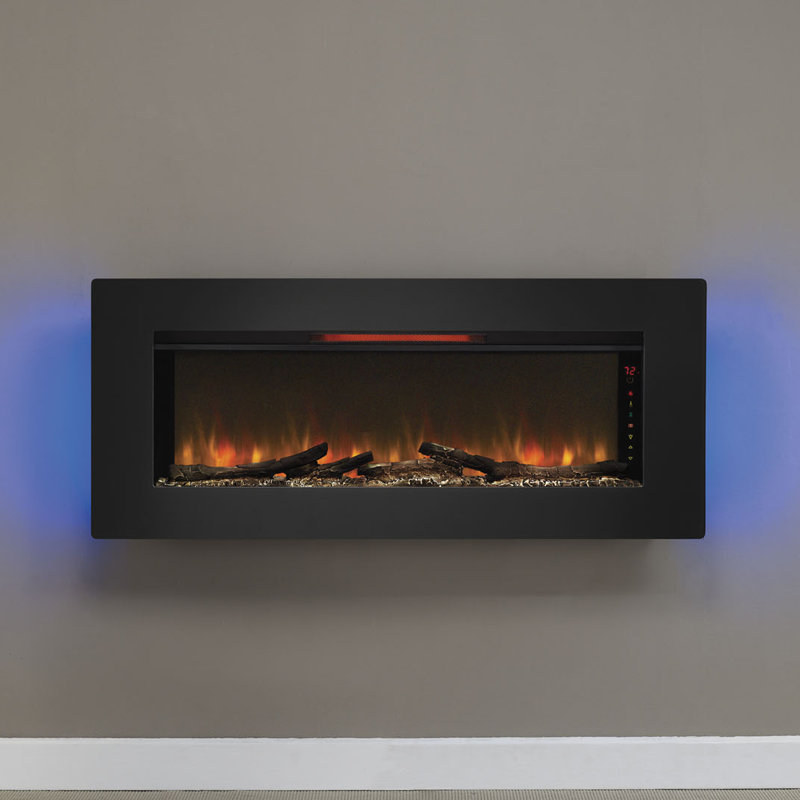 The Felicity is an infrared fireplace that gives of moist heat. It can either be hung on a wall, mounted in a wall, or stand independently.
Best features of this product include:
Supplemental zone heating is provided for up to a thousand square feet
Three infrared quartz elements are controlled by an adjustable thermostat
Air humidity is supplied by infrared heat
A decorative LED sidelight that has five color options – amber, blue, amber and blue, color cycling, and off
See more: Classic Flame Electric Fireplaces on Wayfair
7.  Valencia Extra Wide Wall Mounted Electric Fireplace by Warm House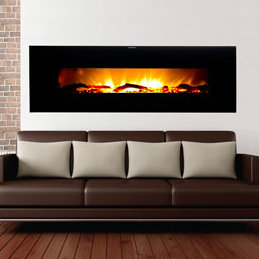 The widescreen and uncomplicated style of the Valencia electric fireplace make it excellent for just about any indoor space. The glass and aluminum construction also ensures strength and durability.
The best features of this product include:
A soothing logwood flame effect
Dual heat settings and remote control
Overheat protection with an auto safety shut-off
The flames can operate either with or without heat
A half-hour to 7.5-hour built-in timer
Has a heat resistant tempered glass panel
As a heating capacity of 400 square feet
See more: Warm House Electric Fireplaces on Wayfair
8.  Touchstone 80001 Onyx Wall Hanging Electric Fireplace, 50 Inch Wide, Logset& Crystal, 1500W Heat (Black)
This particular electric heater is easy to mount and has lifelike flames. It has a modern, elegant design that is great for a bedroom or family room.
Best features of this product include:
This product weighs only 46 pounds, making it perfect for wall-mounting
It has a high and a low heat setting that heats up to 400 square feet
There is a five-flame brightness setting
The realistic flames are set in faux logs or crystals – both are included in the purchase
The fireplace has a durable tempered glass cover and contemporary black frame
The dual mode feature allows the fireplace to operate on either low or high heat
The built-in timer for auto-shutoff can be set for 30 minutes to 7.5 hours
Product reviews on youtube:
See more: Touchstone Home Products Electric Fireplaces on Amazon
TV Stand Fireplace Electric Fireplaces:
9.  Sunbury Electric Fireplace by Beachcrest Home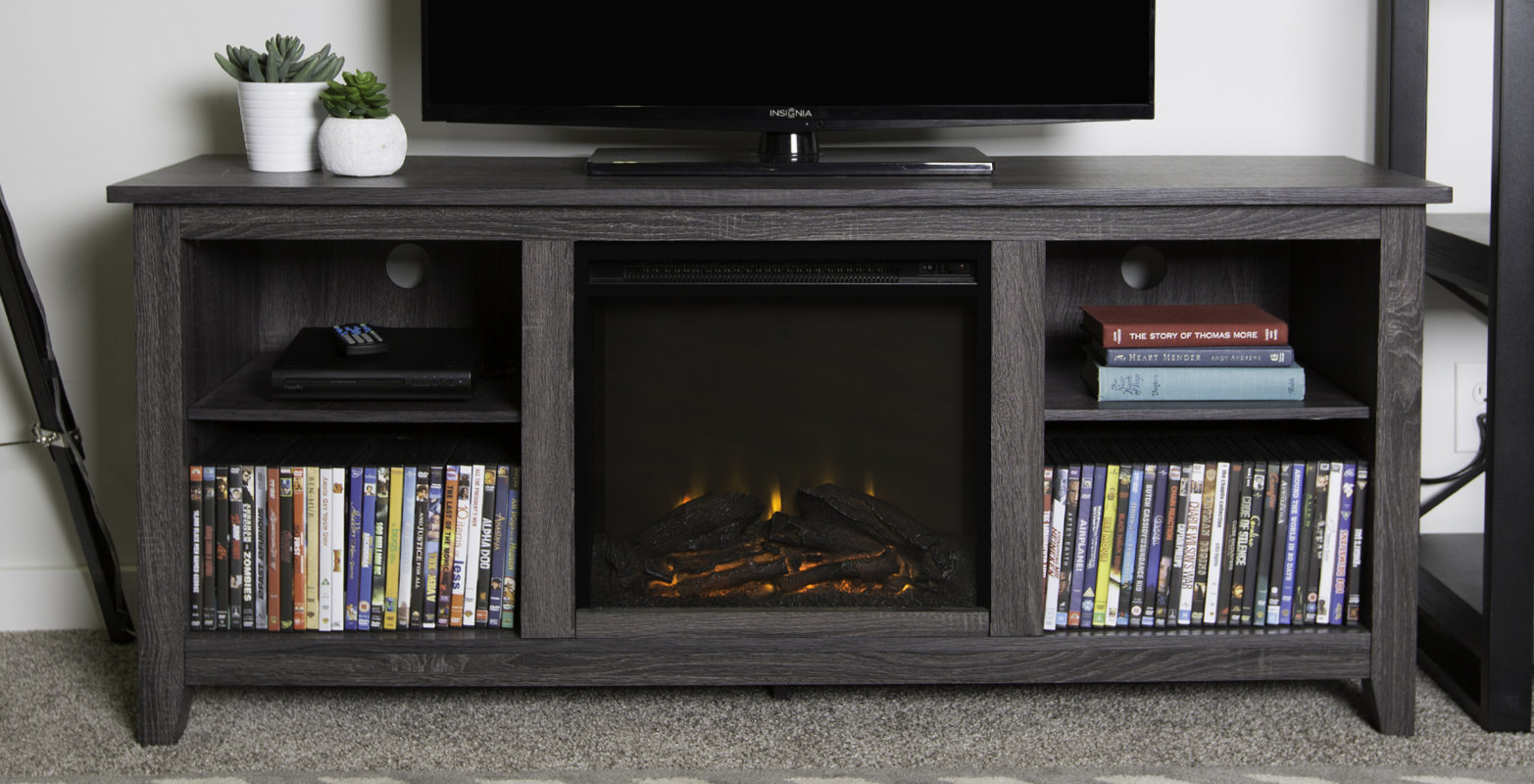 This television stand and electric fireplace combo are simple in style yet imminently functional, especially when space is an issue.
The best features of this product include:
A simple rectangular design with space for a television set on top while adjustable shelving to the sides gives enough space for books or knick-knacks
Shelves are adjustable
Has a convenient cable-management system and four cable management holes
No assembly is needed
See more: Beachcrest Home Electric Fireplaces on Wayfair
10.  Rickard 59″ TV Stand with Fireplace by Zipcode Design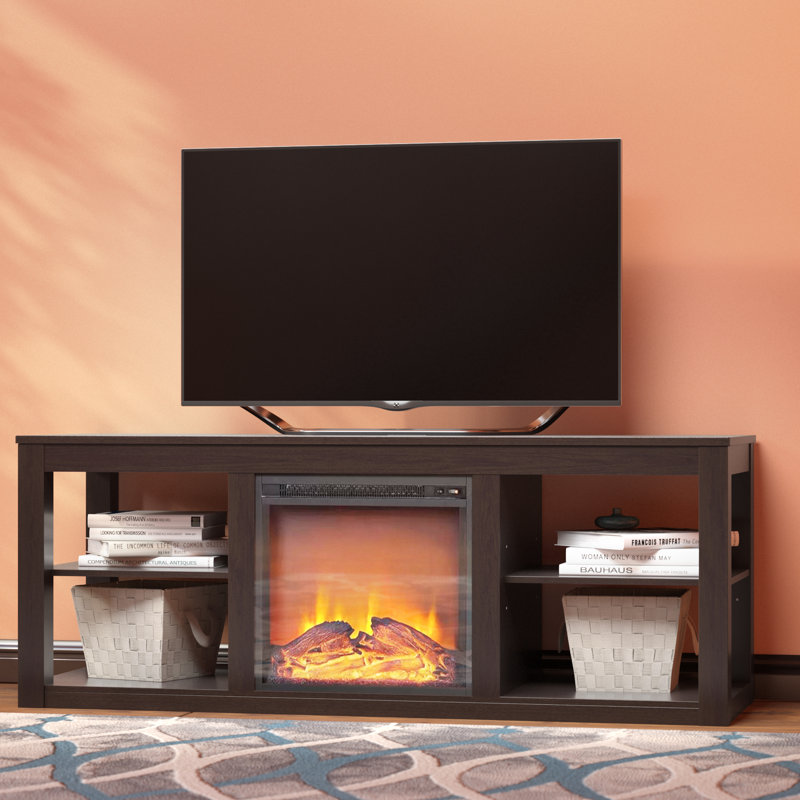 This electric fireplace combines a more traditional-look television stand with a fireplace at its center. The edgy design fits in with most modern home décor.
The best features of this product include:
The television-fireplace combo has shelves on both sides
There is a safety mechanism that prevents the fireplace from overheating
See more: Zipcode Design Electric Fireplaces on Wayfair
11. Altra Furniture Chicago Fireplace TV Stand, 50″, Espresso
Made of laminated MDF and particleboard, the LED light source has up to fifty-thousand hours of life and heats up to 400 square feet of space.
The best features of this product include:
The open shelf is perfect for AV components
Side cabinets have glass doors
The unit has a beautiful wood grain finish
Accommodates a 50" flat panel television set
You have the option of putting on the flames without turning up the heat
The fireplace heats up to 400 square feet
See more on youtube:
Fireplace Insert Electric Fireplaces:
12.  PuraFlame 33″ Western Electric Fireplace Insert with Remote Control, 750/1500W, Black
This insert electric fireplace has life-like resin logs, an ember flame, and 3-flames variable intensity and brightness that can be used both with or without heat.
The best features of this product include:
The fireplace has a three-sided brick wall design
The electronic temperature control allows for precise temperature
The product has an adjustable thermostat with a temperature range of sixty degrees Fahrenheit and 84 degrees Fahrenheit
The fireplace gives supplemental heat of up to 400 square feet
It has a remote control
The fireplace is easy to install
Conclusion
If you have read until here you are most certainly interested in purchasing an electric fireplace. But deciding on which is the best electric fireplace be difficult, like we found out for ourselves. After much deliberation, however, we decided on the Electric Fireplace by Duraflame Electric. What made up our minds about this one was the different safety-features that are ideal for a home that needs to be childproof. We also like the fact that it is on wheels, allowing you the easy flexibility of moving it around as and when you decide to do some interior decorating.