Just because your home doesn't have a built-in heater doesn't mean that you'll just settle with the uncomfortable coldness of the weather. You don't have to install a heater in your home nor build a traditional yet messy fireplace to enjoy warmth. By using the best electric stove fireplace, rest assured that you can sleep soundly at night.
If you don't know what an electric stove fireplace is, it's actually an electric heater than has an appearance of a fireplace. What I love about this product is that it gives off incredible heat and can run on "flame only" setting. Thus, it means no more coal, wood, or gas burning.
I like that I don't have to worry about leaving a mess by burning wood or adding gas just to warm up my place. It's the perfect fireplace alternative for people who live in apartments or in shared houses.
Is It Safe to Leave Overnight?
Just like an electric infrared heater, leaving your electric stove fireplace overnight is tempting, especially during winter. But is it really safe? Let's find out below!
According to U.S. Consumer Product Safety Commission or CPSC, fuel-burning appliances cause carbon monoxide poisoning without proper ventilation or when combustion is incomplete. Luckily, electric stove heater doesn't use fuel, so it doesn't produce fumes.
Still, the CPSC recommends to turn off the electric fireplace when you leave the room as a means of observing safety precautions. Though can be operated without fuel, electric stove fireplace can catch fire when placed near flammable materials. There is also the concern of overheating that can damage the electrical wiring and may put yourself in danger of being electrocuted.
In a nutshell, it is possible to leave your best electric fireplace overnight, but you shouldn't do it too often or avoid doing it when you can. Remember, safety first above all else.
7 Best Electric Stove Fireplace Reviews (A Must-Read!)
1.  DuraFlame ElectricQuartz Stove Fireplace
Enjoy a total heat of 5,200 BTU from DuraFlame Electric Quartz Stove Fireplace. If you are looking for an affordable heater powered by an infrared quartz heat, then this is your best bet.
Not only does it give you incredible heat, but it is also a great additional décor to your living room or bedroom. It's black-colored body will complement with any existing home interior you have at the moment.
Why Do People Love It?
Warms up to 1000 square feet area
The natural humidity is maintained even while using this fireplace.
3D flame effect technology that is realistic and effective
With adjustable brightness setting. Thus, you can dim the flame if you want to.
Assembly is easy and fast
Durable metal structure and beveled glass door help keep the stove intact
2.  Comfort Smart Jackson Electric Stove Fireplace
Another great option that is a great contender in a lot of electric stove fireplace reviews is Comfort Smart Jackson Electric Stove Fireplace. This can also warm 1000 square feet area with its infrared heater.
Aside from its amazing reach, this 4,800 BTU stove fireplace is also portable. Therefore, you can use it in different areas of your home.
Why Do People Love It?
Has a digital thermostat so that you can monitor and control the temperature easily
With large metal construction that is stamped for added durability
Mimics the true-to-life wood burning appearance, making it a perfect living décor as well
Adjusting the brightness of the flame is allowed
Has a classic design with three glass sides
3.  AKDY Electric Stove Fireplace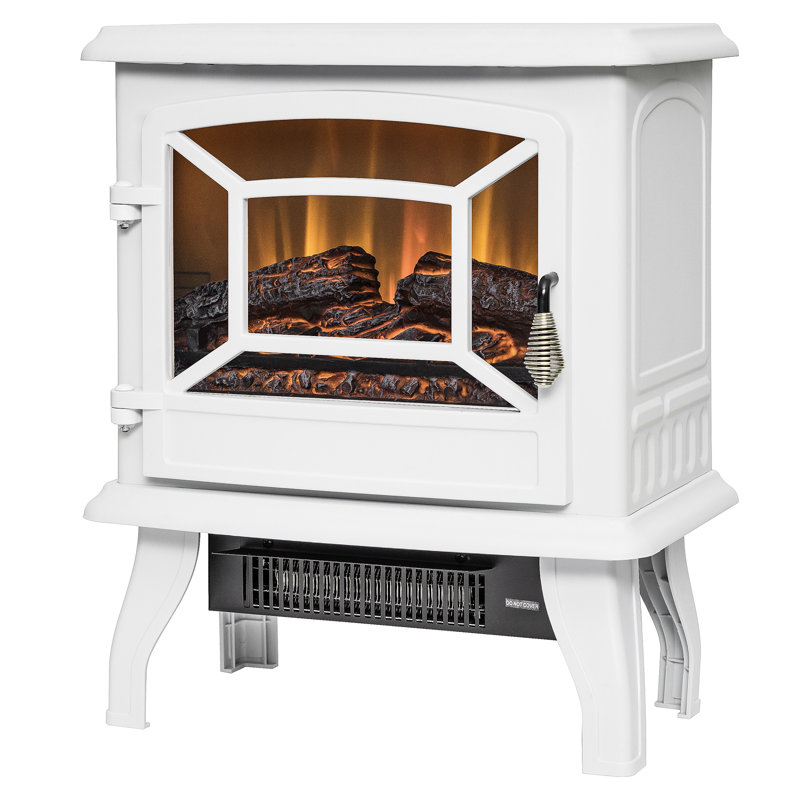 If there is another color that goes well with all the furniture and furnishings of your home, it would be white. This white-colored AKDY electric stove fireplace emits a classy style that can make your home look more elegant.
This is easy to move around the house and produces amazing flames, perfect for vintage homes. Its heating coverage area is up to 400 square feet.
Why Do People Love It?
Very portable; can be used both in the living room and bathroom
No assembly is required
Buyers love the fireplace's neat white color
Gives a total of 5,200 BTU heat
With safety certifications, and it is safe to use according to Canadian Standard Association
4.  Plow & Hearth Electric Stove Fireplace Heater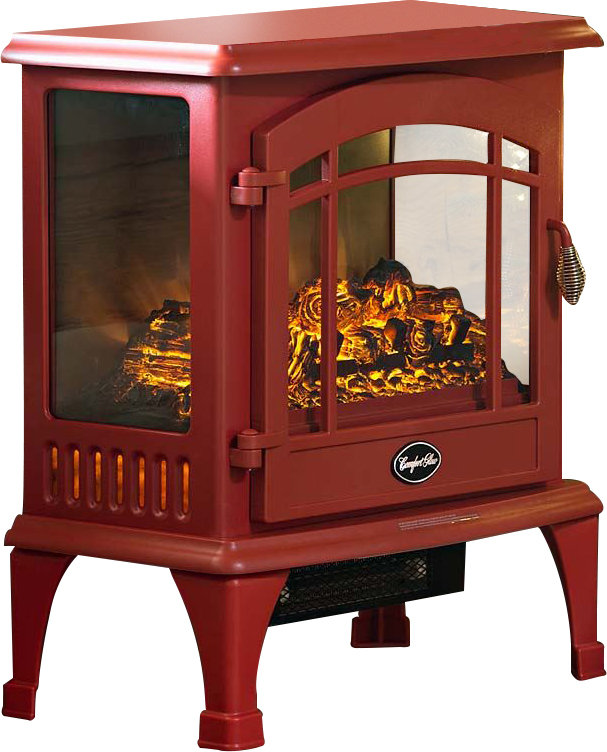 How about a mahogany colored stove fireplace? Sounds great? Then consider this Electric Stove Fireplace Heater by Plow & Hearth. This fireplace heater can produce a total of 4,600 BTU through its quartz infrared heater. You can expect to use this electric fireplace to a 1000-square feet room.
Please note that assembly is required before you can use this fireplace.
Why Do People Love It?
This electric fireplace is lightweight and portable.
With metal construction for durability
The flame effects are realistic and really bright.
You can place this one against a wall.
5.  Muskoka Electric Stove Fireplace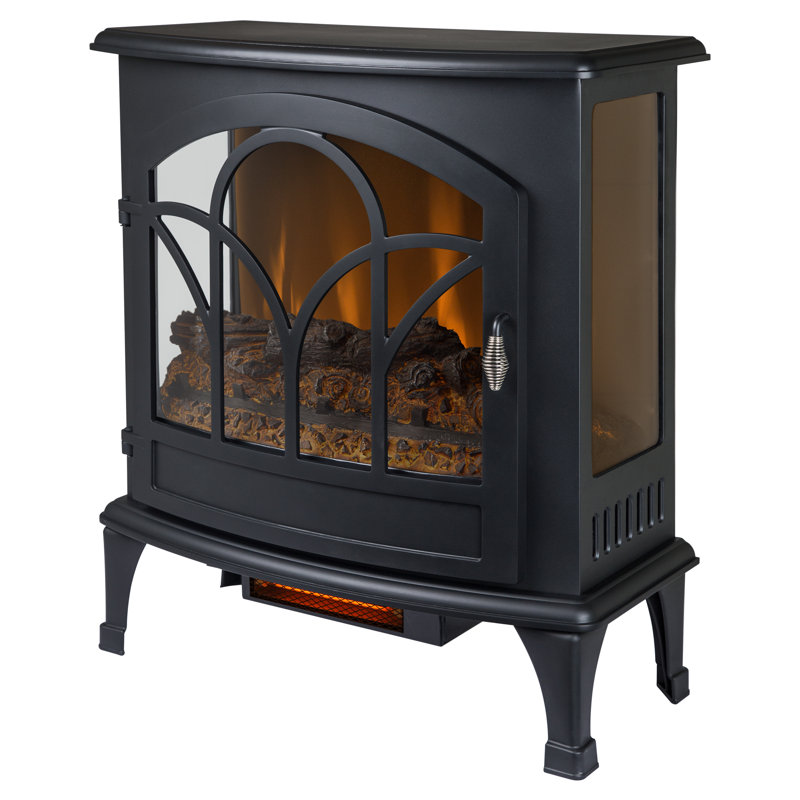 If you live in an apartment, condominium, loft, or in a dormitory, then Muskoka Electric Stove Fireplace is the one for you. This beautifully made electric stove fireplace emits a total of 5,200 BTU heat that is great for 1000 square feet room.
It uses quartz as the heating element, which provides a medium wave infrared radiation. Professionals prefer quartz if controlled heating is required.
Why Do People Love It?
Great heating coverage
Can be used in the living room, bedroom, and dining room
With cold rolled steel in the details
Ideal for commercial and residential use
Certified safe to use
6.  E-Flame USA Regal Electric Stove Fireplace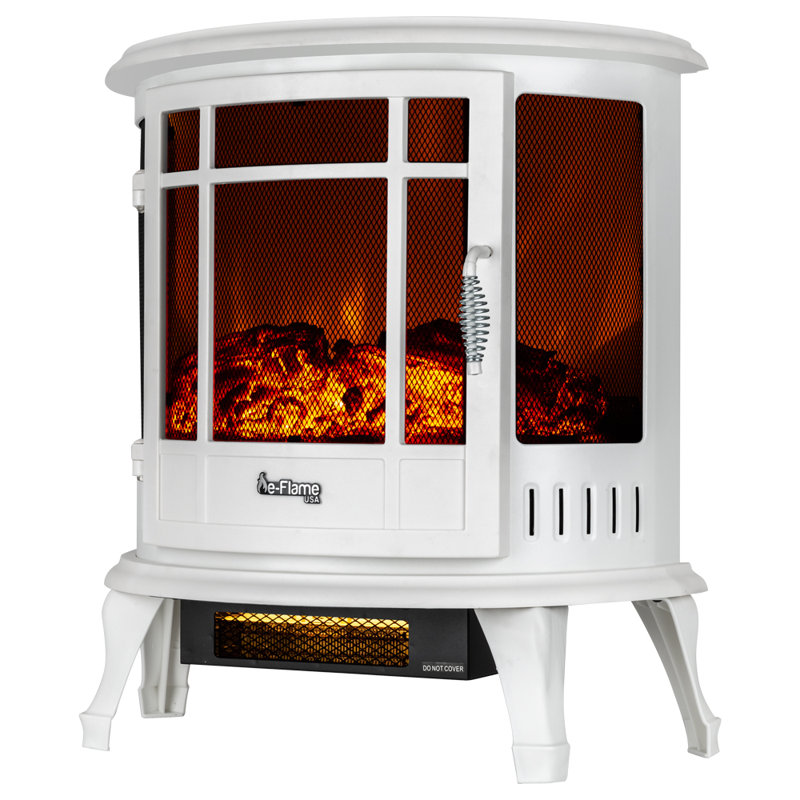 This electric heater's flame is so realistic that one can mistake this as a real fireplace. This Regal Electric Stove Fireplace by E-Flame USA delivers a beautiful flame effect without the messy charcoal and wood ashes.
Another thing that homeowners love about this fireplace is the fact that its heat distribution is consistent and even. This electric fireplace needs assembly.
Why Do People Love It?
With realistic 3D flame effect
Elegant look with regal matte black finish and chrome highlights
Can heat a room just like a traditional fireplace would
Consumes about 90% less energy as compared to a gas fireplace
With compact and durable structure
It is a quiet fan-forced heater with adjustable setting
7.  Dimplex Lincoln Electric Stove Fireplace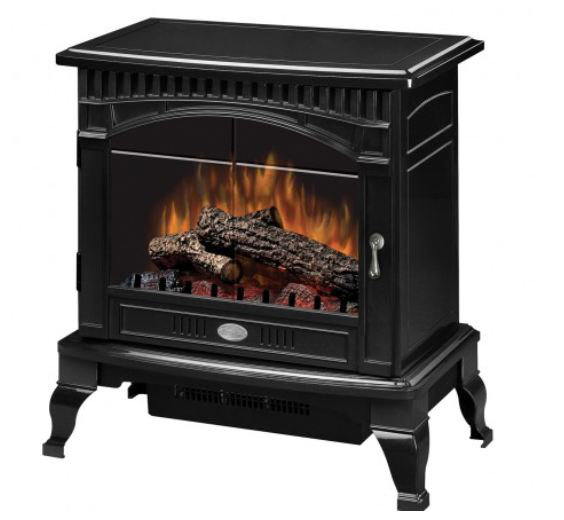 Last, but definitely not the least when it comes to heat and performance is this Lincoln Electric Stove Fireplace by Dimplex. When it comes to style and appearance, this fireplace is on top of the others on the list.
It features a beautiful, regal black color with metal detailing. For a total of 5,120 BTU, you can warm up a room with an area of 400 square feet.
Please avoid putting anything on top as the top portion of the fireplace gets warm while the unit is in use.
Why Do People Love It?
With exquisitely carved side panels
It's the perfect statement piece in your bedroom and living room.
The flame effect is functional even without turning the heater on.
Made from MDF wood material, which is known as a high-grade material. It's better than any solid wood material, especially when temperature and humidity are concerned
Conclusion
It is indeed intimidating to choose the best-value electric stove fireplace for your place, especially if you don't know what to expect from the product. When choosing the best electric stove fireplace, always remember that the higher the BTU is, the more heat the unit can produce. Still, you need to calculate the total BTU needed to warm up your space.
Among the 7 options above, I personally like the DuraFlame Electric Quartz Stove Fireplace. It emits 5,200 BTUs of heat, which is perfect for my living room space. I am also impressed by its 3D flame effect technology that makes the flame dance. Plus, it has five adjustable colors!
It is also easy to choose the temperature that you want with its adjustable digital thermostat.
Add warmth to your home now with any of these amazing electric stove fireplaces. Comment your pick below and let me know why you think it's the best choice.