The best electric tankless water heater gives you hot water on demand. This means you do not need a large storage tank in which to store water while it is heated up. It also means you no longer have the problem of someone using up all the hot water. All you need to do if you want hot water is to turn the tap, and voila! Hot water on demand at a predetermined temperature. It is as simple as that!
Electric Tankless Water Heater Reviews
Choosing the best electric tankless water heater for your home may be a bit tricky. We hope our electric tankless water heater reviews will help you to make the right choice.
1.  EcoSmart ECO 27 Electric Tankless Water Heater
The manufacturers of this electric tankless water heater claim that their product saves you up to fifty percent on your water heating costs and is able to provide enough warm water for those living in the colder northern parts of the US, and four showers in the warmer southern areas of the US.
What customers had to say
Customers were impressed with the fact that this product is self-modifying and does not give out more heat than the load requires. Although it can be self-installed, they do not recommend someone without a good grasp of handyman work undertake doing so.
Hot water control is allowed due to a temperature control feature allowing 1-degree increments
The stainless steel and copper components of the electric tankless water heater are designed for efficiency and durability as well as being easy to replace as and when needed
The product has a compact design that does not take up too much storage space
The design of this product allows for nearly 3 gallons of water to be heated per minute at a temperature of 37 degrees Fahrenheit in the colder northern parts of the USA
It is capable of handling 6 gallons of water per minute in the warmer, southern states in the USA, the equivalent of running four showers at the same time
The home handyman may find installing this electric tankless water heater a little tricky
You may have to do some online research in order to install this product
You have to ensure that the product is compatible with your home's electrical installation and power supply
2.  StiebelEltron 232886 Tempra 36 Tankless Electric Water Heater
This is a whole house water heater that requires no venting. It also allows you to choose your water temperature, with a range from between 86 degrees Fahrenheit, i.e. 30 degrees Celsius, and 140 degrees Fahrenheit, i.e. 60 degrees Celsius.
What customers had to say
Customers commented that they were able to run two showers and three faucets simultaneously without any problem. They also mentioned that the product is relatively easy to install.
It has a relatively simple plumbing design
The sleek design means it fits in just about anywhere
Allows for water temperatures between 86 degrees Fahrenheit and 140 degrees Fahrenheit
Water temperature easily adjustable
Works without the use of a remote selector control
Water temperature does not deviate from set temperature due to the advanced microprocessor technology used in the product's design
3.  Sio Green IR260 POU Electric Tankless Water Heater – Infrared Tank
The compact size of this electric water heater saves you space while giving you a supply of warm water without any fuss.
What customers had to say
Customers feel this product is value for money and is very suitable for a smaller home, apartment, or condominium.
This product makes use of an insta0infrared heating design that uses 110 volts
It heats only the water you use
It incorporates patented technology
No coil metallic elements are used in the design
The product is designed to prevent calcium deposit, limescale buildup, and corrosion
Less than twenty inches in length, this electric water heater is small and compact, taking up extremely little space
Depending on where you stay, you may find the water pressure is a little lower than desired
4.  Rheem 240V Heating Chamber RTEX-13 Residential Tankless Water Heater
This tankless water heater is touted as producing on-demand water for both single point use and multiple applications.
What customers had to say
Customers mention that this product is great for a single bathroom, as it produces a continuous stream of hot water.
It sports an external adjustable digital thermostat control with an LED display
It has two heating elements made of submersible copper, which is very durable
It is relatively easy to install
Three feet of electric cable and NPT adaptors are included in the purchase
The external controls allow you to adjust the temperature in increments of one degree Fahrenheit
Not really suitable for running multiple applications, e.g. taking a shower and turning on the washing machine and dishwasher at the same time
5.  Performance Electric Tankless Water Heater by Rheem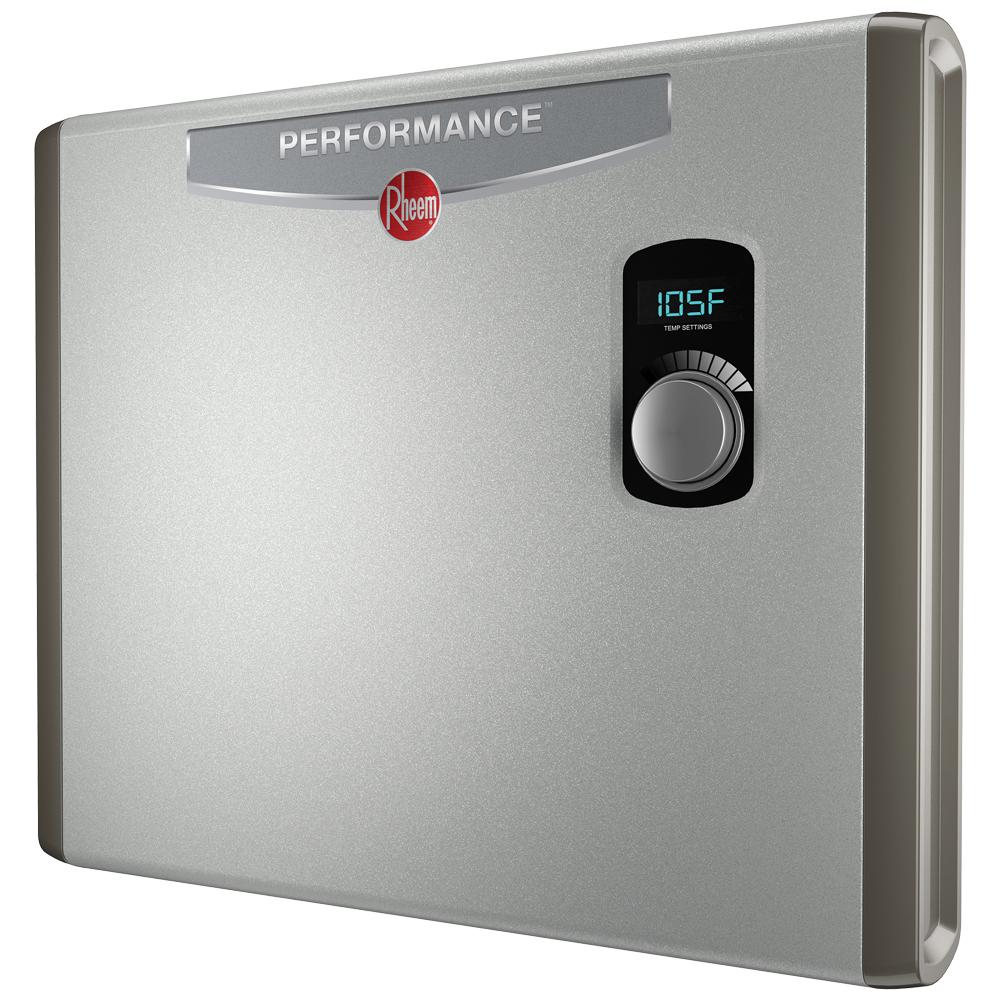 This may provide you with savings in your utility bill, especially with regards to your water heating costs. The produce supplies continuous hot water on demand.
What customers had to say
Customers were not of the same mind on this product. Some loved it, some did not. The main area of contention was the availability of electricity and existing electrical installations that did not always cater to this product.
Heats water only when needed
Has the capacity for providing hot water to give showers and two faucets
It has a small, compact design that fits into tight places
The electronic temperature control is adjustable in one-degree increments, providing hot water ranging from eighty to 140 degrees Fahrenheit
Maintenance is relatively easy
You may need to contact a professional when it comes to installation
It may not be a suitable choice for smaller homes
6.  ATMORThermoPro Electric Tankless Water Heater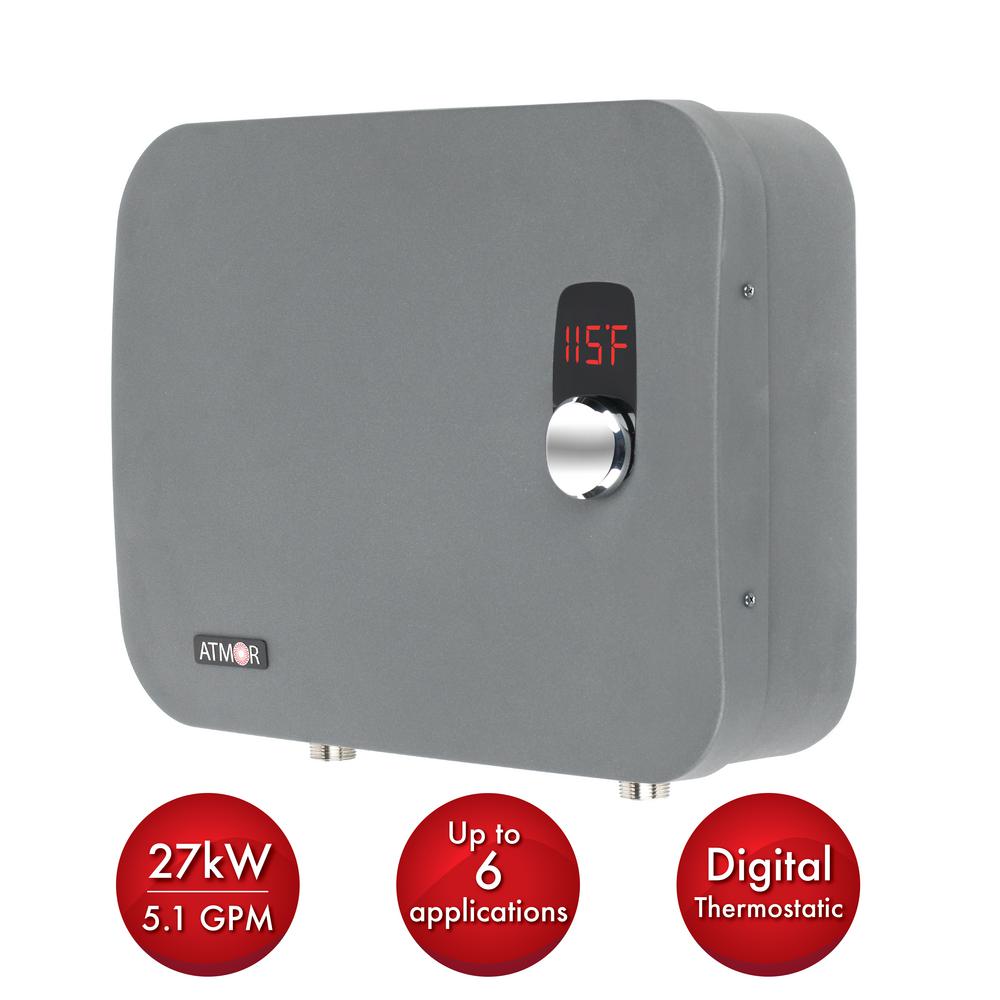 This product has smart flow technology that provides your home withunlimited hot water when it is needed.
What customers had to say
The general feeling is that the money that is spent on installation is certainly worth it.
Smart flow technology provides you with an unlimited hot water supply whenever it is needed
Water consumption is reduced because water flow shuts off immediately when the water heater is not in use
The system regulates the energy requirements with regards to heating water
The digital panel is easy to use and gives you full control of determining your perfect water temperature
Unlike a gas tankless water heater, no venting is needed so you can install it anywhere in the home
This product is a great option for small to medium sized homes and can easily handle up to four applications at the same time
You may need to reduce your use of different applications at the same time in a colder climate
You may need the services of an experienced handyman for installation
7.  MAREY Multiple Points of Use Tankless Electric Water Heater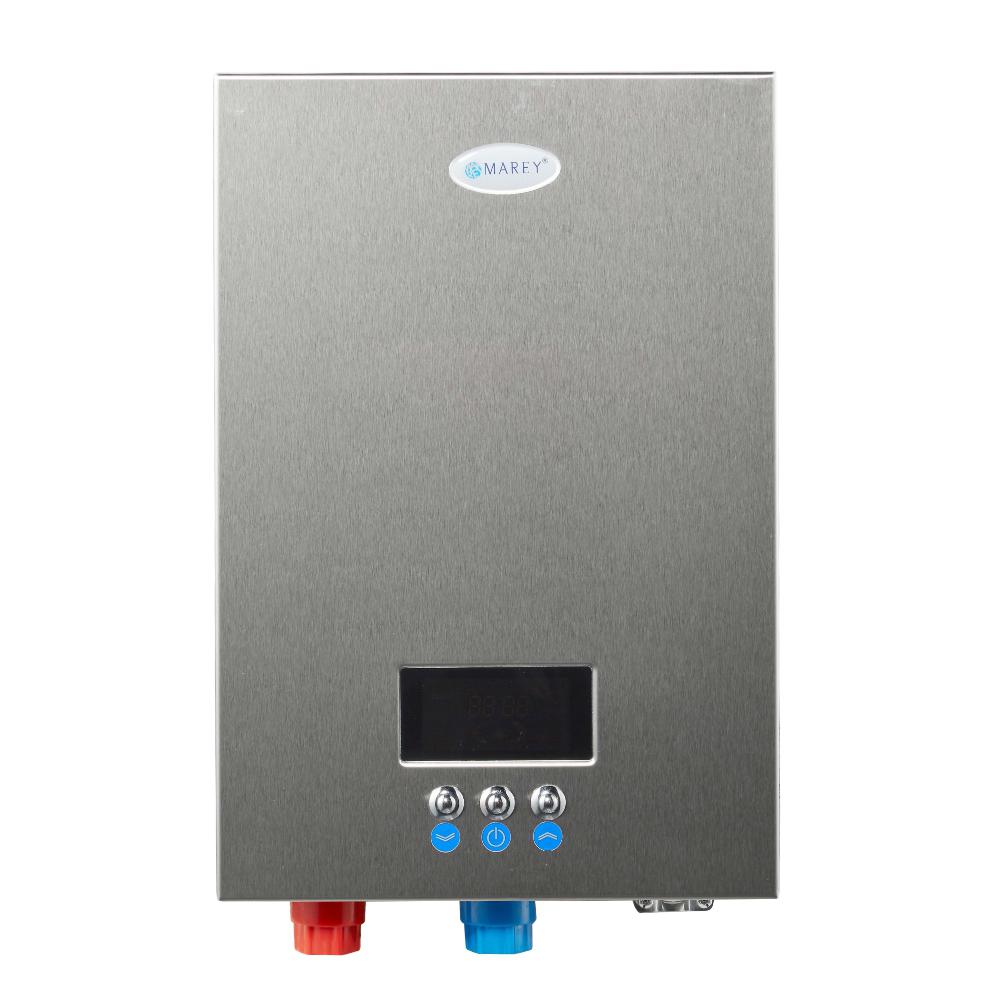 This tankless electric water heater supplies three points of simultaneous use in warmer climates, like the more southern states of the US. Hard water buildup is prevented by the use of corrosion-resistant heating elements.
What customers had to say
Customers feel this product works extremely well, although you may get a period of cooler what if you have used hot water for a longer than normal period.
The product's design incorporates a high-quality stainless steel water channel and heating chamber
It has a corrosion resistant heating element that helps reduce the buildup of chlorine and calcium
The LCD panel is easy to use making programming for your desired water temperature very easy while reducing your electricity consumption
No pre-heating of water is necessary
Professional installation is advised
8.  Bosch Whole House Tankless Electric Water Heater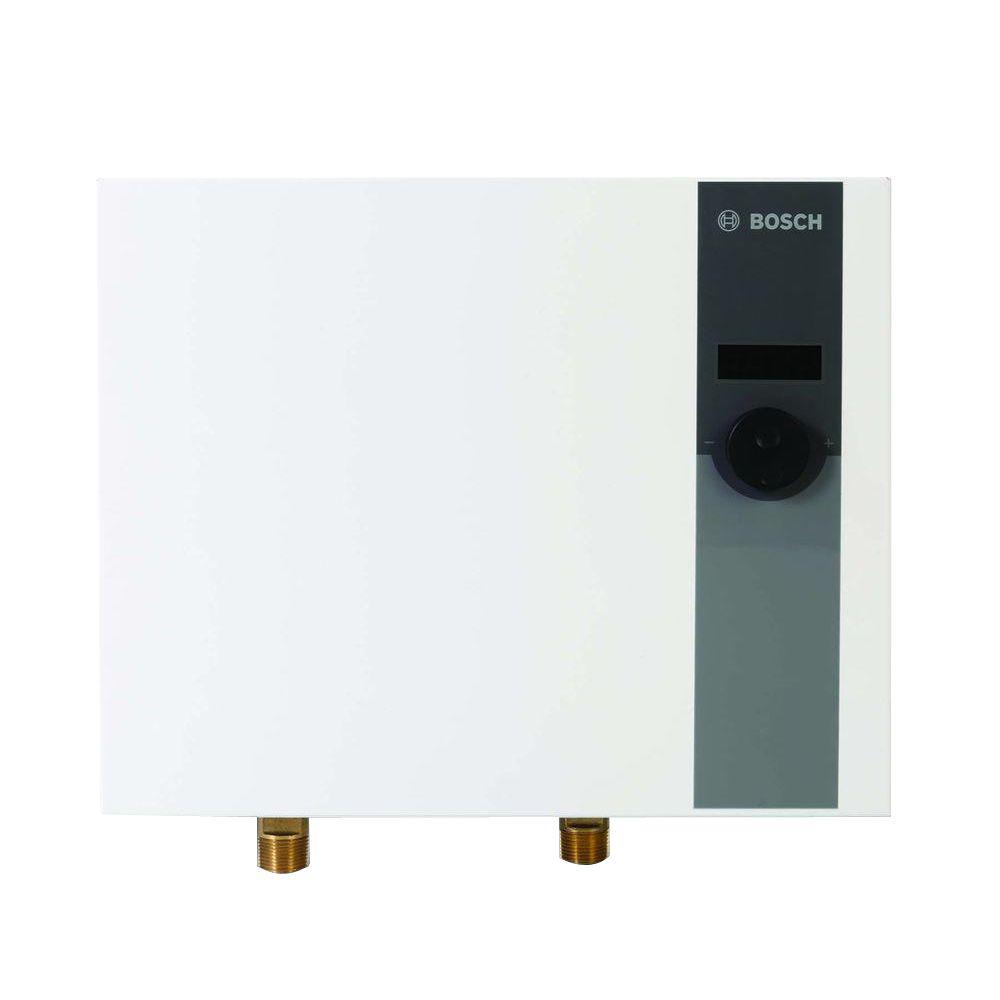 This is a great product to use in place of an electric storage tank water heater. Not only does it reduce water and electricity consumption, but cuts down on your utility bill as well.
What customers had to say
On the whole, customers seem quite pleased with their purchase, stating it works as intended, cut their utility costs, and was not that difficult to install.
The product is compact and lightweight
It sports a zero standby loss
It makes use of a solid copper heat exchanger
The built-in flow sensor allows for a constant output temperature
It has an external temperature control knob and thermal cut-out for safety purposes
We have had no negative feedback so no cons are available as yet
9.  IHeat16 kW Real-Time Modulating 3.5 GPM Electric Tankless Water Heater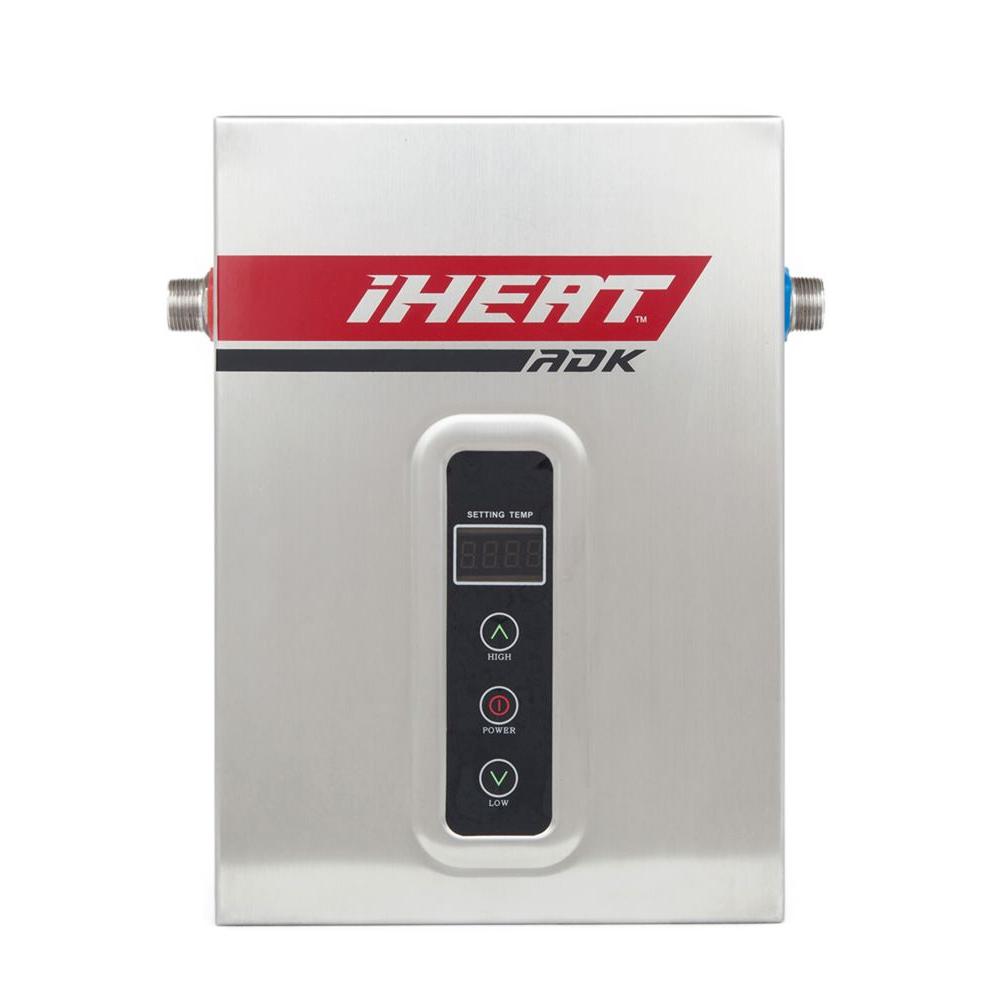 The product is capable of supplying hot water to two showers and sink simultaneously. It is most effective in warmer climates.
What customers had to say
The majority of customers felt this product meets their needs perfectly, is a money saver, and space saver.
The product has the capacity of heating two showers and a sink at the same time
In northern climates, it can only handle one application at a time
In southern states, it is adequate to provide hot water to a three or four bedroom home boasting two and a half bathrooms, including a clothes washer and dishwasher.
It may be best to have it professionally installed
Factors To Consider When Buying An Electric Tankless Water Heater
Before deciding to buy, do ask yourself these questions:
How big is it and where will I fit it?
How energy efficient is it, i.e. am I going to save money in the long run?
How much does it cost?
Can I install it myself or do I need someone to do it for me? How much will the installation cost? And what will my maintenance costs be?
How much water does it heat? How many applications can I successfully use at the same time, e.g. how many showers, sinks, appliances that use hot water?
The initial cost of this type of water heater may be a little higher than that of a conventional storage water heater. But they may just last a little longer while having lower operating (and energy) costs in the long run. Most of these also have easily replaceable parts that means you may have this type of heater in your home for much longer than you had at first anticipated.
Conclusion
Choosing the best electric tankless water heater for your home is a personal choice that should be based on where you live, the size of your home, and your specific needs. One that struck a chord with us, and which we feel is real value for its buck, is the Rheem 240V Heating Chamber RTEX-13 Residential Tankless Water Heater. It is the perfect option for someone starting out in life, who lives alone, and whose water heating requirements are not too high. This means the elderly who may live alone, a student, or even someone striking out on their own away from mom and dad's prying eyes for the first time. Or even for use out in the garden shed!