The best electric tankless water heater gives you hot water on demand. This means you do not need a large storage tank in which to store water while it is heated up. It also means you no longer have the problem of someone using up all the hot water. All you need to do if you want hot water is to turn the tap, and voila! Hot water on demand at a predetermined temperature. It is as simple as that!
12 Best Electric Tankless Water Heater Reviews
Choosing the best electric tankless water heater for your home may be a bit tricky. We hope our electric tankless water heater reviews will help you to make the right choice.
1.  Self-Modulating Electric Tankless Water Heater (11 kW) by EcoSmart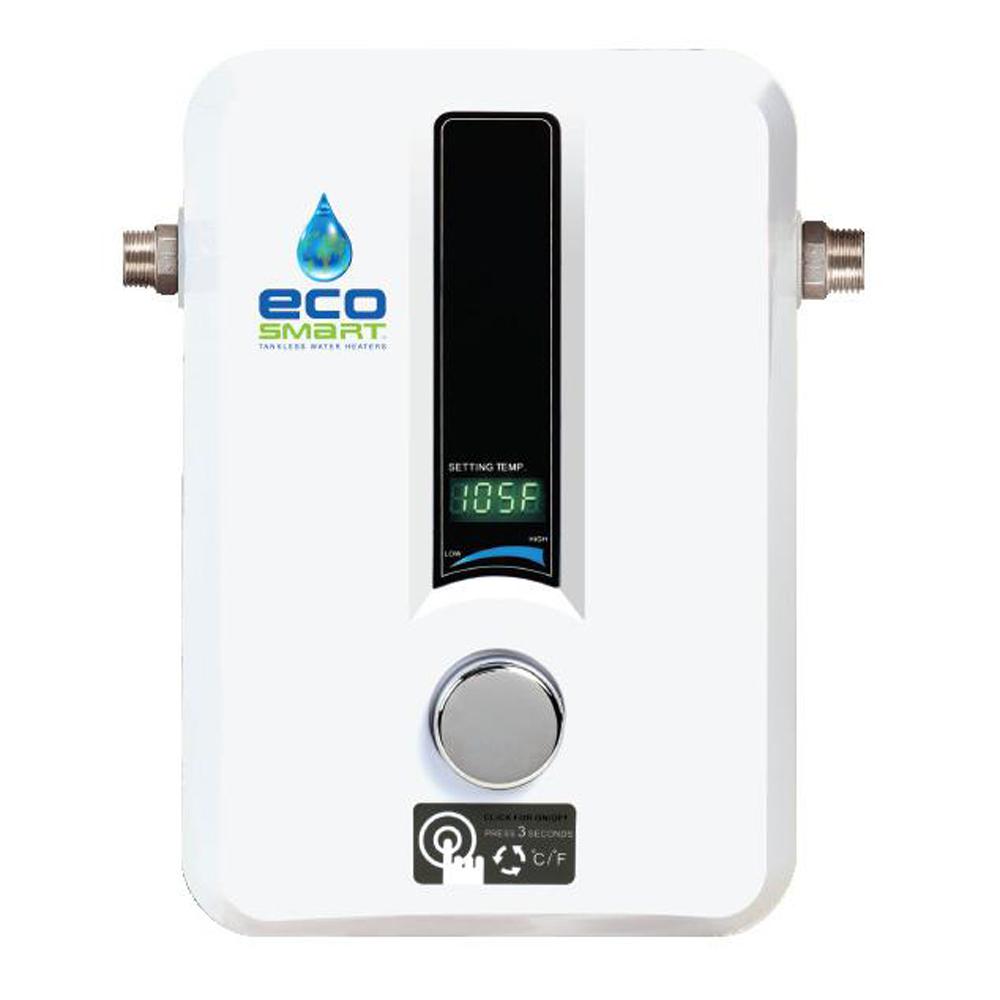 One of the leading companies in providing hot water in homes is EcoSmart. This 11 kW can be the best electric tankless water heater for its size. You can save as much as 60% energy cost because of its self-modulating technology. It also controls the amount of energy needed to heat water all the time.
With a maximum flow rate of 2 gallons/minute, it is ideal for small spaces such as apartments. You can use a shower and two sinks at the same time.
You do not need to wait for the water to heat up since design makes it possible to have a water supply. It is compact and convenient. The digital panel lets you control the heater to get your desired water temperature.
Furthermore, it comes with a Lifetime Limited Warranty, so you can always seek assistance for any problems. If you need an affordable but effective electric tankless water heater, you better consider this.
Highlighted Features:
Compact size
Self-modulating feature
Responsive heater control
Great structure
No venting
Reduces water heating bills
Sleek and compact
Has a digital thermostatic temperature control
Easy to install
The heating elements in the unit may burn out easily
2.  Self-Modulating Electric Tankless Water Heater (36 kW) by Rheem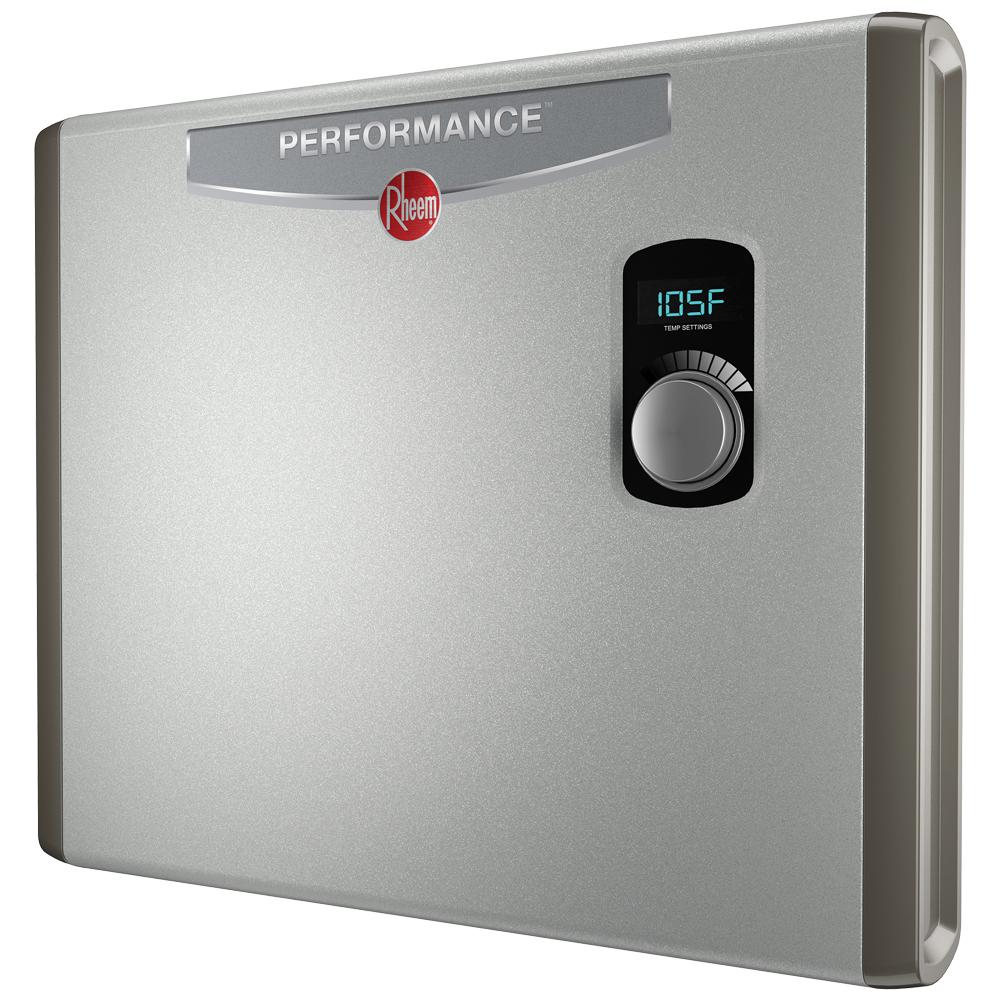 If you need an efficient and strong electric tankless water heater for your house, you can consider this one from Rheem. This residential tankless water heater has more than 70% recommendations from electric tankless water heater reviews.
It has four powerful heating chambers; you will always have an infinite supply of water. The self-modulating feature enables the heater to produce power enough for the hot water you need.
You can also easily control the heater for your desired results through the external LED digital thermostatic controls. Even in small spaces, it is excellent since it is compact enough to operate efficiently. Moreover, it can last for years because it is made from lasting copper immersion. You can also install it with ease because of the ¾-inch NPT bottom water connections.
Highlighted Features:
Advanced self-modulating technology
Celsius and Fahrenheit compatible electronic temperature control
Electric fuel type
5-year heat exchanger and 1-year Limited Warranty for parts
Heats up water fast
Saves space
Can easily handle two or more showers
Efficient in delivering hot water
Operates quietly
Pricey
Instructions in the user manual can be more detailed
3.  Residential Electric Tankless Water Heater (11.8 kW) by Titan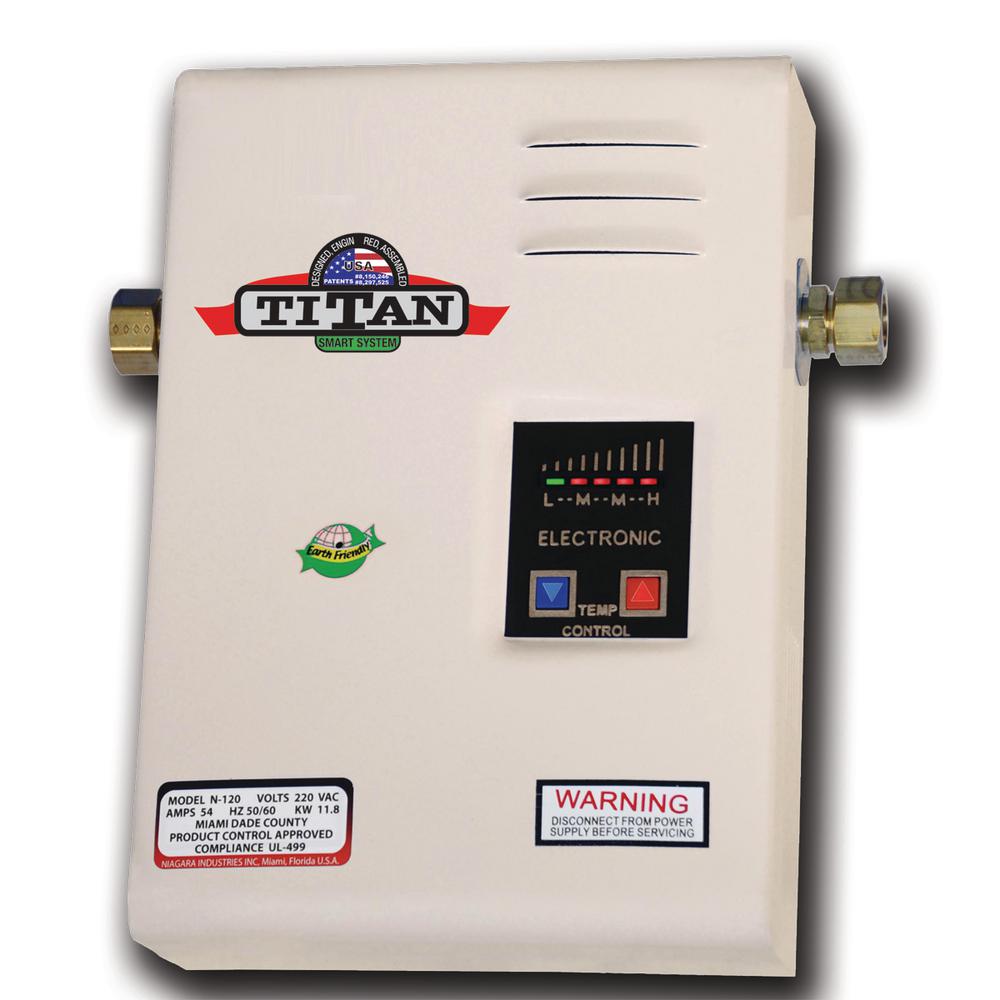 Titan is one of the veteran manufacturers of water heaters. By far, this is the best electric tankless water heater they have created. Like Niagara Industries, this tankless water heater is good not only for homes but also in small offices to supply hot water without spending much.
You can easily mount it on your wall because it only weighs 8 pounds. Therefore, this is great for any environment or structure. Having a tan steel coating gives it a classic feel to any room design.
Titan ensures that you always have a steady supply flow of hot water. One of the best features of this water heater is it only heats water when you need it, so there is no need to worry about wasting energy.
Highlighted Features:
Push controls for temperature adjustment
Weighs 2 pounds
The display panel shows a temperature graph
Smart consumption structure
A warranty of 10 years for water-carrying parts
Affordable
Lightweight
Installation is easy
Durable construction
Good warranty offered
This heater does not work in areas where the temperature gets lower than 65 degrees F.
4.  Tronic 3000 Tankless Water Heater (12 kW) by Bosch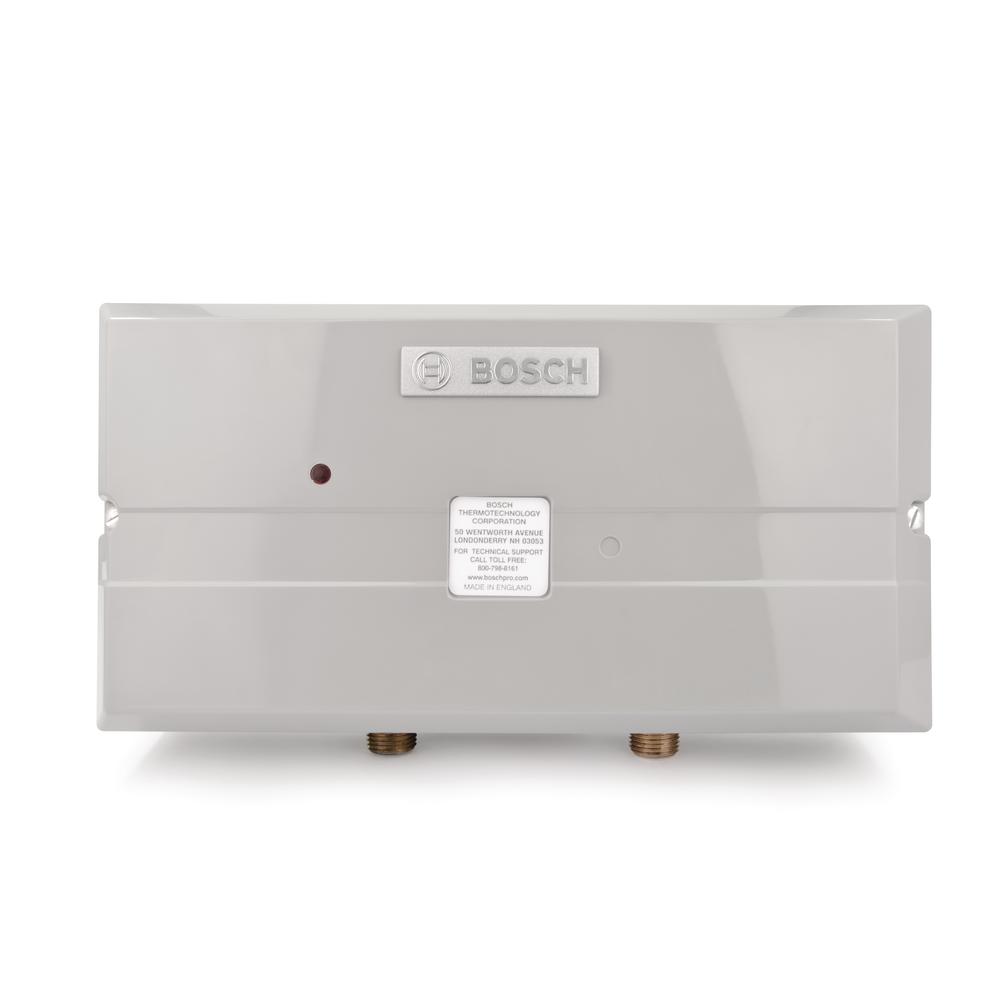 Due to its rectangular shape, this Tronic 3000 water heater from Bosch can be installed in a vertical or horizontal position depending on the space you have. Moreover, you can easily mount the unit on your wall under the sink or cabinet.
This is a compact electric tankless water heater because it is light and small. It is a point-of-use type, so it can only carry hot water through one outlet. Due to this feature, you can save more electricity.
This water heater is great for everyday use in your home because of its efficiency, convenient adjustment of temperature controls, quiet operations, affordability, minimal waiting time, and easy installation.
It also has 1.8 GPM that can give a temperature of up to 45 degrees F. This water flow can provide ample water supply on your kitchen sink or shower.
Highlighted Features:
Thermostatic controls
98% efficiency
Point-of-use tankless water heater
Has a 5-year Limited Warranty for heating components
An affordable option for a tankless water heater
You can install it yourself because of its weight and design
Highly efficient with less heat loss
Continuous hot water supply
Energy and money-saving
Fits on any small space
It can only supply hot water to one water outlet
5.  PRO Electric Tankless Water Heater (27 kW) by Atmor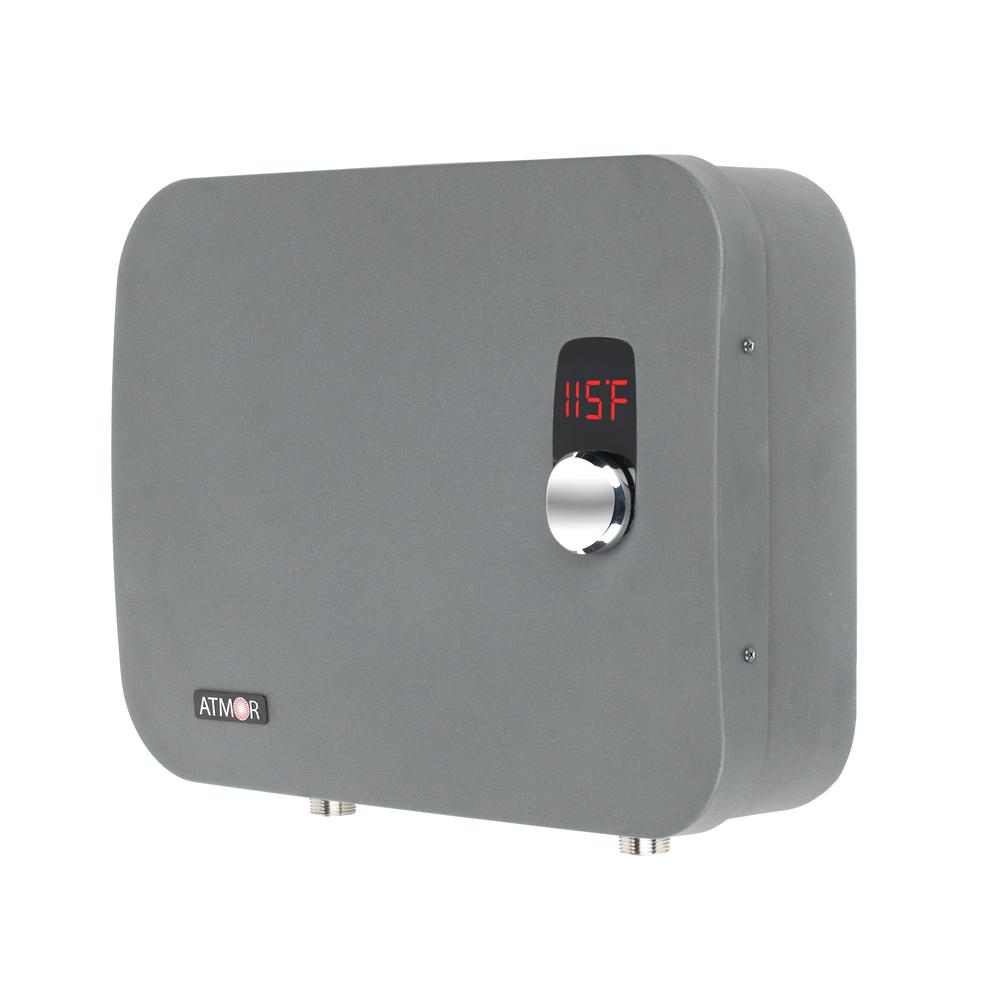 This water heater from Atmor can be the new best tankless electric water heater introduced in the market. Its interior is made of steel. Most of the electric tankless water heater reviews report problems because of the copper heating component. For this tankless water heater, there are two heating components made of steel. Other features it boasts are a control knob for adjusting the temperature and digital display.
You can use the thermostatic control range that you can adjust from 90 to 135 degrees F. Setting the temperature can be done in 1-degree increments. Therefore, you can get the exact water temperature you want.
The interior is made of steel, so there is a higher chance that it will corrode compared to copper. Although the manufacturer asserts that it is resistant to corrosion, it may not be completely safe from that. Nevertheless, it mostly has a stable water output since the steel heating components have efficient and good heating.
You can also save around 50% of your electricity expenses because the heater only uses energy when hot water is needed. It turns off when not in use. Its flow rate of 2.2 GPM at 37 degrees makes it worth every penny.
Highlighted Features:
Stainless steel finish
Thermostatic control
Has splash-proof IP54 certification
No venting needed
2- year manufacturer's warranty and 7-year leak warranty
Saves electricity because you get hot water in an instant
Easy to use and mount
Space-saving
Four applications can simultaneously utilize at various GPMs
May result in irregular water flow when two or more outlets are used
Possibility of corrosion
6.  Residential  Tankless Water Heater (36 kW) by Black + Decker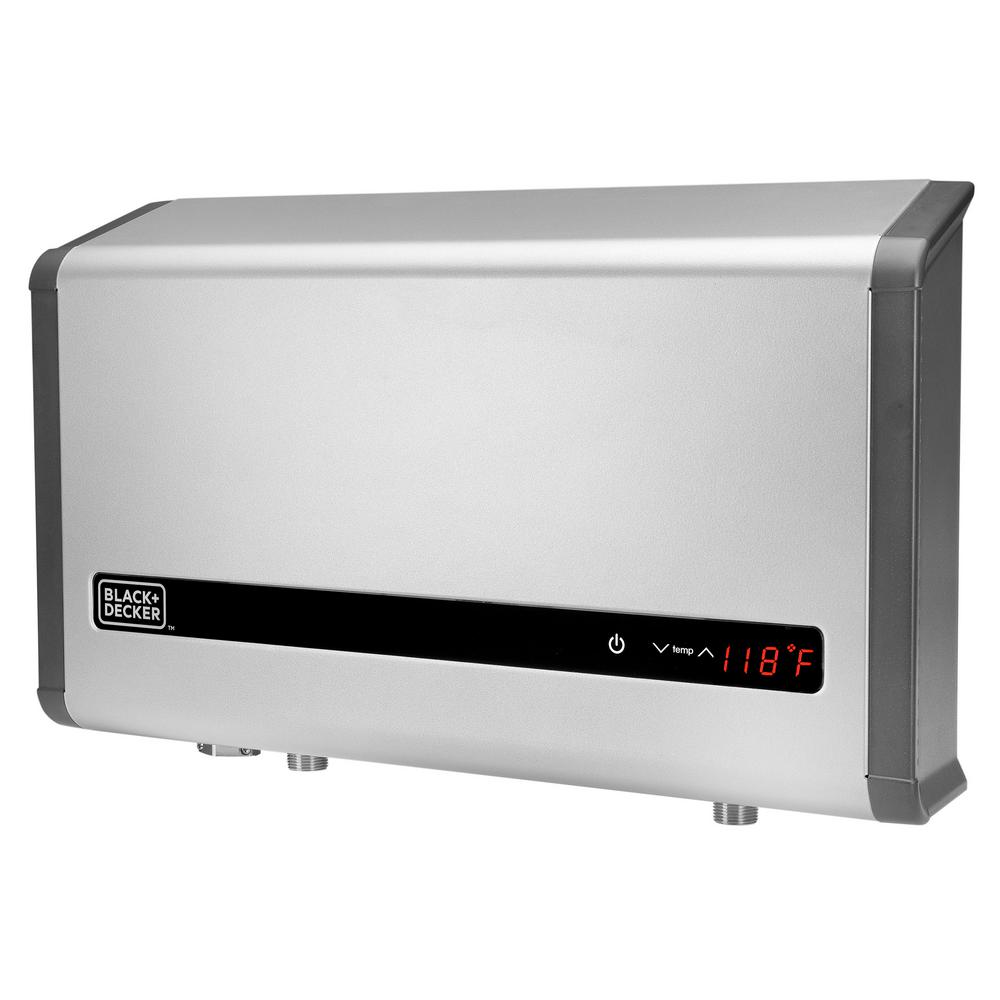 This Black+Decker's electric tankless water heater gives you infinite hot water supply once you need it, so you do not need to think about not having hot water or waiting for a long time. Unlike water heaters with tanks, this best tankless water heater electric has advanced and digital technology that lessens your electricity consumption. Therefore, you save more money by having hot water ready all the time.
You do not need gas lines or venting to install this heater. Also, you can install it almost anywhere, such as in your basement, cabinet, garage, closet, and many more because of its flexibility. As a result, you save more space by installing this unit. Other features you will benefit from this heater are the simple digital controls, smooth design, and durable interior. You can expect it not only to be efficient but also long-lasting.
Highlighted Features:
Work on five showers and two faucets in warm to hot weather
Non-corrosive, stainless steel, lead-free pipings, and internal canisters
¾-inch water connections
2-year warranty for parts, five years for heat exchanger, and seven years for leakage
Quick heating of water
Saves space
Installation and troubleshooting is easy
Economical
The controls are a bit complicated
Might not work if you have less than 150 amp service
7.  Tempra 24 Plus Adv Flow Control and Self-Modulating (24 kW) by Stiebel Eltron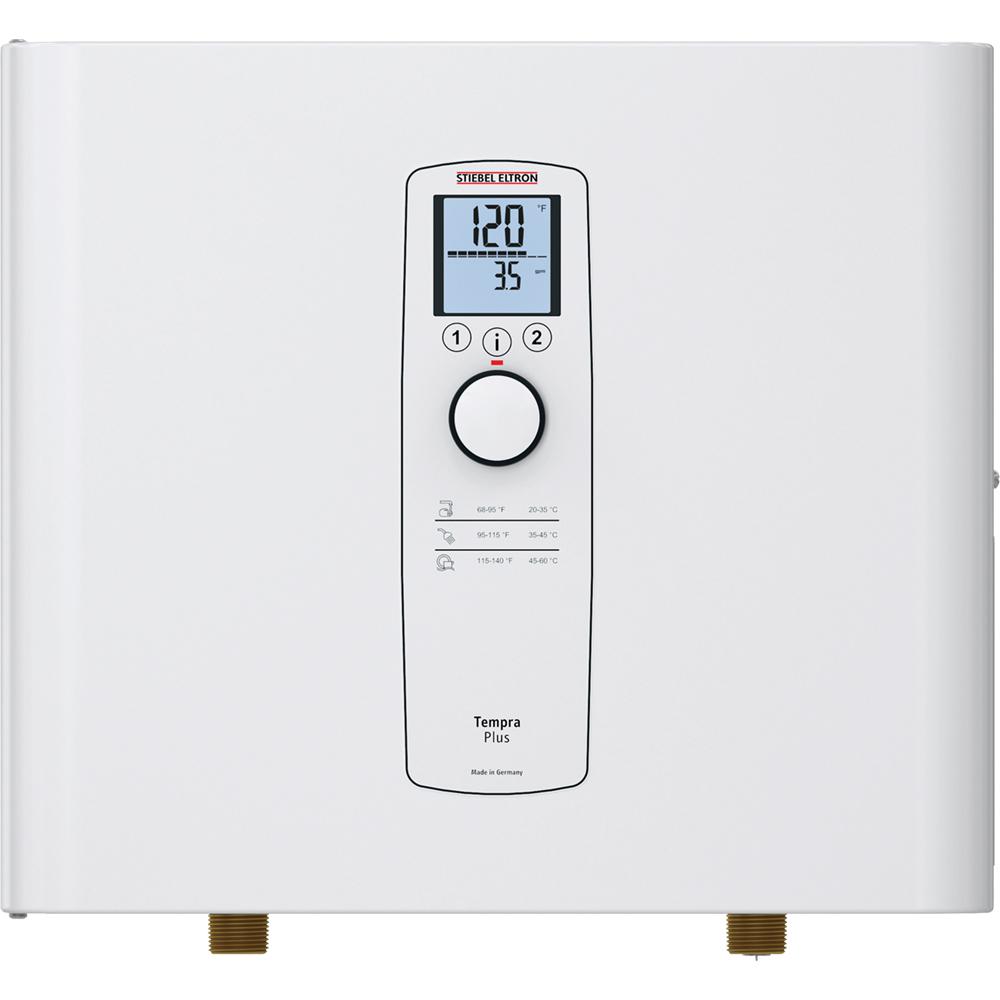 Having 78% recommendation from this electric tankless water heater reviews, Stiebel Eltron's tankless water heater has a sleek body design that is not only aesthetic but also saves space since venting is not required.
Aside from being energy-efficient, the delivery of accurate temperature is possible because of the heater's digital display. Moreover, its advanced water flow feature helps automatically keep the hot water temperature to give you comfort anytime. It does not matter how much water you utilize in your house since it will always be hot. This is possible because of the smart microprocessor feature.
You keep in mind that this heater must be vertically installed. The water fittings should also point down with detachable attachments so that cleaning and maintenance will be easier. If you have hard water, it is not a problem since you can just get an anti-scale filter.
Highlighted Features:
68 GPM
German patented advanced water flow control
A steady supply of water with a temperature of 68 to 140 degrees F
99% efficient
15% to 20% more savings in energy consumption
Relatively affordable
Convenient and automated controls that adjust the water temperature and pressure even with numerous fixtures
No venting needed
Very quiet
Saves much space
It can be hard to mount if you have no previous experience in installing one
It consumes more energy when the weather is cold. When the temperature of groundwater is below 50 degrees, it hardly produces 3.5 GPM.
8.  Self-Modulating Residential Tankless Water Heater (18 kW) by Marey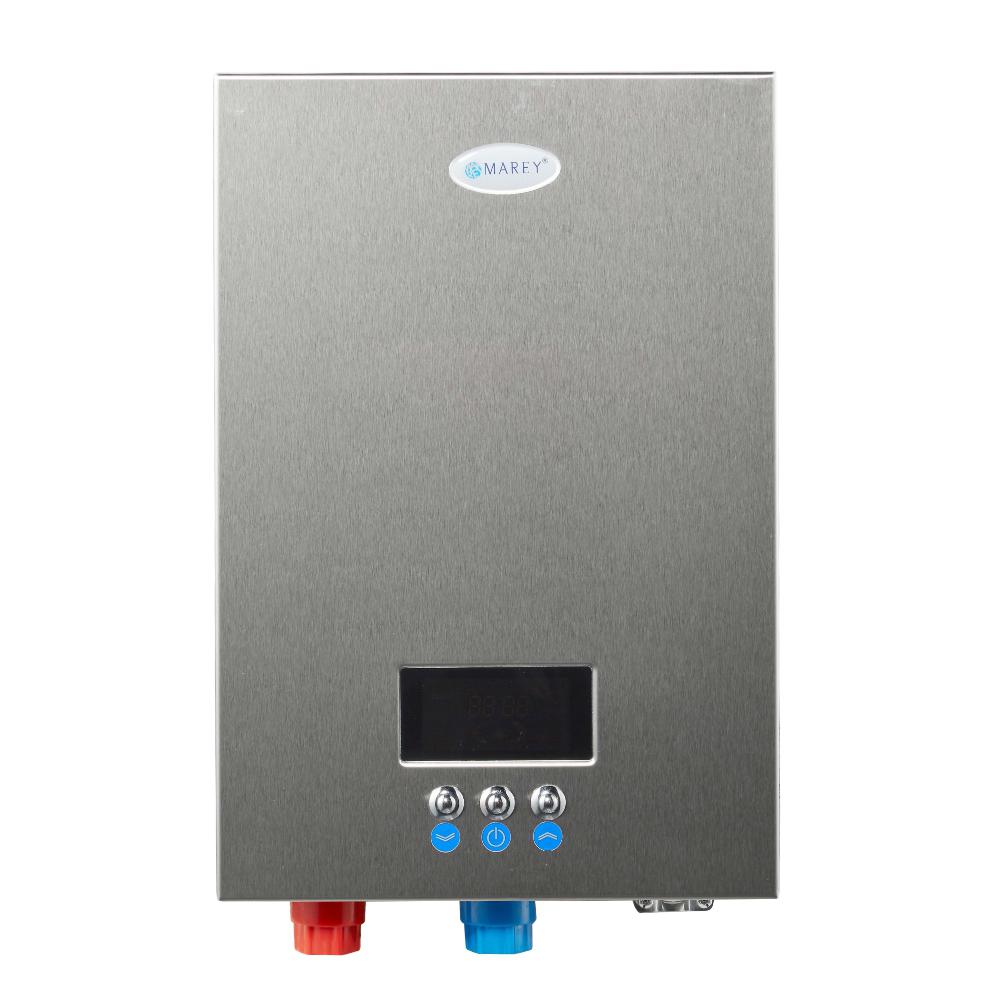 If you need an electric tankless water heater to operate and control with ease, consider this heater from Marey. The LCD panel makes it simple to use and manage the temperature. Therefore, you will not have a hard time getting the water temperature you want. It can efficiently work for a long time because of the stainless water channel and heating compartment.
Besides the functions mentioned, it is ideal for two simultaneous use of showers. You can also save 60% of your usual energy consumption. It is excellent for any space due to its compactness.
Highlighted Features:
Stainless steel channel and chamber
4 GPM water flow rate
Compact and beautiful design
LCD control display
Easy installation instructions
Value for money
Stylish design
Takes up little space
Six gauge wires are installed inside the heater
Possible restriction on GPM flow rate when used with showerheads
There might be a temperature drop when two water outlets are used
9.  Real-Time Modulating Tankless Water Heater (16 kW ) by IHeat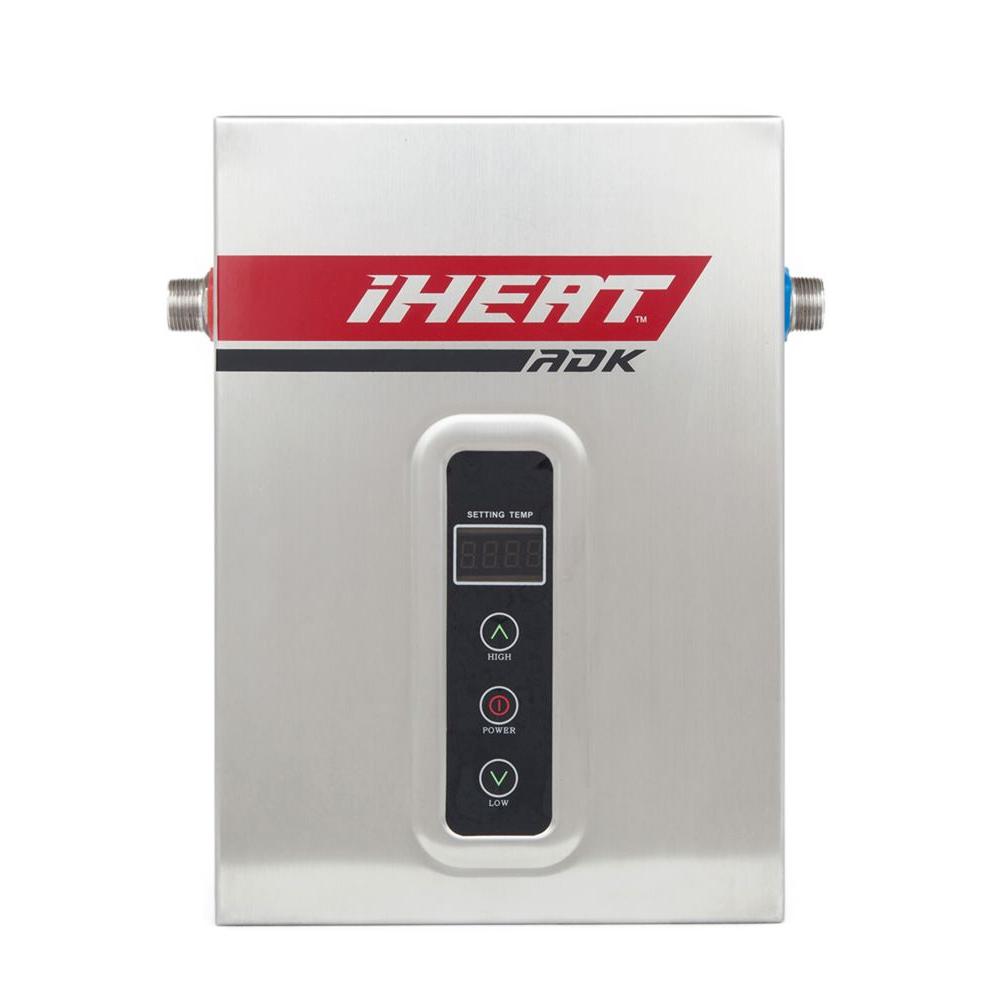 According totankless electric water heater reviews, you should check the construction of the IHeat water heater before purchasing one. This particular one is made from quality stainless steel; you can expect it to be sturdy and long-lasting.
Moreover, you can save a lot of space wherever you install this. You can benefit even when installed in small spaces because it is sleek and dense. Saving 60% from water heating, it is also very cost-effective.
Aside from homes, many institutions, such as schools and hospitals, can also use this water heater because of its effective 16 kW water heating system. This heater will likely fit whatever budget you have.
Highlighted Features:
5 GPM
Lead-free certified
Stainless steel compact structure
An economical and powerful heater
Has patent pending closed-loop modulation feature
Can be used in highly sterile applications
Provides plenty of hot water
Reasonably priced
Small enough to fit almost any space
Comes with good instructions for installation
An additional filter might be needed
Needs good ventilation
10.  Whole House Tankless Water Heater (17 kW) by Bosch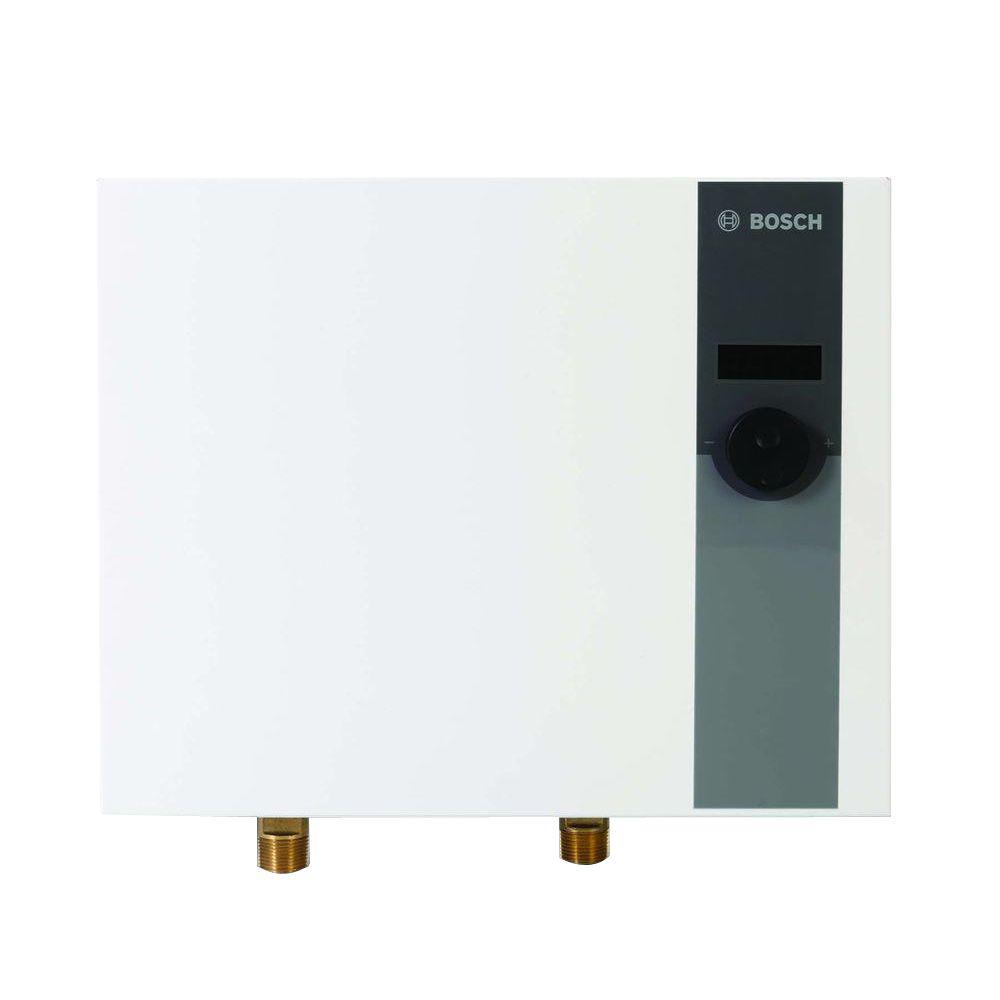 This compact water heater has received 93% customer recommendations for the best whole house electric tankless water heater reviews. It is a strong unit because it can supply hot water non-stop even when used with more than one water outlet.
You can install it almost anywhere because there is no venting space needed. You can also opt to put this up on your wall. It is good for residential and commercial use because the heater can be used to 1 to 3 water outlets simultaneously. Therefore, it is perfect to be used if you want consistent hot water for your whole house.
The hot temperature is constant due to the polymer encasing of the parts and the built-in flow sensor. The polymer encasing also makes this heater longer lasting. Compared to other heaters, it can last for more than 20 years. For this period, you will make an excellent investment.
The digital screen display and the temperature controls are not complicated to use and understand. It also has a 97% heat efficiency with minimal waiting time and a 2.6 GPM flow rate. To safely and adequately function, 120 amps protection for the circuits and 3 circuit breakers with 40 amps.
Highlighted Features:
6 GPM
Has a flow sensor installed
Parts encased in a polymer
97% heat efficiency
Digital screen display with a temperature adjustment knob
1-year warranty for the parts and ten years for the heating components
Low-cost
Ideal for wall mounting
Can be used in commercial establishments or houses
Heats water fast
Lightweight
Protection for the circuits can be further improved
11.  EcoSmart ECO 27 Electric Tankless Water Heater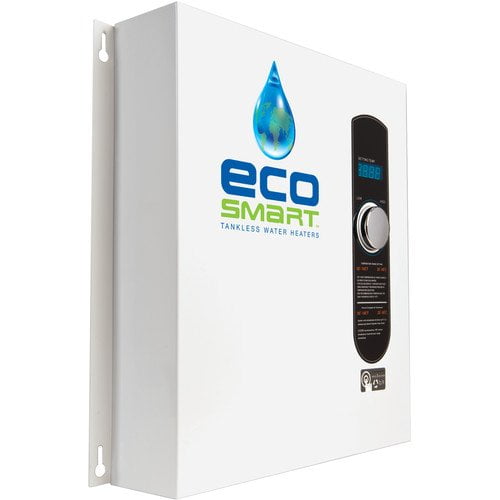 The manufacturers of this electric tankless water heater claim that their product saves you up to fifty percent on your water heating costs and is able to provide enough warm water for those living in the colder northern parts of the US, and four showers in the warmer southern areas of the US.
What customers had to say
Customers were impressed with the fact that this product is self-modifying and does not give out more heat than the load requires. Although it can be self-installed, they do not recommend someone without a good grasp of handyman work undertake doing so.
Hot water control is allowed due to a temperature control feature allowing 1-degree increments
The stainless steel and copper components of the electric tankless water heater are designed for efficiency and durability as well as being easy to replace as and when needed
The product has a compact design that does not take up too much storage space
The design of this product allows for nearly 3 gallons of water to be heated per minute at a temperature of 37 degrees Fahrenheit in the colder northern parts of the USA
It is capable of handling 6 gallons of water per minute in the warmer, southern states in the USA, the equivalent of running four showers at the same time
The home handyman may find installing this electric tankless water heater a little tricky
You may have to do some online research in order to install this product
You have to ensure that the product is compatible with your home's electrical installation and power supply
12.  Sio Green IR260 POU  Tankless Water Heater – Infrared Tank

The compact size of this electric water heater saves you space while giving you a supply of warm water without any fuss.
What customers had to say
Customers feel this product is value for money and is very suitable for a smaller home, apartment, or condominium.
This product makes use of an insta0infrared heating design that uses 110 volts
It heats only the water you use
It incorporates patented technology
No coil metallic elements are used in the design
The product is designed to prevent calcium deposit, limescale buildup, and corrosion
Less than twenty inches in length, this electric water heater is small and compact, taking up extremely little space
Depending on where you stay, you may find the water pressure is a little lower than desired
What Should You Consider When Buying an Electric Tankless Water Heater?
Owning an electric tankless water heater has plenty of benefits. However, you need to know what factors to watch out for when buying one. Here are some of the major considerations you must make when buying an electric tankless water heater:
Material Used

For some of the traditional tankless water heaters, they are made of limescale. Therefore, they need greater maintenance every year. When getting an electric tankless water heater, the material you should consider should be low maintenance and contribute to the unit's longevity.
Flow Rate Needed
When choosing the best tankless electric water heater, one of the most important factors to consider is the flow rate. This will determine if the heater is perfect for your needs. If you need hot water for your washing machine, dishwasher, or the shower in your bathroom, choose a heater with a higher flow rate.
For kitchen faucets, a lower flow rate is acceptable. Therefore, depending on your utility, this is where you will decide on the flow rate. The flow rate corresponds to the heater's price, so high-end heaters have a better flow rate.
Water Temperature

Electric water heaters with an incoming water temperature of not more than 30 degrees F is a good choice. Nevertheless, if you want a water temperature of up to 50 degrees F, it will be hard to find the best and ideal heater.
Size
Though most of the electric water heaters are small, you still have many options to choose from. Therefore, it is recommended to consider the space by measuring the area you plan to mount your heater. For heaters that can fit any space, this is the best choice. If you want to put it under your bathroom or kitchen sink, you can look at heaters with a compact size.
Electric Tankless Water Heater Types
A lot of types of electrical tankless water heaters can be found in the market. They may differ in size and application. Here are the different types of electric tankless heaters:
Portable

Electric tankless water heaters have more functions because of the portable type. Portable units can be solar-powered or plugged in. These can be installed and uninstalled without difficulty, so they are great if you plan to use it for different applications.
Whole House
This type of electric tankless water heater is in the higher end category. This unit can create hot water for your entire home, so there is no need to purchase multiple water heaters.
Single-Use
This is the smallest type of electric tankless water heater. It produces the lowest energy output. Therefore, these are great to be installed in energy-saving showers and faucets. It only works well on one water outlet and needs to be placed very near the endpoint of water.
Outdoor
There are outdoor types of electric tankless water heaters available. These are generally larger and need 240 volts. These are the most reliable units, so they have the highest output of energy.
Electric Tankless Water Heaters Maintenance
Maintenance of electric tankless water heaters is crucial since the water used flows directly into these heaters. Here are some of the things you can do to maintain and make your electric tankless water heater last for many years.
When you see that the electric current is low, do not turn on your electric water heater anymore.
If you plan to use your heater to hard water, it is a good idea to install a water softener. This can get rid of the hard impurities from this water type. As a result, it reduces the time for the heater to warm it up.
You install your heater in a dry and clean place. Make sure that the electrical elements of the heater do not come in contact with water.
Every 9 to 12 months, flush your heater.
To check for any leakage or corrosion, you can inspect the water pipes going to the heater. If there is leak or corrosion, repair immediately.
Seek a professional's help if your heater makes a noise that becomes worse after each use. The problem can be fixed by replacing the part causing the noise.
FAQ
What are the benefits and drawbacks of a tankless water heater?
One of the advantages of tankless water heaters is it saves space. Because there are no tanks, you will not have difficulty finding an area where it can fit. Also, you save money by installing it. When you turn the faucet, that is when it heats the water, and it warms quickly. Therefore, another advantage is you are ensured that you have hot water to be used all the time. It does not consume electricity once you turn off your faucet.
When you follow the user manual on proper use and maintenance, the best electric tankless hot water heater can last a long time. You or your family members do not have to wait for the water to heat up when you bathe. Thus, no one has to suffer bathing in cold water. To sum up, it saves you money and time.
For the drawbacks of tankless water heaters, they are the installation costs and price. Necessary piping and professional assistance are needed at other tankless water heater models. As for the price, these are often twice more expensive compared to traditional water storage tanks.
What is a tankless water heater?
A tankless water heater does not require a lot of space than other kinds of water storage heaters to warm water up directly. Once the heater is turned on, the cold water goes through a pipe and enters the tankless water heater. From here, the water gets heated up through electric heating components or a gas burner. That is the reason why you have a steady supply of hot water.
In general, 2 to 5 gallons of hot water can be produced by a tankless water heater every minute. For gas-type water heaters, there is a higher flow rate than the electric type.
Installing more than one tankless water heater or a whole-house one is common for households with large families. There will not be a problem with the supply, whether the washing machine, dishwasher, and shower are used simultaneously.
How can a tankless water heater heat water instantly?

A tankless water heater provides you with hot water whenever you need it. Once you turn on the tap for hot water, the water from the pipes goes into the heater and moves through the heat exchanger. Inside the heat exchanger, an electric resistance coil makes the water warm on the temperature set as it travels. With the correct size, you will have an infinite hot water supply instantly easily.
How much money can I save?

Based on the reports and tankless electric water heater reviews, the amount of money you can save from installing a tankless water heater varies. Energy Star reports that you save $100 or even more every year. Nevertheless, Consumer Reports mentioned that you could only save around $70 to $80 every year.
To get the amount you could save, determine the water usage in your house. If there are many people in your home, you save more money since you consume more water than people who live alone since they consume less water.
Conclusion
Finally, we think the best electric tankless water heater is the Self-Modulating Electric Tankless Water Heater (11 kW) by EcoSmart. It has a patented self-modulating technology that will lessen your electricity expenses.
It also has a lot of positive feedback. Many of the customers also love how effective and efficient it is. You get a lot more than what you pay for this heater since it has many features.
Aside from functionality, compact and modern design is convenient for virtually any space. The display and temperature controls are not complicated, making it easy for almost anyone to use.