Can't stand the bitter cold air? Why not get an electric wall heater? Getting one of these baseboard heaters is actually a popular solution that most homeowners use to heat up their bedrooms.
While we recommend that you get one immediately, we don't encourage you to buy just any heater. We want you to buy only the best electric wall heater that the market has to offer.
Check out our electric wall heater reviews to know the best electric wall heaters that are worth every penny:
How an Electric Wall Heater Works
Before we go to the reviews, it is important that you understand the qualities you need to look for in the best electric wall heater.
To know that, you need to know a few things about this appliance. First, you need to know how it works and what factors to consider when picking out one.
So, to start off, let us first explain how this device works:
The most important thing that you have to know about electric wall heaters is that it makes use of electricity and a heating element to work. The heating element is most likely a type of resistor that can turn electric power into heat.
When electricity goes into the heater, it travels all the way to the resistor to heat it up. While this is happening, a fan will pull air into the heater and pass it through the resistor so that the air can heat up.
The resistor then pushes the heat air all the way to the fins. The fins would then spread the heat all around the room. Once the hot air goes out, the heater will take in new cool air and repeat the process. Its mechanism is pretty similar to that of a wood burning stove.
This is the way a typical electric wall heater works. However, some wall heaters use internal convection instead of a fan to move the air and turn it hot. In any case, it would still create the same results as the typical fan-powered electric wall heater.
Electric Wall Heater Buying Guide
Now that you know how an electric wall heater works, you have an idea of the important parts that you need to remember.
With that, we can move on over to the buying guide. This buying guide will give you the various factors that you need to consider when picking out the best electric wall heater for your home. That way, you can narrow your choices down.
Even if we provided you with the 10 best brands to choose from, you need only one or two heaters. The guide will help you further zoom into the most suitable one for your needs.
Let's go through them one by one:
Heat Capacity
If you're looking for a unit of measurement to determine the power of your heater, then you need to take note of its heat capacity in BTU.
BTU means British Thermal Unit and is the unit of measurement of heat emitted by a heater by the hour. Generally, a higher BTU means a more powerful machine. Now, the amount of BTU you will want in a typical heater will depend on your area space.
The BTU of a typical electric heater is 5,000 BTU/hr. That kind of power can heat up around 150 square feet. That said, you must first determine the size of your room. After that, convert the size to BTU/hour and use that as your basis for the heater you'll buy.
Energy Efficiency
Another factor you may want to take into consideration would be the energy efficiency of the heater. This is a little tricky since there is no unit of measurement for energy efficiency. However, one of the best ways to measure it would be to check the wattage per BTU.
If you can get a certain BTU at a lower wattage from brand A compared to brand B, then the former brand will save you more money.
Noise
If there's one thing you should know about electric heaters, it would be that they are extremely noisy– especially the fan powered type. That's why a lot of homeowners try to find the quiet operation types so that they won't be disturbed at night.
If you are particular with whirring noises that appliances give off, look for a heater that has quiet operation.
Speed of Heating
Generally, the fan powered heaters are known to be faster at heating up rooms. This is because the fan pulls in the air then flushes it out when it is heated. That takes an extremely short time to do. Compared to a convection type of heater, the air still needs to be heated up inside before it is let out.
So, if we're talking about heating speed, then the best choice would be the fan powered type. However, there are people who do not want their rooms to be heated up too quickly so that they can still enjoy some cold air. In that case, a convection type is best for them.
Design
Another factor, which is not really that much of a crucial factor, is design. Design is more of a preference than a necessity because you'll want a heater that goes with the interior design of your room.
If you get one that looks too different, your heater will stick out like a sore thumb and look pretty horrendous. For these instances, it does pay off to have an eye for design so that you'll know exactly what looks good in your room.
Brand
Finally, you must always consider the brand when you buy a heater. More often than not, lesser known brands tend to scrimp on quality, leading to malfunctions and possibly some safety risks.
In our list, we only include pretty known brands such as Stiebel, Marley, Fahrenheat, and more.
10 Best Electric Wall Heater Reviews
Here are the hottest electric wall heaters today:
1.  Comfort Glow Electric Infrared Heater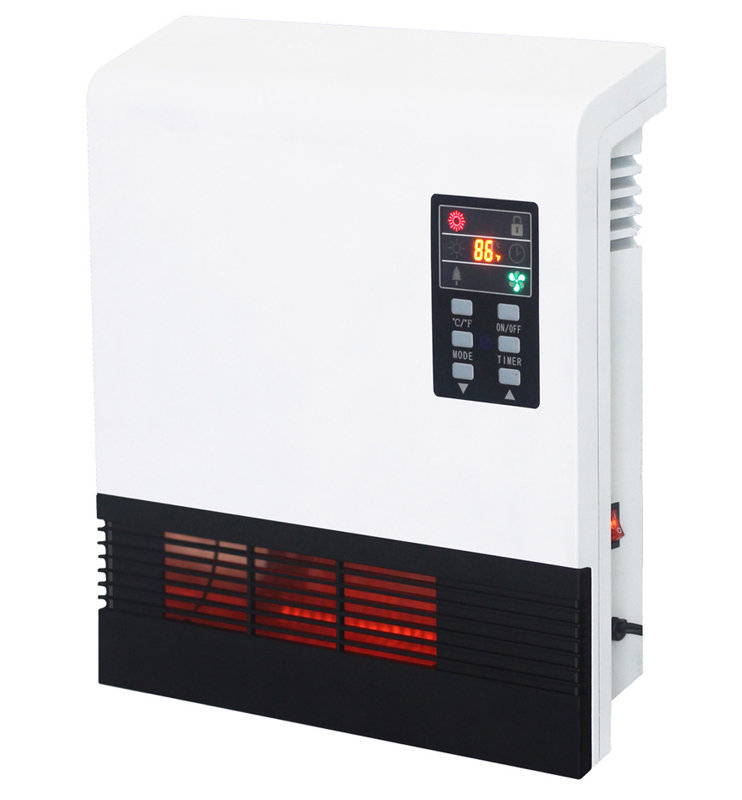 Infrared heaters are amazing because they have high efficiency, powerful heating capacity, energy saving features, and a lot of safety features to boot. Such is the Comfort Glow Electric Infrared Heater.
Unlike the traditional electric heaters, this one does not need a coil heating element to emit heat. It simply uses an infrared quartz heating element for heat emission. This makes it extremely safe for use.
Other than that, it also doesn't scrimp on power. It has 5200 BTU of power and can heat up a 300 to 400 square foot room in an hour or two. It might be slower than most traditional heaters, but it is definitely safer.
Highlighted features:
5200 BTU heat emission
Remote control operation
Silent operation
Moisture resistant casing
Dual power settings
Resettable GFI plug
2.  StiebelEltron 074058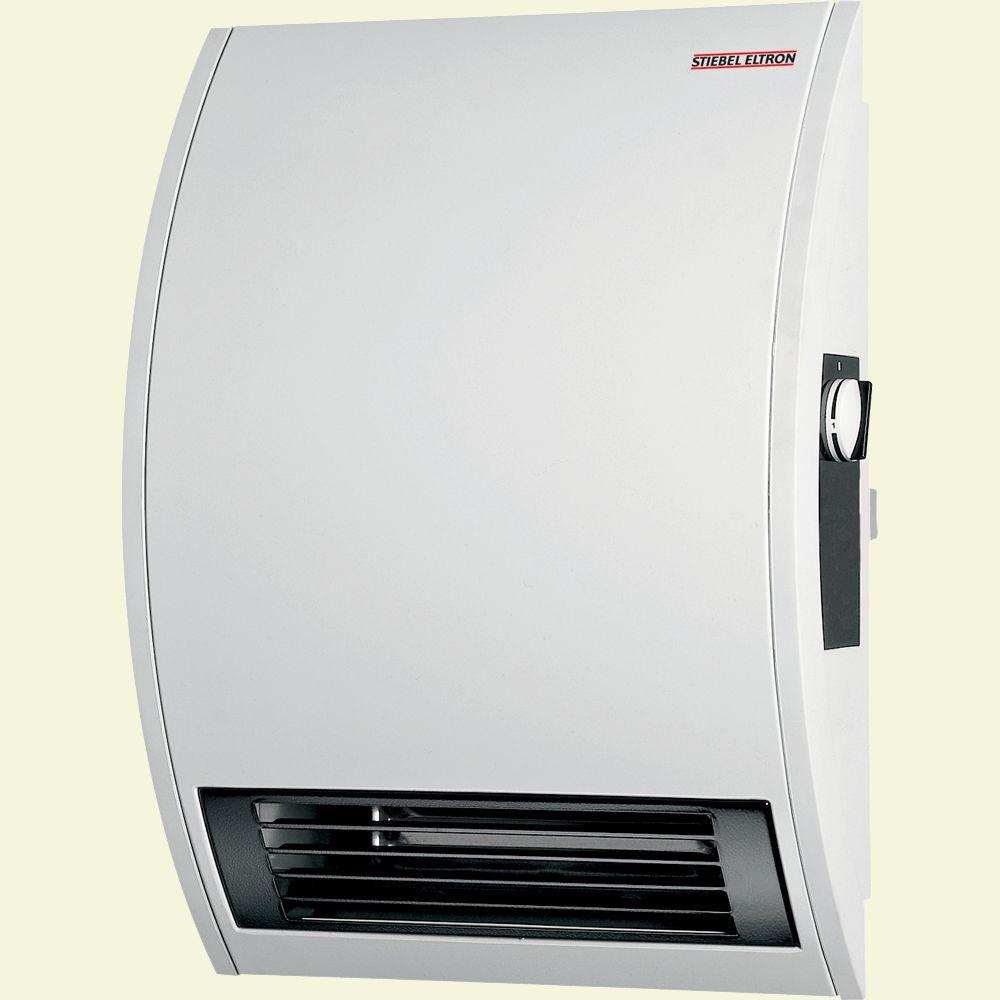 If there's one thing that you'll totally love about this electric wall heater, it would be that it's extremely easy to install. Since it is extremely easy to install, you don't need to call a professional to help you.
It's as easy as installing a ceiling fan and even easier to use. It's the ideal heater to use for those who are buying electric wall heaters for the first time.
Another aspect that you'll really appreciate would be its power. It has a very powerful fan that can spread the heat around the room faster than most heaters.
In fact, you can completely heat up your bedroom in just a few minutes with this handy little device. It's great for small to medium sized rooms.
Highlighted features:
Quiet operation
Rapid operating fan for fast heat distribution
Frost protection mode
In-built thermostat
Heat capacity of 5122 BTU/hr
3.  King Electric PAW2422-W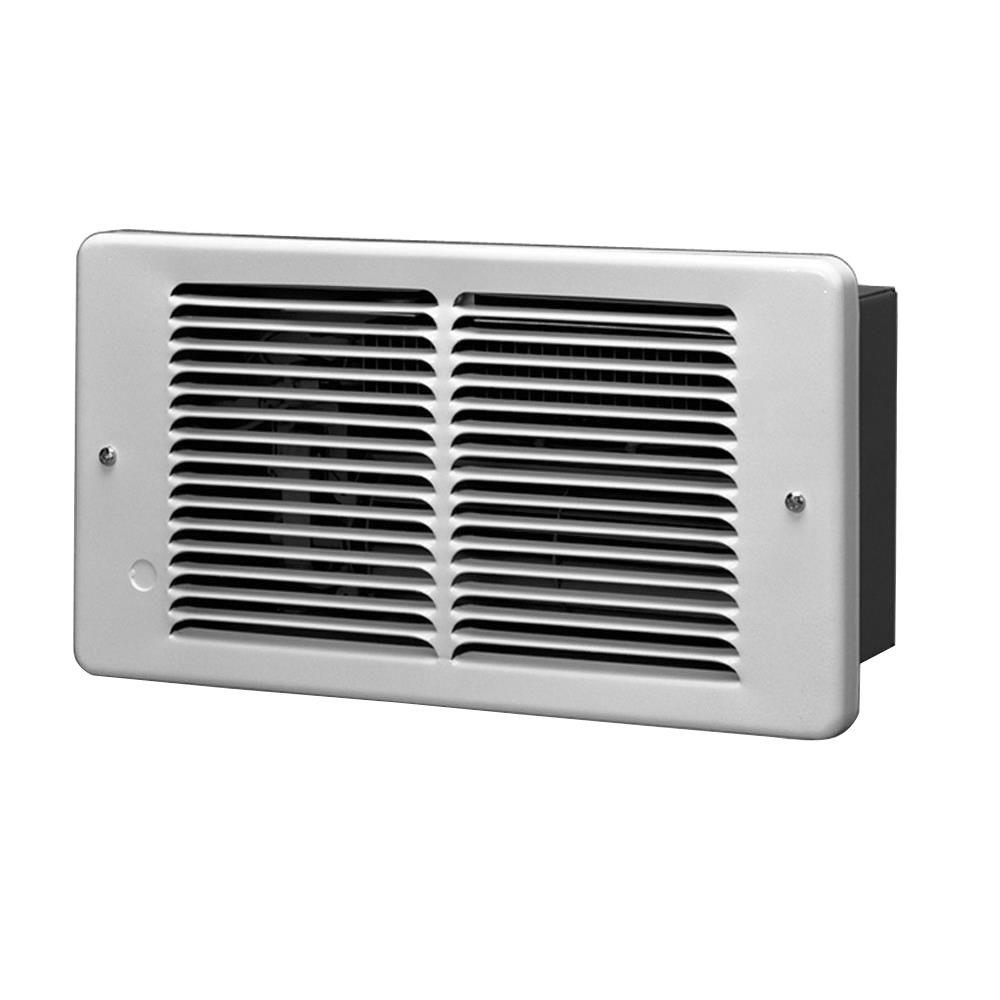 What makes this electric heater amazing is that it has an adjustable wattage, which is something that a lot of heaters out there don't have.
With this handy little feature, you can adjust the wattage based on your own needs. The wattage ranges from 500 watts up to 2250 watts. You can easily adjust that with a simple mechanism provided by the unit.
If you're the type of person who's always worried about safety, then this unit will most likely appeal to you. It has a patented auto shut down feature. With the feature, the unit will automatically shut itself down once it detects that there is something wrong with the machine.
For instance, when the unit detects that it is starting to overheat, it will automatically shut off itself. You then have to manually turn it on again to get it working.
Highlighted features:
Customizable wattage
Quick installation
Squirrel cage blower for quiet operation
Auto shutdown feature
4.  Broan 198 Wall Heater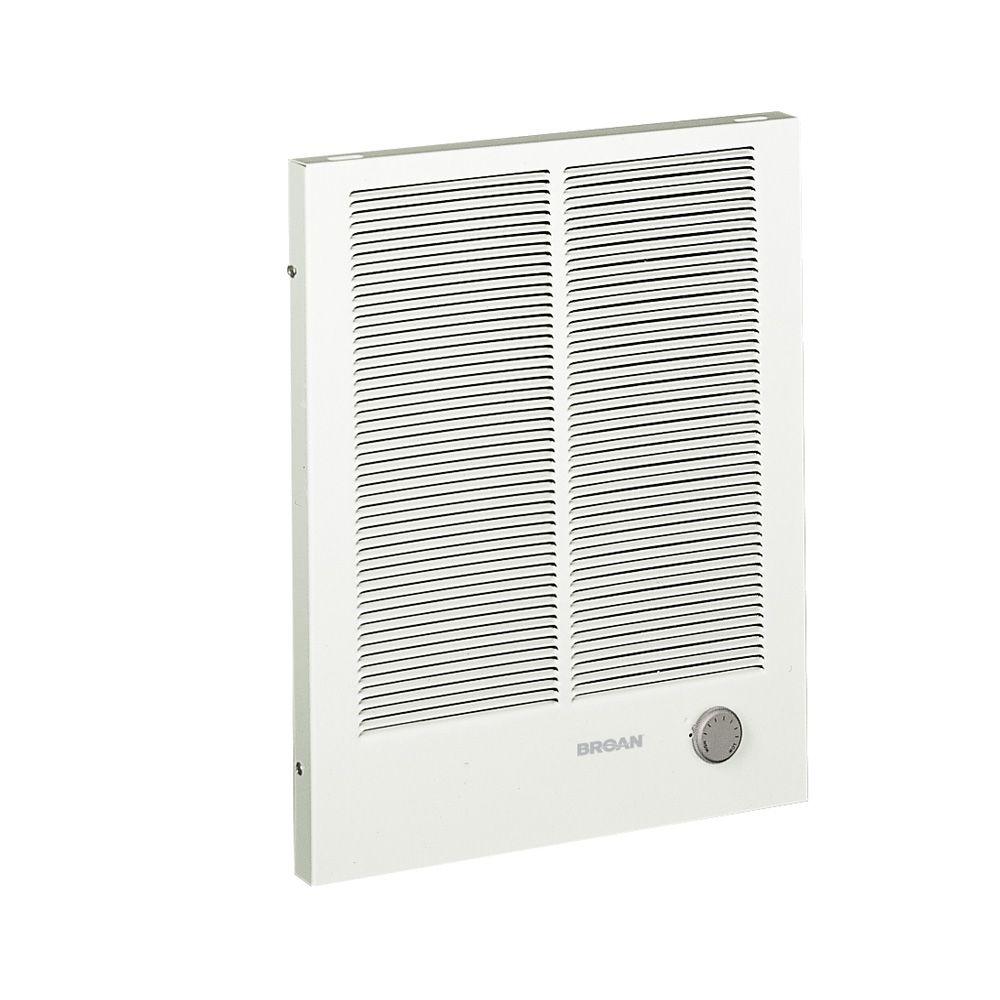 The Broan 198 Wall Heater is known for its heavy-duty built, making it one of the most durable wall heaters on this list.
It is actually made out of top-grade steel and has a baked enamel finish. This combo makes it extremely strong and sturdy, giving it a pretty long shelf life.
Aside from just its durability, you'll also really appreciate its 18-gauge steel grille. This built allows the heater to direct the heat downward to the floor, thus even your feet are covered in nice heat.
Of course, you don't want it too hot at your feet. That's why the unit has a front mounted thermostat. With this feature, you can easily control the heat level that comes out from the machine. That way, you can choose the best temperature for your room.
Highlighted features:
Steel material with white enamel finish
Adjustable thermostat
Fan delay feature
Permanent lubrication for motor
100% efficiency heating element
5.  Econohome Wall Mount Space Heater Panel 120V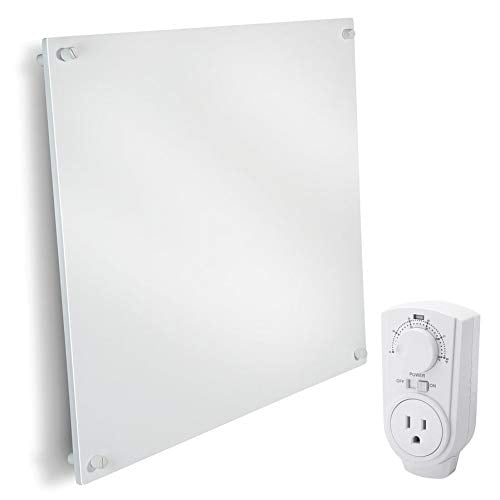 Econohome is quite the perfect name for this heater because it is known to be able to save up to 50% of total electricity in your home. The great thing about this heater is that even if it uses less power than the average heater, it still has the same heat capacity to keep you comfortable in your room during a winter night.
It's important to note that this is a convector powered heater, so it does heat up pretty slow compared to the fan powered heaters. However, it still does a pretty good job heating up small or even large rooms.
One thing that you'll love about this heater is that it's perfect for those with asthma or rhinitis. It is the type of heater that does not circulate dust like most fan types do. It also maintains the moisture in the air, making it ideal for those with respiratory issues.
Highlighted features:
Energy saving feature
Impact resistant built
Consistent convection heating feature
Sleek Design
6.  Cadet Com-Pak 1000W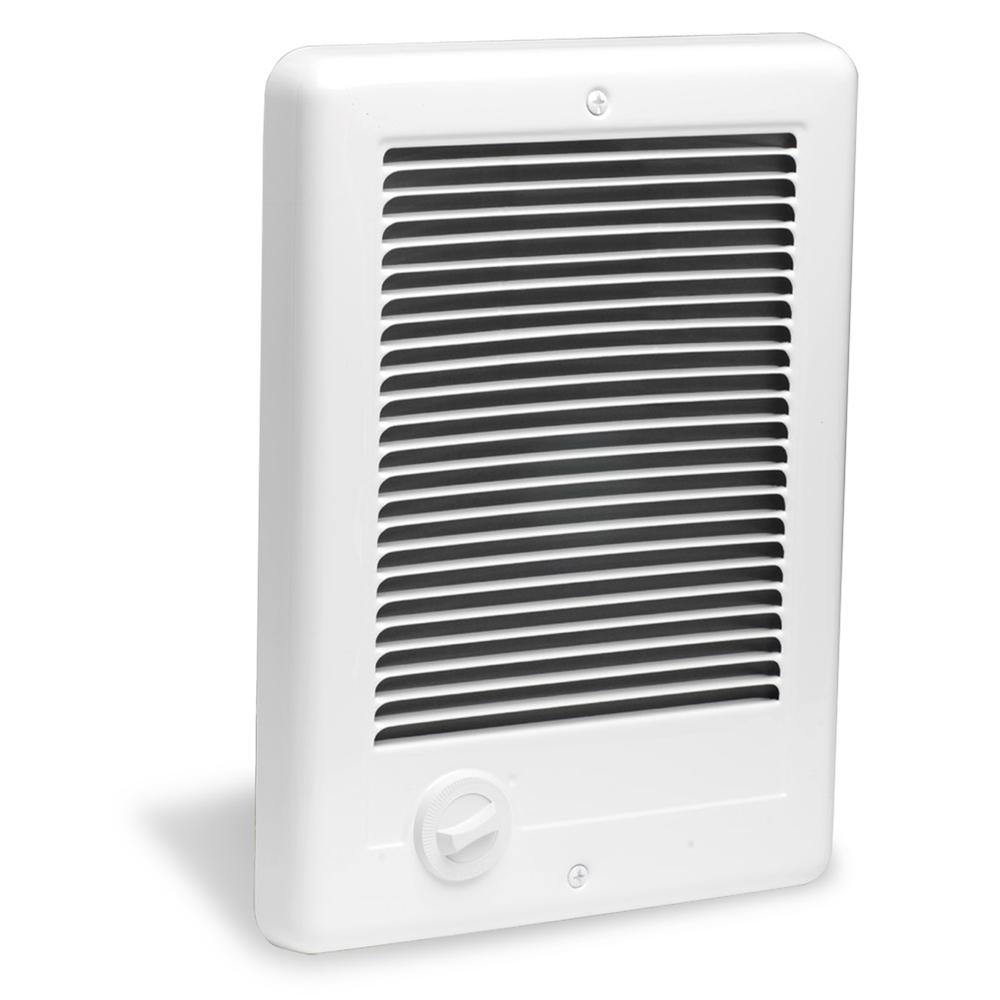 Cadet has always been known to be a good brand for heaters, so this model definitely does not disappoint. If you're looking for efficiency, then you're looking for this brand. When it comes to heating up rooms fast, this one does a pretty good job.
Other than that, it also has a rather high heating capacity, being able to heat up 200 square feet of space.
It also has very quiet operations, making it one of the best heaters to have if you are the type to be disturbed very easily by those whirring noises. With regard to safety, this heater has an overheat shutdown feature.
With this feature, the machine will be able to detect overheating. Once it detects high temperatures, it would shut itself off.
Highlighted features:
Overheat shut off system
Easy wall mount
Hard wired thermostat
Fast warming coil element
7.  Fahrenheat FSSWH1502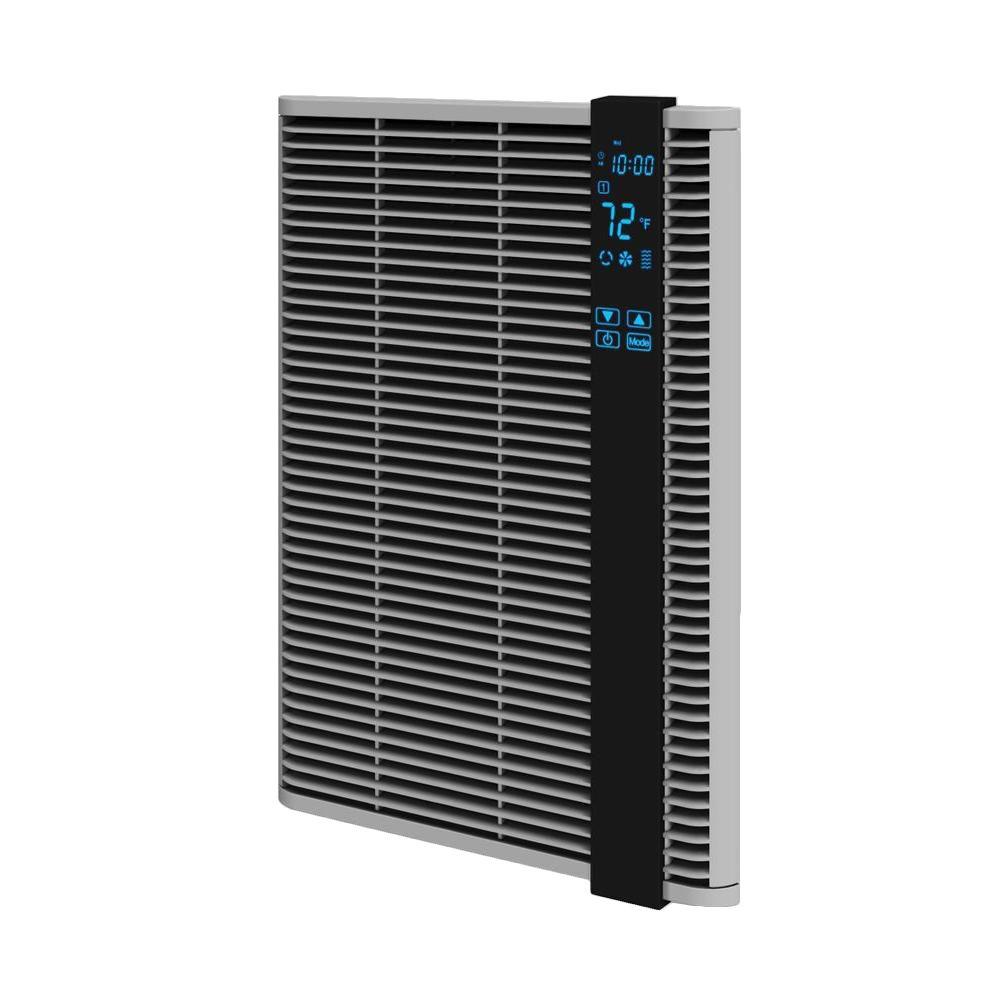 When you look at this heater, the first thing that'll probably enter your mind would be how futuristic it looks.
The blue LED digital control board looks pretty stunning if you've got an eye for design. However, this heater isn't just all about the looks. It also has a ton of great features to brag about.
First, it has a heat element life prolonging feature. This feature detects whether or not the element is at optimal heating temperature before it allows the fan to turn on. Other than that, you can also adjust the temperature as well as fan speed. It's pretty much like having full control of your unit through the control board.
Highlighted features:
Auto heat adjuster
Fan speed adjuster
Life prolonging feature
5/2 thermostat feature, letting you to set different temperatures on weekends and weekdays
8.  Marley SSHO4004 Qmark Wall Heater

The Marley SSHO4004 is the best wall heater for really big spaces. Because of its power and heating capacity, it is the most recommended heater for big units including office units, big condo units, and apartments.
Other than that, it also has a capacity to heat up restaurants, cafes, and lobbies with ease. Basically, it can heat up any space ranging from 200 to 400 square feet easily. It also has an automatic wattage adjustment feature so that you can experience total comfort with the heating.
Overall, it is a great heater that can be great for both residential and commercial purposes. Whether for a house or for an office building, this one can be used.
Highlighted features:
LED light touchscreen control board
5/2 temperature programming for separate temperatures on weekdays and weekends
Auto wattage adjuster
Remote control included
9.  Econo-Heat 0603 E-Heater
Just like the Econohome wall heater, this is another model that can save up on electricity costs. It saves up pretty much the same as the Econohome model (⅓ of normal electricity consumption), so this is an alternative to Econohome.
However, another aspect that you'll probably appreciate more would be its design. It has a very sleek and modern design, allowing it to fit with any decor. Also, its structure covers all the parts that could pose dangers to pets and children.
With that, you don't really have to worry about your child playing near it.
Highlighted features:
Sleek design
Beautiful white color
Can be painted
Silent operation
10.  Convectair 7315-C20-FS Allegro II
Also known simply as the Allegro II, this is known as the "lowest convection heater" in the market. This natural convection heater is pretty reliable and does not use up too much energy while still at the same time giving you extreme heating comfort in your room. You can view it as something like a jack of all trades when it comes to heaters.
You'll also love the fact that it is very compact and does not take up that much wall space. Aside from that, this heater looks really good. Although it is simplistic, it has a very modern look to it. It's great for modern style rooms that have contemporary interior designs.
Highlighted features:
Reliable natural convection
Compact design and built
Energy saving feature
Sleek and contemporary design
Electric Wall Heater Safety Tips
Speaking of safety risks, it is true that these electric heaters can be pretty dangerous if you don't know how to handle them.
Therefore, as a part of this guide, we also included a bunch of safety tips to help you operate these devices without getting harmed.
Check out these safety tips when using the electric wall heater:
Give a clearance space of three feet from the heater on the front and twelve inches on both sides.
Make sure that all materials that can burn (curtain, furniture, paper, and other similar belongings) are kept away from the heater.
Do not install the heater near a door or any object than can block the flow of air.
Clean the insides of your heater regularly so that there is no clogging.
Keep children and pets away from the heater.
Always turn it off before you try to open the heater to maintain and clean it.
Avoid leaving the heater overnight if possible.
Frequently Asked Questions
Now that we've gone through how electric heaters work, how to choose the right one, safety tips, and the best electric wall heater products, it's now time to take a look at our top pick out of the ten.
But before that, there are a few FAQs that a lot of people tend to ask us that we'd like to answer. This will help you further understand more about electric wall heaters.
Q: Are electric wall heaters efficient?
A: Yes, most definitely so! When we talk about efficiency, we usually refer to heating without any wasted energy. When an electric wall heater heats up a room, it does not waste any energy that comes from electric current. It would convert all the electricity that it receives from the power source into heat energy. That's what makes it 100% efficient.
Q: Do wall heaters use a lot of electricity?
 A: That really depends on a few factors such as the heating capacity of your heater, the room size, and the wattage of your heater. However, if we would compare the electricity consumption of a wall heater to that of central heating, then the answer would be no.
A wall heater uses much less electricity than a central heating system. In the long run, you could just turn down the central heat and just turn on the electric wall heater for a while and still save a lot of money.
Q: What heaters are safe to leave on overnight?
A: As a general rule, we really do not recommend that you leave your heaters turned on overnight because it could overheat and cause a small fire. If you are insistent that you need to use the heater overnight because of cold weather, then we recommend that you buy ceramic heaters, heaters with an automatic shut off function, a heater with a thermal fuse, or a heater with all of these qualities.
Conclusion
Out of all the choices in the reviews for the best electric wall heaters, then one that we would pick as the best-value heater is the Comfort Glow Electric Infrared Heater.
If we follow the buying guide written above, we can see that this product has a high capacity, high energy efficiency (infrared heaters usually use less energy than traditional ones), and a silent operation since it doesn't use fans.
The only place where it fails would be the heating speed. However, it clearly makes up for that aspect with its plethora of safety features, making it the most ideal heater for any home.