Give it an extra care when you are looking for the best fiberglass pools or any kind of pool for that matter. Many sellers are adept at pointing to the benefits that they sound very tempting. The advice from previous purchasers is "don't be hasty".
You know – it is really expensive! You'll be counting from $3000 if it is above-ground. If it is one of the fiberglass in-ground pools you want to take home, low-end prices start from $5000. Some people, out of uninformed and hurried buying, have put their family's financial welfare and future at risk. So be careful and know what's really valuable to guide you before you purchase.
Here we point to some of the things to consider thoroughly.
Pros and Cons of Fiberglass Pools
The pool industry is in for creating durable products and many makers are continuously innovating when creating their fiberglass swimming pools. But we know also that there are disadvantages as well with this type of pools.
Pros:
Fast installation – The biggest selling point for these pools is that they are very easy to install. Whereas other types take about two months, you can have a working fiberglass pool in just one month. Some installers even brag about being able to install one within two weeks instead of two months. You want fast installation if you're preparing for a big event for family and friends that's going to happen soon.
Less maintenance – If you're the type that wants something that is not hard to clean or you're worried of repairs, you will be satisfied with the less maintenance advantage of fiberglass backyard pools. The advantage is brought about by the use of gel in the finishing. This type of finishing is more resistant to algae growth.
Huge number of selection – Swim spa and pool manufacturers are breaking off with the traditional rectangular shape in pools and coming up with a variety of new shapes. With fiberglass pools' flexible materials, it is much easier for them to be creative. So when shopping, consider talking with the supplier about customization that doesn't cost much.
Appearance – It is easy for fiberglass pools to have low scores in appearance. It's because they are easy to install and many buyers just focus on that advantage and forget about discussing about maximizing on the appearance factor. Now, you don't make that mistake. Look at the tile stone, brick copings and custom designs as options.
Cons:
Poor installation – This is a common mistake among pool contractors. Even if you're into getting one of their small fiberglass pools, make sure that the contractor follows the proper installation procedure. The easy part is digging a hole. The hard one is in the backfilling of empty spaces around the pool after it has been placed in the hole. For fiberglass pools of any size, poor installation can lead to defective water circulation and collapsing of walls. You don't want expensive repairs to bother you in the future.
Water quality – The gel used in both in-ground and above-ground fiberglass pools are sensitive to water quality. Make sure you have the right pH and calcium levels always. Otherwise, that gel coating can easily fall off within a few years time. So you need a little bit of additional work for that.
How Much Does It Cost?
There are small variations in cost among different suppliers. If you are remodeling your backyard garden, the fiberglass pool cost alone will fall within the range of $20000 to $36000. High-end mark for fiberglass pool prices is $42000. The national average cost is $27000.
In comparison, costs of installing other types of in-pools are:
Vinyl liner – $10000 – $25000
Concrete – $17000 – $45000
You may consider putting "add-ons". Some of the common ones are:
Retaining walls
Raised bond beams
Above-ground and in-ground hot tub
Additional jetting
Handrails
Diving and sliding boards
Automatic and security covers
Mosaic inlays
Waterline or perimeter tile
Fiberglass Pool Manufacturers
Remember that the research and planning involved in your search for the best fiberglass pools for your family is only a fraction of the process. Another part is searching for the right company. We're recommending five of the best ones that we know hoping that some of them operate near you.
1. San Juan
San Juan Pools is highly recommended for their length of time in the business – almost 60 years of pool manufacturing and delivering great pool products to homes and businesses. They have factories everywhere with their headquarters in Lakeland, Florida. You might consider their structural warranty which is 25 years. Topnotch offerings from the company are Pleasure Island, Taj Mahal and Luxor.
2. Alaglas Pools
If you live in or around South Carolina, one of your best choices is Alaglas, a company that boasts of 25 years of excellent service to residents and businesses there. They are located in St. Matthews. Check out their Majestic, Antigua and Atlanta offers. These pool designs are perfect for quiet and traditional settings, but you can also check their pools designed for backyards with a modern touch.
3. Blue Hawaiian
This pool company is under the ownership of Viking Pools, a daughter company of the highly-respected Latham Pool Products, Inc. Blue Hawaiian's acquisition took place in 2010. Popular models to check out first are their Three-moon Bay and Lexington. These pools require less cleaning and scrubbing with harmful chemicals.
Leisure Pools is located in Knoxville, Tennessee. They are an Australian-based pool manufacturer specializing in creating composite pools. Their Riviera, Eclipse and Pinnacle models are the bestsellers in the market.
If you find none of their models to your liking, you still have more options from their sister company Imagine Pools. The top-selling Mirage, Inspiration and Freedom models are from Imagine Pools. For sure, there's one for you from these two reputable pool companies.
5. Sun Pools
In the region of Kentucky, you can find Sun Pools. They are the go-to company in that area for people looking for great add-ons such as waterline tile, non-skid surfaces and seats. People often opt for this company because of their lifetime structural warranty offer. Some great models the company offers are St. Thomas, Tropic and Costa Rica.
Fiberglass Pool Review – Five of the Best in the Market
Buying online fiberglass pools on eBay. 
When buying online, do give http://www.ebay.com a visit. With their wide-ranging selections, you will be able to have a better idea of the available options people have in the pool market. Better yet if you take the effort of consulting with them. They are nice people to talk with and are very honest to deal with. Here are our reviews of the best fiberglass pools.
1. Isabella 16' x 35'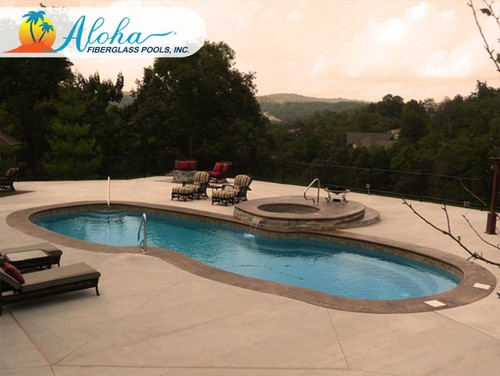 The Isabella's graceful freeform style, combination entry points and large open spaces make it the best model for big backyard gatherings. This pool's most striking appeal is its curved shape. The curves around invite people to have a more relaxed time doing different activities. Still with the curves, you can choose the specific location where you can feel more natural and at ease.
The large spaces around the pool encourage people to think about playing games, wrestling or barbecuing without the thought of anyone losing balance and falling to the water. Think about inviting your neighbors' children for a grand party celebration and this pool can easily accommodate their presence.
If you are the type that needs to change the set up every now and then for variety, the Isabella will be your perfect pool. Have seats and some small cottages standing here and there and in some days, you can just have a small stage built there for kid performances.
2. Mahana 11' x 41'
This rectangular pool is also endowed with large spaces around, but because of the shape and the length, it is easy to think of it as the best pool for formal gatherings where you need to install long seats. You can have some parts of wedding celebrations located beside this pool. Or is anybody in your family going to receive his diploma? Use this pool to accommodate large numbers of visitors for any event. Swimming competitions may also be held here.
For those who lean more on the side of durable construction, this fiberglass pool will meet your requirement. Smooth walls prevent mold and algae buildup. Plus the gel coating used in this pool can last long, long years before reapplication.
You can see the two handrails on this pool. They are made of quality metal materials that can survive hard beating of the weather. For anyone out there looking for a pool with high level of durability, get this pool.
3. Mira Largo 16' x 42'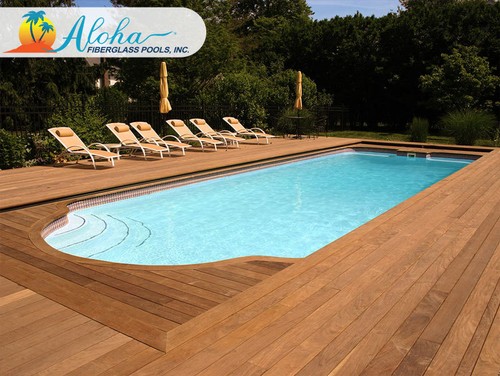 Here is a fiberglass pool that is curved on one of its ends. It is also a long pool, but probably the curved end suggests that it is not for swimming competitions.
That curved end may be used for special purposes. For example, you can have greater space at this end for barbecue or games. Or you can use that space for holding swimming gears, clothes and other items collectively.
In that curved space also, you can have the children together, so you can easily tell if one of your kids is swimming far away. That part is also the shallowest and contains the steps going down to the water. It's therefore the safest part of the pool for children.  If you're looking for a pool that's going to accommodate people with different sizes or heights, this is one good choice.
4. Leading Edge – Bay Shore
This pool comes in enthralling colors of blue and gray and has a slide at one of its end. It also sports curved sides that make it non-monotonous, unlike most pools. This pool is definitely the one we are recommending for swimming enthusiasts who like spending private times with family.
What about company get-togethers celebrating a co-worker's promotion? That same quiet personal touch of this pool easily makes it a perfect venue for these kinds of meetings.
We say that the pool is a bit small compared to many, so we can sense that it is really designed for accommodating small groups of people. Put some lights here and there to provide illumination for drinking buddies and children playing chess.
If you love intimate conversations during swimming time, this pool can provide the perfect background for you. Plus, with a small pool, you can easily see what your children are doing while you yourself are having fun.
5. Sport Pool – Aloha 15' x 34'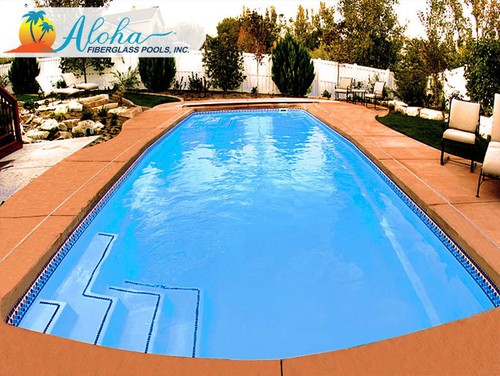 Another choice for people looking for rectangular pools, this Aloha option is great for sports buffs. Most buyers of this pool think that the pool looks well-constructed with its stone pathways. Because of this impression, they don't worry about breaking anything underneath them when installing temporary structures for their special activities.
The insides of the pool are heavily supported with strong gel coating which means you will have less maintenance and expense for repairs. Big stone blocks line the pathways, so it is unlikely that you will have algae buildup there. That translates to less time cleaning.
This is touted to be a sport pool. If the pool is primarily for sports events and practices, this must be your best choice.
Conclusion
Two things matter for this purchase. Know your purpose for buying and also know the factors that are valuable to you. You want a pool that will last for many, many years that you can pass it on to the next generations. Also, you want the pool useful for different occasions.
If you're more on the side of beautification, make sure that you discuss it with your contractor for them to accommodate your creative side in the final setup. Think also of safety, not only for your children, but for everyone. Get the one that will not endanger anybody.
Ask your contractor about the chemicals that need to be used to maintain the pool. Chemicals are risky for health. You want any harmful substance to be out of your children's way.