Finding the Right Freestanding Tub
Isn't it just nice to have a warm, relaxing bath after a long day?
Having a freestanding tub in your home offers a unique spa-like experience that makes a soothing bath time. Since looking for a good freestanding tub is quite hard these days, we compiled some of the most recommended and best freestanding tubs on the market.
Top Attributes to Look for in a Freestanding Tub
There are several things you have to check to ensure you buy the right freestanding tub for you.
Weight
Most freestanding tubs are heavy, especially those that are made from stone and cast iron. Imagine what more if you put water and plunge into it. So, consult your structural engineer first to know if your house or floor is strong enough to carry the weight of the tub.
This is especially important when you plan to place your freestanding tub on the second floor of your house. It's better to be safe than sorry.
Shape and size
The shape and size of the freestanding tub definitely matter. Does your house or bathroom, in particular, have enough space for the tub?
The size of a standard tub is five feet long and thirty inches wide and is usually sixteen inches high. If your bathroom can't fit this size of a tub, you can opt to place it on your attic or loft. Given that these areas of your house are well-built.
On the other hand, if you are planning to remodel or build a new bathroom, it helps to take the exact measurement of the tub. This way, you will know how much space to allot for your tub.
Another reason why it's better to check the tub's size is to ensure that you're comfortable when bathing. If the tub is too short for you, it will be hard to recline. If it's too long, you can't rest your feet well at the tub.
Some people also prefer deep tub so that they can soak their entire body. In this case, you must find the best soaking tub that fits your needs.
Style
Do you prefer a freestanding tub with a classic or a contemporary design? Choose whatever that suits your taste. You may even align it to the theme of your bathroom interior.
You can also pick an unusual tub made from marble if you want to make it look elegant. It can serve as a focal point in your house as it can be placed anywhere aside from the bathroom. Since it can stand alone, as long as there is space, it doesn't have to be near the walls.
Color
Most people also consider the color of the freestanding tub. If you don't want its usual white color, you can choose to have a cast-iron tub. It is usually painted with undercoat, and you can add any shade you want to decorate the tub.
Using a bright colored tub can make your tub a centrepiece as it grabs people attention.
Composition
Freestanding tub can be made from different materials with each having its own advantages. Cast iron tub is durable, sturdy, and is good in retaining heat. On the other hand, a steel tub offers similar benefits but is more affordable. However, take note that it wears more easily.
A beautiful marble tub is unique because it comes with many colors to choose from. Same with cast polymer tub, which can be made to appear as stone while doing its job of holding the heat well. A freestanding tub can also be made from copper. It is aesthetically nice, so many customers prefer this copper tub despite it being one of the most expensive options.
Taps
When buying a freestanding tub, you might also want to check the tap. Determine your preference and budget.
Bath-mounted taps are more cost-efficient than the taps attached to the wall or that with a floor stand. It is also more comfortable for you as you need not stand to reach for the tap every time you take a bath.
Extra Features
If you have more budget to spare, you might want to consider some extra features of the freestanding tub.
You can choose one that has chromotherapy or underwater lighting. This absolutely levels up your overall bath experience, and if you love listening to music while taking a bath, you can have a freestanding tub with a speaker. Play some calming music to have a relaxing spa-like experience.
For convenience, you can have a freestanding tub with digital controls for the light and speaker. This way, you don't have to go out of the tub if you need to press some buttons.
If you have mobility issues or disabilities, you can pick a freestanding tub that is ADA compliant. It complies with the requirements stated in the American with Disabilities Act. These tubs are safer, easier, and more comfortable to use.
Having a warranty is also a plus when purchasing a freestanding tub. Bathtub installation is a difficult job. It's something we hope you don't have to deal later again. A good and reasonable warranty can provide you with peace of mind.
Reviews of the Best Freestanding Tubs
Now that you know what to look for in a bathtub, check these freestanding tubs reviews we prepared for you.
1. Vanity Art Freestanding Soaking Tub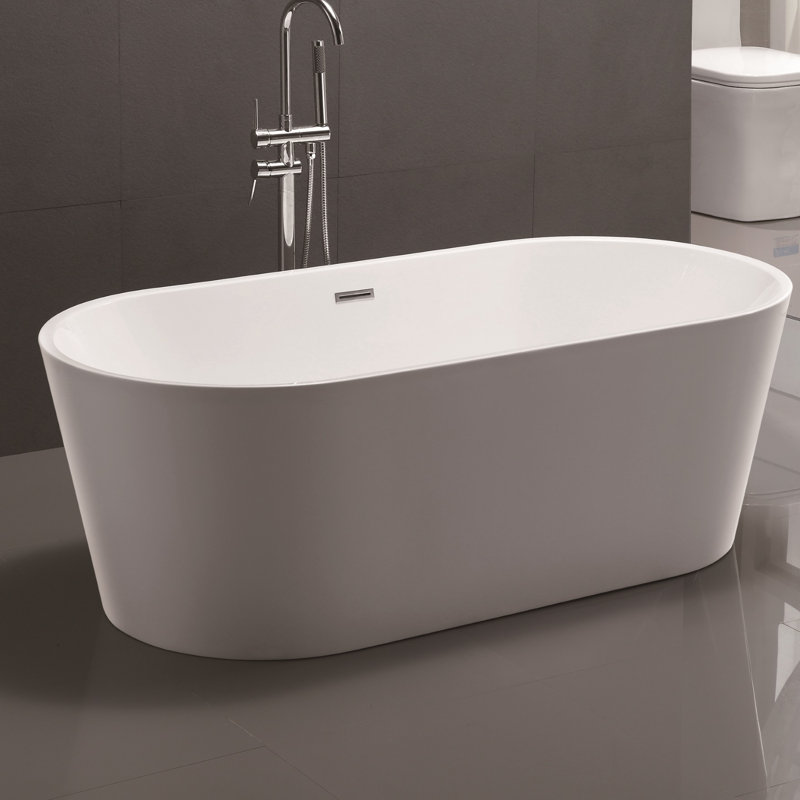 Indulge in a relaxing bath with this best luxury bathtub. The white finish exudes elegance and completes the contemporary look. Its classy appearance makes it a great centrepiece for any bathroom.
This is one of the best freestanding bathtub options as it is UPC certified. It includes self-levelling legs, chrome finished overflow, and a versatile drain hose.
Nice and sleek contemporary style
Holds the water temperature well
Comfortable to lay on
Deep enough for a comfortable soak
Looks expensive and high-end
The drain cover can be easily removed and the water drains
Needs assistance in installing the overflow part because it's complicated
See all Vanity Art Freestanding Bathtubs on Wayfair
2. WoodBridge Freestanding Soaking Bathtub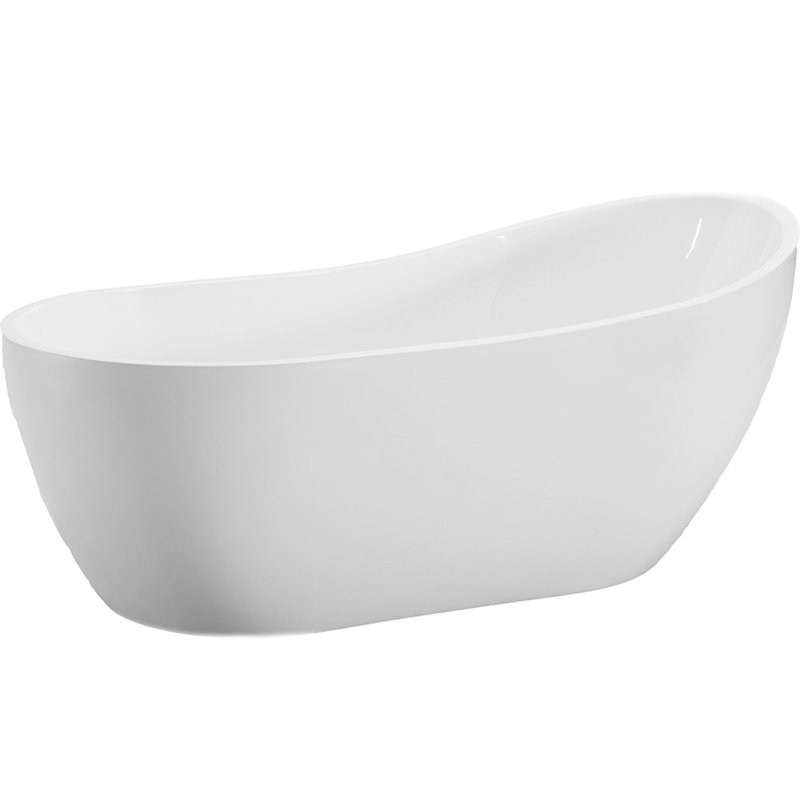 This sturdy freestanding tub is double walled. It is made from two layers of acrylic, which brings maximum insulation.
If you're in for a long bath, this is good for you. It keeps the water temperature for a longer period of time. You can soak for hours and still feel comfortable because of its gentle slope.
The size is big enough for a guy and gracefully designed for every woman.
For high durability and glossy finish, it is constructed with full fiberglass. You can be sure that it is resistant to scratching, dulling, and fading.
Exudes a spa vibe
Looks nice and fabolous
A comfortable fit as it is super roomy
Made of durable materials
Easy installation of the tube drain with your existing plumbing
Smaller than it looks in pictures
See all WoodBridge Freestanding Bathtubs on Wayfair
3. Ove Decors Terra Soaking Tub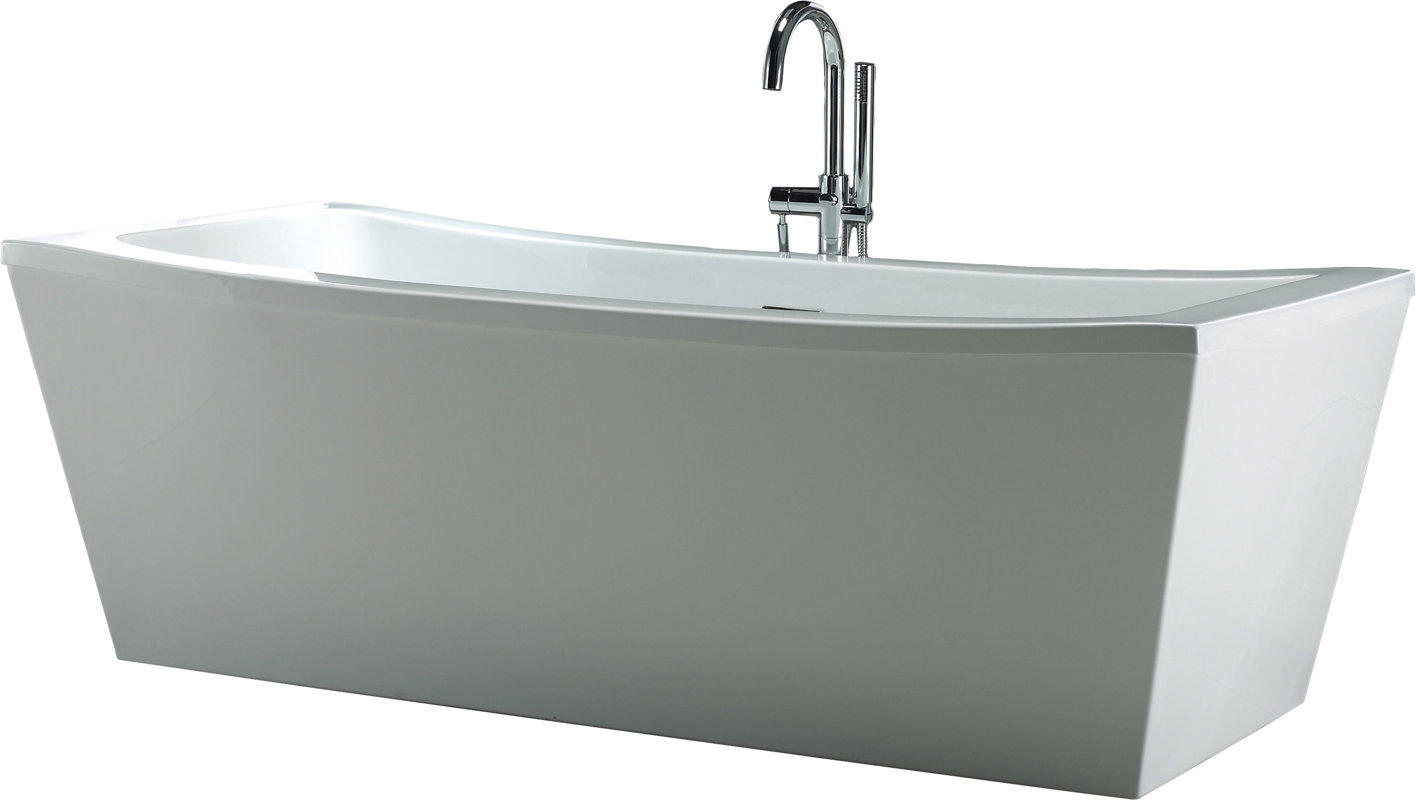 Its sleek design makes the striking look of this freestanding tub. This certainly upgrades the feel of your bathroom, from ordinary to an upscale bathing area.
It is made from 100% premium acrylic. Backed by fiberglass and flexible legs, this is one of the best freestanding bathtubs that are resistant to scratches and fading.
See all Ove Decors Freestanding Bathtubs on Wayfair
Unique and clever design
Made with good materials
Good for tall people
Can accommodate freestanding faucets and deck mounted taps
Pre-installed overflow and chrome drain
If you're not tall, you might slip in the tub
Has a tendency to be sharp
4. Wyndham Collection Mermaid Freestanding Soaking Bathtub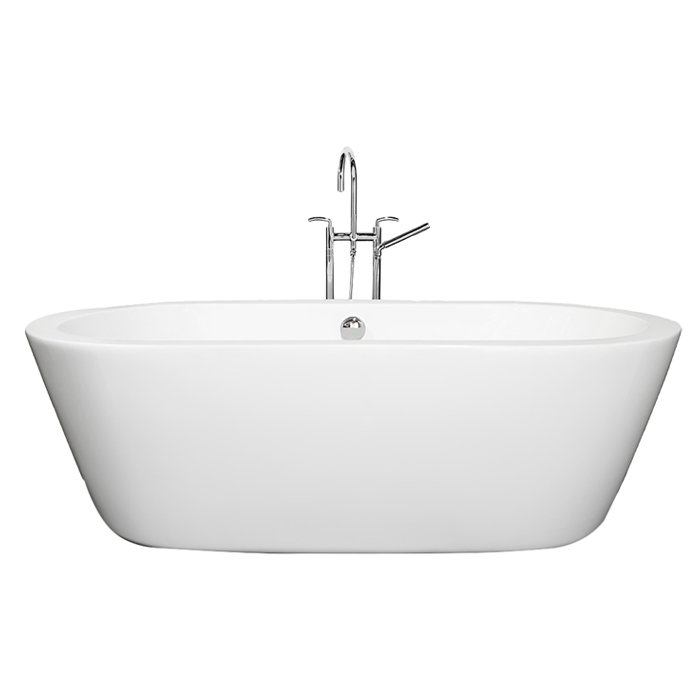 This freestanding tub has a simple contemporary design with immaculate cuts. It is one of the best soaking tubs option you have because it has a wide and deep surface.
It is made from premium acrylic to ensure maximum strength and durability. Its stunning finish makes it more appealing. It blends well with any kind of décor style of your bathroom.
We commend the wide, flat edge of this gorgeous tub. It can be a nice space for aromatherapy candles or petals for the overall bathing experience.
Immaculate look
Spacious and deep
Low maintenance
Warmer to the touch and more comfortable
The overall capacity of 63 gallons
Not as insulated as the other tubs
See all Wyndham Collection Freestanding Bathtubs on Wayfair
5. Ariel Bath Whirlpool Bathtub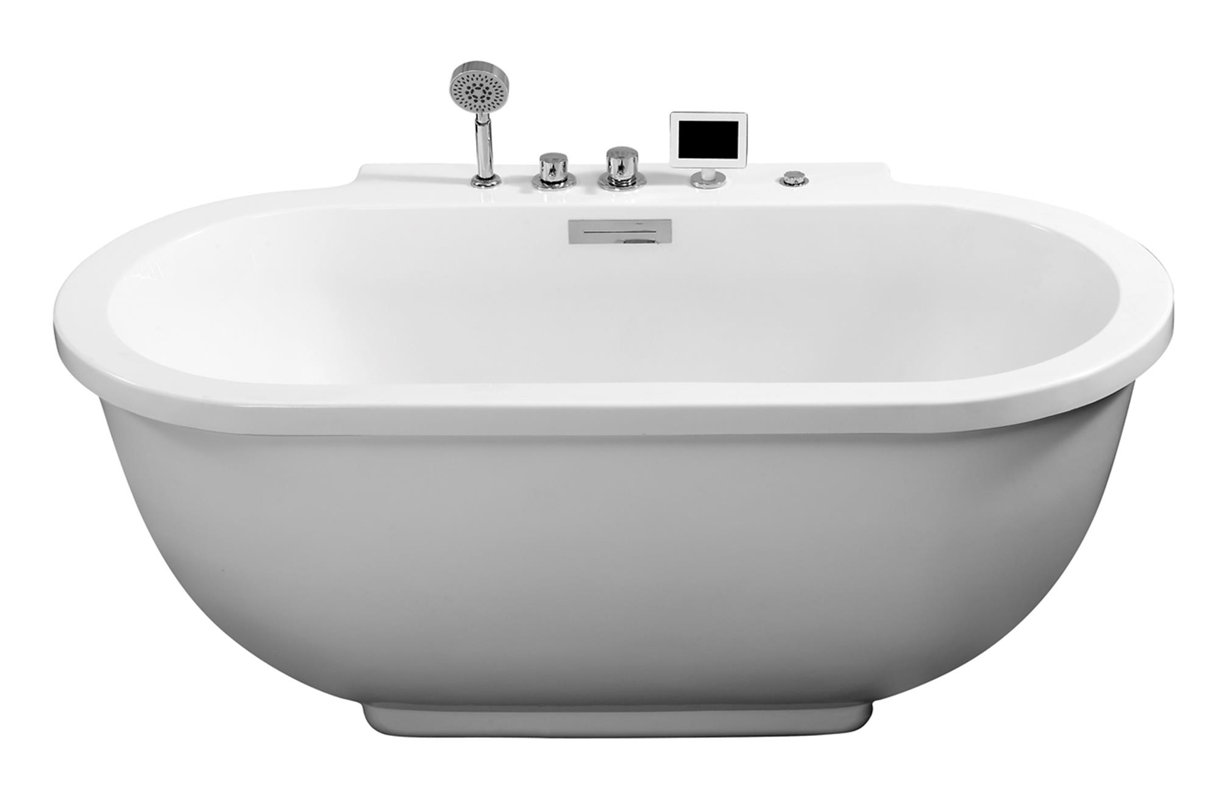 Aside from the usual features of other best soak tubs, Ariel Bath Whirlpool Bathtub features a state-of-the-art hydro massage system. It will surely complete your spa experience as it calms your senses and relaxes your nerves.
It also comes with a radio, so you can play soothing music why you lay and enjoy your bath time. This whirlpool tub is definitely one of the best luxury tub options there is!
Useful hydro massage system
Radio to add to the spa-like experience
LED chromotherapy lighting
Versatile installation options
Low on maintenance
Can be too big for others
See all Ariel Bath Freestanding Bathtubs on Wayfair
6. Ove Decors Rachel Freestanding Bathtub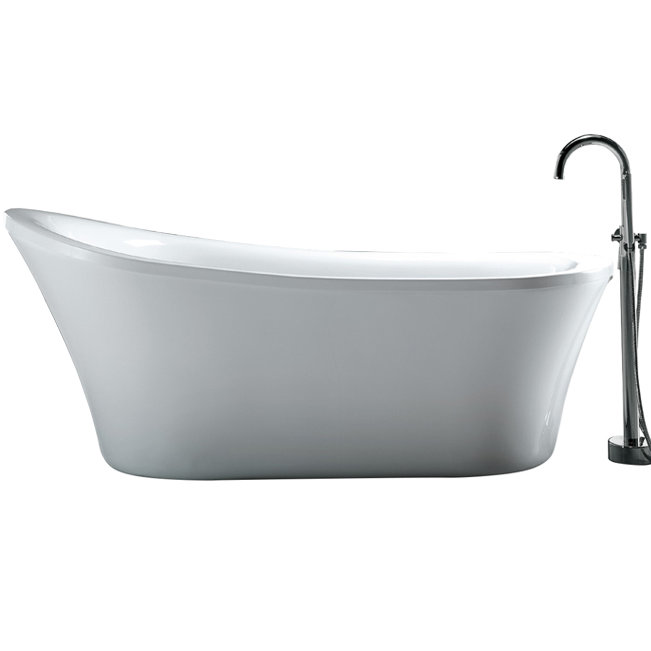 Its unique sleek design makes a striking focal point in your bathroom. This is one of the best stand-alone tubs for people who value looks aside from its function.
It is CSA/ULC certified, so you can guarantee that is made to be safe and easy to use. The size is just enough to accommodate you comfortably.
Like the other tubs, it is also made from high-end acrylic and fiberglass for durability.
Unique shape and design
Right space and depth
Comes with an overflow feature
Concealed levelling legs
Faucet can be mounted on the tub
See all Ove Decors Freestanding Bathtubs on Wayfair
7. Vinnova Divinity Soaking Tub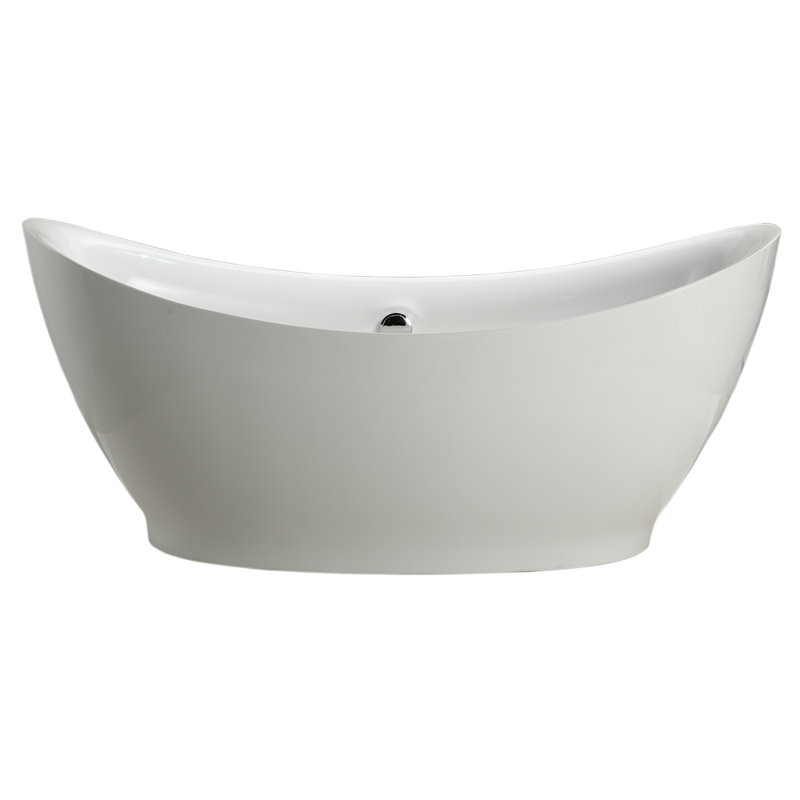 The curves in this tub deliver an unexpected tub design. It looks more like it is made for women because of its sophisticated shape.
It can be a stunning masterpiece in your master bathroom. Its gleaming silver accents appeal to people who like glossy and expensive-looking tubs.
Double slipper design
Fits a narrow bathroom
Easy to install
Lightweight
Solid on the floor
Relatively small size
Doesn't come with a faucet
See all Vinnova Freestanding Bathtubs on Wayfair
8. Kingston Brass Soaking Bathtub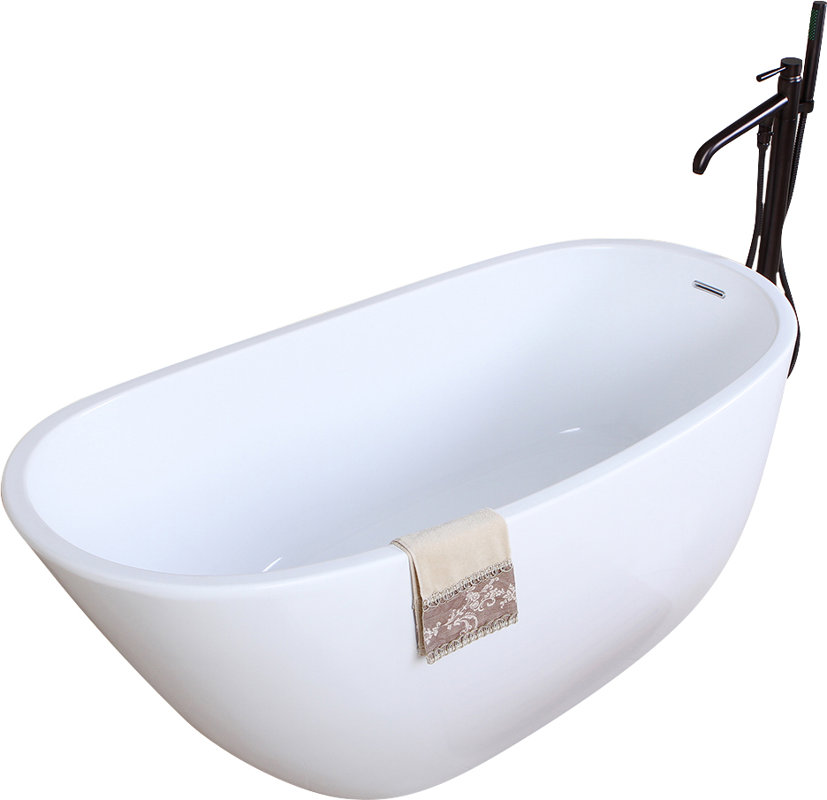 The best standalone bathtubs transform your bathroom into a spa. This Kingston Brass Soaking Bathtub does it exactly. The simple yet elegant and classic slipper design of this tub is relaxing to the eyes.
To make it sturdy and durable it is constructed from premium acrylic. It can hold up to 52 gallons of water, providing a nice soak.
Perfect size and depth
Smooth edge
Comfortable slope to lay on
Lightweight
Double walled construction for insulation
High maintenance to avoid chips, flaking, and stains
Need to be glued down to stay in place
See all Kingston Brass Freestanding Bathtubs on Wayfair
9. Restoria Bathtub Company Empress Freestanding Soaking Bathtub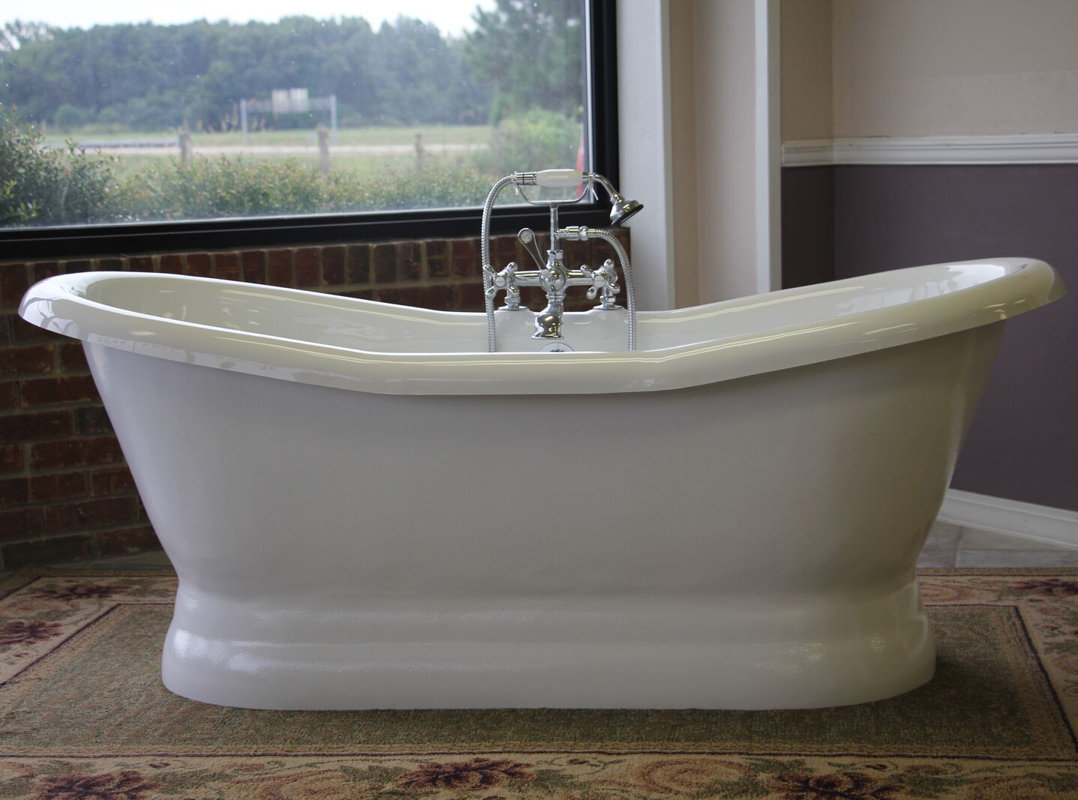 The design of this tub perfectly blends the classic and modern style. It is ideal for any house with rustic or farmhouse theme as fits really well.
It exudes a unique character to it that makes it a good centrepiece for any bathroom. Good for people who have such an exquisite taste!
A perfect blend of antique and modern style
Beautiful curves and excellent craftsmanship
Unique exterior finish
Fits you just right as it is spacious
Lightweight yet sturdy
See all Restoria Bathtub Company Freestanding Bathtubs on Wayfair
10. Spa Escapes Salina Freestanding Whirlpool Bathtubs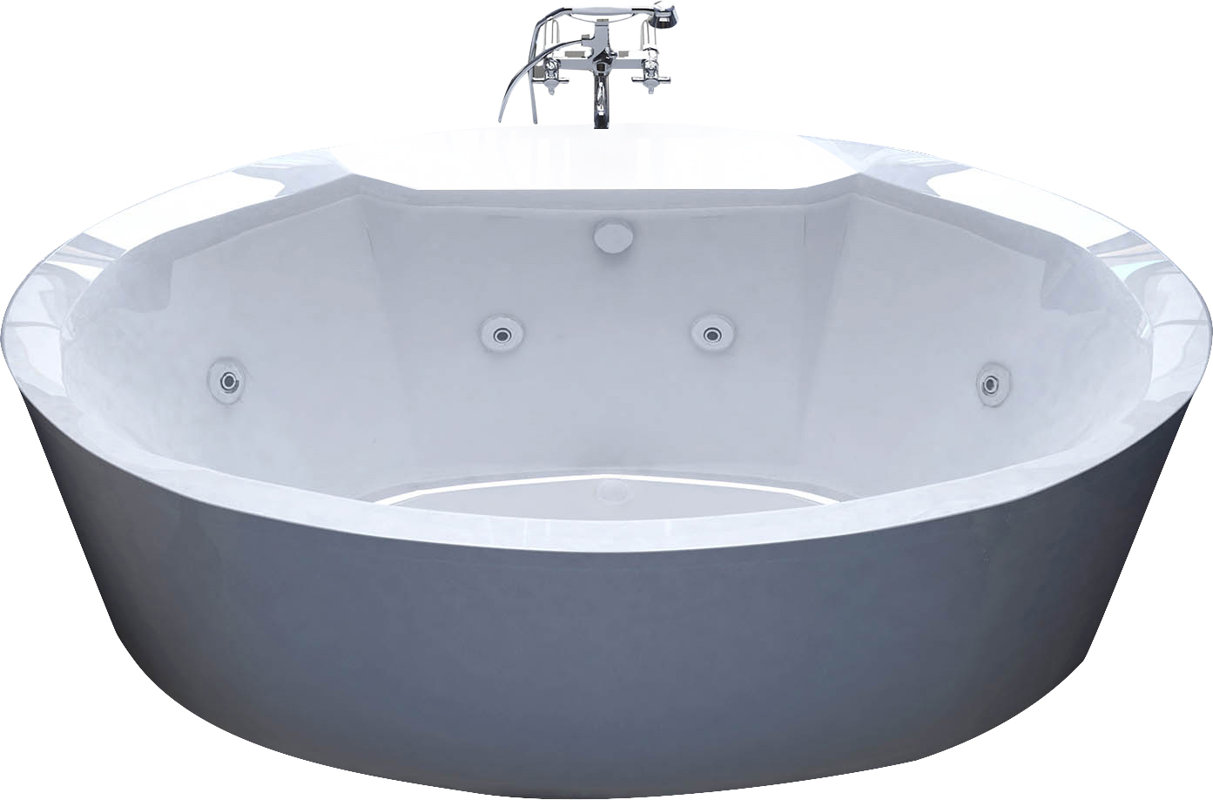 This oval-shaped freestanding bathtub breathes uniqueness to the usual tubs. Aside from its shape, what's good about this tub is it comes with in-line heaters and jets that are adjustable.
You can have the Jacuzzi feel, especially if it has air bubbler.
Unique shape that looks like a Jacuzzi
Durable as it is made from high-quality acrylic and fiberglass
Centre drain
Comes with adjustable jets
Comes with heaters
Weird placement of the overflow in relation to the jets
Can be small for some
See all Spa Escapes Freestanding Bathtubs on Wayfair
Conclusion
So that completes our freestanding tub reviews of the top-rated tubs on the market. We hope it helps!
If you have the budget for a luxurious freestanding tub, we recommend theAriel Bath Whirlpool Bathtub. Aside from it is spacious than the other bathtubs on the market, it comes with modern functions that will certainly add to your awesome bath experience. It comes with an LED light, radio, and a state-of-the-art hydro massage technology. You surely will always look forward to taking a relaxing bath.