Isn't it just nice to have a warm, relaxing bath after a long day?
Having a freestanding tub in your home offers a unique spa-like experience that makes a soothing bath time. Since looking for a good freestanding tub is quite hard these days, we compiled some of the most recommended and best freestanding tubs on the market.
Top 15 Best Freestanding Tub Reviews
To help you make a more informed decision for your purchase, here are some of the best freestanding tubs available on the market nowadays. These freestanding tub reviews contain everything you need to know about each tub – from their features to their pros and cons.
1.  Woodbridge Freestanding Soaking Tub (B-0006)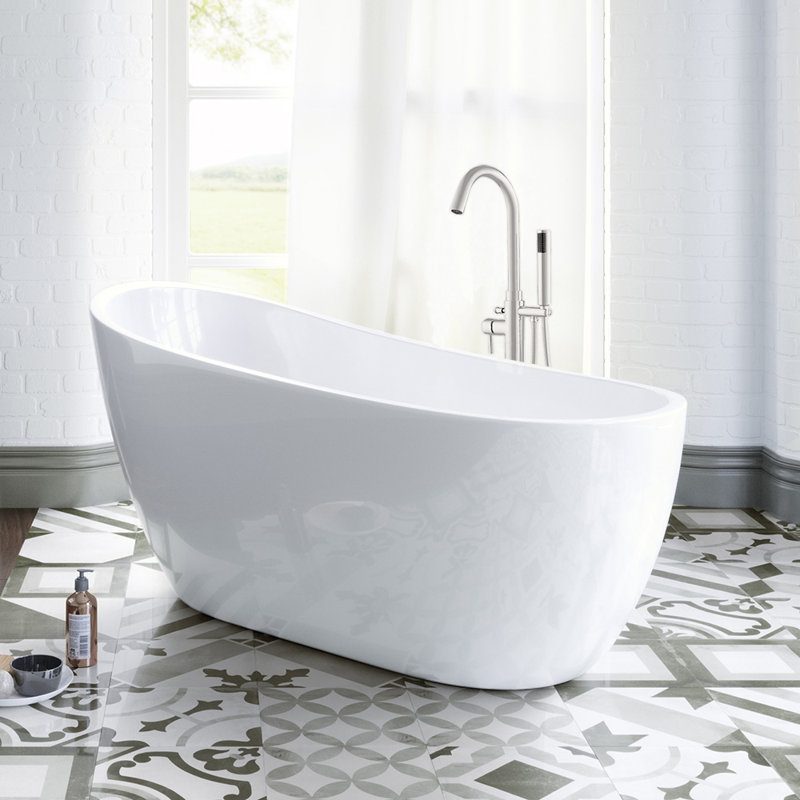 Relaxing and soaking in your tub has never been this aesthetic with the Woodbridge Freestanding Soaking Tub.
Constructed from high-quality acrylic and fiberglass materials, this tub is perfect for any bathroom featuring a contemporary design. It comes with an overflow and a pop-up drain made from nickel.
It also comes with whirlpool jets that promise its users 14 multidirectional benefits, allowing anyone looking for a luxurious spa experience to achieve it in their bathroom.
Highlighted Features
Drain Assembly
Tub Waste
LED chromotherapy lighting
Waterfall faucet
Shower hand
What We Like:
Durable
Lightweight
Capacious
What We Don't Like:
The drain can be difficult to assemble
2.  Wyndham Collection Freestanding Soaking Tub (Mermaid)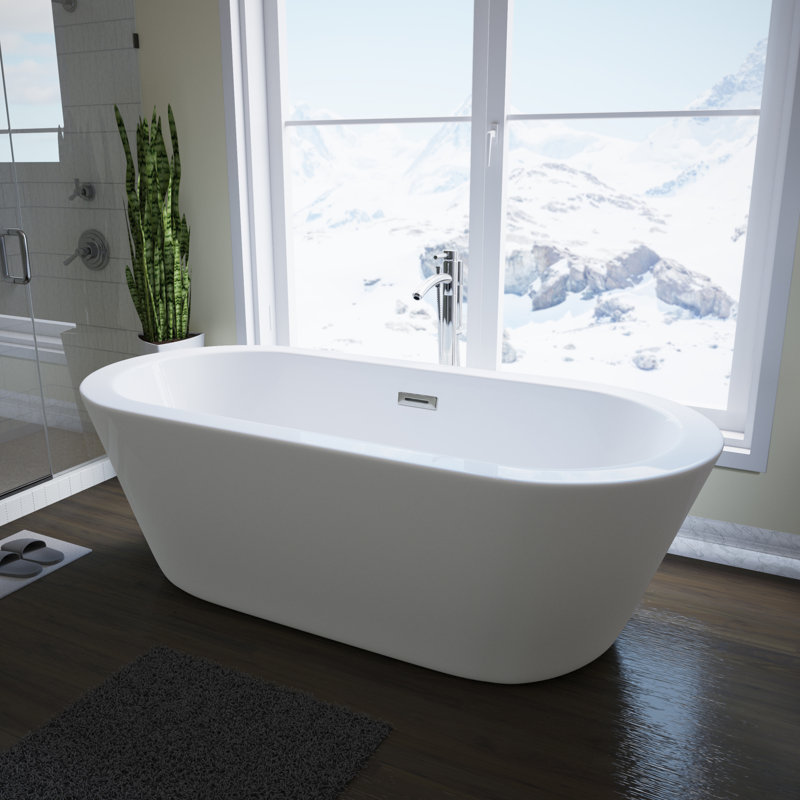 After a long tiring day, it is best to lay down and relax in this tub from Wyndham. Featuring an overall size of 71 inches by 34 inches, this tub is big enough to accommodate everyone in the family, making it the perfect family tub.
Its size and depth makes it one of the longest and deepest tubs you will see on the market, and is, therefore, categorized as one of the best freestanding soaking tubs among customers.
Being primarily constructed with acrylic, this tub is lightweight and warmer compared to tubs made from ceramic materials. Although it is wide and big, this particular tub is not difficult to install because of its movable nature. Moreover, for ease of installation, this comes with an overflow and pop-up drain.
On top of all that, the glossy white and curvy aesthetic of this tub makes it a fabulous centerpiece for your large bathroom.
Highlighted Features
Center faucet
Pop-up drain
Waste overflow
Adjustable feet
What We Like:
Deep enough for a better soak
May seem big but lightweight
Acrylic material assures durability
The company allows upgrade of materials for a small fee
What We Don't Like:
Installation guide is difficult to follow
The deep feature may be hard for you to get up from the water
3.  Vanity Art Freestanding Soaking Tub (VA6517)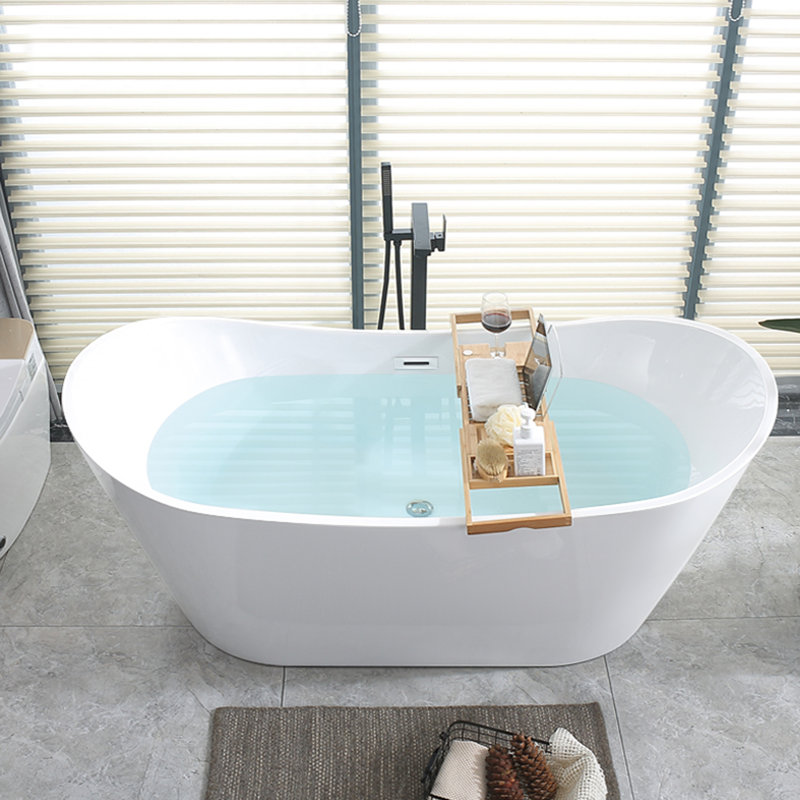 Expect to be smitten with this minimalist bathtub design from Vanity Art. This tub is one of the largest from our top picks and despite its expensive appearance, it comes at a price you can afford.
While it features a luxurious and expensive appearance, this freestanding soaking tub from vanity Art is one of the most affordable from our list of freestanding soaking tub reviews.
This 72-gallon tub has a weight capacity of 500 pounds, making it more comfortable for dual bathers.
Made from mostly acrylic and fiberglass materials, you can rest assured that this tub would last through wear and tear. The glossy white finish prevents it from experiencing discoloration over time. It also has an overflow drain, making it safe to leave the tub unattended while filling it with water.
Highlighted Features
Flexible Drain Hose
Glossy White Acrylic
Overflow drain
Drain Assembly
What We Like:
Stain and Scratch Resistant
No discoloration
Durable
Minimalistic Design
What We Don't Like:
Heavy
No faucet
Separate purchase and installation of tub filler
4.  Ove Decors Freestanding Acrylic Tub (Serenity)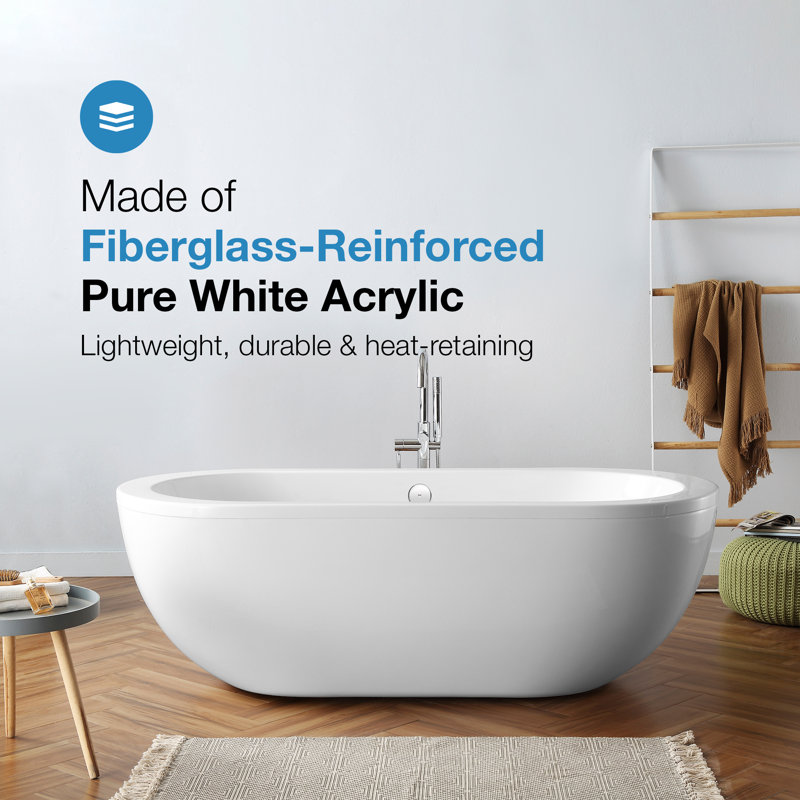 If you are to check out other freestanding tubs reviews, one thing you'll notice is that the Serenity tub is always on the list. This is probably because it delivers to its users exactly what its name suggests – serenity.
Its deep shape offers the ultimate comfort and users can enjoy a completely relaxing soak and immersive experience in this tub.
The tub is made from glossy white chrome acrylic and fiberglass. These materials are highly durable as they can withstand the wear and tear it will inevitably experience through time. Its base is adjustable as well so you can easily find the position that is most comfortable for you.
Included in each purchase of this tub are an overflow drain and a drain assembly. Unfortunately, there is no faucet included and if you need a tub filler, it's considered a separate purchase.
Highlighted Features
Acrylic material reinforced with fiberglass
Overflow drain
Drain Assembly
What We Like:
Ease of Installation
Can withstand wear and tear
What We Don't Like:
No tub filler
No faucet
Heavy
5.  AKDY Freestanding Soaking Tub (BT0071)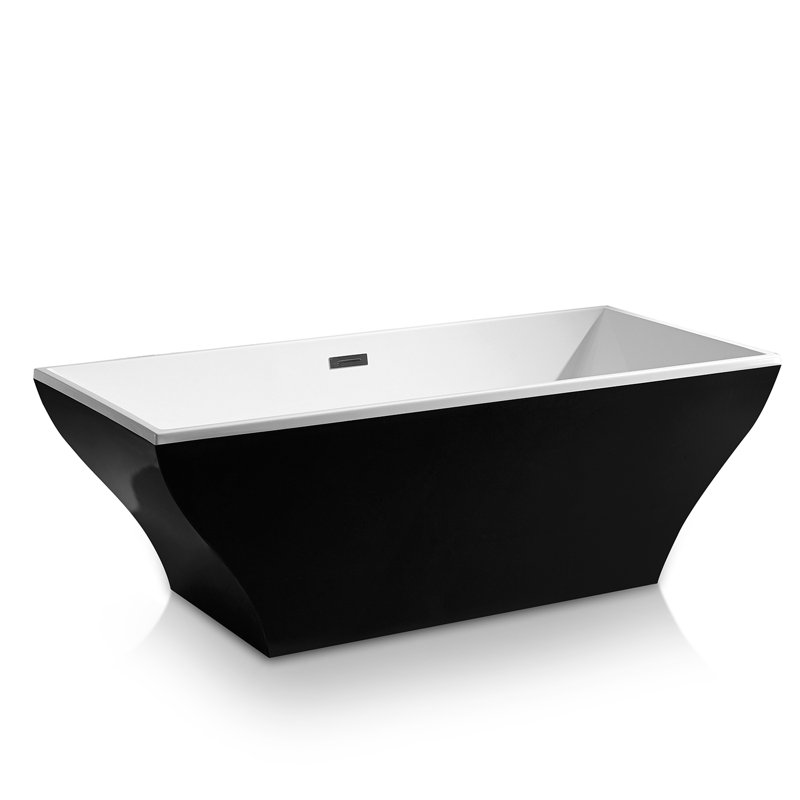 The next one on our list of best freestanding tubs is this one from AKDY. This tub is rectangular and made from black acrylic material. It comes with an overflow as well as a drain assembly.
While it doesn't have a faucet, it does give you the choice to equip it with one on your own, giving you more freedom to choose where to place it. This is convenient as most customers don't like where their faucets are initially placed.
It has an adjustable and flexible pipe that you can adjust for its level. The best part about this product is that it comes with a 1-year warranty on all its parts. This makes it a great value for money.
Highlighted Features
Acrylic and fiberglass material
Self-leveling base
Overflow drain
Drain Assembly
What We Like:
Huge
Lightweight acrylic
Easy to move
1-year warranty, limited parts
What We Don't Like:
Huge but 2 people may not fit together
No faucet
6.  Vinnova Soaking Tub (Divinity)
Looking for a tub for your contemporary style interior? Well, this tub from divinity exudes elegance with its sophisticated and stylish design. This tub is made from glossy white chrome acrylic with a double slipper. It has a feminine curve in the middle that makes hopping in and out from the tub incredibly comfortable.
It comes with a self-leveling base, overflow, and drain assembly for ease of use. You can easily operate them with a single tap of your toe. With its 46-gallon water capacity, you can easily determine that this is not as deep as some of the others, but still assures a complete soak.
Overall the Divinity tub from Vinnova is an impressive and great looking tub.
Highlighted Features
White chrome acrylic material
Self-leveling base
Overflow drain
Drain assembly
What We Like:
Impressive design
The middle curve makes you get in and out easily
Lightweight
Easy installation
What We Don't Like:
No faucet
Not scratch resistant
7.  Orren Ellis Freestanding Soaking Tub (Opalo)
Are you looking for design, comfort, and durability? Well, those were the reasons why this product from Orren Ellis made it to our list of best freestanding bathtubs.
For optimum comfort, this brand made use of new and strengthened acrylic material. It comes in white glossy color and takes a double slipper design to provide the ultimate relaxation.
The tub includes hardware for the overflow and drain – both of which are practically necessary to control the filling up of water. The tub also has hidden poles to prevent movement during use and installation. It weighs at around 150 lbs.
Because the tub is pretty heavy, installing it on the second floor of your home may be a problem. However, all in all, this is a great romantic bathtub for a small space.
Highlighted Features
White chrome acrylic material
Double Slipper
Drain and overflow
Hidden Poles
What We Like:
Reclined design assures comfort and optimum relaxation
Stylish
Immovable
What We Don't Like:
Heavy
Not ideal for 2 bather
Upstairs installation may be a problem
8.  Ariel Bath Freestanding Soaking Tub (Valencia Platinum)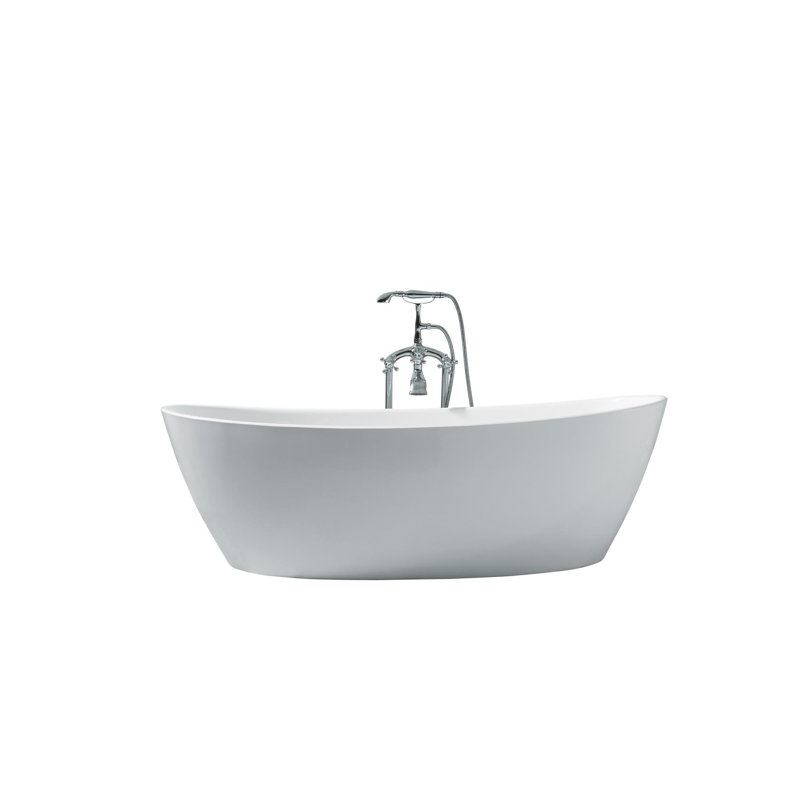 For those looking for a luxurious bathtub, you have finally found the best bathtub from Ariel Bath. However, those with a limited budget may be surprised when looking at the price tag. Compared to similarly-sized tubs, this model is on the pricier end of price points.
Nevertheless, the higher price tag is worth it because this tub is the most advanced in terms of technology among all our top picks.
This tub comes with a whirlpool that has a power rating of 1.5 horsepower and 14 massage jets. This will give a soothing and therapeutic comfort after a long day at work.
If the whirlpool system is not enough for you, you also have the option to use the handheld showerhead. The tub also includes a computer control panel and chromotherapy lighting. With these features, it's worth every penny.
Highlighted Features
Ultra-smooth acrylic material
Concealed poles and footpegs
Overflow and Drain Assembly
Chromotherapy lighting
Handheld shower
What We Like:
Seamlessly stylish oval design
Corrosion-resistant
Advancement of technology
What We Don't Like:
Heavy
Expensive for tubs having a similar size
9.  Aquatica Freestanding Soaking Tub (Lacus)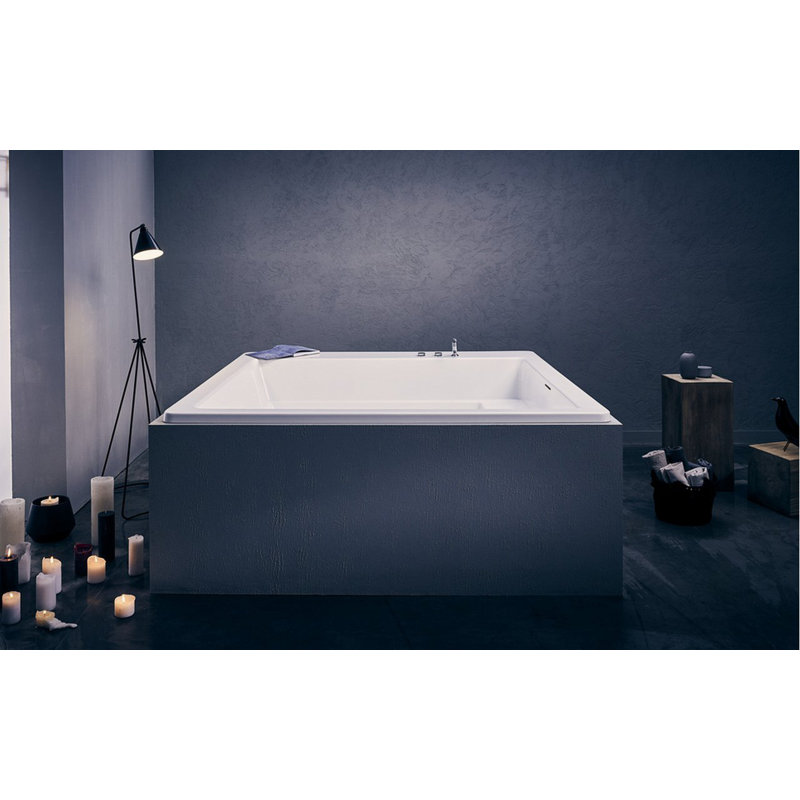 If you love elegance and luxurious lifestyle, this tub can be a good addition to your home. This square-shaped tub is made from the highest quality and sanitary acrylic material. The product originated from Italy, thus, you would not wonder why this product exudes elegance.
This tub is large enough to accommodate 2 people and can be filled with almost 200 gallons of water. It is color-resistant and easy to clean because of its non-porous surface.
Pre-installed with cable pop-up and drain assembly, it is safe to leave the tub unattended while waiting for the water to fill up. This tub is known for its incredible durability and safety features.
Highlighted Features
High gloss white acrylic material
Adjustable metal legs
Pop-up and waste overflow
Waste Kit
What We Like:
Designed for two people
Color resistant
Easy to clean
Deep for excellent soaking
Safe and durable
What We Don't Like:
No drain assembly
Heavy
Not ideal for those having a limited budget
10.  Native Trails, Inc. Freestanding Soaking Tub (Avalon)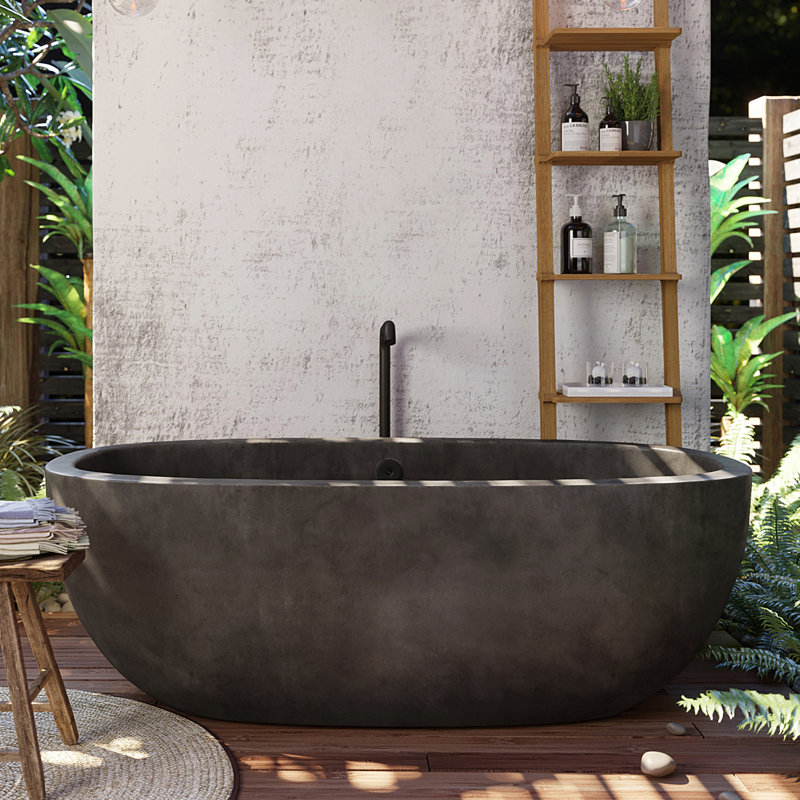 Can't find a good tub that is pleasing for your house interior? Then, this award-winning bathtub is worth checking out. After all, it has four various colors to choose from for your bathroom design.
It is available in Ash, Earth, Pearl, and Slate. Aside from this, this oval-shaped tub has a deep interior and curves for better soaking and anchor while under the water.
With its material, native stone, you wouldn't wonder why this is more expensive than the others. However, this makes it more durable than its acrylic counterpart. It comes with an overflow and drain assembly. The thick walls of this product assure safe, deep, maintained heat, and relaxing soak.
Highlighted Features
Concrete Native stone material
Handcrafted from innovative blend and fiber
Drain opening
What We Like:
Durable
Maintained Heat
Many colors to choose from
What We Don't Like:
No overflow and drain assembly
No faucet
Expensive
Heavy because of the stone material
11.  Alfi Brand Freestanding Soaking Tub (AB1148)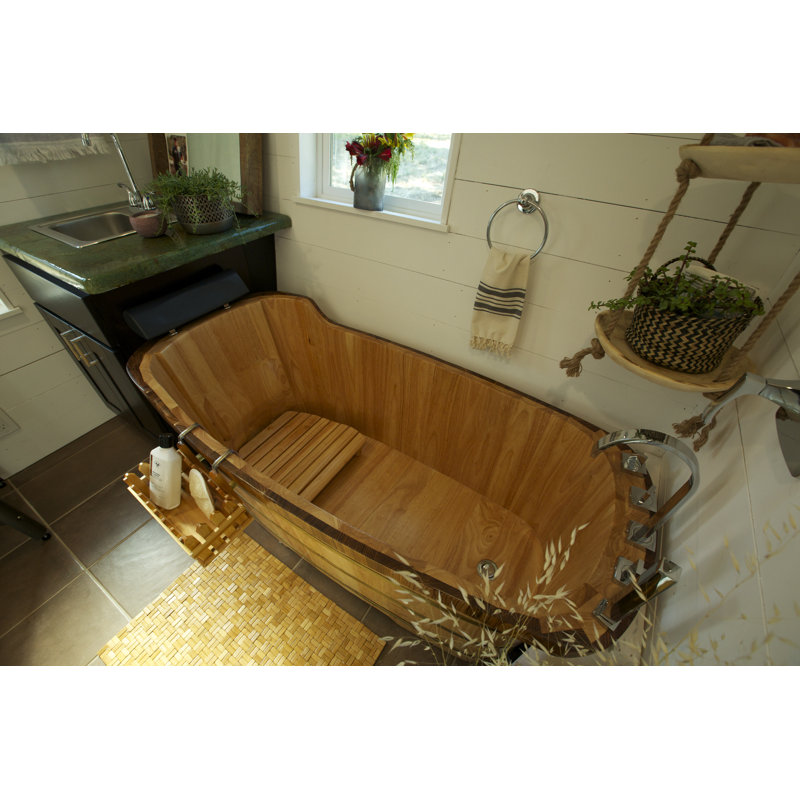 Turn your bathroom into a spectacular and eye-catching one with this modern wooden tub. This tub is great for cabin-style and winter homes. This tub comes with a pop-up drain and padded headrest to give you comfort while relaxing underwater.
It may not appear as long-lasting as the others because of the wooden material but this tub is equipped with electromagnetic iron wraps to ensure its durability. After all, nothing feels better than lying back in a steamed hot wooden tub.
Highlighted Features
High-quality wooden material
3 electronic iron wraps
Headrest
Drain Assembly
Hand-held shower head
What We Like:
Classic Design
Lightweight
Ease of Installation
Easy to clean
What We Don't Like:
12.  Premier Copper Pedestal Whirlpool Tub (BTDR67DB)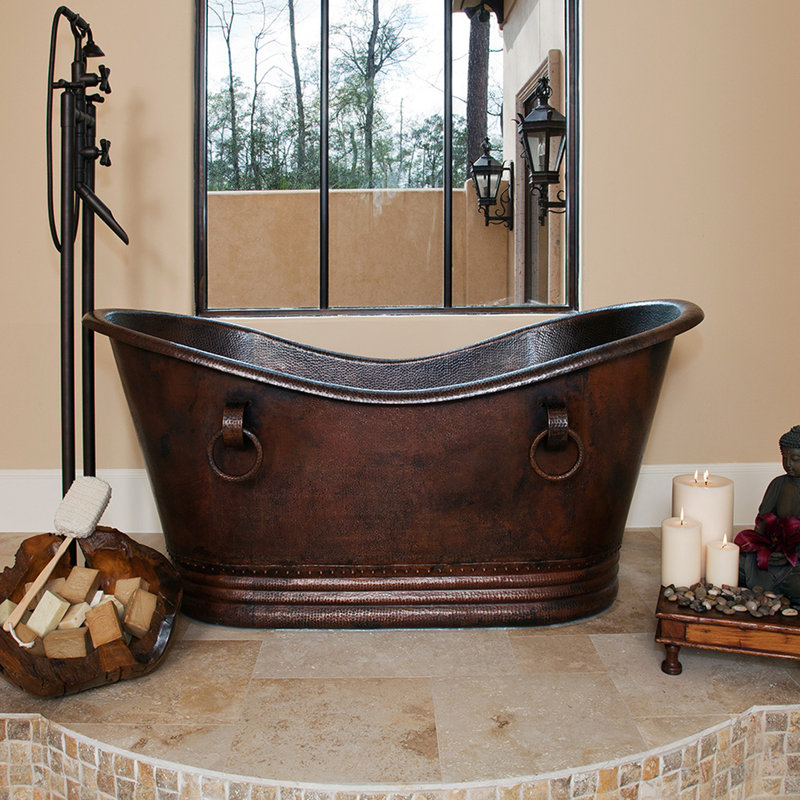 Looking for more reinforced features and design? Then, this tub from Premier is worth checking out. After all, it's not the usual tub you will see on the market. Its uncompromising quality, overall looks, and functionality make it the best freestanding tub.
This bronze copper tub also has decorative rings. Moreover, the tub itself is handmade and environmentally-friendly because it is made from green recyclable materials.
Although it doesn't have as many features as the rest we have reviewed, the product's overall design will still surely surprise and amaze your guest. In addition to its aesthetic, satisfaction and comfort are guaranteed.
Highlighted Features
Hand made copper material
Copper Sink installation
Material gauge is 0.050 inches
Recyclable
What We Like:
Durable
Materials are environmental friendly
Stylish and unique
Easy installation
What We Don't Like:
The bronze color is difficult to maintain
Difficult to clean, a liquid cleaner is not advised
13.  Ariel Bath Whirlpool Bathtub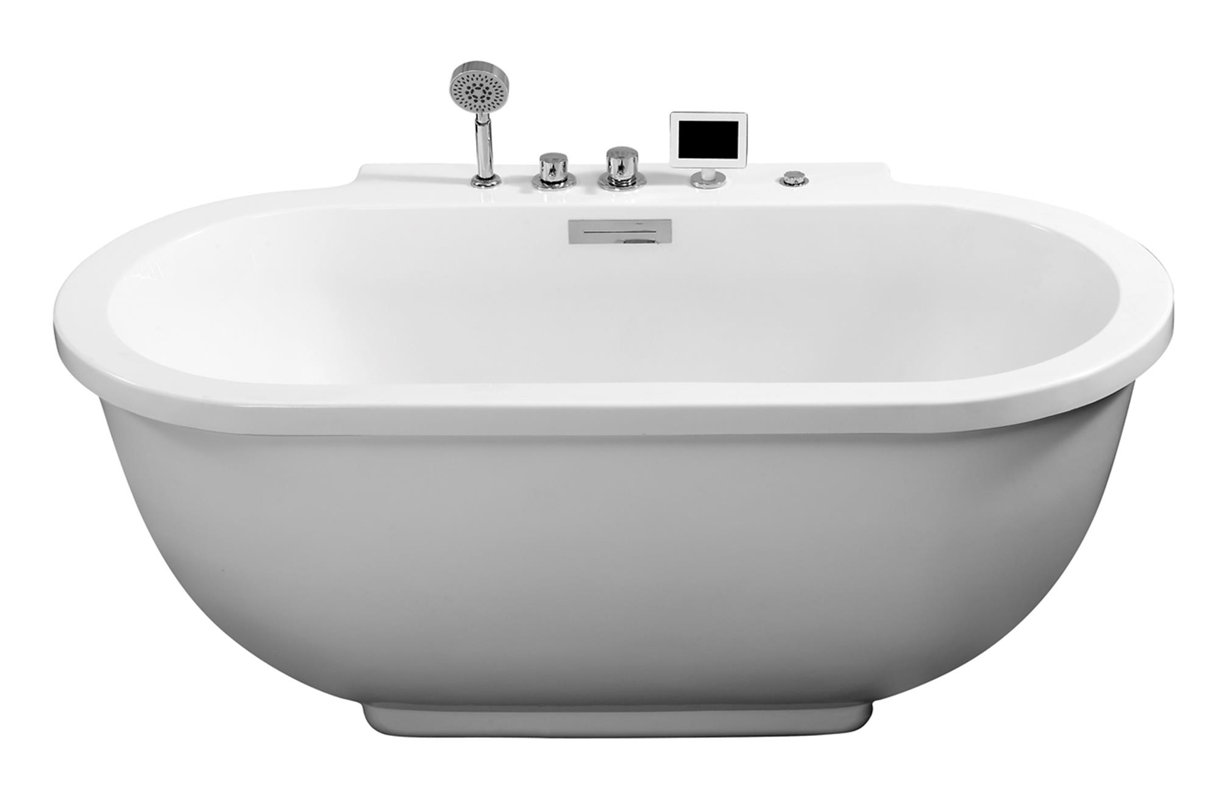 Aside from the usual features of other best soak tubs, Ariel Bath Whirlpool Bathtub features a state-of-the-art hydro massage system. It will surely complete your spa experience as it calms your senses and relaxes your nerves.
It also comes with a radio, so you can play soothing music why you lay and enjoy your bath time. This whirlpool tub is definitely one of the best luxury tub options there is!
What We Like:
Useful hydro massage system
Radio to add to the spa-like experience
LED chromotherapy lighting
Versatile installation options
Low on maintenance
What We Don't Like:
Can be too big for others
14.  Kingston Brass Soaking Bathtub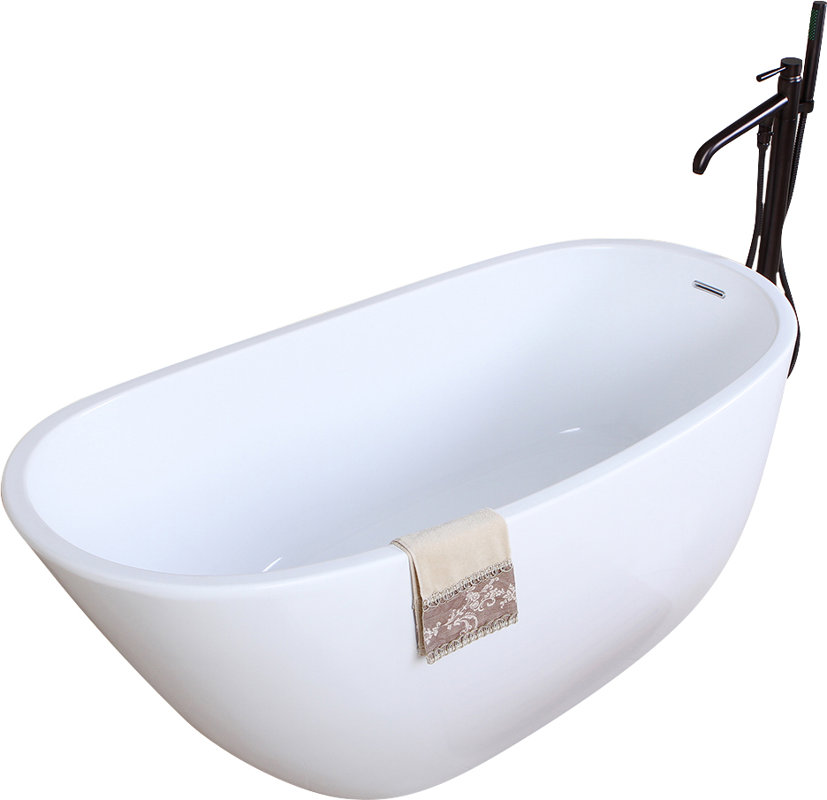 The best standalone bathtubs transform your bathroom into a spa. This Kingston Brass Soaking Bathtub does it exactly. The simple yet elegant and classic slipper design of this tub is relaxing to the eyes.
To make it sturdy and durable it is constructed from premium acrylic. It can hold up to 52 gallons of water, providing a nice soak.
What We Like:
Perfect size and depth
Smooth edge
Comfortable slope to lay on
Lightweight
Double walled construction for insulation
What We Don't Like:
High maintenance to avoid chips, flaking, and stains
Need to be glued down to stay in place
15. Restoria Bathtub Company Empress Freestanding Soaking Bathtub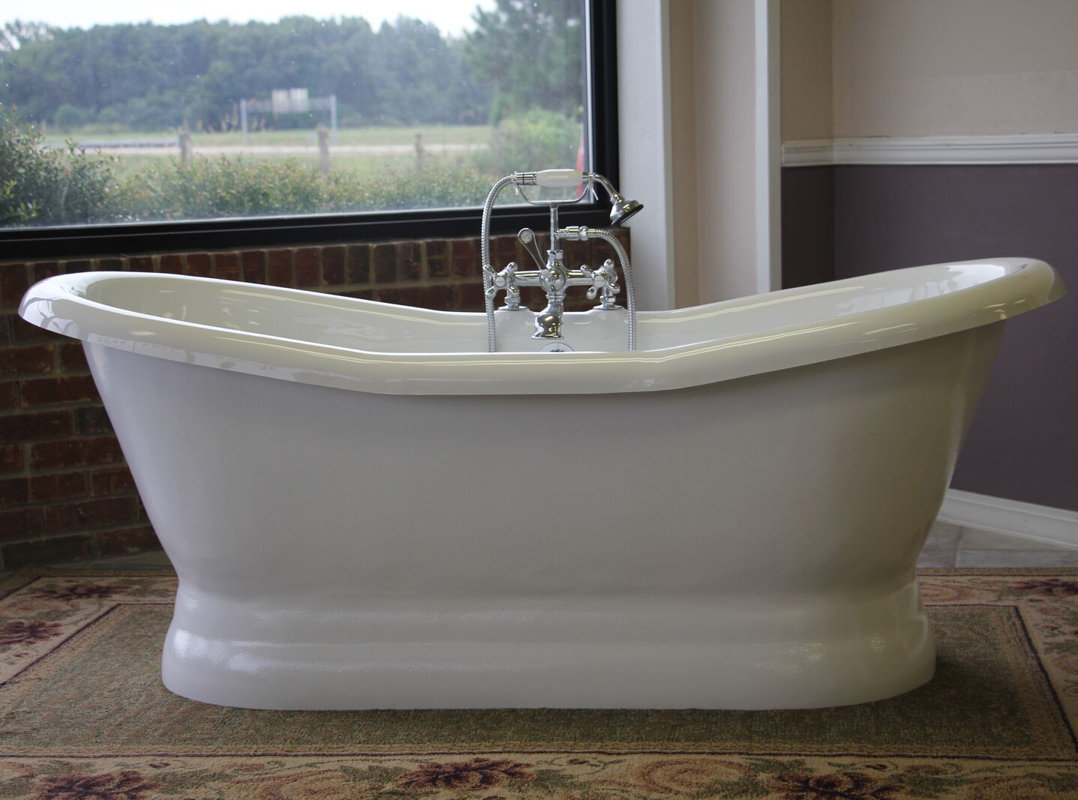 The design of this tub perfectly blends the classic and modern style. It is ideal for any house with rustic or farmhouse theme as fits really well.
It exudes a unique character to it that makes it a good centrepiece for any bathroom. Good for people who have such an exquisite taste!
What We Like:
A perfect blend of antique and modern style
Beautiful curves and excellent craftsmanship
Unique exterior finish
Fits you just right as it is spacious
Lightweight yet sturdy
What We Don't Like:
Pros and Cons of Freestanding Bathtubs
The best freestanding tubs vary from design, size, price, and features and they add elegance and value to your otherwise simple bathroom.
However, tubs can be pretty expensive so you can't just spend your money on any old tub. With that said, you need to weigh down all the pros and cons which will be highlighted below:
Pros
The main reason why people want to purchase a bathtub is design. With a tub, you can add sophistication and elegance to a simple bathroom. After an hour or two of installation, you can turn your bathroom into a luxurious-looking one.
There are also various designs from which to choose. Depending on your décor, you can select a contemporary, modern, or conventional design that best fits your needs.
The customers' ability to choose different shapes for their bathroom is also an advantage. Aside from adding to your bathroom's overall look, it is also fun to include kids when choosing the right tub for your home.
Take note to choose a deep tub soak or consider a curved from a safe anchor in getting in and out from the tub.
Most tubs are high-quality and durable. Durable tubs are typically made from acrylic, stone, copper, and wood. However, you have to consider that the more it is made from rare materials, the more expensive it tends to be. That's why stone, wood, and copper tubs tend to be more expensive than other materials.
Cons
It's undeniable that tubs can be expensive, especially since they're more optional than necessary.
Moreover, if you have budget constraints, you also have to consider that some tubs need professional plumbers for installation. For this reason, you may want to buy a tub that can be installed by yours alone.
Bathtubs can occupy the majority of the space in your bathroom. Hence, you have to consider the size of the tub and your bathroom in buying a tub. It is also advised that you place your tub away from the corners for easy cleaning. Tubs are also heavy thus they may be difficult to install upstairs.
If you are someone who likes a shower instead of using a tub, you need to consider buying a tub with an already installed shower. Most tubs do not come with a shower and faucet. You may need a separate purchase for it. This can add to the already high price tag of your tub.
Nevertheless, the relaxation and comfort they provide users are worth the often expensive price tags.
Top Attributes to Look for in a Freestanding Tub
There are several things you have to check to ensure you buy the right freestanding tub for you.
Most freestanding tubs are heavy, especially those that are made from stone and cast iron. Imagine what more if you put water and plunge into it. So, consult your structural engineer first to know if your house or floor is strong enough to carry the weight of the tub.
This is especially important when you plan to place your freestanding tub on the second floor of your house. It's better to be safe than sorry.
The shape and size of the freestanding tub definitely matter. Does your house or bathroom, in particular, have enough space for the tub?
The size of a standard tub is five feet long and thirty inches wide and is usually sixteen inches high. If your bathroom can't fit this size of a tub, you can opt to place it on your attic or loft. Given that these areas of your house are well-built.
On the other hand, if you are planning to remodel or build a new bathroom, it helps to take the exact measurement of the tub. This way, you will know how much space to allot for your tub.
Another reason why it's better to check the tub's size is to ensure that you're comfortable when bathing. If the tub is too short for you, it will be hard to recline. If it's too long, you can't rest your feet well at the tub.
Some people also prefer deep tub so that they can soak their entire body. In this case, you must find the best soaking tub that fits your needs.
Do you prefer a freestanding tub with a classic or a contemporary design? Choose whatever that suits your taste. You may even align it to the theme of your bathroom interior.
You can also pick an unusual tub made from marble if you want to make it look elegant. It can serve as a focal point in your house as it can be placed anywhere aside from the bathroom. Since it can stand alone, as long as there is space, it doesn't have to be near the walls.
Most people also consider the color of the freestanding tub. If you don't want its usual white color, you can choose to have a cast-iron tub. It is usually painted with undercoat, and you can add any shade you want to decorate the tub.
Using a bright colored tub can make your tub a centrepiece as it grabs people attention.
Freestanding tub can be made from different materials with each having its own advantages. Cast iron tub is durable, sturdy, and is good in retaining heat. On the other hand, a steel tub offers similar benefits but is more affordable. However, take note that it wears more easily.
A beautiful marble tub is unique because it comes with many colors to choose from. Same with cast polymer tub, which can be made to appear as stone while doing its job of holding the heat well. A freestanding tub can also be made from copper. It is aesthetically nice, so many customers prefer this copper tub despite it being one of the most expensive options.
When buying a freestanding tub, you might also want to check the tap. Determine your preference and budget.
Bath-mounted taps are more cost-efficient than the taps attached to the wall or that with a floor stand. It is also more comfortable for you as you need not stand to reach for the tap every time you take a bath.
If you have more budget to spare, you might want to consider some extra features of the freestanding tub.
You can choose one that has chromotherapy or underwater lighting. This absolutely levels up your overall bath experience, and if you love listening to music while taking a bath, you can have a freestanding tub with a speaker. Play some calming music to have a relaxing spa-like experience.
For convenience, you can have a freestanding tub with digital controls for the light and speaker. This way, you don't have to go out of the tub if you need to press some buttons.
If you have mobility issues or disabilities, you can pick a freestanding tub that is ADA compliant. It complies with the requirements stated in the American with Disabilities Act. These tubs are safer, easier, and more comfortable to use.
Having a warranty is also a plus when purchasing a freestanding tub. Bathtub installation is a difficult job. It's something we hope you don't have to deal later again. A good and reasonable warranty can provide you with peace of mind.
Conclusion
As mentioned earlier tubs vary from sizes, design, and price making it difficult for first-time buyers to choose the one suitable for their home.
Research and reading freestanding tubs reviews may be required especially for those practical consumers who want to improve the appearance of their homes.
However, if you would ask us which one is the best bathtub, we consider the Ariel Bath Valencia Platinum the best on this list.
This is because the Valencia Platinum bathtub from Ariel Bath is the most advanced, feature-wise. While the price may make you hesitate a bit, its high-quality build and advanced features make it worth every penny.