Hammock chairs have been popular for many years, and people have been using them for relaxing in their backyards or even in their homes. If you're interested in buying one, then you better get the best hammock chair in the market. How do you choose which one's the best? This list will help you out.
Best Hammock Chair Reviews
1.  Beachcrest Home Parker Woven Hammock Chair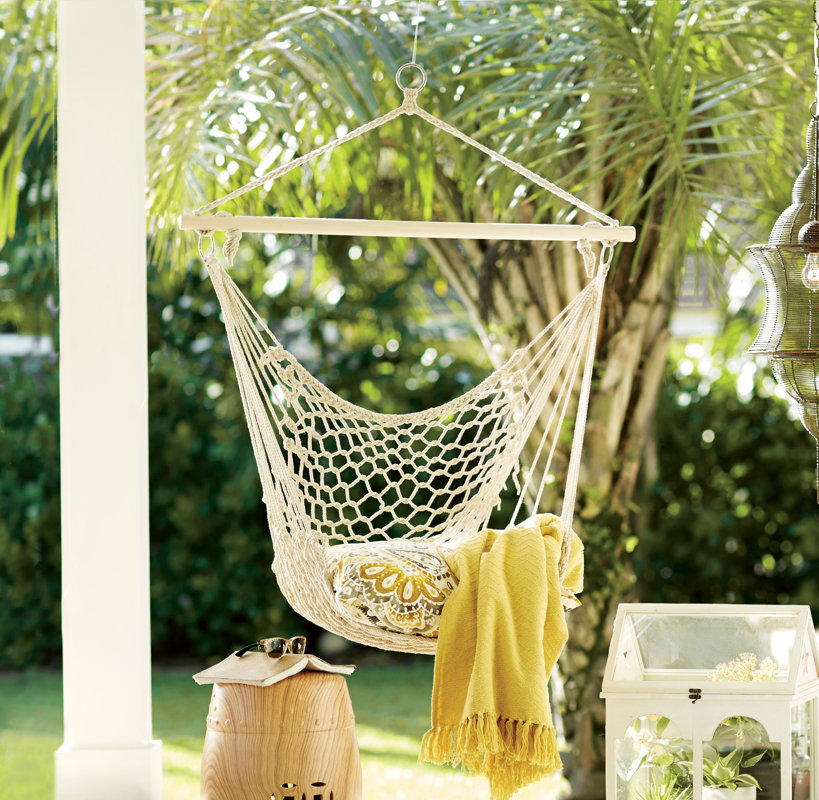 This hammock chair is made of recycled cotton and wood. Aside from having an amazing beach design, we also love that it's an environment-friendly product. With this hammock, it's possible to enjoy the feeling of being on the beach while saving the planet at the same time.
Key Features:
Weight capacity of 200 pounds
Sunny beach style design
Made of recycled materials
Compact design for easier portability
Thick cotton material
2.  Mistana Cotton Rope Hammock Chair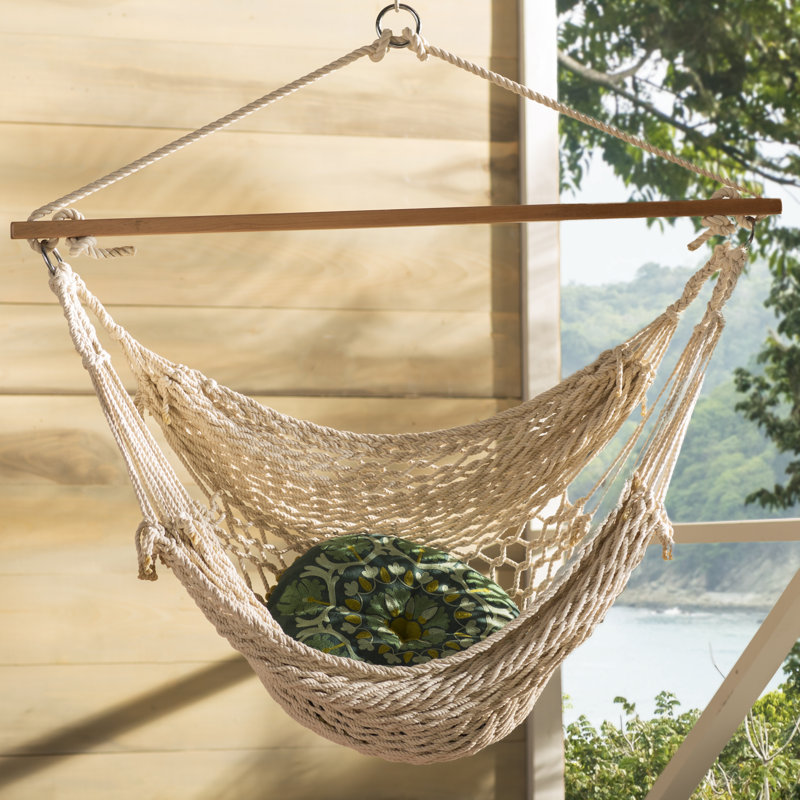 This one is pretty known for its durability because it uses a very thick cotton rope material for its build. It's actually more durable than the previously mentioned product. What we love is that it has a higher weight capacity of up to 275 pounds. Since it's more durable and slightly wider, it's possible to fit two people who weigh less than 140 pounds each. It may not be as portable as Beachcrest, but it's definitely stronger.
Key Features:
Thick cotton rope build
A high weight capacity of 275 pounds
Thickly covered mesh design
Compatible with metal chair stands
Versatile design for any type of outdoor use
3.  Bloomsbury Pinnock Cotton and Nylon Hammock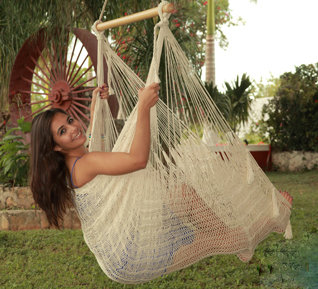 This product by Bloomsbury Markets is actually known for its strength and durability. It's because it's made of both cotton and nylon materials. Nylon is a great material for carrying weight while cotton is great for comfort. If you combine the two, then you get the best of what both have to offer. Due to this, the product is capable of supporting up to 330 pounds.
Key Features:
Extra large and wide size
High weight capacity of 330 pounds
Combination of nylon and cotton
Very strong and sturdy structure
New age hippie type of design which is good for backyards and even for indoors
4.  KW Hammocks Carribean Style Hammock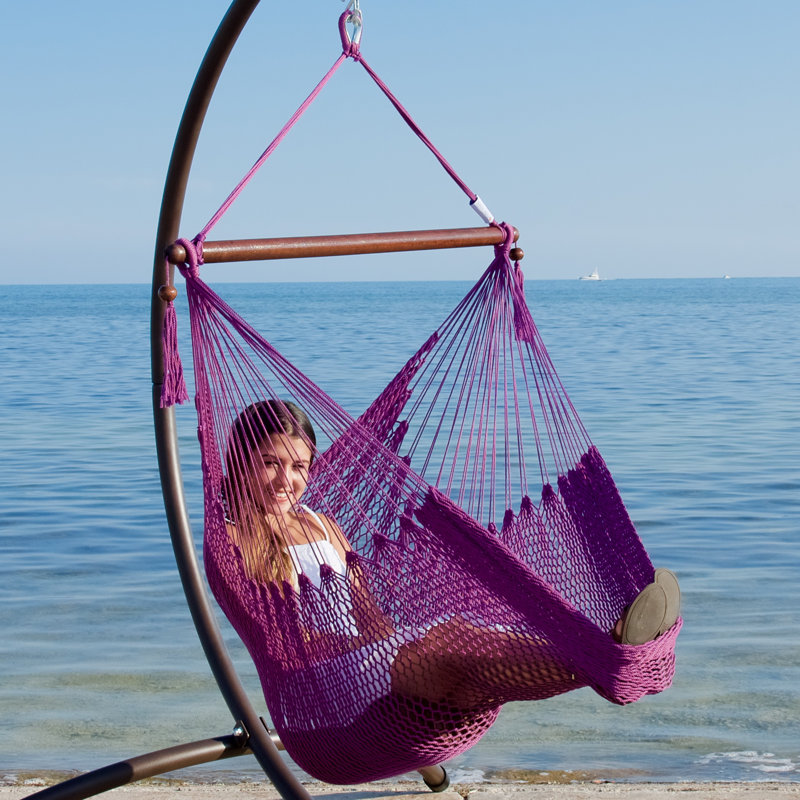 One of the things that you'll really notice about this hammock chair is that it can be stretched pretty far and wide. In fact, the seating area can stretch up to 6 feet, which is something that a lot of hammock chairs can't really do. That's why we love this product because it allows you to really feel comfortable as you lie down on this hammock.
Key Features:
Strong polyester material
Mold and mildew-resistant material
Weather-proof varnish from marine spa type varnish
Warm colored wooden structure for relaxing feel
Weight capacity of 275 pounds
Can be used indoors
5.  Freeport Park Alysha Polyester Hammock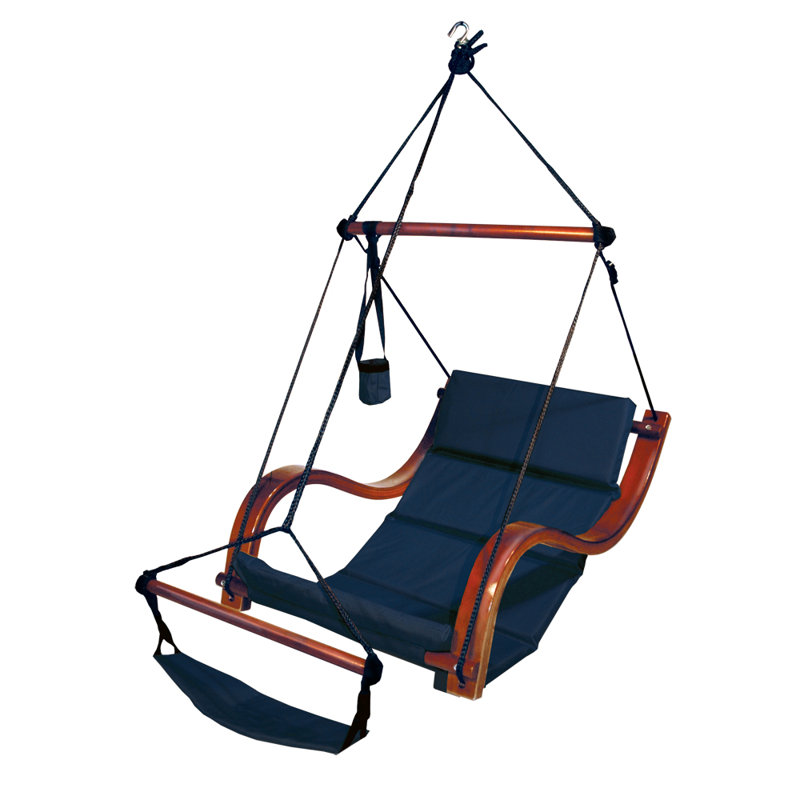 This is actually the type of hammock that you could either install on your backyard porch or in your living room. What we love about it the most is that it has a very calming vibe and a soft chair attached to it. It's perfect for an afternoon of rest or a relaxing night after a dip in a hot tub. Also, it can be used for both indoor and outdoor setting.
Key Features:
UV-resistant frame and structure
Includes a lounge chair
Includes a durable hanging hardware
Versatile for both indoor and outdoor use
Made of durable, kiln-dried hardwood
Includes a 600 Denier nylon cushion
Weight capacity of 350 pounds
6.  Bungalow Rose Travis Hammock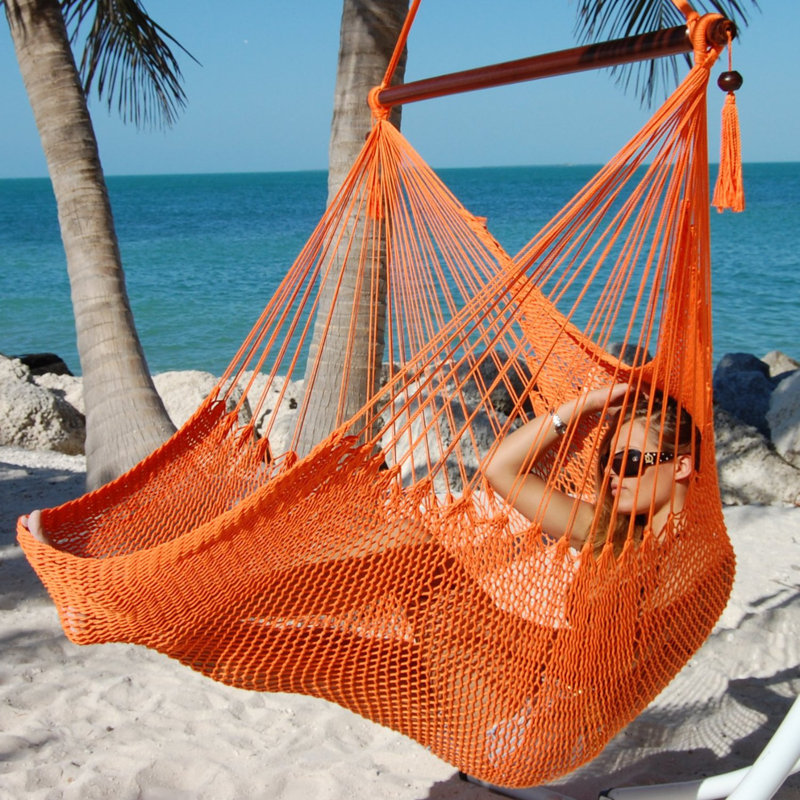 This is another Carribean-style polyester hammock. It's actually a handwoven hammock that uses rope made of polyester with a very intricate design. If you have an eye for art, you'll most likely love the detail that this hammock chair has. It's beautifully made and perfect for a chill day of laying back and maybe reading a book under the sun.
Key Features:
Glossy stretcher bar finish
Weatherproof
Boho Carribean design
Very intricate detailing for design
Weight capacity of 275 pounds
Able to stretch out wide
Includes footrest seat
Made of polyester rope material
7.  Bay Isle Home Polyester Hammock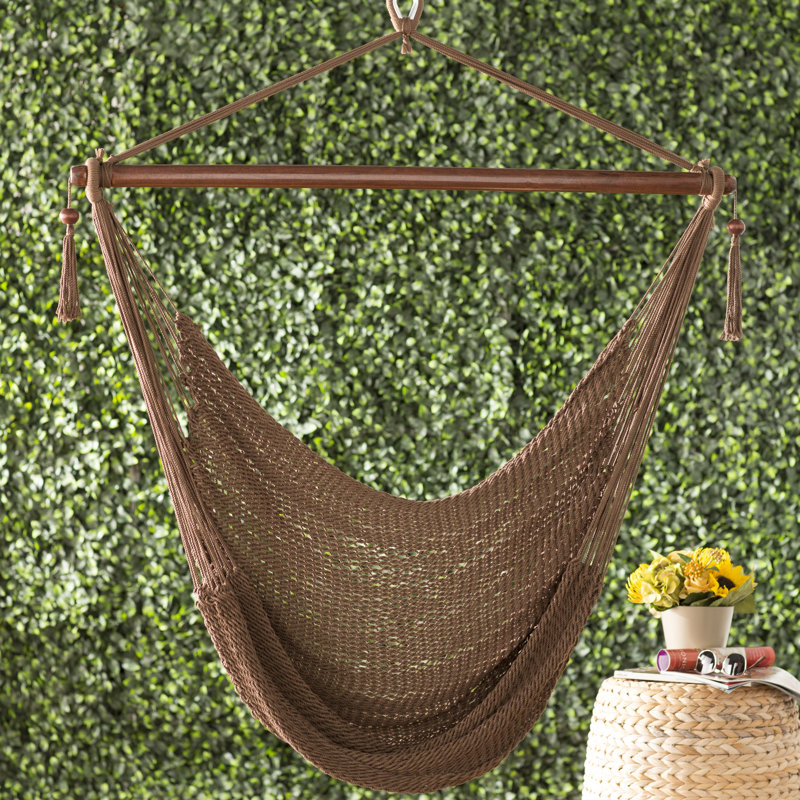 This is yet another XL sized polyester hammock chair. Its design is quite nature-ish, which is why it can go very well on porches and patios. It's a great addition to your backyard's resident tree. You just have to hang the rope to a strong branch. You may also use a C stand to hang it if you don't want it hanging on the tree.
Key Features:
Nature inspired design
Extra large size
Weight capacity of 300 pounds
Up to double capacity, depending on the weight of the users
8.  Hearthsong Go! Hangout Hammock Chair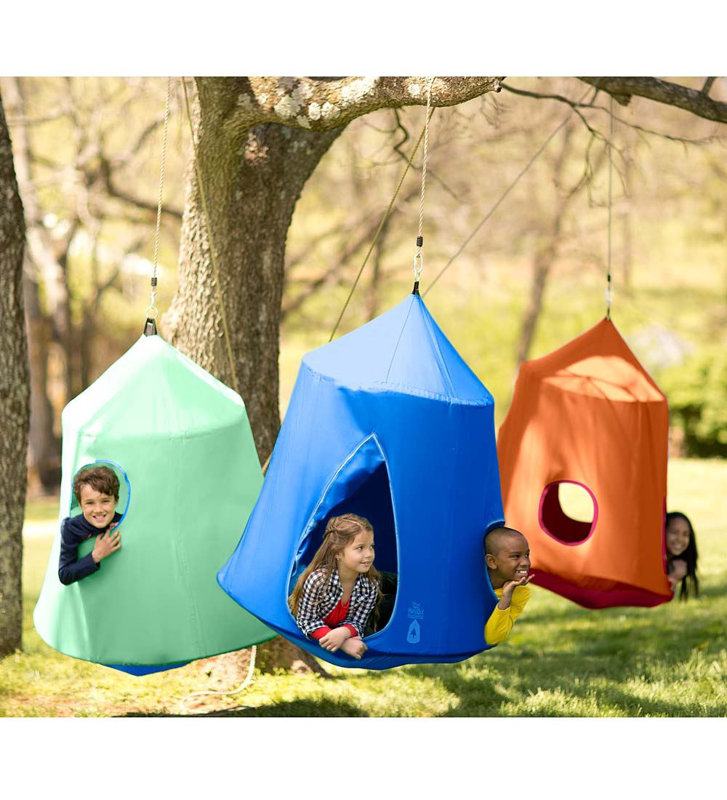 This hammock chair is actually more of a hammock tent because of its build. It's great for the kids to play in and have a great camping trip. It can also fit around three kids provided that they weigh less than 85 pounds each. It's great for camping in the woods, play-camping in the backyard, and also for some beach trips.
Key Features:
Portable camping tent
Sturdy cotton material
Weight capacity of 250 pounds
Able to hold at most 3 kids at one time
Can be used indoors
Comes in three different beautiful colors
9.  Andover Mills Goggans Hammock Chair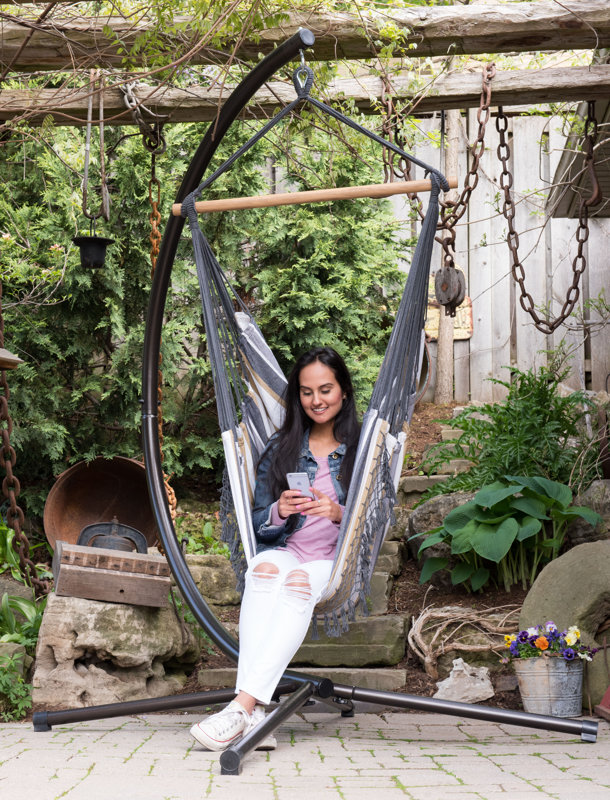 Its design is perfect for a relaxing time by the pool or at the beach. This is most likely because the design of the hammock chair resembles that of a beach blanket. This is why it does give off a rather beach bum type of vibe. You can also attach it to your porch's patio if you feel like reading a book outdoors.
Key Features:
Versatile design for both outdoor and indoors
Weight capacity of 250 pounds
Beach bum inspired design
Soft and comfortable cotton material
10.  La Siesta Joki Hammock Chair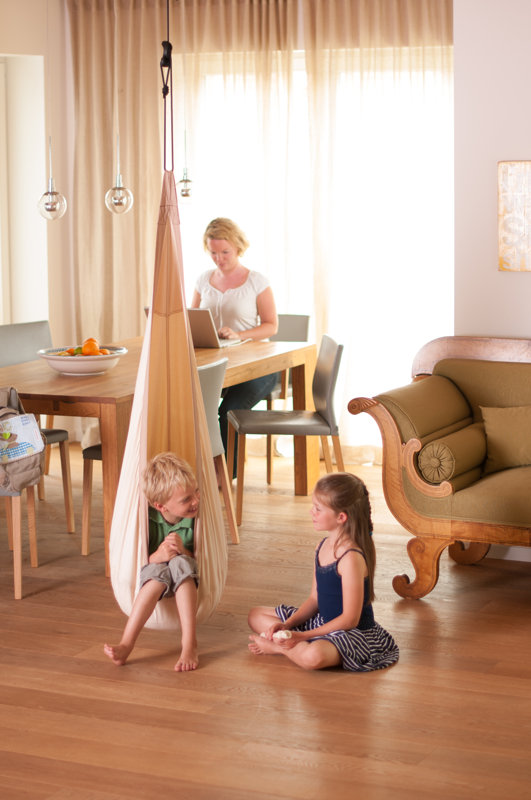 This is the ultimate children's hammock chair perfect for taking naps. With this hammock chair, your child can swing around and stay comfortable. It can also be installed in most bedrooms as long as you have a hook. Also, it's good for kids 3 years old to 9.
Key Features:
Very soft and comfy cotton material
Comes in 5 bright colors
Can be washed in the washing machine
Weight capacity of 175 pounds
Comes with soft polyester stuffed pillow
Durable structure
11.  Belleze Hammock Chair with Stand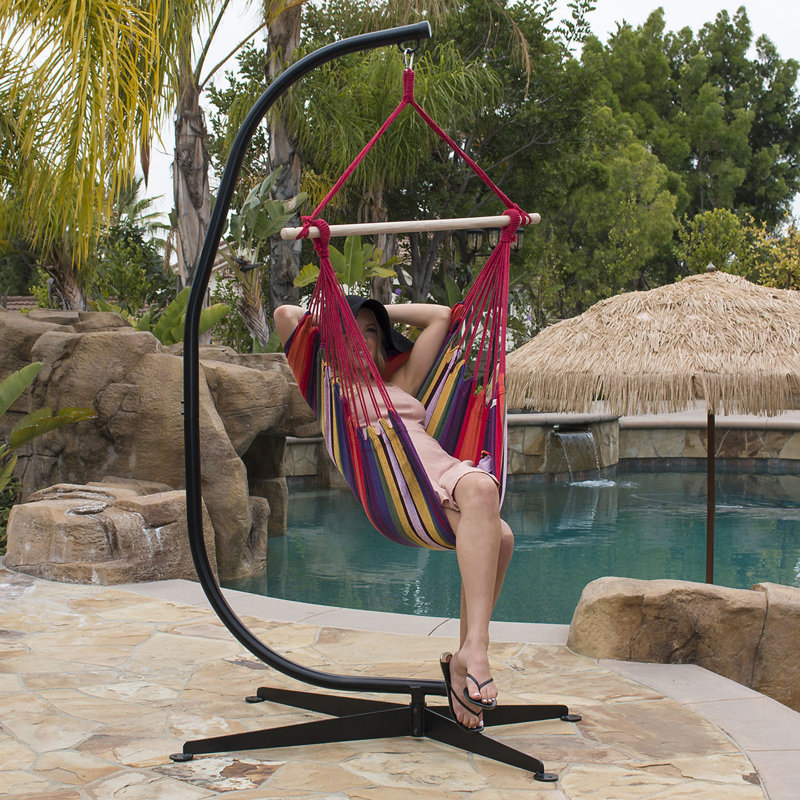 If you're sure that you want to have a hammock chair with a stand, then you might as well get this one. It is already a set which consists of a hammock chair and a C-frame stand. With this, you can spin around 360 degrees and just relax. The best part of this hammock chair is that it can take up to 330 pounds of weight capacity because it is made of very thick cotton ropes.
Key Features:
Comes with a hammock chair and a very sturdy C frame stand
The stand is made of heavy-duty metal
The hammock itself is lightweight
Comes with 2 soft pillows
Weight capacity of 330 pounds
12.  Algoma Net Company Polyester Hammock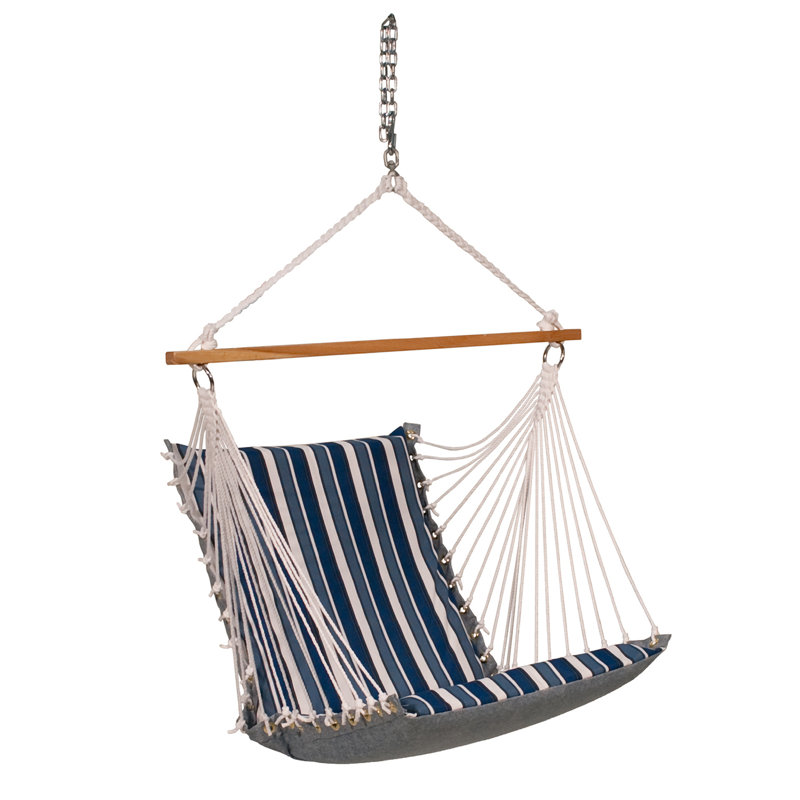 Unlike most hammock chairs, this one is already made to look like an outdoor bench. Due to its shape, you can actually lay down on the hammock without having to spread it open. You can even invite a friend over and ask him or her to sit on it.
Key Features:
Features the shape and build of an outdoor bench
Made of strong polyester
Held together with plated steel rings
Weight capacity of 275 pounds
Mold and mildew resistant material
Very wide design
The Comprehensive Hammock Chair Buying Guide
Now that we've gone over the list of hammock chair reviews, it's time to consider the factors you need when buying a hammock chair. Let's check them out:
First of all, you have to consider comfort. This is determined by the fabric of the chair. For total comfort, you need to get a chair that is soft and flexible. If you get a hanging chair that is made of the same material as a rocking chair, you won't be able to relax. We suggest that you buy chair's made of either cotton or polyester. Nylon is good too, but cotton and polyester are softer. Of course, this depends on whichever makes you feel comfy. We recommend that you try sitting on it before you buy it just to test it out.
You must also consider the design of the hammock. Now, most people put their hammocks in their backyards because hammocks are generally designed for outdoor use. If ever you want to put the hammock in your backyard, you have to make sure that it has an outdoor type of design that can match your outdoor sofas, patio umbrella, and overall backyard design. However, we recommend that you buy the versatile designs that can work anywhere – even indoors. That way, you can move the hammock around depending on where you want to sit.
This is easily one of the most important factors that you have to consider when you buy a hammock chair. You wouldn't want a hammock chair that's flimsy because you could fall down and hurt yourself. That's why you need one that's made of a material that can hold your weight.
We recommend that you buy a hammock made of thick nylon or rope material if you are a rather big person. Cotton and polyester hammocks are a bit flimsier because they can rip apart after heavy usage. However, some of them are built with more material, making them much thicker and stronger.
The key here is to always find out the weight capacity of the hammock. Weight capacities of 200 pounds are the most common. If you can find anything higher, you may want to choose that.
Cost is another very important thing that you have to consider when you're picking out your hammock. While it's a natural habit to seek out the cheapest alternative, we do recommend against that because cheaper may mean low quality most of the time. Low-quality materials used for making the products would mean that the hammock can tear apart easily or break– and we wouldn't that to happen. What we recommend is that you pick the most reasonably priced ones.
Conclusion
Choosing the right product is now made easier with the help of these best hammock chairs reviews. This way, you won't have such a hard time making your choice. Also, with our short buying guide, you'll be able to find the product that'll suit your preferences.