According to the National Geographic Channel, a normal person showers about more than 28,000 times in a whole lifetime. However, there are instances when showering might come as a challenge, especially if your area has low water pressure.
To help you with that, we have prepared a selection of handheld shower heads so you can choose the best handheld shower head for low water pressure. Here's our top 10 list of the best-selling low flow handheld shower head you might want to consider purchasing:
Top 10 Best Handheld Shower Head for Low Water Pressure
1.  Niagara Conservation Earth Massage Shower Head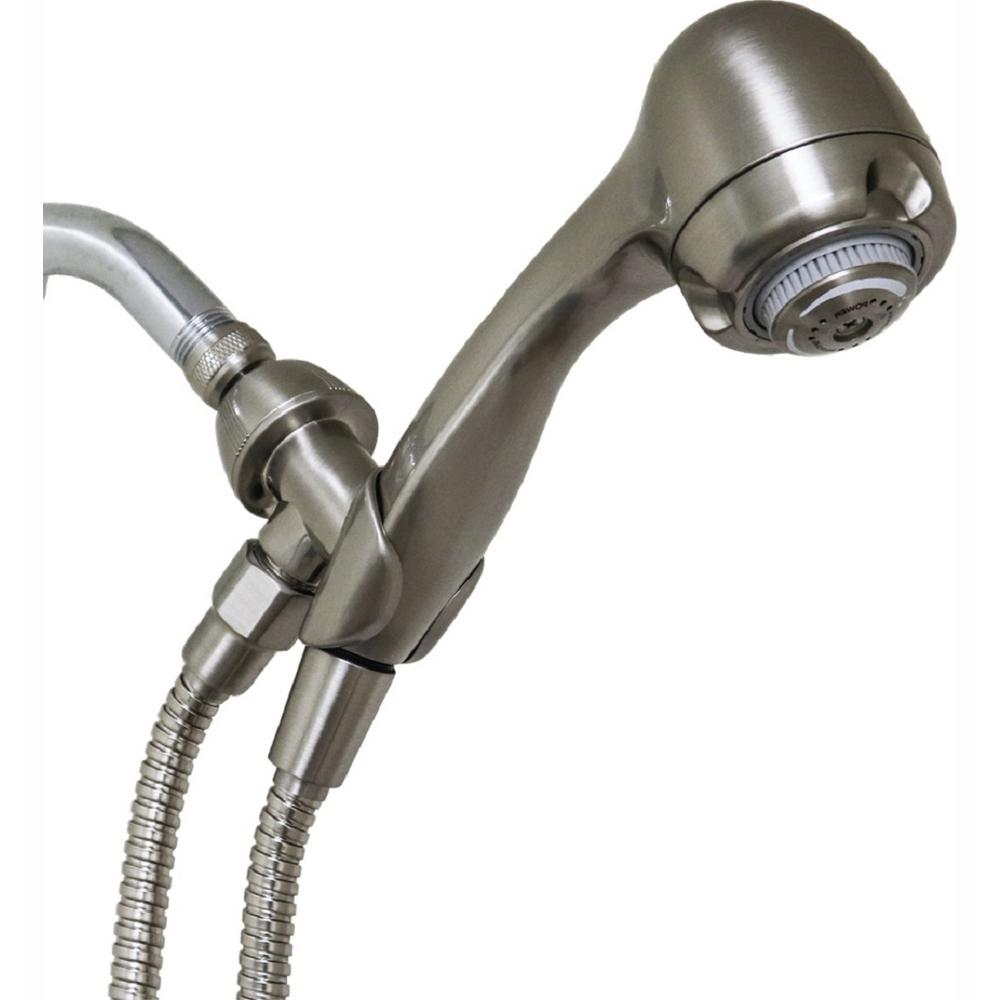 The Niagara Conservation Earth Showerhead is known to be one of the, if not the, best low flow handled shower for its quality and affordability. With this unit, you can save more water when showering as compared to other units.
It comes with an internally patented pressure compensator that gives you a consistent spray of water regardless of the water pressure. Moreover, the Earth Showerhead has three spray functions such as needle, massage, and the combination of both to give you a relaxing and fulfilling shower experience.
In addition to that, this shower has complied with ANSI standards and will help you save 40% more water when compared to other low flow showerheads.
2.  High Sierra's Solid Metal Handheld Shower Head Kit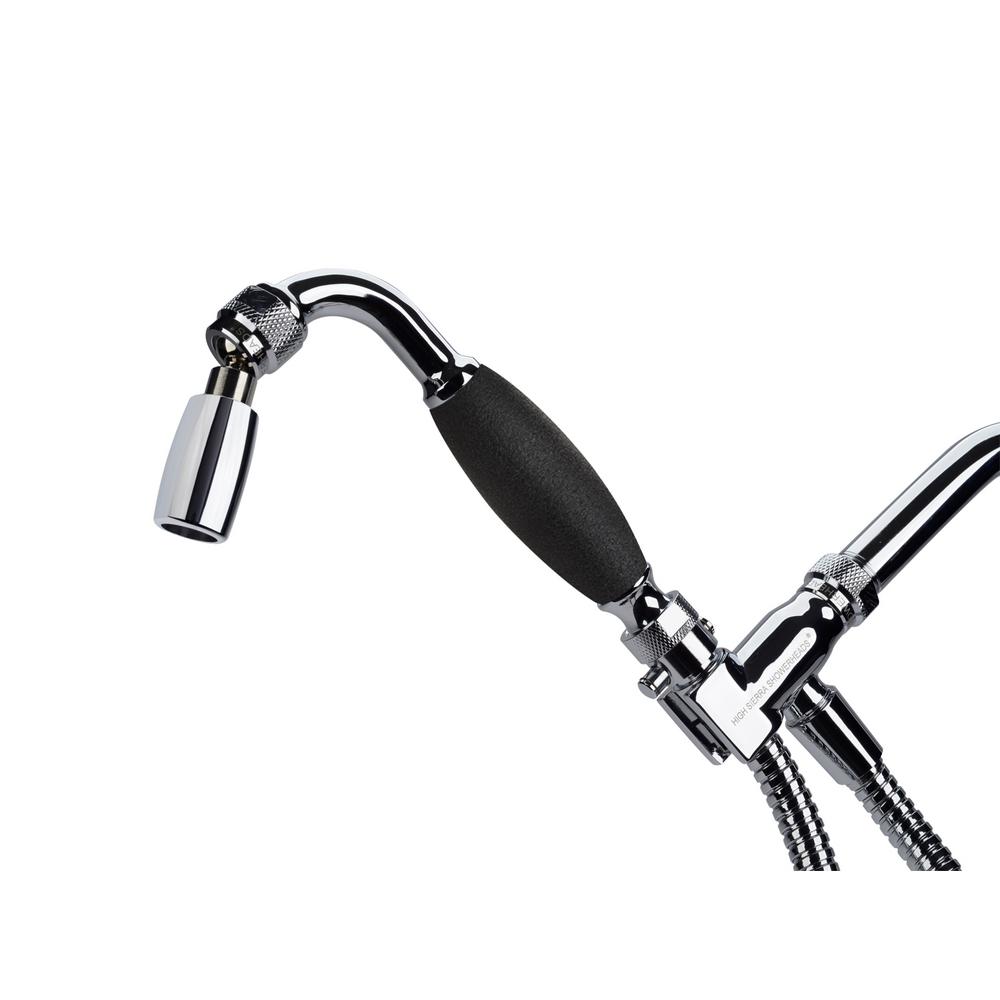 The High Sierra's Solid Metal showerhead produces a strong spray of huge droplets that's perfect even when showering your long hair. It features a non-slip grip that is made of rubber, thereby making it one of the best handheld shower heads ever made.
Its patented nozzles keep minerals in the water from obstructing the flow. Apart from that, it has a control button that shifts the flow of water to a trickle while you are lathering. It can also be easily shifted to its original flow with ease. Lastly, it's certified by WaterSense.
3.  Universal Multi Function Handheld Shower Head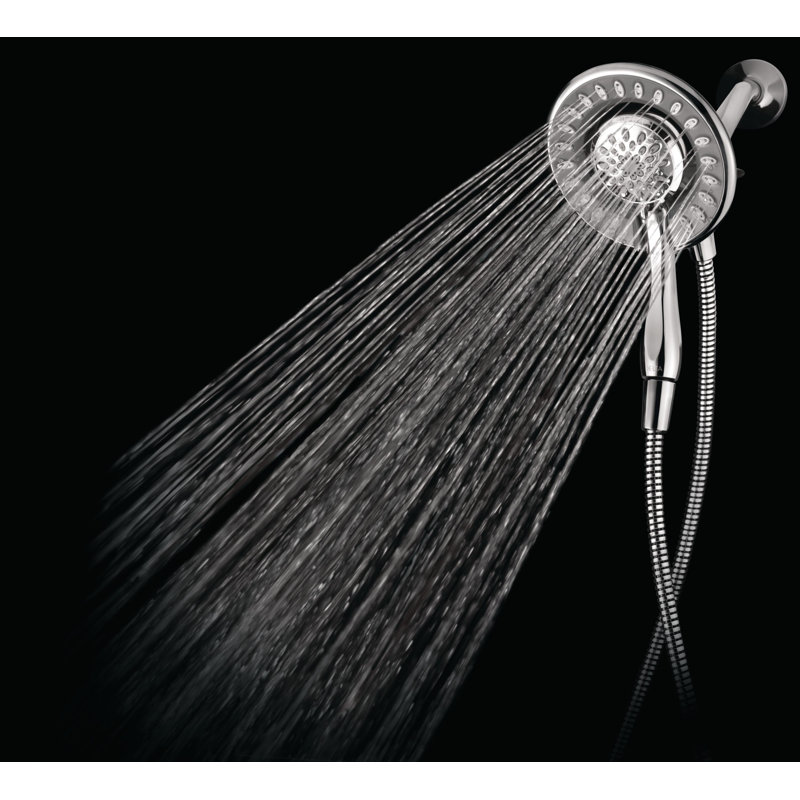 The Delta ® In2ition ® Two-in-One Shower is composed of a fixed shower head and a detachable shower head that you can use separately when taking a shower. This innovation provides you with more flexibility without sacrificing your desired water temperature.
The Delta soft rubber Touch-Clean ® nozzles don't allow water minerals to build up, thus saving your energy and time in cleaning the showerhead with strong and unhealthy chemicals. It also has a pause setting that gives way for your shaving, scrubbing, shampooing, etc.
4.  Grail Full Handheld Shower Head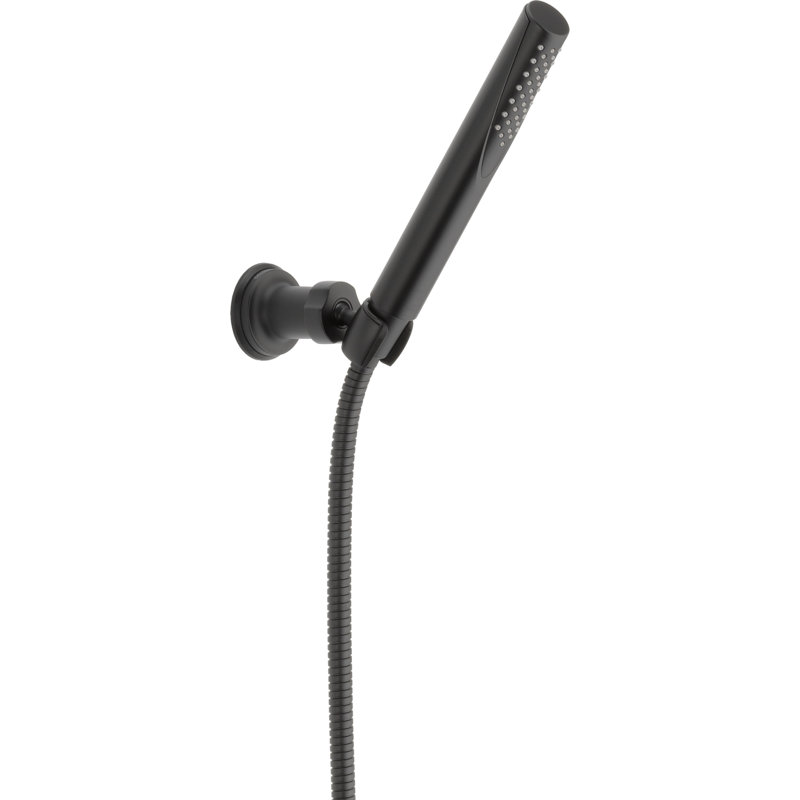 Influenced by stylish lines of European design, this unit gives you the delight of showering every morning with its urban feels. It has a flexible hose with a single-setting full body spray handheld shower head. Moreover, it has an 82" maximum stretchable hose that allows a full-coverage shower experience.
5.  Euphoria Massage Hand Shower Head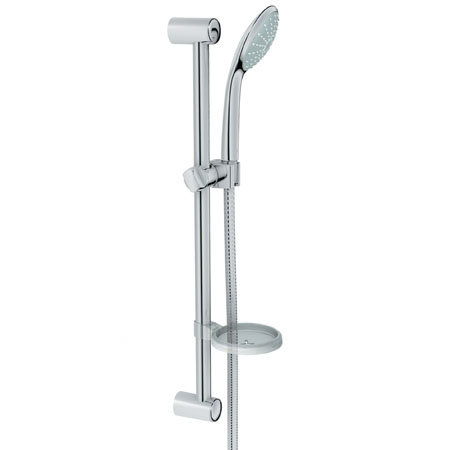 The main feature of the Euphoria Shower Head is its ergonomic design with its massage hand shower seat, adjustable shower bar, and a pivot hand shower holder. It is purposely designed to lessen water consumption as it sprays water evenly to each nozzle for a perfect showering experience.
For safety, the handle doesn't turn too hot to hold. Moreover, it is an EPA WaterSense ® certified product that utilizes 20% less water than the expected standard.
6.  Engage Multi Function Handheld Shower Head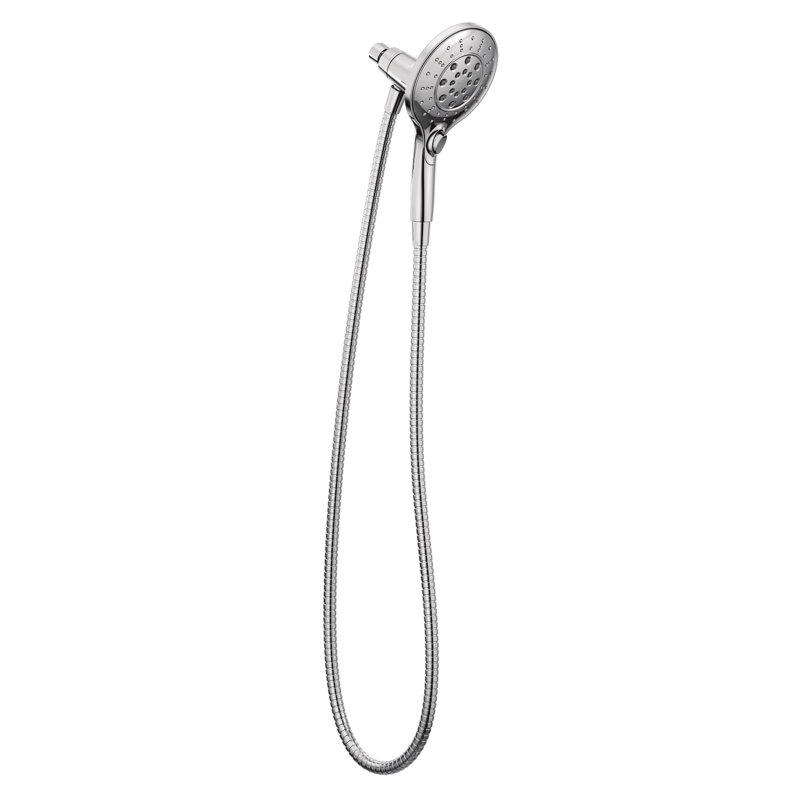 From the feeling of being under the drizzling rain to a more intense feeling of rinsing and cleaning your hot tub, the Engage multi-function shower head provides you with six different settings to give you a more customized showering experience with just one push of a button.
It has a magnetic dock that's easy to release and safely snaps back into its original position after use. Aside from that, it comes with a shower head that can be tilted. Its metal hose can't be curled so it can extend up to your feet giving you full coverage.
Additionally, it is an EPA WaterSense ® certified product that utilizes 20% less water than the expected standard.
7.  Multi Function Handheld Shower Head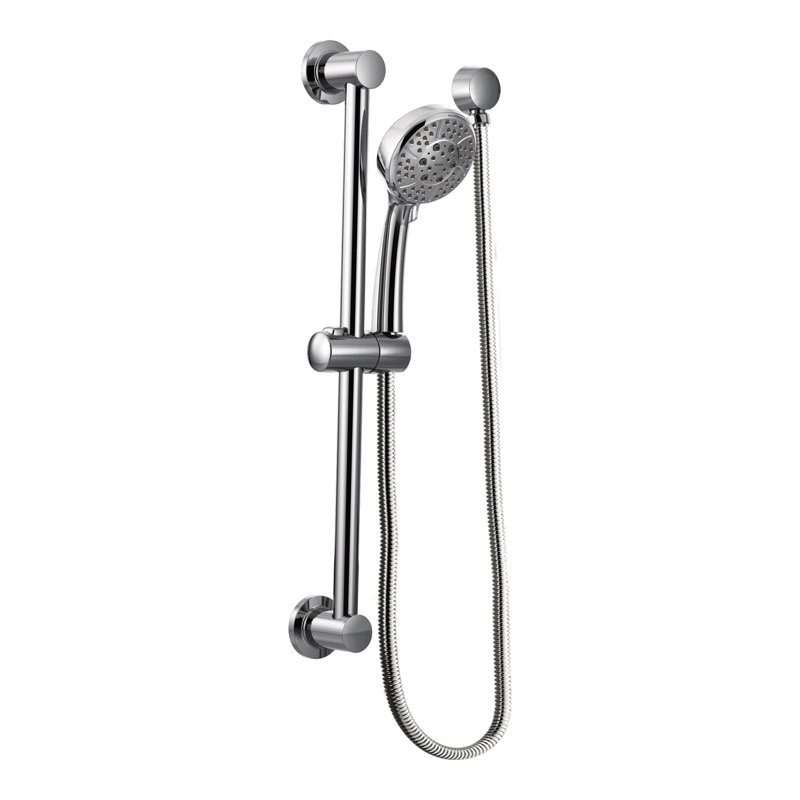 This multi-function shower head is simply one of the best low flow shower heads due to its adjustable water flow setting that uses at least 20% less water than the expected standard. It has a high-quality shower arm, flexible hose, and a slide bar. It also comes in both Full/Standard and Massage/Jet shower settings.
8.  Purist 1.75 GPM 3- Way Massage Handheld Shower Head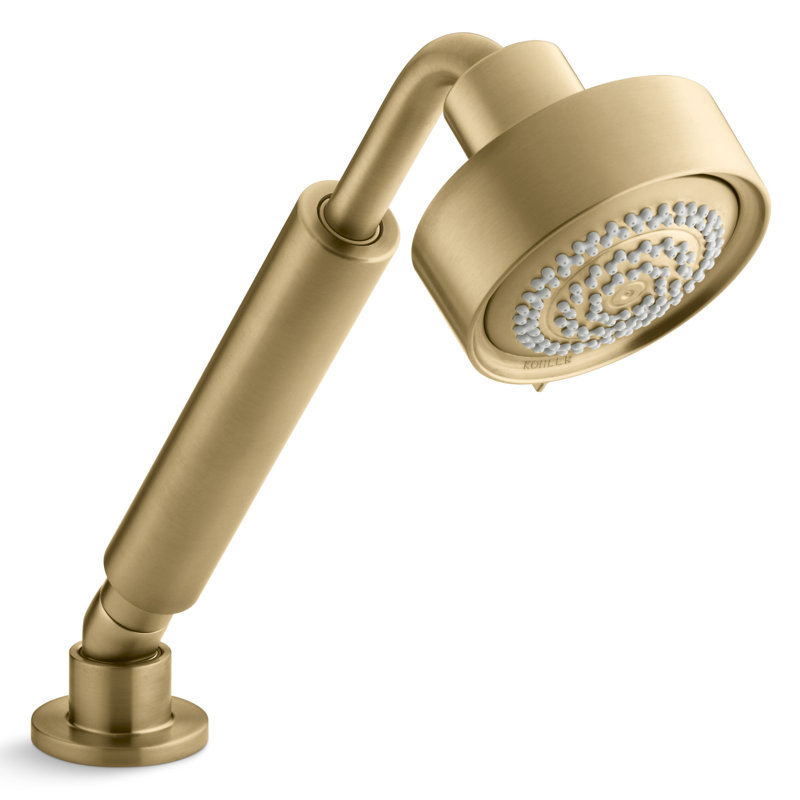 Make your bathing experience more comfortable with this handheld shower head that conserves water without compromising quality. Proven to meet a full-coverage water spray, it can provide you with a soft flow of water or a more intense water flow experience.
It comes with a concentrated spray setting that allows a strong flow of water that can ease muscle aches or pains. It is also an EPA WaterSense ® certified product that utilizes 20% less water than the expected standard.
9.  Awaken G90 Multi Function Handheld Shower Head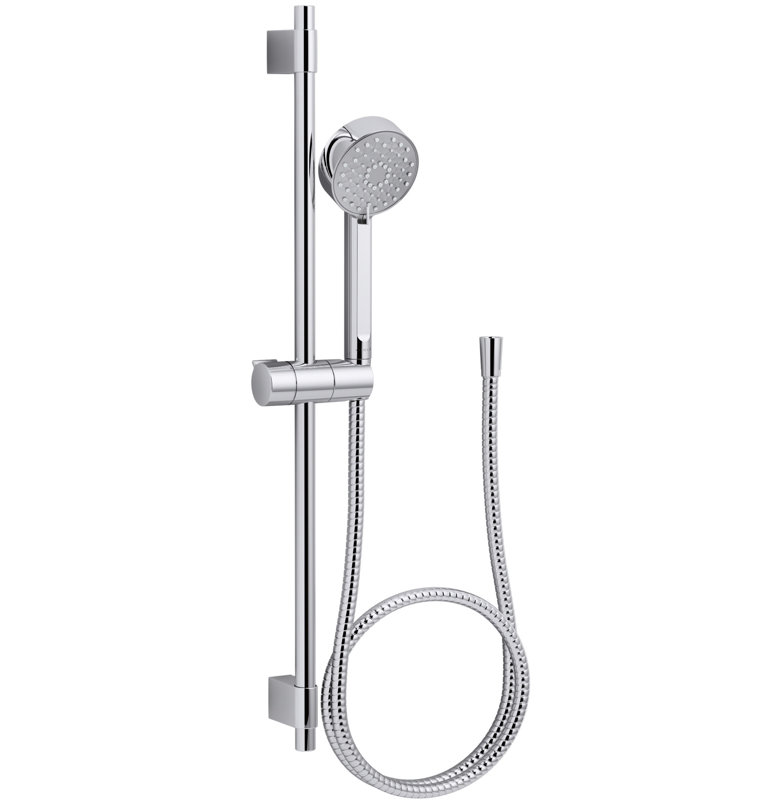 This hand shower unit is packaged with a 24-inch slide bar and a 60-inch ribbon hose with a minimalist-inspired spray face design. Its ergonomic features give you maximum comfort and convenience with its standard weight and balance on your hand. It also has an additional shower head which can be adjoined to it if desired.
10.  Spectra+ Duo Drench Handheld Shower Head
Feel the combination of this amazing innovation and structure brought on by the Duo handheld showerhead. Its 4-function 2-in-1 shower head allows a variety of water coverage with an option to take the center as a hand shower for bathing your kids, your comfort room, or even your dogs with ease.
This duo allows you to have a personalized shower experience with its four spray settings- soaked, gentle, powerwash ®, and massage. Moreover, it is EPA WaterSense® certified to help you conserve water.
Conclusion
Investing your money in a handheld shower head is surely not a waste of your earnings as it comes handy along the way in saving water, energy, and money. However, it is also important to choose only the best handheld shower head to give you a good shower experience despite low water pressure conditions.For people who are conscious about the environment, using a handheld showerhead is one of the best ways they could possibly contribute to saving the earth by conserving water and energy.
With our list, you can just choose any from the 10 mentioned products above and try to know which of them will work as the best handheld shower head for low water pressure for your needs.
Hopefully, you can find the right shower head that will give you the best and most relaxing showering experience you could possibly get without having to waste a lot of water, energy, and money. Just make sure to take a look at their features and do a comparison so you can decide which one will work best for you.