Taking a shower after a long day's work is one thing, but actually getting the chance to enjoy a refreshing one is another story. However, this becomes a tough case when there's "hard water" flowing from your shower head.
For that, it only makes sense to use the best handheld shower head with filter. This way, you can enjoy that relaxing shower time and remove any impurities brought on by hard water.
In this article, we're going to talk about some of the best shower filters in the market.
Our Top Recommendations
1.  HotelSpa 7-Setting Handheld Shower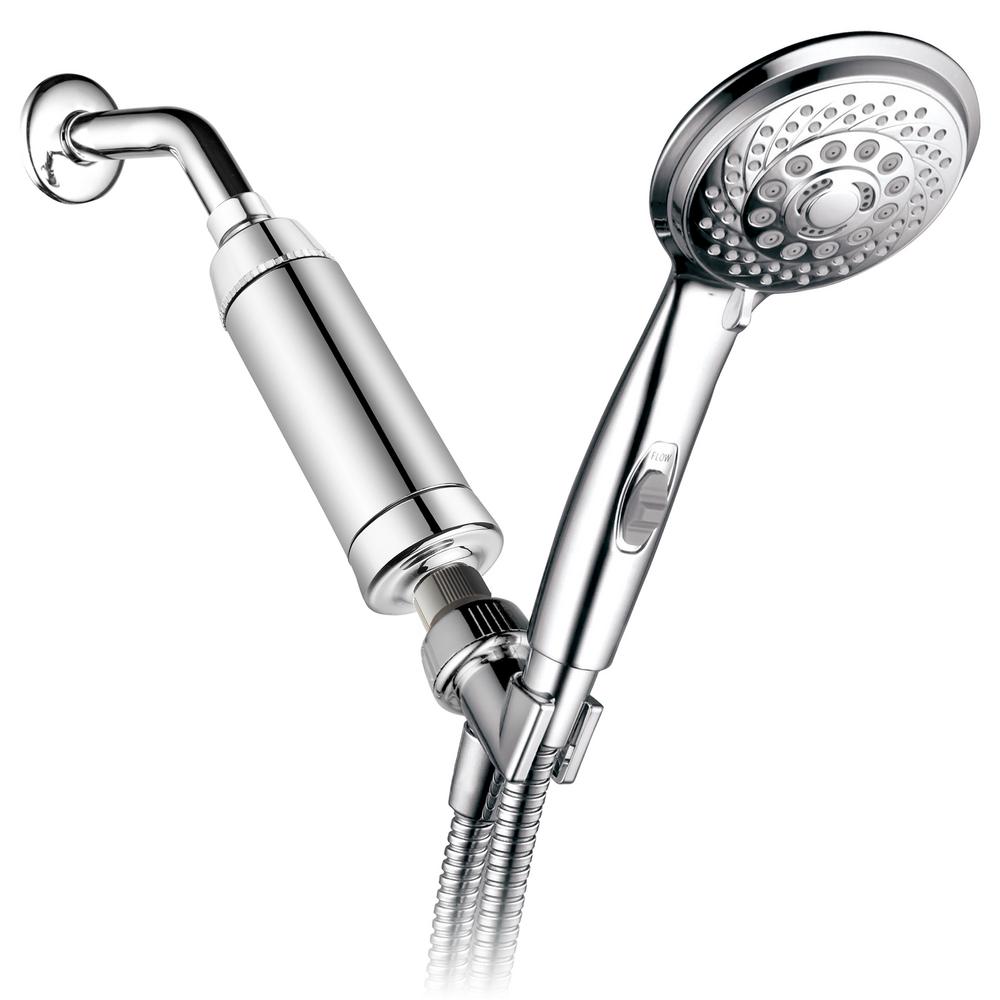 First on the list is this 7-setting handheld shower from HotelSpa. At a relatively affordable price, you can get to enjoy a host of very impressive features that will make your shower experience something you want to look forward to.
It comes with 7 spray settings which you can conveniently choose from. Aside from that, it also comes with a two-stage filter which will make sure you only get softer and healthier water without any chlorine.
2.

G-Promise Luxury Handheld Shower Head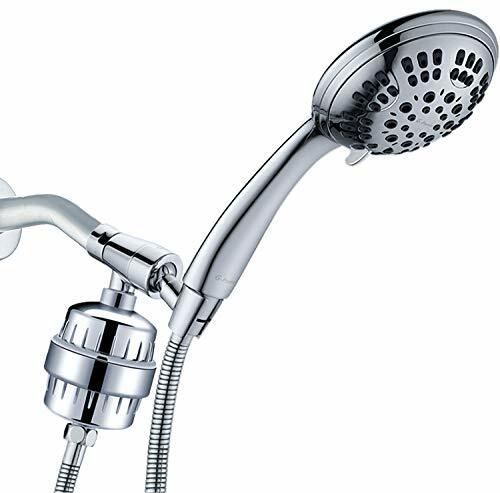 Compared to the other showerheads, this one from G-Promise is made of 100% pure metal. As such, you can expect it to be quite durable and long-lasting.
Apart from that, it has a 4.5-inch showerhead face which comes with 6-spray settings. Moreover, it has a 63-inch stainless steel, flexible hose which can stretch up to 75 inches!
It can also be rotated into 360-degrees – something you don't normally see in a shower head hose. Lastly, its 10-stage filter can significantly reduce chlorine, sediments, dust, and heavy metals.
3. 

Aquasana AQ-4105 Shower Head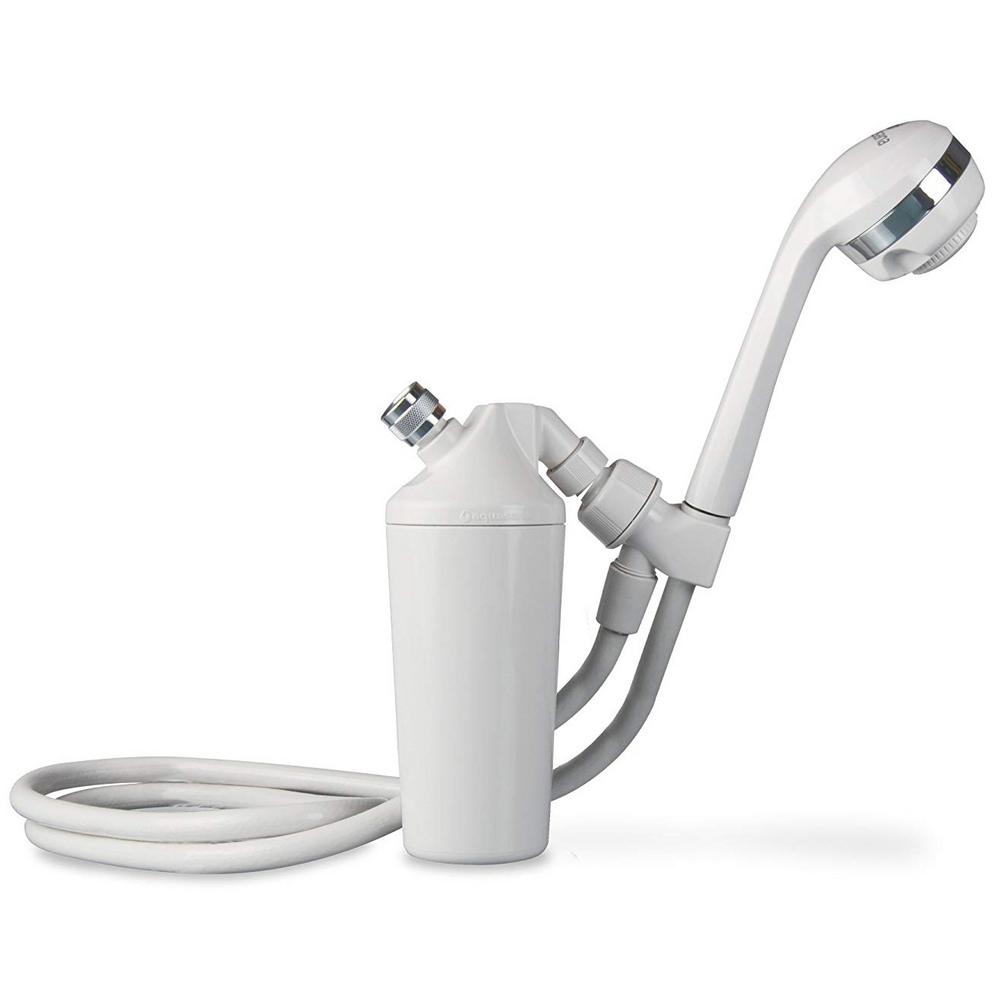 Do you want a shower solution that will make sure your body won't be exposed to the harshness of chlorine or heavy metals that might damage your skin? If that's the case, then the AQ-4105 from Aqusana is the right one for you!
One of the best things about the AQ-4105 is that it comes in a classic design that will surely add a stylish aesthetic appeal to your bathroom. However, it's also designed in a functional manner that clogging can be prevented once water moves through the system.
It's also made of a patented shell carbon and is designed to improve air quality while removing up to 90% of chlorine and other impurities that might be present in your water.
4. Luxsego Ionic Shower Head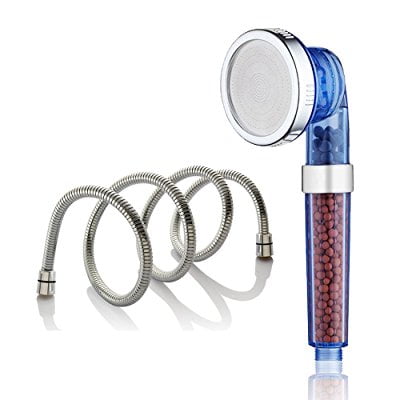 The Luxsego ionic shower head is no doubt one of the best handheld shower heads in the market in terms of affordability and functionality. It comes with its own built-in water filter which effectively removes chlorine and other impurities in the water.
It's able to achieve this function, thanks to the presence of infrared and negative ion mineral stones which not only remove impurity in the water but also provide your body with minerals as you shower.
Moreover, it comes in three spray settings namely jet, massage, and rainfall. Lastly, it has a detachable head to allow you to wash hard-to-reach areas without any major inconvenience.
5.

PURIFI Pure Vitamin C Handheld Shower Head
As the name implies, the Purifi Pure shower head comes with vitamin C water filters which can effectively remove fluoride and chlorine as well as mineral water filters which can get rid of rust, iron, and other water impurities.
It comes with ceramic filtering stones namely tourmaline, negative ion, zeolite, and maifan to improve every single drop of water that flows through the showerhead. Moreover, its 180-cone shaped design can help improve water pressure by up to 200% and allow you to save water by up to 35%.
6.

PRUGNA LED Shower Head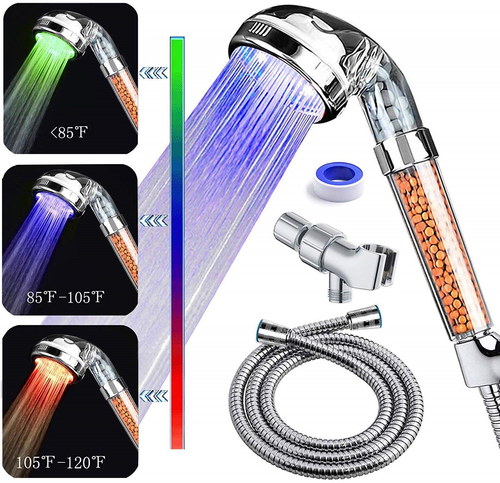 Are you looking for a fun means of taking a shower? If so, then the LED shower head from PRUGNA is what you're looking for!
As mentioned, it comes in a variety of LED lighting color options that will make shower times a lot more exciting. In terms of functionality, however, the shower head's filtration system can purify water and get rid of up to 99% of chlorine and other impurities in the water.
As a result, you can improve dry skin, make it even smoother, reduce hair loss, reduce oil secretion, and more! And since it comes with a special micro nozzle structure, you can save water consumption by up to 30% without even reducing water pressure.
7.

Baban

High-Pressure Shower Head
The Baban showerhead comes with an ionic filter containing mineral stones to make sure that the water that comes out from the showerhead is soft and free of any impurities. As such, you can expect a relaxing shower that can benefit your hair and skin's health.
Apart from that, it also has a toggle switch which allows you to switch between 3 different modes: massage shower, rain shower, and jet spa shower. Other than that, it also has a fourth water mode which can prevent opening or closing your boiler equipment frequently, thereby prolonging its service life.
8.

Aspior High Pressure Shower Head
Yet another ionic shower head, the Aspiorcomes with a vitamin C filter with a lemon balm which works to improve skin and hair health, remove itching and dandruff, and even help with dry scalp.
It comes with 192 nozzles to give you that stable, powerful, and refreshing body shower. It also has a multi-filtration system which can remove up to 99% of rust, iron, lead, chlorine, fluorine, and other impurities effectively.
9.

Sprite HE7-CM Handheld Shower Head Filter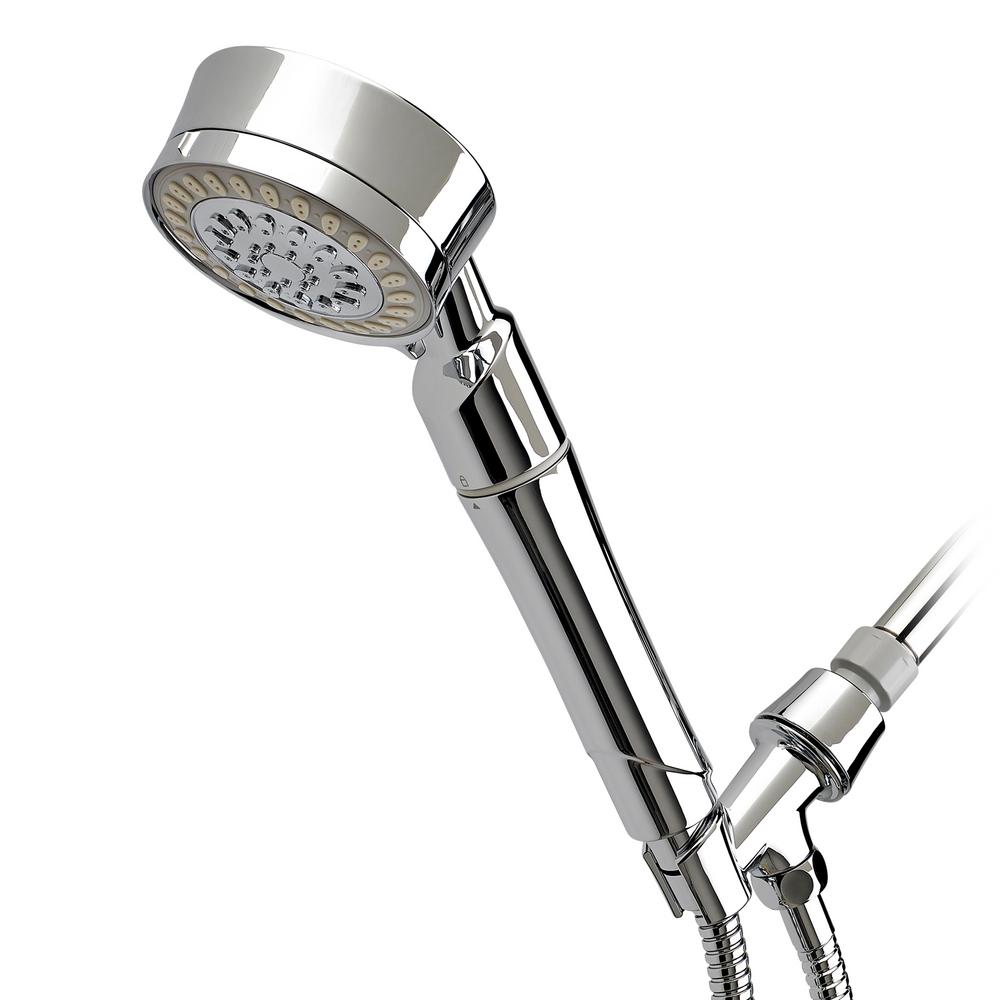 Despite its fairly simple design, the Sprite handheld shower head filter has proven itself to be fairly effective in removing impurities such as sediment, chlorine, and heavy metals in the water.
It's also quite compatible with most existing showers and can last for up to 6 months or a total of 5,000 gallons. Design-wise, it comes in a chrome finish which makes it a good addition to a modern bathroom design.
10.

PropurProMax Chrome Shower Filter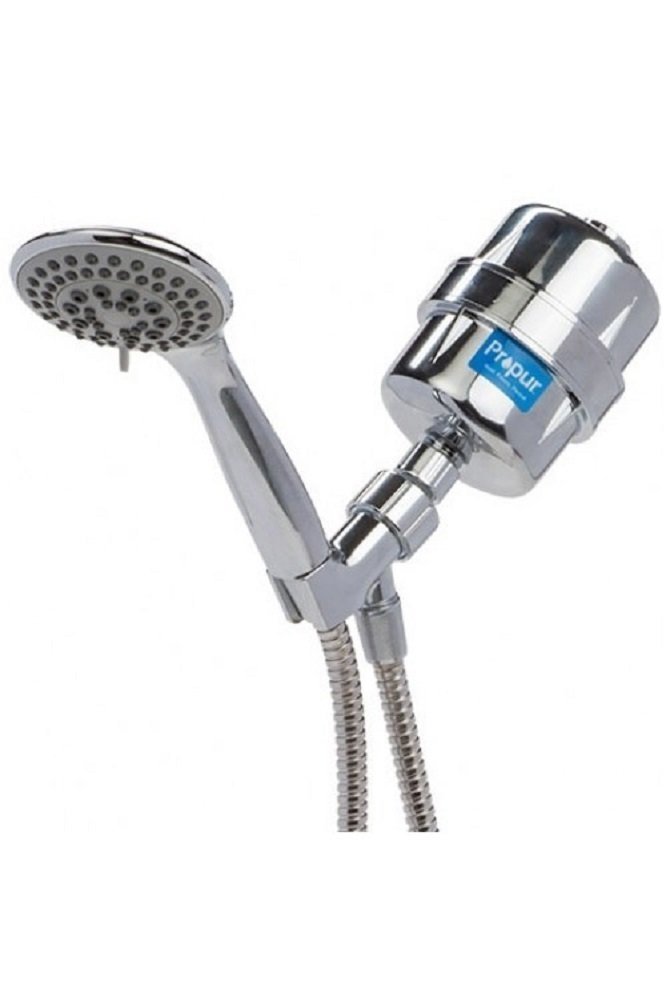 Last on the list is the ProMax Chrome shower filter from Propur. It comes with a 5-function massage swivel head on top of its filter which is capable of removing more than 200 different contaminants which include heavy metals, chloramines, fluoride, herbicides, lead, and more.
Compared to the other products on this list, however, this one tends to be fairly expensive.
Conclusion
Keep in mind that shower filters don't last forever. They have their respective life span, and as such, they should be replaced accordingly when they can no longer properly remove impurities in your water. Hopefully, our selection of the best products on the market will help you find the best handheld shower with filter for your showering needs.