There is nothing like coming home at the end of the day and allowing the warm, silky water of a shower smooth your worries away. Or waking up in the morning and envigorating yourself in order to get ready for a hard day at the office. Whatever the reason for your shower, the best high pressure shower head of your choice seems to do the trick.
Types of High Pressure Shower Heads
Now that you know some of our top product picks, let's learn a little bit more about high pressure shower heads. One of the things that you should know would be the types of high-pressure shower heads available in the market.
Here are a few of the most common ones that you can find:
Hand-held Shower Heads
The first type would be the handheld shower heads. These are the types of showers that can be detached from their stands. The advantage of using this kind of shower head is that you can focus on washing specific places on your body.
It's also good for taking a bath for kids and pets since it gives you more control. You just need to be a bit careful using a high-pressure handheld shower since it is stronger than the average shower head. If you're not careful, you may spray water that is too strong too close to your body.
Fixed Shower Heads
Unlike the hand-held shower head, the fixed shower head just stays in one place. You can't take it out of where it is because it is already installed on the wall. The advantage here is that you don't need to worry about it falling on your head and you don't need to take it down. Since you're using a high-pressured shower, the water will be able to reach all places in your body anyway.
Do take note though that it is hard to use this shower for taking a bath for kids and pets since you won't be able to focus on washing certain body parts. If you don't have children or pets though, this shower head is a pretty good choice.
Rainfall Shower Heads
The rainfall shower head is a fixed shower head that gives the feeling of raindrops falling on your body. This is done by letting the water go through tiny holes in the shower. When the water comes down, it produces a rain type of effect wherein the water trickles gently on your skin.
The main advantage of this kind of shower is that it produces a very relaxing effect. It's great for those who are totally stressed and need a way to be able to unwind. Rain showers are known to be some of the most therapeutic types of showers available.
Dual Shower
The dual shower head offers you two shower heads in one. This is useful if you need one fixed shower and handheld shower at the same time. Most luxury showers would also allow two heads to have different modes for complete relaxation.
For example, one head can have the regular high-pressure water mode while the other can be in mist mode. It is a bit pricey though but worth it if you need this kind of function.
LED Shower Heads
The last type is the LED shower head. Now, the whole purpose of the LED shower head is to simply make your shower a little more relaxing than the usual. Because of the warm lights that appear, you can get a rather relaxing feel when the water comes out.
Another advantage of this type of shower head is that it indicates the temperature of the water. For example, blue light might appear when cold water comes out and red lights may appear when the water turns hot.
Some LED light showers would also showcase a yellow or green color if the water has already reached the ideal temperature (lukewarm or room temperature).
12 Best High Pressure Shower Head Reviews
The type of shower head you choose largely depends on your personal taste and preference. Are you happy with a standard shower, or do you want something with multiple spray functions? Is style important to you? These are things you need to consider when choosing the best high pressure shower head for your needs.
1.  AquaDance 3308 High Pressure Rainfall Shower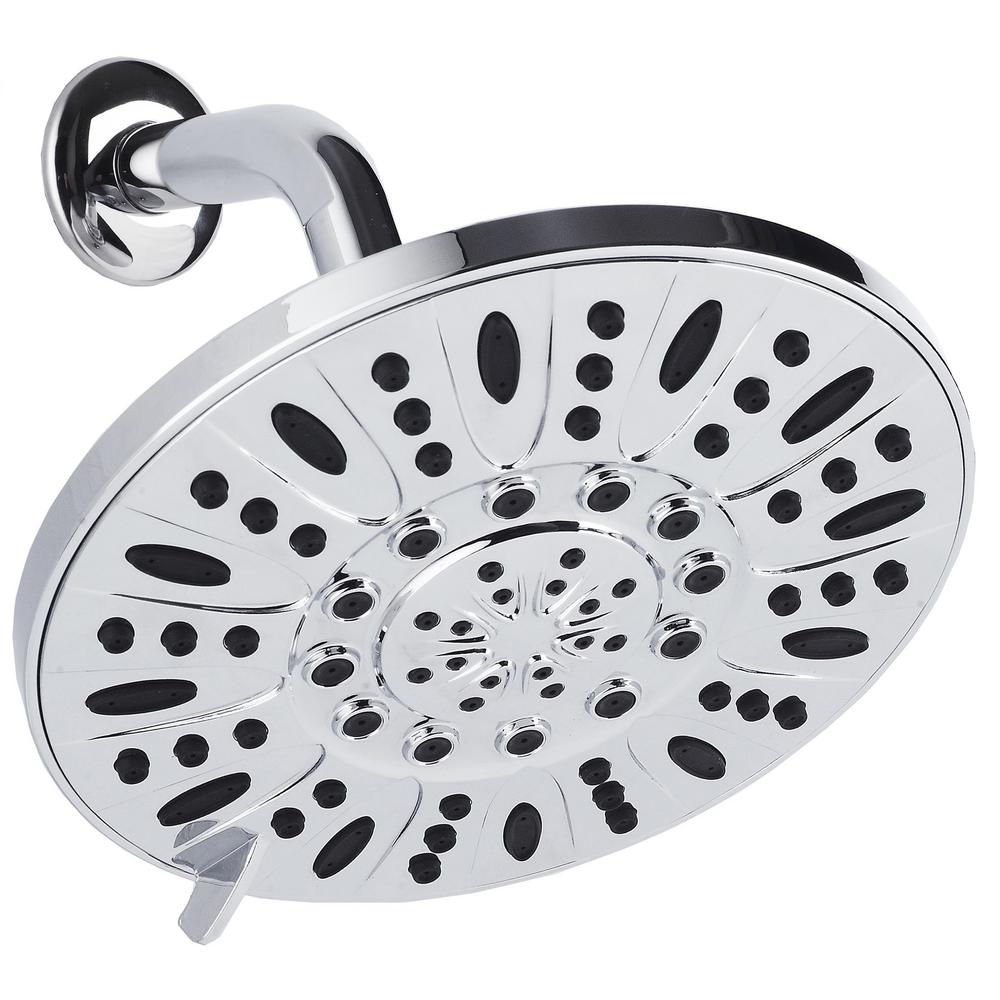 The AquaDance 3308 is a high-pressure rainfall type of shower that is known for its 6 settings. It is the ultimate therapeutic shower that allows you to have a spa type of feel. The 6 settings are all designed for complete relaxation, especially after a long day of work.
Also, the 6 available modes are the power rain, power mist, water saving rain, rain massage, rain mist and pulsating massage. The choice you make will depend on what you feel like having on that day.
Other features include strong water pressure, 7-inch rainfall, and high coverage. The high coverage allows you to get your whole body completely wet in one go.
Best Features:
Durable and sturdy built
Upscale type of design
6 relaxing settings
Chrome finish
2.5 GPM flow rate
2.  Delta Shop 50865 Handheld Shower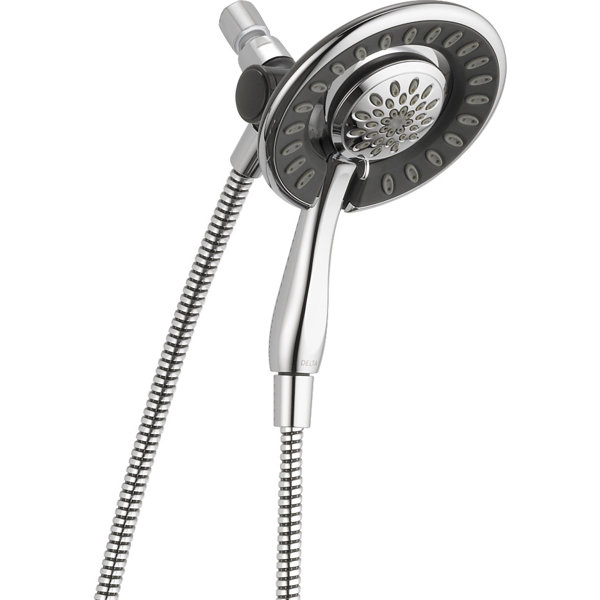 If you're looking for a shower that can be used as a handheld shower and a fixed shower at the same time, then this is the shower for you. It is actually a dual shower head type sporting the trademarked Two-in-One shower feature that only Delta Shop showers have.
Basically, this feature allows you to have either two showers or just one shower at a time. What's innovative about the shower is its design. The handheld shower is placed in front of the fixed head. When you turn it on, it acts as one.
In addition, if you take out the handheld shower, it can then act as two showers. This is a rather unique design but very useful nevertheless.
Best Features:
Delta In2ition Two-in-One design
5 GPM flow rate
Delta Touch Clean feature
Water saving feature (up to 20%)
See more: Delta Shower Heads on Wayfair
3.  Dreamspa Shop 1435 Multi Shower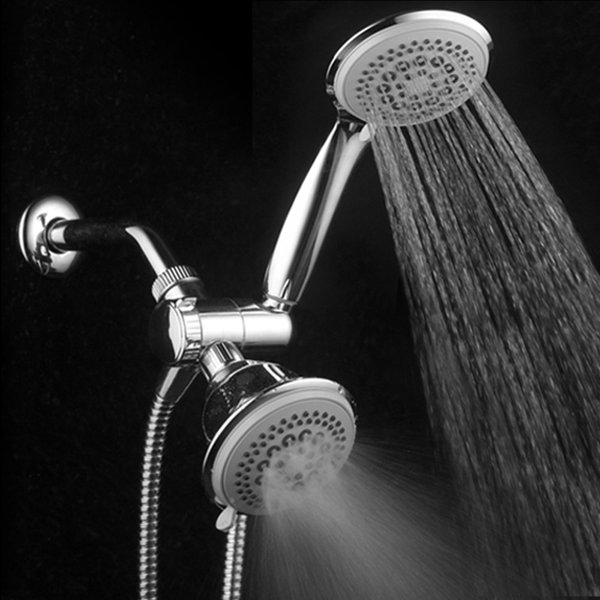 This dual shower is different as compared to the previously mentioned one in a sense that it has 7 full settings that you can choose from. There would be the paused mode, the power rain, the hydro mist, the eco rain, the rain massage, the regular mist, and the pulsating massage.
What's more is that the two heads can have separate modes each. That way, you can really feel total relaxation. Also, there are 36 water flow patterns that you can pick based on how you want to relax on that day. This shower can give you a total spa experience.
Best Features:
7 full shower modes
Stainless steel material
Big sized shower face
Powerful rub-clean jets
4.  Modona AC42SH05 Rain Shower Head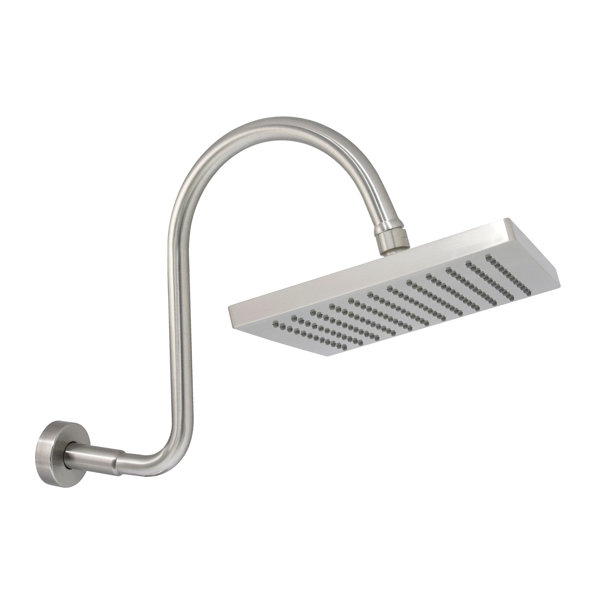 We could definitely say that this is one of the most beautiful shower heads that you can find on this list. The reason for its beauty lies in the Gooseneck Arm, which gives off a rather classy and sophisticated vibe in your bathroom.
Of course, it's not just all aesthetics. It also passes in the functionality department. First, it's important to take note of its durability. Being made of solid brass with a chrome plate. That said, you can be assured of longevity. Aside from that, it also has a 2.5 GPM flow rate and rain shower.
Best Features:
Solid brass built
Classy design
Soft rubber spray outlets
Removable water saver
5.  Symple Stuff Heuer LED Shower Head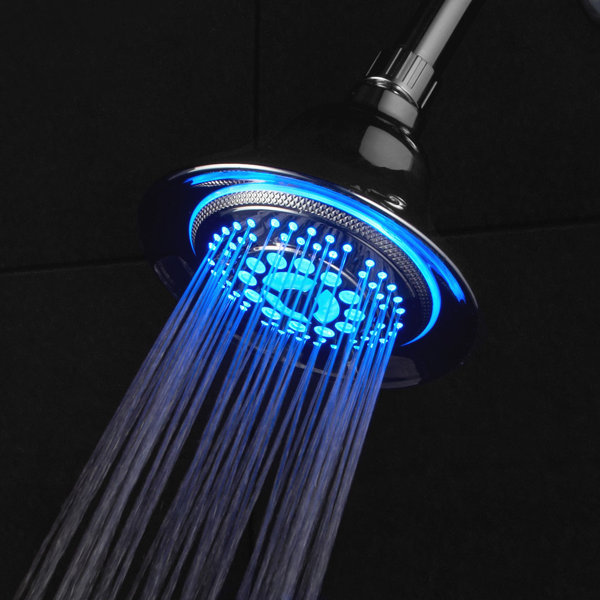 This LED shower head is something that will spark up the whole look of your bathroom. There are three colors that are available for this showerhead. The colors are blue, green, and red. The color would change depending on the temperature of your shower.
If it turns blue, then it means the shower is using cold water. Green will be for lukewarm water and red would be for hot water. Aside from adding a new, pretty dimension to your bathroom, it's also a good indicator to tell you how hot or cold your shower is.
Best Features:
Light is powered by running water
3-color temperature sensor
Large face
Techie, futuristic design
Adjustable head
6.  Hotelspa Dual Shower Combination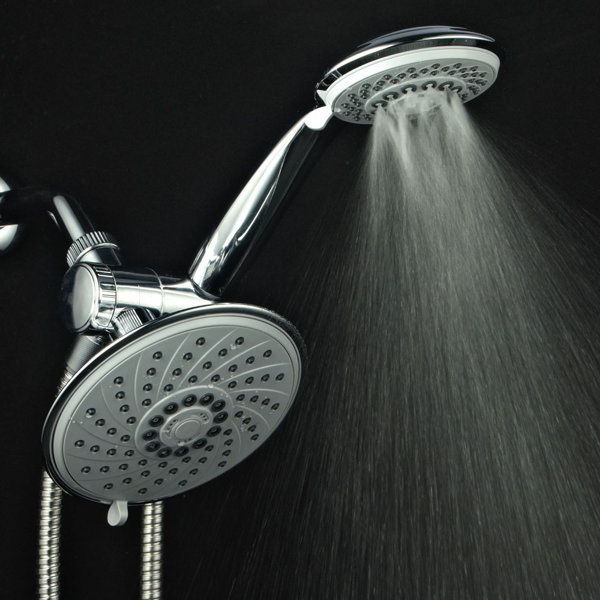 If there's one thing that this dual shower offers, it would be precision. It has a spirally dial design, which allows the shower to shoot out water with high-pressure and much precision. Another thing that you'd most likely appreciate about this shower is that it has adjustable speed.
So, if you think the water is being sprayed at you way too fast, you can slow it down a little. It also has 6 modes to choose from namely the power rain mode, hydrating mist, rain massage, normal mist, water saving mode, and pulsating massage.
Best Features:
6 modes to choose from
Spiral dial design
Flexible hose
Speed adjuster
Anti-swivel nut
See more: Hotelspa Shower Heads on Wayfair
7.  Speakman S-2251-BN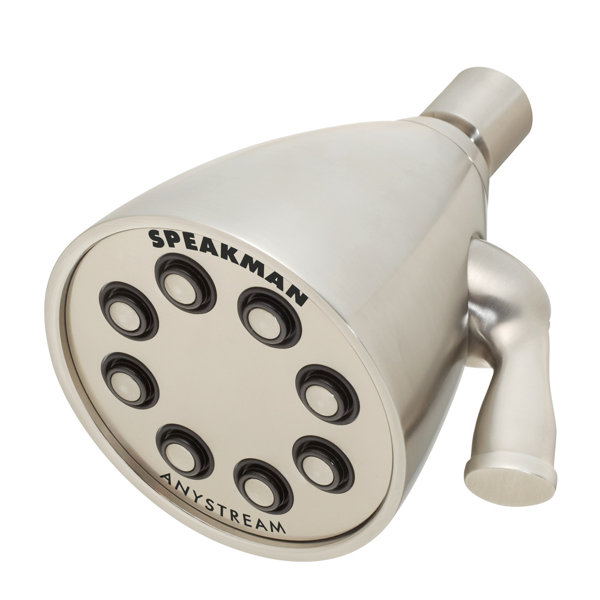 Speakman is another pretty loved brand known for producing showerheads. Just like other models, the Speakman S-2251-BN definitely does not disappoint. It has a lot of pretty cool features that you'd enjoy from the brand. One of which is the patented Anystream technology.
This technology allows the shower to have 8 precision jets. With these 8 precision jets, the shower can allow up to 64 spray channels for your own convenience. This means that you can have gentle rains, strong showers, or even full flooding whenever you feel like.
Best Features:
360 degrees rotation arm
5 GPM flow
8 powerful jets
Patented Anystream feature
Self cleaning plunger
See more: Speakman Shower Heads on Wayfair
8.  American Standard Spectra Duo Handheld Shower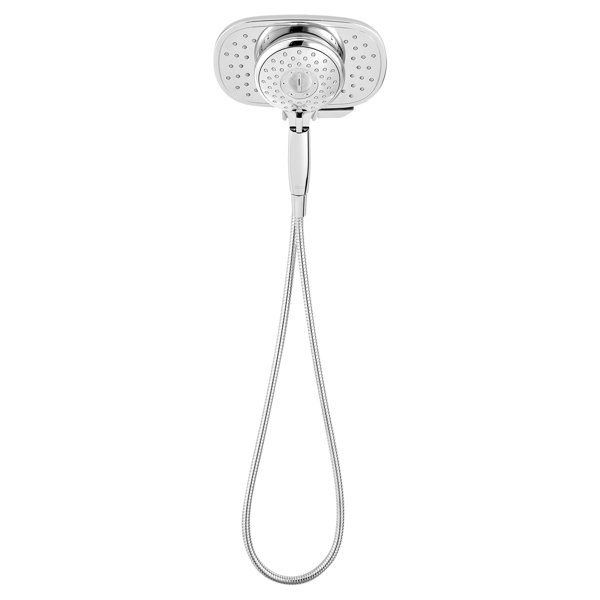 A 2-in-1 shower combination with a big fixed shower head having a flow rate of 2.5 GPM and a smaller shower head connected to it with a flow rate of 1.8 GPM.
This handy little shower has a great design that allows you to have very wide coverage with the option to have a handheld shower just in case you need to take a bath for your pets or your children.
It has four spray patterns for your choice with them being the drench mode, powerwash mode, massage mode, and sensitive mode.
Best Features:
2-in-1 shower design
4 shower patterns to choose from
Trademark Aquatoggle feature
Trademark Divertpaddle feature
Trademark Dock-tite feature
9.  Hansgrohe Shower Power Clubmaster Shower Head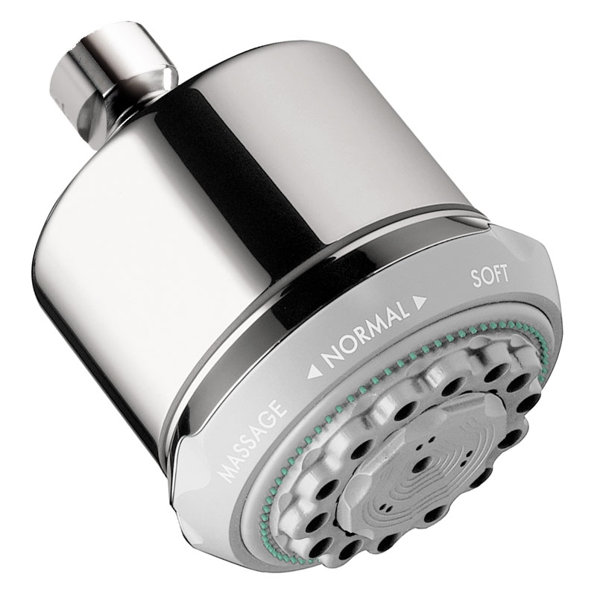 This shower is known for its quick clean technology. Showers often collect a lot of stale water, dirt, and limescale. The quick cleaning feature makes use of very flexible silicon attached to the nozzles.
Because of this, the dirt and the limescale would just come off easily without you doing much work. It's a great shower head that can keep itself clean consistently.
Aside from the self-cleaning feature, it also has three different spray patterns being the pulsating massage spray, full spray, and soft spray.
Best Features:
Three standard spray mode
Quick self-cleaning feature
Solid brass structure
72 anti-clog sprayers
5 GPM flow rate
See more: Hansgrohe Shower Heads on Wayfair
10.  Kohler K-965-AK-CP Wall Mount Showerhead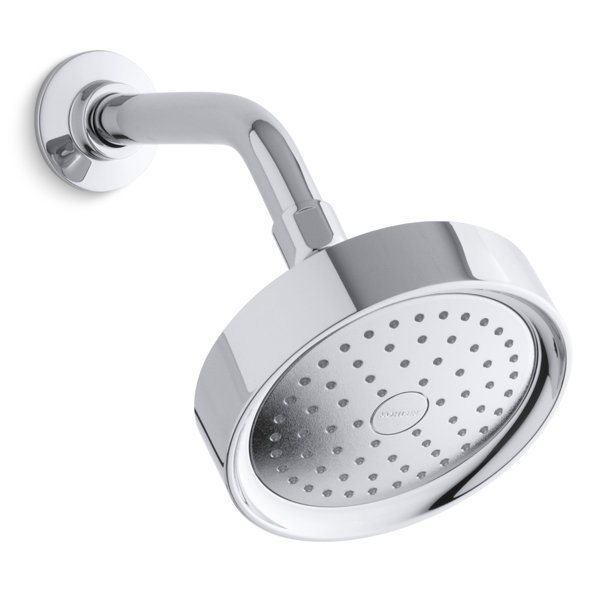 Kohler is definitely one of the more well-known shower head brands to appear on the scene. The Kohler K-965-AK-CP in particular is a great model that makes use of a state-of-the-art technology known as the Katalyst.
For those not familiar, the Katalyst strengthens the flow of water by pushing out more water via the nozzle patterns, waterway designs, and air pulsing technology. That way, not even a drop of water is wasted when it comes out of the shower head.
With this,you can surely feel the entire strength of your shower head when you take a nice, long, hot bath.
Best Features:
Katalyst air induction technology
5 GPM flow rate
Small nozzle pattern for higher water pressure
Big shower face for wide coverage
See more: Kohler Shower Heads on Wayfair
11.  Grohe Shop Retro Rainshower Shower Head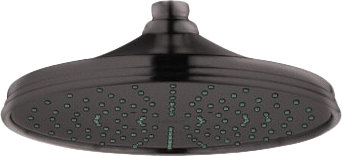 The Grohe Rainshower Retro is definitely an innovation that you'd probably be amazed at. First, it has a very wide coverage due to its big shower face and its 252 nozzles. The system of nozzles is a result of the trademark Rainshower Jumbo feature wherein the nozzles are all measured and placed strategically to provide full body coverage.
When you turn it on, it will definitely feel like rain is trickling down your body. Literally, your whole body will be soaked in water that seems like rain spraying from the ceiling. It is definitely a shower head that you'd be interested in if you like full, hot showers.
Best Features:
Rainshower Jumbo feature
Low water pressure but high performance
Patented Speedclean feature
Patented Dreamspray Technology
12 Inch diameter shower head
Ceramic sealing disc
See more: Grohe Shower Heads on Wayfair
12.  Moen Fina Premium Rain Shower Head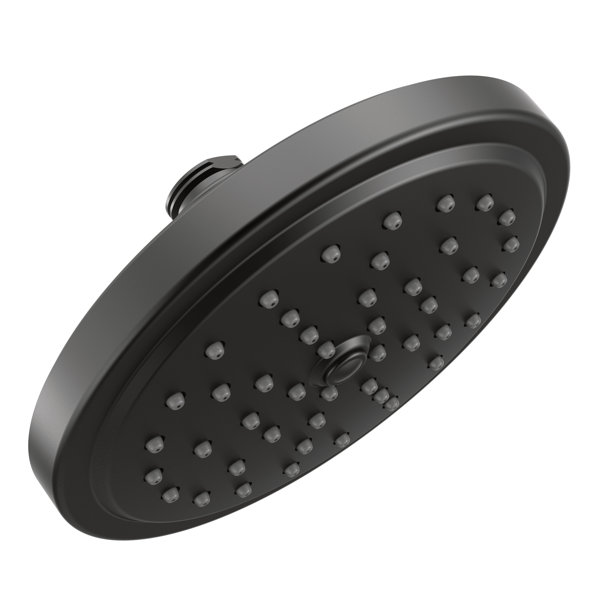 When it comes to raw power, the Moen Fina Premium Rain Shower Head can really shine. This small shower head is able to spray out water with three times more power than most shower heads that you see in the market.
The sheer power of this shower head can really give you a clean and thorough rinse because it will spray out big and full drops. It also has a self-pressurizing feature, allowing it to switch between flow rates of 1.75 GPM and 2.5 GPM depending on what you're comfortable with.
Aside from just power, this shower head also has a water conservation feature as well. It fulfills the water-sense criteria showcasing its ability to save up on water without compromising its overall performance.
Best Features:
3x more power than average shower head
Self-pressurizing
Water-sense standard
Overall high performance
See more: Moen Shower Heads on Wayfair
What Is the Best High-Pressure Shower Head
Most people have asked us what the best high-pressure shower head is. Our answer is usually dependent on the needs you have as a homeowner. You need to take into consideration the type and other features that suit your own preferences.
However, we do have a top pick out of 12 choices that we have listed above. This is based on the number of features needed for a good high-pressure shower head.
Our top pick out of the 12 shower heads is the Grohe Shop Retro Rainshower Shower Head. This shower head by far is the most useful when features are taken into consideration.
First, its Rainshower Jumbo feature is a great shower function because it fully covers your body. Add that to its already wide shower face and you're in for a great shower. One of the best parts is that you get all that strength without having to use that much water pressure.
Plus, it has a self-cleaning feature, which allows it to take away limescale and other dirt on its own. Granted that it is a fixed shower head, it still can provide a great shower experience through its coverage and strength.
Overall, this seems to be one of the best choices for shower heads because of these features.
Why should we shower?
Besides getting rid of dirt and sweat, a shower has a number of health benefits attached. We may not even be aware of some of them! So what are these benefits, exactly?
Blood circulation
A warm shower improves your blood circulation, which in turn plays a role in reducing blood pressure. It is, therefore, great for your heart health.
It is an immune system booster
A cold or cool shower stimulates both the vascular and lymph systems, resulting in more immune cells to fight against illness.
It may improve libido
According to studies, a cold shower does not decrease a man's libido. In fact, it may even increase it. This is because a cold shower boosts testosterone production in males.
It is a stress buster
Taking a long, warm shower is an amazing stress reliever. Due to water shortages, many people may think their showering experience needs to be a short one. This may not be true, however. Look for the best high flow shower head around and you have your basis covered.
Helps with muscle tension
The warm water of a soothing shower reduces tension in over-used muscles, relaxes them, and helps improve flexibility.
Helps you sleep better
A nice, warm, relaxing shower helps you relax. This is very important for falling asleep. Many people find a warm shower before bedtime helps against insomnia.
It is a detoxifier
Your body, especially the skin, is constantly getting rid of toxins. These toxins are often eliminated through your sweat. A warm shower gets rid of the sweat but also helps to drain toxins from the body. Additionally, it gets rid of viruses and bacteria, thereby reducing your risk of infection.
It helps with skin care
A shower helps to open your skin's pores and washes away toxins. A good exfoliation while taking a shower helps remove dead skin cells, keeping your body smooth while reducing the signs associated with aging.
It helps with lung function
If you end your shower with a blast of cold water, your lungs automatically breath in deeply. By holding your breath for a few seconds before exhaling (repeat a few times), your oxygen intake is increased.
It is an antidepressant
Research indicates that a cold blast from your shower may relieve depression. This is because the exposure to cold water forces blood to the internal organs and brain, thus supplying more oxygen to these areas. It also activates the nervous system and increases the endorphins in the brain, which has an anti-depressive effect.
It may help those with diabetes
A cold shower may help reduce your blood sugar levels. This is particularly important for those with Type-2 diabetes, where the condition may still be managed without the use of insulin injections. For those with Type-1 diabetes, a cold regular cold shower may aid them in such a way that they may need to use less insulin.
Please do NOT adjust your medications without seeing your doctor.
FAQs
Will a new shower head increase water pressure? 
In a way it does increase water pressure. This is because the old shower heads have bigger and looser holes, that is why the PSI of older shower heads tend to be lower. Obviously, pressure would go down if the flow of water isn't concentrated.
For the newer shower heads though, the holes are smaller. Thus, if the same water flow goes through a smaller hole, then the pressure will increase since the concentration of water is more focused. Just think of when you use your finger to cover a part of your garden hose to make the water spray further. The same concept also applies.
Will a smaller shower head increase pressure?
 Not necessarily. If your new shower head is smaller than your old one but still has the same hole size, then the pressure won't change. If the holes are smaller though, then the pressure would increase.
What is the best shower head for low water pressure?
If your home has naturally low pressure, there are some showers heads that can increase the pressure. You just need to look for features that can amplify the pressure. First of all, you need to find a shower head that has smaller holes than the usual showers.
Other than that, you may also want to check out the showers that have pressure amplifying features. A number of the products that we've listed above have pressure amplifying features. You can check them out and see which one is best for you.
Conclusion
Choosing the best high pressure shower head from those we reviewed is no easy matter. In fact, it is extremely difficult. There is such a large variety! But once again, it all boils down to personal preference. In other words, what works for YOU! Our vote, though, for the best water pressure shower head is the AquaDance High-Pressure 6 Setting 7″ Rainfall Shower Head.
We liked the look of it, as well as the fact it has a self-cleaning function combined with the six water spray setting, i.e. power rain, pulsating massage, power mist, rain massage, rain mist, and water saving pause mode. We just feel it covers all the possible shower needs in a modern family. Add to this the luxurious chrome finish and quick installation, and you have a surefire winner in anyone's books.
At the end of the day, your shower head is more than just a means to get yourself clean. It is a whole relaxing experience that has numerous health benefits attached to it. So if you have sore muscles after a workout, are tired and stressed out at the end of a long day at the office, or just need a quick pick-me-up, our first port of call is usually the shower. Why not make it the best experience you can by installing the best high pressure shower head that you can?