There is nothing like coming home at the end of the day and allowing the warm, silky water of a shower smooth your worries away. Or waking up in the morning and envigorating yourself in order to get ready for a hard day at the office. Whatever the reason for your shower, the best high pressure shower head of your choice seems to do the trick.
High Pressure Shower Head Reviews
The type of shower head you choose largely depends on your personal taste and preference. Are you happy with a standard shower, or do you want something with multiple spray functions? Is style important to you? These are things you need to consider when choosing the best high pressure shower head for your needs.
1. High Pressure Handheld Shower Head by 

YOO.MEE
This shower head has a panted high-pressure design. It has a simple construct that is reliable. The upgraded 2xP turbo charge function is designed to save water, while the powerful spraying action is great for areas that have low pressure.
An added bonus, especially for those looking for the best water pressure shower head, is the water pause effect specifically built in to relieve muscle pain. This one is thus definitely an option if a great massage is one of your criteria.
2. High Pressure Rainfall Massage Shower Head 6″ by Wantba
This high pressure rain shower head gives a beautiful spray performance even where water pressure is low. A similar quality grade as used in most hotels, it is easy to disable to clean the shower filter. It is also angle-adjustable due to a metal swivel ball. The product comes in chrome.
3. Fixed Showerhead in Oil Rubbed Bronze Antique Finish by ShowerMaxx
The ShowerMaxx luxury shower head has multiple ode adjustable settings. These include a high pressure mode, water saver mode, and power massage mode. Additionally, you get six different spray setting, i.e. high pressure, power massage, shampoo spray, high pressure and power massage, high pressure and shampoo spray, and water saver mode for those who are eco-conscious.
You are ensured the perfect angle for your bath area with the adjustable ball joint and flexible adjustment. This makes it a great choice for shower enclosures.
The self-cleaning, high silicone jet nozzles and removable flow restrictor give great water pressure.
This showerhead has a large seven-inch chrome face with a self-cleaning function. The adjustable modern design has a premium chrome finish. It is designed for great performance, even under low pressure conditions.
The shower head has six water spray settings: power rain, rain massage, rain mist, pulsating massage, power mist, and water saving pause mode. Installation is quick and easy.
5. Shower Head Combo 6 Function by Aqua Elegante
This dual shower head combination has a fixed as well as a handheld shower head. They each have four different settings, giving you the best shower experience. These include the saturating power blast, pulsating massage, gentle rain, water saving, and two mixed modes.
The nozzle is self-cleaning which takes care of calcium build-up. You can even take the shower head with you when going away on holiday as you just twist it on to an existing shower outlet. No plumbing experience is needed.
6. Magnetix Handheld Shower Head by Moen
This is a great contender for the title of the best shower head. The Magnetix handheld shower head securely snaps into its place by means of a magnet. Furthermore, the head has six spray functions. This gives you a variety of functions to choose from in order to get your perfect shower experience.
7. Luxury

Ultra Thin 

High Pressure Rainfall 

Shower Head by SR SUN RISE
This showerhead is very easy to mount to a wall without the need for any tools. A power rain shower experience is the result of air energy technology, even when water pressure is low. The shower's sleek look is due to the ten-layer chrome plated finish that safeguards against corrosion.
8. High Pressure Showerhead by G-Promise
A unique design made from solid brass, the metal mounts supports and steadies the shower head. Because of the flexible, stretchable stainless steel hose, you get a much wider shower range.
The shower head has six different settings: rainfall, rainfall and power massage, rainfall and circular massage, power massage, circular massage, and water saving trickle mode.
It is easy to install, only a wrench is needed. For times when water pressure is too low, the restrictor is easily removed.
9.  Anti-Clog Spray Handheld Shower and Combo Shower System by Ana Bath
The five-inch wide shower heads have pushing nozzles that easily remove calcium and mineral depositswith the spray covering a wider area than most other shower heads.
The dual shower head has five functions: saturating spray, bubbling spray, bubbling saturating mix,  massage spray, and massage saturating mix. The three-way water diverter allows you to send water only to the shower head, handheld shower head, or both at the same time.
10. Hand Shower Shower Head (58467 In2ition 4-Spray 2 in 1) by Delta
The Delta 58457 is a dual function showerhead, i.e. a stationery and handheld combination. They can act separately, or be used at the same time.
Easy to install, this is a perfect option for taking a normal shower or bathing your pets.
The spray settings include a full body spray, a fast massage spray, or a full spray with massage.
11. High Pressure Solid Brass Shower Head (S-2255-BN Adjustable 2.5 GPM) by Speakman
The Vintage Anystream has patented any stream 360 degrees technology. Made of durable solid brass, the shower head has six adjustable jets, producing a total of 48 individual sprays.
12.  Showerhaus Starburst Rainfall Showerhead (WHOSA18-8-C) by Whitehaus Collection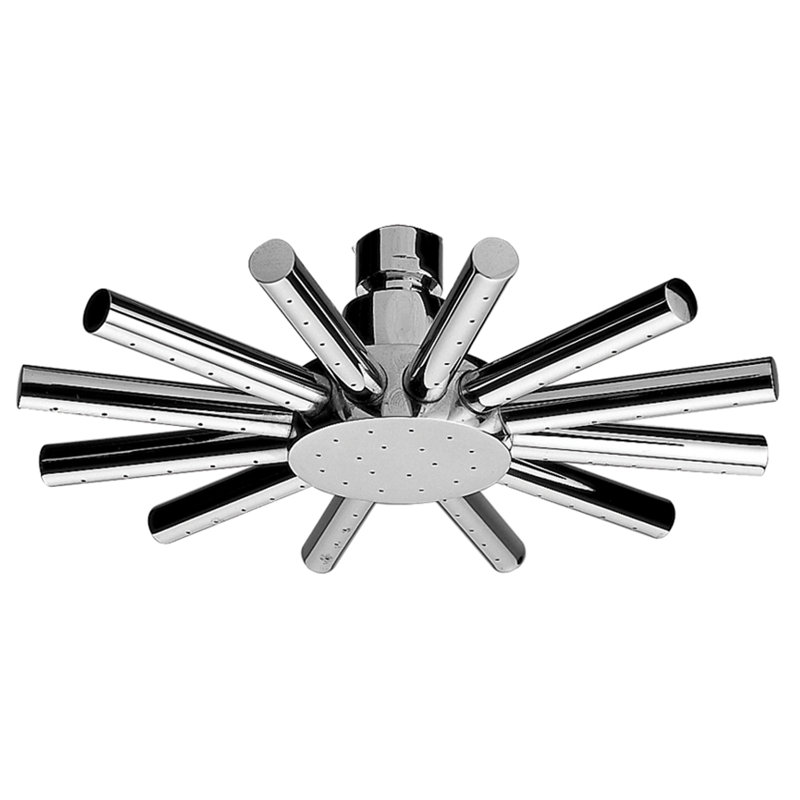 A solid brass construction of and modern design, the Starburst rainfall shower head is made of solid brass. The addition of a ball joint allows for full adjustability to ensure a great rain shower experience.
13. Showerpower Clubmaster Shower Head (28496001) by Hansgrohe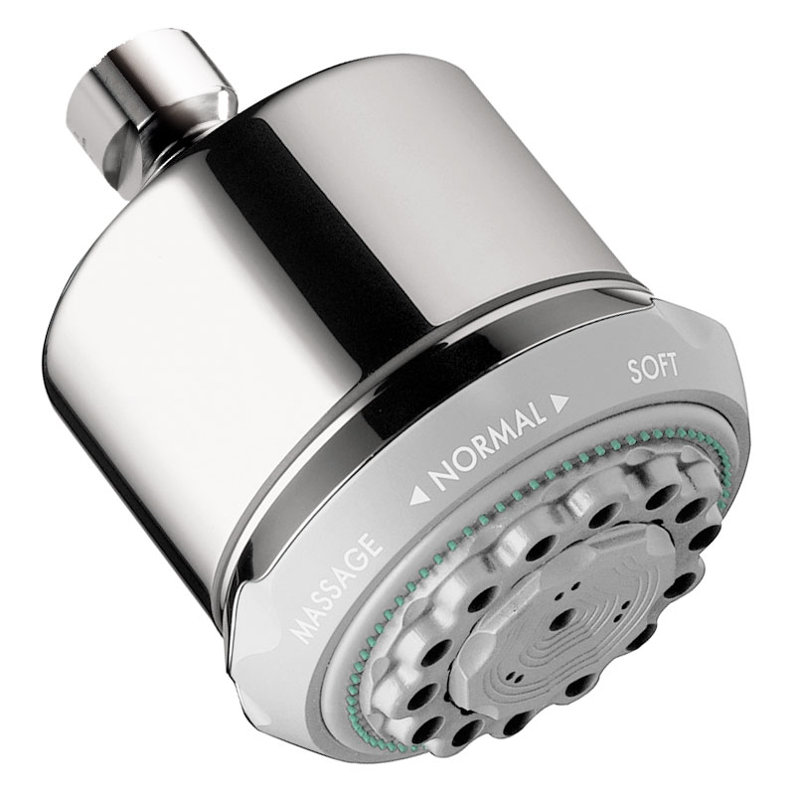 Get an energizing shower with the Showerpower Clubmaster shower head by Hansgrohe. Incorporating a quick-clean self cleaning system, the shower head has three spray modes: full, pulsating, and soft spray. The 72 no-clog spray channels are encapsulated in a beautiful brass shell.
 14. Katalyst Air-Induction Spray Wall-Mount Shower Head by Kohler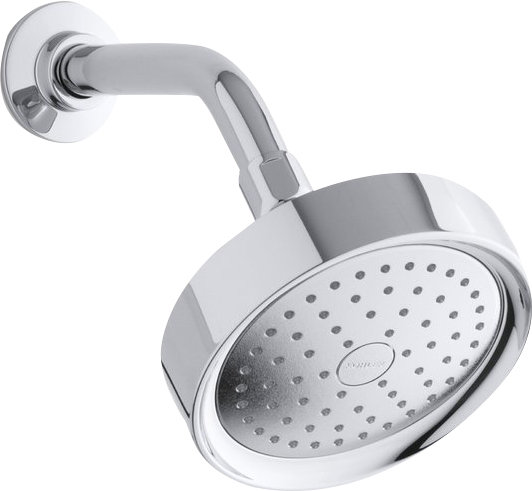 Perfect for the purist at heart – a single-function showerhead functioning cutting-edge technology may be what you are looking for. An intensified water flow is ensured not only by technology, but also by the unique nozzle pattern, internal waterway design, and air-induction system. Using two liters of air a minute, you get a powerful spray and large water drops.
15. Retro Rainshower Shower Head with DreamSpray (28375000) by Grohe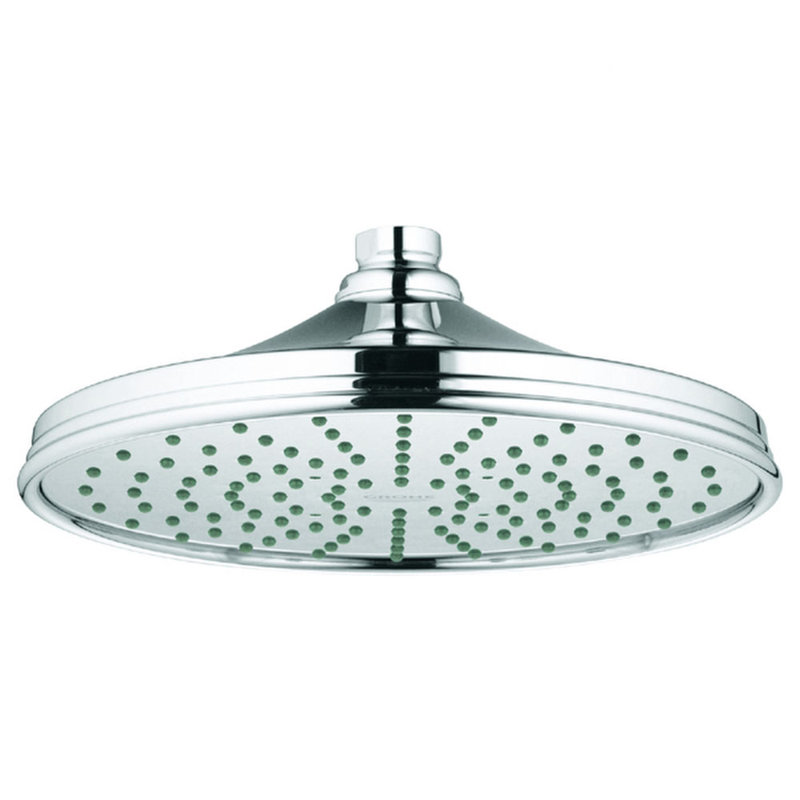 This is a rain shower head that is built to revitalize. It has a number of different water patterns that allow you to choose your own shower experience. The ssixteen-inch diameter shower head has 252 nozzles arranged in a specific pattern that covers the whole body. It features speed clean, anti-lime systems that make cleaning your shower head a breeze while the unique design ensures a great shower even at lower water pressures.
Why should we shower?
Besides getting rid of dirt and sweat, a shower has a number of health benefits attached. We may not even be aware of some of them! So what are these benefits, exactly?
A warm shower improves your blood circulation, which in turn plays a role in reducing blood pressure. It is, therefore, great for your heart health.
It is an immune system booster
A cold or cool shower stimulates both the vascular and lymph systems, resulting in more immune cells to fight against illness.
According to studies, a cold shower does not decrease a man's libido. In fact, it may even increase it. This is because a cold shower boosts testosterone production in males.
Taking a long, warm shower is an amazing stress reliever. Due to water shortages, many people may think their showering experience needs to be a short one. This may not be true, however. Look for the best high flow shower head around and you have your basis covered.
Helps with muscle tension
The warm water of a soothing shower reduces tension in over-used muscles, relaxes them, and helps improve flexibility.
A nice, warm, relaxing shower helps you relax. This is very important for falling asleep. Many people find a warm shower before bedtime helps against insomnia.
To Improve the Quality of Sleep you can read more: Best Foot Spa Reviews By Experts, Plus Its Amazing Benefits!
Your body, especially the skin, is constantly getting rid of toxins. These toxins are often eliminated through your sweat. A warm shower gets rid of the sweat but also helps to drain toxins from the body. Additionally, it gets rid of viruses and bacteria, thereby reducing your risk of infection.
A shower helps to open your skin's pores and washes away toxins. A good exfoliation while taking a shower helps remove dead skin cells, keeping your body smooth while reducing the signs associated with aging.
It helps with lung function
If you end your shower with a blast of cold water, your lungs automatically breath in deeply. By holding your breath for a few seconds before exhaling (repeat a few times), your oxygen intake is increased.
Research indicates that a cold blast from your shower may relieve depression. This is because the exposure to cold water forces blood to the internal organs and brain, thus supplying more oxygen to these areas. It also activates the nervous system and increases the endorphins in the brain, which has an anti-depressive effect.
It may help those with diabetes
A cold shower may help reduce your blood sugar levels. This is particularly important for those with Type-2 diabetes, where the condition may still be managed without the use of insulin injections. For those with Type-1 diabetes, a cold regular cold shower may aid them in such a way that they may need to use less insulin.
Please do NOT adjust your medications without seeing your doctor.
Conclusion
Choosing the best high pressure shower head from those we reviewed is no easy matter. In fact, it is extremely difficult. There is such a large variety! But once again, it all boils down to personal preference. In other words, what works for YOU! Our vote, though, for the best water pressure shower head is the AquaDance High-Pressure 6 Setting 7″ Rainfall Shower Head.
We liked the look of it, as well as the fact it has a self-cleaning function combined with the six water spray setting, i.e. power rain, pulsating massage, power mist, rain massage, rain mist, and water saving pause mode. We just feel it covers all the possible shower needs in a modern family. Add to this the luxurious chrome finish and quick installation, and you have a surefire winner in anyone's books.
At the end of the day, your shower head is more than just a means to get yourself clean. It is a whole relaxing experience that has numerous health benefits attached to it. So if you have sore muscles after a workout, are tired and stressed out at the end of a long day at the office, or just need a quick pick-me-up, our first port of call is usually the shower. Why not make it the best experience you can by installing the best high pressure shower head that you can?