Maintaining the water quality of your hot tub is one of the most important things to do to keep your hot tub clean and germ-free. Using the best hot tub chemicals to clean your hot tub must be done regularly to keep the water safe and healthy for use. The basic cleaning methods will not suffice to keep the water clean; hence, you need to revamp the cleaning process through the use of trusted chemicals. Even if you get one of the best hot tubs in the market, you need proper hot tub cleaners and chemicals if you want it to have top quality.
Benefits of Using Hot Tub Chemicals
If you are still hesitant whether or not to buy hot tub chemical cleaners, here are several reasons why you should do so:
It cleans your pool of any dirt and unwanted substances
First of all, it keeps your pool clean of any dirt. You won't be able to prevent dirt from going into your inflatable hot tub, so it's important that you use some of the best spa chemicals to break down and eradicate the dirty substances.
It kills bacteria and other dangerous components
Bacteria would also tend to breed in your hot tub because bacteria thrive in warm and moist places. In order to ensure that bacteria won't thrive in your hot tub, these chemicals can kill them off.
It keeps the water clean and clear
Hot tub covers are not enough to keep your hot tub water clean. Covered or not, murky water is something that usually occurs in hot tubs, especially after you use it. The best hot tub chemicals can clear up the water so that you won't have to worry about it being murky and blur.
It ensures that you can soak in the water with no worries
Lastly, these chemicals can ensure that you can soak in your hot tub without having to worry about any harmful substance touching your skin.
To find the Best Hot Tub Defoamer, you should read: What You Need to Know About Hot Tub Defoamers and Which Brands To Buy
What Chemicals Do You Need for Your Hot Tub?
Fortunately, you don't really need a background in chemistry to know what the best hot tub chemicals that you need for your hot tub. You'll only be needing four main chemicals and some test strips. These are the sanitizers, alkalinity decreasing chemicals, alkalinity increasing chemicals, and the shock treatments.
Sanitizers
There are two types of sanitizers that you can use for your hot tub. These are either chlorine and bromine, and they come in the form of either granules or tablets. These are used for disinfecting the tub from bacteria and keep the water clean. The choice of which sanitizer you'd want will all depend on you. Chlorine is the cheaper option of the two and the easier to use, but it needs more maintenance. Bromine, on the other hand, can be left alone without much maintenance, but it is more expensive and a bit harder to use.
Sodium Bisulfate
Sodium bisulfate is used as a pH lowering chemical, which means that you can use it to reduce the alkalinity. Take note that the ideal range of alkalinity is 7.2 to 7.8, so if your hot tub's pH level is too high, use a sodium bisulfite chemical to lower it.
Sodium Bicarbonate
Sodium bicarbonate does the opposite of sodium bisulfate in a sense that it makes the pH level higher. If your hot tub's pH level is lower than 7.2 to 7.8, then you can use sodium bicarbonate to higher it up to reach your ideal level.
Shock Treatments
Shock treatments are used for breaking down contaminants that dirty up the water and give it a bad smell. What shock treatments do is that they oxidize these contaminants so that they don't affect the water. This not only helps clean the pool, but it also increases the lifespan of your equipment such as the hot tub filters and the hot tub pumps. Two kinds that are usually used are the non-chlorine shocks, which are oxygen based compounds and dichlor shocks, which are made of sodium dichlor.
10 Hot Tub Chemicals Products Review
1. Leisure Time- E5 Spa 56 Chlorinating Granules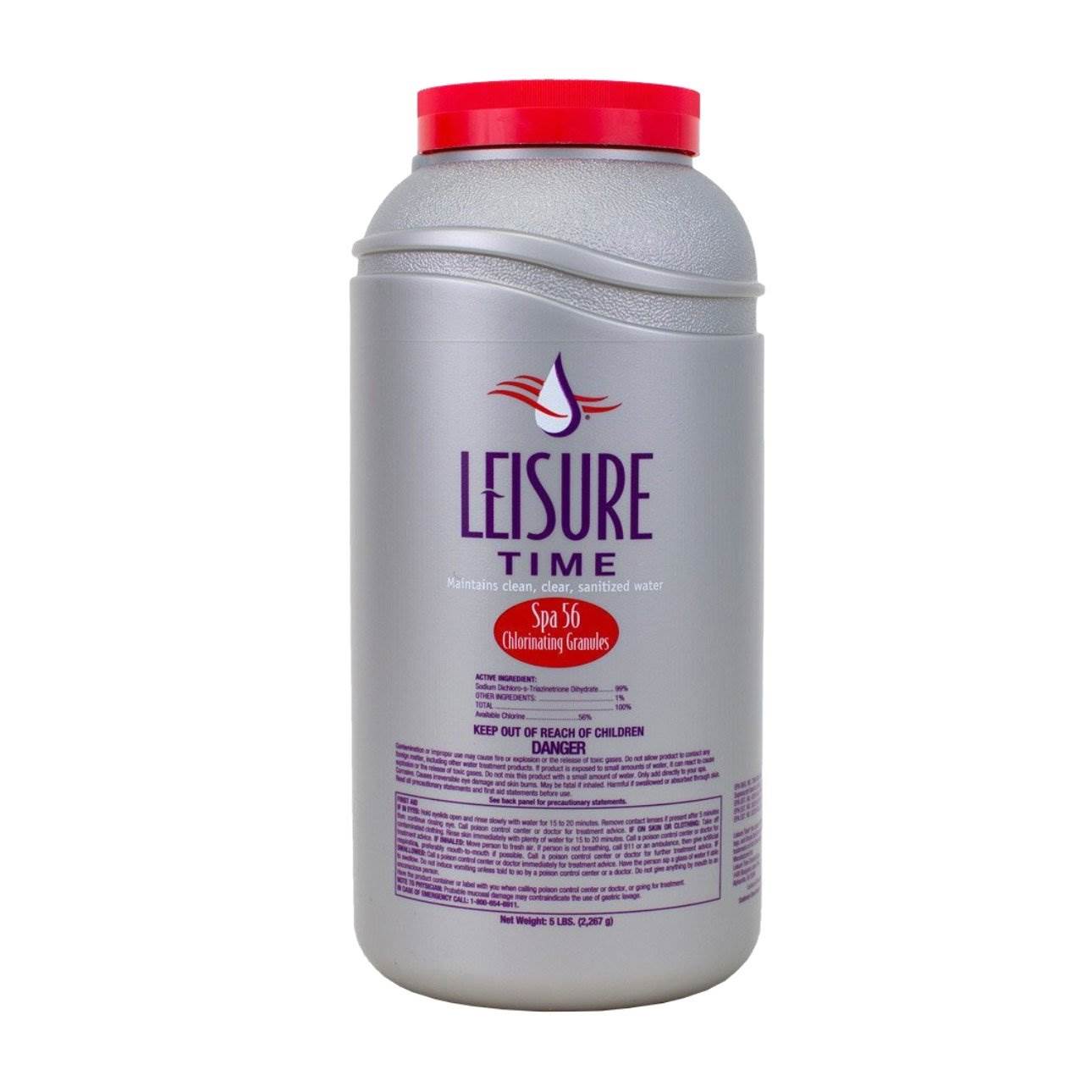 This brand of chlorine granules are specially made for spas and is able to effectively disinfect and sanitize hot water.
Pros:
It efficiently maintains and cleans water.
It is compatible with all chlorine sanitizing systems.
It was specially made for spa water.
It is EPA approved.
Cons:
It is not as potent as tablets.
2. Spa Choice- 472-3-5081 Chlorine Granules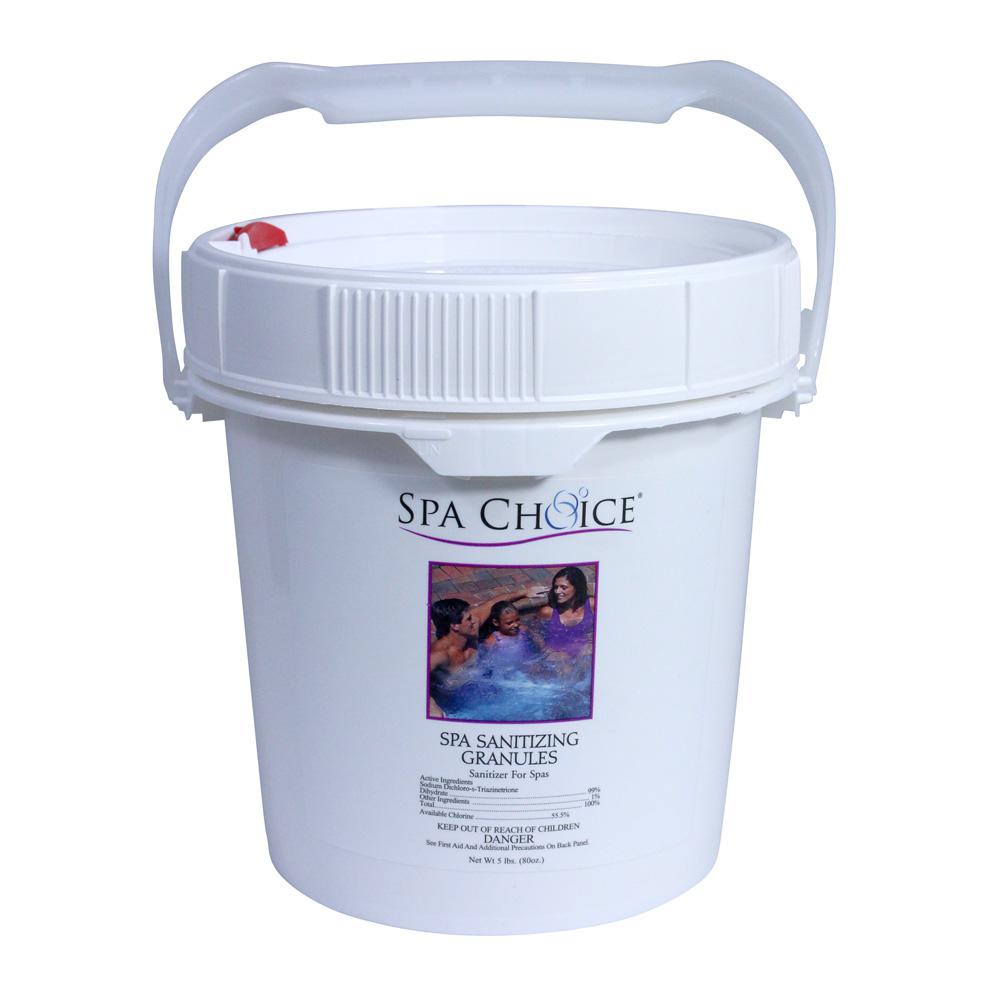 This chlorine granule sanitizers can be used for stabilizing the spa chlorine already and is known for dissolving very quickly.
Pros:
It dissolves very fast.
It can handle very bad cases of algae.
It can kill bacteria easily.
It can stabilize the existing spa chlorine.
It can kill bacteria.
Cons:
The packaging is hard to use
3. Spa Choice-Hot Tub Spa Bromine Tablets 2 x 1.5 lb.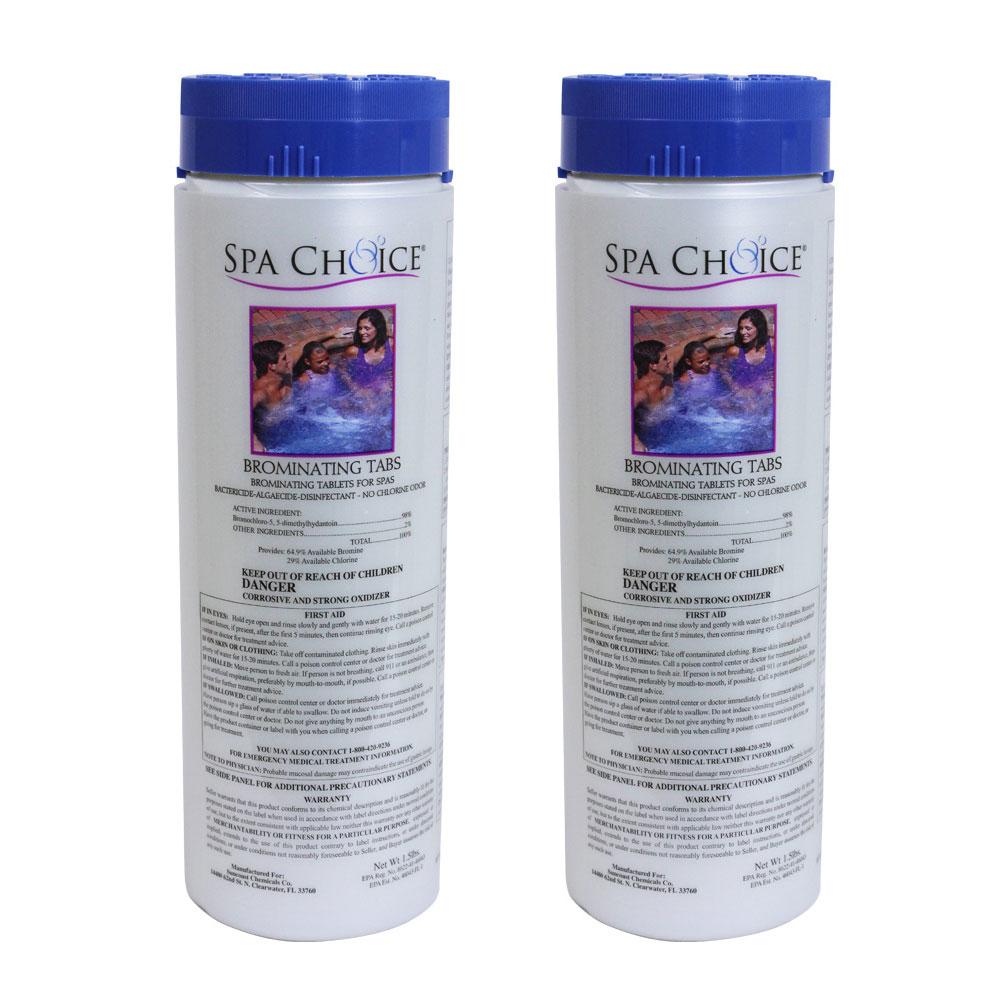 This non-chlorine shocker comes with 2 bottles in the package for more savings. It also contains 98% of active ingredients, which increases the efficiency.
Pros:
It comes with 2 x 1.5 pound bottles totaling 3 pounds.
Each pill has 98% active ingredients for total effectiveness.
Cons:
It doesn't dissolve fast.
4. BioGuard- SpaGuard Enhanced Spa Shock 6#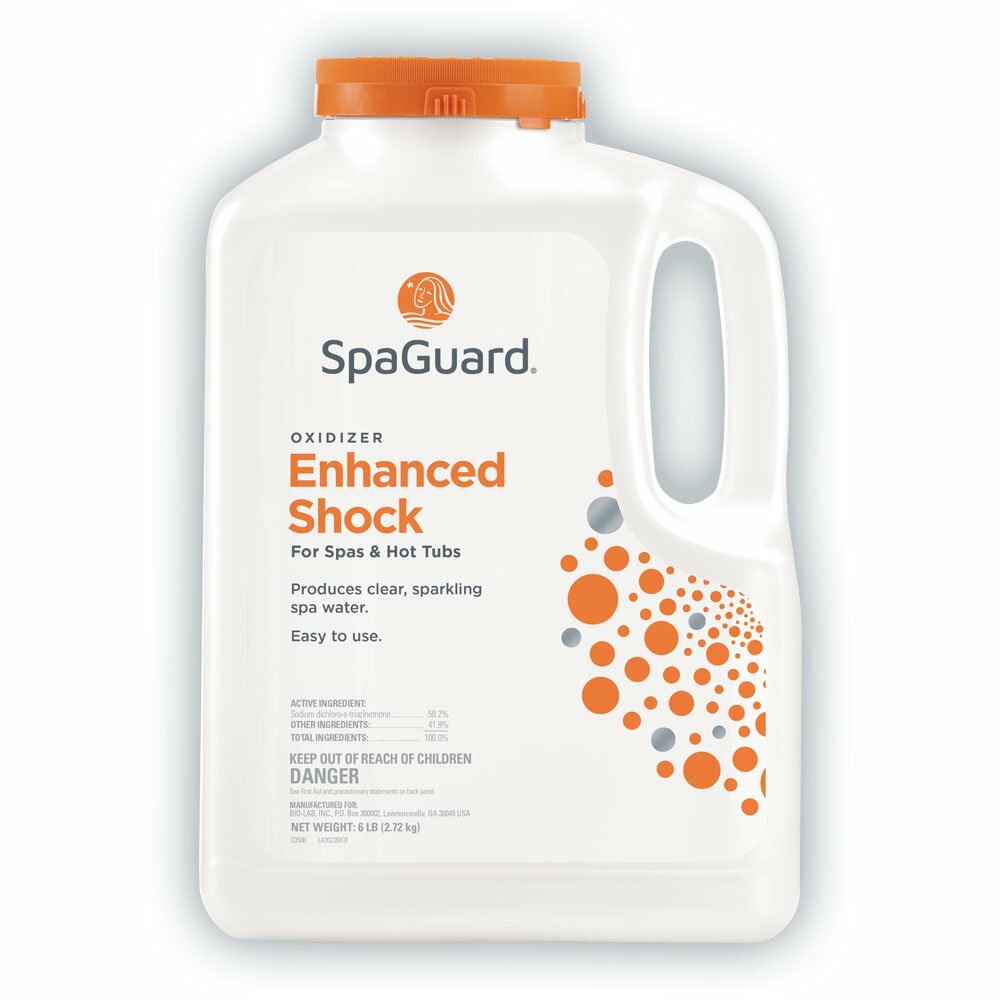 This impressive Spa shock is a favorite of many. It only takes 3 tablespoons of chemicals for every 500 gallons of water. This allows you to save more as compared to other brands. It is indeed a spa shock treatment that is worth to buy.
Pros:
It eliminates contaminants that build up in the water for safe usage.
It is compatible with chlorine, bromine, ozone, and ionization systems.
It allows you to shock your hot tub in a few minutes and use the hot tub right after.
Cons:
It is slow when handling grease.
5. Leisure Time- RENU2 Renew Non-Chlorine Shock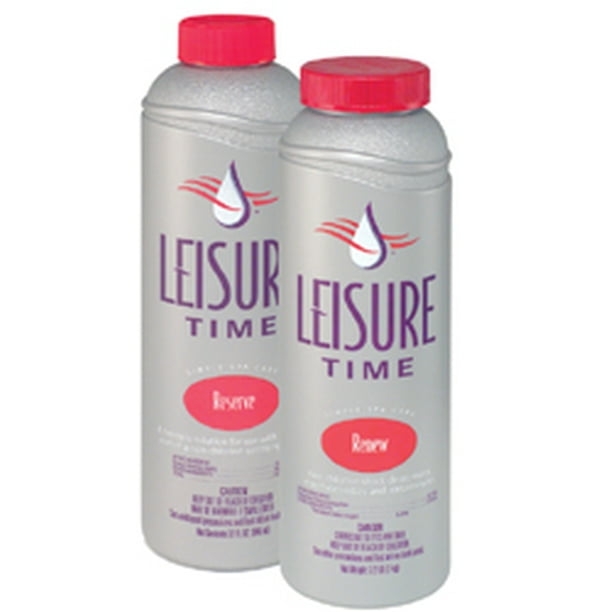 Leisure Time RENU2 Non-chlorine shock is known for effectively clearing murky water and odor. It is compatible with all other pool chemicals such as bromine and chlorine.It is also good for microorganisms and dirt.
Pros:
It effectively eliminates murky water and other contaminants.
It goes well with all kinds of pool chemicals.
It comes in a bulk packaging for more savings.
It can prevent build up of chloramine.
It prevents fluctuating pH levels.
Cons:
6. SpaGuard Spa Enhanced Shock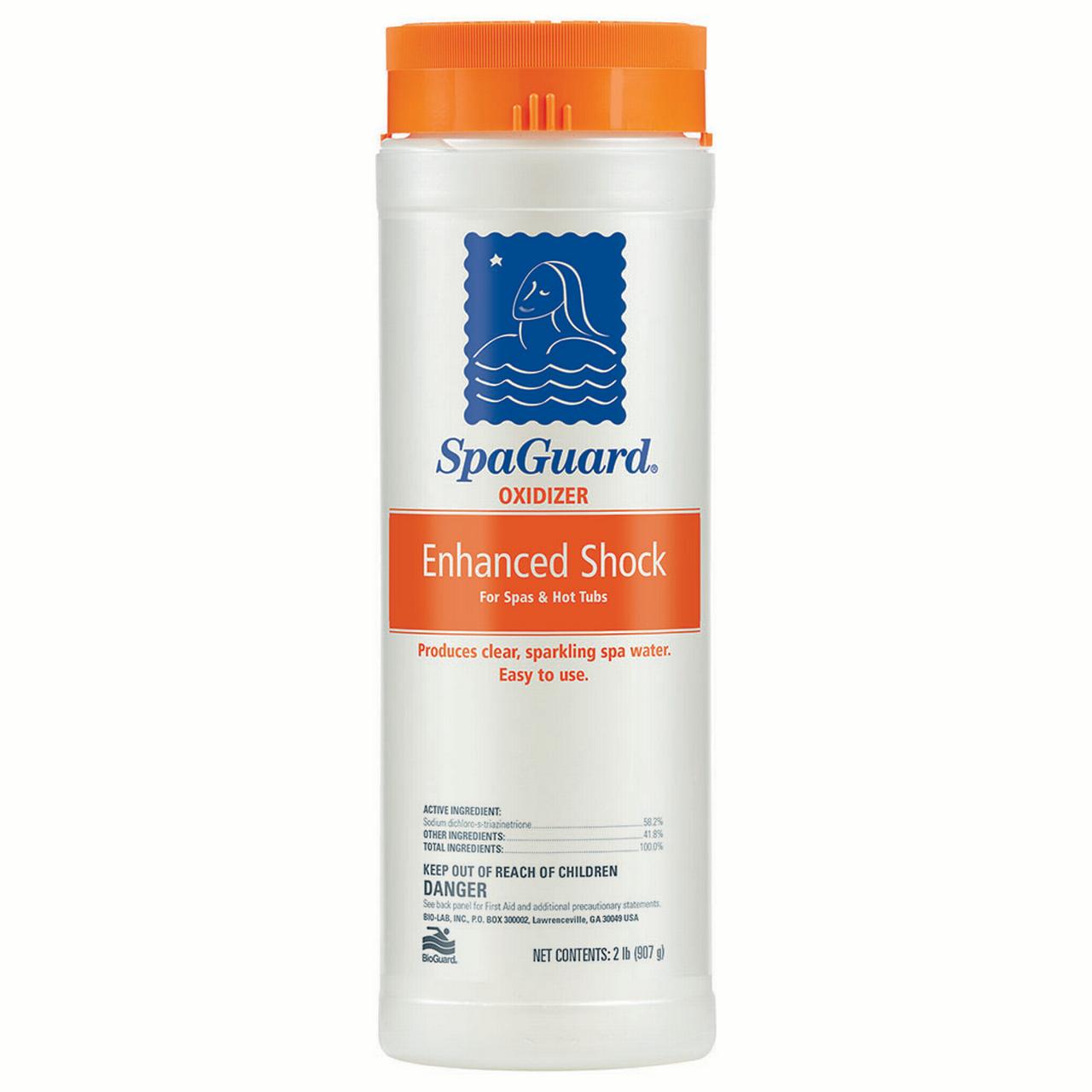 Spaguard enhanced Shock is known for being very versatile with other pool chemicals and can bring about a sparkle in the water.
Pros:
It can make the water crystal clear for several days.
It can oxidize contaminants that give off foul odors.
It can be used in both chlorinated and brominated tubs.
It can also be used in ozonated tubs.
Cons:
The package is rather small than other brands.
7. Oxy-Spa- Non-chlorine Hot Tub & Pool MPS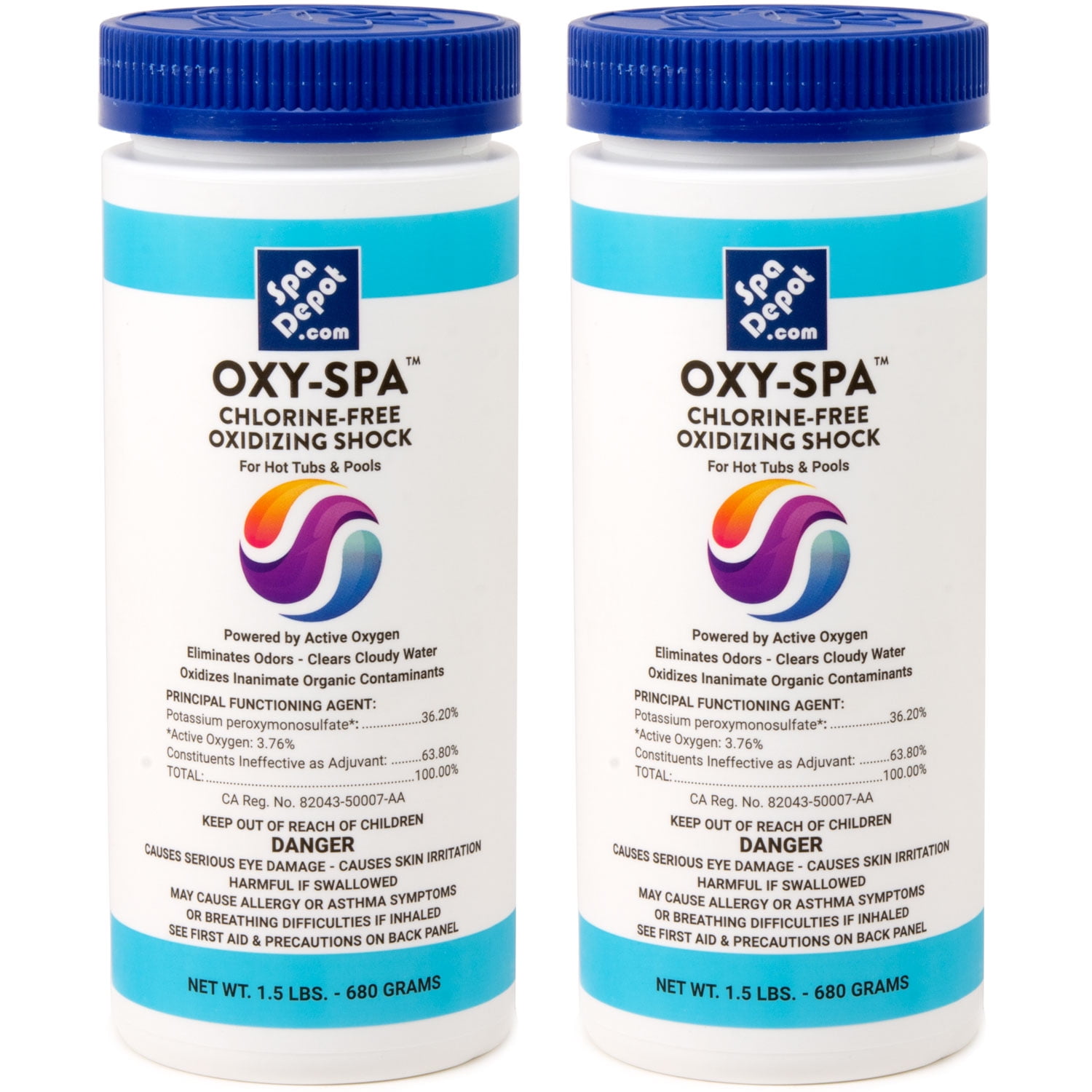 The 2 pack Oxy-Spa Shock comes with a mono persulfate shock for extra effectiveness. It also comes in granular form for very easy application.
Pros:
It comes in a package of two 2 pound bottles.
It's mono persulfate content can provide optimal effectiveness.
Cons:
The product is only ⅔ of the packaging.
Spa Essentials- 32130000 Chlorinating Concentrate Granules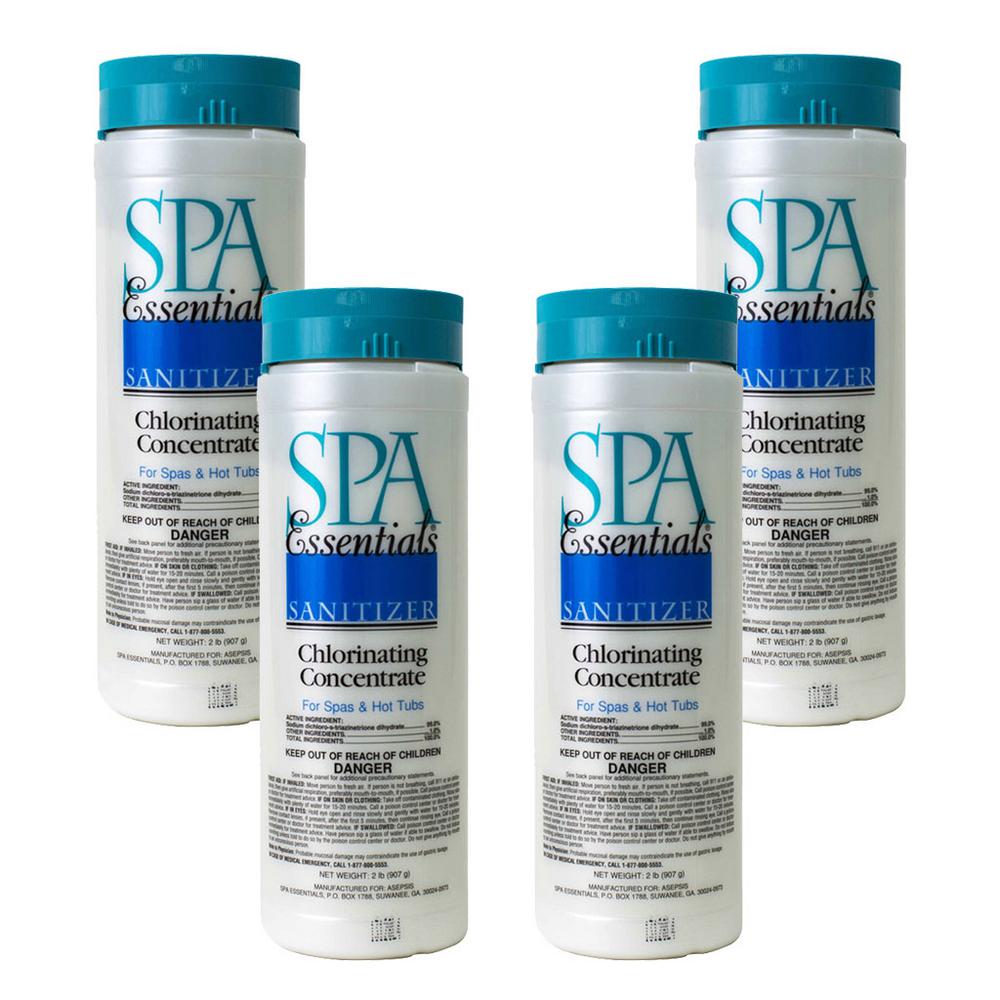 This granular chlorinator is a very fast acting and efficient chlorinator that can both sanitize and oxidize at the same time.
Pros:
It is in an easy to use granular form.
It dissolves very fast.
It can sanitize your hot tub water very fast.
It can both sanitize and oxidize.
It doesn't need pre-dissolving.
Cons:
Currently unavailable.
Leisure Time- 45430 Bromine Tabs
Leisure time Bromine tablets are easy to use tablets that are very compatible with bromine sanitizing systems. They are also compatible with the equipment so that the potency won't harm the parts.
Pros:
It comes with easy to use bromine tablets.
It has an advanced low dust formulation.
It provides a more active sanitizer of 10% higher.
It is guaranteed safe.
Cons:
The tablets dissolve a bit too fast to the point that it may even dissolve while still in the packet.
Currently unavailable.
ClarityForSpas- Natural Spa Hot Tub Start-up Kit (Non-chlorine )
This is a complete kit that comes with a lot of important chemicals needed for your hot tub. It also comes with very easy to follow instructions.
Pros:
It comes with 1 natural spa cleaner.
It comes with 1 crystal clear chemical.
It contains 1 bag of potassium shock.
Cons:
It is rather expensive.
It has a strong odor.
Currently unavailable.
How to Choose the Best Hot Tub Chemicals
If it is your first time using a hot tub and you don't know how to maintain it, then it is very important that you have, at the very least, a buying guide that can help you determine which one you should buy for your hot tub. Here are a few things to take note of:
Ease of Use
The first factor would be ease of use. Chemicals can be a bit hard to use as they involve a lot of careful steps, especially if you are new to using them. If you are a beginner, you may want to buy the chemicals that are quite easy to use and don't involve too many steps. However, you have to make sure that the chemicals won't affect the acidity of the water no matter how simple they are to use.
Speed
When we talk about speed, we are referring to the amount of time it will take in order for the chemicals to work. It's not good to buy chemicals that are slow to work because then you'll have to wait for a long time before the next time you can take a dip in the hot tub. For this, it's best that you find a fast working chemical set for your tub.
Storage
This is a very important factor, especially if you have children or pets because you don't want them to get too close to these chemicals. Make sure you buy the well-packaged ones that are in a locked box so that they can't easily be accessed.
Safety
This is by far the most important factor that you have to consider since it involves your health. You have to make sure that the chemicals that you choose would be safe and user-friendly. It also pays to do your homework on the side effects of these chemicals so that you'll know if you have any corresponding allergies or such with the chemicals.
You may see Hot Tub Chemicals Explained on Youtube
Hot Tub Chemical Myths
Myth 1: Pool Chlorine Tablets Can Save You Money If You Use it in your Tub
In order to save money, a lot of people use pool chlorine tablets on their hot tubs. Although pool chlorine tablets may seem versatile enough to be used in hot tubs, pool tablets are actually designed for the cold water of the pool which means that they are most likely not compatible with the hot tub's hot water.
Myth 2:Chlorine Causes Eye and Skin Irritation
Chlorine doesn't usually irritate the eyes unless you really have an allergy to chlorine. If your eyes or skin is irritated when you are in the hot tub, it is most likely because of the pH level. If the pH level is either too high or too low, your body might get affected.
Myth 3:Shocking Needs to Be Done Every 5 Days
If you use your hot tub very regularly, then you might need to shock it every week in order to break apart the dirt or the algae. However, if you don't regularly use the hot tub, you don't really need to shock it. In fact, you may shock one day before you use your hot tub.
Myth 4:Chlorine/Bromine Tablets Are Completely Safe For Your Hot Tub
Although chlorine or bromine tablets are often used as sanitizers for hot tubs, the potency of the tablets may actually damage some of the parts of the hot tub since they are used in a small body of water. These tablets are better used for the bigger hot tubs than smaller ones.
Conclusion
Out of the choices given, the clear winner of the lineup is Spa Essentials- 32130000 Chlorinating Concentrate Granules for Spas and Hot Tubs. First, it comes in a granular form which makes it easy for you to use. It also dissolves very fast and also cleans up the water very fast. What makes it unique is that it can sanitize and oxidize at the same time, which makes your water clean and safe. It is also not too expensive to buy. It may have a bit of a strong odor to it, but that is definitely a small con as compared to the pros.
When comparing chemicals, it is always best to look at the ones that give the best pros. Compare the pros to your buying guide and see which one is the best for you. That way, you'll be ensured of the quality.