If you have a hot tub at home, then you know the importance of having the best hot tub covers to protect your investment. The best hot tubs come with an expensive price; thus, you should not take it for granted. Covers protect your tub from damage, dirt, and chemical degradation, and most importantly, delays the usual wear and tear.
We know that it is difficult to choose the best hot tub covers considering the many choices you have in the market. Hence, in this article, we try to help you determine the best hot tub cover. From our hot tub covers reviews down to the FAQs, we assure you that you'll be able to choose the best cover for your tub.
Gauging the Value of the Hot Tub Covers in the Market
There are tons of hot tub covers reviews that you will come across as you make your way towards finding the right cover to invest on. While you may us them to guide your decision, nothing will beat personally acquiring pieces of information that will help you scrutinize the options that you will come across. Here are some factors that you should check out and in order to ensure that you will be investing your money on the right covers. Look through your options and determine whether they are valuable investments by looking into the following considerations:
Find the Right Core for your Climate
Since your hot tub cover will be installed in the exterior of your home, you have to ensure that you invest on one that will be able to withstand changing climate without showing signs of wear and tear. If you live in an area that experiences four seasons, then you should find a cover that will be able to maintain quality despite these changes.
It will be best if you find a cover that will be able to withstand the coldest winters, so you should definitely check out the best hot tub cover for winter. If done right, you will be able to invest your money on the right accessory that you will use for an extended amount of time.
Ensure the Quality of the Vapor Barrier
The vapor barrier refers to the specific part of the cover that coats the foam cores and ensures that no water gets into the main insulation of the cover. Yes, high quality foam is already water resistant, but you can never be sure. For this reason, you have to invest on the best rated hot tub covers that come with a thick enough vapor barriers that will keep any amount of water from interacting with the foam.
Check the Density and Thickness of the Foam Core
The quality of the foam core is the end all and be all of your hot tub covers. If you invest one that has a core that is made out of a material that is of poor quality, there is very little chance that you will be able to maximize your cover.
Cheap covers are usually manufactured using recycled foam, which deteriorates faster than the virgin polystyrene foam that is used for high quality covers. Steer clear of covers that are made out of recycled foam, for they will do very little when it comes to withstanding harsh weather conditions.
Ensure Cover Vinyl Quality
Most of the hot tub covers that you will find in the market are made out of vinyl; rightfully so because vinyl is a durable material that is known for its long life. However, there are vinyl materials that are either not pure or that are too thin for outdoor use; and you should avoid investing on hot tub covers that use this kind of vinyl.
Check the Shape and Dimension
This should go without saying, but people often go on their search of finding and buying hot tub covers without first getting the dimensions of their tub. This is a situation that will only lead to stress. Fortunately, it is very simple to avoid making this kind of mistake.
Before you go ahead with your search, take note of the following: the shape of your tub and its exact dimensions. Limit your shopping top options that fit these details to a T. Keep in mind that any lose space between the frame of the tub and the flaps of the cover will minimize the quality of protection that the cover will afford.
Consider the Price against your Budget
Finally, take an honest look at how much you are willing to spend on this kind of necessary accessory. Hot tub covers come with different price tags, so you have to ensure that you will make the most out of your money.
In addition to this, you should prioritize quality affordability. Go for the cover that may be a little pricier if you know that it is made of better materials, for they will not only last for longer but will also do the job better.
Reviews of The Best Hot Tub Covers in the Market
1.  Aaden Spa Water Resistant Hot Tub Cover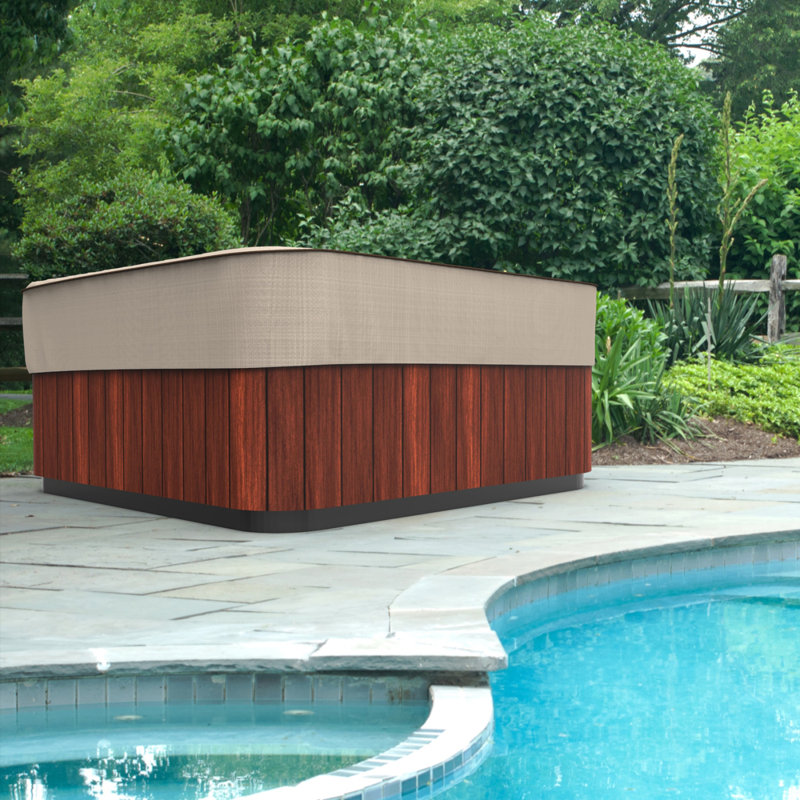 If your tub is meant to be placed outside or in the veranda, this hot tub cover from Aeden is specifically made to provide the utmost protection for outdoor furniture. This square-shaped tub is made from polyester, the best material for snow, heat, and rain protection. It is also UV resistant and waterproof perfect for any type of season.
The cover has straps to assure it sticks to the tub during windy conditions. By looking at the welded seams, you know that materials are high quality and durable. This is the best cover that will compliment whatever patio decor you have at home. 
Highlighted Features:
Polyester materials
Welded seams
Sewn straps
What We Like:
Lightweight
UV resistant
Waterproof
Durable
What We Don't Like:
2.  Cover Captain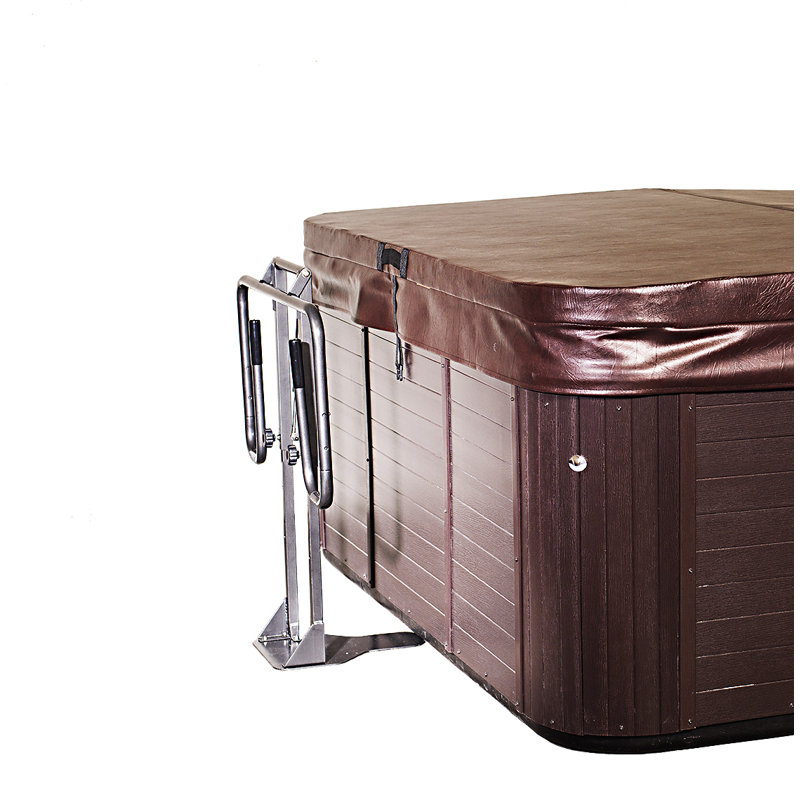 Does the weight of cover hot tubs concerns you? Do you find tarps more convenient than cover tubs in covering your hot tubs because of the ease of installation? Well, this tub from the cover captain makes the lifting easier for you. This cover comes with a built-in hydraulic lift to help you handle its weight. Not only that, it comes with a footplate to help you keep the lifter maintain its high-quality.
This cover is made from steel and comes with various shapes such as circle, rectangle, square, and oval. It also has a hydraulic piston for easy removal and installation of the cover. For stability and security of your tub, the product has 4 pieces, 2 adjustment knobs, and 6 hex nuts. This is the most convenient cover you could find in the market.
Highlighted Features:
Steel as the primary material
4 pieces
2 adjustment knobs
6 hex nuts
Hydraulic piston
What We Like:
Convenient
Comes with varios shapes
Durable
Preassemble for easy installation
What We Don't Like:
Prices
Only one color available
3.  Classic Accessories Ravena Medium Square Hot Tub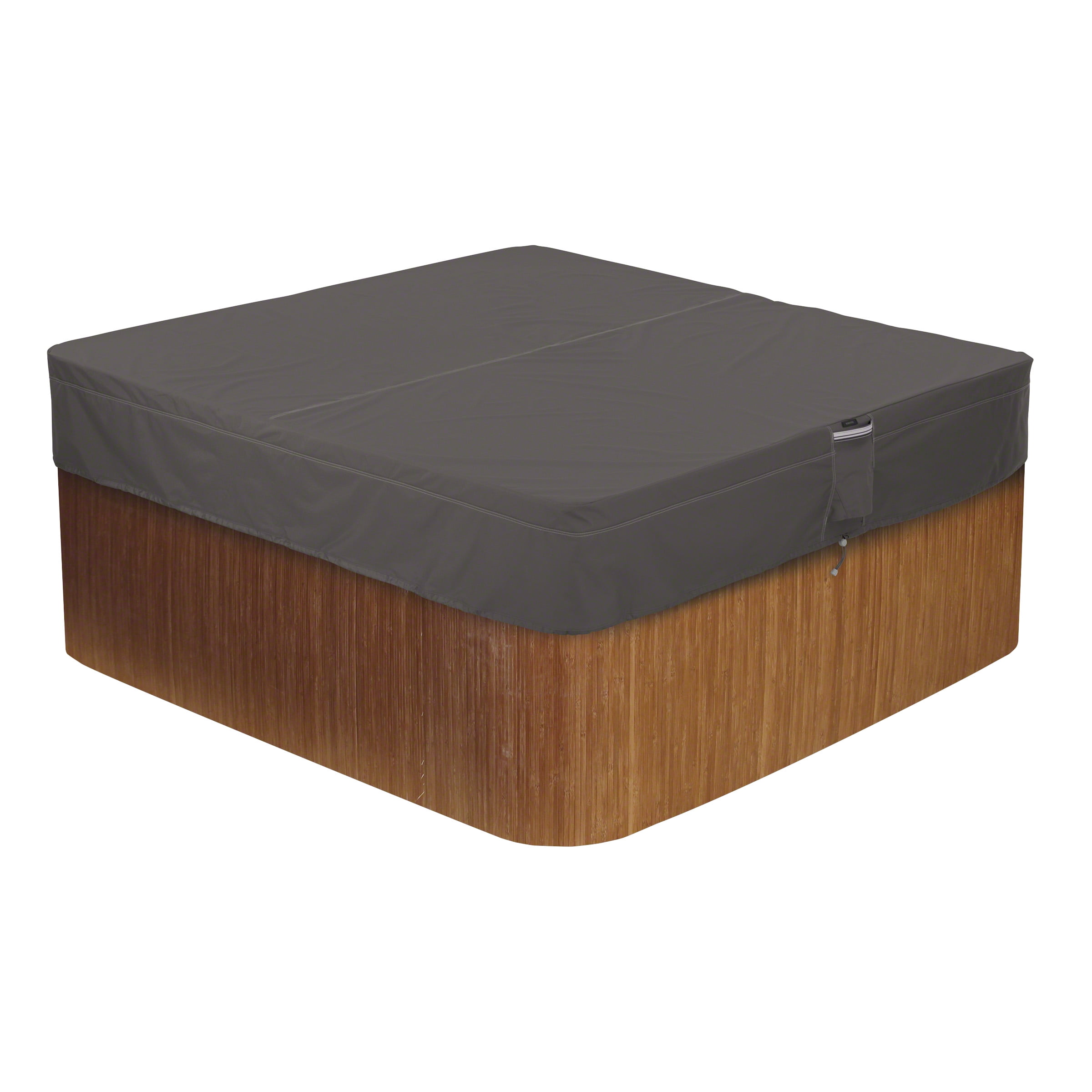 Are durability, style, and convenience your criteria in looking for the best hot tub covers? Well, Classic Accessories is best known for that. This cover is meant for square hot tubs with a size of 94 x 94. It comes with double-stitched seams for security and style and padded handles for easy removal.
If your tub is not as big as the size mentioned above, worry not, for the elastic hem cords are adjustable to achieve your ideal fit. It has structured vents with mesh barriers for wind lofting. This the most practical cover that will protect your tub from any weather conditions and elements.
Highlighted Features:
Padded Handles
Double-stitched seams
Elastic hem cords
What We Like:
Adjustable
Durable
Fade resistance
Ease of installation
Cheap
What We Don't Like:
Not stain resistant
May not be good as an outdoor hot tub cover
4.  Duck Covers Essential 86" Square Hot Tub Cover Cap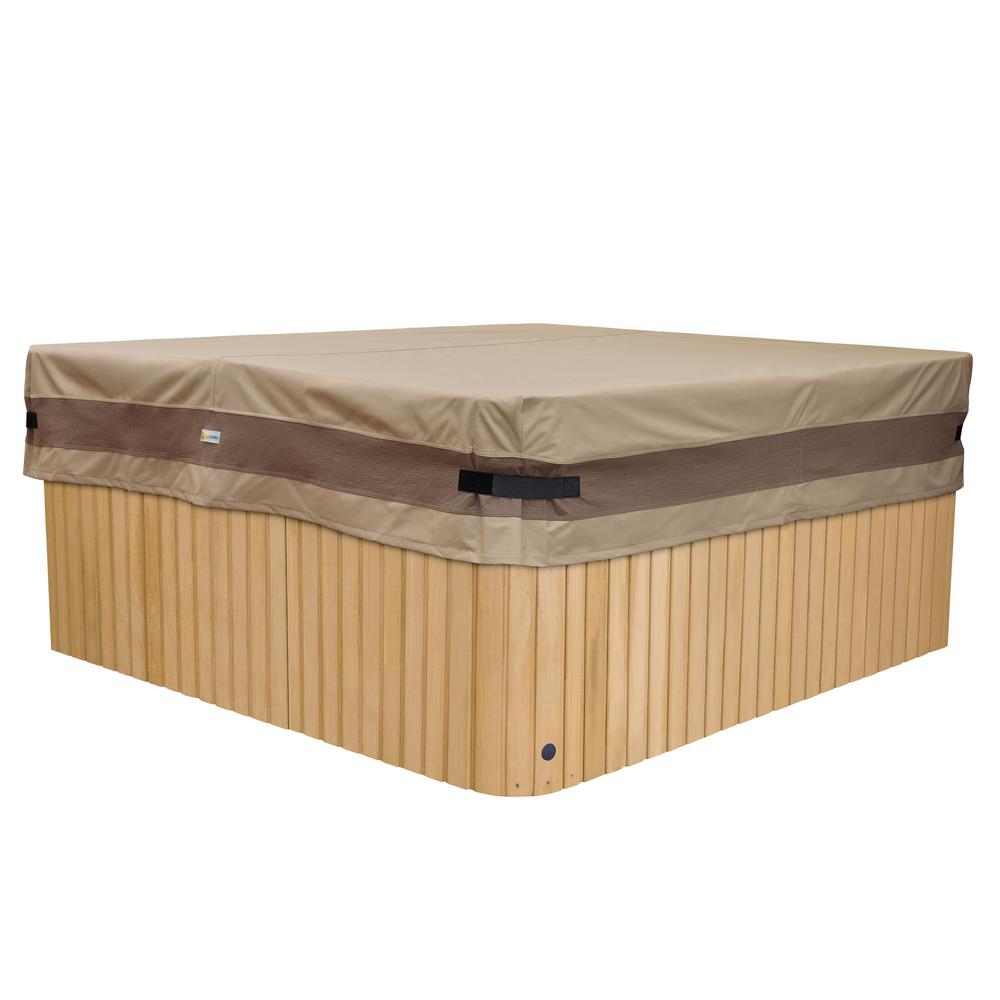 For your 86 x 86 square tub, we find Duck Cover Essential the most suitable for your furniture. This tub is lightweight, water-resistant, and most of all, one of the cheapest yet uncompromised quality you can avail in the market.
The brown cover comes with elastic hem cords to secure its fit, especially during breezy weather. Its water-resistant feature makes it the best outdoor tub cover. To prevent leaking, it comes with welded seams, while the double stitch maintains its quality and durability.
Highlighted Features:
Elastic hem cords
Welded seams
Double stitch
What We Like:
Lightweight
Water-resistant
Affordable
High quality
What We Don't Like:
Material is not suitable for the snowy season
5.  Aquarest Replacement Spa Cover 77.2" H X 77.2 W in Walnut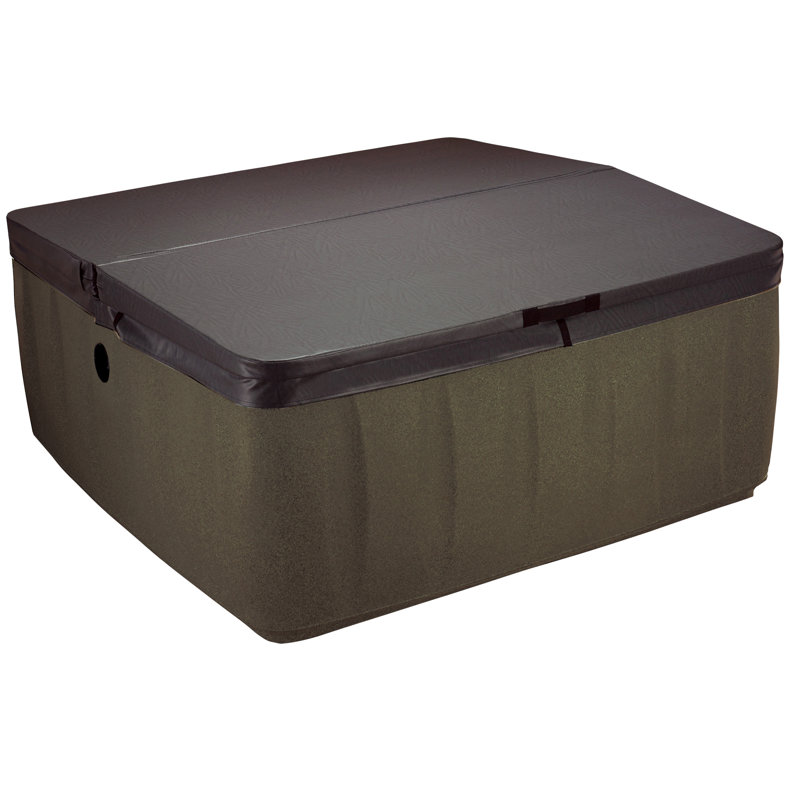 Looking for a high-quality replacement cover that has the same features as your original cover? This replacement cover from Aquarest got your back! From the design, materials, and features – all of them meet the extra-ordinary standard and quality.
The product is made from marine grin viny reinforced with steel and foam insulation for better moisture absorption. For heat seal and perfect fit, the tub has a hidden zipper and lock strap. Its mildew inhibitors and built-UV are one of its amazing features you would rarely see for a replacement cover. The price-point of this tub is reasonable and the overall quality and customer service of this brand are highly commendable.
Highlighted Features:
Marine grid vinyl
Steel
Virgin foam insulation
Double-ply poly-laminate
Strong straps and hidden zipper
Strenght recessed handles
20 gauge steel
Polystyrene and UB thread material
What We Like:
High-quality replacement cover
UV and moisture resistant
Corrosion-resistant
Wordclass features
Durable
What We Don't Like:
Expensive
Prone to dirt, should be cleaned regularly
Polyester fabric is not entirely waterproof
6.  Aquarest Spa Cover 78.2" H x 63.5 W in charcoal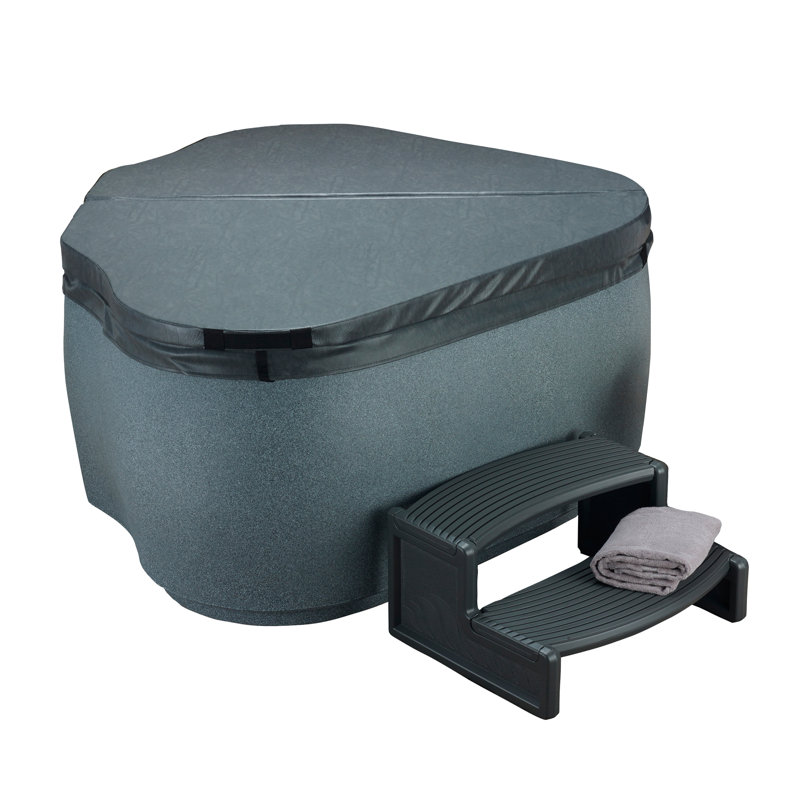 We can't get enough with the value and quality of Aquarest replacement covers. Hence, we added in our top picks another replacement cover from the same brand but with a bigger size than the one above. For more stylish and aesthetic looking cover, grab this Aquarest Spa Cover in Charcoal.
This 78.2 x 63.5 squared-cover is made from combined marine grid materials, polyester, and foam insulation. These are great materials since most covers are made solely for protection and not for insulation against heat loss. The cover has drain holes, grade skirts, and split corners to seal the heat and protect the furniture. Considering the features and materials, the tub is reasonably durable and convenient.
Highlighted Features:
Marine grid vinyl
Steel
Virgin foam insulation
Double-ply poly-laminate
Strong straps and hidden zipper
Strenght recessed handles
20 gauge steel
Polystyrene and UV thread material
What We Like:
Protects tub from the usual wear and tear
Lightweight
Durable
Moisture, stain, and corrosion resistant
What We Don't Like:
UV proof but color may fade if placed in direct sunlight
7.  Futura Custom Spa Cover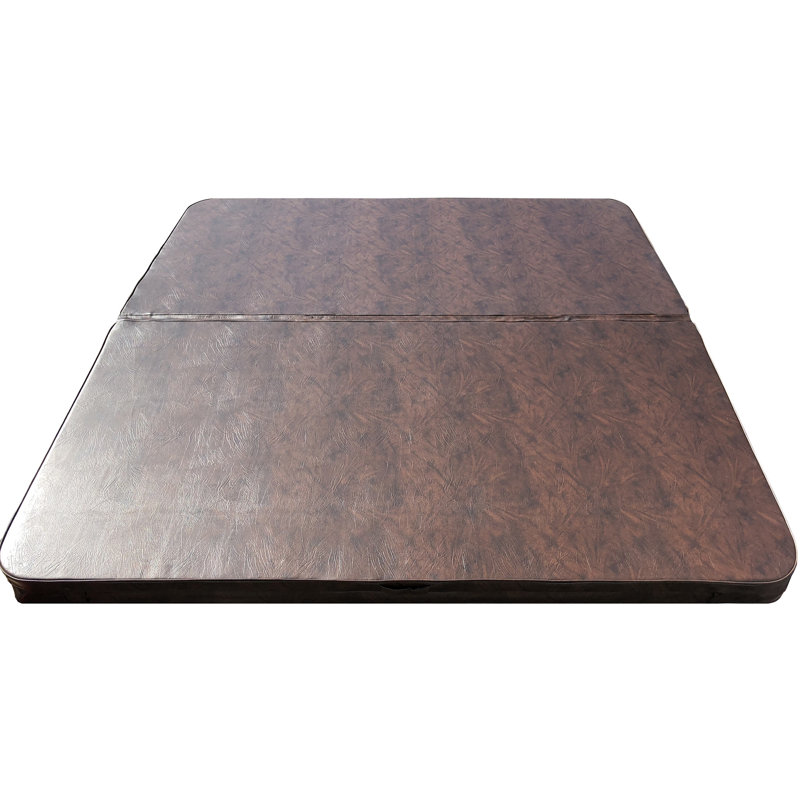 We hate seeing our tubs deteriorate easily. While we need some chemicals to maintain our tub, an energy-efficient cover can also go along way. Hence, we recommend this energy-saving Futura cover. This square-cover is made from vinyl and 2-pound high-density foam, which gives utmost protection and maintains the quality of your tub for years.
The is cover is not only UV resistant but also bromine, chlorine, ozone, and antimicrobial-resistant The cover has separate hardware materials such as handles, straps, and lock and keys. It may have many features, but overall, the cover is lightweight and easy to install, thanks to the lifting device. Arguably, this is the most protective and 100% energy-efficient cover to exist.
Highlighted Features:
28 oz. spa hyde vinyl
2-pound extra high-density foam
Seam stoppers
2 handles
4 straps
Lock and keys
What We Like:
Energy-efficient
Prolongs the life of your tub
Insulation and protection guaranteed
What We Don't Like:
Overall product is heavy
Regular maintenance needed
BeyondNice Hot Tub Cover and Spa Cover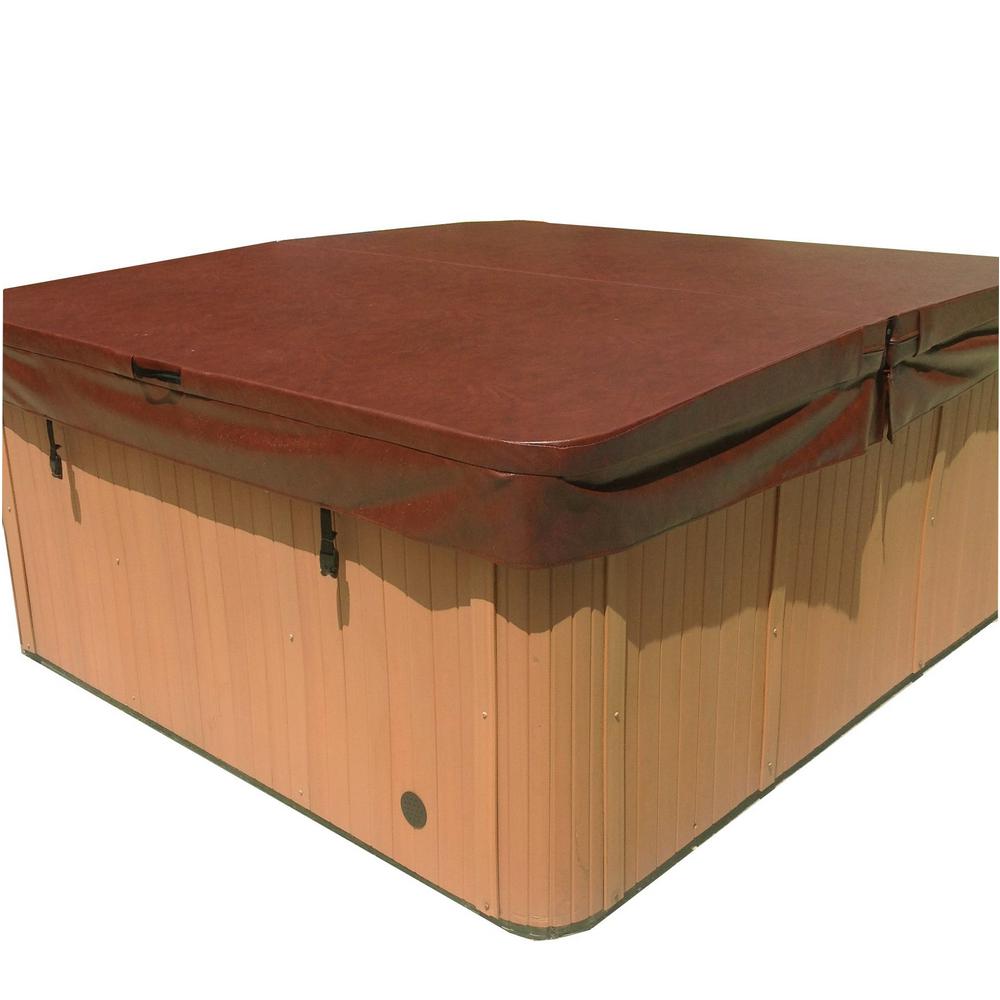 What We Like:
This model is the thickest and the most insulating cover manufactured by the brand, which means that it does an exemplary job in maintaining hot temperature.
Helps save up on heating bills, because the tub will not need to work extra hard in order to maintain the temperature in which it is set.
It comes with a five-year manufacturer guarantee. Simply coordinate with their customer service representatives for possible item replacement.
This model offers the option to customize depending on how you will use it and on the environment where you will install it. Simply inquire about their Design-Your-Own ordering process.
What We Don't Like:
This hot tub cover is on the pricier side.
Some customers have experienced problems with the manufacturer's shipping partners. Make sure that you check for possible damage prior to signing any shipping document.
Currently unavailable.
Classic Accessories Veranda Hot Tub Cover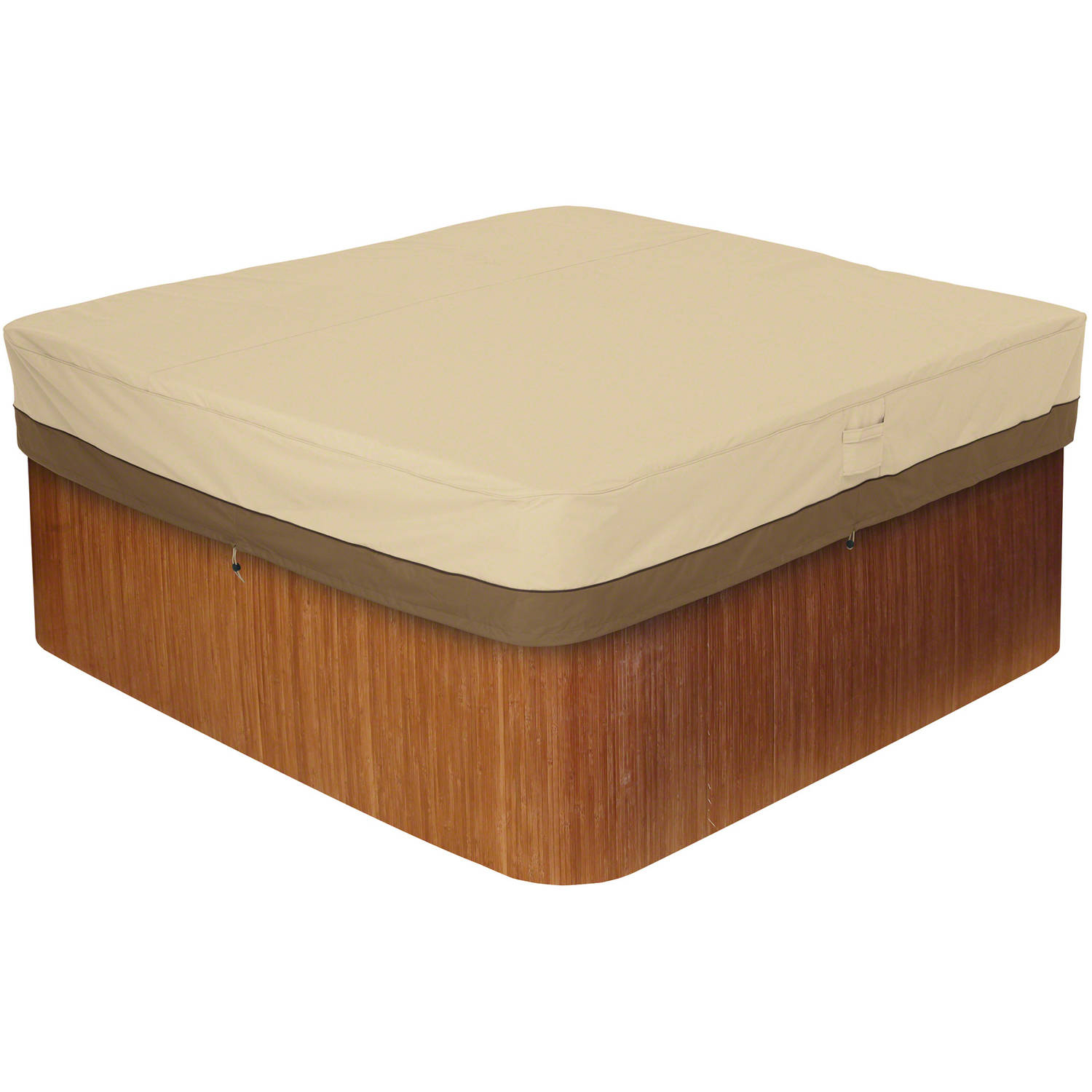 What We Like:
This cover is made from high quality material that does not only protect from tactile damage but also from UV rays damage and exposure to elements.
It is manufactured using a Gardelle Fabric System that employs the use of an extremely water-resistant fabric, making it an extremely effective undercoating that protects against splashes.
This model is fitted with air vents that reduce condensation level inside the tub and also protects from wind lofting.
It comes an elastic hem that ensures perfect fit against the tub's frame.
What We Don't Like:
While it comes with a three-year warranty, it is limited to certain kinds of damages and defects.
Users report that it gets dirty easily.
When not fitted snugly against the frame of the tub, the cover reportedly gathers rainwater, especially in the middle part.
Pricier than other options with almost the same quality.
Currently unavailable.
The Cover Guy Combo Upgraded Vapor Proof Barrier and Energy Shield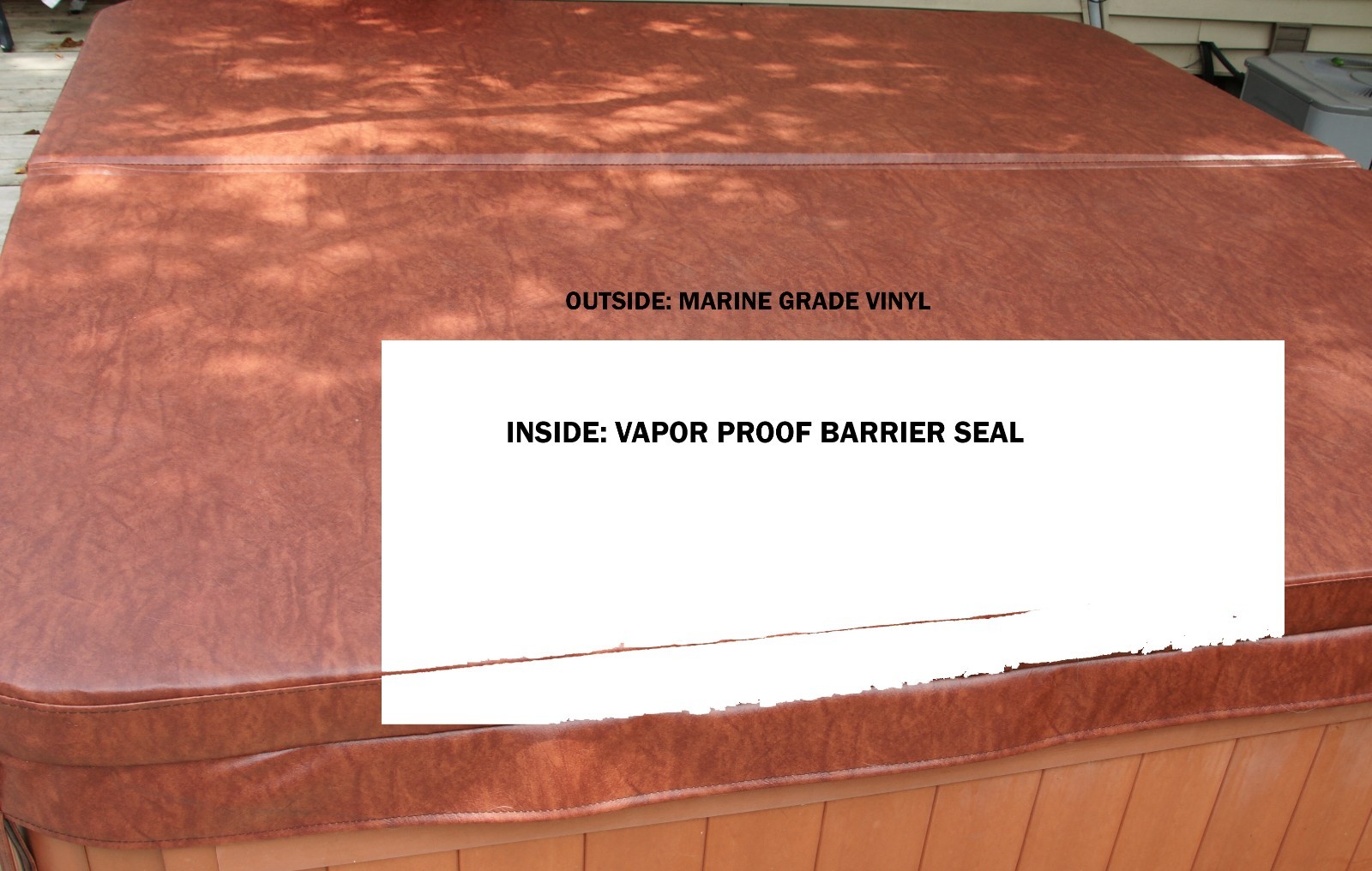 What We Like:
This cover performs multiple functions of protecting the hot tub, reducing energy bills, and eliminating waterlogging.
Models are custom made to fit tubs like a glove, ensuring perfect fit and snug protection every time.
It comes with a high-insulation layer that keeps the cold out of the tub, thus helping users minimize their heating bill.
This cover is extremely lightweight despite the heavy-duty material that it is made out of.
Manufacturer also offers a seven-year warranty for possible replacement.
What We Don't Like:
Some customers reported minor problems with the cover clips that originally comes with the unit.\
Currently unavailable.
Chelsea Square Spa Cover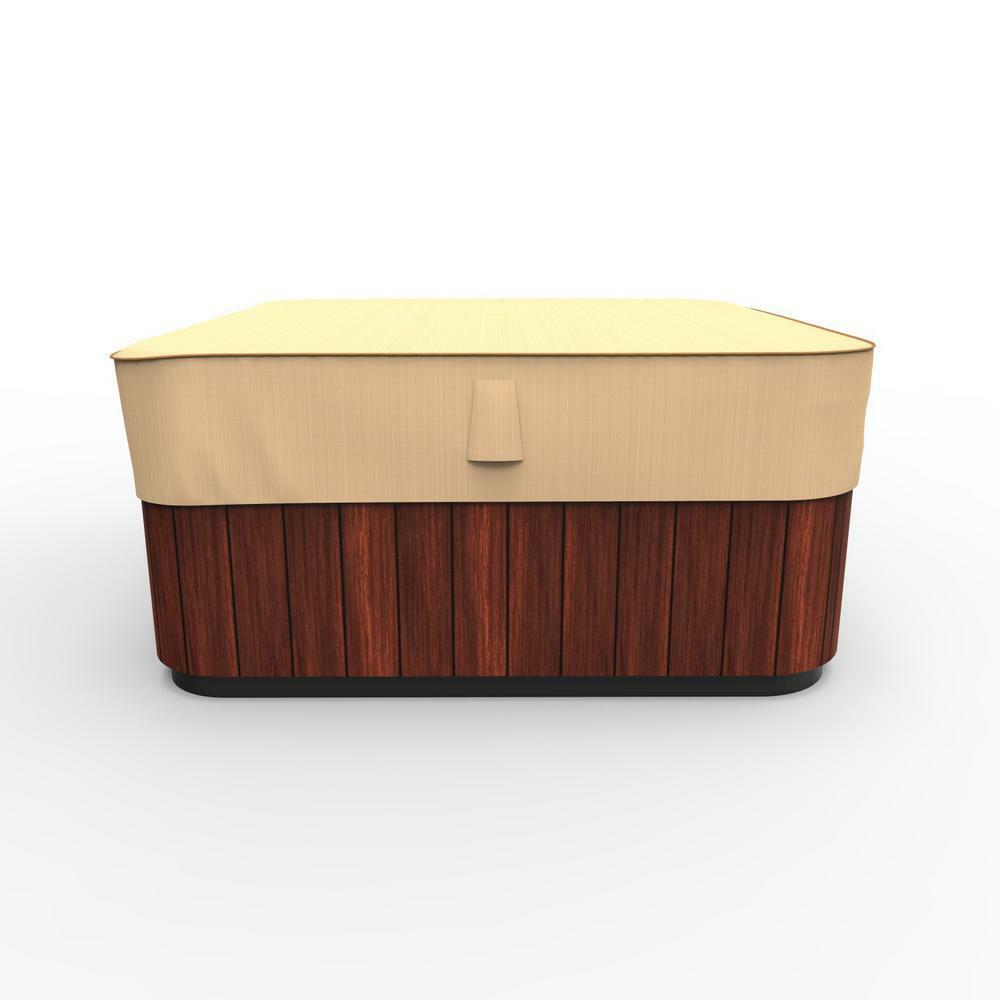 If you are looking for high-quality and excellent weather insulation and protection, this cover from Chelsea is best for outdoor tubs. This tub is made from 600 denier polyester that can stand to hazardous climate conditions. The cover perfect for 14" H x 86" W tub size. However, since it comes with a tie and straps, it can easily fit to whatever square tub you have.
This cover is functional and stylish. If you're only using a tarp to protect your furniture, you may want to elevate the look of your tub when not in use, with this simple, aesthetically pleasing, and neutral tan tub. This cover surely looks amazing in your backyard and at the same preserves the quality of your tub.
Highlighted Features:
600 denier polyester
Ultra-sonically welded seams
Straps and ties
What We Like:
Protects from all types of weather
UV Resistant and Waterproof
Leakproof
Can be used for hardcover spas
What We Don't Like:
Currently unavailable.
Canadian Spa Hot Tub Cover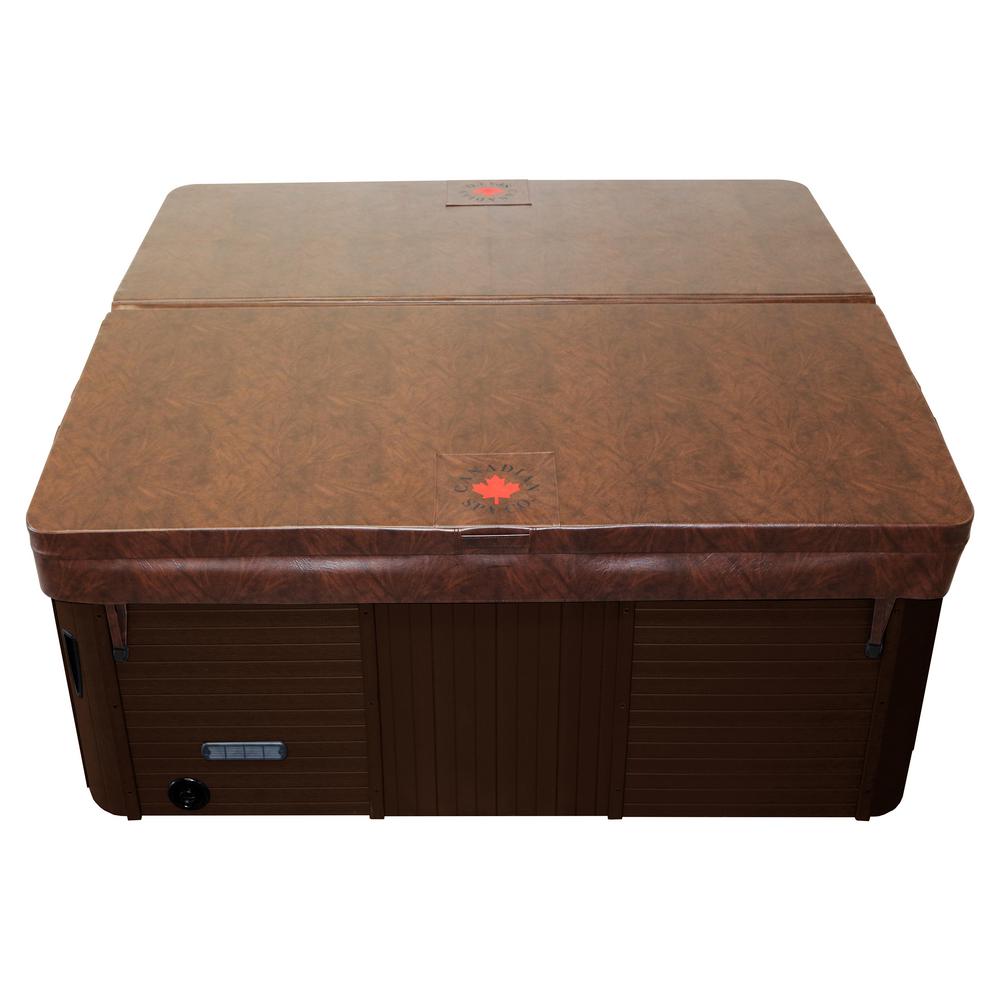 If you have been reading hot tub cover reviews for a while now, then you may have observed that Canadian Spa Cover is mostly one of the top picks. Well, this company provides all of your cover needs, whatever the shape and size of your tub. This item is specifically designed for square tubs though, and this is the most highly patronized by customers.
Like their round covers, the center is 5 inches thick and 3 inches long on the side. This comes with aluminum support reinforced with a vinyl finish that will protect your tub from stormy weather. It has six lock straps and high-density Styrofoam. It also has four handles to maintain heat seal and temperature. All in all, this tub is unbeatable in terms of quality and convenience.
Highlighted Features:
Aluminum support with vinyl finish
Locking straps
High-density styrofoam
Handles
Steam seal
What We Like:
Last for a long time
High-quality materials
Can stand against the harshest weather condition
Lightweight
What We Don't Like:
Not UV and water-resistant
Pricey
Currently unavailable.
QCA Spas Cover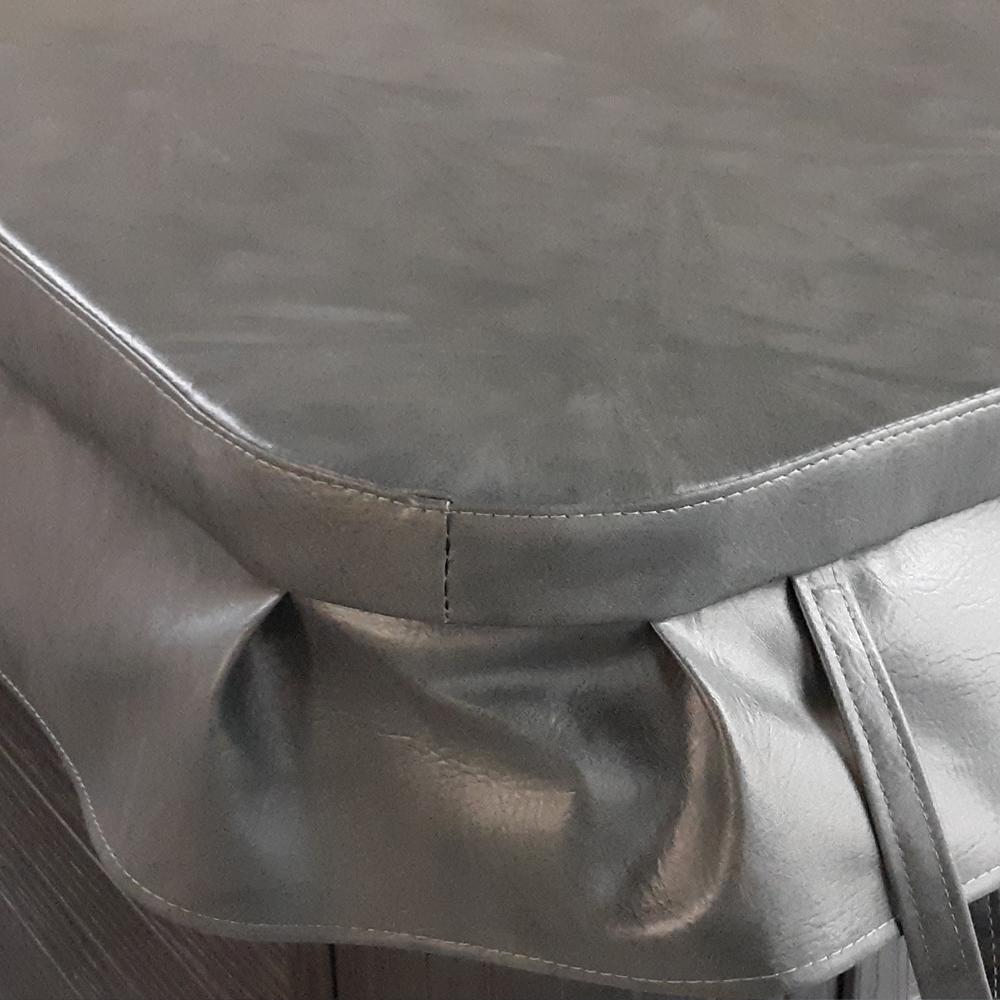 This 81 x 81 cover is made with marine grid vinyl and polystyrene material both good for preventing heat loss, insulation, and protection. With this kind of material, your tub temperature will be certainly be kept, while all other elements such as insects, debris, and dirt will be kept out. It comes with a marine-grade zipper, nylon, and double-stitched handles to ensure stability and fitting on the tub.
The cover fits various hot tub brands of the same size such as Crete, Corsica, Cypress, Palmero, Salerno, and Sardinia. If the brand of your tub was not mentioned above, don't fret because the cover is adjustable and lockable to ensure its perfect fit.
Highlighted Features:
Marine grid vinyl
High-density polystyrene
Marine-grade zipper
Double-stitched handles
Lock
What We Like:
Can fit various hot tub brands
Lightweight
Well-insulated
Easy to clean
What We Don't Like:
The material will not last long without proper maintenance
Lightweight but handles are a bit difficult to maneuver
Currently unavailable.
How Hot Tub Covers Are Made
FAQs and Answers
How long do hot tub covers last?
It actually depends on what kind of a hot tub cover you are. However, typically, hot tub covers last for 5-8 years with proper and regular maintenance. Some factors that affect its deterioration are direct sunlight, falling debris, and other unforeseen damages that may occur. Don't keep them dry and brittle, as it may also reduce their life span.
How do you maintain a hot tub cover?
Most hot tub covers are made from vinyl, leather, and polyester. These materials are easy to clean, just a gentle cleanser, and you're good to go. Don't use any soaps, dishwashing liquid, bleach, and bleach because it may change the original color of your cover.
What are hot tub spa covers made of?
Again, hot tub covers are usually made from leather, vinyl, and polyester. But typically there are some added materials such as foam and plastics for water absorption. Most covers also come with straps, locks, and seam stoppers to achieve the perfect fit.
Why Do Hot Tub Covers Get Heavy?
Hot tub covers get heavy when it absorbs water. Waterlogged normally happens on foamy fabrics or materials. To prevent this from happening, lay the cover under the sun and allow the air to pass through it.
Do I Really Need A Hot Tub Cover Lifter?
Definitely, yes. The hot tub cover lifter increases the lifespan of your cover, and make the removal and installation of the cover easier. The lifter does not only protect your furniture but also prevents back and muscle pain which you may get from manual lifting.
Conclusion
Hot tubs are expensive and seeing it damage or deteriorate is the kind of scenario we don't want to happen. This is where hot tub covers come into play.
For us, the best hot tub cover, it is the Cover Captain. It is lightweight though comes with many features, preassembled for ease of installation, and most importantly, it comes with different shapes to cater to whatever hot tub you have at home. Overall, the cover is reasonably affordable and super convenient.
We hope we have helped you choose the best cover for your tub with this product reviews. With the right cover, you can fully enjoy your tub, without the worry of spending much time on the maintenance.