Are you stressed out? Are your muscles cramped and aching? Our modern lifestyle tends to do this to you. These days, our work life is so stressful and our time to relax is limited. Very few of us find the time to just chill. The result is anxiety and stress. A hot tub, however, allows you to soak the problems away, or if not, at least give you the chance to relax. Plus, healthwise, it is good for you! These days, however, hot tub reviews are to be found everywhere! This makes finding the one that is perfect for you difficult.
To make life easier, we have compiled some information every prospective hot tub buyer needs to know about hot tubs, plus, our team has looked over a number of hot tubs and made a list of the best hot tubs around. The information allows you to make a better choice before buying the best hot tub for your needs – and your pocket.
But before making that final decision, isn't it a good idea to learn more about hot tubs?  Did you know there are different types? Knowing these differences puts you in a position to choose the right hot tub for your needs – and pocket!
Best Hot Tub Reviews Consumer Reports
Choosing the best hot tubs for you might seem a difficult job indeed. So we have taken a look at different hot tubs to get you started in your search.
1.  Aquarest Spas Premium 300 2-Person 20 Jet Hot Tub Reviews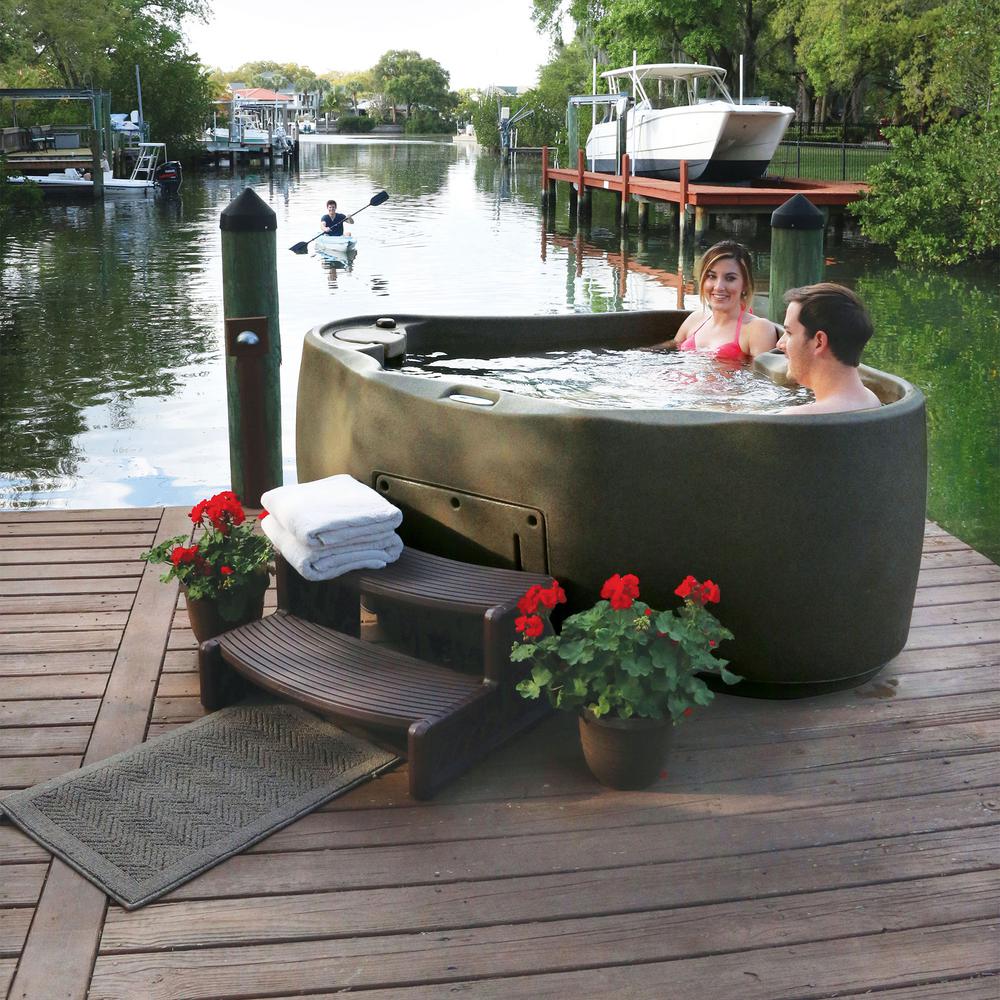 This spa can host 2 people comfortably, and it is very easy to install and maintain.
Besides, it comes with one of the most impressive upgrades with two-speed pumps, two bucket loungers, an ozone purification system, and 20 powerful hydrotherapy jets. These interesting features offer a fantastic wellness experience to users.
With this hot tub, you will get top-quality hydrotherapy for a very reasonable price. More importantly, you can convert the AR-300 Premium from 120v 1kW to 240v 4kW by installing a 30 or 50 Amp 240v electrical service.
Now you and your partner are able to enjoy the therapeutic relaxing experience without paying a lot of money. All you need to do is to install the hot tub and enjoy it whenever you feel tired or you need some quality time with your loved one.
The Pros of This Aquarest Spas Premium 300
Uses less water
Can fit comfortably in any small space
Easy to use with Plug and Play
Quick heating
Powerful and adjustable jets
Easy filtration and can be easily drained
Cons of The Aquarest Spas
Does not have a headrest
The shallow has rough tub surface
Who should own this model?
This model is designed for two people, therefore, it is perfect for couples or whoever owns a holiday home. Besides, it comes with a reasonable price, so couples who are tight on budget will be interested in it.
Features of the Aquarest Spas premium 300:
Spacious: The triangular form makes you feel like you have more room than other tubs with the same dimensions. There is no need to worry about bumping into the other person because you can stretch your legs in the same direction.
Keeps the heat well: It can retain heat well and save energy thanks to full foam insulation and an insulated cover.
Portable: It is lightweight so you can easily move it using a sledge.
Well design: It has an outstanding, luxurious design that will catch the attention of any person. It is also durable thanks to thick and solid plastic. It won't be broken if you jump in it.
Easy and quick setup: There are clear instructions for setup and installation. However, you probably don't need it because it is so easy with the Plug and Play feature.
Waterfall with LED lights: The lights give users different options for setting the right ambiance for a romantic evening or a relaxing night.
This model is an affordable and comfortable option
Read more: Aquarest Spas Premium 300 Reviews
2.  Aquarest Spas Select 150 4 Person Hot Tub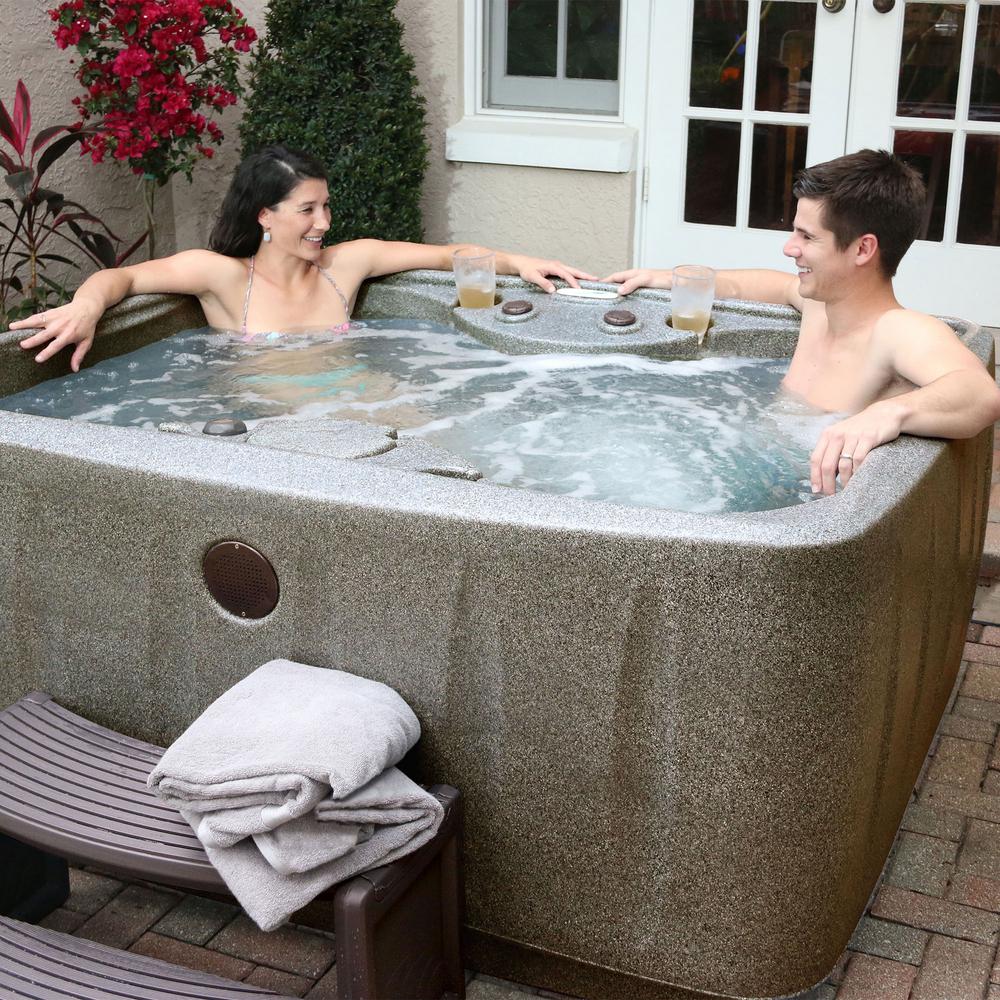 This hot tub allows you to enjoy the luxury of a spa without occupying much space. The cabinets are constructed using rotational molding technology that ensures durability regardless of the weather conditions. It is designed for 4 people. However, some reviewers note that it would be hard for 4 people to fit in comfortably.
It is equipped with 12 stainless underwater jets that deliver soothing pressure to relax your muscles. Besides, this model is energy efficient as it features a sealing cover, full foam cabinet insulation and a heater and pump that have efficiency features.
With the 100% filtration system, you can keep easy knowing that your water is clean and free from contaminations.
The Pros of This Aquarest Spas Select 150
Built to last
Energy efficient
Great performance
Allows for customizable experience
Made in the USA
Cons of The Aquarest Spas
Shallow instructions
Difficult to fit 4 people comfortably
Key features of the Aquarest Spas Select 150
12 Stainless Steel hydrotherapy jets: This model makes you feel comfortable and relaxing thanks to the hydrotherapy jets. It offers you a real spa experience at your own house.
Use less energy: You can spend a lot of time in your hot tub knowing that it uses less energy because of full foam insulation and locking safety cover.
Perfect for 4 people: The 4-seat hot tub is ideal for a family of three and four. As a couple, you probably don't need a lot of seats. However, if your family is growing, you should get this model.
It is easy to install and use
Read more: Aquarest Spas Select 150 Reviews
3.  Aquarest Spas Select 400 Hot Tub Reviews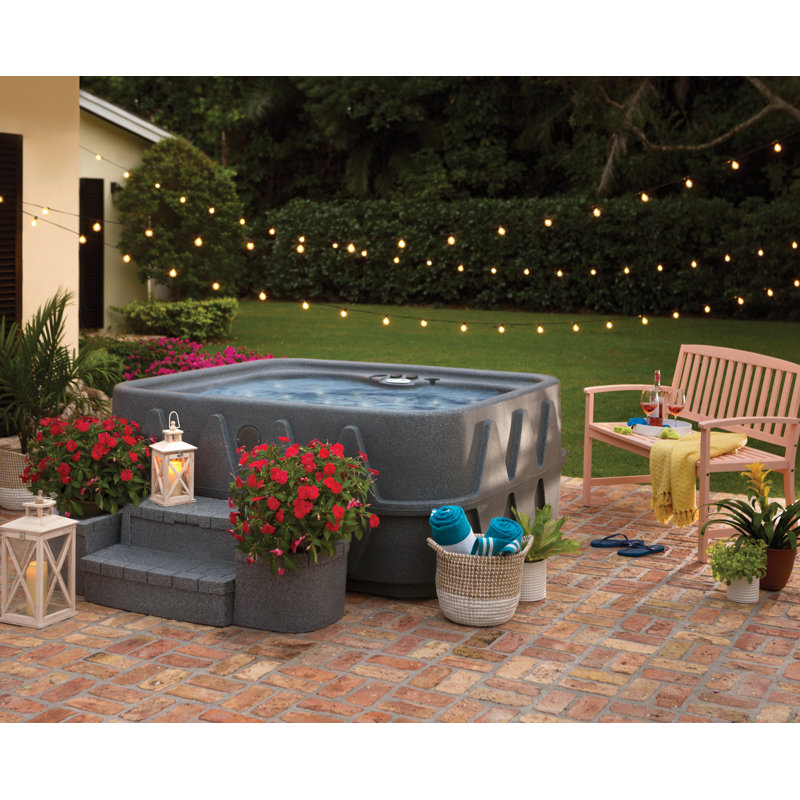 The Select 400 has a perfect size and design for 4 people. So if your family has two children, you must take a look at this model. The hot tub comes with four seating buckets so you and other members can sit comfortably inside.
If you don't have kids, you can relax in this home spa with your friends. The capacity of this spa is amazing, at 190-gallon weight lifting. That can explain to you why this model is such a great option for your family.
Similar to any other home spas from the famous brand, the Spa is made of stainless steel which makes it easy for maintenance and cleaning. And the full-foam insulation and a deluxe cover makes it durable.
Besides, this model comes with digital controls that allow you to control it with a few touches. That just tells you how easily this spa can be controlled and used.
Enjoy hot water massage and relieve your back pain or sore muscles with this hot tub is an excellent idea.
The Pros of This Aquarest Spas Select 400
Has 4 seats for 4 people
20 powerful jets for incredible massage and therapy
Durable with deluxe cover
Comes with LED waterfall and digitally controlled
It has full-foam insulation
Easy to set up
Cons of The Aquarest Spas
It is a little bulky
Not easy to move from one place to another
Key features:
Backlit LED waterfall: This feature creates a relaxing atmosphere for you while spending time in the hot tub.
20 hydrotherapy jets: These powerful jets will work on all muscles that need a treatment.
Easy to clean: It can be cleaned with the water draining method, which makes cleaning so easy for you.
Two side air controls: This feature allows you to adjust how much water pressure you want to get.
4.  Aquarest Spas Elite 500 5-Person 29-Jet Hot Tub: The Good and the Bad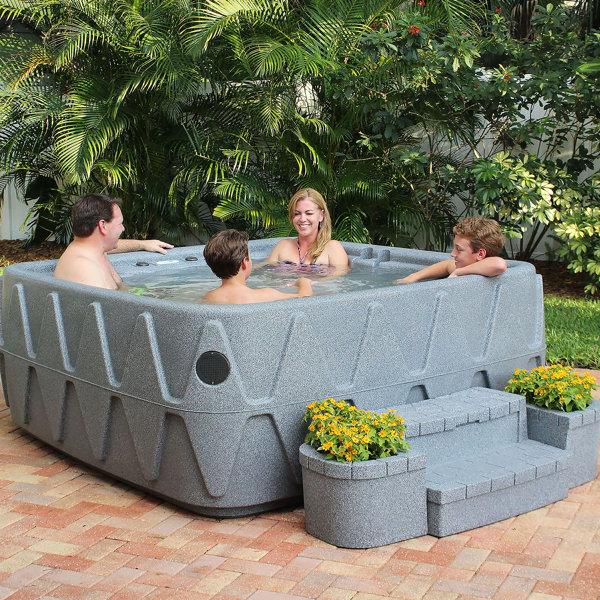 Whether you are looking for the best luxury hot tub for your hydrotherapy needs or entertainment, this hot tub from AquaRest Spas is what you need. This spa is designed with comfort, value and quality in mind in order to give worth for your money.
The therapeutic arch support allows you to have a relaxing time and is especially great for alleviating achy backs. This model offers a relaxing hydrotherapy experience thanks to the 29 stainless steel hydrotherapy jets. The dual side air controls allow you to customize your massage the way you want it.
This outstanding spa is packed with energy saving features such as a cabinet insulation, energy efficient pump and heater as well as a spa cover that locks heat in. These features will help keep your water hot while keeping your electric bill low.
Elite 500 is designed with 100% water filtration system that keeps the spa clean at all times. This system is combined together with the ozone purification system that kills contaminants to keep the water clean, and eliminates the use of chemicals by 75%.
Pros of this Aquarest Spas Elite 500
Easy to set up with a standard 120V outlet included
A portable spa that can be used indoors and outdoors
Durable polyethylene build
Energy-efficient with full foam insulation and safety cover
Fun features like LED backlights, cascading waterfalls, and pre-installed cup holders on the spa.
Cons of The Aquarest Spa Hot Tub
A little cramped for 5 adults and can only comfortably fit 4 persons
It takes about 24 hours for the water to really heat up and ready for use
Who is This Product For?
If you want a basic and tough spa for your home, this will be great for you and your home. The Aquarest Spas Elite 500 is great for small families who want a relaxing time.
Key Features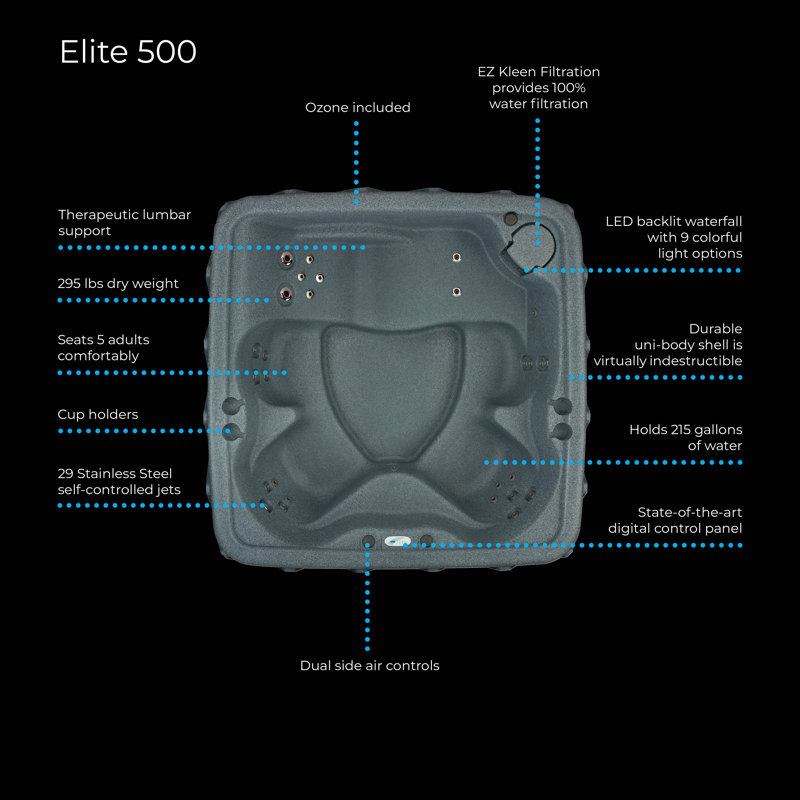 29 Hydrotherapy Jets – These 29 stainless steel hydrotherapy jets have dual side controls that let you be in full control of the nozzle direction. You can strategically place the nozzle in any part of your body to relieve the stress. Aquarest Spas ensures that they use actual water therapy jets instead of air injectors in all their spas.
Safe and Clean Water – It has an EZ Kleen Filtration System that helps filter out the dirt that comes into your spa and has an easy to change the filter as needed. The Ozone Purification System, on the other hand, produces ozone gas in your spa water that kills bacteria. This means less chemical use for your home spa.
If you want a dependable starter spa that is easy to plug in without the tricky wiring installations, the Aquarest Spas Elite 500 is for you. However, the long warming time might not be best if you're the type who wants a soak on a whim. For me, the water retention feature kind of makes up for it so I think it is worth the wait.
Read more: In-Depth Analysis of Aquarest Spas Elite 500 Reviews
5.  Aquarest Spas DayDream 6-Person 45-Jet Hot Tub Reviews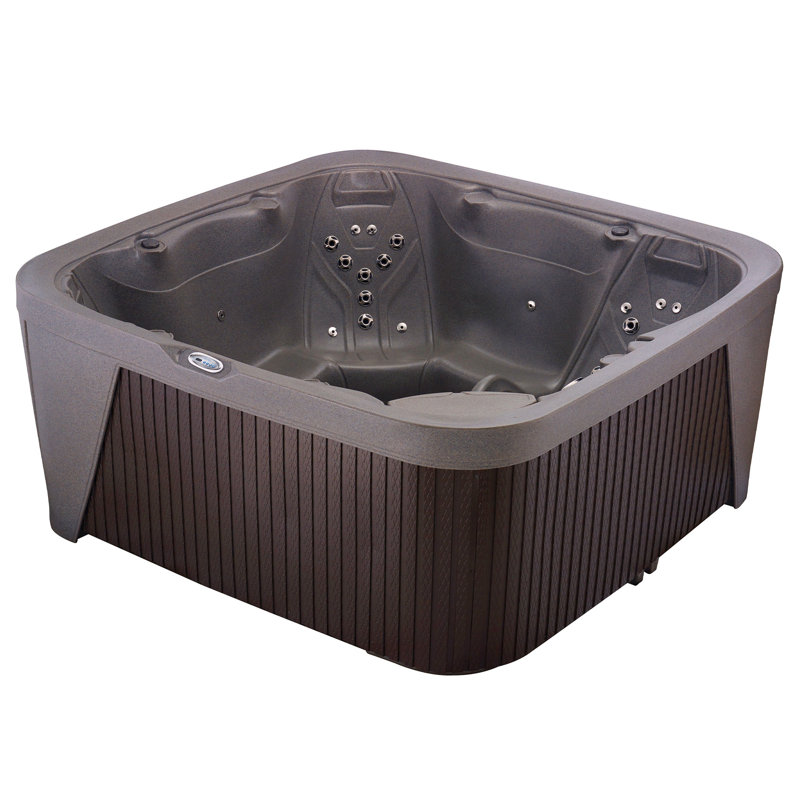 The Aquarest Spas Daydream 6-Person is a 6-person spa with 45 stainless steel jets, an E-Insulation, and 100% Easy Clean filtration made out of fully recyclable and incredibly durable polyethylene. Other than that it is also energy and time-efficient and is easy to set up.
Moreover, this product is manufactured by Aquarest which is widely known as the top manufacturer of roto-molded spas.
Things We Liked:
Energy-Saving Feature
Made of 100% recyclable material and is eco-durable
Relieves stress and alleviates sore muscles
Less maintenance time
Portable and easy to set up
Things We Disliked:
Takes up to 4 days before heating to 100 degrees
Heat quickly drops when left without a cover
Malfunctions at 120v wiring thus must be set up at 220v
What makes the Aquarest Daydream 6-Person Spa special?
E-Insulation and ASTM certified thermal cover Feature
100% Easy Kleen Filtration
Warm hydro-massage feature
Plug and Play
Multi-color LED Lighting
It seems that the Aquarest Daydream is quite loaded with high-performing features that make it worth the budget.
Best Suits Who?
We would definitely recommend having portable spas for people who have little to no time to go outside for leisure activity. If you're a person with a tight schedule, full-time mom, working at home, and the like, then you must have little to no chances to leave your homes and may want to consider making your comfort areas a little bit more relaxing by adding in a home spa.
Key Features Explained
E-Insulation and ASTM certified thermal cover Feature – the Aquarest Daydream offers you an energy-saving feature that includes cabinet insulation and a stainless steel electric heater that enables quick temperature change. The Aquarest Daydream also has an ASTM certified sealing cover that locks up heat inside the tub making it energy efficient.
100% Easy Kleen Filtration – this feature ensures clean and crisp water by injecting ozone gas into the water and killing bacteria 50% faster than normal filtration. Thus, less time on maintenance and more time on leisure activity.
Warm hydro-massage feature – The daydream spa is also equipped with 45 hydrotherapy jets made out of stainless steel and has a digital control panel giving you full control over the massage experience. The jets are placed at multi-levels which helps alleviate back pain and the spa also has lumbar arch support.
Plug and Play Feature – This does not need any professional installation and can easily be used by setting it up on the best spot, filling it up, and plugging it in. The spa is also lightweight and portable.
Multi-color LED Lighting – Levels up your relaxation experience with this aesthetic feature. Enables you to enjoy your solo or group hydrotherapy session even during night time.
AquaRest DayDream Hot Tub Spa Review on Youtube:
Read more: Aquarest Spas Daydream 6-Person Reviews
6.  Aquarest Spas Elite 600 reviews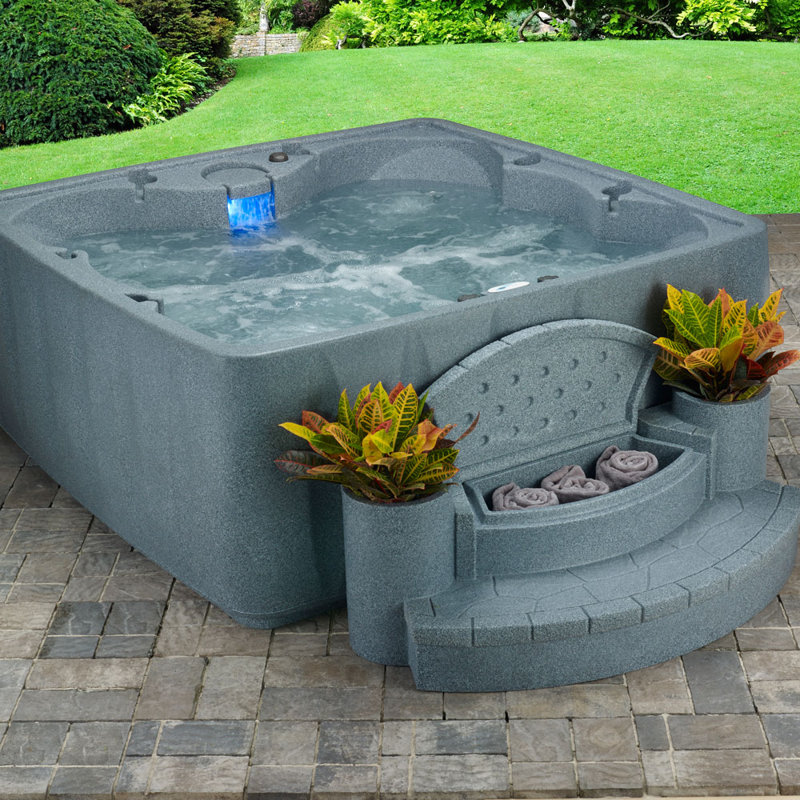 As we mentioned earlier, Aquarest Spas normally don't have a lot of jets. However, this model is for 6 people, so it has more than normal amount which is 29 hydrotherapy jets. In addition, it comes with an impact-resistant polyethylene shell. When using this hot tub, users will have full control over the jets. This model is also highly durable, so you can rest assured that it can be used for a long time. Not to mention, the multi-colored cascading waterfall adds to the perfect ambiance for your spa.
The Pros of This Aquarest Spas Elite 600
It has a durable tub design and construction
Low maintenance
Portable
Easy to use
Cons of The Aquarest Spas
Quite difficult to control the temperature
Not very powerful jets
Key features:
When choosing the right hot tub for your family, you need to look at the key features that it comes with. The Aquarest Spas Elite 600 reviews provide a few outstanding features associated with this model.
100% water filtration: It comes with the Easy Klean Filtration System that provides 100% water filtration. Therefore, you will be able to enjoy crisp and clean water. Besides, it allows you to change the filter when needed.
Ozone keeps water clear, clean and fresh: This feature helps keep your spa clean as it eliminates organic and inorganic contaminants. With ozone, you don't need to use a lot of chemicals so you don't have to worry about your skin being dried. You can use either the power or natural Oxygen to keep your spa clean.
Save the energy: This model comes with cabinet insulation and a sealing spa cover that helps you optimize heat and energy efficiency and save the energy.
Easy set up: The model just needs to be plugged right into a standard 120 V outlet. You don't have to be an electrician or need to hire one to install the Elite 600 to your home. All you need to do is to fill your hot tub, plug it in and enjoy!
Who is this spa suitable for?
This spa is large and can host up to 6 adults comfortably, therefore, it is perfect for a big family. Besides, it has 6 convenient beverage holders. So you can install it at your vacation property. You will have more ideas to spend time with friends or family once you own this model.
Read more: Aquarest Spas Elite 600 reviews
7.  Lifesmart Bermuda DXL (LS100DX) 20 Jet 4 Person Hot Tub Spa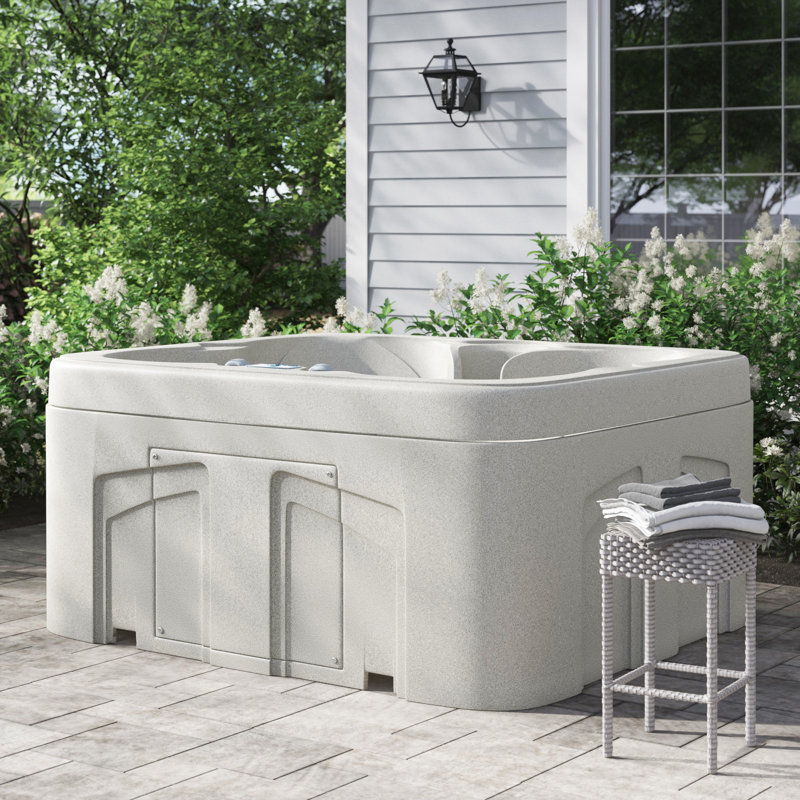 The Bermuda DXL is a spa model by Lifesmart Spas that is undoubtedly a great addition to any home. This spa plugs well into any standard outlet, you simply need to fill it, plug it and begin your therapeutic sessions. It is therefore a perfect choice for those who don't love the hassles of installation or wiring.
Constructed from durable rotationally molded polyethene, the Bermuda DXL will serve you and your family for a very long time. It has energy-saving specs like insulated thermal cover and full foam insulation that helps to keep the water hot and your bills low.
The ozone water care system is a great spec especially if you are keen on hygiene. Other great features included are; digital control panels, underwater LED light, filter, waterfall, 4 bucket seats and a 1.0 HP power pump.
The Pros:
Constructed from durable polyethene
Comfort dial ensure great water and air mix
Easy set up
The Cons:
Motor may not be very powerful
Highlighted Features:
Digital control panel for temperature, lighting and jet control
4-personcapacity
20 graphite jets
Ozone water treatment system
Energy-saving features
Innovative thermal friction heating system
Read more: Choosing the Best LifeSmart Spa for Your Needs
8.  Lifesmart Spas Tierra 5-Person 60-Jet Hot Tub with Ozonator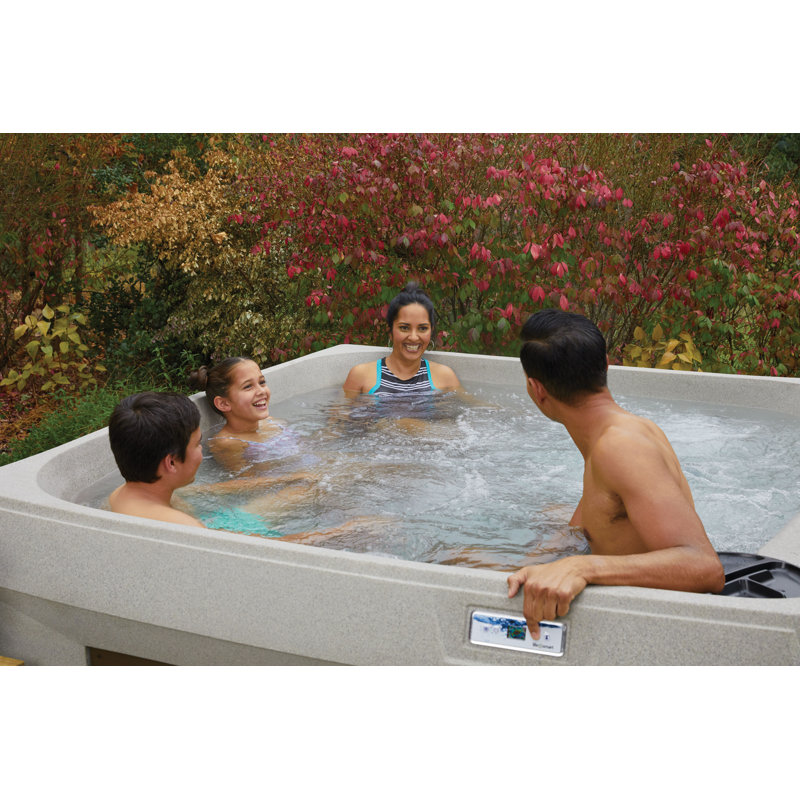 Lifesmart Spa Tierra is a gorgeous and high-quality hot tub. It is a great addition to your bathroom, backyard, or patio. If you have read other Lifesmart Spas Tierra Reviews, we can all agree that Lifesmart Tierra is a value for money.
This tub is manufactured by Lifesmart, a reputable company known for its luxurious, cozy, and attractive spas. It has a rotational solid shell and features that are highly indestructible. While it can accommodate 5-persons, it is versatile enough for 4 to 3 persons to soak and rest comfortably.
The Pros of This Lifesmart Spas Tierra
Versatile design
Waterfall features make more attractive
Adjustable color settings for LED lights
Energy efficient
Ease of maintenance
Cons of The Lifesmart Spas
Quite heavy
Not a plug and play hot tub
Additional expenses for installation
Key Features:
60-jet spa with adjustable setting
Multi-color LED light
Digital control pane
Eco smart technology
Air control valve
Ozone water care technology
Verdict:
Overall, this is an excellent bathtub with luxury features.
Read more: Lifesmart Spas Tierra Reviews: The Best Value Hot Tub You Can Buy
9.  Lifesmart Coronado DLX LS600DX 65 Jet 7-Person Hot Tub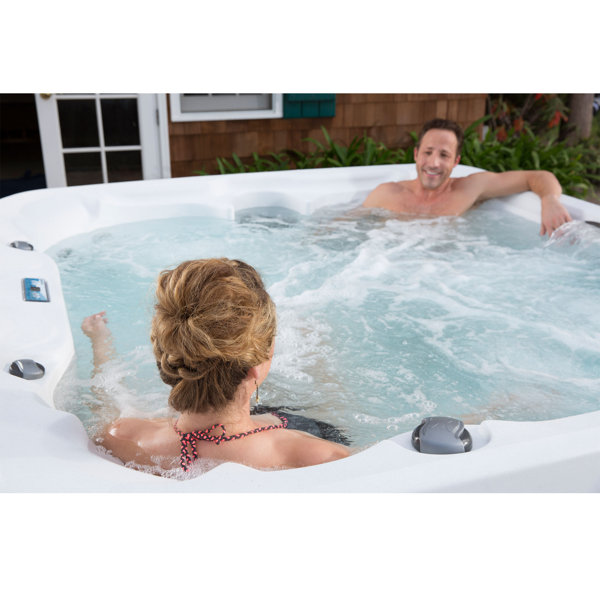 Lifesmart Coronado DLX is a hot tub that can accommodate 7 people and provide them with the ultimate relaxation. This is thanks to its 65 hydrotherapy jets that are well positioned to tackle different body parts.
Besides having a great design, it is energy-efficient features like locking thermal cover and full foam insulation. Also, it includes an ozone water care system to keep your tub water clean and clear. What most people find impressive is the fact that the 2 speed pump heats the water during high or low jet in order to maintain the temperature even during winter.
Coronado DLX features a digital control panel that allows you to adjust the temperatures, lighting and jets according to your preference. This model is built to last thanks to its rotational molded shell.
The Pros:
Bottom drain ensures easy maintenance
Digital control center
Energy efficient
Plenty of room
The Cons:
Some people say that it can't fit 7 adults
Need for electrician to set it up
Highlighted Features:
65 therapy jets
7 person seating capacity
Voltage: 220V
Included: ozonator, cover, adjustable waterfall, underwater LED light
2022 New Update: Lifesmart Spas 7 – Person 42 – Jet Hot Tub
10.  Lifesmart LS700DX 7 Person 90 Jet Spa with underwater light and ozone care system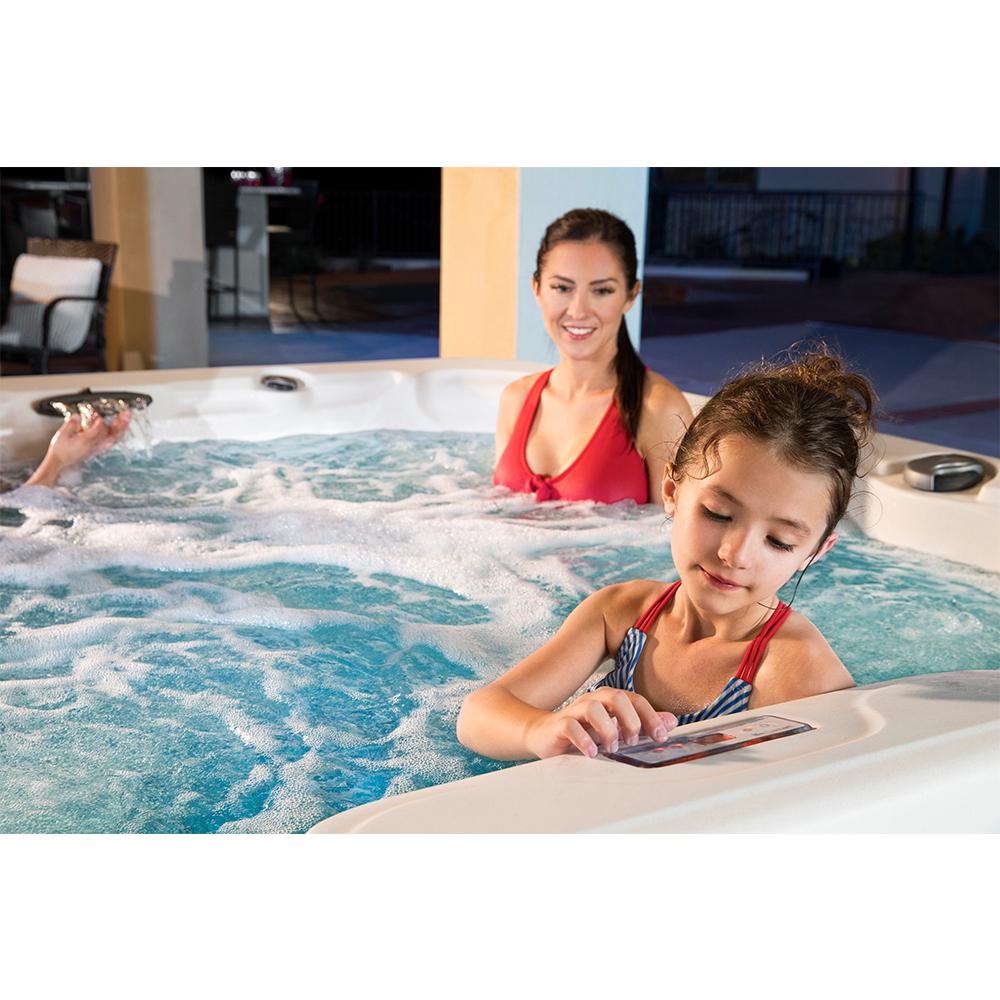 Need a spa that can accommodate many people? Check out this gorgeous, high-quality, and best seller hot tub. The product comes with an ozone system, full-foam insulation, 90 stainless steel jet, and many exciting features. Overall, with the quality of the material, good looks, and amazing features, it is value for money.
The 90 Jet is admired by users. The jets are distributed to different locations to ensure a full body massage. It heats well and adapts to weather conditions. However, the downside is the need for an electrician for construction. It needs a 220v outlet, thus not a plug and play kind of hot tub.
Pros of this Lifesmart LS700DX 7 Person 90 Jet Spa
Made of high-quality materials, certainly indestructible
Its numerous jets are perfect hydrotherapy
Led Light has various color to choose from
Filter and ozone make the hot tub maintenance easy
Ideal as a family hot tub
Cons of the Lifesmart LS700DX Hot Tub
Not suitable if you only have standard outlets
An electrician is needed for set-up

11.  American Spas 7 Person 30 Jet Hot Tub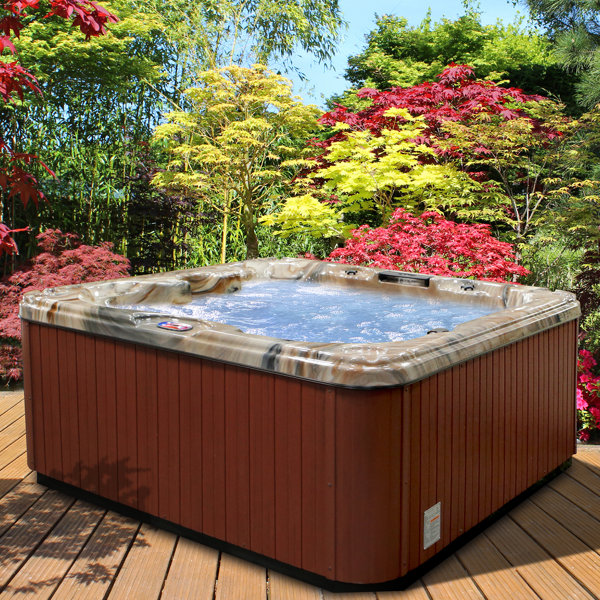 Designed with cutting edge technology, this 7 Person spa is from America Spas and it is made in the USA. Not only does it have a classic design but it is also durable thanks to its 7 layer fibersteel construction. The shell is built from acrylic which makes it strong and durable.
The spa features 30 jets that are designed to give a hydrotherapy experience for the entire body. As if that is not enough, it includes back lit waterfall and a programmable multi-color light that changes the entire ambiance of the spa.
It has safety features such as the hydro armor spa covers that come in handy for protecting and insulating the spa. The cover can withstand 1500 hours of UV and it locks in heat, rendering the tub energy efficient.
Highlighted Features:
HydroClearozonator
30 stainless steel therapy jets
5kW Titanium heater
240V 5.0 horse power pump
The Pros:
Energy saving features
Durable construction
Plenty massage therapy jets
Programmable multi-color light
The Cons:
Pump doesn't deliver enough power for all jets
Unclear instructions
12.  Ohana Spas Balance 6 – Person 25 Jet Hot Tub with Ozonator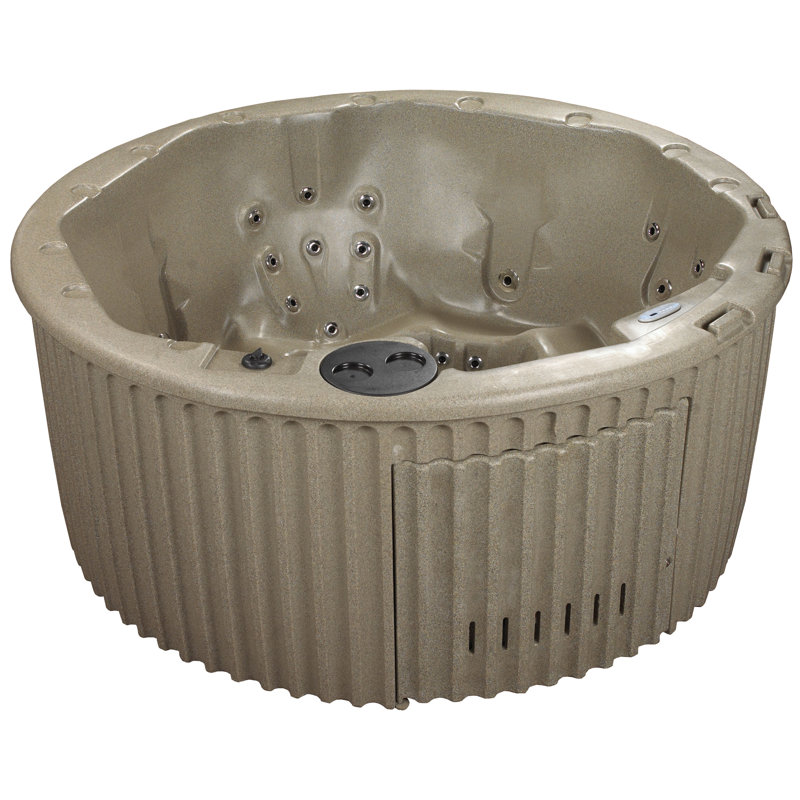 If you want comfort and ease, then this tub is for you. You can purchase this knowing you won't have trouble during installation and maintenance. According to ohana spas reviews, this is the perfect tub for bonding with family and friends.
It is spacious enough and can accommodate up to 7 people and is designed with contoured open seating for more comfort. It also features 25 stainless jets that target muscles and will revitalize your mind, body, and soul. Better yet, it comes with LED underwater lighting for ambiance and safety.
Controlling this unit has been made possible by the digital control that includes smart-temp. It has 3 programmable energy modes; standards, energy, and sleep for better customization. Overall, you should get this if you want an easy-to-install basic tub that has the same features as more expensive tubs at an affordable price.
However, it only has a plastic exterior and 1 pump. Its durability and massage strength will not be the same as the expensive ones.
Highlighted Features
Spacious and contoured seating fit for 7 adults
25 powerful stainless-steel jets
Energy efficient 1 x 2 BHP 2-speed pump
Super Shell exterior is made of durable plastic
Water capacity: 250 gallons
Material: Plastic
3 programmable energy modes
Ozonator
Pros of this Ohana Spas Balance Hot Tub
Easy to install, plug and play hot tub
Convenient digital control
Built-in purification and filtration system
CEC-certified
Freeze resistant
Cons of the Hot Tub
Plastic exterior may not be durable
No steps included
13.  Ohana Spas Revitalize LS 6-Person 50-Jet Hot Tub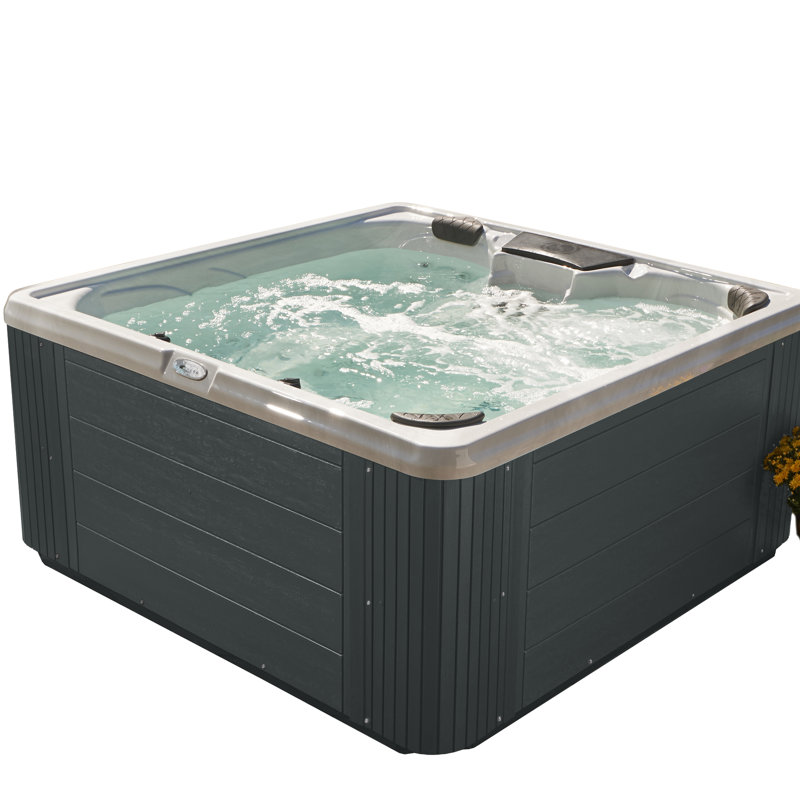 This Ohana spa is designed to fit 6 people thanks to its contoured lounger. Be energized every day with this tough acrylic hot tub that has been designed with an energy-efficient 2-speed pump that delivers deep tissue massage.
This tub has practical and fun features that it an interesting addition to your home. It has an acrylic exterior which is tougher than plastic and can resist freezing during cold months.
The built-in cabinets and Duo-serve lid and tray are perfect for family bonding or entertaining friends. There is also a built-in ice bucket for convenient use with Duo-Serve Lid and Tray
Something else that stands out is the multi-colored LED underwater light that offers an exceptional ambiance. Better yet, this tub is easy to maintain as it features built-in ozone and a CleanLife Filtration system. All in all, choose this tub for a tougher build with the usual practical features.
Highlighted Features
Water capacity: 300 gallons
Dimensions: 74" x 74" x 34"
Material: Acrylic
3 programmable energy modes
Volts: 240/40A
Multi-colored and programmable underwater LED lighting
1 x 6 BHP 2-speed pump
Pros of this Ohana Spas Revitalize Hot Tub
Stylish and durable acrylic exterior
Digital control where you can choose between energy use options
Features comfortable headrests
Made in the USA
Easy to maintain
Cons of the Hot Tub
Omits steps
Electrician needed to install
One exterior color option
14.  Endeavor 6 – Person Hot Tub with Ozonator in Mahogany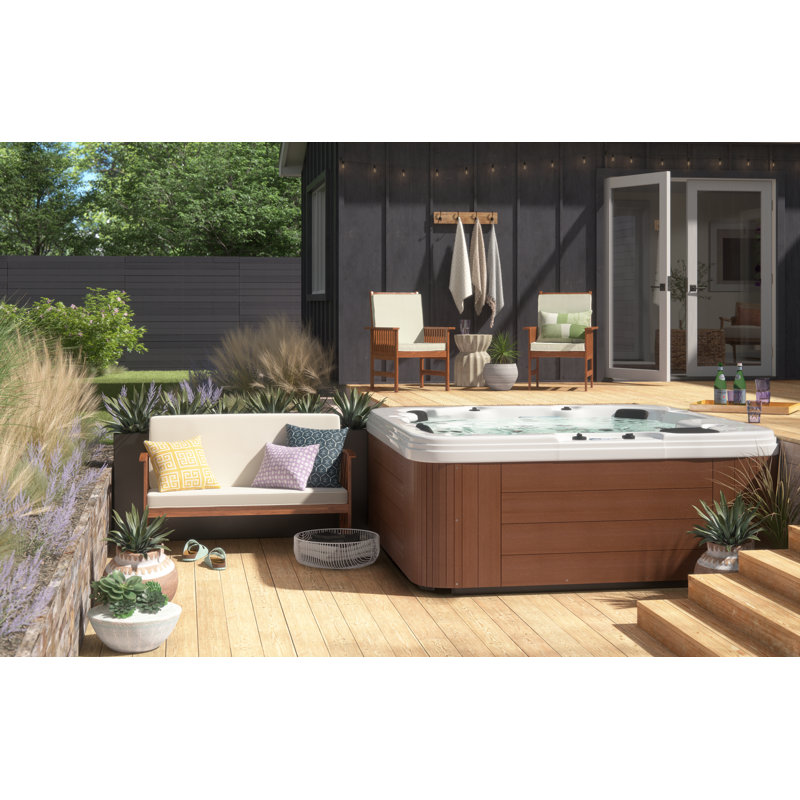 This is a functional hot tub with a luxurious built. It is spacious enough and loaded with amazing features. This is undoubtedly the best hot tub if you're looking for a large tub for your home.
This tub is spacious, durable, and stylish and is designed to accommodate 6 people who are after a great spa experience. A hydrotherapeutic massage experience is also made possible by the 100 streaming jets that are delivered through 50 stainless steel jets.
Because of its large size, this tub has 2 pumps that can deliver a powerful water massage. A 4kW stainless steel heater is also included to help maintain an ideal water temperature.
This unit is stylish and is designed with acrylic material which is extremely durable. Other great features include an Ozonator, waterfall, and UV-resistant cabinets.
Highlighted Features
Water capacity: 400 gallons
Material: Acrylic
Comfortable 6-seater tub with molded seats
100 Streaming jets through 50 stainless steel jets
1 x 6 BHP2-speed pump and1 x 6 BHP single speed pump
Stylish and tough Mahoganyacrylic shell
Ambiance enhancers such as cascading waterfall effect and LED lighting
Pros of this Ohana Spas Endeavor 6 – Person Hot Tub
Stylish but tough for outdoor use
Convenient digital control
2 powerful pumps included
CEC-certified
Cons of the Hot Tub
No steps included
Electrician needed to install
Frame omits leveling feature
Read more: The Ultimate Ohana Spas Hot Tubs Reviews
15.  Sol 72 Outdoor™ Aire 6 – Person 54 – Jet Acrylic Square Hot Tub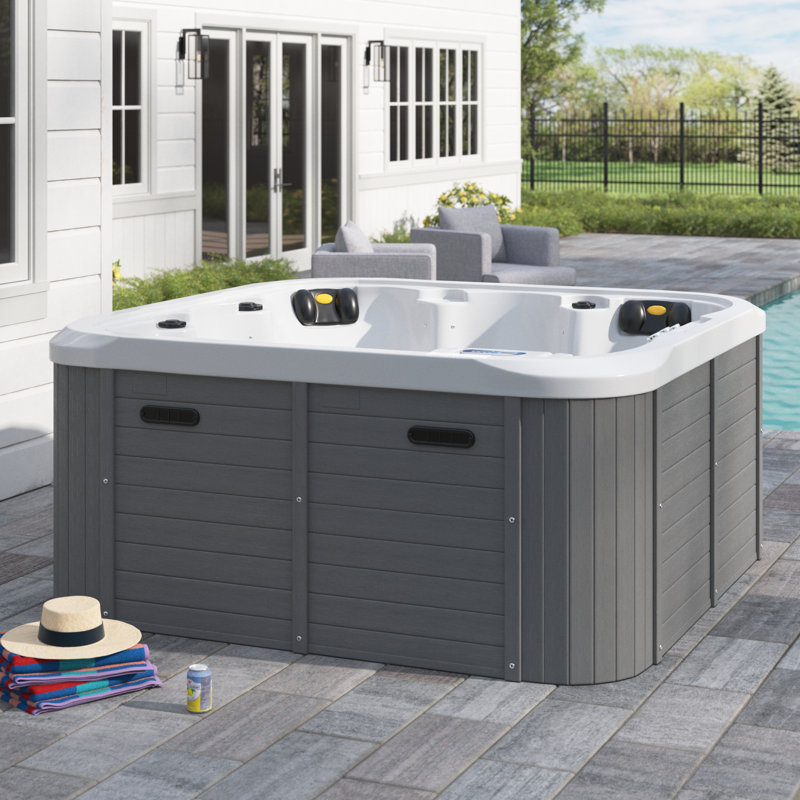 The Sol 72 Outdoor™ Abramson hot tub is a six-person outdoor hot water tub. This square acrylic tub has 54 jets and runs on 220 volts AC mains. In addition, the entire construction is weatherproof so that you can keep it outdoors all year round.
The Pros:
Has insulated covers
100 percent leak-proof plumbing
Warranty is included
Weatherproof with anti-freeze feature
Maximum temperature setting
The Cons:
Steps are not included
Extra installation cost. You will need an electrician.
High energy consumption
Verdict
Overall, we believe that the pros of this product outweigh the cons. In fact, this outdoor hot tub works well for its value. Because of this, you can get your money's worth with every use.
Who is this product for?
Do you love hosting parties in your backyard? Or do you just love lounging in a hot tub while enjoying your favorite beverage? If so, the Sol 72 Outdoor™ Abramsons Hot Tub can suit your needs, no matter the party's size.
Sol 72 Outdoor™ Abramsons Hot Tub Key Features
Energy-efficient circulation system that runs quietly
Runs on 220 V a.c mains with three circulation motors
Maximum 104 degrees Fahrenheit temperature
Six-person capacity
54 jets
Anti-leak plumbing
Automated anti-freeze system
Automated air release system
Electric surge protection system
272-gallon water capacity
Primary construction material: acrylic
Interior color: White
Exterior Color: Gray
Saltwater compatible
Comes with a cover
LED lighting included
Features an air blower
Customer Reviews
"This hot tub is awesome. It took us only one afternoon to fill and heat up. The jets are so powerful, and you can make many adjustments to them. The LED light scheme is just clever."
"I was a little skeptical about this brand, but this soon changed when it was delivered. I just loved how spacious it is. The interface is easy to use, and the jets are powerful. The parts of these products are easily accessible. I recommend this."
"The heater works sufficiently, and the jets give the extra work that is far above my expectation. This is a jolly good hot tub."
"I was disappointed that the hot tub does not include steps. I had to dig into my pockets further to procure steps(they are not cheap) since climbing out of the tab was awkward for my wife."
Read more: The Ultimate Sol 72 Outdoor™ Hot Tub Reviews
16.  Futura Spas 6-Person 88-Jet Hot Tub
Basically, best hot tubs that accommodate more people can be difficult to find since there are only few options. One of them is this 6-person capacity 88-jet hot tub that caters for a large number of people at a go.
This model is designed with 88 hydrotherapy jet nozzles that are constructed from stainless steel for more durability. The spa comes with a unique set of seats; 2 jump seats designed for lower and middle relaxation, 2 unique bucket seats with neck therapy as well as a lounge chair for full body massage.
There is a diverted valve that can be turned on in order to transfer the power of the 6 horsepower pump to various seats. You can, therefore, switch the jet pods to customize your experience.
Another great spec is the permawood cabinet that is durable and maintenance free. The 9 bulb underwater lighting creates a great ambiance to make your bath relaxing. Also included with the hot tub is a deluxe hard cover, waterfall with valve and ozone generator.
Highlighted Features:
PureWater Ozone Generator
Pressurized filtration system
Waterfall with on/off valve
Voltage: 240 volts
Water capacity: 375 gallons
Tri-zone hydrotherapy
Perimeter LED lights and 9 bulb underwater lights
Includes cover and insulation wall for winter
The Pros:
Durable acrylic construction
Made in the USA
Plenty of room
Advanced LED lighting
Pressurized filtration ensures clean water
The Cons:
Brightness of light is not adjustable
Electrician required
17.  Futura Spas 8 Person 88 Jet Hot Tub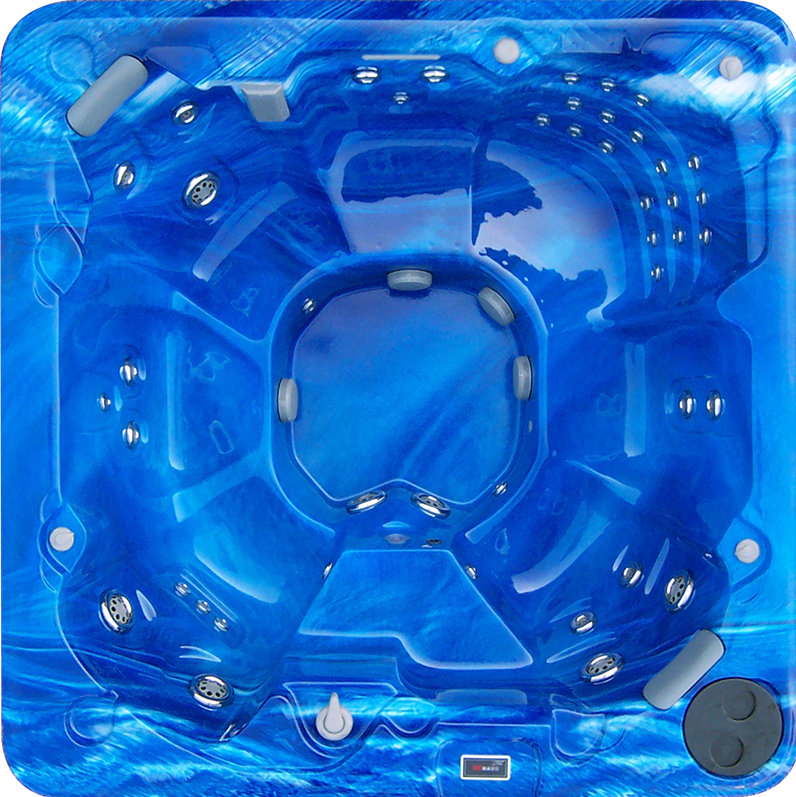 This is yet another product from Futura Spas, only that this one holds a seating capacity of 8 people. The ergonomic seating offers plenty of space and is designed to accommodate any body shape or size. It is therefore a model that you want to consider if you are planning a relaxing session with your friends and family.
Made in the USA, it is constructed from high quality acrylic materials and it comes with a waterfall. This is unlike other models that use artificial materials. The lighting system is unique and it includes 9-bulb underwater LED lights, 14 perimeter LED lights and LED backlit waterfall.
This model is designed with efficiency in mind owing to the deluxe hard cover and permawood cabinet. Other great specs included are an ozonator, pressurized filtrations and tri-zone therapy that is made possible by the 2 pumps and single valve power plant.
Highlighted Features:
Voltage: 220V
425 water capacity
88 stainless jets
Bucket seats with neck therapy
Power plant foot well for calming feet
The Pros:
Large seating capacity
Cover has great quality
Great value for price
Energy efficient
Spectacular LED lights
The Cons:
Notvery comfortable for 8 adults
Faulty electrical system
18.  Cyanna Valley Spas 6-Person 21 Jet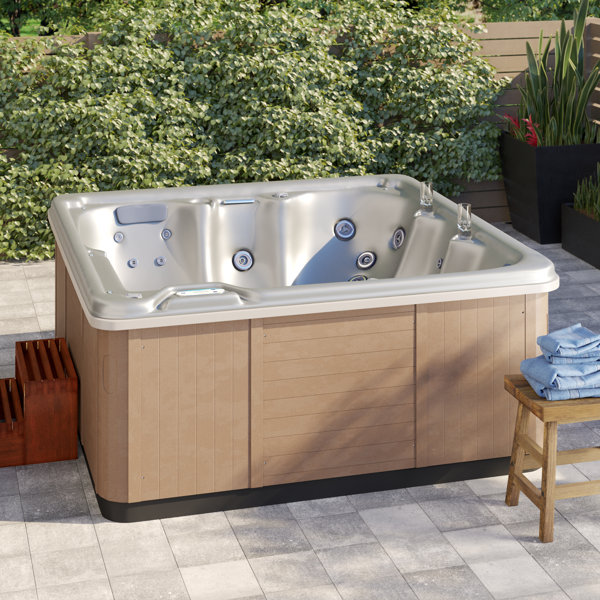 Cyanna Valley Spas is an excellent American manufactured hot tub that can be plugged right into 110V/ 120V outlet once it is filled up. What's more, it can also be converted into a 220V/240V system with the help of an electrician.
One thing that makes it the best selling hot tub is the fact that it is built to last with high quality materials. The cabinet and shell are constructed with high quality materials that give them a fresh look without requiring any maintenance. Better yet, the shell material has slip-resistant properties so you don't have to worry about slippage.
When you have this spa, you can be assured that your electricity bill won't run too high. The spa is sprayed with closed-cell spray foam for added insulation during cold weather conditions. Plus, the LED light comes in three modes in order to conserve energy.
Highlighted Features:
Energy efficient pump and heater
Locking cover
Water filtration
Plug and Play set up
The Pros:
Slip resistant material
Easy set up
Pre-installed filter ensures clean water
Built to last
Energy efficient
Sleek and stylish design
The Cons:
Difficult to fit top cover
May not fit 6 people comfortably
19.  Bueno Spa 6-Person Jersey Hot Tub with 46 Jets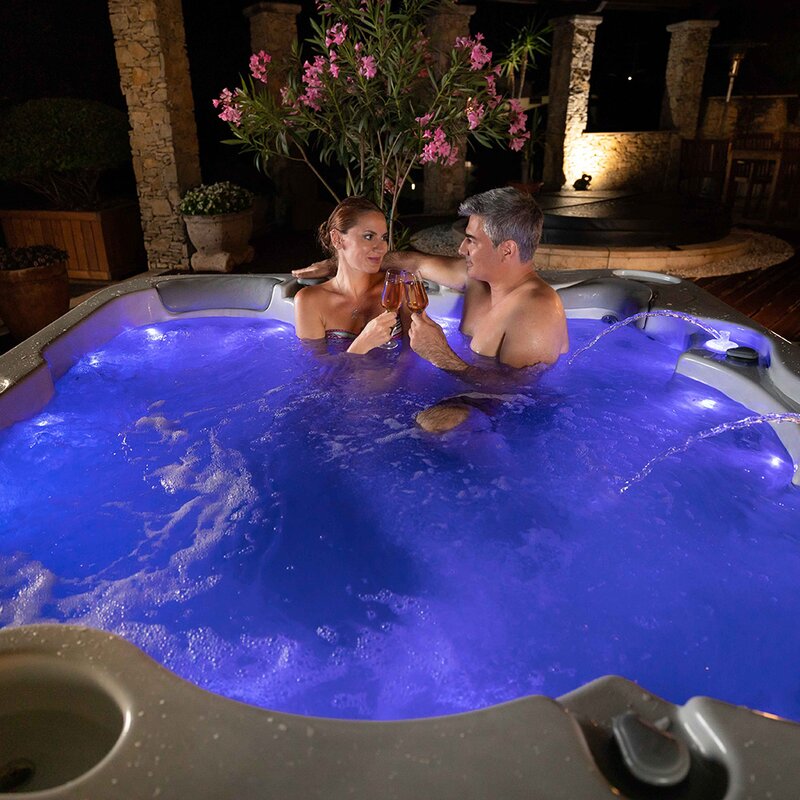 The Bueno 6 Spa is a spacious six-person tub. The hot tub is made with highly durable acrylic material. At the same time, this material makes the tub lightweight and easy to install.
This is an attractive tub because it has plenty of functional features. It has a HorizontSide made with thick lath wood. This feature serves as a UV-resistant polymer unit for added protection against the sun.
Furthermore, this tub also features an ozone generator and superfine filter. These features allow you to experience crystal clear waters when bathing.
On top of that, it has 46 strategically positioned jets. This enables users to experience a cozy and massage-like bathing experience.
Lastly, it also comes with a thermal cover. The cover helps ensure that the hot tub's insulation is consistent and long-lasting.
However, take note that this tub is not recommended for DIY installation. You need the help of professionals for safe installation. This might mean it's an added expense. But, it's a fair trade-off for safety and longevity.
Key Features:
Superfine filter
HorizontSide Cabinet
46 jets
6-person full capacity
Acrylic material
Color therapy lighting
Thermal cover
The Pros:
Packed with relaxing features
Large capacity
Spacious seating area
Carefully positioned jets
The Cons:
20.  Bueno Spa New York Hot Tub with 49 Jets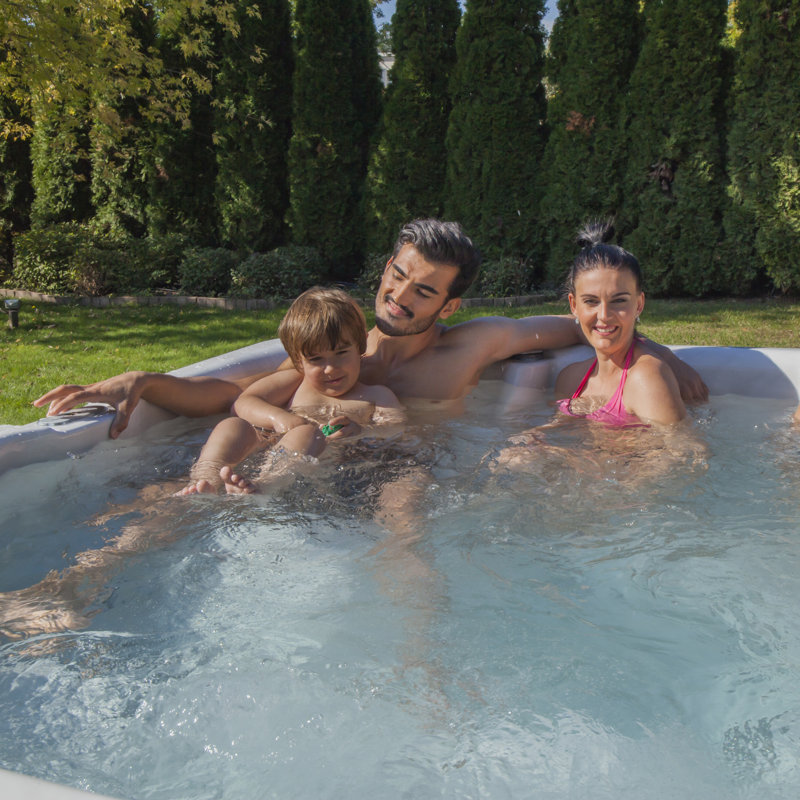 Get a fantastic experience with this Bueno 6 spa with 49 jets. It can fit six adults at one time without being too crowded. The 49 jets it has are also carefully arranged. This feature helps ensure that users get optimum shoulder and neck massage.
This tub also comes with a MyHip feature. This provides the tub with professional-grade waste and hip massage.
Furthermore, this tub also has a MySeat feature. It reclines the seats. This feature enables users to get into the most comfortable position possible.
Aside from that, it also has other standard Bueno Spa features such as the HorizontSide, Color therapy lighting, and superfine features.
It is also made with high-quality materials. Its main material is Acrylic. It is highly resistant to outdoor weather and very durable.
The full water capacity for this is 232 gallons. This is plenty of water. But, since it's for 6 people, then it's quite fair.
Wait, there's more; it also comes with a thermal cover. This one helps ensure that the thermal installation level is consistent.
Key Features:
Freeze resistant
Ozonator
Warranty include
104 degrees max temperature
Pros:
Easy to operate
Mildew resistant
Freeze resistant
Corrosion-resistant
Good price
Cons:
You have to purchase the steps separately
21.  Bueno Spa 7 Chicago Hot Tub with 54 Jets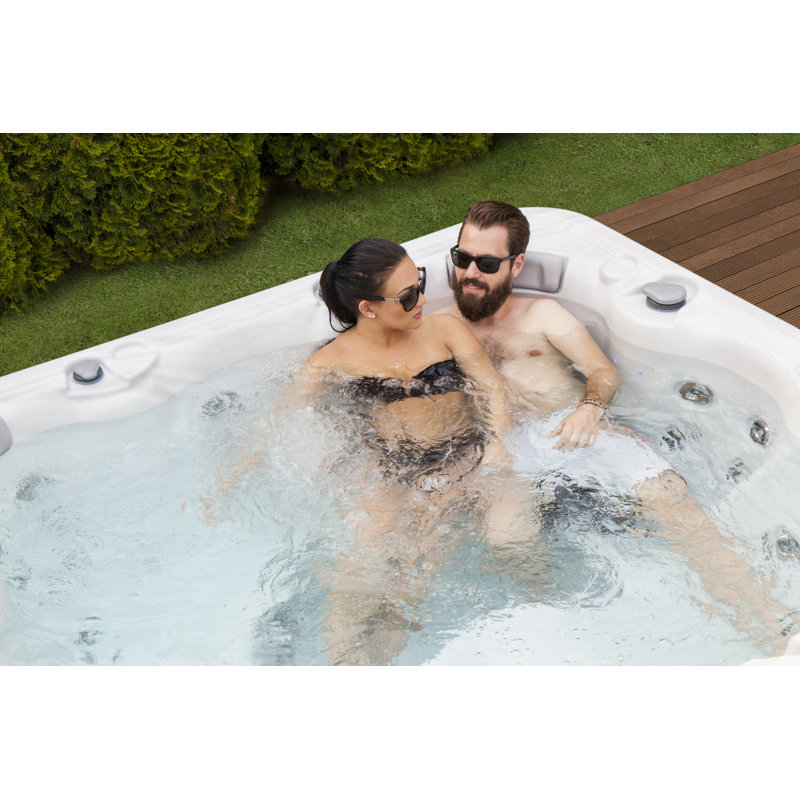 Suppose a 6-person hot tub is not enough for you. In that case, the Chicago hot tub might be what's suitable for your needs. It's a 7 person capacity and is equipped with 54 jets.
Also, the 54 jets are strategically positioned, allowing total relaxation for users. This is especially the case those who require a neck and back massage.
Furthermore, the tub features Bueno Spa's triple insulation feature. This enables the tub to gain thermal benefits from pool engineering. It reflects the cold air out. By doing this, the temperature stays hot for a longer period.
It also has multiple polyurethane foam layers. Each layer is around 0.4 inches thick. This makes the tub energy efficient, allowing you to save money in the long run.
Another notable feature of this tub is its control panel. With this, you can easily control the hot tub setting. It has an easy-to-understand interface. It is also equipped with an LCD display that tells you precisely the settings of the tub.
Aside from its functional features, it is also aesthetically appealing. It has a horizontal side cabinet. These are thick laths that are horizontally laid. It gives the tub a wood effect and a luxurious look.
Key Features:
Sterling white interior
Gray exterior
Polyfoam insulation
LCD control panel
68 degrees Fahrenheit min temperature
104 degrees Fahrenheit max temperature
1 year limited warranty coverage
Pros:
Cost-effective
7 person capacity
Easy to navigate control panel
Freeze resistant
Warranty include
Cons:
Requires lots of water
Steps are sold separately
Read more: The Best Bueno Spa Reviews You'll Want
22.  AquaLife 8-Person Lagoon Spa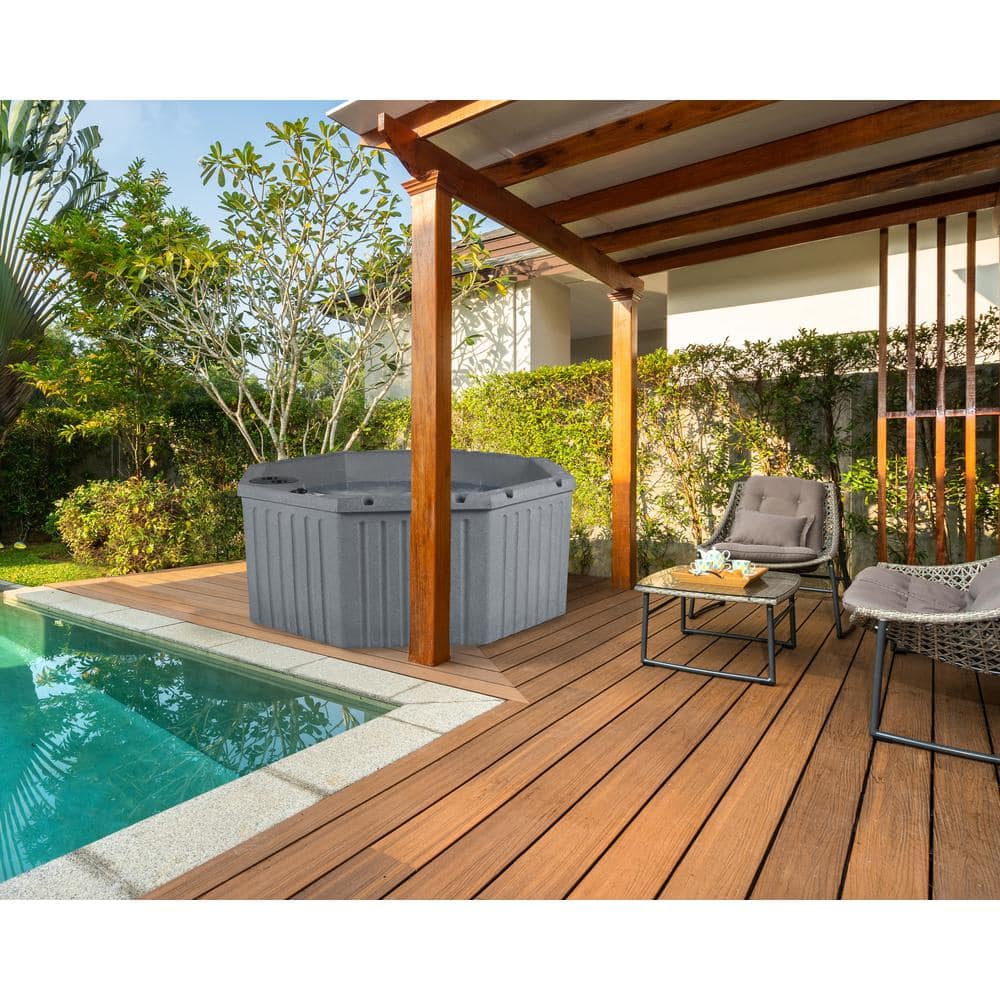 First on the list is the AquaLife's Lagoon Spa from AquaLife Spas' H2O Collection. It is designed to have open seating and can fit up to 8 people at most. This AquaLife hot tub is also prepped with LED underwater lights for nighttime use.
Impressively, it has a hydromassage feature with its 2-speed pumps and is easy to operate with its Plug and Play feature. It is digitally controlled and has an ATSM certified cover.
Highlighted Features:
20 Stainless Steel Jets for hydromassage therapy
Improved Ozone water purification feature to keep water clear and safe
Smart-Temp keeps water at your preferred temperature
Has 3 energy modes to balance your energy usage and save energy
Comes with headrests and cupholders for convenience
Plug-and-Play feature for easy operation
Pros of this AquaLife 8-Person Lagoon Spa:
Energy Efficient
Lightweight and Durable
Easy to operate
Powerful jets for full body massage and added relaxation
Constructed with eco-friendly and durable material
Cons of the Hot Tub:
Spa steps sol separately
Can only fit 3 to 4 people comfortably
23.  AquaLife 7-Person Oceania Spa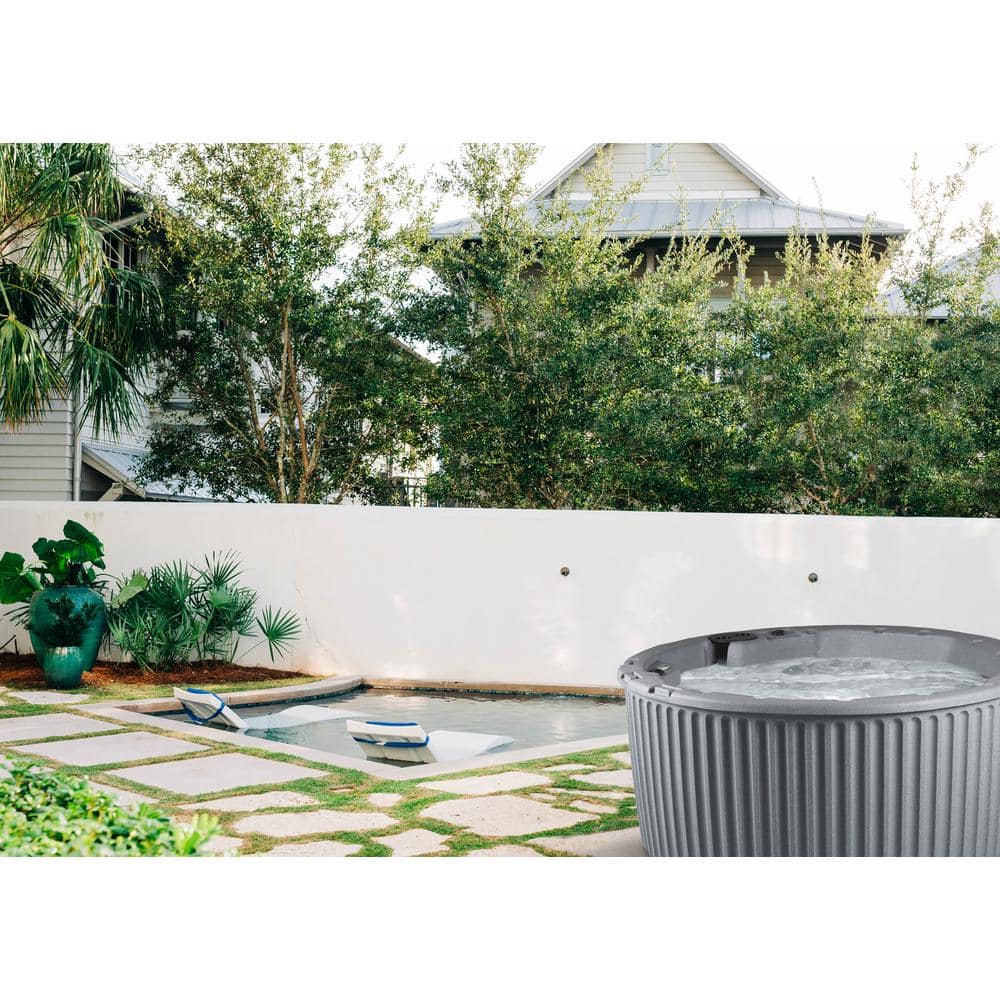 The Oceania Spa of the H2O Collection is designed with 40 stainless steel jets for a full-body massage. This spa is advertised to accommodate 7 people at most, making it ideal for a large family.
Like the Lagoon Spa, it has open seating and LED lights for a better nighttime ambiance. It also comes with an insulated and locking cover that keeps your spa clean, safe, and free from debris.
Highlighted Features:
40 Stainless Steel Jets for hydromassage therapy
PureLife Filtration System
Smart Temp keeps water at a preferred temperature
3 energy modes to match energy-saving needs
Includes cupholders and headrests
ATSM certified spa cover
Pros of this AquaLife 7-Person Oceania Spa:
Energy Efficient
Lightweight and Durable
Mold and weather resistant
40 powerful jets for full body massage and added relaxation
Easy to maintain
Cons of the Hot Tub:
Spa steps are sold separately
24.  AquaLife 6-Person Osprey LS Spa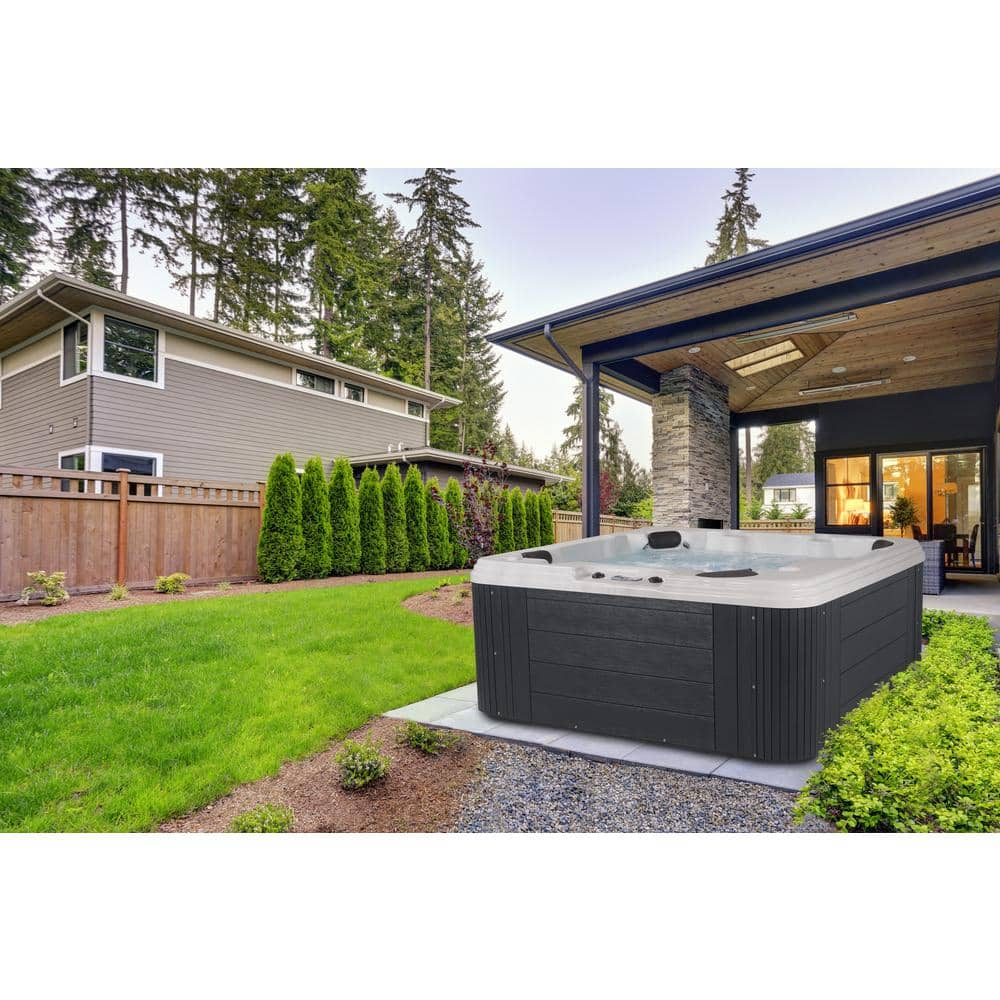 In AquaLife's Cascading Collection, we have the Osprey LS Spa which has 86 hydrotherapy water jets and 50 stainless steel jets for an upgraded full body massage. It can hold up to 6 people at most.
Unlike the previous tubs, this unit has a contoured structure similar to a cradle. It also has a stylish touch to it with its acrylic shell color and matching colored cabinets.
Highlighted Features:
86streamingjets and 50 stainless steel jets for a better hydromassage experience
PureLife filtration system to minimize spa chemicals and keep the water clean
Smart-Temp keeps water at your preferred temperature
Has 3 energy modes to balance your energy usage and save energy
Comes with headrests and cupholders for convenience and LED lights for better ambiance
UV-resistant, maintenance-free, and eco-friendly Solid Shell and Cabinet
Pros of this AquaLife 6-Person Osprey LS Spa:
Energy Efficient
Cradle-like structure for comfort
Easy to operate and low maintenance
Powerful jets for full body massage
ATSM certified spa cover
Cons of the Hot Tub:
Smaller than advertised and can only fit 3-4 people
Spa steps sold separately
25.  AquaLife 6-Person Niagara LS Spa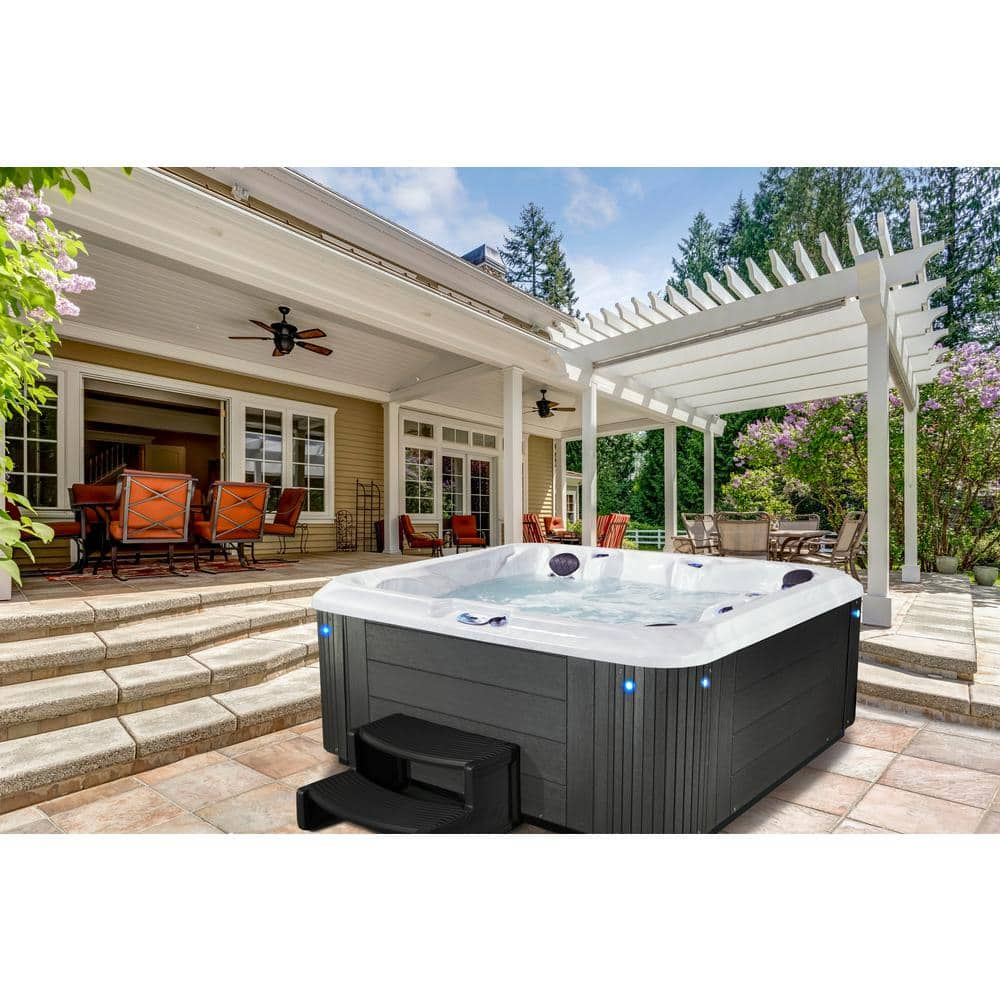 Also one of the Cascading Collection, the Niagara LS Spa is unique for its Bluetooth Stereo feature to improve the overall hydrotherapy experience. It is comes with two speakers and a subwoofer. This tub also has the most number of jets for full body massage with 120 streaming jets and 81 adjustable stainless steel jets. Like the previous tub, it is a contoured tub that can accommodate 6 people at most.
Highlighted Features:
120 streaming jets, and 81 stainless steel jets for hydromassage therapy
Bluetooth Stereo Feature
Lumination Lighting System provides a multi-colored spa lighting, backlit waterfall, main light, and diverter valves
Smart-Temp keeps water at your preferred temperature
Has 3 energy modes to balance your energy usage and save energy
PureLife Filtration System for easy maintenance
UV-resistant and easy to maintain shell and cabinet
Pros of this AquaLife 6-Person Niagara LS Spa:
Energy Efficient
Lighting system
Powerful jets
Cradle-like structure for added comfort
Offers natural water purification Cons
Cons of the Hot Tub:
Spa steps sold separately
Read more: The Best AquaLife Hot Tubs for the Money
The Therapeutic Effects of Hot Tubs
People have, for thousands of years, used water as a means of healing therapy. They would flock to hot springs and lay in the warm, relaxing water in an effort to get rid of their various aches and pains. These days, with advancements in technology, the same effects can be got by means of a spa bath. Add to this that you can select your own water temperature and the fact that water jets give you a relaxing massage, then the popularity that hot tubs have enjoyed over the last number of years is not surprising.
So what are the health benefits of a hot tub?
It uses up calories
It helps with your blood sugar
It has a positive anti-inflammatory response
It improves your blood circulation
It helps reduce your blood pressure – which is very important for a healthy heart
It is a stress reliever
It is a pain reliever and reduces the aches associated with sore, tired muscles
It helps you to sleep better
It is great at alleviated arthritis pain and stiffness
Hot Tub Accessories & How They Work
Modern-day hot tubs, or spas, have a number of hot tub accessories. Each of these has their own function and form an integral part of your hot tub and your enjoying pleasure. We will look at a few of these.
Hot tub covers
First off, we take a look at hot tub covers. They have two functions: firstly they are a safety feature to ensure someone does not inadvertently fall in when the tub is not in use and drown. Secondly, they serve to keep in the heat (as much as possible) when you are not using it. This feature, therefore, saves you a lot on your electricity bill, as the water does not have to be heated from scratch each time you use it.
Hot tub cover lift
To make life easier, you can install a hot tub cover lift. This is a frame that you can attach to your hot tub making lifting that heavy cover a breeze. Some have hydraulic arms to make things even easier.
Hot tub chemicals
Unfortunately, most hot tubs need chemicals in order to keep the water clear and free of algae and bacterial buildup. The most commonly used hot tub chemicals for this purpose is either chlorine or bromine. It is best to check the manufacturer instructions as to which is best for your spa.  It is also a great idea to check your water quality with a test kit or test strips before adding chemicals.
Hot tub filters
Probably the most important hot tub accessory is the hot tub filter. It traps all impurities in the water as it passes through, keeping them there until the hot tub filter is either cleaned or replaced.
Hot tub pump
Your hot tub pump is the heart of your spa as it ensures a constant flow of water throughout. Without it, your hot tub jets would not work and you would not get the massaging action a hot tub is known for. Also, the pump is essential for the heating of your water. The water is heated by the heater, but the hot tub pump sees that the heated water is distributed.
Hot tub heater
In a hot tub, an element is housed in a heater assembly housing. The hot tub pump pushes water through this tube. In turn, when the water moves through the hot tub heater, heat is transferred from the element to the water, heating it up.
Hot tub jets
Heated water (usually from the filter bay) is pulled into the jet pumps which then pushes the water out of the hot tub jets and into your tub, providing you with a massaging action.
Hot tub cleaner
A hot tub cleaner is a cleaning agent you add to your hot tub water before allowing it to flush through the system for a few minutes. It cleans the sides of the tub. Once done, you need to drain your tub and wipe off any residue that may be left behind.
Hot tub enclosures
Hot tub enclosures allow for privacy and act as weather breaks. The types come in all forms and shapes, from built ones to those that are prefabricated. It also helps to keep out debris, e.g. leaves and dust.
Read more: Hot Tub Gazebo Reviews And Buying Guide
Hot Tub Ozonator
Keeping your hot tub clean is often bothersome and tiring. Thanks to ozonators, maintaining household hot tubs or commercial spas is now made easy and convenient. An ozonator is a hot tub accessory used to sanitize water via an oxidation process. It is used to purify spa water by eliminating contaminants using ozone or oxygen. Ozone in water eliminates the need for traditional cleaning process of using chemicals, thereby, minimizing the risk of irritation and other health complications.
Aside from purifying, sanitizing, and disinfecting spa water, ozonators also deodorize the water, keeping it clean, clear, and odor-free. Since chemical cleaning is no longer required, installing ozonator is considered as one of the safest ways to clean spas and extend the life of your hot tubs.
The Ideal Hot Tub Temperature
Most hot tub manufacturers suggest that your hot tub's temperature should be between 102 to 104 degrees Fahrenheit. This is approximately 38 to 40 degrees Celsius. However, you need to check the working of your thermometer regularly, as many hot tub thermometers become defective at some stage. Overly hot temperatures can have a negative effect on your health, not to mention you run the risk of inadvertently climbing into the scalding hot water!
Furthermore, pregnant women should be wary of using a hot tub, as theuse of a hot tub during the early stages of pregnancy increases your risk of having a miscarriage. This is due to your core temperature being raised. If using a hot tub during this time, consider having the water at a much lower temperature.
Caring for the Water in Your Hot Tub
Looking after the water quality in your hot tub is essential to your health. This means you need to test your hot tub water regularly, add the appropriate chemicals, and then test again in order to check whether the pH balance is correct. Chlorine or bromine are the most commonly used forms of hot tub water sanitizers. Depending on where you live, you may also need to check for calcium hardness and adjust your water accordingly.
Maintaining Your Hot Tub
Maintaining your hot tub on a regular basis not only ensures that your hot tub stays in perfect order, but ensures that your hot tub bathing experience is a pleasurable one.
You need to clean your filter every two weeks and use a granular filter cleaner approximately every two months or so. The tub itself also needs regular cleaning, preferably with a non-abrasive cleaner so that you do not scratch the surface. Remember to clean the cover as well.
If your hot tub cover has a vinyl cover, remember to condition this regularly as well. This will protect it against wear and tear from the elements. Also, check for the presence of any mildew and make sure you take care of the problem if it is present.
See more Easy Hot Tub Maintenance Tips on Youtube
How to Winterize a Hot Tub
Taking care of your hot tub means that you need to winterize it for the colder winter months. This starts by turning off the power and draining it. This includes draining any water out of the air blower and pipes as well. Freezing winter conditions can result in any water in your hot tub freezing – and expanding – as well. This could cause severe damage to the hot tub and its different parts.
Next, you need to take out your filters and clean them. Ensure there is no water present before putting them back. Unscrew any fittings on your hot tub and ensure any water is removed. Blow out the pipes and make sure there is no water present in any part of the hot tub. Where water is still present, make sure to drain it out completely.
Once all water is removed, make sure the hot tub, as well as the cover, are squeaky c lean before putting the cover back and securing it. You are done until the next time you want to use your hot tub!
Why Buy A Hot Tub?
People buy a hot tub mainly for three reasons such as leisure, strengthening, and health. Leisure spas are mostly used for relaxing after a hard day's work. They are a great way to get together with one's family or friends. Even a backyard party or a relaxing weekend could be set up thanks to the leisure spa. Health spas, on the other hand, will focus on relieving tension in the body due to physical illness. Even some medical doctors prescribe a health spa to relieve certain mind-body conditions. Hot tubs are also used for exercise and strengthening purposes. They are also called swim spas. They are quite long and designed with powerful water streams. This stream will help build your muscles while you swim in them. Underwater treadmills are another type of strengthening hot tubs. They will offer an impressive resistance while you workout. Most of these hot tubs come with a variety of salient features. You can choose the best spas to suit your personal taste and requirements.
What You Need to Consider Before buying Hot Tub
Let's face it, a hot tub, no matter its size, is a big investment. Besides that, there are a few issues to consider before taking the plunge:
What is your budget?
You need to remember that, besides the cost of buying the hot tub (and any installation fees that might be needed), your utility bill will go up. Then there is maintenance to think about, i.e. chemicals for cleaning, etc. Does this fit your budget? Will you be able to keep it up in the long run?
If installing it indoors, do you have adequate space? Does the room have proper ventilation? How about a water connection? Can you afford to make the necessary changes if applicable?
Where are you going to put it?
Do you have the necessary space in which to put your hot tub?  Is it for indoor or outside use? Does the area in which you wish to install it have all the necessary requirements, such as an electricity outlet and water?
What is your main consideration for purchasing a hot tub?
Many people buy a hot tub because it is great therapy for certain types of injuries. If this is your main reason for getting one, make sure the hot tub you choose will do the job. Choosing one for its therapeutic value is a vastly different process than choosing one simply for relaxation purposes.
What about the size?
Size influences cost. Also, once again, you run into the problem of space. You cannot install a 10-seater into space where only a small 2-seater will fit. Plus, do you want to share your hot tub with friends, or do you prefer the experience to be private?
Hot Tub FAQs
You're confused. You asked. We give answers. To make your buying decision even easier, we thought why not answer those questions that are stopping you from buying your new hot tub spa?
Read on to learn more about hot tubs!
1.  Do hot tubs raise blood pressure?
Hot tubs do NOT raise blood pressure. In 2011, studies conducted by the North American Sports Medicine Institute, also known as NASMI, reported that hot tub therapy helps lower blood pressure just like in cold water immersion. In addition, soaking in a hot tub also improves blood circulation, as well as ease muscle strains and tensions.
We've read a lot of comments saying people who are taking hypertension medications should avoid soaking in a hot tub. If you believe in this claim, then you are just missing out on the benefit of a hot tub, which is actually opposite to what many believed. To get most of the hot tub benefits, maintain a water temperature of 98 to 102 Fahrenheit. (Most hot tub manufacturers suggest that your hot tub's temperature should be between 102 to 104 degrees Fahrenheit)
2.  Are hot tubs and saunas safe for a pregnant woman and the baby?
Hot baths or saunas are safe for pregnant women, given that there is a proper temperature management. Health professionals recommend having water that doesn't exceed 32 degrees Celsius or 89.6 degrees Fahrenheit.
The three main dangers when the water temperature exceeds the recommended level are overheating, dehydration, and fainting. To know more about hot tub pregnancy safety, read here.
3.  How often should I change my hot tub water?
Changing hot tub water often depends on the brand and model. The more you use it, the more often you need to change the water. Still, a little math can help, and it's actually quite easy.
Get the total number gallons your hot tub can hold.
Divide it by 3.
Take the answer you get (quotient), then divide it by the average number of bathers.
The final number you'll get will indicate how often you should change the water.
So, if your hot tub can hold 300 gallons of water with 4 bathers in total, then you need to change the water every 25 days.
300 gallons ÷ 3 = 100 ÷ 4 (number of bathers) = 25
4.  At what age can a baby go in the hot tub?
Generally, babies and hot tubs are not a good mix. The Association of Pool and Spa Professionals stated that infants should not be permitted in a hot tub because their skin is too sensitive for the hot temperature.
5.  Do you use a hot tub before or after the sauna?
This is a bit unusual to go in a hot tub and a sauna right after the other. People usually choose just one and that should be enough. Saunas and hot tubs both use heat to make the body sweat and release toxins. Remember, it is not recommended to immerse your body to a hot temperature for too long, so going in a hot tub after a sauna or vice versa is not only bizarre but also harmful to one's health.
6.  Why does drinking in a hot tub increase the effects of alcohol?
The main culprit here is dehydration. When you go in a hot tub, you will most likely sweat a lot. Now, sweating dehydrates the body. Once your body is dehydrated and you consume alcohol, it intensifies the effects. Why? Because consuming alcohol also expands your blood vessels, thus increases your body temperature. As a result, your chances of passing out, falling, and vomiting increase.
Conclusion
Hot tubs are without doubt the best way to unwind, relax and enjoy the intriguing therapeutic health benefits. Above are some of the best hot tubs available in the market that will help promote relaxation and wellness. While all these hot tubs are great, our top choice is the Aqua Premium 300 2-Person 20 Jet Plug and Play hot tub.
This unit is designed for those who have comfort and durability in mind. It features 20 stainless steel underwater jets for the ultimate relaxing experience. It is also energy efficient, powerful and delivers clean water thanks to the ozonation technology. These useful features will give you value for your money.