Whether you need to keep your living room warm during the colder months of the year or simply need something to stand by to prevent your hands from freezing over, there are certainly a lot of options for you to choose from.
If you're in the market for the best indoor propane heater, this is the article for you. Here, we will give you important points and insights into how each kind of propane heater can make a difference in your home.
Top 7 Indoor Propane Heaters for a Modern Home
Here's a list of the 7 best propane heaters that we recommend for any aspiring homeowner who wants a little extra warmth on chilly days.
1.  Rinnai R Series 24,000 BTU Indoor Propane Heater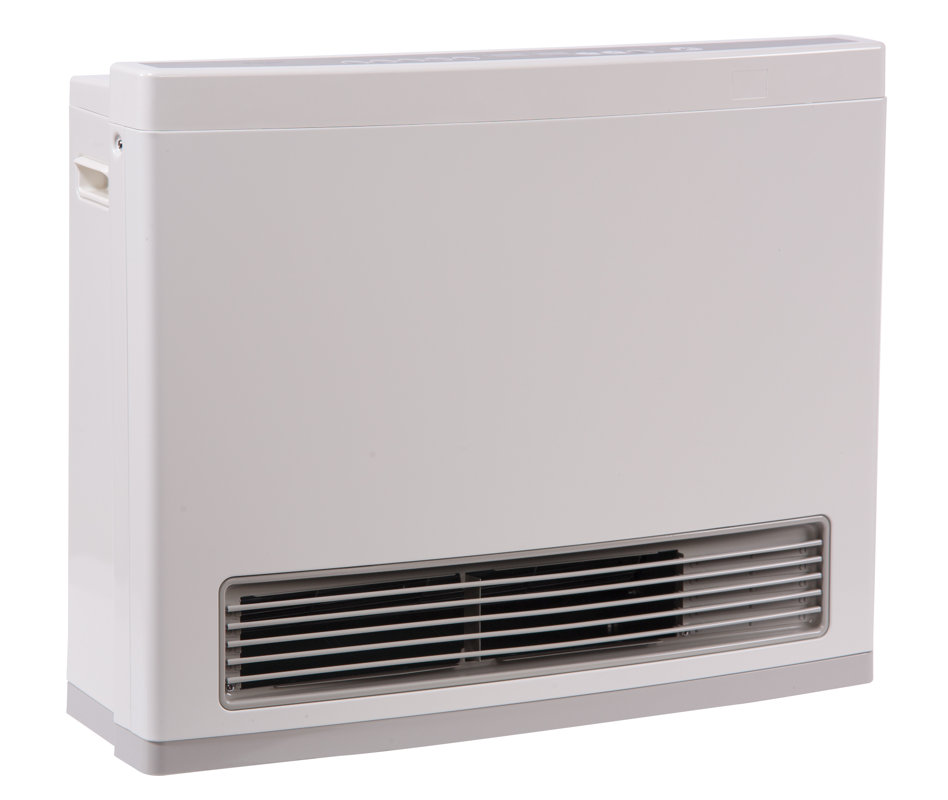 Very easy to set up and instantly heats up any area with ease, this vent-free heater is a breeze to use in any home.
It's electronically ignited, meaning that there is a reduced risk of a pilot light setting anything on fire. Also, it doesn't require a venting system nor a chimney. It features a cool-touch cabinet system that keeps it cool to the touch without compromising its ability to produce heat and dissipate it.
Its 1000 square feet coverage is no joke either!
Set temperature and time for maximum desired comfort
No pilot light, electronically ignited
9% efficiency rating
Onboard diagnostics system makes maintenance a breeze
No venting or chimney required
Digital display for intuitive controls
This has no remote included, meaning you have to stand up each time you want to change a setting.
It cannot be recessed into a wall or mounted on it.
2.  Dyna-Glo Vent-Free 30,000 BTU Indoor Propane Heater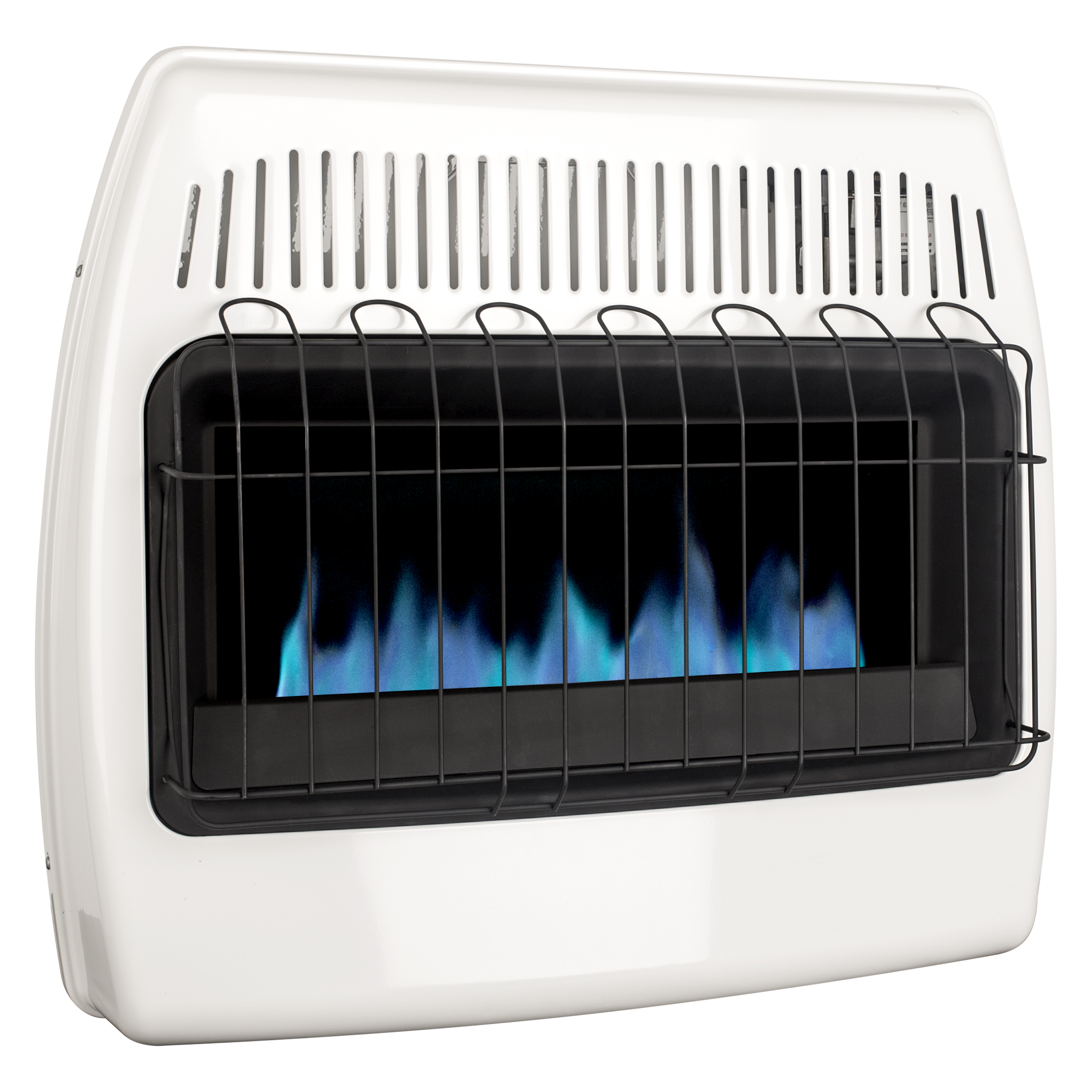 Pairing effortlessly aesthetic looks with a top-of-the-line efficiency, this propane wall heater will blend into your home and give you the warmth that you need in your personal space.
This works even without electricity, giving you the much-needed warmth in times of need. It also has an Oxygen Depletion Sensor that shuts it down automatically if anything is out of order, as well as a quick-fire ignition button that keeps everything safe for users.
No Electricity needed
Includes all necessary hardware in the packaging
This is upgradable with base legs should you want to use it as a floor mounted unit
Also has an optional wall heater fan that blows warm air in the direction you want
Pilot light makes it a little slower to get going
Optional fan may be too loud for comfort
3.  ProCom Ventless Flame 30,000 BTU Indoor Propane Heater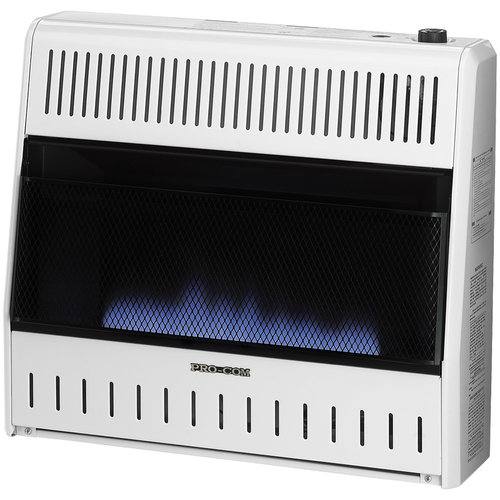 This propane wall heater is compact, easy to use, and can be used to supplement any home's heating needs. Its ventless design allows you a hassle-free experience— just push the button to ignite it and enjoy the warmth of your propane heated home.
The design uses the flames it produces to heat the air around the room and spread it out, giving you the most bang for your buck when it comes to heating the smaller areas of your house.
Can use either natural fuel or propane
Thermostat control allows you to control how warm you want an area to be
Space-saving design
No outside duct or chimney needed
Automatic shut-off feature
Wall-mounted bracket included
No electricity required
This is only a supplemental system; it cannot heat bigger areas of your home
No remote included
4.  KozyWorld Wall-Mounted 30,000 BTU Indoor Propane Heater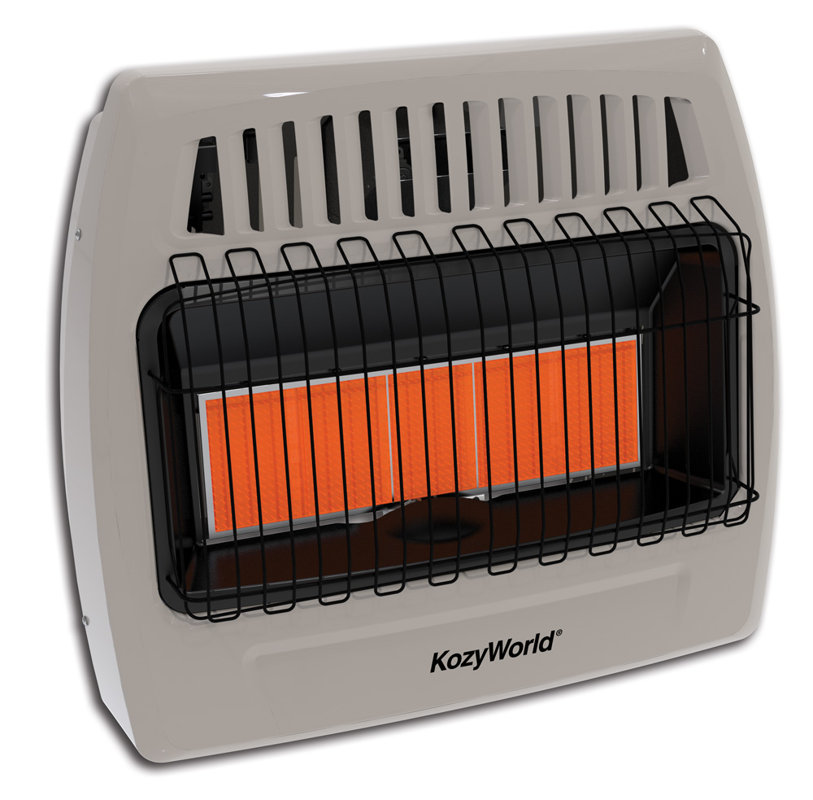 This vent-free infrared wall heater features an easy-start piezo ignition, t-stat heat control, and a wide 1,250 sq ft. coverage. This can be used as a backup or supplementary heater for any home.
It features a blower (optional) and floor stand that you can use to set up in any area of your house.
30,000 BTU
Large coverage area
Heat control
Higher temperature capacity thanks to infrared technology
5.  Avenger Ventless Infrared 30,000 BTU Indoor Propane Heater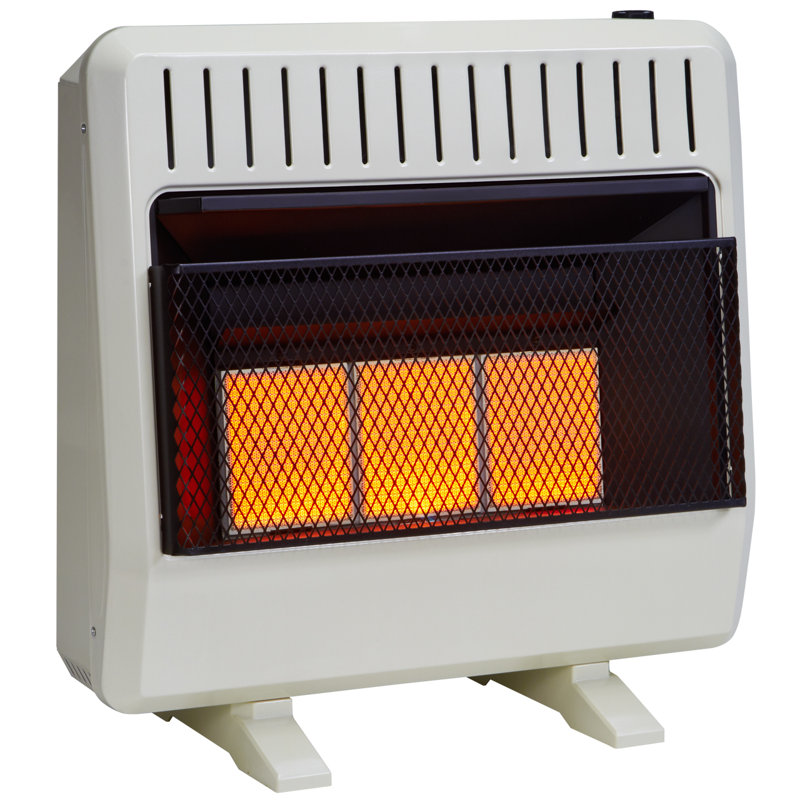 With its slim cabinet design, this infrared heater is designed with one thing in mind— convenience. Thanks to its vent-free infrared burner design, it has the ability to produce more heat per ceramic plaque when in sync with dual fuel technology.
It doesn't need electricity to run, so it will give you warmth even during power outages.
1,400 sq. ft. coverage
Dual fuel technology allows you to run it with either propane or natural gas
Slim profile for easier placement
9% Efficiency rating
No chimney required
Free standing
No remote included
The unit cannot be hooked to a tank directly.
6.  Thermablaster 15,000 BTU Portable Propane Heater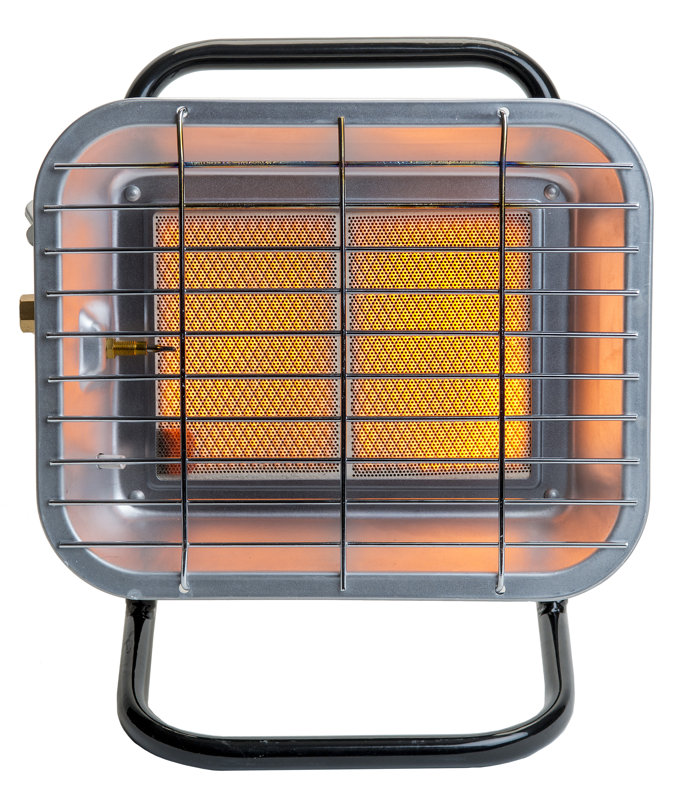 This is perfect for smaller rooms and areas as it requires no electricity to run. This allows for maximum efficiency and can be used anywhere you want.
This portable propane heater excels at heating the area within 10 square feet radius. Plus, it's small yet stable frame can be placed in any corner of your room.
No Electricity needed
Adjustable head
With Piezo igniter, thus starting is a piece of cake
Has a robust steel base for stability
No remote included
Its flame is not adjustable.
7.  Heater 4,000-9,000 BTU Portable Propane Heater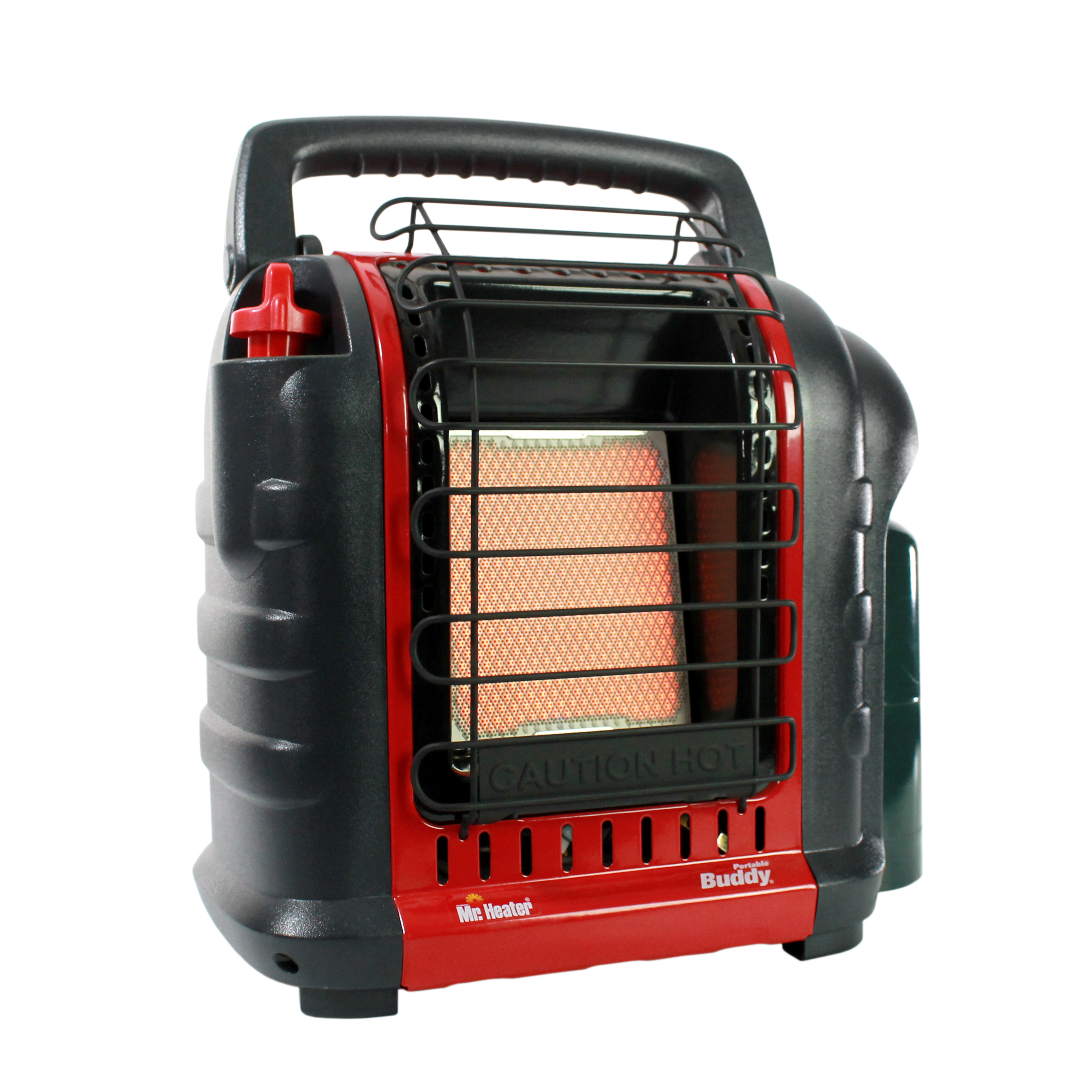 This portable propane heater is one of the best in the market. It's compact and sturdy and does the job it needs to do. It features low-oxygen detection and automatic shut off. It also features a shock detection— it will turn off when it gets knocked down for safety purposes.
With this little guy, you can have the luxury of warming yourself whenever you need to.
Portable
Large heating surface for its size
Safety features installed make for a very safe yet portable warming device.
You might need multiple to warm up larger areas
Why Choose Propane Heaters?
People nowadays are always looking for appliances that are more cost-effective, durable, and energy efficient. Heating is no different. People turn to electric, oil, and wood-powered heaters, but more often than not, neglect possibly the most cost-efficient of all, propane heaters.
Below are 3 reasons why you should consider buying a propane heater:
1.  Thermal Efficiency
The best indoor propane heaters typically have a rating of 90 percent thermal efficiency, which is significantly higher than other types of heaters that run at around 78 to 82 percent.
2.  Cost Efficiency
While the overhead cost might be a little higher than most conventional heater types, yearly savings will surely lift a significant burden off of your shoulder. They also have fairly low maintenance costs and are more hardy as compared to other traditional furnaces.
3.  Environmentally Friendly and Safe
The most important thing to consider, however, when looking at heaters is the amount of safety you get, as well as if it's good for the environment. Propane heaters burn significantly cleaner as compared to oil-based systems, thus eliminating potential health risks for homeowners.
As with risks connected to fire safety, regular inspections and maintenance will alleviate the need for you to worry about you and your home.
Portable or Permanent Propane Heaters?
Now that we know the advantages of propane heaters, let's move on to which one you actually need based on what you're going to use it for.
Propane heaters come in all different shapes, sizes, and purposes. We'll list down the pros and cons of each type down below so that you can have a better idea of which type you'll need to give your home the warmth it needs.
Perhaps the main advantage of a portable propane heater is in the name itself— you can lug it around and put it where it's needed. This means that you will be saving money by heating an area only when it's needed. If you're going to transfer from your living room to your bedroom, all you have to do is carry it along with you.
You can consider a propane garage heater if you feel like you need to warm up your garage before you get into your car, or if you use it as a workshop and need to keep warm while working on your next project.
You can also look into an outdoor propane heater, if you need to work on your yard's shrubbery or play with the kids while staying warm in cold weather.
This being said, the disadvantage of this type of heater is that for larger rooms and areas, you'll need more than one to keep yourself comfortably warm.
These heaters are strictly for indoor use and are usually bigger in size than the portable variants. This is because it needs to heat up larger areas and is sometimes centralized to cover the entire home.
A separate space for a fuel tank is needed and usually needs to have fuel delivered to it by truck. Because they are usually big in size and produce much more heat, circulation fans that vent air outside of the home are common in these types of heaters so as to dissipate excess heat from the system.
If you're looking for a permanent heating system, we recommend propane wall heaters that integrate into the walls of your home, effectively centralizing the delivery of heat around your home.
And Our Top Choice Is… 
Mr. Heater 4,000-9,000 BTU Portable Propane Heater! This was a hard decision to make, but we decided to go with the smart route and give you the most bang for your buck when you needed it. We decided that the best indoor propane heater is the one you could literally take anywhere. This is because that in times of need or emergencies, you can't take an integrated heater with you outside or take it where it's not supposed to be.
Our goal here is to give you the best in terms of all aspects of what a heater is and what it needs to do.
Now that you know our top pick, we have to wonder… What's yours?