Having plenty of options is usually good but they also make the choice much more complex than it should be. This guideline on infrared heating is meant to simplify the selection process so you can easily choose the best infrared heater for your specific needs.
Finding a heater that best suits you can become a complex undertaking. So we have compiled infrared heater reviews to help you sift through the options.
Advantages of Using Infrared Heaters
These heaters don't require a lot of time to warm you up. Instead of warming up the air, they work to heat bodies and objects directly.
As soon as you turn them on, they begin to emit infrared light and heat as a result.
Infrared heaters don't require a fan to work. All they need is light which cancels out the noise factor.
Even those with blowers only emit a very low level noise which is barely noticeable.
They work in a more efficient manner.
With infrared heaters, energy waste is slim to none. That's because they only heat the people and objects they are pointed at.
Infrared heaters are environment-friendly.
These heaters prove to be a clean source of heat. They produce zero pollutants.
Infrared heaters do not run on wood. They also don't require fossil fuels for heat production.
Drawbacks of Using Infrared Heaters
The light they emit can be a bother.
Infrared heaters use light to produce heat. They emit an orange glow which can be bothersome for some people especially for those who are sensitive to light.
The brightness of light varies from one model to another. In this case, it is not advisable for bedroom use especially at night.
For someone who requires complete darkness to sleep, this portable kind may not be the best choice.
Infrared heaters provide limited heat distribution.
If you intend on heating a large space with people constantly moving around, this type of heater may not be the best for the job.
There are infrared heaters with built-in blowers however. They can help with a more even distribution of warmth across the space.
Heat produced by infrared heaters don't last very long.
Although it takes less time for you to feel the warmth from an infrared heater, it also takes no time to leave you cold once it is turned off.
They warm up people and objects where the infrared light hits instead of heating the air. So, the warmth only lasts as long as the infrared lights are bright.
Reviews of Top 12 Infrared Heaters
Let's begin with a simple comparison among the most popular and best rated infrared heaters around.
1.  1,500-Watt Electric Infrared Tower Heater by Duraflame Electric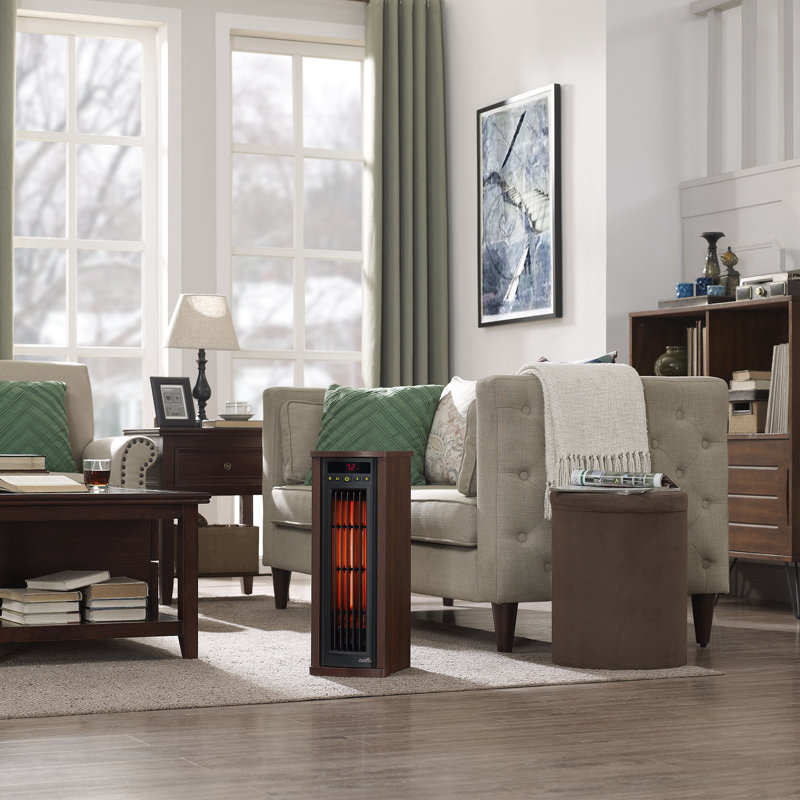 This infrared heater from Duraflame Electric has a quartz heater and three-speed cooling fan perfect for warming up or cooling your home. Due to the infrared quartz technology, natural humidity is maintained in the air, allowing you to enjoy that moist but relaxing heat without drying the air inside your room. It also has supplemental zone heating.
Many customers gave many infrared heater reviews for this product. They liked the digital display of the thermostat which monitors the temperature and turns off the heater when it overheats. They also added that the rose cherry and sleek finish of this heater makes it easy to blend with their existing interiors. However, some commented that it's good for heating smaller rooms. 
Comes with an oscillation feature
Small footprint
Warms a room quickly and effectively
Attractive design
A small percentage don't function upon delivery
Careful handling is needed
Can be complicated to use
2.  1,500 Watt Infrared Cabinet Electric Heater by Duraflame Electric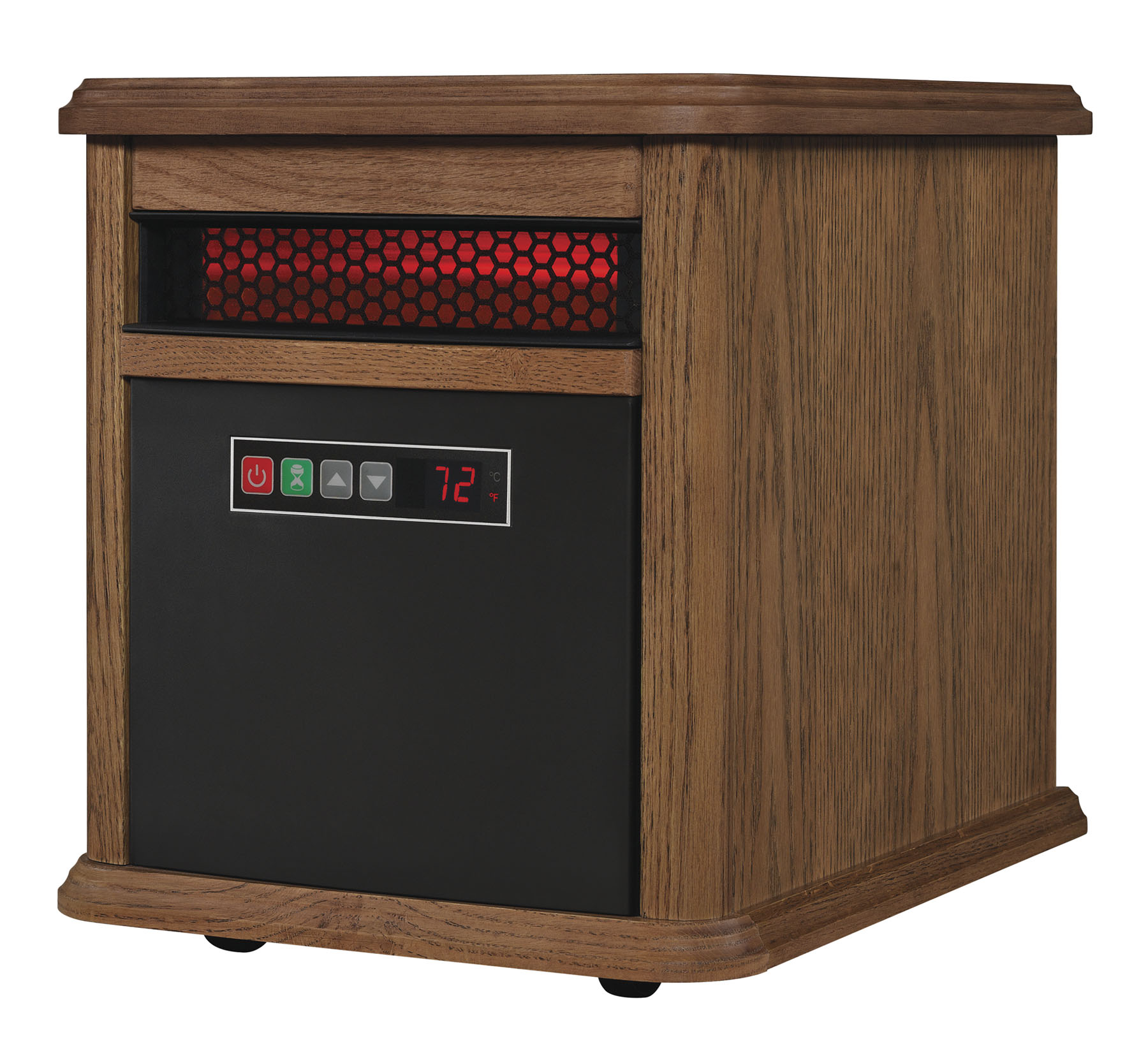 Due to its portability, this infrared quartz cabinet heater from Duraflame is fully assembled and ready for use anytime. You won't feel humid since it gives out moist and comfortable warm air. You can move it from one room to another easily because of the quality concealed furniture casters.
Customers said that the unit is very nice-looking. They commented that the finish and color don't look cheap or fake, so it's like having beautiful and heavy furniture. Some even use it as their coffee side table next to their recliner. Although some reported a small sound from the background, it could be minimized by its cover.
Best Features:
Duraflame portable heater is powered by electric infrared quartz technology that can keep a room of up to 1,000 square feet comfortably warm.
It has an adjustable thermostat and an electronic timer function that can be set up to 9 hours.
It comes with a remote control for ease of use.
Its overheating protection automatically turns the heater off before it overheats.
Owning a Duraflame heater is like having an electric fireplace that you can move around easily with its concealed caster wheels.
It's a space-saving machine in a tall portable building.
The sleek oak and cherry designs are perfect for spaces with darker wood finishes.
Features a remote control
LED display for the thermostat
Shuts off automatically when it overheats
No humidifier
Best for smaller rooms
Best for:
This heater works best as a supplemental heater for bigger spaces. Unless you are prepared to buy multiple units, this portable infrared heater won't be enough to warm up a big household.
3.  Original 1500-Watt Infrared Portable Heater with Dual Heating System by Dr. Infrared Heater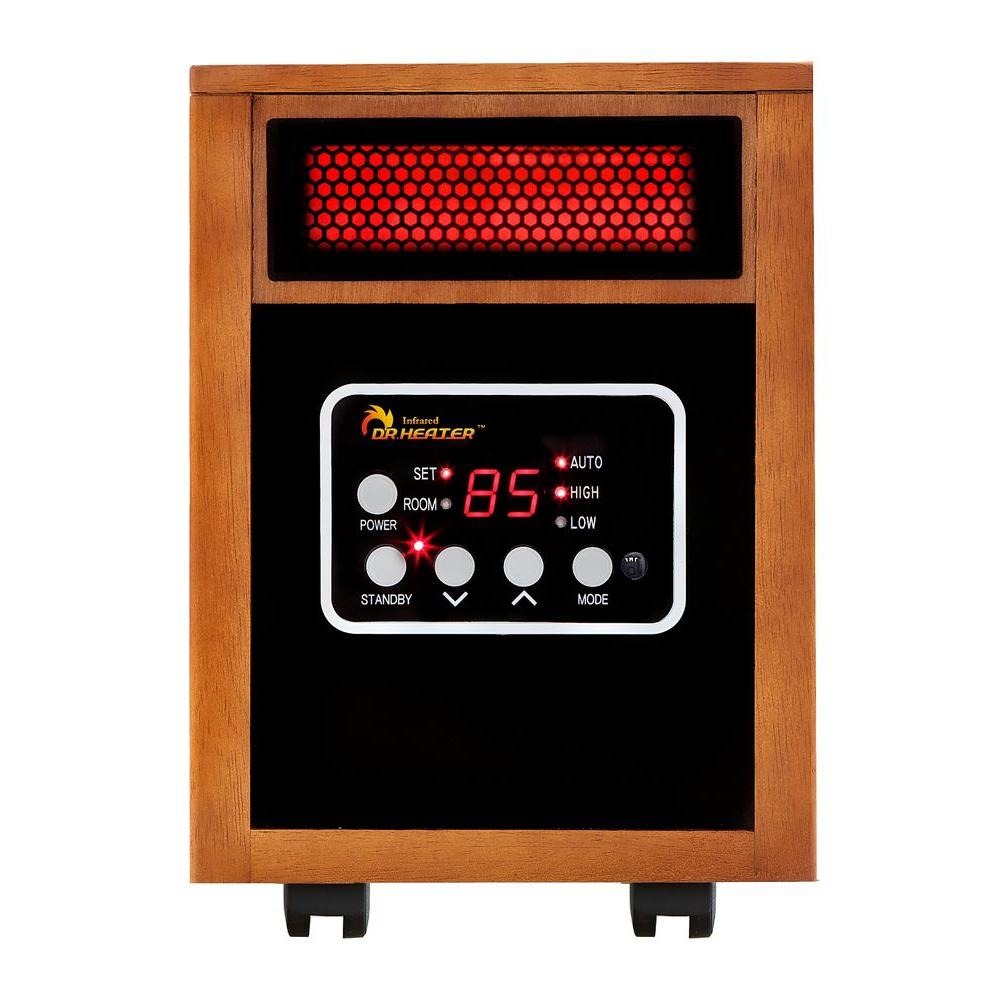 The best infrared heater should be efficient in heating, especially during winter. This infrared heater by Dr. Infrared has an advanced dual heating system and quartz and PTC infrared element features that will help you save energy. Its high-velocity and low noise blower with the dual heating system increase the distribution and transfer rate of heat. It is also certified to have the ideal safety standard.
With more than a thousand reviews, many customers gave this heater positive feedback. They loved how quiet and easy it is to use. Even with its size, they said it could outperform other heaters that are more expensive. Some of them commented that they could even use their foot to push it away.
Best Features:
It runs on a Dual Heating System with an infrared quartz tube and PTC technology for maximum heating efficiency.
It is equipped with three heat settings: low, high and auto energy saving mode.
On energy saving mode, the heater can maintain a temperature of 68 degrees Fahrenheit by switching from low to high heat settings.
The adjustable electronic thermostat has a heat range of 50 to 86 degrees.
There's a 12-hour automatic shutdown timer.
It also comes with a remote control.
The heater operates with a high pressure blower for heat distribution.
The blower emits a low level of noise at 39 decibels only.
It has an inbuilt humidifier that produces a gentle mist ensuring comfortable heating while preventing dry air.
Safety features include a tip-over plus an overheat protection.
Cost-efficient
Heats spaces fast
Includes a built-in filter
Almost noiseless operation
Some controls are not user-friendly
Rear and front parts get hot
The remote control has limited function
Best for:
Dr. Infrared heater might be good for heating larger rooms instantly and comfortably.
Product reviews on youtube:
4.  1500-Watt Nightstand Infrared Portable Space Heater with Dual Heating System by Dr. Infrared Heater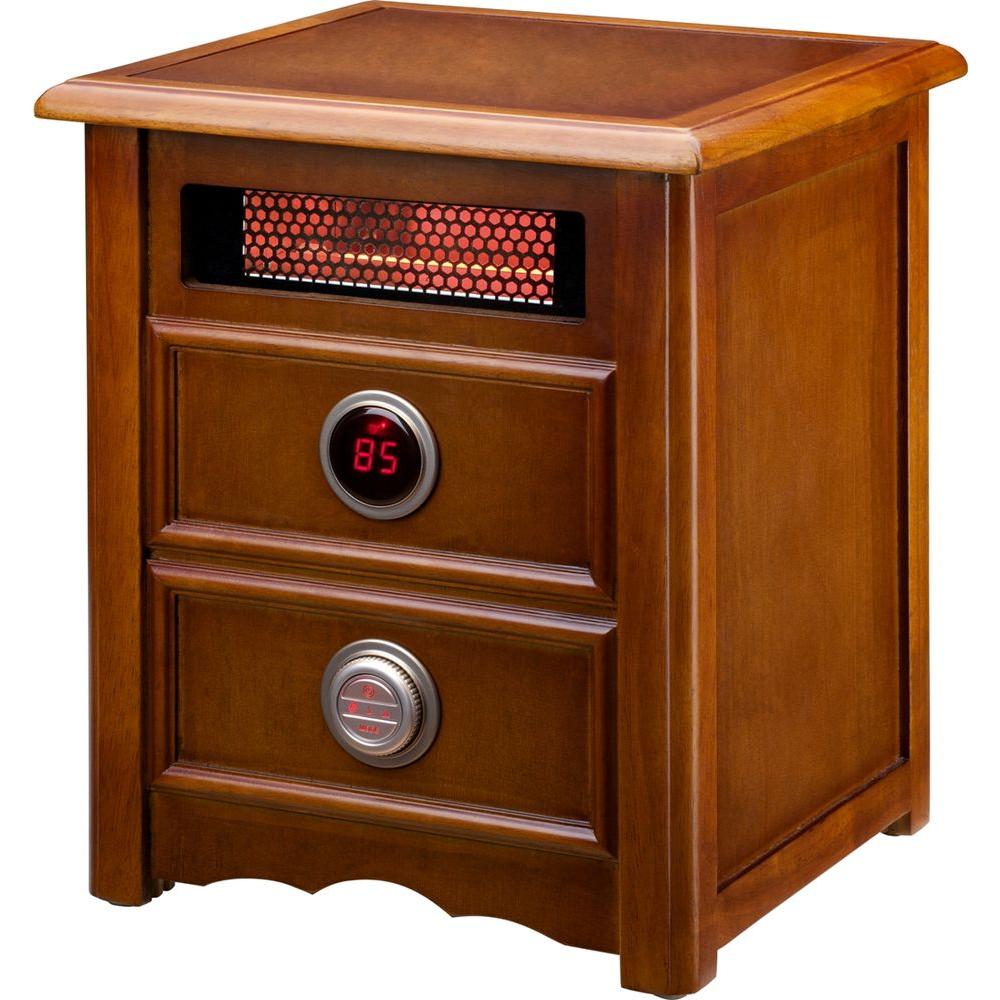 Although it's compact, this nightstand space heater from Dr. Infrared Heater has a lot of features. It has a push-button mode and power buttons to let you choose your preferred heat settings. According to Dr. Infrared Heater, it produces 60%  more heat than other 1,500-watt infrared heaters available on the market, thus making it one of the best infrared heaters on the market. It also features a dial control for controlling temperature and a timer in case you forget to turn it off.
People who bought this mostly agree that the nightstand design matches any interior, whether they put it in their bedroom or living room. Also, they said it doesn't take up much extra floor space. However, they added that giving ample space between the back of the heater could be better to make sure cool air can circulate.
Provides good heating
Maintains equal temperature
Nice design and overall quality of built
Space-saving design
Only one color available
Too short
Emits a mild varnish smell
5.  1500-Watt 6-Element Infrared Heater with Oak Cabinet and Remote by Lifesmart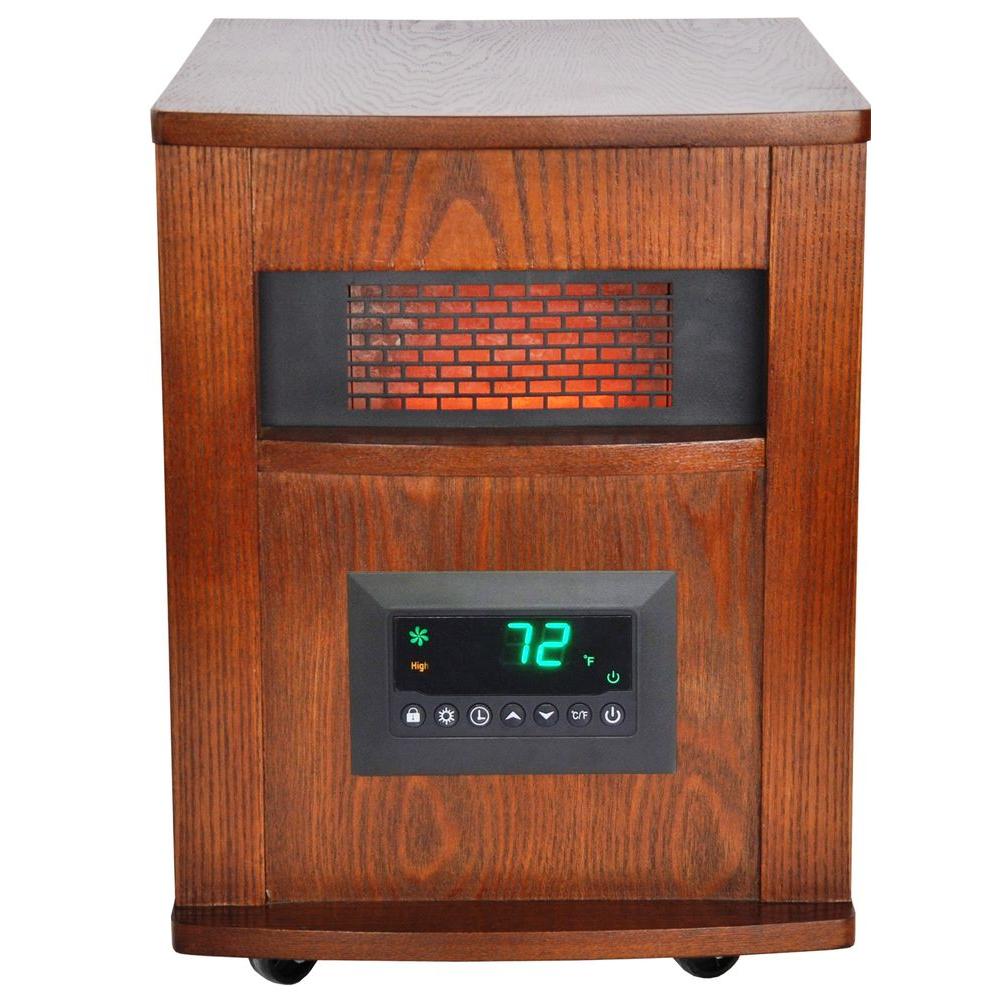 If you want a safe and healthy way to heat a large space, this Lifesmart infrared heater might be the one for you. Compared to other heaters, it claims to offer safe and efficient heat without spending more energy. The finish of this heater is all wood, making it's cool to the touch. It's also easy to move from one room to another due to its casters.
Buyers commented that this infrared heater is beneficial for small and large insulated rooms. It's great for heating objects and providing relaxing warmness in a room. Although some noted that the digital thermostat could still be improved and the wooden cabinet doesn't blend in every interior, most agree that this is generally efficient.
Warms objects directly and gently
Doesn't make the air dry
Large remote control
Features a digital thermostat and dual timer
A little pricey
Boxy and heavy
Controls are a bit problematic
Works best as an additional heater
6.  1500-Watt Electric Tower Infrared Heater by Lifesmart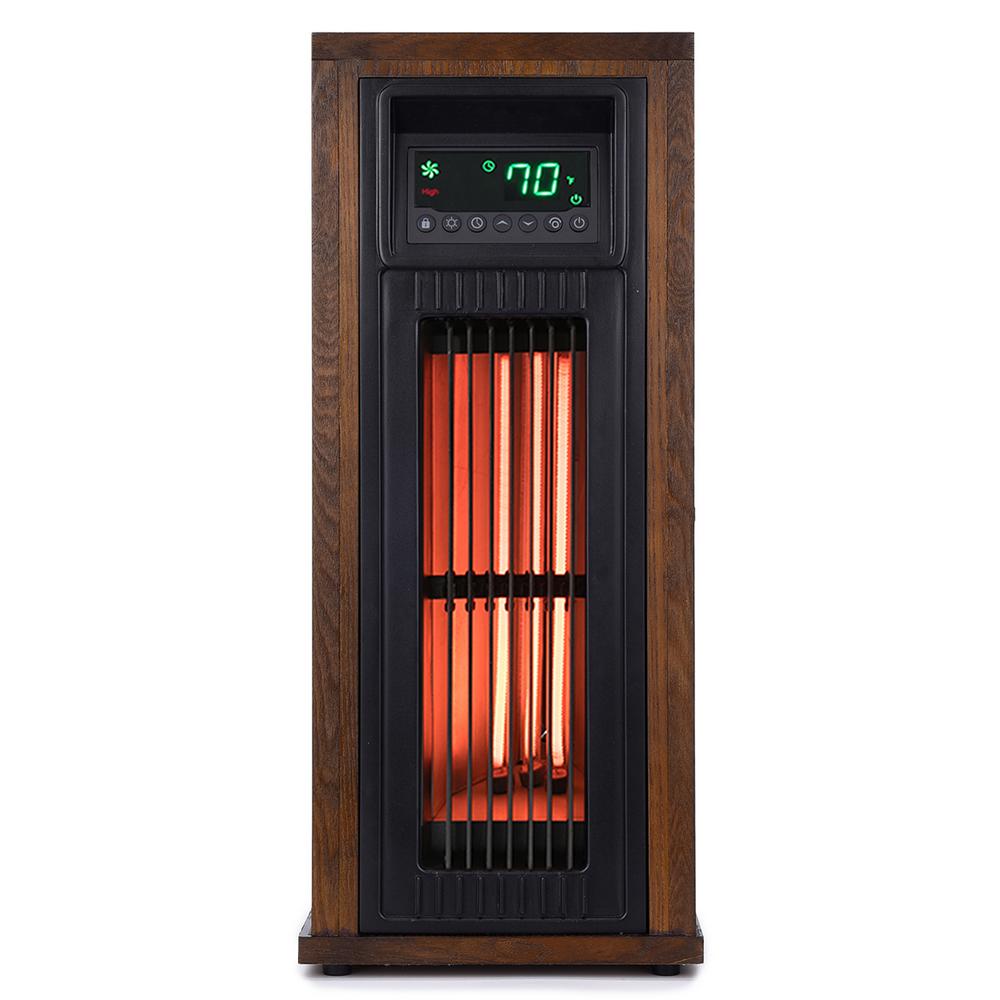 When the weather becomes chilly, this tower infrared heater from Lifesmart is the perfect choice to give you that additional warmth in your space. Thanks to its 3 extra-long infrared elements, you can enjoy soft and even heat distribution in your room without any air dryness at all. Since it features an eco setting, the power consumption is efficient. Safety features are also included. Meanwhile, its all-wood cabinet is cool to the touch, so you don't have to worry about any burn injuries.
According to the best infrared heater consumer report, most consumers enjoy the eco setting. They can enjoy comfortable heating in their home while using less energy at the same time. This makes it great for those who are on a budget as it decreases overall electricity costs.
Gives enough warmth to a large space
The digital thermostat is easy to read
Stylish exterior and cabinet
Comes with a functional remote control
Easy to knock over
Might automatically turn off if tipped over
Not good if there are kids or pets in the house
7.  1,500-Watt Logan Deluxe Infrared Portable Heater by Heat Storm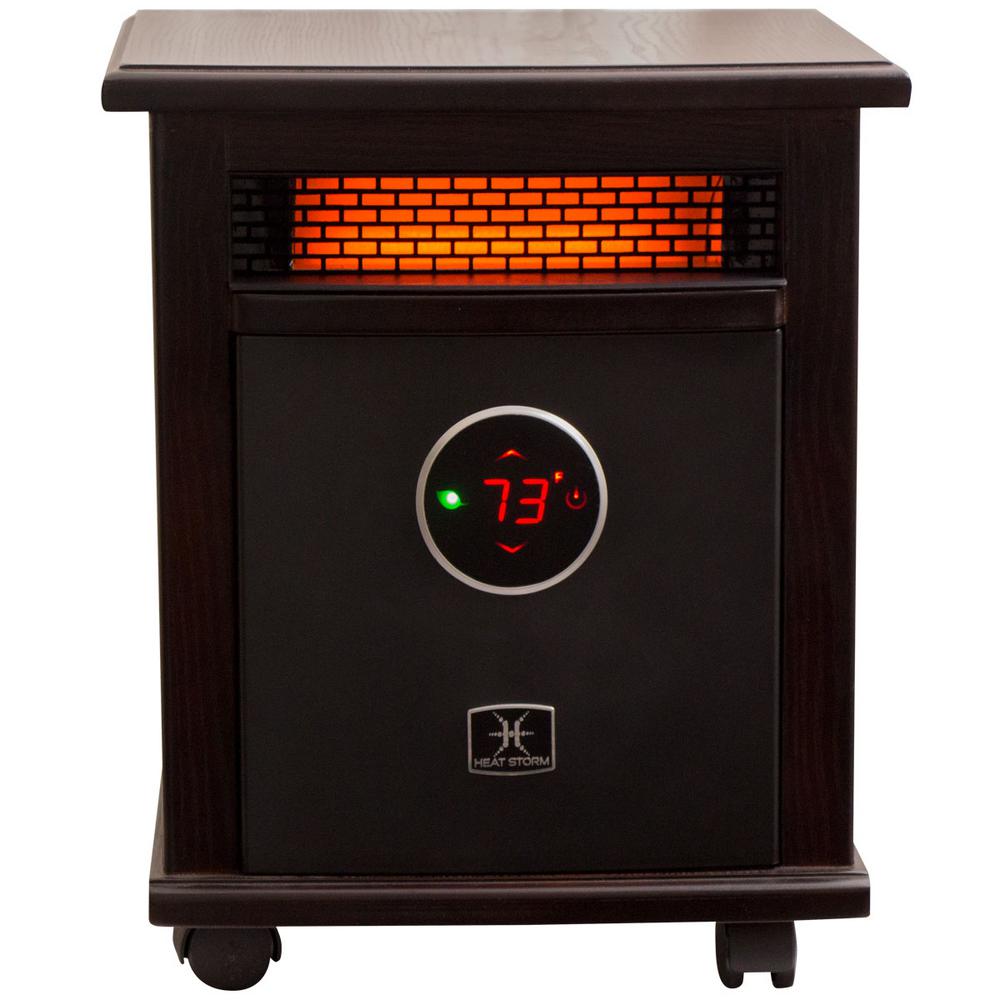 This heater allows soft heat to circulate with the help of its HMS technology which utilizes the humid air in the room. As a decorative piece that has 4 wheels, you don't need to carry it when you need to move it around your room. Meanwhile, its round digital dial has a LED display and sensor buttons to make it easy to choose your ideal temperature. There are also 2 power output options you can choose from.
Many customers said that the simple remote control is their favorite feature. It's fairly efficient in adjusting the heater's heat level. However, there are comments saying that the number display is too bright and large. Some hoped that the display could be turned off.
Features a nice finish
Can heat up fast
Useful remote
Includes an overheat sensor
Temperature setup can be confusing
Its user manual's not very helpful
Not whisper quiet
Plastic grate on the front can burn the hands
8.  Phoenix Floor 1,500-Watt Wall Infrared Portable Heater by Heat Storm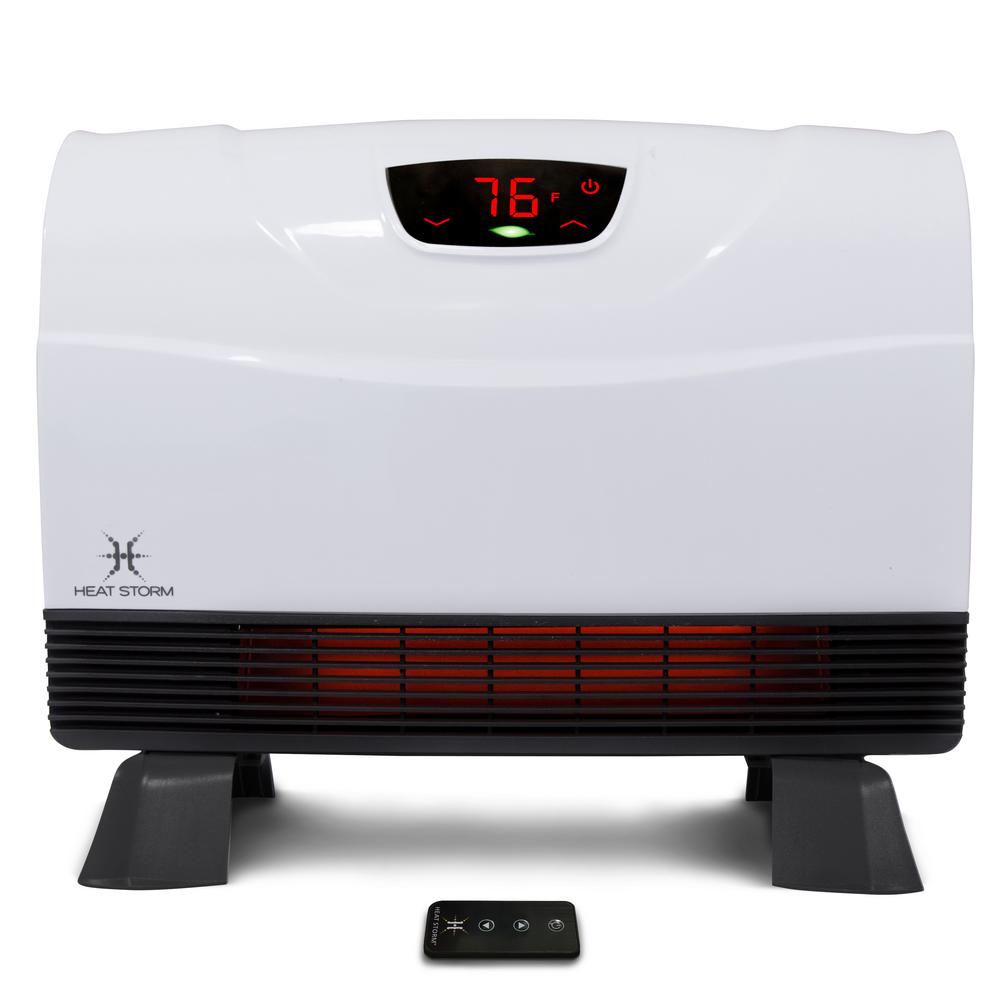 For small rooms or rooms without enough floor space, this can be the best infrared heater. With 1,500 watts, it can heat a room quickly without having to worry about other electronics. The heater including the grill is safe. It also has 2 power modes: 1,500 watts and 750 watts. Lastly, it features HMS technology for better heat distribution.
Customers mentioned that the combination of the remote and display of this infrared heater is perfect. It's because the display is easy to see, so it's not hard to control it with the remote.  They also noticed that the thermostat is accurate.
Features 2 power settings
Space-saving design
Lightweight
Easy to install
Not a trip hazard
Designed for a 300-square-feet space
The thermostat makes a clicking sound when adjusted
Quite difficult to set up its WiFi connectivity
9.  1500-Watt White Infrared Electric Quartz Radiant Heater by Dyna-Glo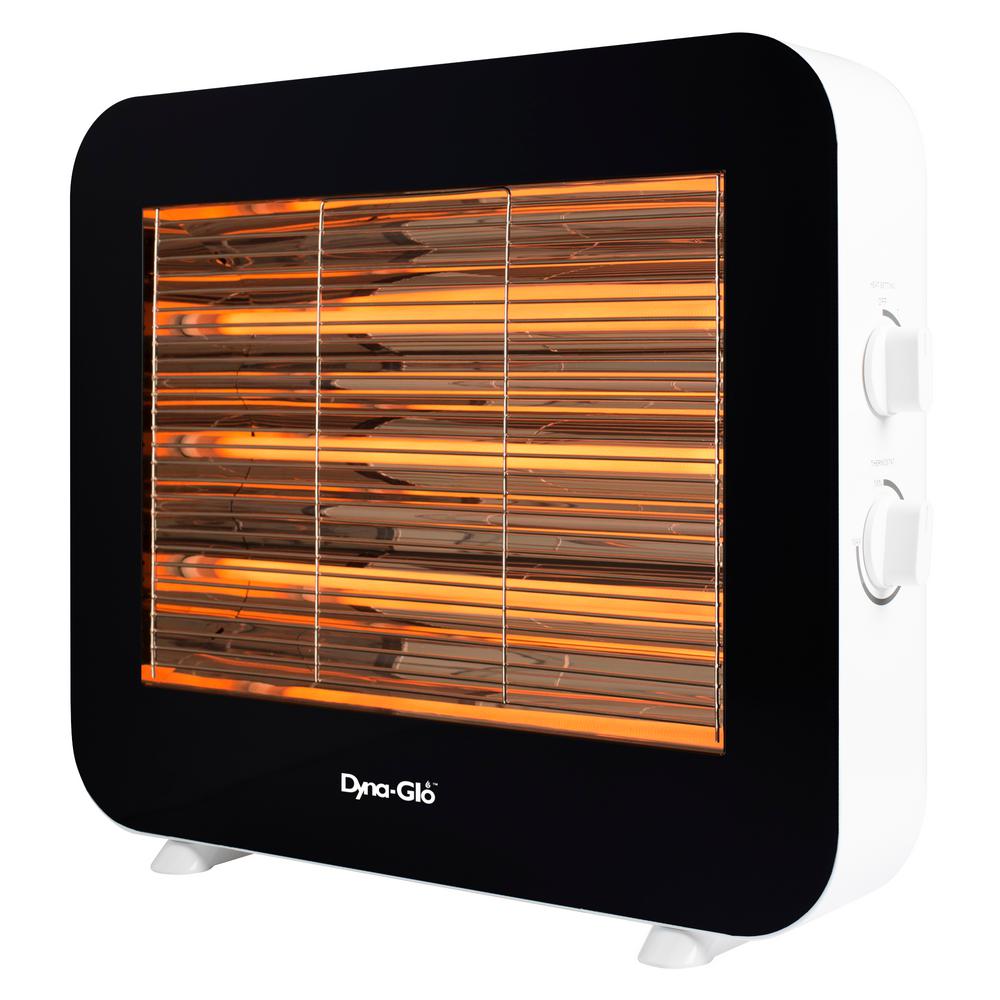 This infrared radiant heater provides ample warmth indoors. The unit comes with 3 heat settings. It's equipped with an integrated carrying handle and metal cabinet alongside an adjustable thermostat. For safety purposes, there is an overheat protection feature, a protective grill, and a safety switch.
Some people reported a distinct smell when they used it for the first time. However, the odor dissipated after using it for a few hours. All in all, they are happy with the firepower and its ability to give heat. Also, they are pleasantly surprised due to its low energy usage.
Provides a nice warmth
Doesn't use much energy
Heats up fast
Reports of easy breakage
Doesn't use the thermostat when in low setting
10.  1,500 Watt Infrared Tabletop Patio Electric Heater by AZ Patio Heaters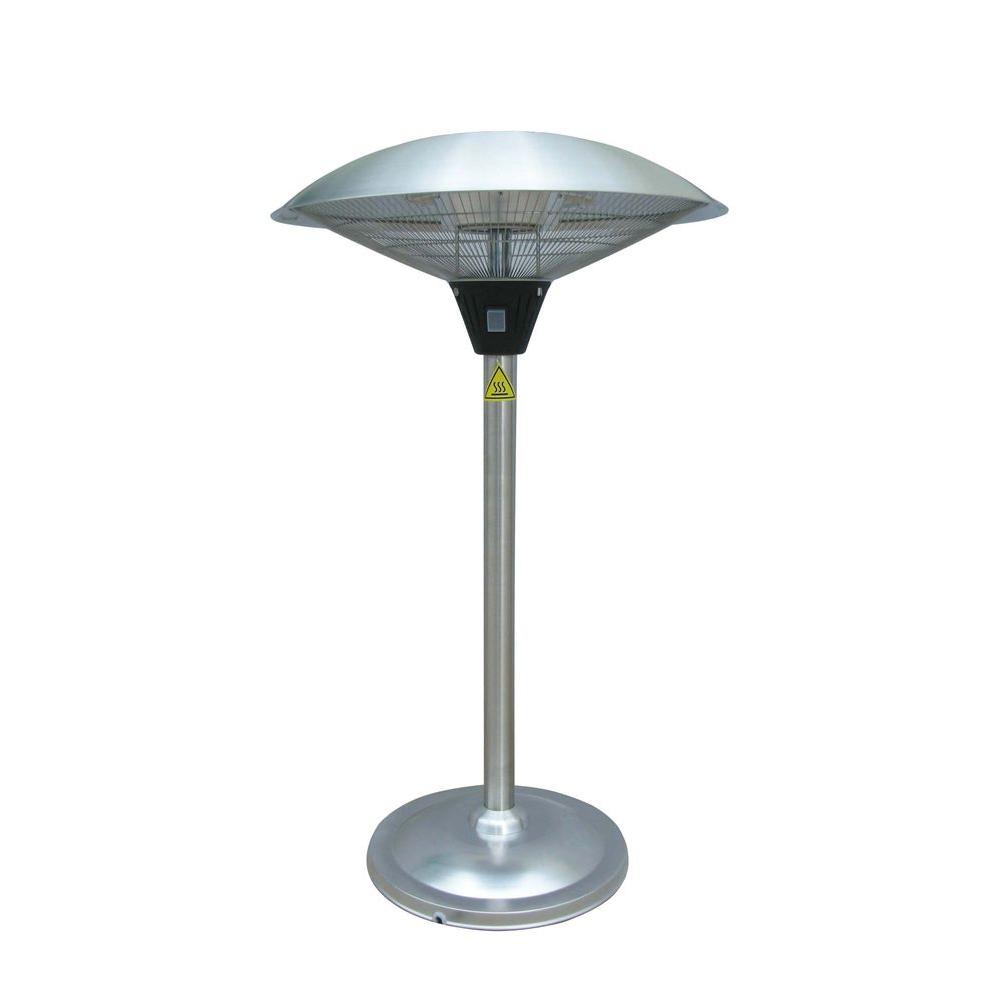 Using regular household electricity to warm your yard up, this electric heater is cheaper to use than a propane patio heater, thus making it one of the best infrared heaters for patios. Aside from installing it in your yard, you can opt to put it indoors, thus allowing you to bring heat easily.
Verified buyers liked its material since it's made of stainless steel. Therefore, it can last them for a long time. They didn't really like the base because it makes the unit heavy and hard to move around. However, they pointed out that storage is not a problem due to its compact size.
Quality heat and light
Simple design
Solid steel construction
No need for a separate propane
Heavy
Infrared heat doesn't heat the air well
11.  iLIVING Portable Infrared Space Heater w/ Dual Heating System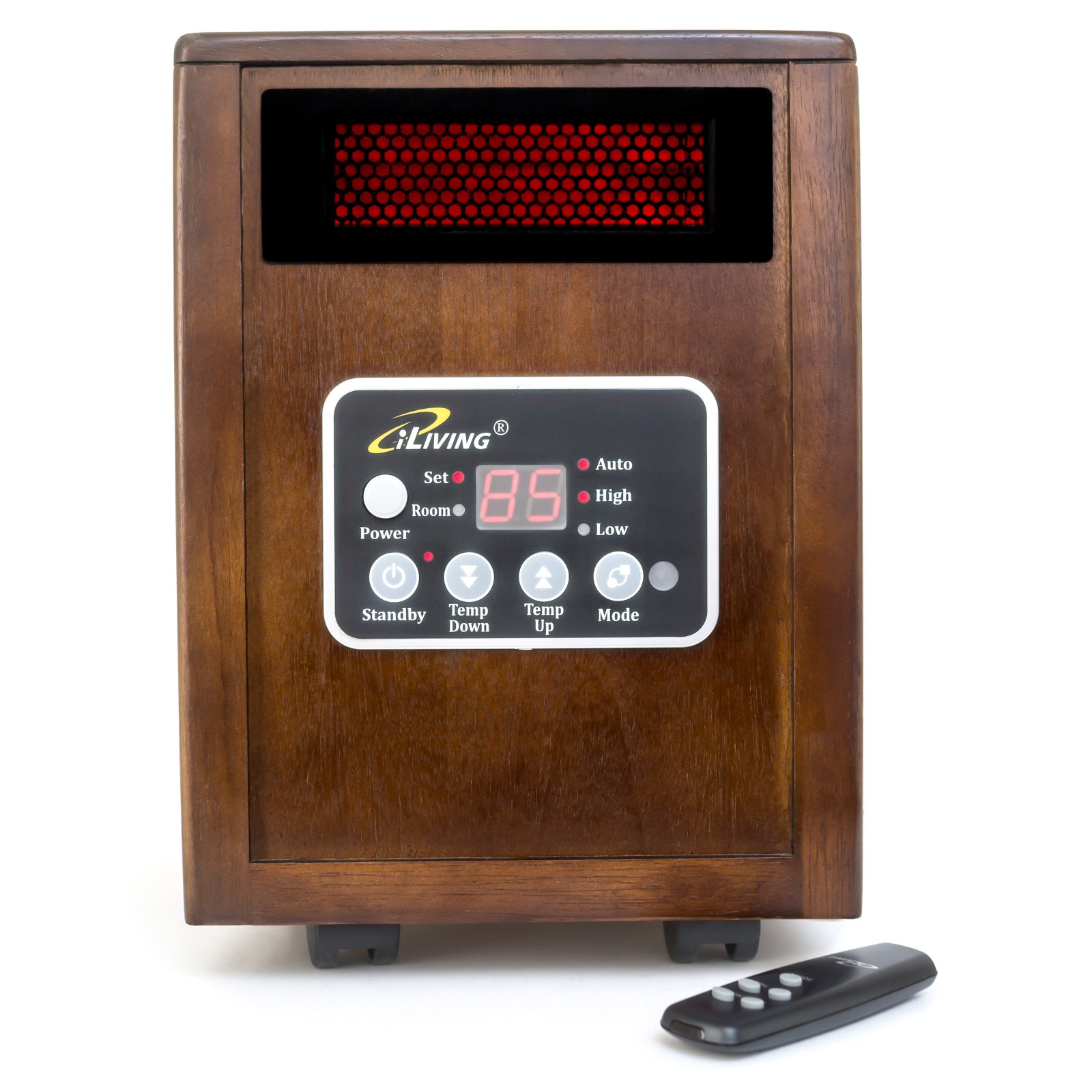 Warming up the room in a short span of time is a piece of cake for this portable heater. It can spread warmth to spaces up to 1,000 square feet.
Best Features:
Powered by a dual heating system, iLiving infrared heater produces hot air twice as much as other heater models.
It is equipped with both infrared quartz tubes and PTC bulbs for better heating efficiency.
You can easily control the heat with the electronic thermostat with a heat range of 50 to 86 degrees Fahrenheit.
It comes with three heat settings: low, high and auto mode.
Auto Mode is best for reducing heating bills.
It comes with an IR remote control.
It has built in caster wheels for portability
The wood enclosing keeps it cool to touch.
Its overheating protection automatically shuts the unit down before it goes above the maximum heat range.
Best for:
iLiving infrared heater is recommended for people with a medium to large space and a little more budget to spare for a dual heating system.
12.  Lifesmart Corp Lifelux Series Ultimate 8 Element Large Room Infrared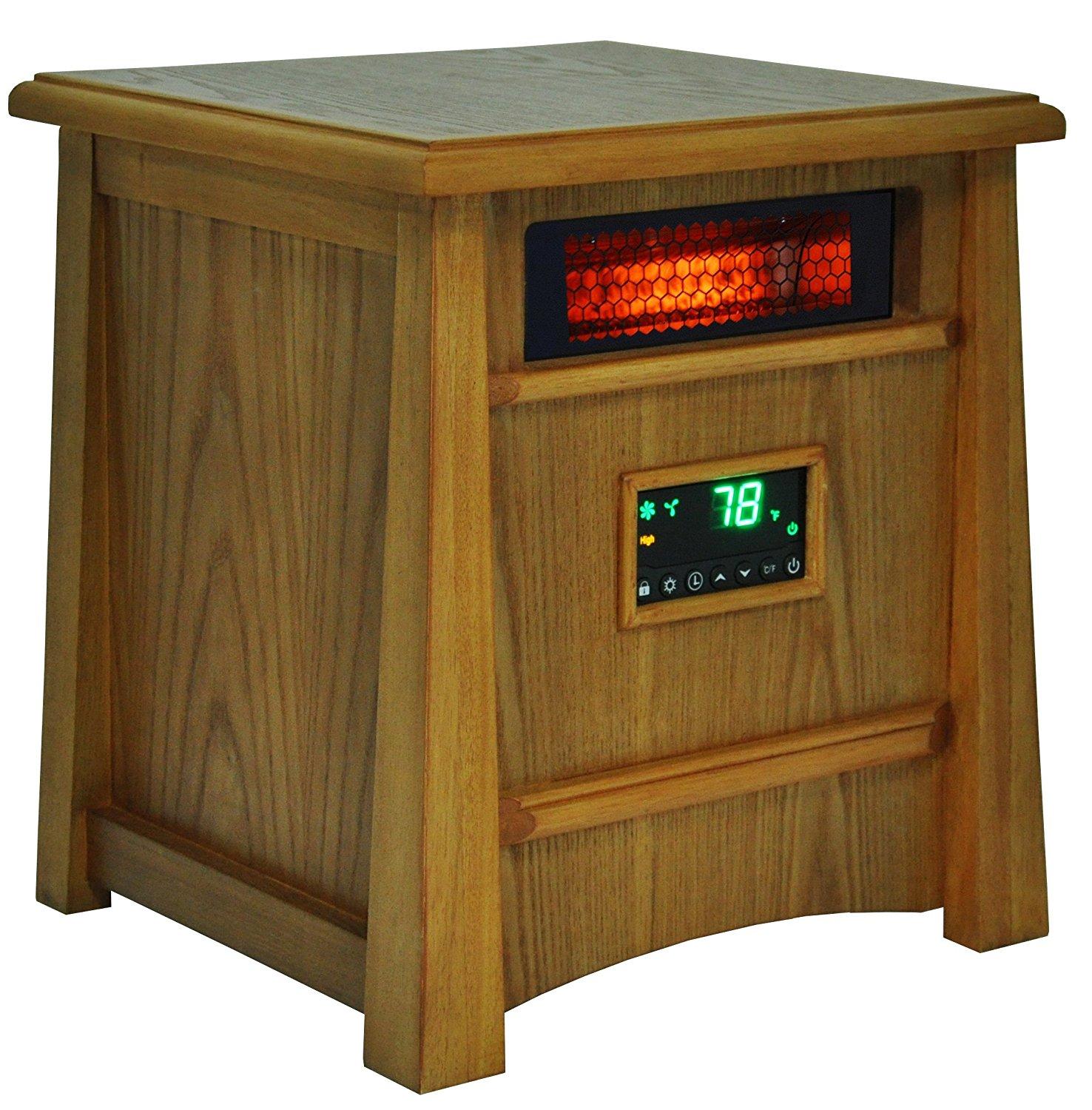 This top of the line infrared heater is powerful enough to warm an extra-large space of up to 1800 square feet.
Best Features:
The Lifesmart infrared heater run on infrared quartz technology, powered by 8 quartz bulbs.
It has a digital thermostat with dual timer settings and 12-hour timer.
An inbuilt fan ensures heat circulation while maintaining low level noise emission.
There are 3 heat settings: high, low and eco setting.
In an Eco setting, the heater can warm a small area for up to 68 degrees which ensures you of maximum heating efficiency and energy savings.
It comes with a remote control.
It has built in easy to move caster wheels.
Safety features include the standard overheat protection. It also automatically shuts off when tipped over.
The unit is cool to touch thanks to the stylish wood housing.
It's equipped with a child lock for maximum safety and protection.
Best for:
The Lifesmart infrared heater is best for people who can spare the extra cash for a deluxe heating technology. It may work well with large spaces.
Infrared heaters have become a thing mainly because of its energy saving promise. Let's take a closer look at some of the biggest reasons why you may want to consider getting one for your home as well.
How Infrared Heaters Work
Ever wondered why you feel toasty under the sun and chilly when you're standing under a shade? That's because your skin and clothes absorb the infrared light emitted by the sun which in turn, warms up your body.
Infrared heaters work the same way.
They make use of infrared rays to safely and evenly heat a space. The infrared waves warm up particles which prompt circulation in the atmosphere.
As a result, the room and the bodies in it feel warmer.
When the infrared light hits you directly, you feel the warmth. And when the light doesn't reach you well, you barely feel the heat.
These heaters are designed to emit infrared light from a series of coils. They also have a reflector that serves to direct the infrared light outwards.
The objects and bodies that reach the light are warmed up. It is a convenient option for small spaces.
Infrared Heaters Compared to Other Heaters
So how do infrared heaters fare in comparison to other heaters?
Instant Heating versus Longer Warm-Up
Warming up on an infrared heater takes much less time than it would on other heater types. With an infrared heater, you can feel the warmth as soon as it is turned on and the light hits you especially when it is on a high heat mode.
Because other heaters are designed to warm up the air, they will take twice as much time or even more before you feel the warmth.
The Efficiency Factor
When it comes down to it, bodies and objects should be the target of heat. Infrared heaters work efficiently this way.
Although it would be nice to have your place warmed up, it would not be as efficient as narrowing down the target.
The Question of Cost
Traditional heating systems are undeniably costly to set up and run. They require bigger amounts of energy in order to produce heat.
Because they utilize convection currents to heat the air, keeping the atmosphere warm requires a consistent supply of energy. Needless to say, this method is wasteful.
On the other hand, infrared heaters can help you in a mission to reduce your energy bills in more ways than one.
With the targeted heating that infrared heaters provide, you can possibly save up to 50 percent of energy, depending on how much and how often you use them.
Because infrared heat can't escape through open doors, cracks and ventilation ducts, it does not matter if your space isn't well ventilated. Warm air won't be able to escape the room.
The Environment-Friendly Element
This depends on what kind of heater we're comparing an infrared one to. In general, however, plus taking note of the efficiency factor, infrared heaters seem to be more conscious about leaving carbon footprint behind.
The Heat Distribution Factor
If you have a larger space, other heating options may be a smarter choice. On the other hand, if you live in an apartment, stay in a small room with you or just one other warm body, infrared heaters prove to be a more practical option.
The Light Emission Issue
On the bright side of other heating options, they don't emit light. And that makes them a friendlier option for nighttime use.
The Lasting Warmth Aspect
For infrared heaters, the instant heat also means instant loss of warmth when you turn it off. Because other heaters are made to heat the air in a room, the warmth they are able to produce tend to last much longer.
Types of Infrared Heaters
Infrared heaters can be classified according to power source, construction materials, portability, etc. Since all the heaters we have presented here use an electric power source and are all compact, we will focus on the heating technology: quartz and PTC.
What's the difference between infrared quartz and PTC bulbs?
Infrared heaters may use quartz or PTC bulbs or both. The main difference between these bulbs is their lifespan.
Manufacturers have used quartz bulbs to power their heaters for a long time. These bulbs usually last around 20,000 hours or less.
On the other hand, PTC technology lifespan is around 80,000 hours. PTC elements can also provide infrared radiation of a wider spectrum than quartz bulbs can.
The third type uses both on what is called a dual heating system.
Buying Guide for the Best Infrared Heater
As with shopping for any item, the best choice is always the one that suits your specific needs. So what exactly are the must have features and the nice to have's?
Below is a list of features you should pay particular attention to.
1.  Heating capacity that corresponds to your space's measurements
Most are set with a maximum heating coverage area of 1,000 square feet. If you have a much smaller room, it could be more economical to choose a heater with a lower capacity.
2.  Built-in and programmable thermostat
You should be able to control the temperature. Otherwise, you are bound to spend more in the long run.
Replacements can be costly so the best value heater has longer lasting quartz bulb.
If you don't want to worry about having cold and hot spots in the room, you should consider a heater equipped with a blower. It will help distribute the warmth evenly.
Ideally, the blower should be capable of generating a higher pressure in order to move a larger volume of air at a low speed.
A quiet blower with a very low noise level of 39 decibels will ensure you of a peaceful warmth. But how loud is 39 decibels?
It will sound like you're hanging out in the library.
A 3-power setting (high, low, auto energy saving mode) infrared heater is ideal. This provides you with the freedom to turn it up as desired or turn it down to save energy.
The auto energy saving mode is a smart feature that can help you control not only the temperature but also your bills. When set in auto energy saving mode, the thermostat automatically regulates the temperature as it switches between high and low setting.
You can choose your desired temperature from the heat range and manually set the heater at High 1500W or Low 1000W setting.
If you want the fastest heating, the High 1500W setting is recommended. In other cases, the low or auto modes are best for conserving energy.
Most infrared heaters have a heat range between 50°F and 86°F. You have to decide whether you will feel comfortable staying within that range.
7.  Multiple Safety Features including Overheating Protection
Fire is a risk with any type of heater. To address safety concerns, choose one with an overheating protection.
With this feature, the unit automatically shuts off before it overheats. This way, you can sleep with it on without worrying.
8.  Portability and Mobility
A space-saving heater with wheels built into the unit can be easily moved around where you need the warmth.
Although most infrared heaters include a tip-over protection some, especially those with in built wheels, may not be as stable as desired.
If you have children and pets always running around, it would be best to choose a unit that is as stable as possible.
10.  Safe to Touch Exterior
A wooden sturdy casing is desirable as such heaters ensure a cool to touch safety feature.
11.  Warranty and Return/ Refund Policy
If the manufacturer is confident about their product, they'd be able to provide a satisfactory policy for returns/ refunds and longer warranty.
The above requirements are basic but the following are nice to have features which you may not necessarily need.
Built-in humidifier
Compact cabinet
Stylish design
Replaceable filter/ air purifier
Operating light
LCD display
Infrared Heater Hot Tips
Here are a couple of tips to help you maximize heating efficiency and energy savings.
Avoid wasting energy by turning it on only when and where you need warmth.
Turn the heater off when the room is unoccupied. An infrared heater provides instant heating where you need some but there is no point in heating rooms that aren't occupied.
Only buy a heater with a programmable thermostat.
The electronic thermostat allows you to set it up to a temperature of 50 to 86 degrees in most heaters. You can go as high as you want for a more efficient heating or as low as you need to save cost.
Avoid safety issues by cleaning up clutter around the heater.
The overheating protection and other safety features allow you to relax and cozy up in peace. As an extra precaution however, make sure you place the infrared heater in a clutter-free area.
Keep it away from paper, fabrics and other hazardous materials. Clutter will obstruct the flow of the infrared waves so make sure to avoid placing anything on the unit itself.
Check the availability of replacement parts and consider their cost.
Tubes, bulbs and filters are replaceable parts in an infrared heater. Before you buy one, make sure these parts are readily available.
You will eventually need to replace them so it is best to also consider their prices.
Use a 20-amp outlet for a 12.5-amp infrared heater.
Most portable infrared heaters operate on 1500 watts and draw 12.5 amps power. To avoid overloading, make sure to connect it to an outlet of 20 amps if other appliances use the same connection or at least 15-amp circuit if the outlet is solely dedicated to your heater.
Be careful about using extension cords.
Using an extension cord is rarely necessary because most infrared heaters come with long cords. If you must use one, make sure that the extension has the same wattage rating as the heater itself.
Frequently Asked Questions
Can infrared heaters really help me save money?
In general, the answer is yes. Saving money by reducing heating cost also depends much on the kind of infrared heater you choose.
To maximize your savings, we strongly advise you to choose the suitable heater for the space you'll be using it for.
Do not buy a large heater when you only intend to use it for a small room. Avoid buying a heater that's too small for your large room.
Take note of the maximum heating coverage area of the heater. One with a 1,000 square feet maximum coverage for instance, will probably do best when used in a 500 to 900 square feet space.
Is it smart to use an infrared heater with my central heating system?
Infrared heaters are best used as supplemental heating supply unless you have a small room that's only good for two occupants.
Your energy savings will depend on how you use your heating systems. Adding an infrared heater to the energy equation without reducing the use of your central heating system will make no difference in your cost.
Use them wisely to supplement each other.
Are infrared heaters safe to use?
From 2003 to 2007, the National Fire Protection Agency reported that 16% of deaths from residential fires were caused by space heaters, naturally safety is a major concern.
If using fuel, gas, coal and other heaters that need flame doesn't bother you then the safety of using infrared heating should be the least of your concern.
Most infrared heaters come with multiple safety features like an overheating protection, tip-over protection, child lock and automatic shut off when hazard is detected.
Manufacturers also provide safety precautions in their manual. As long as you follow them to the dot, you should be able to steer clear of trouble.
Conclusion
For a more spacious area, the Lifesmart Lifelux infrared heater is an ideal choice with a heating coverage of up to 1,800 square feet. When it comes to aesthetics and design while fulfilling the requirements of a much smaller space, the ProFusion Heat seems to be a decent choice.
Overall, Original 1500-Watt Infrared Portable Heater with Dual Heating System by Dr. Infrared Heater wins on account of its safety features and the use of infrared quartz tube and PTC technology for maximum heating efficiency.
We are also impressed with its optional air purification kit. If your household is troubled by allergies, this heater makes an ideal family choice and the best infrared heater in this roundup.