Inline water filters ensure that your drinking water is completely safe for consumption. However, not all water filters on the market are capable of achieving this function. Therefore, you have to look only for the best inline water filter so you and your family's health won't be compromised.
In this article, we'll be looking at some of the best water filters you can find online.
The Best Inline Water Filters on the Market
1.  Frizzlife Under Sink Water Filter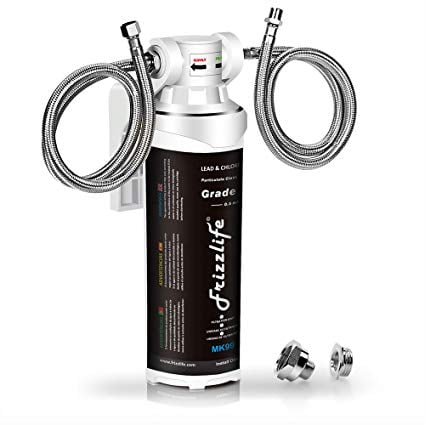 This filter from Frizzlife features two stages of filtration to help remove the toxins in the water. During this process, it also removes dirt and chemicals that can harm your health.
It's easy and quick to install which makes it perfect for people who have a busy lifestyle. The kit includes a steel faucet that fits most of the sinks that are available in the market. Moreover, this filter provides you and your family with safe and clean drinking water that you can use to cook or drink.
The good news is that there's no extra fixture since the adapter is already included alongside an easy-to-follow manual.
Comes with a shutoff valve for easy filter replacement
Removes 99.99% of contaminants
Easy to install
Does not filter accurately
Some customers reported missing parts
2.  CuZn Under Counter Water Filter
The CuZn water filterhas a long life cycle of up to five years compared to other filters that last for only two to three years. However, you have to test your water first as private well water is not recommended to be used with the product.
This water filter is designed to solve the issue with regard to excess hard water. Another added feature of the CuZn water filter is that it stops the growth of mold and bacteria which helps prolong its lifespan. It is very simple to mount; all you need is a wrench as it connects directly to the waterline of your kitchen sink.
Incredible five years lifespan
No need for a third faucet
Three-stage filtration process
Only takes a few minutes to install
Does not improve the taste of your water
Not capable of filtering all contaminants
3.  Watts Inline Water Filter
This water filter is perfect for water fountains, ice makers, water coolers, and the like. It is fit to use for a caravan, home, or even a boat and is also a highly rated product on the market.
Compared to most water filters, this one can last up to five years and can filter up to 20,000 gallons of water. It is tested to remove the taste and smell of chlorine. To add to that, the special filter allows the process to stop bacterial growth which makes it last over five years.
The filter's capacity of 20,000 gallons will significantly decrease any visible spots or streaks in your water right after you install it. It's also testified and certified by the WQA for safety standards.
WQA certified and tested
Easy to install and maintain
Features a 20,000-gallon capacity
May need additional fitting
Does not fully reduce chlorine
4.  Filtrete Advanced Water Filtration System
The Filtrete system aims to remove pollution from your tap water more effectively. This filter is perfect for those who want to drink fresh and clean water from your faucet. The water from the tap is carefully filtered to eliminate color, taste, sediment, and odors that are due to the presence of chlorine.
With this filter, you can get bottle-quality filtered water from the tap once it is connected to your cold water line. On average, it will take around thirty minutes to install and may require the use of a screwdriver and other tools. However, it will depend on the waterline and the sink type.
For this reason, it could take a little longer than others to install the product.
It attaches directly under the sink
Provides full water flow on existing faucet
Comes with a filter capacity of 2,000 gallons
Takes longer to install than other water filter products
Designed to be used under the sink only
Filter life only lasts for up to six months
5.  Culligan EZ-Change Basic Water Filtration
Usually, it takes about six months before the filter's cartridge is needed to be changed. However, this model is a great pick for an ice maker and refrigerator.
This product helps remove the taste and odor of chlorine. It can simply be screwed on and off, even if it is your first time. Moreover, it only needs minimal upkeep and is quick to install as well. It's capable of handling up to 3,000 gallons which makes it ideal for RVs, campers, and homes.
One of the most affordable water filters around
Simple installation
Removes unwanted odor from your tap water
Its 3,000-gallon capacity is too low compared to other water filters
May not be as efficient as expected
6.  AmazonBasics Inline Water Filter
AmazonBasics' water filter is a long-lasting water filter that can also be used when you need pure water for planting and gardening. It comes with a sediment filter which is used to make sure that it can provide you with a safe and clean-tasting water.
This product will decrease the odor, smell, and taste of chlorine from your regular tap water. Moreover, it features the Kinetic Degradation Fluxion technology that aims to block bacterial growth and helps make your filtered water taste better.
Lastly, it protects your water from fungus and other harmful chemicals.
Sturdy and will last a long time
KDF technology removes bacteria and odor from your water
Reduces rust and other buildups
Does not fully remove chlorine and is not ideal to be used in an aquarium or pond
Some customers say that it has a poor flow rate
7.  Omnipure Inline Water Filter with Quick Connect
The OmniPure water filter is easy to keep and install, and its' also ideal for people who only have a small budget. All of the tools you need for installation are already included inside the package. It even comes with a twist and lock system which makes it easier to attach to your water lines quicker and easier.
It reduces chlorine and other toxins in an effective manner. As soon as you install it, you'll notice your water starting to get clearer and the taste better.
Reduces odor and taste from chlorine
Every tool that is needed for installation is included
Twist and lock system for quick and easy installation
Only has a filter capacity of 1,500 gallons
Not tough enough to last a long time
How To Choose the Perfect Inline Water Filter For Your Home
There are a lot of reasons as to why you want to install a water filter for your home. Most of the time, however, it's because you want to avoid buying bottled water and instead use your tap water as a source of drinking water.
However, what do you need to consider when buying one, and how do you choose the best inline water filter properly? Here are some suggestions you want to follow:
Research about Your Water Supply
In order for you to choose a proper water filter for your own home, you need to know what you have to filter. Knowing the harmful chemicals that are lurking in your water will enable you to find the filter that you need.
To find out, you can look for a searchable database that is maintained by your local government so you can learn more about municipal water tests and their results. You can also do home water tests if you find it hard to search the information by purchasing kits that are available in some stores and online. However, this can cost you a bit of cash. 
Choose the Right Filter According to Your Needs
After knowing what your water consists of, you can choose the right filter that you can buy and use. You should take note that not all filters are the same, so pick according to where you would use it.
For example, there are shower filters available in the market to remove chemicals from treated water. These are usually helpful for people with sensitive skin. On the other hand, under the sink and countertop filters are widely used to provide you with safe drinking water. 
Conclusion
People these days are coming up with a lot of ideas to save up money. This is one of the benefits of using an inline water filter. Not only will you be safer by using water when showering or drinking, but you will also reap the health benefits when you use a water filter.
Having said that, be careful when buying one because not all water filters are the same and some won't work as intended.
Hopefully, the inline water filter reviews that we have listed above can help you choose the right water filter for you and your loved ones.