Buying a pump for your above ground pool is a wise decision since it will help you save money from changing water often.
No matter the swimming pool you have, it is important to maintain the water's visual clarity to prevent the spread of infectious waterborne illnesses. These diseases can be caused by drinking or getting in contact with water contaminated by pathogens or microbes.
Fortunately, the best Intex pool pump will prevent your water from being stagnant, ensure better circulation of the pool water, and improve the filtration system to make your pool water clean and clear.
When searching for a pool pump, you need to ensure that it has the right energy and strength to effectively clean the amount of water your pool contains. In this article, we will look at two of the best Intex pool pumps that can be used with your above-ground pool. 
Why Intex Pool Pumps?
Intex pool pumps are best designed for Intex pools. These pool pumps are best known for their Hydro Aeration Technology that increases negative ions on pool water, improves circulation and filtration, and ensures better water clarity.
The brand is known for the innovation it brings in the above-ground pool industry. Aside from pools, it has also developed pool accessories and equipment to extend the products' lifespan and make it safer for the users to swim in their pools. 
Products Review 
1.  Intex 26643EG Above Ground Pool Sand Filter Pump 1200 GPH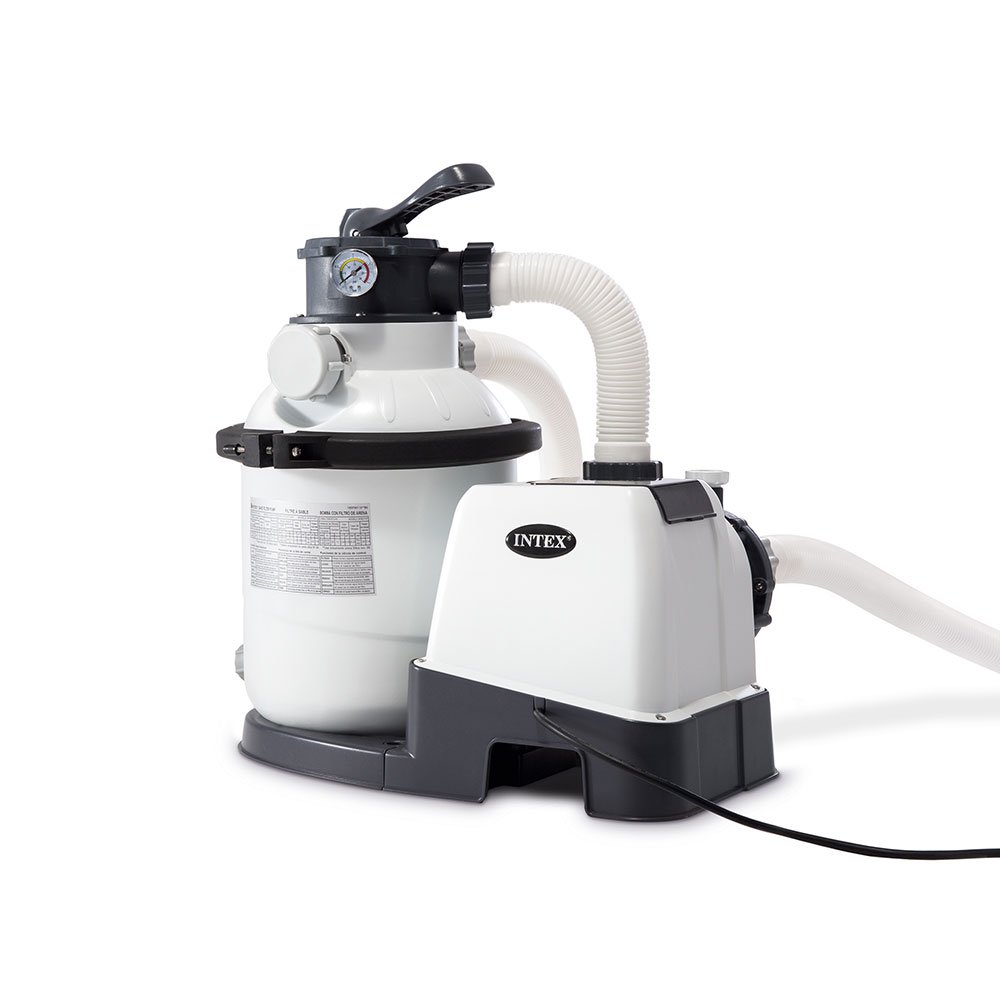 This pool filter pump offers six functions: close system, drain, re-circulate, rinse, backwash, and filter. Its pump flows at 1200 GPH with a system flow rate of 1050 GPH.
The brand integrated the new hydro aeration technology into the product. This results in the boost of negative ions in the water's surface, providing clearer water and better filtration and circulation.
The pump is best suited for a pool with a minimum water capacity of 2800 gallons and 8400 gallons at max. It comes with a built-in automatic timer which can run for 24 hours non-stop.
Its pump motor runs at 0.25 HP and can be powered from 110 to 120V. Another great spec that makes this product the best above ground pool pump is the long lifespan of the sand.
This is made possible by the strainer basket that is integrated into the product, which also makes it easier to clean. You can also be assured of improved filtration system, thanks to its automatic timer and the hydro aeration technology
However, it is important to note that this pump may not do very well for surfaces that are not perfectly flat. Also, depending on your pool, you may need to get additional parts such as nuts and plunger valves with gaskets to maximize the pump's use.
Highlighted Features: 
Horsepower: 0.25
Water Capacity: 2800-8400 gallons
Tank size: 10 inches
Has a 26-pound sand capacity
Comes with a strainer basket and automatic filtration system
Includes two 1.5 inches connector hoses, 1 Hydro Aeration Technology inlet fitting, 25 feet power cord with GFCI (built-in), and SF90110-1 sand filter pump
Pros of This Intex 26643EG 1200 GPH Above Ground Pool Sand Filter Pump 
Easy to operate
Meets the standard of UL/CSA
Product comes with a 2-year warranty
Will save you money from buying paper filters, batteries, and chemicals
Can effectively clean a hot tub after a little modification
Cons of The Above Ground Pool Pump 
Can have difficulty cleaning the bottom of pools that are not perfectly flat
The connections may leak if misused since they are made of plastic
Incomplete instruction details for setting it up
You will need a plunger valve if you have smaller hoses
2.  Intex Above Ground Pool Krystal Clear Cartridge Filter Pump 1500 GPH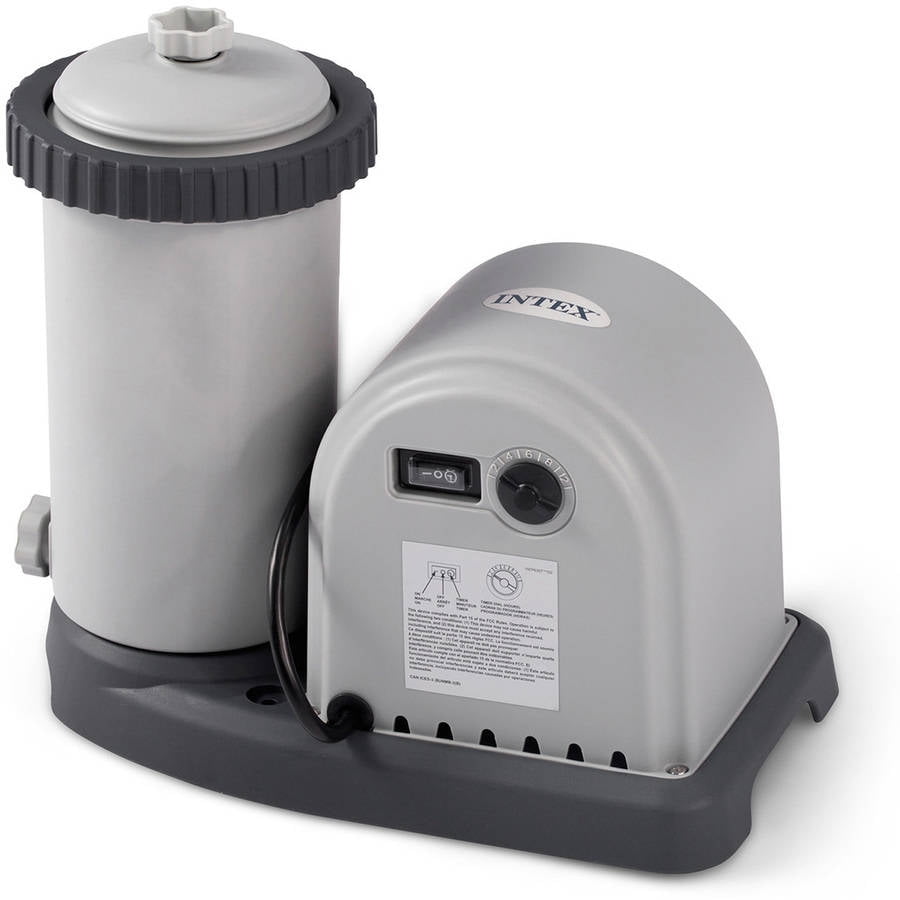 This product often comes on the top list of Intex pool pump reviews. It offers six control functions – close and drain system, recirculation, rinse, backwash, and filter. It has a 1600 GPH system flow rate and a 12100 GPH pump flow rate.
It is also powered by innovative hydro aeration technology for better filtration, circulation, and more negative ions into the water's surface.
This filter pump is best suited for a pool with a minimum water capacity of 2800 gallons and 12,800 gallons at max. It comes with a 24-hour automatic timer that ensures constant maintenance of your pool water.
Plus, you won't even need to purchase additional chemicals due to its efficient cartridge filter. Also included in the package are hoses that come in handy to be used in the pool's outlet and inlet. Maintaining this pump is a breeze due to its sediment flush valve at the filter chamber's bottom. Its pump motor runs at 0.3 HP and can be powered from 110 to 120 V. 
Highlighted Features: 
Horsepower: 0.3
Water capacity: 2800-12,800 gallons
Capable of filtering 1500 gallons of water per hour
Comes with a GFCI outlet feature that adds security and safety 
Pros Intex 1500 GPH Krystal Clear Cartridge Filter Pump for Above Ground Pool 
Meets the standards of UL/CSA
Quick and easy setup and installation
Double insulated for extended shelf life and safety
Easy rinse and backwash of the pump
Strong power of the pump to clean the pool with ease and efficiency
No leak problems
Pump runs smoothly and quietly 
Cons of The Above Ground Pool Pump 
You need to buy plunger valves separately
Doesn't come with detailed instructions on how to use
Conclusion
It is important to choose the best Intex pool pump if you own an above-ground pool for easier maintenance and water safety. A great pump will help improve water circulation and filtration, minimizing the need for daily pool maintenance.
When making your selection, you must always look into the product's features to ensure you are getting the type intended for the type and size of pool you have. Just ensure that you install the pump on a vibration-free and solid level.
We hope that our reviews of the two best pool pumps from Intex can help you decide which one suits your pool best. Good luck with your search.