Have you decided on a small bathroom renovation? Are you looking for the best LED shower headfor your buck? Do you have no idea where to start? Well, congratulations! You have come to the right place. Our team have taken the trouble to go through a whole lot of different LED shower heads and made up a list of LED shower head reviews for you. Why?Because we like to make your life easier!
Best LED Shower Head Reviews – Get Your Money's Worth
When it comes to determining the best shower head for you, it's a matter of personal choice. We have a range to make that decision so much easier.
1. DreamSpa LED Shower-Head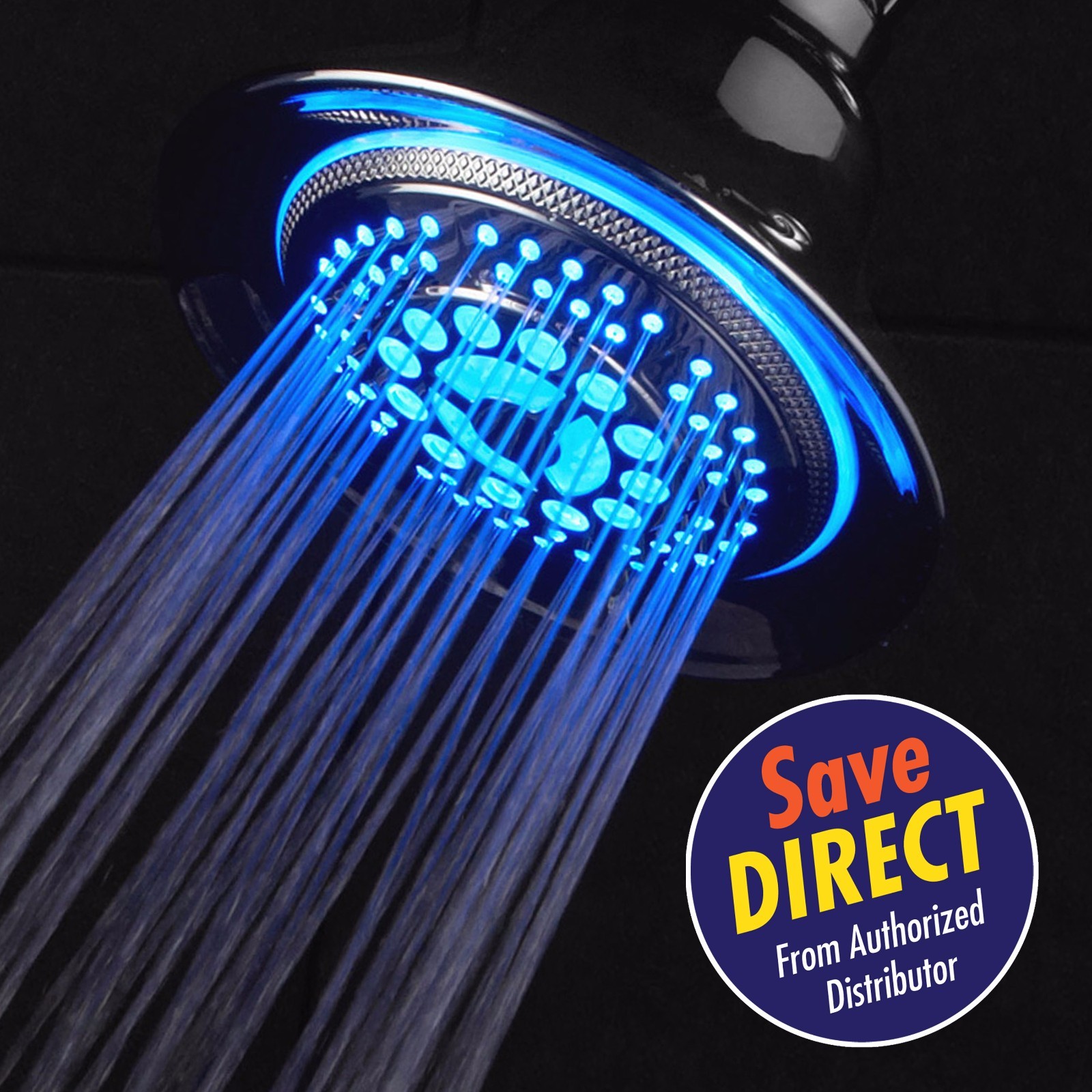 Not only does DreamSpa's shower head have an attractive high-polish chrome face with a reflective rim, but transparent jets that transmit light while the water is on. The LED lights also work with water power, so no battery is needed.
The shower head has a number of great features to recommend it, which includes:
A highly polished chrome finish
Water-powered LED lights
A reflective perimeter rim
Five different water settings: power rain, pulsating massage, hydro-mist, economy rain, and water saving pause
It has a high-power three-zone dial
Jets are super easy to clean
A click action lever that makes life just so much easier
Three color automatic light changing feature where water changes color according to the temperature
An easy, tool-free installation
2. Stainless Steel ShowerHead Rain Shower
This is a worthy contender if you are looking for a rain shower head and good coverage.
Why we liked this shower head:
Has a distinguished-looking 8-inch square shape and ultra-thin design
Has a great polished shine
Its stainless steel construction and absence of fragile plastic parts makes it durable
It is very easy to clean – just give the rubber nipples a good squeeze and all lime or sediment is gone
3. Luminex by PowerSpa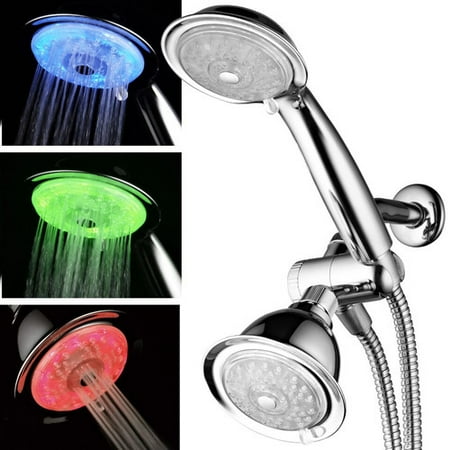 Luminex gives you double the experience with this overhead and handheld shower combo. An added benefit? Both have LED lights!
We absolutely had to add this one to the list because:
It is a 243 setting, color changing, LED showerhead and LED handheld shower combination
Both sets of LED's are water-powered
It has seven LED colors that automatically change every few minutes, effortlessly blending into each other
The supercharged water turbine LED air jet design serves to maximize your water pressure by adding oxygen by means of 48 elastic nozzles
Nozzles are rubber and easy to clean
Each showerhead has a four-inch face with four different settings: rain, massage, rain and massage, and pause
The five-foot stainless steel shower hose is imminently flexible and has dual brass conical nuts for easy tightening by hand
4. Ana Bath Handheld Shower Head and Combo Shower System 
A stylish product that fits beautifully in either your bath or shower enclosure this productis definitely a contender for the title of the best LED shower head. The five-function shower head with three-way diverter mount most definitely is a contender.
What we liked about this dual shower head contender:
It is a combo LED shower system
It is very easy to mount – no tools needed
Has five function LED shower head and LED shower head
The five function handheld shower is a contender for best handheld shower head due to its different functions, i.e. pick from saturating, massage, bubbling spray, saturating spray plus bubbling combinations, or saturating & massage spray.
The overhead shower head also has five functions, i.e. saturating spray, massage, bubbling spray, saturating & massage spray, and saturating & bubbling spray
It comes with a long, sixty-inch steel shower hose
The brush nickel finish gives this product that added luxury look
5. HotelSpa Shower Combo with LED Shower Head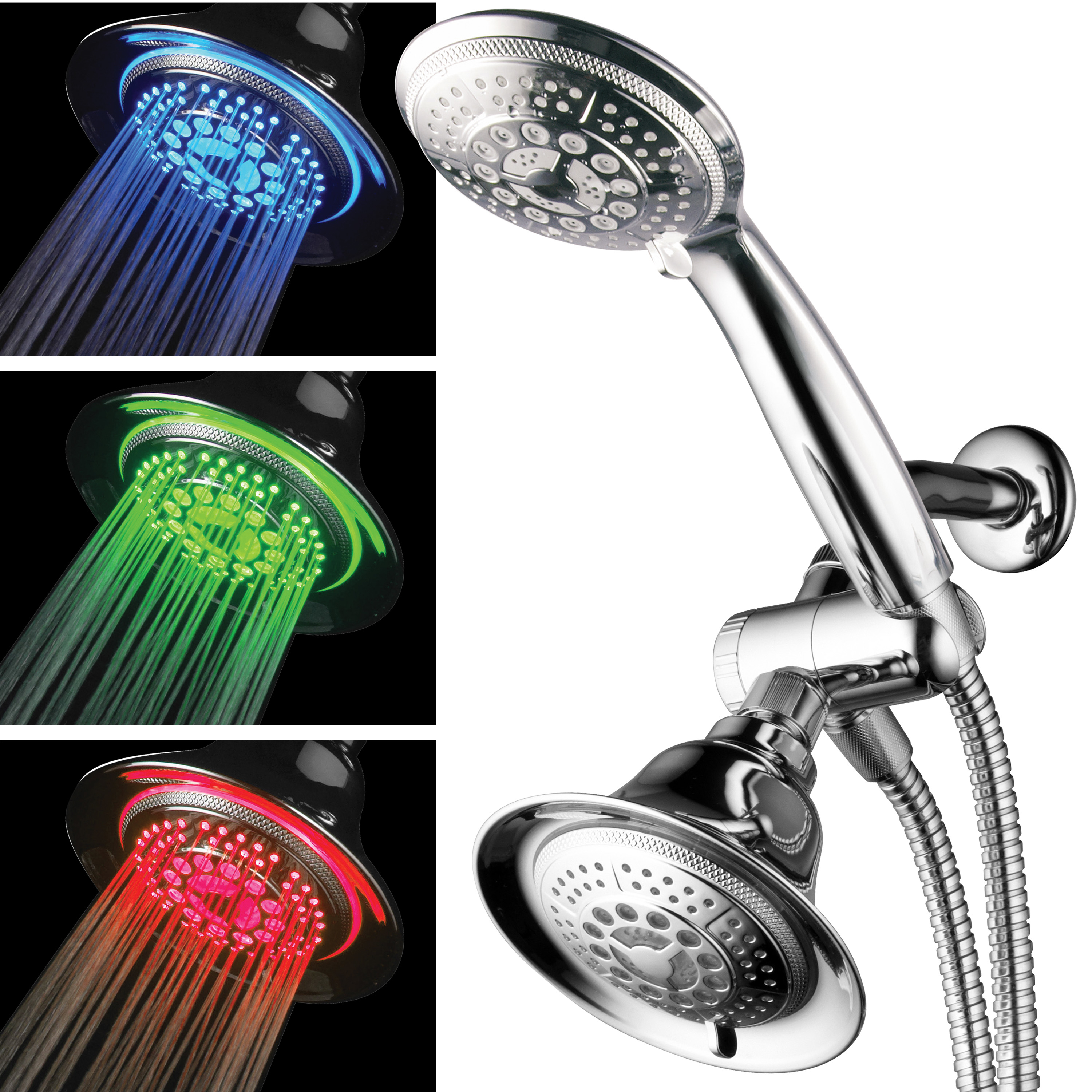 Ten different settings make this handheld LED shower one of the best shower heads around, but by adding the great overhead shower, you have a luxury combination that is difficult to beat.
Why this product made the grade:
Each shower head has five different settings
Has LED lighting powered by a hydro generator (built in) in three different colors
LED color lights change according to water temperature
Showerhead has an extra-large chrome face sporting a reflective perimeter rim and five different adjustable angle settings
The handheld shower head has five settings: power rain, massage, stay-warm mist, economy rain, and pause
The five-foot stainless steel hose is super flexible and has solid brass conical nuts that ensure easy hand tightening as well as a leak-free connection
6. Fyeer Rainfall Shower Head Square
This rainfall showerhead gives you an ultra-thin, modern and stylish look that works with any bathroom. The LED's give that added extra 'sexy' touch.
We really liked this showerhead because:
The product is made of solid 304 stainless steel with a gorgeous nickel brush finish
The three-color-changing water temperature sensor allows the LED lights' color to change automatically – according to the water temperature
LED's are water powered so no batteries are needed
Has a waterfall feature, gives full body coverage, and is adjustable
Showerhead sports 324 sixteen-inch nozzles
Installation is easy with no tools needed
7. Shower Head by Symple Stuff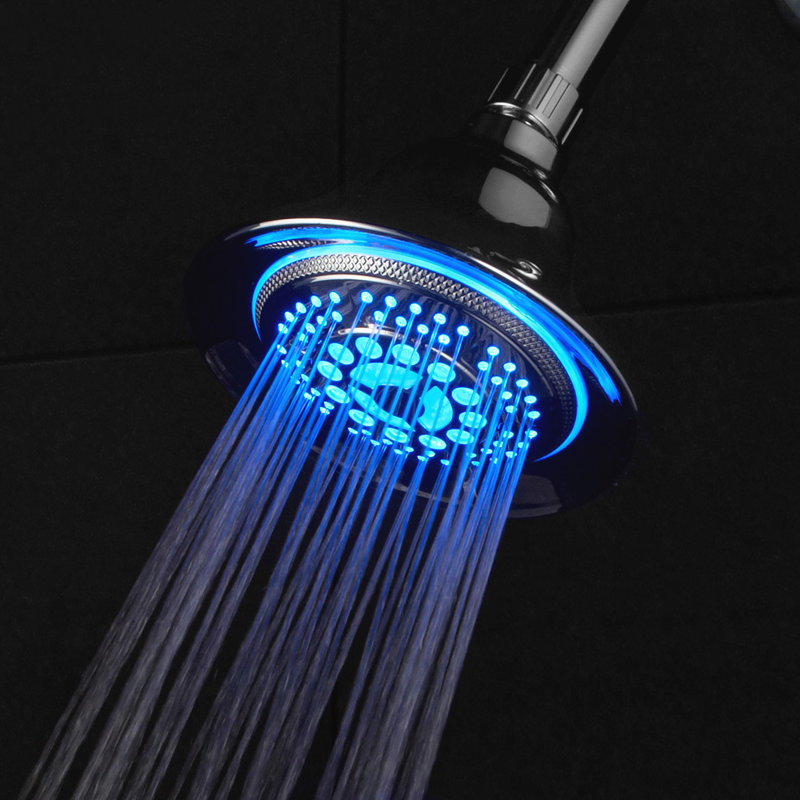 If simplicity with a twist is the stuff of design, the simple yet effective design on Symple Stuff's offering does the trick. Plus, the LED's make an extra, added statement.
Why we fancy this product:
The LED lights are water powered – no batteries needed
The shower head is angle adjustable
It is fitted with a three-color water temperature sensor
The extra-large chrome face has a reflective perimeter rim
The designer bevel rim accent provides that little 'extra' finishing touch
Has a beautiful chrome finish
8. LED Shower Head by Luminex™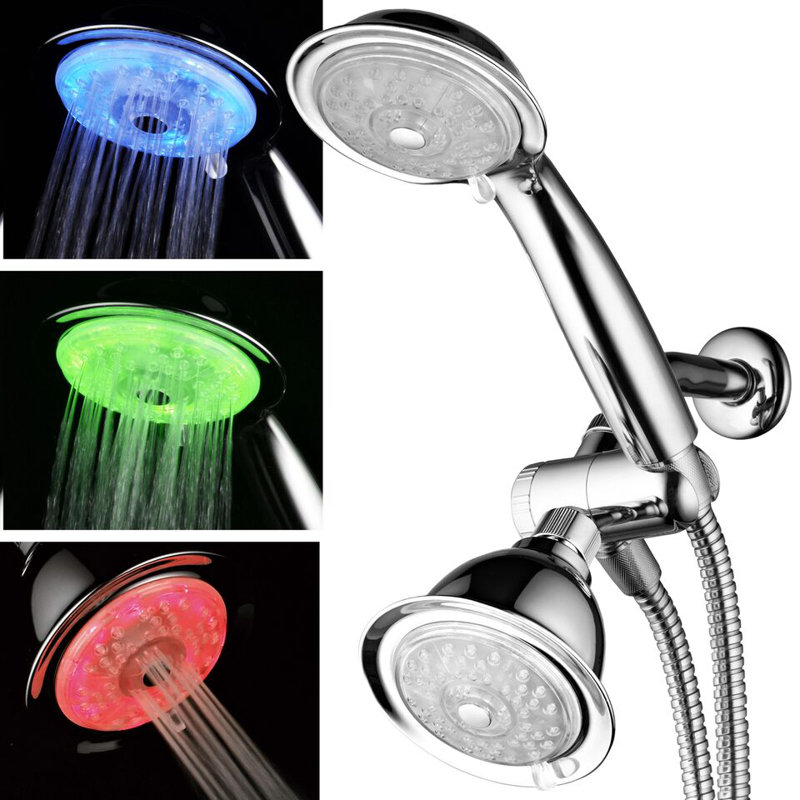 Designed to use separately or at the same time, this combination set by Luminex has LED lighting ad a three-way diverter that puts this one on our list.
We liked this shower head combination for the following reasons:
Both shower heads can be used individually or at the same time
You get to choose from 24 different settings that have combined water flow patterns
Both shower heads are adjustable and have a 4-inch sized face
Each has four settings, including rain with massage and a pause mode that saves water
The patented three-way diverter has an anti-swivel lock nut
Easy to connect without the use of tools to any standard overhead shower arm
9. Rain Shower Head by Alfi Brand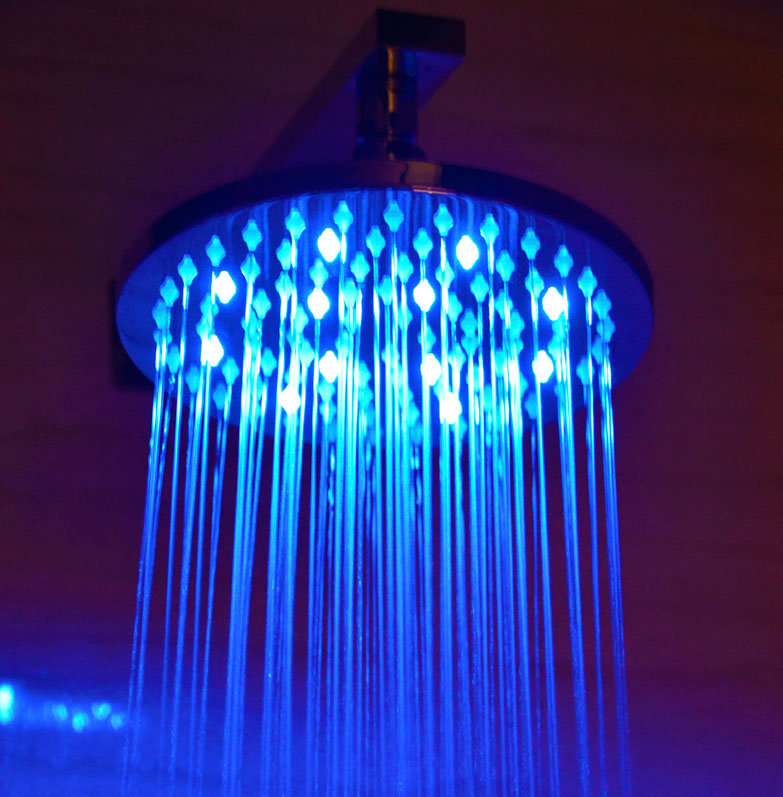 The LED lights are a mood setter, especially when the colors automatically changes with your water temperature. The self-powering dynamo means that no batteries are needed.
The features that caught our eye include:
Different colors of LED lights depend on water temperature – to either blue or red, with high temperatures giving off a flashing red light
The universal design allows for fitting on any shower  attachment simply by unscrewing the old one and screwing in your new one
The product can be used with either a wall or ceiling mounted arm, meaning no extra plumbing is necessary
The modern, stylish design is finished off with a polished chrome exterior, making it seamlessly fit in with existing bathroom features
The LED lights are powered by a built-in dynamo, meaning no batteries are necessary
Picking the Best Shower Head for You
What isit that you want from your shower head? Is it versatility? In this case, going for something that is multi-functional with the added benefit that a hand shower brings might be the best LED shower head option for you. Of course, you also have the option of simply opting for an overhead shower head as well. It really is a matter of individual preference. But with the wide variety of shower heads, LED lighting differences, as well as function and style, everyone ends up a winner when deciding on the product that is your perfect match.
Having said that, though, our team had to decide on ONE shower head that we deemed the best. It was a difficult decision to make, as there were so many variables to take into consideration. The final consensus, however, fell on the HotelSpa Shower Combo with LED Shower Head. Besides loving this shower head's stylish look, we loved the fact that it was an overhead and hand held shower combination. The fact that both shower heads were multifunctional with different spray settings gave it that extra edge when deciding. Of course, the final plus point was the extra-long, five-foot stainless steel hose that just so happens to be super flexible. This makes it a great option for a shower enclosure or over a bath, especially when dealing with washing the dogs or giving the kids a quick shower when time is of the essence and bath time at a minimum. Of course, cleaning out the bath afterward is also easier.