The home sauna has been gaining in popularity these days. This is because of the low price and simpler installation process. The affordable option, however, is the outdoor sauna as it is easier to integrate. Below is a quick guide to help you find the best outdoor sauna on the market.
The Best Infrared Saunas and Their Many Benefits
The Top 7 Sauna Units in the Market
With all of these in mind, you might be asking what could be the best outdoor sauna units right now. Below are some of the top-rated saunas currently available on the market. A short description for each is also provided.
1.  Almost Heaven Saunas LLC Audra Fir 4 Person Traditional Steam Sauna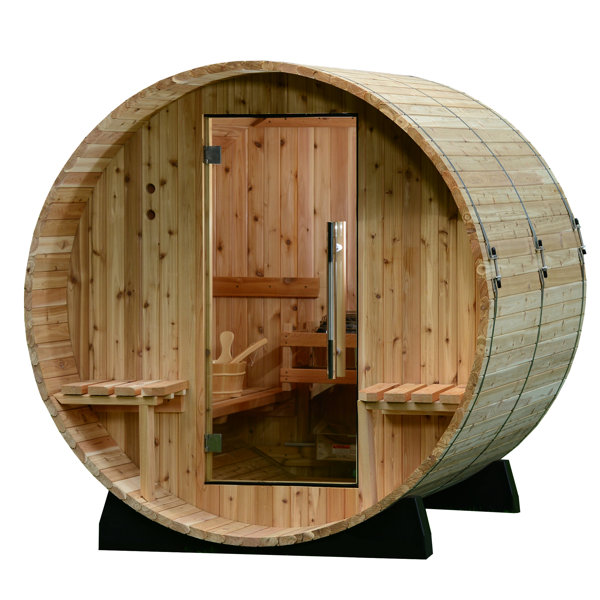 This is a barrel-shaped steam sauna that can fit up to 4 people inside. If you are looking for a high-quality traditional steam sauna that looks great in your backyard, then this huge sauna from Almost Heaven Saunas is the choice to be.
It is made from Solid Wood material with Rustic Fir details and a stunning natural finish. It only has one source of heat and has a maximum temperature of 190-degrees Fahrenheit.
Best Features:
Has a lot of space for 4 people
With a complete sauna kit which includes a Finnish-style heater, a bucket, a ladle, sauna stones, and a thermometer
The door material is made from tempered glass
This is also weather resistant
Suitable for both outdoor and indoor use
Also has a lifetime warranty on the sauna while offering a 2-year warranty on heater
See more: Almost Heaven Saunas LLC Saunas on Wayfair
2.  Sunray 4-Person Cayenne Outdoor Sauna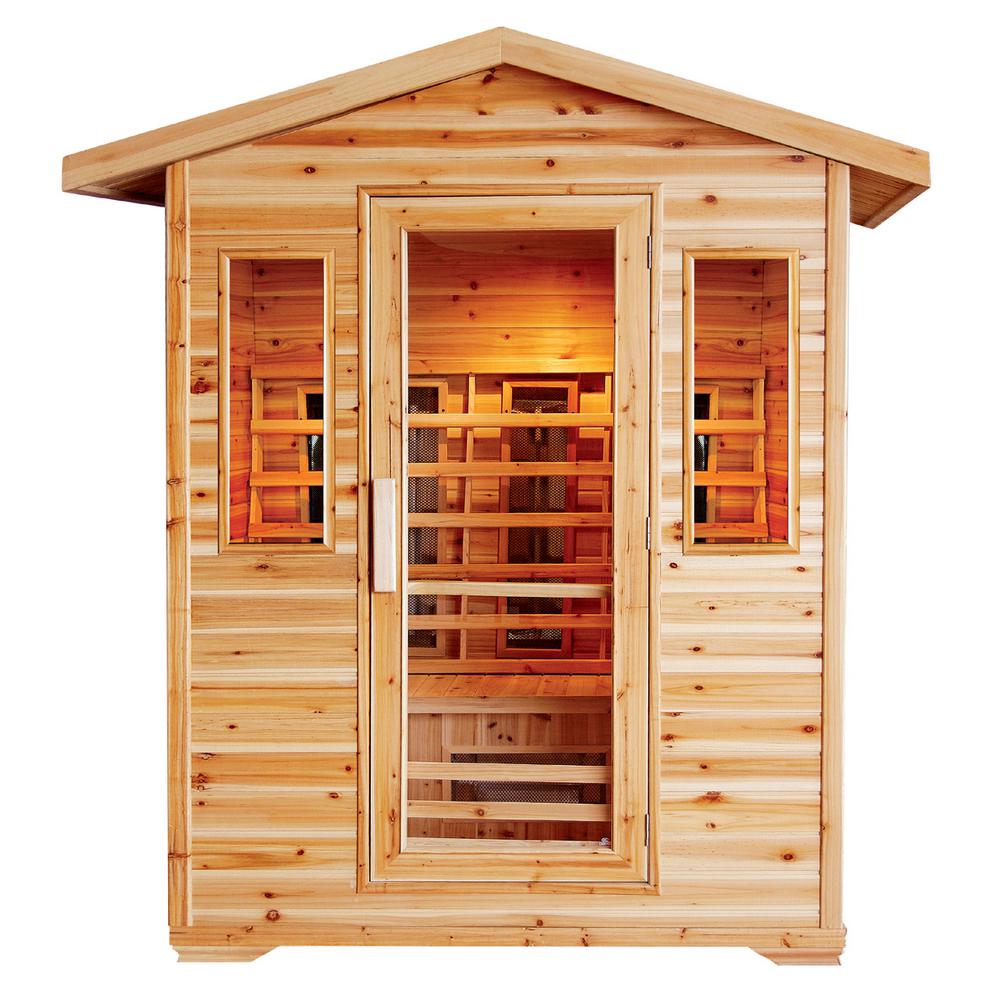 For a more luxurious feel, aim for a sauna that can live up to this kind of experience. This Cayenne sauna by Sunray is the definition of a luxury and comfort fused together in one amazing sauna.
The sauna is spacious enough to accommodate 4 people inside. Instead of one heat source, this one has a total of eight ceramic heaters placed strategically to deliver heat faster and evenly. Lastly, this is a great outdoor sauna that can withstand any weather conditions. However, it is best to use the weather cover when the sauna is not in use.
Best Features:
The bench us 69 inches wide, making it comfortable for you to sit and relax inside the sauna.
Easy to assemble with easy-to-follow instructions
Made from Natural Canadian Hemlock Wood
Has an LCD control panel
Also features an FM radio with CD and MP3 player, oxygen ionizer, cup holder, and reading lamp
It also has a backrest which has an ergonomic design
3.  Finlandia Outdoor Sauna with Roof Kit
This outdoor sauna measures 4 feet by 4 feet and has excellent interior and exterior. On top of that, this is also equipped with advanced features to make your sauna time worthwhile.
Finlandia outdoor sauna is a pre-built sauna with amazing insulated walls and ceiling heated panels. A lot of its users are happy with the sauna's performance, stating that this is a great sauna with easy temperature control.
Best Features:
This sauna is made from Western Red Cedar (both the interior and exterior).
Has 2 benches facing each other
The clear glass door is wide enough for easy access, plus it has solid wood rails.
With wooden heater guard
Includes a wall light, headrest, wooden bucket, and other sauna accessories
Easy to install and really looks great
4.  Western Pacific 4-Person Outdoor Sauna
This 4-person outdoor sauna by Western Pacific usually lands a place in other outdoor sauna reviews. And that's for some good reasons of course.
Powered by eight Ceramic FIR FAR infrared heaters, you can enjoy a satisfying yet gentle heat in this sauna. Others call it as the best outdoor sauna they ever have, thanks to its waterproof shingled roof and amazing features.
Best Features:
The 8 ceramic heaters are huge and are high-quality
With chromotherapy LED lights to enhance your mood
It also boasts a digital control panel, which allows you to listen to music through MP3 or through Auxiliary Input both for iPod & iPhone.
The glass door is tempered and is weather resistant.
If you want to read while enjoying sauna, you can do so. This sauna has 4 reading lights.
To make sure the air inside is free of harmful contaminants and particles, this sauna has a built-in ionizer/ozone generator.
5.  Allwood Barrel Wood Fired Outdoor Sauna
Finland takes pride in this amazing outdoor sauna that gets its heat source through burning woods. Allwood barrel sauna model #220-WHC is an outdoor sauna with a premium Harvia M3 wood fired heater.
This can comfortably seat four adults inside with its 2 benches facing each other. This sauna is mostly for sitting position only with a total diameter of 6 feet and 8 inches.
Best Features:
Has a great air circulation inside
The barrel shape allows the heater to warm up the sauna quickly.
Made from thick Nordic Spruce wood, which is known to be naturally resistant to heat, mildew, and insects
With roof shingles which also helps protect the sauna from any weather conditions
It has support cradles to elevate the structure from the ground.
6.  Allwood Barrel Electric Outdoor Sauna
Another outstanding sauna from Allwood is this barrel outdoor sauna model #400-EHP. This one is an electric heater sauna modified to suit the outdoor setting.
This is a pretty huge sauna that can seat an entire family inside. A total of eight people can enjoy the sauna together.
Best Features:
Also made from a heat-resistant, mold and insect-resistant Nordic Spruce
With roof shingles for added protection and durability
Consistently using the sauna can improve one's mood and overall health
Compatible with oil and essences for aromatherapy
The benches inside are wide enough for the user to comfortably lay down.
Easy to assemble and use
7.  Finlandia Outdoor Sauna With Starline Skylight Roof
If you prefer to enjoy the sauna at night, then you'd most likely love this Finlandia Outdoor Sauna with Starline Skylight Roof.
The clear roof allows you to appreciate the stars in the sky as you relax and destress inside the sauna. This pre-built sauna is designed with triple layers of acrylic, so it's quite durable. Furthermore, it is also watertight and has a stunning bronze frame.
Please note that this sauna doesn't come with a surface floor. Hence, you need to assemble it on a leveled concrete, tile, or vinyl floor.
Best Features:
Easy to assemble and operate
With wooden heater guard
Includes a headrest that resembles the natural shape of your head
Equipped with a wall light, Thermometer, bathing sign, and a wooden dipper
What to Look for
The right sauna for you should reflect your needs and budget. What is good for one person may not exactly be the same for you. To make this easier on your part, you should take a look at several factors before buying your sauna.
Installation Process
How much time and money do you want to spend building your own sauna? There are two types of outdoor saunas on the market today. These are the pre-cut and the modular models. The pre-cut sauna is built from the ground up by the manufacturer. By design, it can be used quickly after purchase.
It has one problem, though. You will have to spend more in preparing the site for the sauna. Also, since everything has been built for you, you do not have a say as to how your sauna would look like.
The modular sauna, on the other hand, is designed to offer mobility and customizability. Basically, you will have to buy the sauna piece by piece. Then, you need to install them one by one until you have a working unit.
The best portable sauna units are usually of this type. This is ideal for people who tend to move frequently from one home to another.
Wood
A sauna is basically a woodhouse, and the material used for it can affect the way you use it. The most popular sauna models in the West use a wood called Cedar. It looks attractive, does not decay easily, and does well inside the sauna's steamy climate. Also, cedar gives off a nice aroma that makes the sauna a perfect place to relax.
However, there are also other sauna models that use other wood. The traditional Finnish sauna uses a type of white spruce native to the Nordic regions.
The wood material has a fine, white-tone appearance and is both light and durable. It also darkens slightly with age, which makes it resistant to constant wear and tear. Other wood materials include Abachi, Aspen, Redwood, and Hemlock.
Size
How many people do you want to fit in your sauna at any given time? The space inside the sauna can actually affect a lot of factors including heat distribution and overall comfort.
The sauna should allow for at least 2 feet of breathing room for each bather. It should also offer a space of 6 feet in each direction to allow comfortable movement.
Size will also determine the output of the sauna heater you will need. If you plan to fit more people in your sauna at the same time, you will need a more powerful heater. If you only plan for the sauna to fit a smaller number, then the standard heater units should be enough.
Operating Costs
Aside from the cost of materials and labor, you will have to think about how much the sauna is going to cost to operate. This will be determined by the kilowatt rating of the heater.
The number of times you plan to use your sauna is also a factor. If you are planning to use the sauna on a weekly basis, you can expect it to have a big effect on your electric bill.
Also, the rates used by your local electric company will affect operational costs. Find out how much each kilowatt hour costs in your area (which is noted in your recent bill) is before you decide on buying a sauna.
Controls
Modern sauna units have gone a long way from stoking the flames and pouring water on a pile of hot rocks. Each unit comes with a control panel that allows you to set and store temperature preferences, as well as some other features.
When picking a unit, choose the one with easy to use interface and a detailed map. Also, make sure that the panel has one feature: auto-off. This way, the sauna heater will turn itself off after a pre-set time to avoid accidents.
Conclusion
All in all, the title of the best outdoor sauna in the market currently belongs to Almost Heaven Saunas Audra Canopy Barrel Sauna. With its Red Cedar frame and stainless steel fixtures, it is the most durable both inside and outside. Its heater has a decent energy capacity that should be manageable for many homeowners.
The Audra Canopy more than makes up for it with a sturdier frame, better moisture and heat control, and multiple opportunities for customization.
Lastly, the Audra Canopy offers the highest level of mobility. The frame is easy to assemble, expand, and disassemble.
Today, every investment needs to offer the best possible returns. These advantages can spell the difference.