The home sauna has been gaining in popularity these days. This is because of the low price and simpler installation process. The affordable option, however, is the outdoor sauna as it is easier to integrate. Below is a quick guide to help you find the best outdoor sauna on the market.
The Best Infrared Saunas and Their Many Benefits
The Top 7 Sauna Units in the Market
With all of these in mind, you might be asking what could be the best outdoor sauna units right now. Below are some of the top-rated saunas currently available on the market. A short description for each is also provided.
1.  SunRay Burlington 2 Person Outdoor Infrared Sauna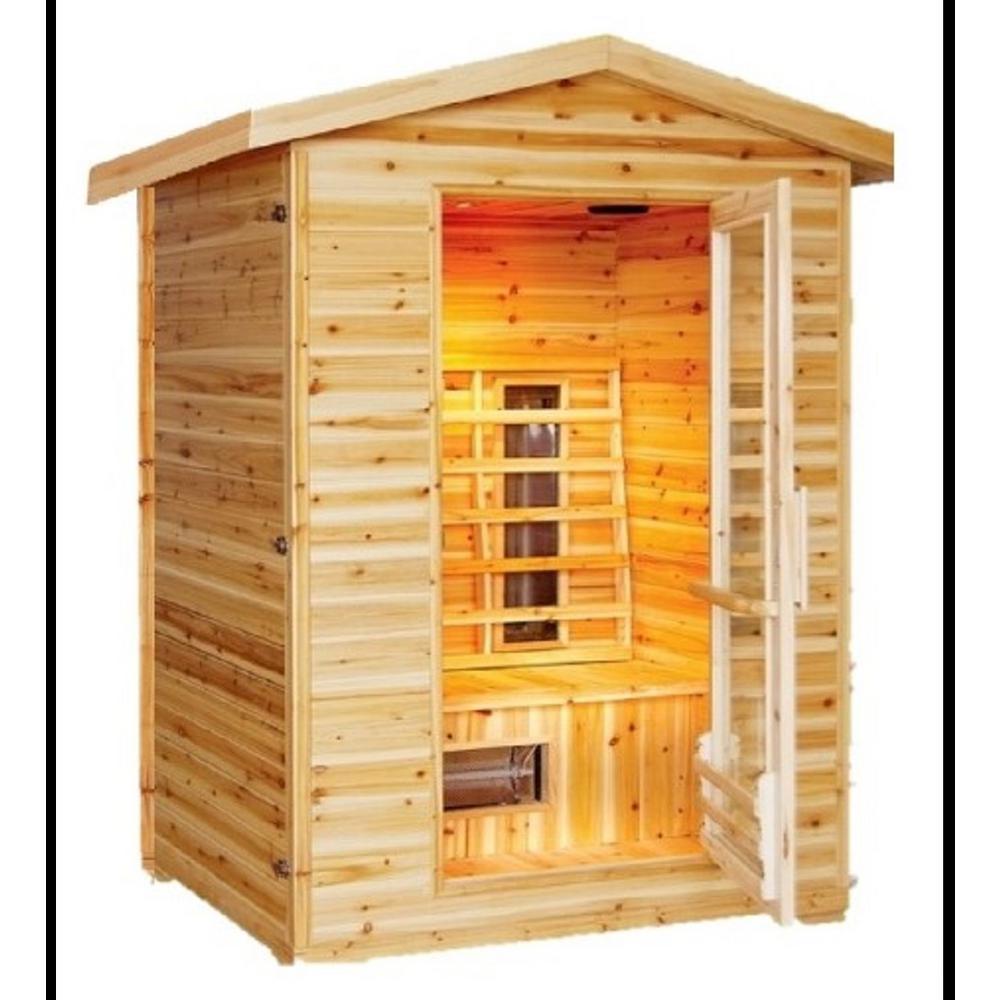 If you have limited space and you still want to enjoy the health benefits of a sauna in your home, then this one from SunRay Burlington is the best outdoor sauna for you. This outdoor sauna is built from an attractive and durable Canadian hemlock wood material which gives it a lasting finish.
When it comes to the heating components, Burlington offers 5 ceramic heaters that allow you to set your temperature of choice accordingly. It is designed with an oxygen ionization system which does an excellent job of purifying the air.
Interior LED lights are also provided to create a relaxing ambiance inside the sauna. Besides, this feature is quite handy for those who enjoy reading during the session. The built-in FM radio with MP3 and CD is another feature that makes the sauna more thrilling. Better yet, it is wireless enabled and comes with a built-in cup holder for convenience.
Installation of this 2-person outdoor sauna is pretty quick and easy, thanks to the easy to set up tongue and groove construction. Hence, you can start enjoying your sauna session as soon as possible. Furthermore, the roof cover and pitched roof will offer added protection to the sauna.
Highlighted Features:
Material: Canadian hemlock wood
Capacity: 2 person
Door material: Glass
Heat source type: Ceramic FAR Infrared
Oxygen ionization system
Constructed from high-quality Canadian hemlock wood
Adjustable temperature
Easy to set up
Adjustable roof vent
2.  Grandby 3-Person Outdoor Sauna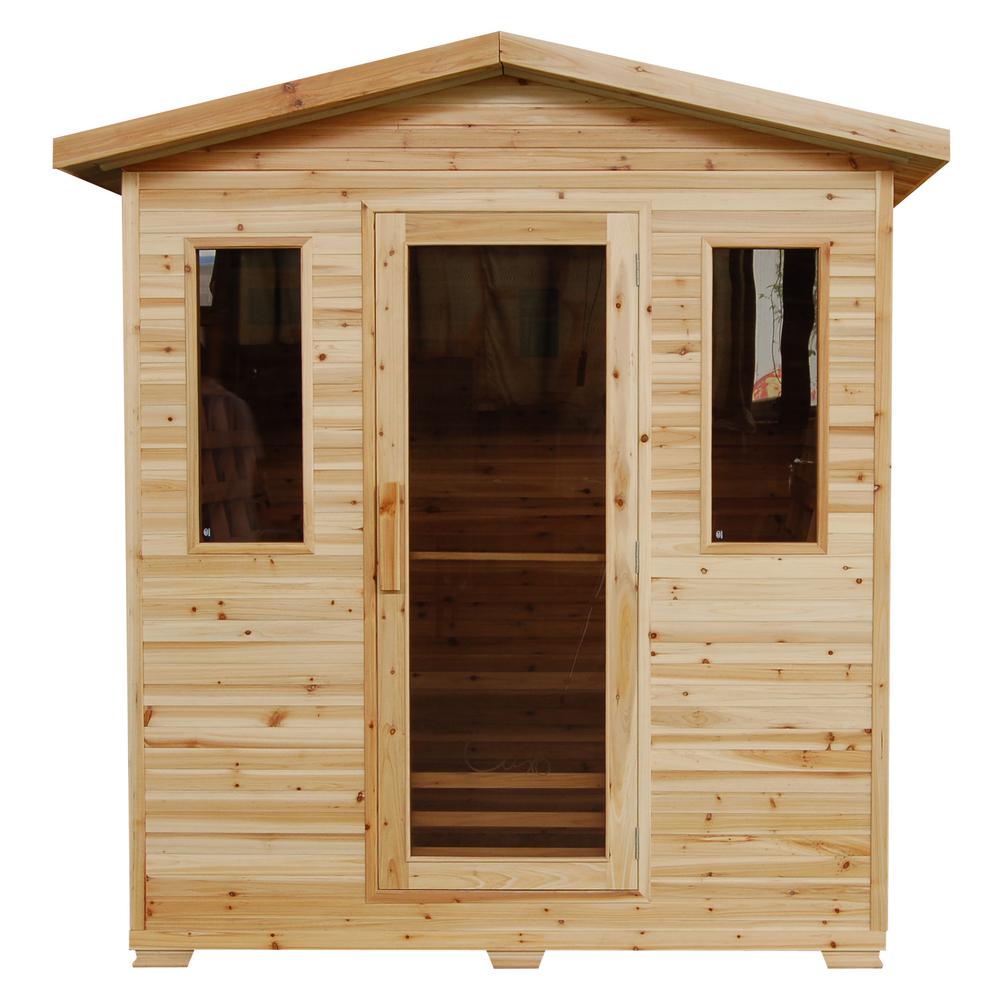 Next on our review is the Grandby 3-Person Outdoor Sauna which is constructed from Canadian hemlock wood material for a smooth and long-lasting finish. The sauna comes with 7 rapid heat ceramic heaters that let you enjoy the sauna according to your chosen temperature. The temperature can go up to 60C.
This best home sauna can comfortably fit 3 people. Besides, it is designed with movable ergonomic backrests, to give you maximum comfort so you can spend hours inside the sauna. Plus, your time inside the sauna will be enhanced by the recessed interior lighting.
Something that stands out is the severe weather cover that is designed to offer additional protection to this outdoor sauna. This 3-Person Outdoor Sauna comes with additional features like cup holders, FM radio with MP3 and CD as well as an oxygen ionization system. 
Highlighted Features:
Exterior dimensions: 69" * 47" * 83"
Construction: Canadian hemlock wood
Maximum temperature: 60C
7 rapid heat ceramic heaters
Fits 3 people
Solid construction
Weather-resistant cover
ETL/CSA certified
Interior LED lighting offers a relaxing ambiance
Easy to assemble
3 person capacity may be too tight
3.  Cayenne 4-Person Outdoor Infrared Sauna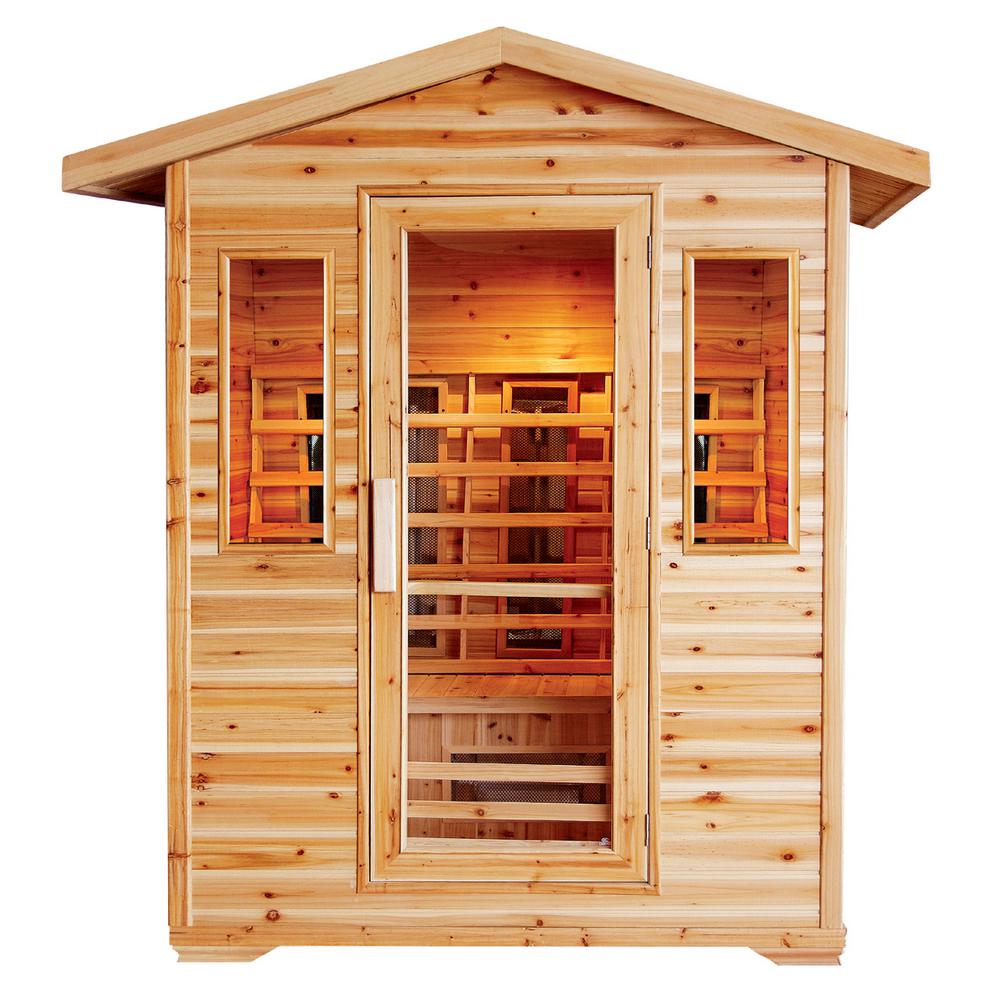 Enhance your outdoor setting with this beautiful and spacious outdoor sauna. The sauna features a long bench at the back that can comfortably 4 accommodate people.
Designed with a classic cabin, the Cayenne 4 Person Outdoor sauna is constructed from smooth and attractive yet sturdy Canadian hemlock wood. With its sturdy construction, you can be assured to enjoy your time despite the temperature inside or the weather outside.
A unique spec is the 400D infrared technology that is designed to spread heat evenly inside the sauna. Apart from the inbuilt technology, the Cayenne also boasts of a built-in oxygen ionization system that purifies the air inside the sauna.
Additionally, you can benefit from the 8 ceramic heaters built into the sauna, to heat it to your desired temperature. Erecting this sauna has been made easy by the tongue and groove construction.
Highlighted Features:
Dimensions: 79" * 52" * 83"
Maximum temperature: 71
Canadian hemlock wood
400D infrared technology
8 rapid heat ceramic heaters
Built oxygen ionization system
Sturdy tongue and groove construction
Infrared heating
Can accommodate 4 people
Spacious design
Interior LED lighting
4.  ALMOST HEAVEN Pinnacle Cedar 4-Person Electric Barrel Sauna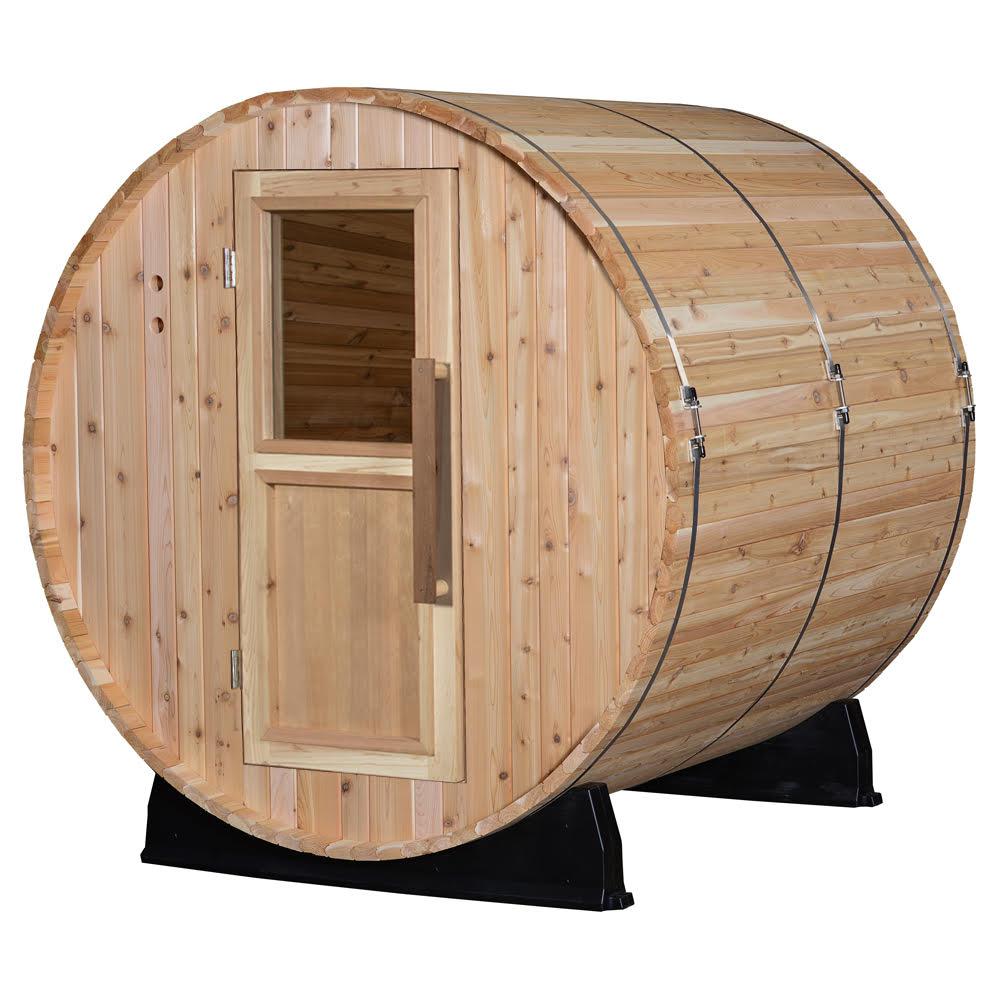 Crafted and designed in the USA, the Pinnacle is one of the best ways to relax and spend a lazy afternoon. It comes in a barrel shape that is not only stylish but also functional. The barrel sauna provides a maximum seating capacity whilst minimizing the cubic of air. As a result, the sauna heats faster than other models.
This 4-person barrel sauna is built from rustic cedar and features a solid cedar door designed with a tempered glass window for light penetration. It also features a ball and socket profile with stainless steel bands and fasteners to secure it in place.
The other unique construction feature is the 2 polymer sand weather-resistant support cradles that prevent direct contact of the undercarriage with moisture. There is also a dial controlled stainless stain heater, LED light bar, and sauna stones (40lbs).
The Pinnacle Cedar sauna is created with versatility in mind as it allows both outdoor and indoor applications. It is also wet and dry compatible. Plus, the sauna comes with a leg lift, backrest, drink shelf, robe hook, and magazine rack.
Highlighted Features:
Construction: Rustic cedar
Capacity: 4 person
Maximum temperature: 190F
110-volt interior LED light
Ideal for outdoor and indoor use
Made in the USA
Heat up to 195 F per hour
Heats up quickly
Not waterproof
Requires professional installation
5.  ALMOST HEAVEN Princeton Cedar 6 Person Electric Barrel Sauna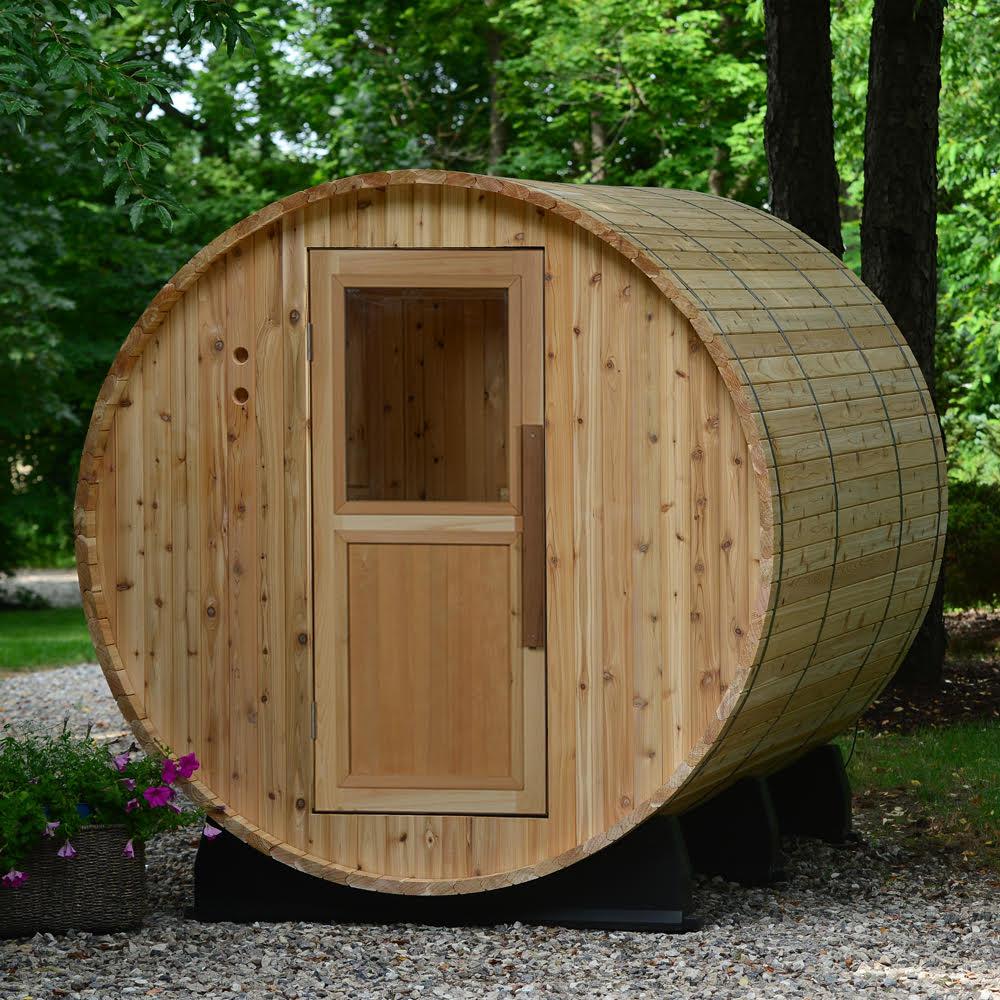 This is another best traditional steam sauna that you wouldn't want to miss in your garden. Because of its design ad curved wall, this sauna heats up quickly and allows a more sociable experience for the 6 people sitting in it.
As for the construction, Princeton is made from rustic insulating cedar and a ball-and-socket profile. The handcrafted lumbar profiles are secured in place using stainless steel bands, fastener, and hinges.
It can operate up to 195 degrees F, allowing you to soak in all the health benefits of the sauna. It also comes with sauna stones of 40lbs, 110-Volt LED light bar for special sauna ambiance, and 8.0kW stainless steel heater with cedar heater guard.
Highlighted Features:
Construction: Rustic cedar
110-Volt LED light
Cedar door with tempered glass
0kW dial controlled KIP electric heater
6 person capacity
Barrel design
Heats up quickly and ably
Allows social seating arrangement
Installation requires professional help
6.  ALMOST HEAVEN Allegheny 6-Person Electric Cabin Sauna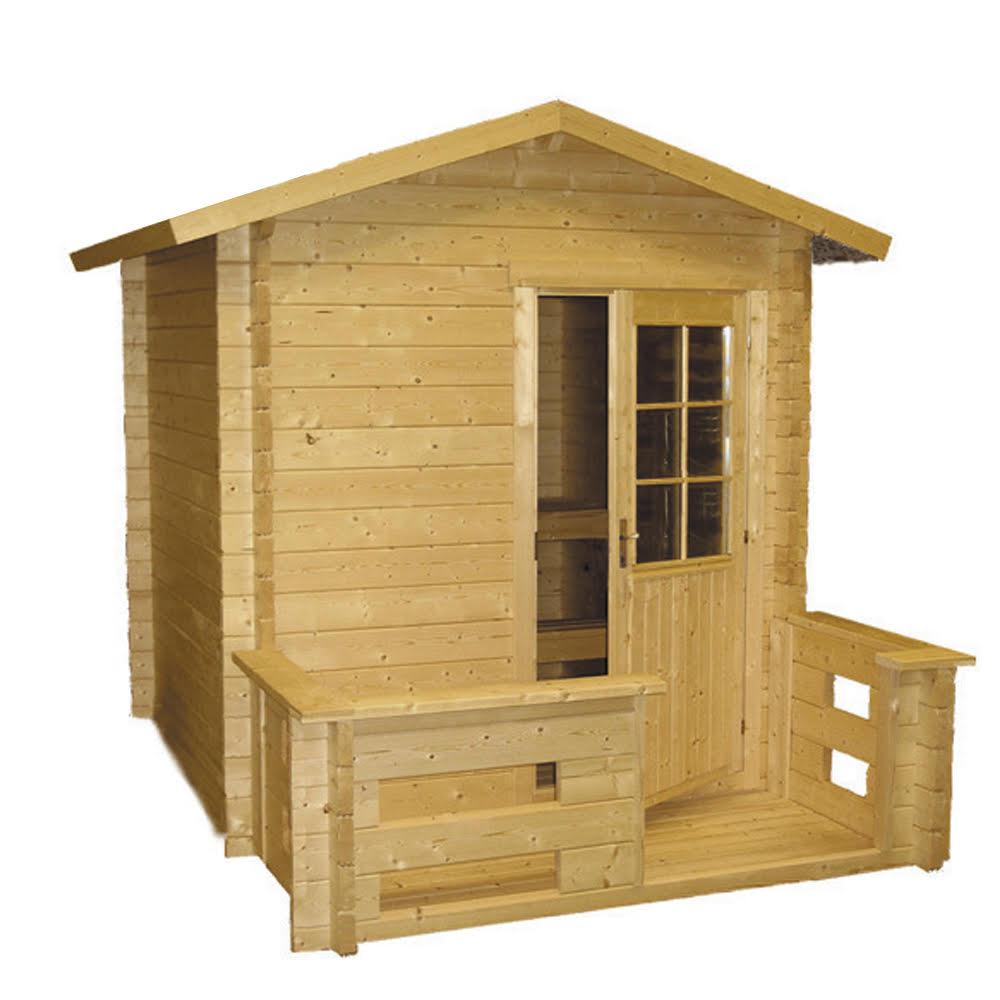 If you prefer a cabin sauna, then this 6-person electric cabin sauna would be an ideal choice for you. A key feature of this sauna is the peaked roof, which is designed to handle loads of snow, and this makes the sauna great for all-year use.
The material used to make this sauna is thick pre-cut Nordic Spruce with tongue and groove sections. The door also features thick Spruce material and is designed with a tempered glass window.
Included in the sauna are two multilevel seating benches that can accommodate up to 6 individuals. Additionally, the sauna comes with an upper bench back support, leg rest, magazine rack, drink shelf, and robe hook.
This is the best outdoor sauna as it comes with a porch and seating area on the outside. Furthermore, it provides complete decking and floor support.
Highlighted Features:
Seating capacity: 6
Construction: Nordic Spruce
Dial controlled Harvia 9.0kW heater
Maximum temperature: 190 F
Stylish interior and exterior design
Suitable for any climate
Quality construction
Multi-level seating
Requires 2 person assembly
What to Look for
The right sauna for you should reflect your needs and budget. What is good for one person may not exactly be the same for you. To make this easier on your part, you should take a look at several factors before buying your sauna.
Installation Process
How much time and money do you want to spend building your own sauna? There are two types of outdoor saunas on the market today. These are the pre-cut and the modular models. The pre-cut sauna is built from the ground up by the manufacturer. By design, it can be used quickly after purchase.
It has one problem, though. You will have to spend more in preparing the site for the sauna. Also, since everything has been built for you, you do not have a say as to how your sauna would look like.
The modular sauna, on the other hand, is designed to offer mobility and customizability. Basically, you will have to buy the sauna piece by piece. Then, you need to install them one by one until you have a working unit.
The best portable sauna units are usually of this type. This is ideal for people who tend to move frequently from one home to another.
Wood
A sauna is basically a woodhouse, and the material used for it can affect the way you use it. The most popular sauna models in the West use a wood called Cedar. It looks attractive, does not decay easily, and does well inside the sauna's steamy climate. Also, cedar gives off a nice aroma that makes the sauna a perfect place to relax.
However, there are also other sauna models that use other wood. The traditional Finnish sauna uses a type of white spruce native to the Nordic regions.
The wood material has a fine, white-tone appearance and is both light and durable. It also darkens slightly with age, which makes it resistant to constant wear and tear. Other wood materials include Abachi, Aspen, Redwood, and Hemlock.
Size
How many people do you want to fit in your sauna at any given time? The space inside the sauna can actually affect a lot of factors including heat distribution and overall comfort.
The sauna should allow for at least 2 feet of breathing room for each bather. It should also offer a space of 6 feet in each direction to allow comfortable movement.
Size will also determine the output of the sauna heater you will need. If you plan to fit more people in your sauna at the same time, you will need a more powerful heater. If you only plan for the sauna to fit a smaller number, then the standard heater units should be enough.
Operating Costs
Aside from the cost of materials and labor, you will have to think about how much the sauna is going to cost to operate. This will be determined by the kilowatt rating of the heater.
The number of times you plan to use your sauna is also a factor. If you are planning to use the sauna on a weekly basis, you can expect it to have a big effect on your electric bill.
Also, the rates used by your local electric company will affect operational costs. Find out how much each kilowatt hour costs in your area (which is noted in your recent bill) is before you decide on buying a sauna.
Controls
Modern sauna units have gone a long way from stoking the flames and pouring water on a pile of hot rocks. Each unit comes with a control panel that allows you to set and store temperature preferences, as well as some other features.
When picking a unit, choose the one with easy to use interface and a detailed map. Also, make sure that the panel has one feature: auto-off. This way, the sauna heater will turn itself off after a pre-set time to avoid accidents.
Conclusion
If you are in the market for the best outdoor sauna, consider one of the saunas that we have reviewed above. All of the saunas we reviewed are a great investment for anyone who wants to experience the health benefits of a sauna in the comfort of their home.
We particularly love the Cayenne 4-Person Outdoor Infrared Sauna because of its 400D infrared technology that spreads heat evenly. It also features 8 ceramic heaters that make it possible for you to adjust the temperature accordingly. This sauna is also built from resistant material that withstands the test of time and you can install it with ease.
Nevertheless, whatever your choice is, just ensure that it meets your sauna needs and requirements.