Have you ever thought of investing in outdoor sofas? This specialized furniture would surely up your outdoor time with family and friends.
Compared to regular sofas and uncomfortable plastic chairs, outdoor sofas are made to withstand changing weather conditions. With a lot of products in the market, we are here to help you pick out the best outdoor sofa for your home.
12 Top Outdoor Sofa Picks
Today, on this list, you will be presented with the best outdoor sofa for your money. We have curated this list for you to lessen your hunting time.
1.  Studio Outdoor Convertible Patio Sofa
This would be one of the best patio sofas if you want versatile furniture for your small patio or yard. The sofa can be adjusted into a love couch or a single bed. The cushions' fabrics are weather-proof, thus making it more durable and perfect for outside conditions. It can withstand of up to 550 lbs, which can be used by multiple people at once.
The product can fit most narrow areas and balconies in houses.
This sofa is relatively lightweight and very sturdy.
A very durable fabric is one of its pros; it is completely waterproof and can withstand hours of heavy rain.
You can easily put this together.
The entire seat is comfortable to sit and sleep on.
Intense and severe rain may cause the pillows to absorb it, and they take a few days to dry.
There is a noticeable strong smell on first use.
2.  Roosevelt 8-piece Sofa Set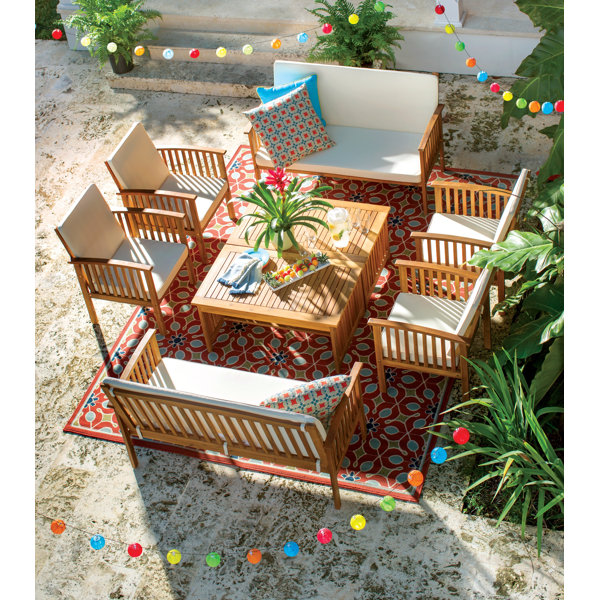 The Roosevelt 8-piece Sofa Set is perfect for backyards with plenty of space to spare. The set is complete with two wooden coffee tables, two wooden loveseats, and four wooden armchairs. All chairs and seats are fully cushioned. The outdoor sofa set is great for big gathering with family and friends.
Want a big wooden sofa set that can be easily assembled? You got it with this 8-piece Roosevelt sofa set.
Its color scheme consists of natural browns and cream that can complement any space.
No need to worry about sudden breakage since the wood is sturdy and can support the weight.
The product looks great in gazebos, sun rooms, and even outdoor decks.
You'd be happy to know that this furniture is not too heavy and can be moved fairly easily.
Not preferable for decks without roofing or protection.
Cushions are quite thin and easily stained.
3.  Zipcode Design Charmaine Rattan Set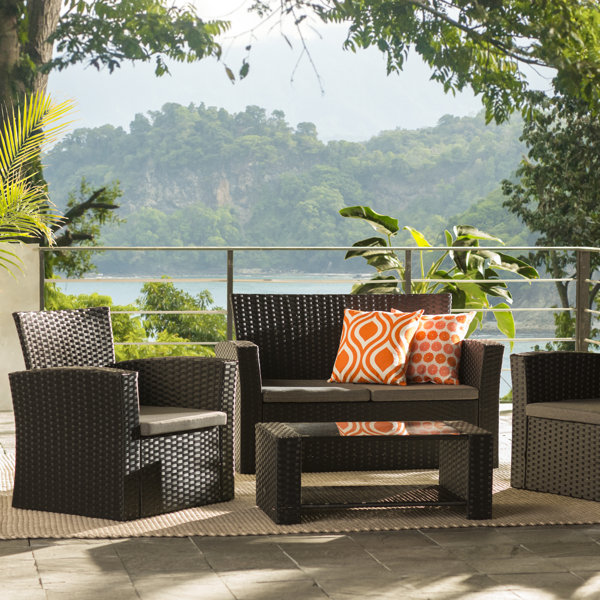 The 4-piece rattan outdoor set from Zipcode Design is a perfect space filler for any backyard. The weatherproof safe set can be used safely outdoors and even beside your hot tub. It has one coffee table, two single chairs, and one double sofa.
The instructions for assembly are easy and can be done less than an hour.
With the furniture's size, it can fit even in small decks and patios.
Zipcode Design makes one of the most durable furniture pieces that can last even through storms.
The colors can complement any living space.
People who are bigger and heavier love the chairs since they're sturdy and can hold a lot of weight without bending.
The size is not great for people of 6 feet and taller.
Some pieces have ill-fitting holes.
4.  Mercury Row Kappa Rattan Sofa Set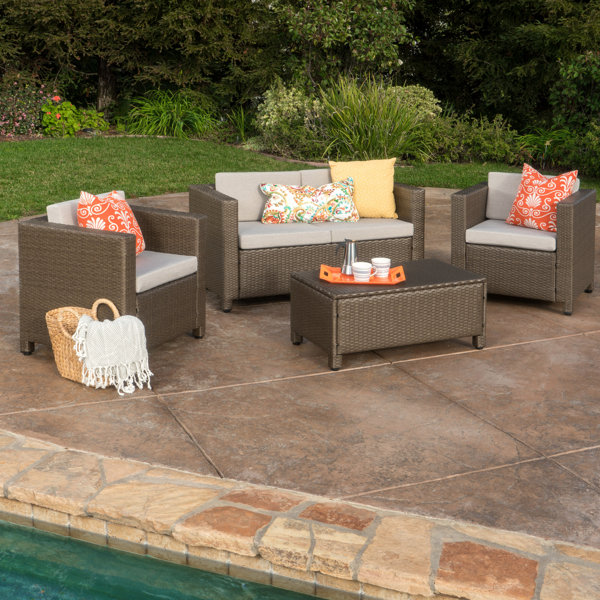 Another outdoor sofa set great for small spaces is the Mercury Row Kappa Rattan Sofa Set. The 4-piece set has a variety of color selections to match your color schemes. This weatherproof set can be used alone or under a patio umbrella.
Looking for a sofa set with furniture size that can accommodate tall people? You got it here!
The rattan material is durable and sturdy.
Its cushions are fairly comfortable.
In addition, the cushions are good for outdoors as they dry easily after being drenched in heavy rains.
The design is sleek and clean.
If you want a sofa set with a removable cushion cover, then this is not for you. You can, however, use a cushion case to preserve the condition of the original cover underneath.
You cannot wash the cushion. You can only wipe it with a soft cloth, along with a mild soap.
This sofa set didn't pass the California proposition 65 Testing and Certification. Thus, it may contain chemicals that are identified by the California State to cause birth defects, cancer, and other health issues.
5.  Alcott Hill Cushioned Rattan Outdoor Sofa Set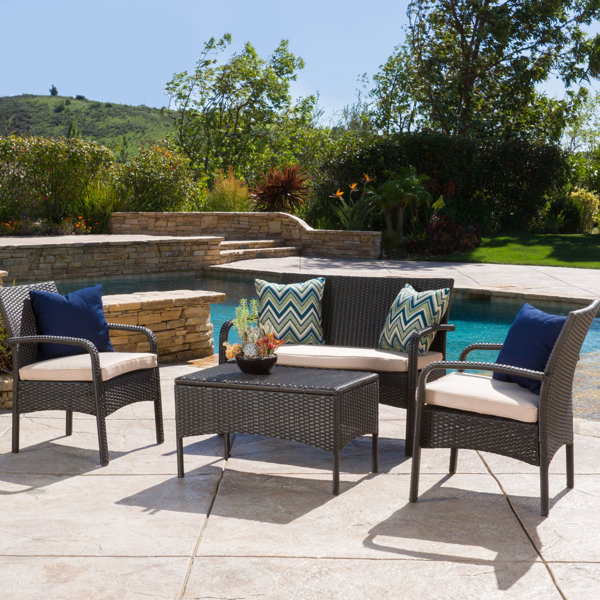 This minimalistic outdoor sofa set from Alcott Hill is a great addition to your decks and patios. The 4-piece set comes with a coffee table that can double as a seating space. Upholstered cushions are included in the set as well.
Alcott Hill furniture sets are known to be sturdy but lightweight, just like this sofa set.
It can be easily dressed up as the colors are neutrals.
The product can fit perfectly in small patios.
It has a versatile design that can complement any existing outdoor furniture.
Assembly is fairly easy and instructions are understandable.
This may have some bare spots in the weaving.
May not hold a lot of weight.
6.  Highland Dunes 4-Piece Cushioned Sofa Set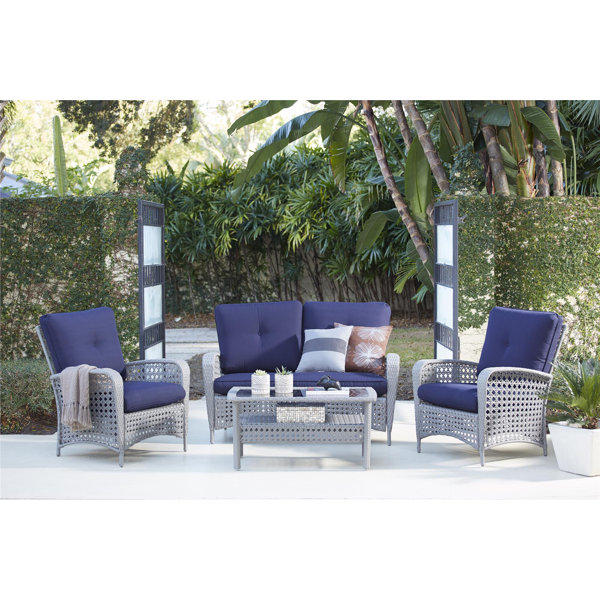 This weatherproof patio sofa set from Highland Dunes can definitely sit beside fiberglass pools or any regular pools. Being UV, rain, rust, and water resistant, this patio set is surely great for outdoor usage. The size can fit any decks, be it small or medium.
Makes used of rattan with excellent and high-
Plush and comfortable cushions are a plus.
The furniture set is sturdy and can be easily moved around with its weight.
It doesn't discolor even during hot sunny days.
There are different color ways to choose from.
Some may come with misaligned holes.
The glass on the table is just inset and not attached.
7.  Lark Manor Acacia Sofa Set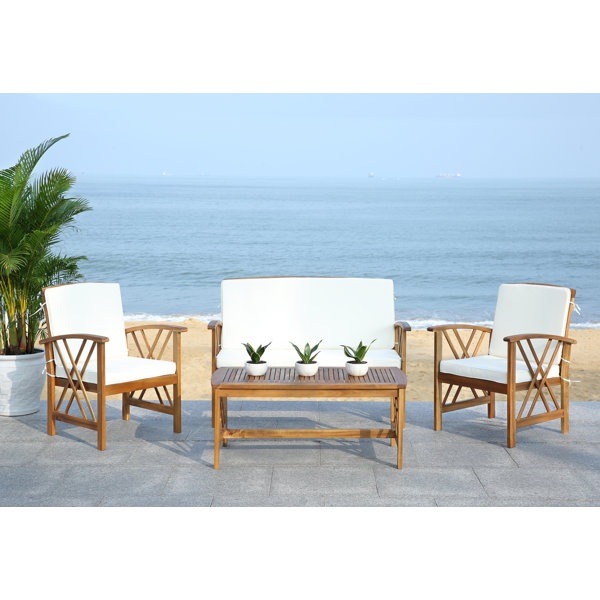 This acacia outdoor sofa set from Lark Manor is weatherproof and great for small spaces too. The wood does not absorb heat from the sun as compared to plastic sofa sets; this keeps family and friends feeling refreshed outdoors.
The furniture is made from solid wooden pieces.
Assembly of the chairs is relatively fast and easy.
Its cushions are well-loved for its durability. They can withstand light to medium rainfall.
The wood is smooth, sturdy, and relatively lightweight.
Lark Manor Acacia Sofa Set can fit in most spaces indoors or outdoors.
The cushions are not plush.
Not preferable for heavy-duty usage.
8.  Andover Hills Wooden Patio Sofa Set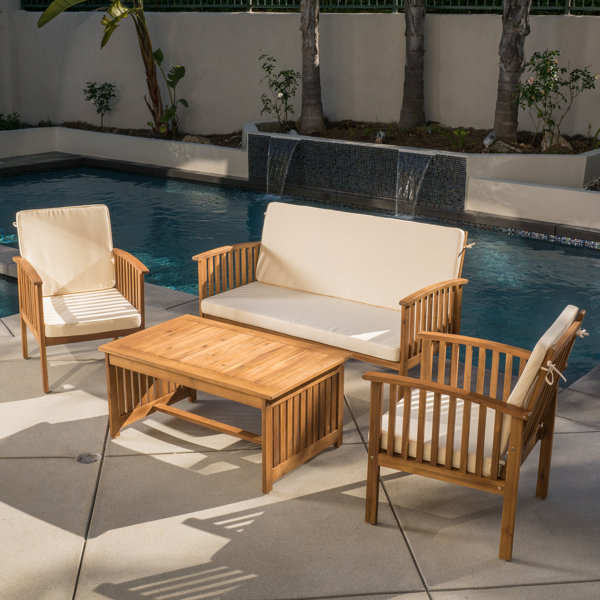 If you're looking for a wooden conversation sofa set for your friends or family, this patio sofa set from Andover Hills is for you. It is great for small spaces and as a place to have chill nights in. It is also great for a year-around use and is water-resistant.
Assembling the pieces is fairly easy and fast.
The wood material is very sturdy and durable.
Cushions provide ample support and not too soft.
You can easily clean the furniture through wiping, as it does not collect or absorb water.
It is guaranteed to be 100% wood.
Strong paint odor on the first few uses.
Wood may weather after a year of intense weather changes.
9.  Brayden Studio 8-Piece Wicker Furniture Set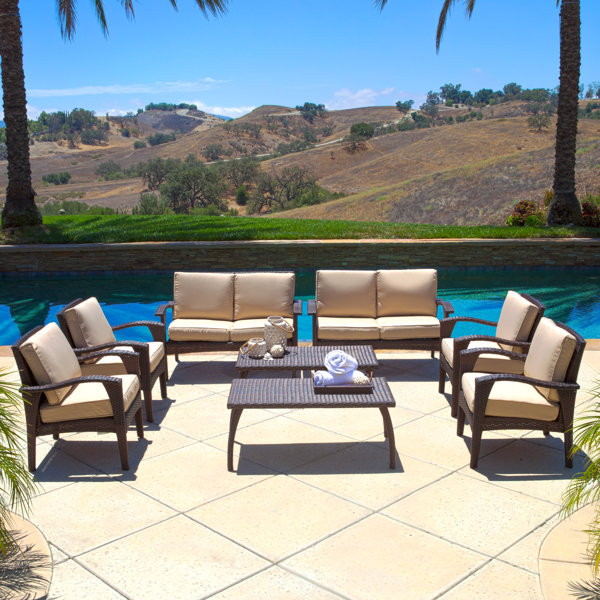 If you got a huge empty space out your patio, this weatherproof wicker set from Brayden Studio is for you. Big sofa sets are one of the best outdoor chairs as it can accommodate a lot of people at once. Host pool parties with this group furniture.
The thick cushions are plush and provide good back support.
You can easily put the furniture pieces together with an hour or two.
The cushions are water-resistant under light-medium rains.
It is made of wicker material, which is durable and sturdy.
Furniture can last long even without umbrellas or covers.
Some may find seat depth too little.
Pillows may fade fast.
10.  Three Posts Heavy-duty Patio Sofa Set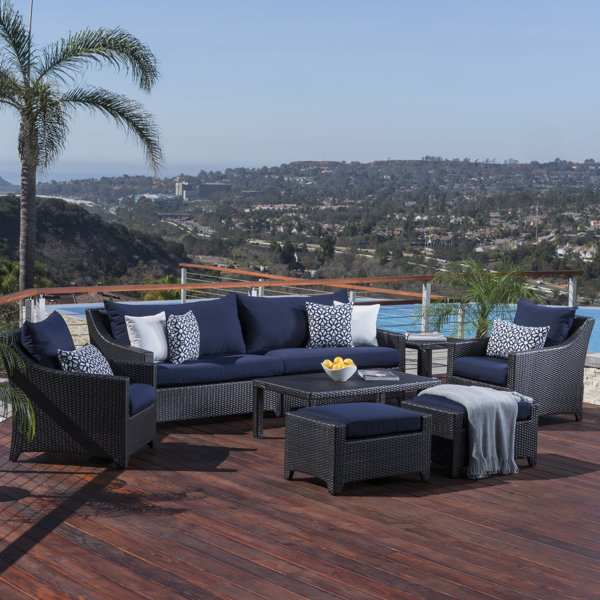 For the ultimate weatherproof outdoor sofa set, this hefty 8-piece set from Three Posts is for you. Made for larger places and for heavy usage, it is weatherproof aluminum, UV-resistant resin wickers, fast-drying cushions, and free accent pillows.
The furniture is lightweight but very durable and sturdy.
Both pillows and furniture hold up against the elements well.
Putting the furniture pieces together is fairly easy and straightforward.
Most of the furniture pieces are delivered assembled already.
The chairs can accommodate a lot of people, plus the additional ottomans.
It leans on the pricier side.
11.  Wade Logan Heavy Duty Rattan Set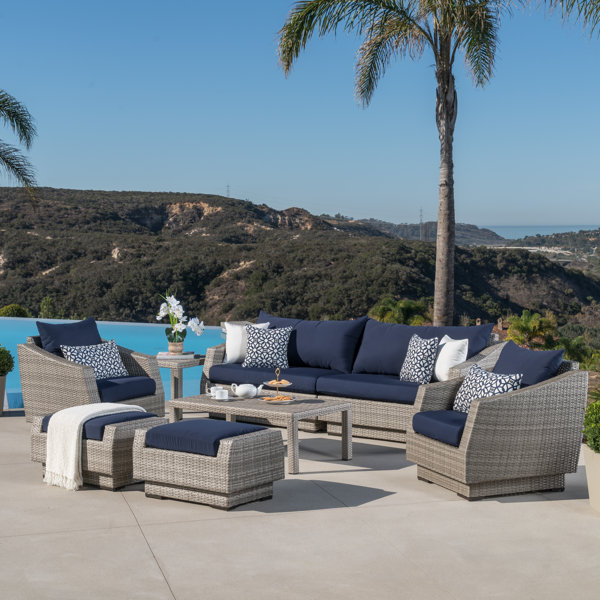 Another heavy-duty set is from Wade Logan, which features an 8-piece rattan furniture. The cushions and pillows are upholstered to be protected from the elements. Accent pillows are included as well with the set.
The rattan can withstand rugged outdoor conditions.
All the furniture comes in high-
The pillows and cushion can withstand rain and will dry fast when drenched.
There is an array of color selection to choose from to match your themes.
The product holds up nice and can be easily cleaned.
12.  Baner Garden 4-Piece Rattan Set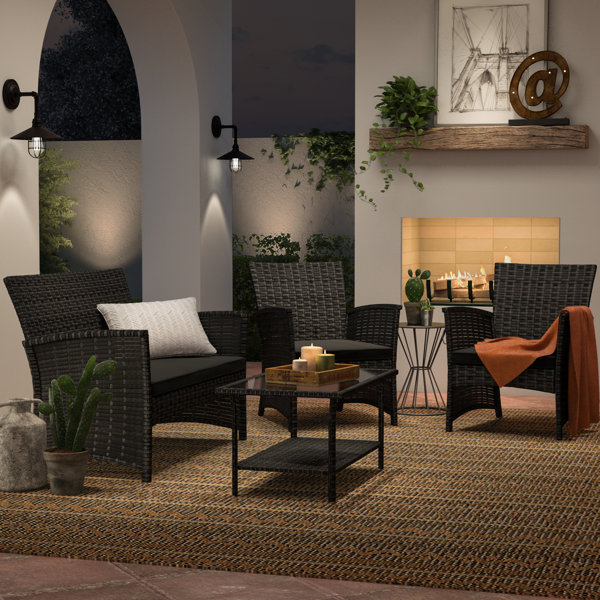 This Baner Garden 4-Piece Rattan Set is a great outdoor accent piece or as a main patio sofa set. The outdoor sofa set is great for small gatherings or quiet little evenings. The set has one double sofa, two single chairs, and one coffee table. The rattan body of the furniture is guaranteed to withstand changing weather conditions.
The sofa set fits nicely in smaller outdoor spaces.
This product is sturdy and fairly lightweight.
Equipped with additional cushions that are also weatherproof, this sofa set is a great buy!
The glass top on the coffee table does not stain easily.
Chairs, even without cushions, are comfortable by itself.
Some holes in the chairs are ill-fitted.
The furniture set may be too small for larger and taller people.
How to Choose the Right Sofa for Outdoor Use
You won't be able to choose from any of the best outdoor sofas if you don't know which is appropriate for you. There are various types of patio sofas for different outdoor settings. To help you out, here are the important tips on how to choose the right sofa for outdoor use.
Consider your weather condition.
May it be around your house or vacation house, never forget to consider possible weather conditions. Some outdoor sofas are weather resistant but not waterproof. If you're area experiences intense weather changes, opt for heavy-duty outdoor sofas.
Always measure your space.
Not all patios and decks are built the same. Always remember to measure and to consider the shape of your space. Even if your outdoor sofa says "perfect for small spaces" it may still not fit yours due to differences in specific areas.
Consider what area your outdoor sofa will be in.
In this part, think about whether you will be putting it in covered areas or not; whether your outdoor sofas will sit whether on stone ground or grass. All of these are important so that you can fully examine what type of outdoor sofa fits best for your specific location.
Always be keen on materials.
Picking out what type of material your outdoor sofa will be made of is crucial. Three important questions are asked in this part which are: (1) What will the weather be?, (2) How much are is needed and required?, and (3) How does it look like?. These are important so that your outdoor sofas would not look out of place or easily wear out.
Don't miss out on comfort.
For sure, you will be using your outdoor sofas for relaxation. To maximize this, never miss out on the comfort the furniture will give. You would not want to be spending time sitting down on hard thin cushions. Look for back support, ample softness and plush, and types of chairs (e.g. recliners, loveseats, beds, armchairs, etc.).
Don't forget about storage space.
Most buyers forget about this. For states that experience all of the four seasons, always remember if you can keep your outdoor sofas during winter. Leaving them out during winter may cause damage or make it age faster than expected.
Thinking about your budget range can also be a big help. You can find spot-on deals even if you don't spend thousands on outdoor sofas. Make sure to buy the best bang for your buck.
Conclusion
From all the best outdoor sofa reviews we have provided for you, the best so far is the  Three Posts Heavy-duty Patio Sofa Set. Although it is an 8-piece set, the furniture pieces can be divided for other parts of your patio or yard. Compared to other items on the list, it was the only patio sofa set that is proven to be weatherproof.
If you check it with our important tips, the Three Posts Heavy-Duty Patio Sofa Set hits most of it. Although it would not fit small balconies and patios, surely the quality of both the furniture and pillows cannot be missed.