While heating homes with a pellet stove may seem pretty behind the times, it is actually a more eco-friendly and more efficient way of heating since it uses highly combustible and recyclable materials.
Just to give you an idea, a pellet stove is like a traditional wood burning stove except that it uses small wood pellets instead of the usual big pieces of wood. These kinds of stoves are very useful and extremely compact.
If you want to find the best pellet stove for your home, check out our list and buying guide.
12 Best Pellet Stoves that You Should Definitely Check Out!
When purchasing for the benefit of comfort and long-term use, you probably want the best pellet stove to buy. If you are looking for a new heat provider for your home surely you will want an efficient and safe heater for your family. This article is a guide of a put-together useful list of best-rated pellet stoves to help you with your purchase.
1.  CASTLE 12327 Pellet Stove with 40 lb. Hopper & Auto Ignition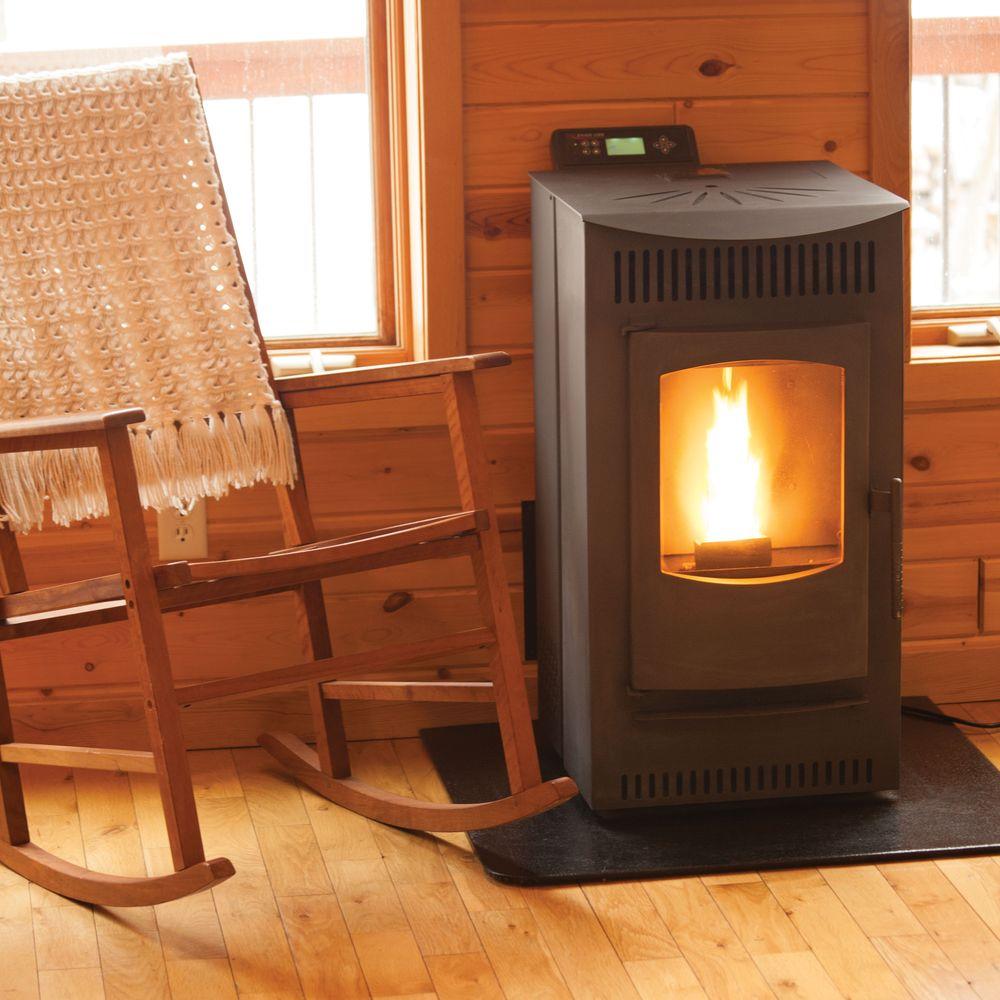 Featured as one of the best pellet stoves, the CASTLE 12327 is a popular model. Mainly because of its practical size of 23.8 x 18.5 x 34 inches. With its space-saving build, it gives homeowners with smaller homes more room and makes them capable of heating the entire house. Cleaning this stove is also handy since it comes with an ash pan that can easily be removed and wiped.
This model also uses the digital circuit board that allows the fuel system to run a timer-based, non-continuous cycle. For that reason, the system allows us to run for a predetermined amount of time.
Highlighted Features:
3 Operating Modes: Manual, Thermostat, Weekly
Efficiency rating of 78%
Can burn up to 40 hours
Heating coverage is up to 1500 square feet
8 x 18.5 x 34 size
Automatic ignition system
Smart Controller
What We Like:
Easy to clean design
Any type of pellets can be used although using high-grade wood pellets is recommended.
Made of steel with a smooth texture
Mobile home friendly
Very durable and lasts longer
Fewer ashes
What We Don't Like:
Floor cover not included
The fan is a little bit loud
Thermostat based on/off control
2.  Englander 25-PDVCH Pellet Stove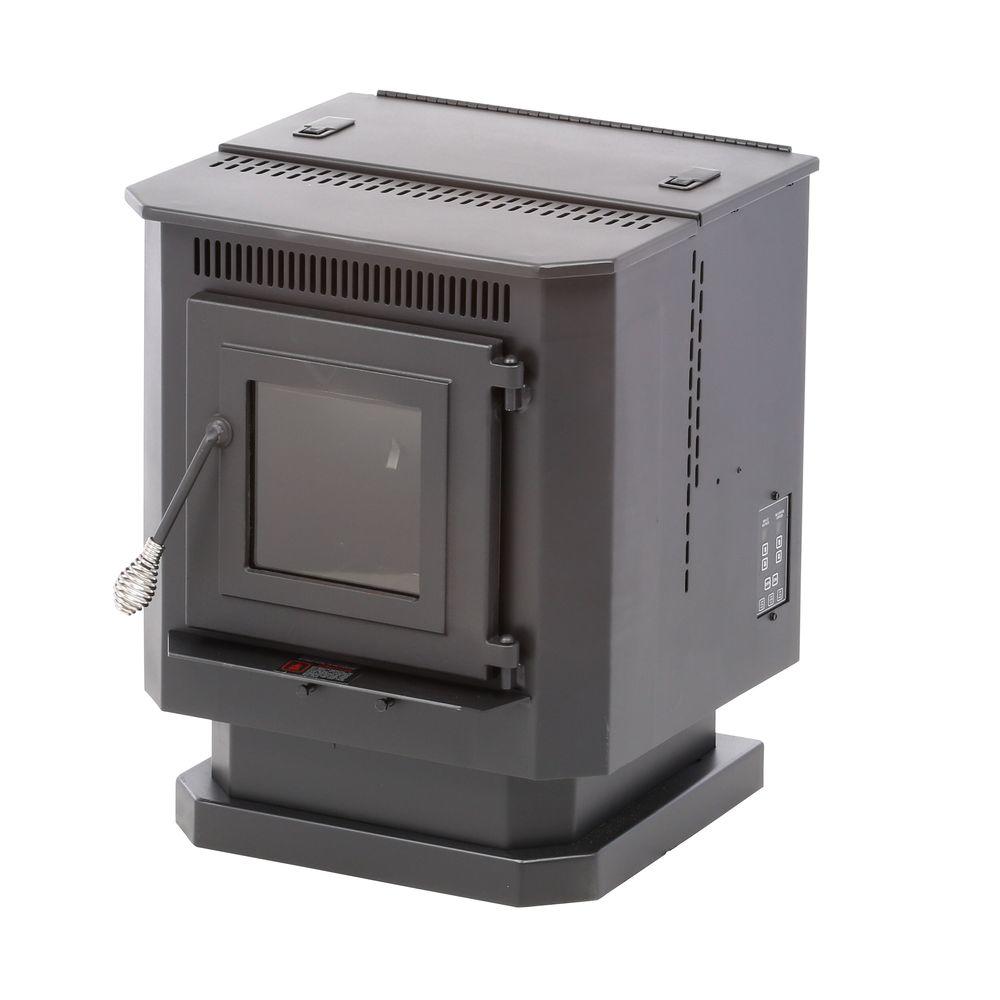 This model is said to be one of the best pellet stoves, mainly because it is very economical. It provides comprehensive home heating options and it produces minimal creosote. As there is less creosote, there is also little need for cleaning of the chimney on the homeowner's part.
It may be the best pellet stove, but it still needs regular maintenance to prevent any problem arising. One thing you should be looking out for is the carbon buildup around the auger and tube. However, this is preventable and you can rest assured to still get your money's worth.
If you are looking for something with a bit more style, then this is the ideal stove for you. The satin black steel material and cast iron door of this material look so slick and stylish which makes a very good match to multiple decors.
Highlighted Features:
One-touch Ignition System
Use of Double Cast Auger System
A user-friendly digital control board
40-pound hopper
Heating coverage up to 1,500 square feet
What We Like:
Mobile Home friendly
Inclusion of Outside Air Kit
Large fireview glass
What We Don't Like:
Requires regular care
No ash pan–needs to be scooped out into a fireproof container.
3.  Comfortbilt HP50 Pellet Stove with Auto Ignition and 47 lb. Hopper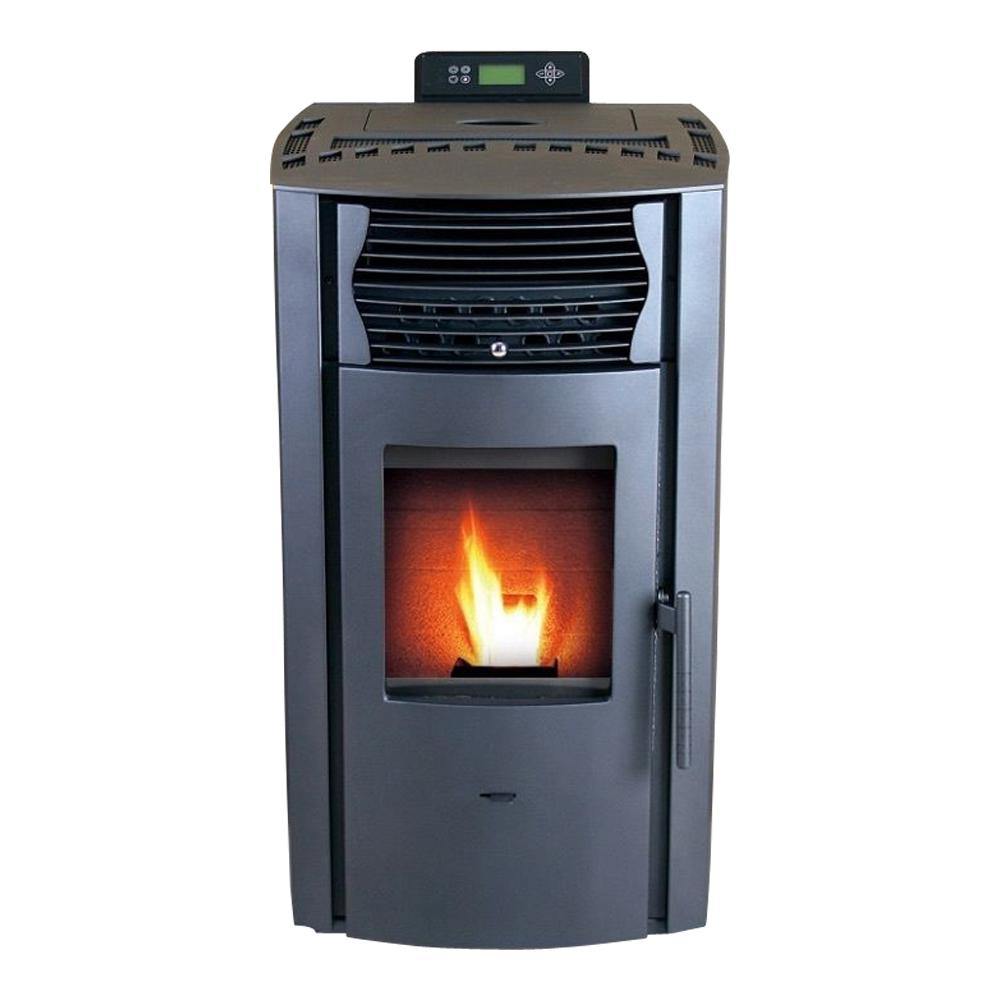 Made with top tier European material and design, Comfortbilt HP50 looks smooth, slick, and sturdy. This model does its job of looking small and cozy yet produces high-quality heat that will reach the ends of your home.
As most pellet stove reviews stated, Comfortbilt HP50 is one of the best pellet stove and famous for its reliable performance and very high-efficient and quiet heat exchange.
Highlighted Features:
One-touch ignition
Programmable Thermometer
Air wash system
Heat exchanger design
The practical size of 20.5" wide, 25" deep, and 36" high
What We Like:
Can burn up to 22 hours
Heat coverage is up to 2200 square feet
High efficient and clean model
Mobile home friendly
Removable ash pan
Room blower to circulate heated air
What We Don't Like:
Uses pellet wood quicker than other models
4.  Comfortbilt HP24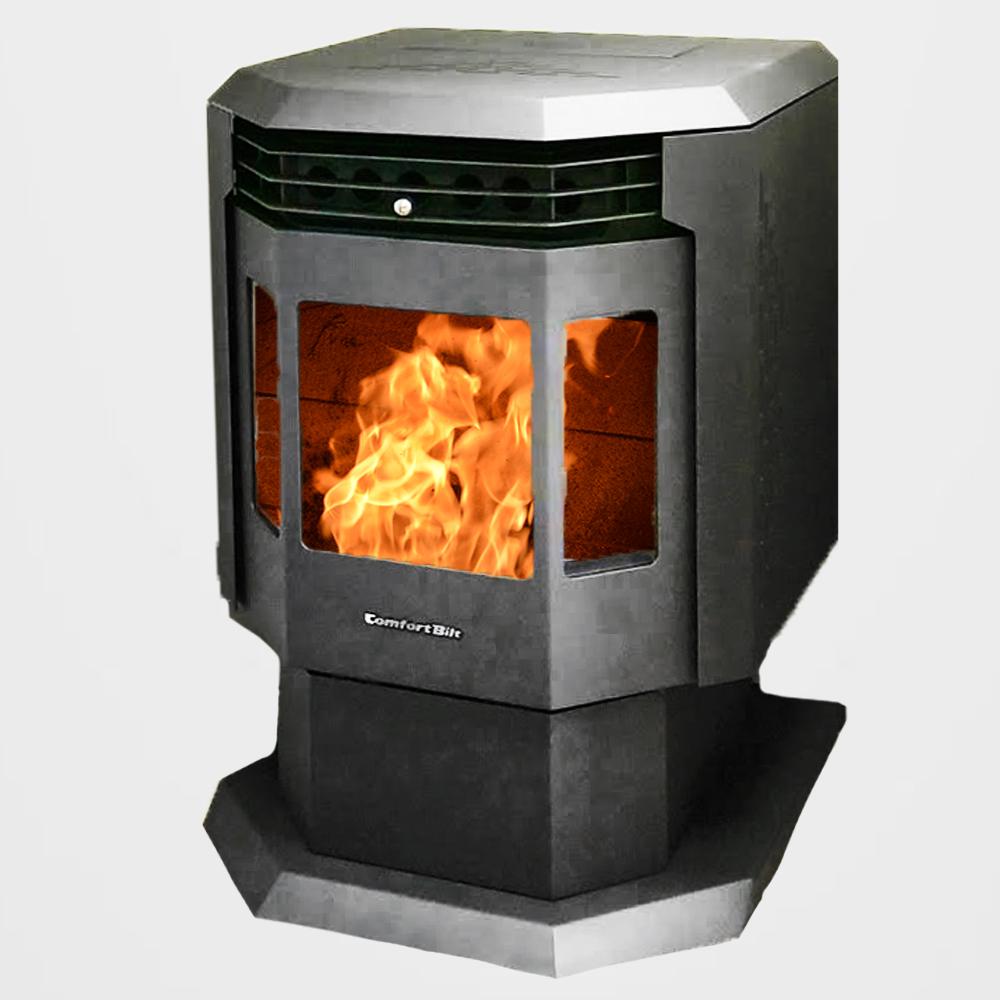 Built with high-quality steel, carbon black exterior, and bay view window through a ceramic glass, the Comfortbilt HP24 will have no problem fitting in your home. With its remarkable appearance, this model is made with exceptional engineering and structured for easy usage.
The evenly distributed heat across rooms ensures that it has an impressive blower and highly efficient.
Highlighted Features:
Automatic Ignition
Remote Controlled
Air Wash System
Programmable Thermostat
Mobile home friendly
Can burn up to 24 hours
Burn efficiency of 82%
Heat coverage of 2400 square feet
80-pound hopper
What We Like:
Performs quietly
Pleasant window view
Durable
Great customer service
What We Don't Like:
Bulky and requires huge space
Requires regular care; potentially harmful
5.  Comfortbilt HP60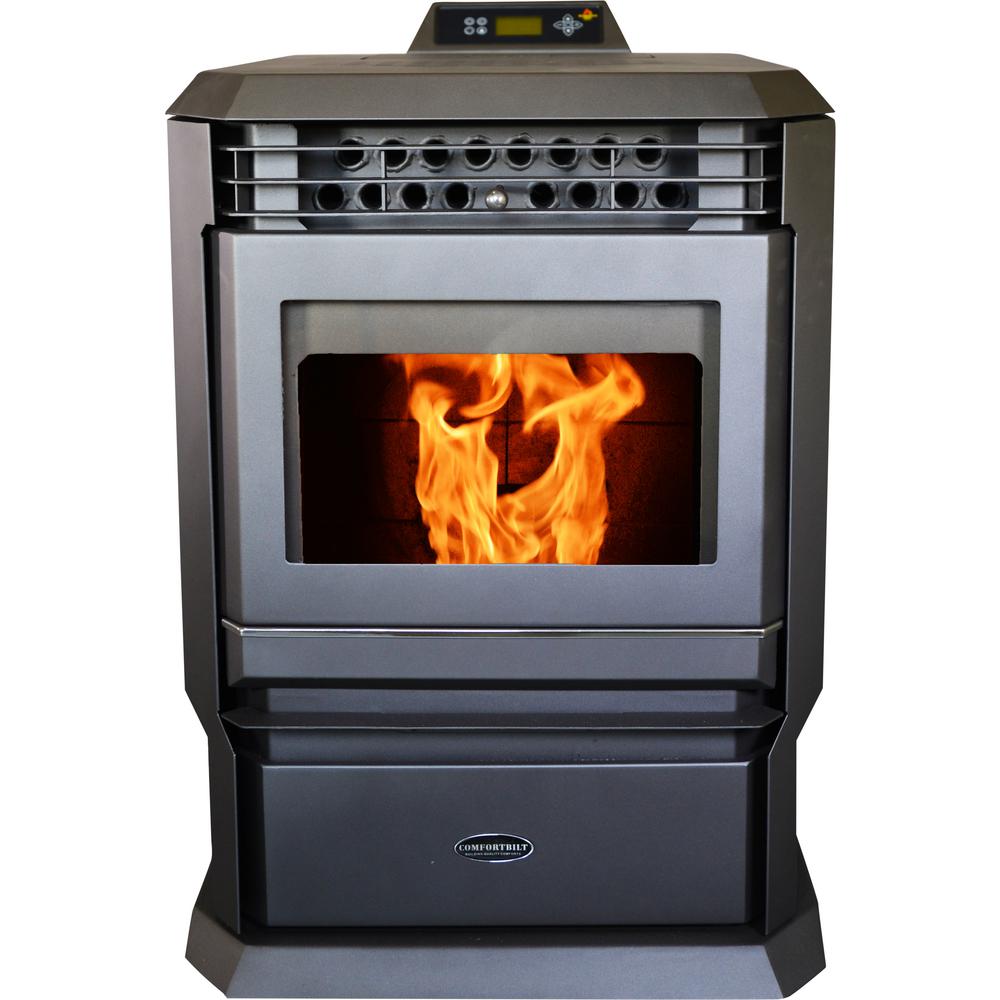 This next model is the pellet stove with 50, 000 BTU that is suitable for homeowners who are looking for a low-maintenance heater.
Comfortbilt HP60 has a massive hopper capacity. With its removable ash pan, it only needs to be emptied every 3 months. It also has a carbon black color and stylish design besides its excellent structure.
Highlighted Features:
Automatic Ignition
Heat coverage up to 2000 square meters
Large Ash Pan
55-pound hopper
211 g of particle emissions per hour
Programmable Heat Settings
Burn Efficiency of 86%
Remote controlled
What We Like:
Ultra-quiet blower
Eco friendly
Mobile Home friendly
Less energy waste
Large window view
What We Don't Like:
6.  Ashley Hearth AP130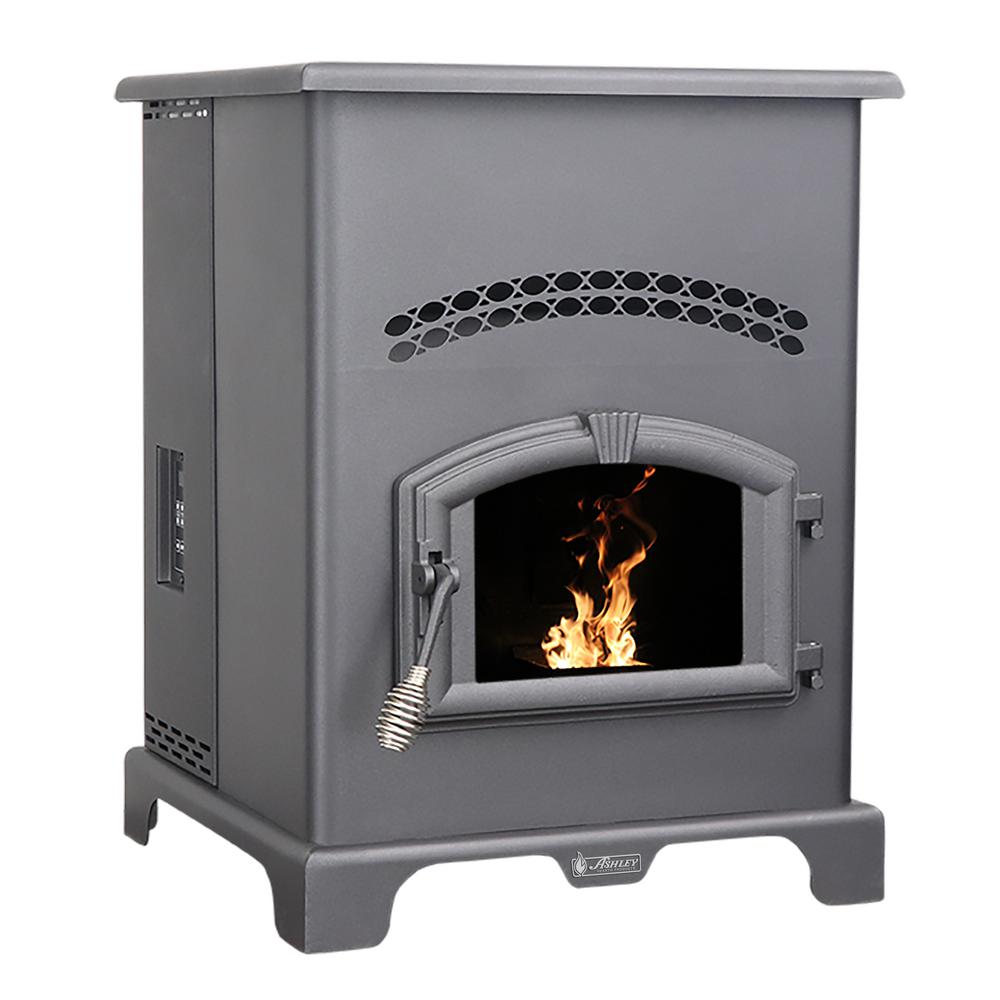 The next model on our list burns a carbon-neutral, green fuel and eliminates smoke spillage that your community will benefit from. With this traditional unit, you can ensure your participation and contribution in reducing your carbon footprint and becoming more environment-friendly.
Its contemporary design with a gray color finish and smooth texture will give your home a vintage and cozy vibe.
Highlighted Features:
Automatic Ignition
Remote Controlled
Exhaust blower for negative draft
Heating coverage of 2500 square feet
Blower with automatic circulation
Digital thermostat
Software Driven Control Board
Adjustable heat settings (9 modes)
120-pound hopper
What We Like:
Eco friendly
Easy to clean
Efficient burning
Produces little ash
Low maintenance
What We Don't Like:
Installation materials are not included
Bulky
7.  Pleasant Hearth Model PH50CABPS-B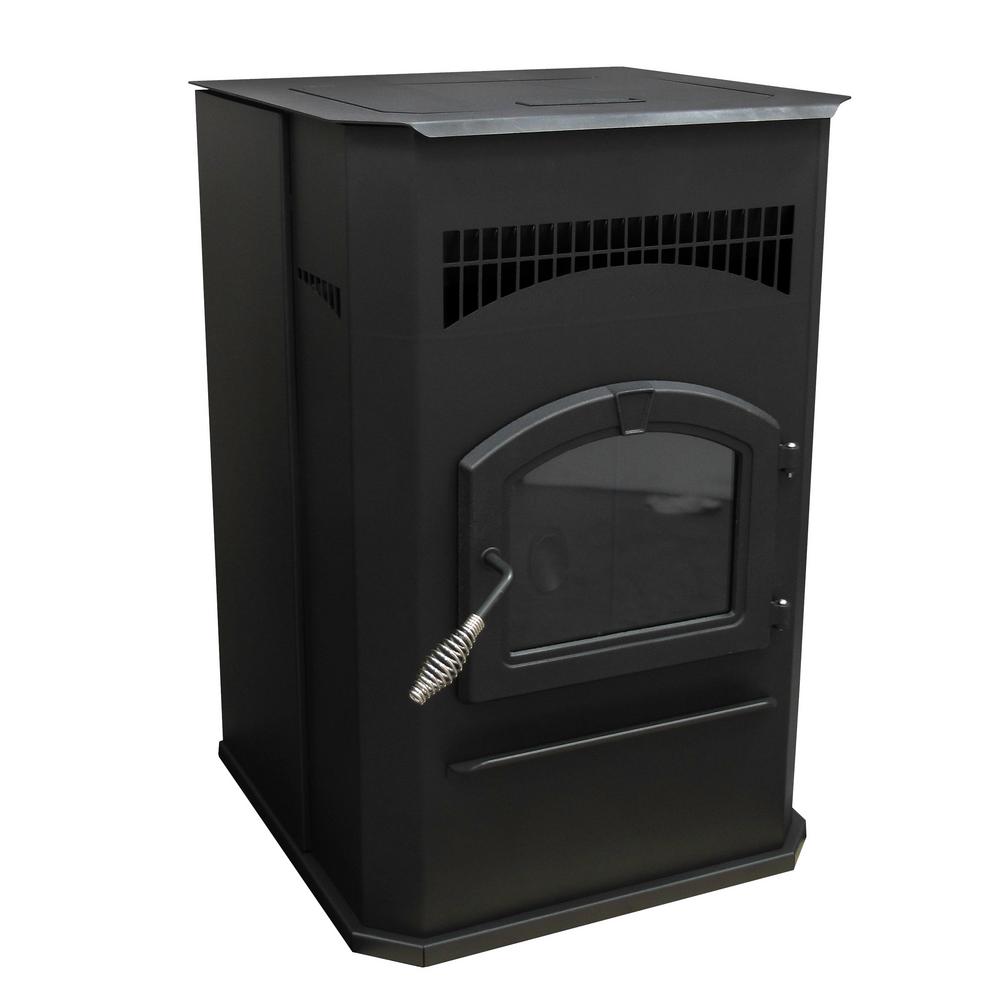 Most pellet stoves are built to be the best unit but they can be bulky or demand additional installation requirements. The minimal steps on installing this traditional unit make it perfect for homeowners who want a high-efficient home heater.
With its carbon black, slick texture, and ceramic glass window, it will give a striking impression in your home. This heater is not only perfect in size, as it is practically small, it also gives a powerful amount of heat. It also has a massive hopper that will result in less maintenance.
Highlighted Features:
Automatic Ignition
120-pound hopper
Can burn up to 70 hours non-stop
Built-in Automatic Blower
The efficiency rate of 86%
Heating coverage of 2200 square feet
Outside air kit
What We Like:
Practical size
Low maintenance
Homely look through a ceramic glass
Mobile Home friendly
What We Don't Like:
8.  US Stove King Wood Pellets Stove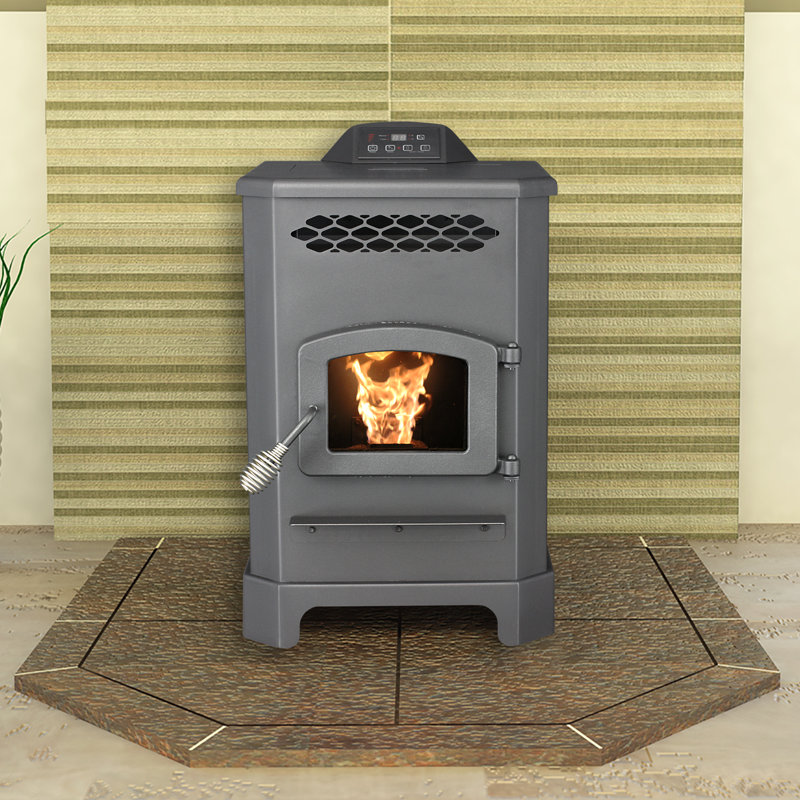 This next heater on our list is greatly sized, that it fits into smaller spaces. With its compact size, it still manages to cover large spaces with an impressive amount of heat and it comes with a small cabinet and reliable hopper. This will be perfect for homeowners with smaller rooms.
Designed with a gray metal finish, this unit will bring a modern yet traditional style into your home.
Highlighted Features:
Updated Digital Control
Adjustable Thermostat
Air Wash System
Remote Control included
23-pound hopper
Can burn up to 24 hours
Heating coverage of 2200 square feet
What We Like:
Compact size
Durable
Less Jammed Auger
Can fit into tight spaces
What We Don't Like:
Installation accessories not included
Lower hopper capacity
9.  Vogelzang Hopper Wood Pellets Stove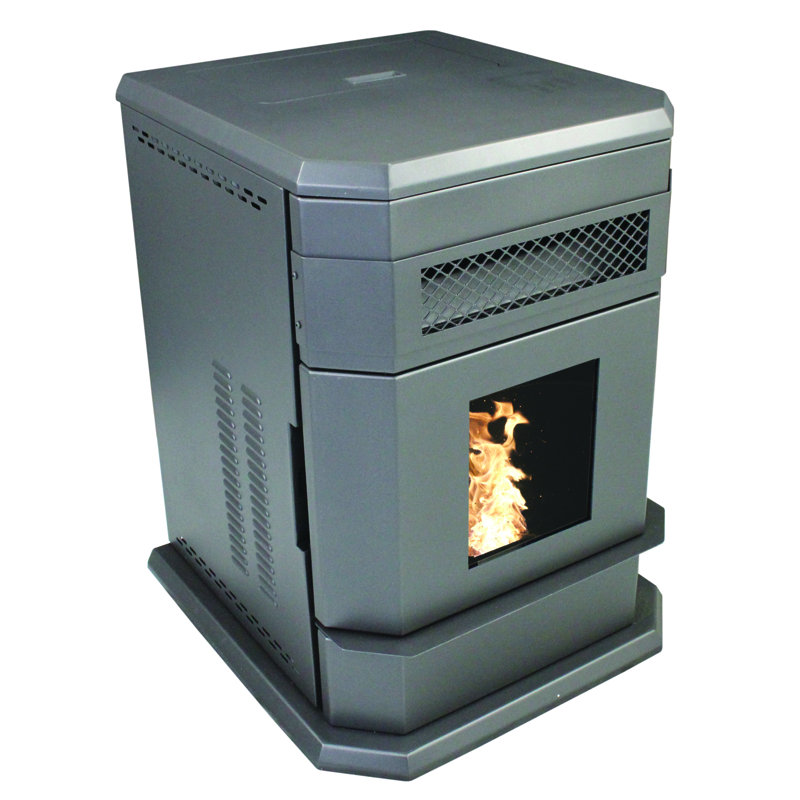 Made with steel and a dark gray finish, this unit looks very clean, durable, and sharp. Apart from its striking appearance, it is also one of the more massive pellet stoves in the market and has higher heating coverage than others. Also, it is said to last years of high performance with its standard grade built.
Highlighted Features:
Fully automated with auto-ignition
Digital controls with a Readout device
Remote controlled
Adjustable Thermostat
120-pound hopper
Can burn up to 80 hours
Heating coverage of 2800 square feet
What We Like:
Straightforward daily maintenance
Larger hopper
Moderately noise
Easy to install and use
What We Don't Like:
No filter for air circulation
If set on the highest setting–exhaust can be loud
10.  US Stove Wiseway GW1949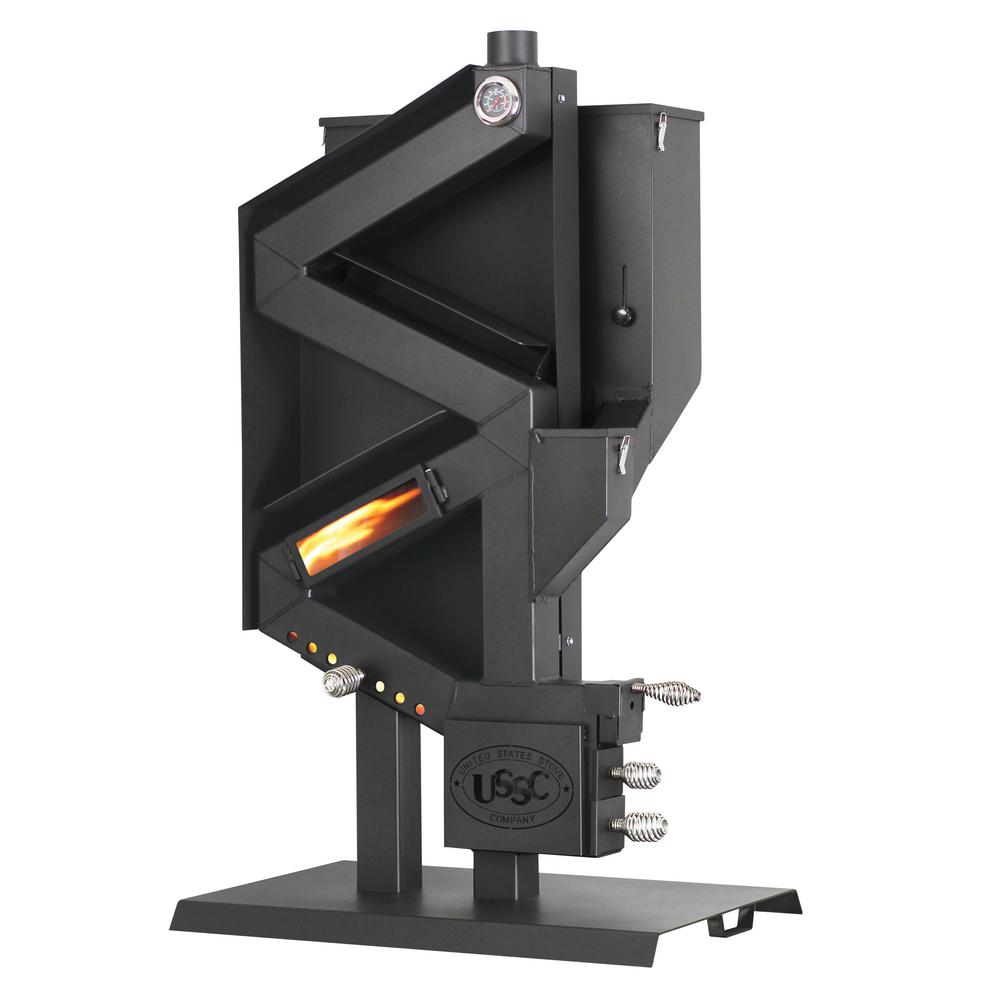 If you are looking for something that will cut your electrical costs, then this is the one for you. The US Stove Wiseway GW1949 offers you a non-electric pellet stove that eliminates the use of electricity by utilizing a gravity-fed system, which is perfect for houses prone to blackouts.
As modern the style gets with its grey polished exterior, it operates in a much simpler and easier way with no moving parts.
Highlighted Features:
Gravity-fed system – non-electric
Simple temperature adjustment
Heating coverage of 2000 square feet
60-pound hopper
Can burn up to 36 hours
No moving parts
What We Like:
Fully assembled
Small clearances required
Simple to operate
Operates quietly
Safe and clean
Mobile Home friendly
What We Don't Like:
11.  US Stove Wall-Mount Direct Vent Pellet Stove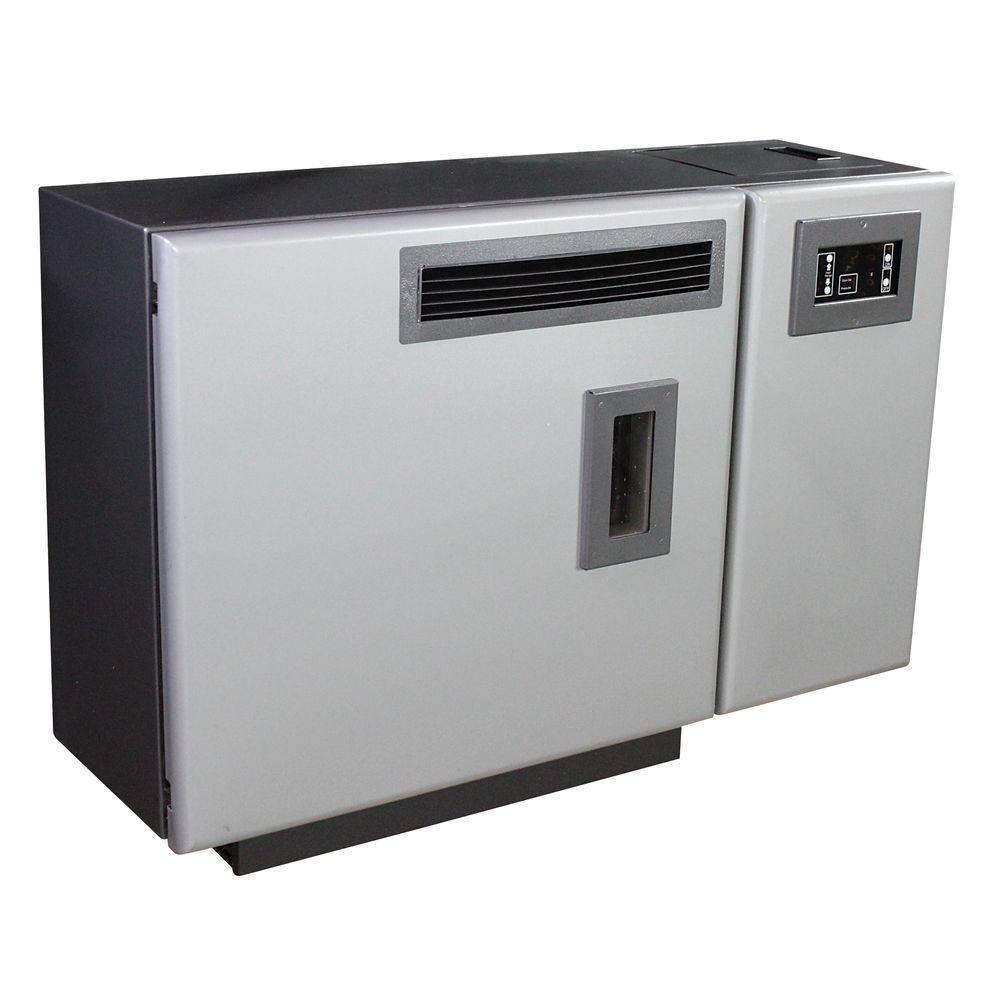 Pellet stove not only provides heat in your home in the coldest weather but it can also be presented as a furnace and sometimes it takes up a bit of space.
The Wall-Mount Direct Vent Pellet Stove offers you the luxury of having it mounted on your wall as easy as a Flat screen TV. Also, the direct vent design makes it easier to install as it avoids the chimney. The European style also provides a modern look yet very traditional design.
Highlighted Features:
Automatic Ignition
24-pound hopper
Can burn up to 24 hours (on low setting); 6 hours (on high setting)
Digital PID based control system
Includes a vent kit
Heating coverage of 1000 square feet
What We Like:
Minimized clearances
Clean burning
What We Don't Like:
Lower heating coverage
Lower heat output
12.  US Stove Multi-Fuel Fireplace Insert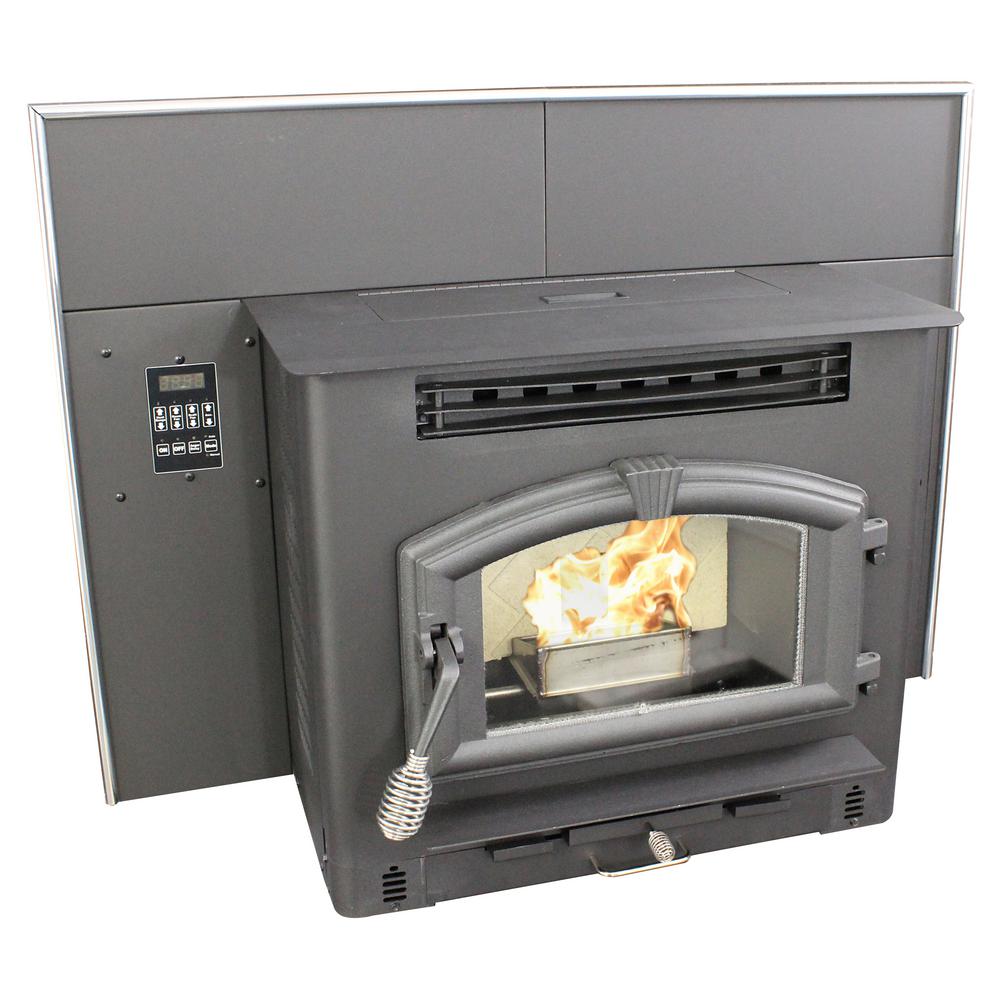 The next one on our list is one of the best pellet stove inserts and refined designs in the market. The Multi-Fuel Fireplace is a non-catalytic and eco-friendly unit that not only uses compressed wood pellets but also burns corn, soybeans, olive pits, biomass fuel grains, cherry pits, and processed pelletized silage.
Not only are you benefiting from the high grade, clean-burning heat across your room, but you are also contributing to your community and the environment.
Highlighted Features:
Digital Control Board
Heating coverage of 2000 square feet
60-pound hopper
Air wash system
Large window view through the ceramic glass
Burn pot agitator
Controlled manual damper
Burn pot poker
What We Like:
Eco-friendly
Mobile-home friendly
Versatile heating
What We Don't Like:
Installation Materials not included
Demands consistent supply of pellets
Buyer's Guide for the Best Pellet Stove
In our list, we have about 7 choices for the best pellet stove from our pellet stove reviews that you can take a look at.
However, it may be a bit hard to choose the most suitable for your home if you don't know a thing or two about pellet stoves.
For that purpose, we came up with a short buying guide to help you out. In order to choose the best pellet stove, you may take these factors into consideration:
Pellet Stove Hopper Size
The first thing that you have to consider is the physical size. The size refers to the hopper of the stove or the amount of wood pellets that it can burn.
If the hopper is small, then the heat may not last too long since it can only carry a small number of pellets. However, bigger hoppers will allow the stove to heat up your room longer.
We also recommend that you get a stove with bigger hoppers if you're going to use the stove for a long period of time.
For instance, you'll find that stoves with bigger hoppers are ideal for long winter nights. They can go on for many hours without stopping since the big hoppers can hold a huge number of pellets.
Heat Produced
Another thing that you need to take into consideration is the amount of heat it can produce.
In a general sense, the bigger-sized pellet stoves can produce more heat but that isn't always the case. The more accurate way to measure the amount of heat your stove can produce would be in BTU or British Thermal Unit.
Obviously, the higher the BTU, the more heat you can produce. So, the bigger the room you want to heat, the higher the BTU of your stove should be.
Most quality pellet stoves have an average BTU of 30,000 or even higher depending on the brand. You may use this figure to determine the overall quality of a pellet stove's heat output.
Efficiency Rate
Another thing that you can take into consideration when buying your stove is the efficiency rating. You can inquire about the overall efficiency rating of the stove you're looking at to have an informed decision.
The efficiency rating indicates how well the stove can give off heat. Obviously, the higher the efficiency rating, the better.
Average efficiency ratings would be around 70%. If you can find one that's around 80 to 90%, that's even better.
Stove Type
Generally, there are two types of pellet stoves that you can choose from. These are the wood stoves and the electric stoves.
The wood stoves are the traditional types of pellet stoves that can handle the usual wood pellets.
The second type is the electric stove which works quite like the wood stove but has added assistance from electricity. The extra energy allows your stove to heat up faster and stronger, which is useful for people during winter.
Placement of the Pellet Stove
Lastly, you have to consider your surroundings to know which pellet stove you should buy. Homeowners would usually consider insulation, number of windows, and ceiling height.
If your home already has a strong insulation, then you don't need to buy a very strong pellet stove as you might receive too much heat.
Next, you need to consider how many windows you have in the house and what kind. If you have a lot of windows that are not in very good shape, you may need to buy a stronger pellet stove in the event that drafts can enter the house.
Lastly, you need to consider the ceiling height. If your ceiling is on the high side, you may need to buy a stronger pellet stove so that the heat can fill up even the lower portion of your house faster since heat usually rises upward.
How Does Pellet Stove Work?
Now that you've read our short but comprehensive buying guide, you're now ready to choose your pellet stove. Before that though, we'd like to add a little more information for your benefit so that you can really get to know and be familiar with the pellet stove system.
With that, we'll be explaining how pellet stoves work, and we'll also be sharing a few pellet stove safety tips to avoid accidents.
Let's start with how pellet stoves work.
Before knowing how pellet stoves work, you must know the important parts. The crucial components of a pellet stove include the storage hopper, the electric auger, the burn chamber, the blower, and air vent.
When you heat your pellet stove, you'll first pour pellets into the storage hopper.
Once you put your pellets in, a sensor will prompt the electric auger to start carrying the pellets to the burn chamber one handful at a time.
After the pellets reach the burn chamber, a combustion blower sucks the fresh air from outside through the air vent then exhumes the smoky air through another vent. This is how heat is produced.
Now, you can control the temperature of heat by using the thermostat. The thermostat will tell the stove how strong it must deliver heat.
The great thing about pellet stoves is that they burn pellets at extremely high temperatures that there is almost no ash left after use. That way, there's not much you need to throw after you're done.
Pellet Stove Safety Tips
Pellet stoves make use of extremely high temperatures, so you have to be extremely careful with them. If you don't follow safety measures, you may actually get hurt.
Here are a few safety tips that you need to take note of:
Keep Away from Combustible Items
This is a given but still, a safety measure that many take for granted. When you install your pellet stove, you need to keep it away from items like gas tanks, aerosol, paint thinners, varnish, or other things that have a "highly combustible" warning label.
Other than that, we recommend that you keep it away from further like sofas and chairs. This is especially true for wooden furniture since wood burns pretty easily.
Install Carbon Monoxide Sensors
A lot of homeowners buy carbon monoxide sensors along with their pellet stoves in order to prevent fumes from getting into the house.
Since pellet stoves make use of biomass components for heating, there would usually be some traces of carbon monoxide around the house. If the stove malfunctions, then a huge amount of carbon monoxide might get loose. The worst part is that you may not see the gas or even smell it until it totally fills up the house.
Therefore, to prevent inhaling too much poisonous gas, install a carbon monoxide sensor so that you can tell if there are traces of carbon monoxide right away.
Buy Pellets That Are Suited for Your Model
Not all pellets are suited for all models. There are some pellets that have different specifications and are more suited for this or that type of model.
If you use the pellet type that's not suited for your model, your stove may not burn optimally or might burn too much to the point that it lets out a lot of harmful smoke and fumes.
The tip here is to see the organic ash percentage to know. Standard wood pellets have organic ash rates of around 0.5% or higher while premium ones have rates of less than 0.5%. Choose the pellet type that's designed for your stove.
Read the Manual
This may be common sense, but a lot of people skip reading the manual before they use the stove. For most appliances, this won't be much of a problem.
For pellet stoves though, you need to read the manual to the dot in order to know the specific safety measures for your model. Do not try to experiment with the pellet stove without fully reading and understanding the contents of your product's manual first.
Frequently Asked Questions About Pellet Stove
Now that we've discussed some of the things to consider when buying a pellet stove and the list of the best pellet stoves to buy, you may still have some questions boggling your mind right now and still remain unanswered.
Here are a few FAQs that we find useful when getting to know the product:
Can I install a pellet stove myself?
Yes, you can install a pellet stove by yourself if you are installing a freestanding pellet stove. For pellet stove inserts though, we recommend that you get a professional to do it since that job is a little more difficult.
You would usually install a pellet stove an inch away from the rear wall and connected to the event. Buy a hearth pad and let the stove rest on the hearth pad. Then use a jab saw to cut a hole on the inside of the wall first, so you can install the vent thimble that will hold the vent pipe inside of it.
After that, connect the vent pipe that is already connected to wall to the stove. Make sure everything is installed tightly, and you can start using the stove.
Do I need a permit to install a pellet stove?
Yes.You will need a building permit to install a pellet stove. Before you even install the pellet stove, you'll need to get the area inspected for hazards.
Of course, the specific rules and policies to getting the permit will depend on which state you live in. Some states have stricter rules while others are more lenient.
Does a pellet stove need a chimney?
Not necessarily. What a pellet stove needs are an exhaust pipe that would blow all the unwanted toxic fumes and gases that come from the stove out of the house.
If you would want to install a chimney to your pellet stove, you may do so for aesthetic purposes.
However, the least that you'll need is just an exhaust pipe.
Is a wood stove better than a pellet stove?
While this generally depends on your needs, our experience would tell us that wood stoves are not at all better than pellet stoves. We would prefer pellet stoves for these several reasons:
You don't need to store big chunks of wood since pellet stoves only require small wood pellets.
A traditional chimney doesn't need to be built with a pellet stove.
There are fewer carbon emissions as compared to wood stoves, making this a more eco-friendly option.
Pellet stoves don't use up as much energy like wood stoves do, saving you a bundle on your heating bill.
Conclusion
When deciding which pellet stove to purchase, researching its most valuable features, and comparing it to one another is important to get your money's worth. This pellet stove review only highlights which remarkable qualities each model has, however, it is still your decision which best pellet stove and features matter to you the most.
Most models are very promising but US Stove Wiseway GW1949 wraps it up as the best pellet stove. 
The unit almost has it all; extremely eco-friendly—you are contributing to the green movement; already fully assembled—no worries on installing it; ultra-silent—it will keep you up and give you the good night's sleep; high hopper capacity—offer you the luxury of less maintenance; no electricity needed—saves money on your electric bill.
Moreover, it also has an appealing exterior—an extremely stylish modern design that will match any of your decors; high heat coverage—most importantly, it will competently heat rooms;  It simply covers up every detail that most people are looking for; simple, elegant, and high standard pellet stove.
Skimlinks Test