With many of its kind on the market today, it can be quite tough to find the best point of use water heater on the market today. This is why we created this list. On this guide, we tested 12 of the best point of use heaters available on the market today. Based from our experience, we find out which POU heater is the best option for you.
12 of The Best Point of Use Water Heaters on The Market
1.  Rheem Performance Single Element Electric POU Water Heater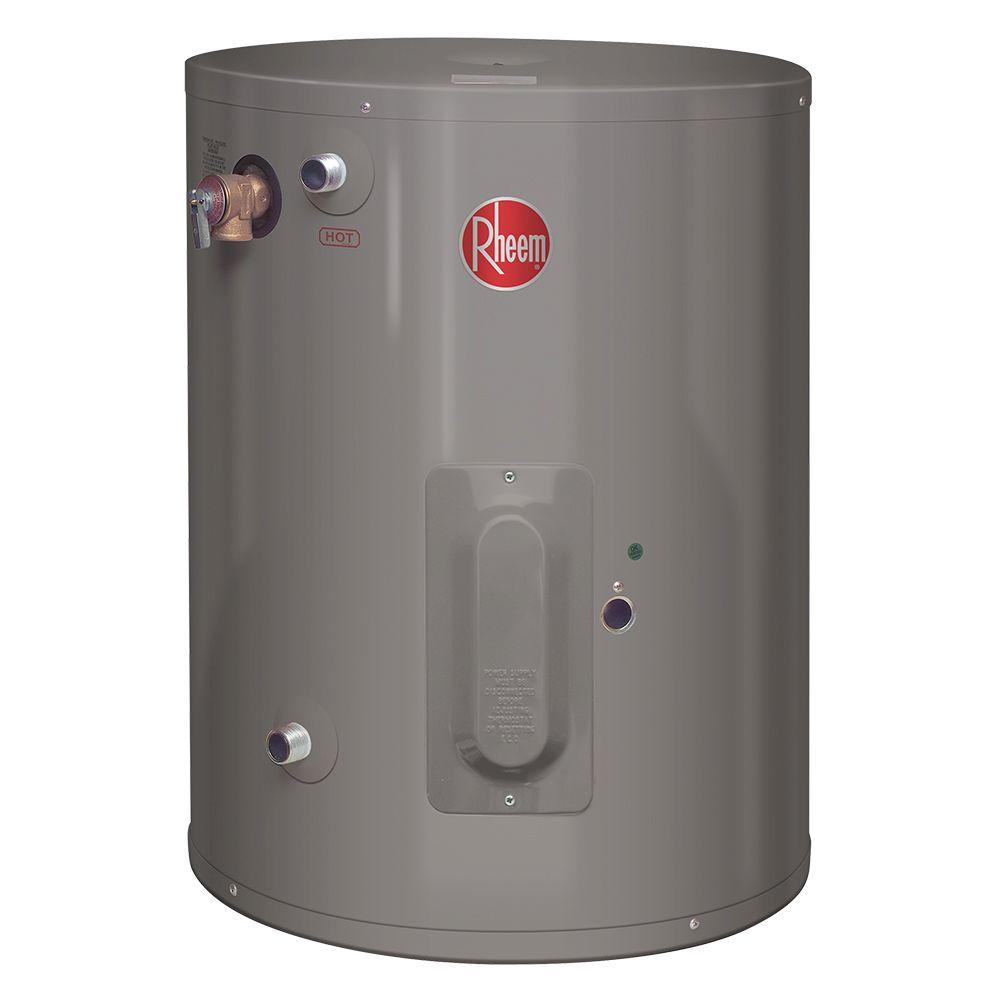 Capable of providing up to 20 gallons of heated water for various purposes, this water heater from Rheem is consistently included in lists of the best point of use water heater for shower use. While its tank has a capacity of 20 gallons, it is designed in such a way that it can fit even in tight spaces. It has factory-installed safety features, uses a 120-volt electricity source, and is covered by Rheem's warranty for parts and labor.
Highlighted Features:
20-gallon capacity tank
Factory-installed temperature and pressure relief valve
Single heating element with 2000-watt power
Space-saving design for most home applications
Pros:
Light weight and relatively simple installation
Quick and reliable heating
Warranty covers potential issues with parts
Great for use at homes and other light-to-medium duty applications
Useful for both bathroom and kitchen use
Cons:
Rheem 6 Gallon Water Heater Unboxing & Install
2.  Bosch 7-Gallon Electric Point of Use Heater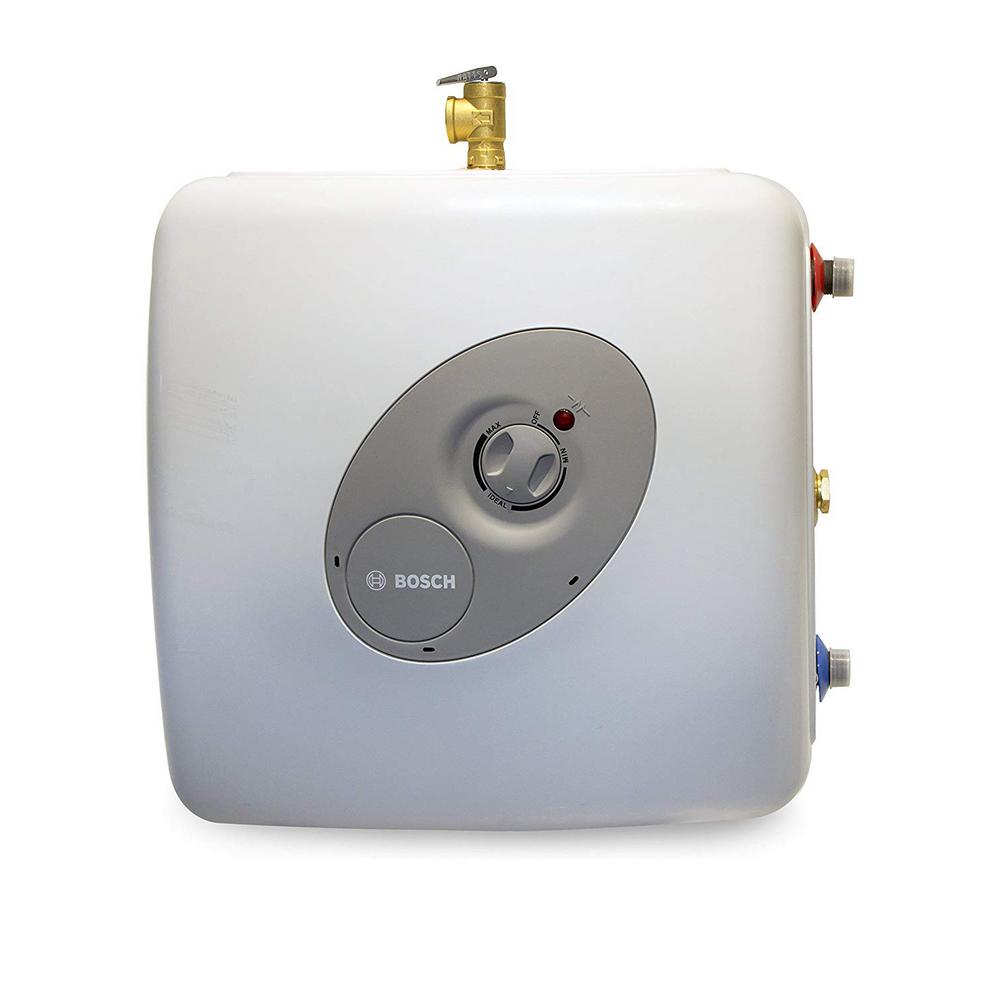 Designed to fit right under your sink, this water heater from Bosch is designed for both bathroom and kitchen use. When activated, this will provide heated water into your faucet almost on demand. This is partly due to a combination of a well-insulated water tank and the heater unit's fast recovery rate. It is also highly-efficient, boasting a 94% efficiency rate which is extremely high for a point-of-use water heater. The entire package is completed by a myriad of safety features and a 2-year parts warranty.
Highlighted Features:
Can be wall-hung or floor-mounted
Compact design easily fits under most sinks
Highly-efficient design allows for quick heating of water
Built-in temperature and pressure relief valve
2-year parts warranty
Pros:
Energy efficient thanks to superior construction
Great for use in small spaces thanks to compact design
Quick and efficient heating compensates for relatively small tank
Solid track record for durability
Cons:
Must be directly wired into your house's power system; it has no built-in plug
May not be enough if you use high amounts of hot water
Bosch Point-of-Use Mini Tank Electric Water Heater Install
3.  Stiebel Eltron SHC 4-gallon Electric POU Mini-Tank Heater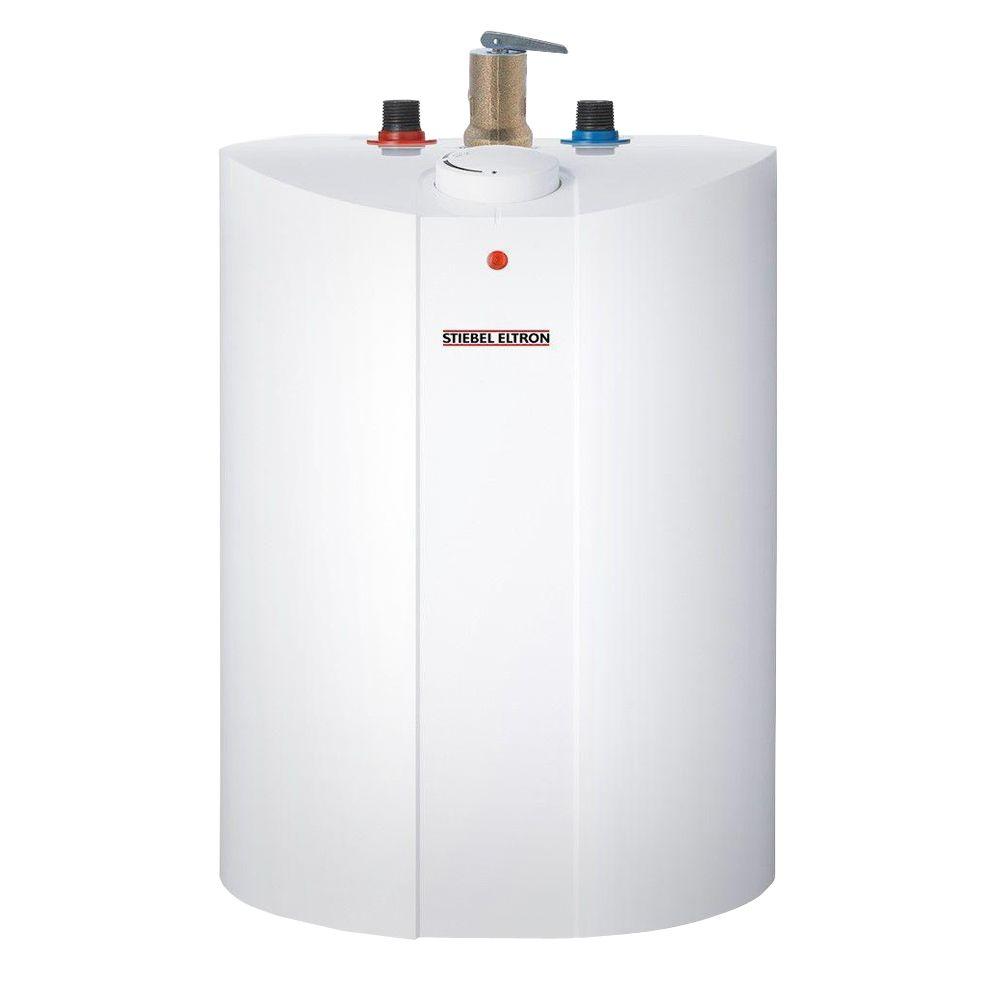 Capable of being a stand-alone water heater or as a complement for a booster for a centralized line, this point of use heater for Stiebel is designed as a compact means for heating water. Scoring consistently on point of use water heater reviews, this product from Stiebel is used on a wide range of applications, from bathroom sinks to food trucks. Its excellent insulation reduces heat losses while its heating unit delivers water at your desired temperature quickly. It is also easy to install and can fit even in tight spaces.
Highlighted Features:
Compact 4-gallon tank can fit small spaces
Easy installations with its pre-installed valves and plug-in design
Tank is glass-lined for optimal insulation and improved durability
6-year tank warranty and 2-year parts warranty
Pros:
Well-built parts result to enhanced durability
Easy installation thanks to pre-installed parts and simple assembly
Ideal for use in kitchen sinks and similar applications
Heats water at a reasonably quick rate
Cons:
Heater is taller than most, which can provide a potentially problematic fit
Capacity might be too small for larger applications
4.  Ariston Andris POU Mini-Tank Electric Water Heater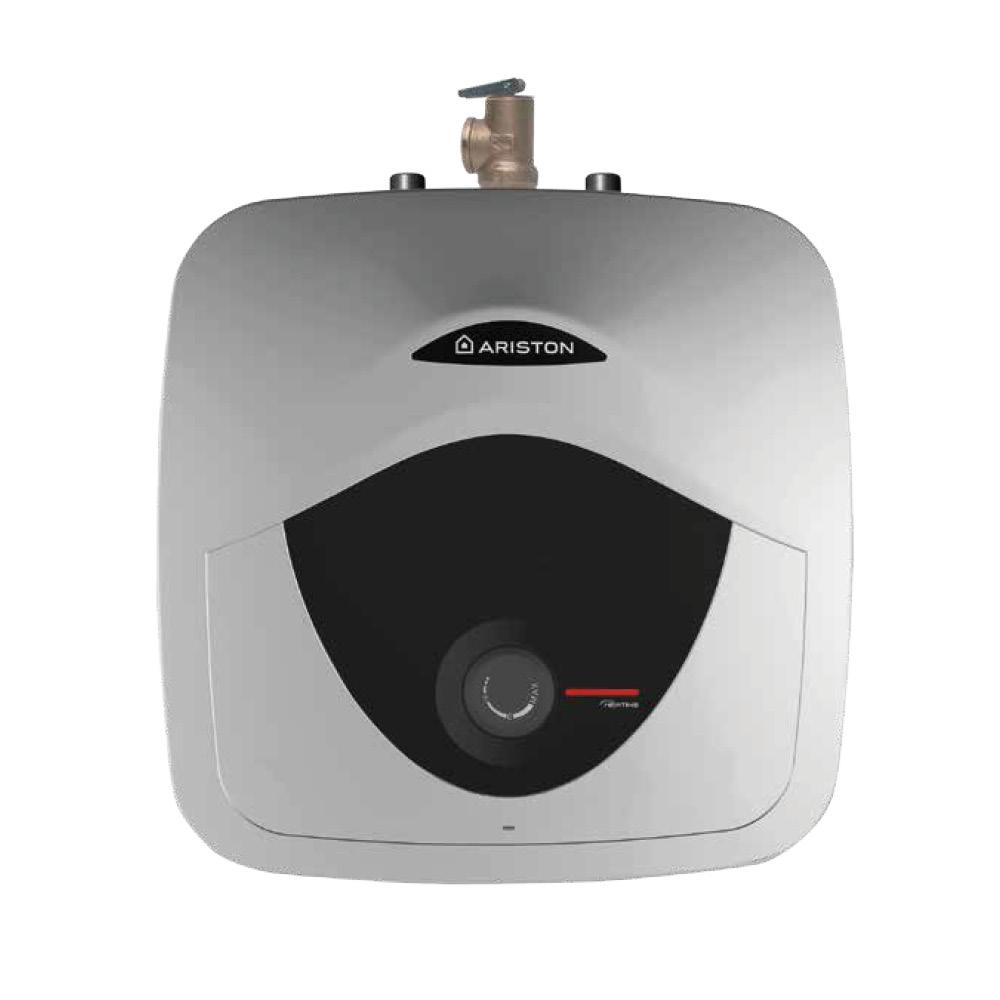 Yet another contender for the title of best electric point-of-use tank water heater, this unit from Ariston has been scoring high in most product reviews. It utilizes a compact 4-gallon tank that supplies warm water when you need it. The titanium glass-lined tank is built into the unit, and you can either mount it on the wall or place it underneath the sink. CFC-free foam insulation enhances heating efficiency, while a temperature/pressure release valve enhances overall safety.
Highlighted Features:
4-gallon mini-tank that is built-in within the heater
1440-watt heating element heats water to 65-161F
TitanShield technology protects the tank from corrosion
Easy installation and can be plugged into any 120-V outlet
Pros:
Simple and compact construction makes it easy to install almost anywhere
Quick heating of water
Multiple design features for safety, efficiency, and durability
Extended warranty advantageous for long-term users
Cons:
Reports of missing parts during shipping
5.  Eccotemp EM 7.0 Point of Use Electric Mini Tank Heater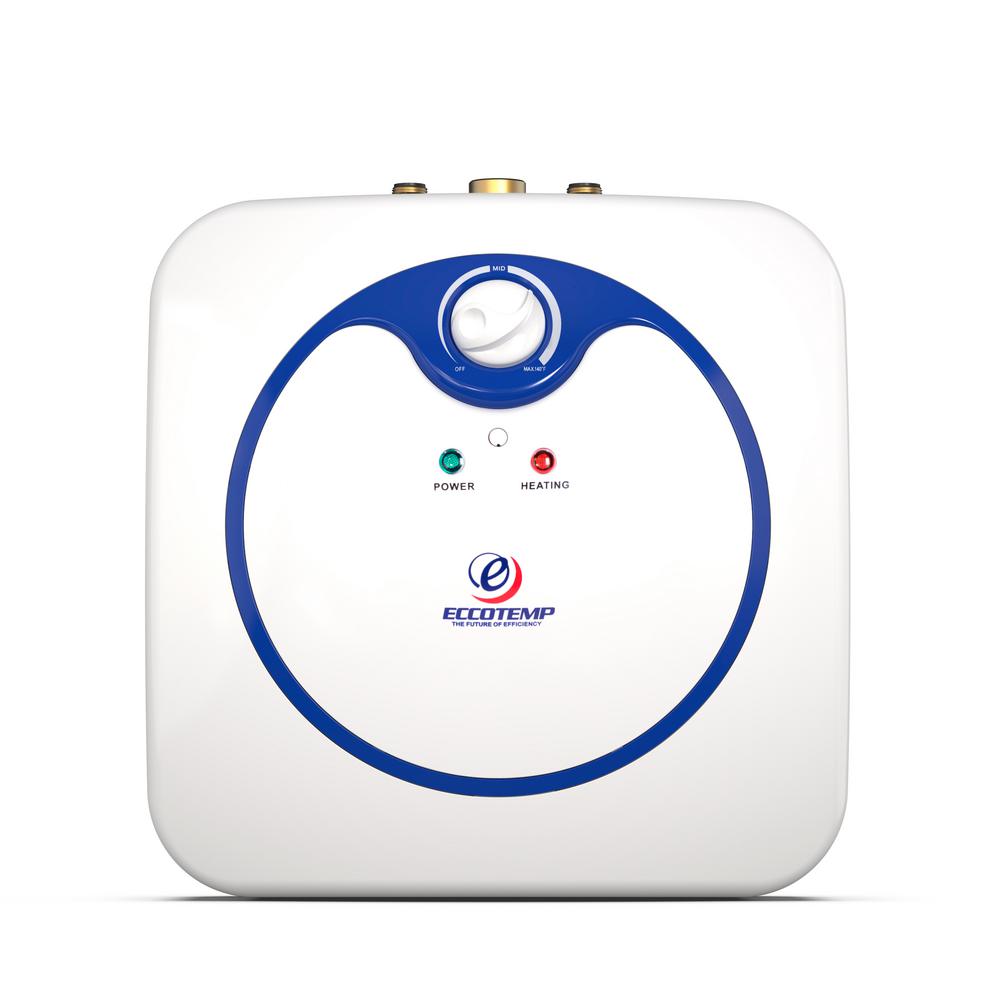 Its compact design makes it a great fit for small houses, whether in the bathroom or the kitchen sink. In addition, it has been used successfully in confined settings such as mobile homes, boats, and kitchenettes. It can hold up to 7 gallons of water, which is good enough for most home uses and some low-end commercial applications. Designed for easy installation, this water heater can be used free-standing or wall-mounted. Just plug it into a 120-volt outlet and this heater is ready to go.
Highlighted Features:
1440-watt heating element sends water to your desired temperature quickly
Designed to operate at up to 150PSI of water pressure
Temperature range can be adjusted from 70 to 140F
Pros:
Compact construction and easy installation
Provides enough water to perform most regular house chores and baths
Quick recovery time for even heating even during heavy-duty use
Cons:
No built-in pressure valve, so you should consider installing one for safety reasons
Some had issues with tank leaks
6.  EcoSmart Electric Mini Tank Point of Use Heater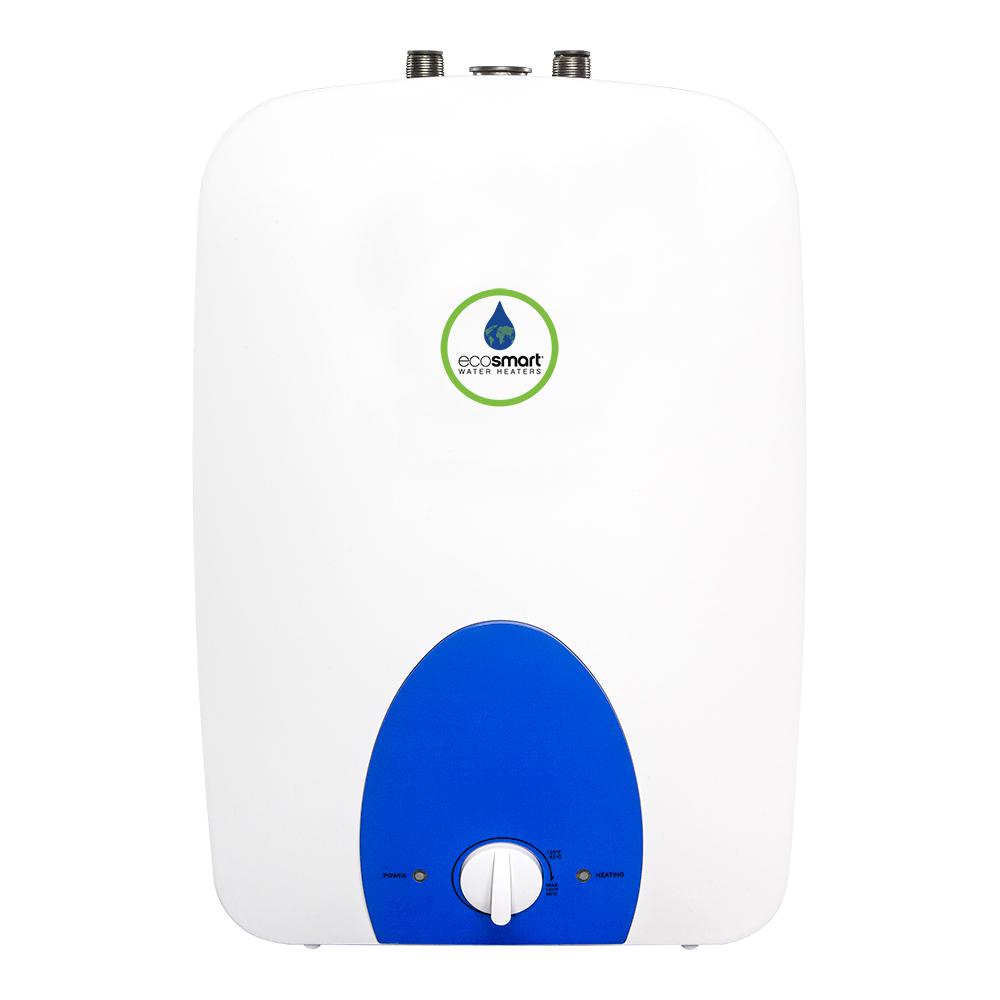 With steadily high scores on point of use water heater reviews, this heater from EcoSmart has a legitimate case for being the best in this list. This heater is designed to deliver hot water at your shower or sink at the quickest possible time. It uses a heating element that is both efficient in delivering heat to your water and economical in consuming electricity. Its compact size allows it to fit even in tight spaces, and its 6-gallon capacity is good enough for most functions. It also rated to have a 38-minute recovery time.
Highlighted Features:
Temperature range is from 50 to 140F
Tank is glass-lined for optimal durability and corrosion resistance
6-year warranty for leaks and 2-year warranty for parts
Comes with pressure relief valve for safety
Pros:
Compact design allows it to fit into tight spaces
Complete parts mean easy installation and operation right out of the box
Water gets heated to desired temperature quickly
Cons:
Reports of missing parts on some deliveries
7.  Whitehaus WH-TANK2 Forever Point of Use Heater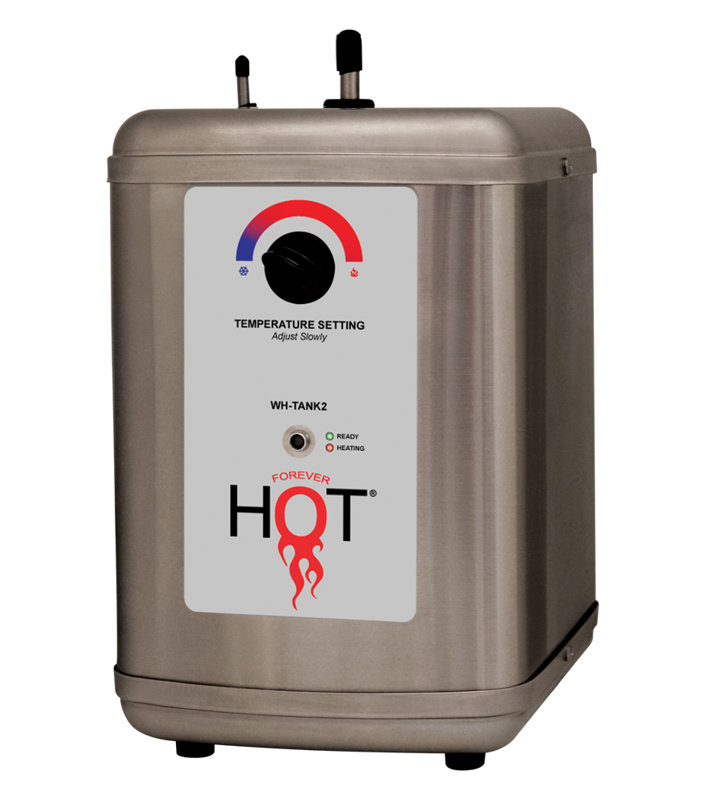 This water heater is among the contenders for best point of use water heater based on positive reviews alone. Boasting a flow rate of 0.625 gallons per minute, this plug-in water heater delivers hot water at your desired faucet almost instantly. With its adjustable thermostat, you can dial it to your desired temperature. Made using stainless steel, this heater is solidly constructed and sturdy enough to last years of abuse. And in the event that it doesn't, it is covered with a 1-year product warranty.
Highlighted Features:
780-watt heating module
Heating range from 140-200F
Self-resetting system for additional safety
Pros:
Quiet operation
Efficient heating
More consistent performance compared to most tankless heaters at the market today
Cons:
Bulkier than most of its competition
8.  Rheem Performance POU Electric Tankless Heater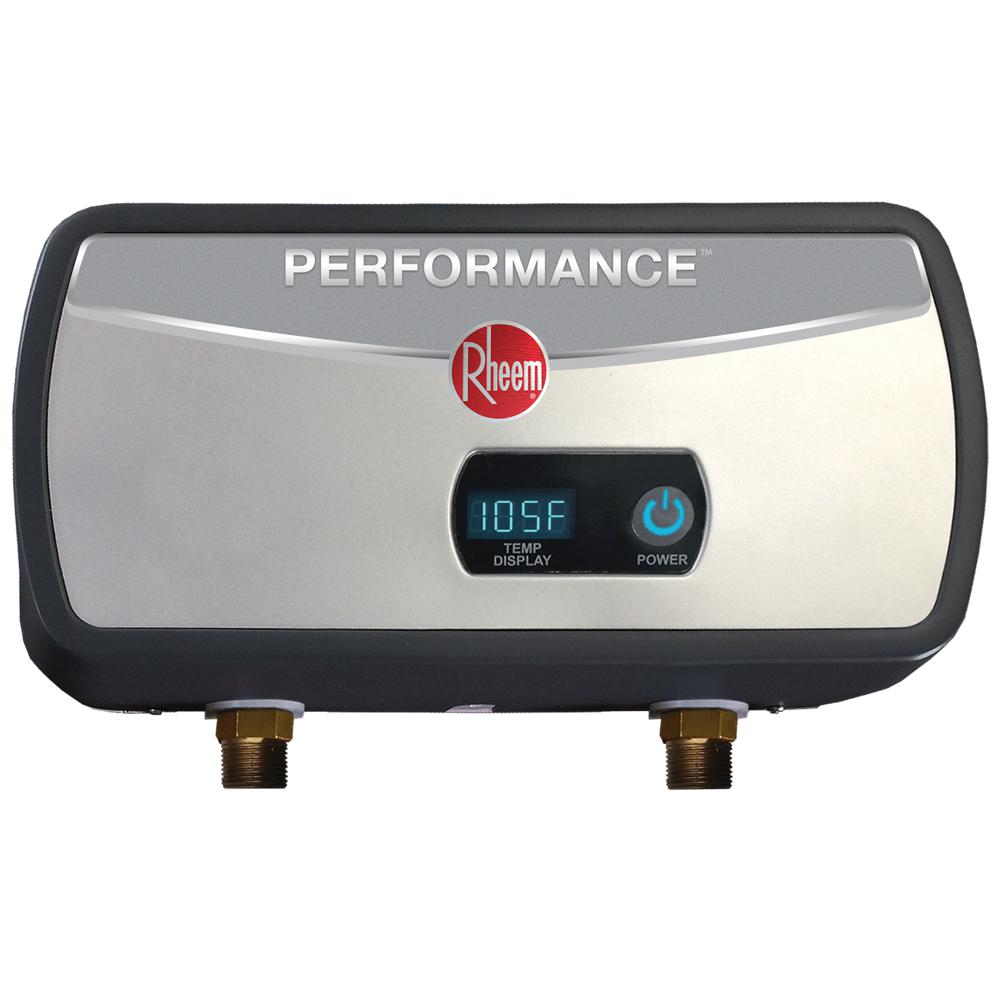 This tankless water heater from Rheem is designed to deliver a continuous stream of hot water for multiple applications. Compact enough to be installed under the sink or inside a cabinet, it can be used for a wide range of applications, from homes to boats. It has an automated function that only turns on when water needs heating, resulting to better energy savings. It comes complete with Rheem's 5-year heat exchanger warranty and 1-year parts warranty.
Highlighted Features:
Electronic temperature control with range of 80 to 140 F, complete with digital display
Installation made simple
Energy-saving automatic functions
Heating elements deliver reliable performance with superior durability
Pros:
Its output is considered as adequate for most home applications
The complete installation process is straightforward
Allows for significant energy savings if used properly
Cons:
Inconsistent heating performance during high-volume use
There are some reports for issues in build quality
9.  Bosch Tronic 3000 US3 Electric POU Tankless Heater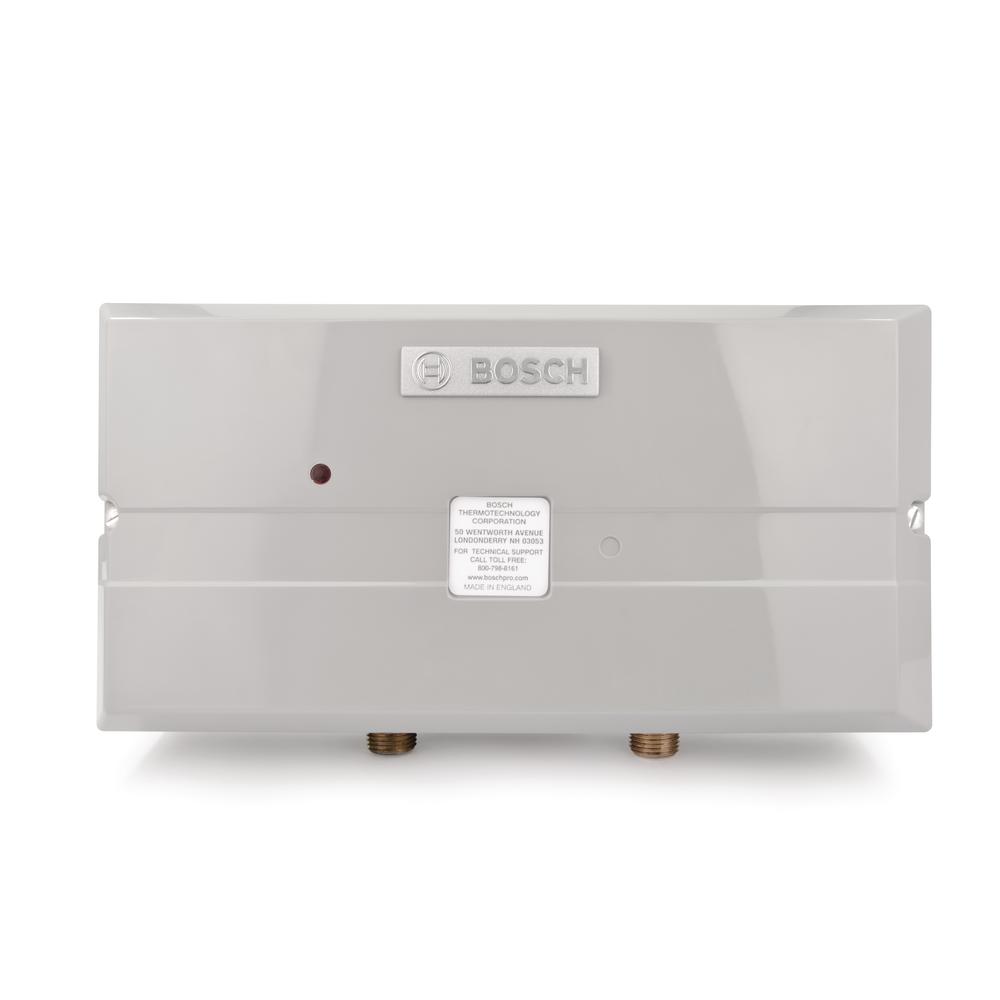 Arguably the best point of use tankless water heater on this list, this product from Bosch is consistently getting high ratings from users. With its compact design and multiple installation options, users can install this product in many ways without breaking much sweat. It can deliver 0.5 gallons of heated water per minute, which is more than enough to deliver hot water consistently in a usual sink setting. It utilizes a copper heat exchanger for optimal durability, and features a 98% energy efficiency rating with minimal standby loss.
Highlighted Features:
Heats water at 0.5 gallons per minute
Flexible installation allows for wall mounting or under-sink assembly
Solid copper heat exchanger designed for optimal durability
5-year limited warranty for home, commercial, and industrial applications
Pros:
Efficient performance that is both quick and economical
Compact design and flexible assembly gives it superior installation versatility
Multiple safety features for no-frills performance
Cons:
Needs its own dedicated circuit
You need to check proper installation or you might get inconsistent water heating
10.  ATMOR POU Electric Tankless Water Heater 1-Sink Water Heater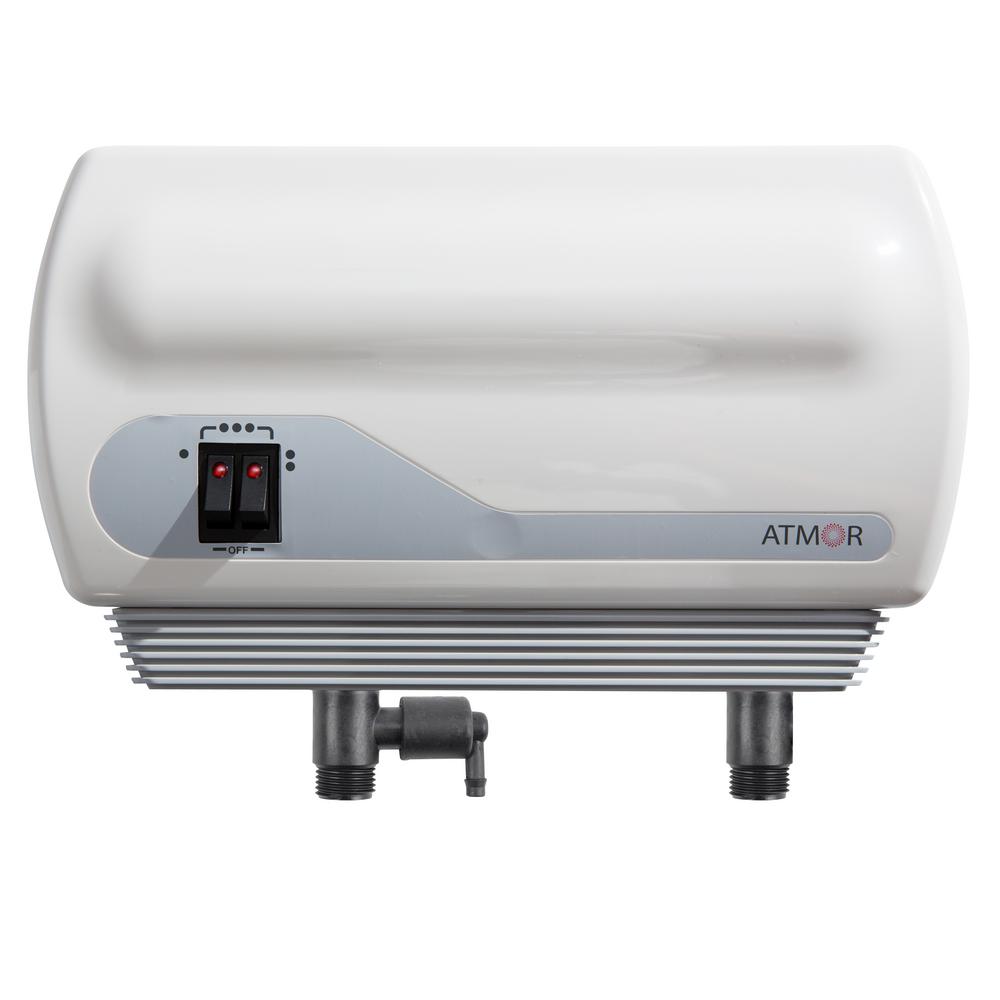 This heater from ATMOS is designed to deliver hot water out of your tap right on demand. It features a revolutionary automatic system that only turns on the heat when it senses water flow and then shuts it off when flow is absent. This system can significantly help energy efficiency while cutting potential water waste. This electric water heater can be installed at the wall or under the sink, depending on what's most convenient for you. It also has a pressure relief device for safety, used to prevent excess pressure buildup.
Highlighted Features:
Automated heating system helps you save on both energy and water
Includes pressure relief device and aerator for sink faucet
Compact design allows it to fit at most sinks
Frame constructed using heat-resistant polymer
Pros:
Helps users save up to 50% on electricity and water costs
Consistent performance under most settings and use conditions
Compact design allows it to fit even in tight spaces
Cons:
Installation is more difficult than most point of use heaters
11.  EcoSmart 6.5kW POU Electric Tankless Water Heater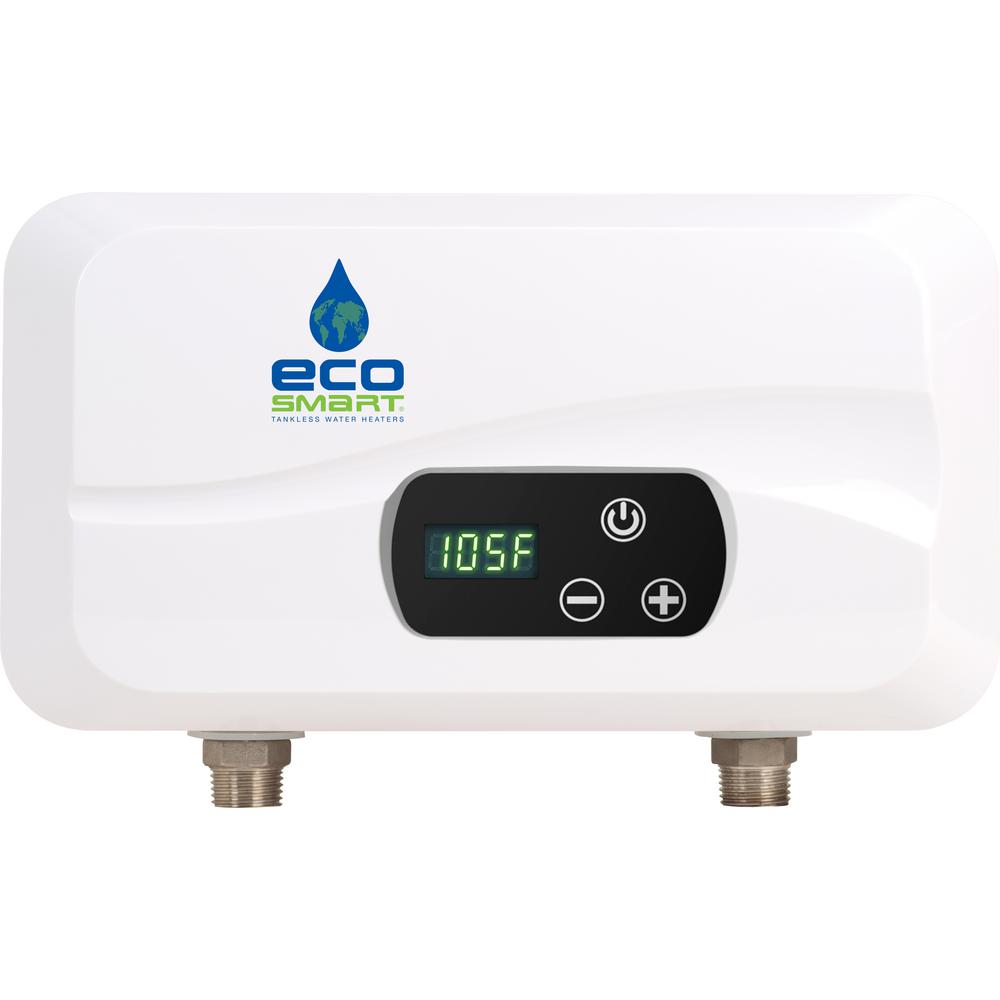 With its boatload of innovative features, it has earned momentum for its quest to become the best electric tankless water heater available today. It features a self-modulating system that efficiently heats water while also helping you to save on electric costs. You can adjust temperature from 80 to 140F, and will heat your water in a quiet way. Its compact design allows you to mount it just about anywhere you see it fit without any dropoff in performance.
Highlighted Features:
Compact design that allows for both mounting on walls and placement under the sink
Digital display and easy-to-understand buttons and switches
Active energy management system
Pros:
Able to heat adequate amount of water for most uses in most conditions
Automated system enables you to enjoy superior energy efficiency
Easy installation
Cons:
Water flow is slowed down to maximize heating capabilities
12.  Stiebel Eltron DHC Point of Use Tankless Water Heater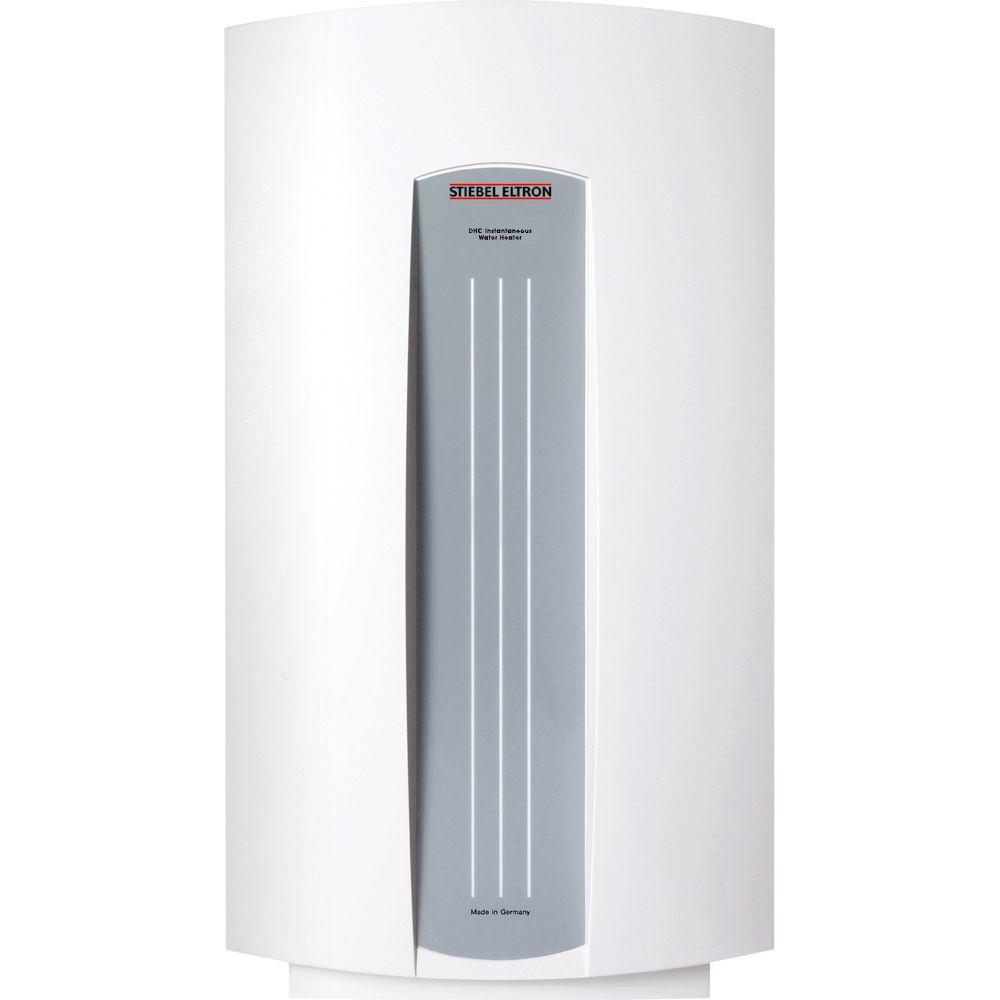 Based on point of use water heater reviews, this tankless water heater from Stiebel Eltron provides its own list of intriguing features and solid performance. Designed to provide consistent heat from a medium-sized outlet, it's capable of heating water almost instantaneously while boasting almost 99% heating efficiency. It is also a highly compact and well-insulated design that makes installation easy and thermal protection optimal. And with a 7-year leak and 3-year parts warranty, your heater is covered in almost all of its productive years.
Highlighted Features:
Capable of heating water at a rate of 1.09 gallons per minute
Overheat safety protection and thermal protection reset are available
Pros:
It has adequate output for almost all home activities and most commercial applications
Multiple safety features
Can fit into almost all types of spaces
Earned a reputation for durability
Cons:
Electrical enclosure provided could have been improved
What is a Point of Use Water Heater?
A point of use water heater is a device that is designed to supply one fixture with hot water. That fixture, usually the shower or the sink, will receive water that is heated by the device, allowing its user to gain access to hot water when they need it. Such heating systems focus on delivering warm water to one access point, hence the term "point of use". This can be particularly advantageous in certain settings (more on this in the pros and cons section), which is why a lot of people are now getting these types of heaters for home and business use.
Water heaters like these can be constructed using different parts and materials and can be made with different features. These elements are very common topics of discussion in most point of use water heater reviews as they largely affect performance, durability, reliability, and other factors that provide value to the buyer. During our reviews for the products mentioned earlier, we have mentioned some of these elements. We hope that thru our objective reviews, you can find the type of point of use heater that will fill your needs best.
Types of Point of Use Water Heaters
There are 2 types of point of use water heaters available on the market. Either design can be used for bathrooms, dishwashers, or basically any location in the house where you might need heated water.
Tank-type heater
A tank-type heater utilizes a tank as part of its heating system. Inside this tank is where water is stored and is heated for use. These heaters are rated depending on the size of its tank, which can range anywhere from 2 to 30 gallons. The water is heated and then stored inside the tank, where it is maintained to a heat preset in the device's thermostat. The advantages of this type of water heater include capability of providing more warm water (within the tank's overall capacity), while disadvantages include considerations for installing the tank in your plumbing system.
Tankless heater
Meanwhile, a tankless water heater doesn't use a tank as part of its water heating system. Instead, the heating element is installed directly in the water source, which then provides you with hot water when you need it. A tankless heater is most commonly rated based by gallons per minute, which is the amount of gallons of heated water it can supply on a per-minute basis. The advantages of using a tankless heater include a more compact construction and an ability to provide hot water faster, while disadvantages include slower water supply, and inadequately heated water if you chose the wrong unit.
POU Water Heater Pros and Cons
There are both advantages and disadvantages with choosing a point of use water heater compared to other configurations of water heating devices. Deliberating these general pros and cons can give you a better picture if a point-of-use water heater, regardless if it is tank-type or tankless, is the best option for your needs.
Pros
Targeted water supply- It's a fact that not all areas of your home needs water heating. With the help of a point of use water heater, you can get heated water exactly at the places where you need it, when you need it.
More energy efficient- A point of use water heater is also more energy efficient compared to a central heater because its heating element uses less electricity compared to a unit that needs to heat up water for an entire house.
Quicker water delivery- This is another significant advantage of using a point of use water heater. Because the heating element is located exactly where it is going to be used, the delivery of heated water is more instantaneous.
On-the-spot water adjustments- Do you prefer your water to come out at a specific temperature from your faucet? Adjusting the thermostat at your point of use water heater is much easier, and you don't have to alter the temperatures on other faucets to do it.
Less expensive- Compared to central heaters, a point of use heater is less expensive to acquire. It also consumes less energy compared to its counterparts, and its maintenance requirements are generally less. Overall, it's a cost-efficient option for most purposes.
Cons:
Cannot be used in high-output settings- A centralized water heater is much more efficient when it comes to high-output settings. Aside from covering a much wider range of heating, these heaters can also supply a much larger rate and volume of heated water.
May cause uneven heating if not used properly- Inconsistent heating can be a problem if you are using point of use heaters. This commonly happens if you are using amounts of water that is much higher compared to the capacity of your heater.
Conclusion
While all of the products that have been mentioned on this review is awesome in its own right and can be your best option on any given situation, the product that we will recommend for you the most is the Ariston Andris 4-gallon 120-Volt Corded Point of Use Mini-Tank Electric Water Heater. If you think that any of the products we mentioned here is better for your needs for whatever reason, you can pick any of them as we reviewed them all and generally think that any of them can work for your needs.
With all things considered, we think this is the best point of use water heater available on the market today. Its combination of heating efficiency, safety features, durability, and ease of installation makes it a well-balanced choice for both home and light commercial use. Order it now on this link!