Are you in search of a worry-free way to keep your pool warm without adding so much to your utility bills? Pool cover reels might solve your problem. The best solar cover reel is designed not just to keep heat but to keep your pool warm without adding too much to your power consumption.
They also help keep the pool cleaner because they keep debris at bay. If you have plans on buying the best pool cover reel, this buyer's guide can help you.
Factors to Consider When Choosing the Best Pool Cover Roller
Solar pool covers primarily act as a pool heater by harnessing sunlight and preventing the heat from escaping.
Some factors that you need to consider when choosing include pool size, price range, and preferences. After you determine the different elements, deciding which pool cover roller to buy is easy.
The first thing you need to consider is the pool size. Make sure you the get right size for the pool cover. If you purchased a smaller cover, you might not be able to warm the pool efficiently.
Choose a light colored pool cover. Blues and darker colors may look appealing over the water, but if what you're after is functionality, we suggest that you use clear protection because it allows the sun's rays to penetrate. The black shield might heat up fast, but its effect is not as long-lasting compared to transparent covers.
Recommended is the solar cover with air bubbles. The bubbles separate the material from the water and help the sunlight penetrate fast.
Strengthened UV-stabilized polyethylene in particular is quality material. It is stronger and will last longer. Without the UV stabilization component, the cover will deteriorate faster when exposed to the sun for prolonged periods.
Solar pool covers' prices can vary greatly. Manually operated pool cover with just on and off function is much cheaper. An automatic pool cover with a small motor and has a roll to pull the cover in and out is a bit pricier. There is also a semi-automatic cover with a small engine, but one or more individuals are guiding the cover.
The Four Types of Solar Pool Cover
Here are the four popular types of solar pool cover on the market these days:
Straight Line Vinyl Cover
It is the type of solar pool cover float on the pool's surface. The cover prevents evaporation of water as it keeps the water heated for a longer.
Insulated Vinyl Cover
This type of cover has several layers of vinyl connected to each other and in between, there are air pockets. This design prevents the transfer of heat from your pool into the air.
Pool Bubble Cover
It is somewhat similar to bubble wrap where bubbles trap the heat. Thus both transfer heat to your water as you ensure little escapes. Many people prefer this kind of pool cover.
Liquid Solar Pool Cover
It is the newest type of pool cover on the market today. It functions by floating a dispenser in the pool. It contains non-toxic, liquid pool chemical that floats on top of the water. It traps solar energy. Because it is non-toxic, it is safe to swim in the pool.
Tips on Using the Pool Cover Properly
Just lay the cover over the water of the pool. But, there are things that you need to keep in mind.
The pool cover should fit perfectly into your swimming pool. It can be achieved by putting it on the pool surface and then cautiously cutting off any extra pieces, to ensure a perfect fit. If the cover is too big or hangs over the sides, it might not trap the heat efficiently nor warm your pool correctly.
Also, use the cover as much as you can while you are not using the pool. It means that you should always keep the pool covered at night especially since this is the time when the heat usually escapes.
Now that you are aware of the things that you need to consider when buying a pool cover reel, it is now time to choose the right product. To help you decide which the best pool cover reel is, we reviewed 9 in-ground pool covers and 3 above ground pool covers.
Note that while heating and energy conservation are typically the main function of these pool covers, they can also help slow down water evaporation. Keep in mind that when left alone, the entire water content of the pool could evaporate in just one season. If your goal for buying a pool cover is water conservation, you might want to be careful about the pool filter you use as well. A cartridge filter is more effective than sand filters and DE filters in that regard.
Finally, keep in mind that solar pool covers work in two ways: 1) by preventing evaporation and 2) amplifying the sun's heating effect. So using the right pool filter is also crucial in maintaining pool temperatures.
Best Pool Cover Reel Reviews
1. Sun2Solar Stainless Frame Solar Cover Reel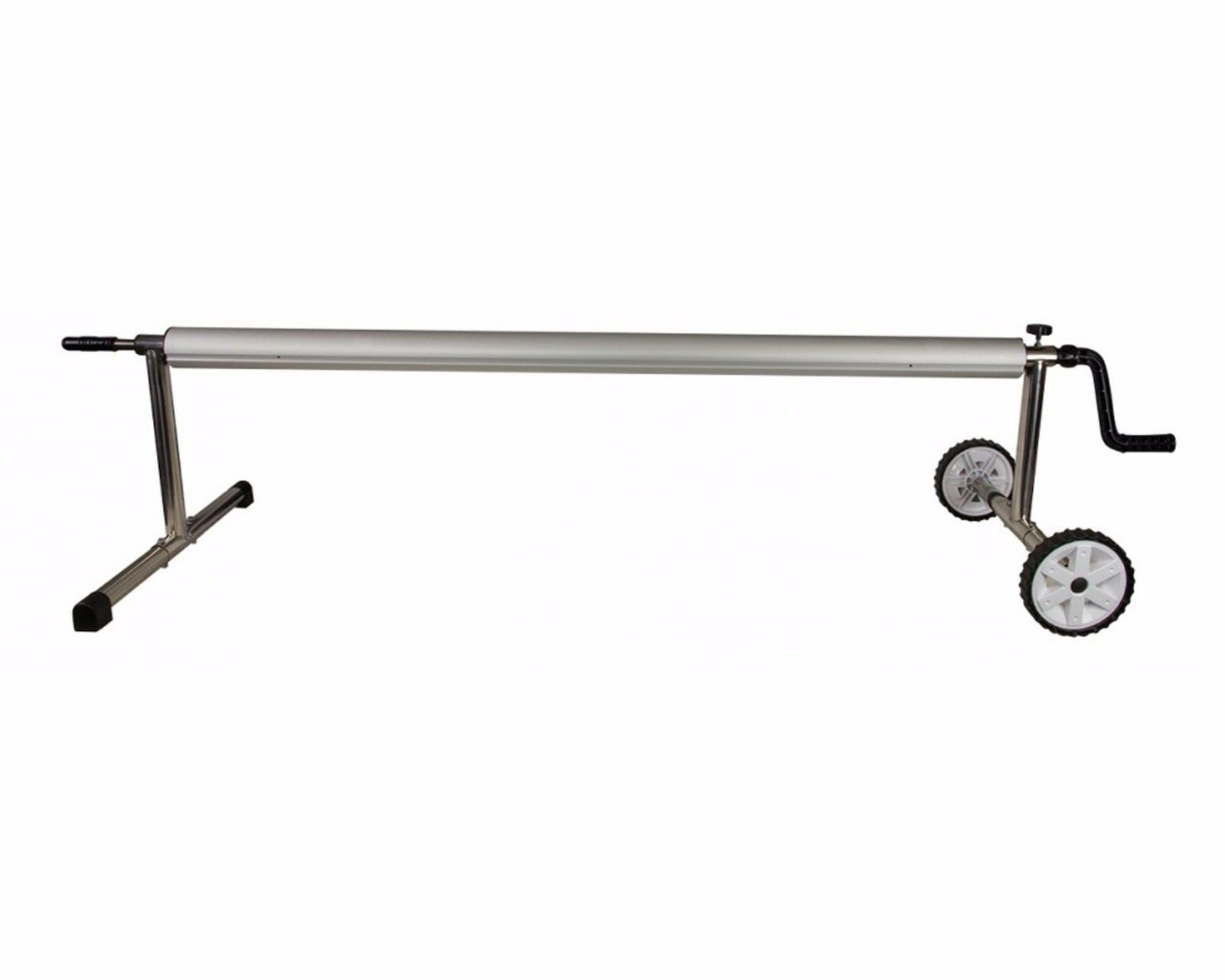 The Sun2Solar cover reel is a durable reel that offers you pool cover in various shades. It is made to cover up to 20 feet. You can choose the shapes and size that you want. It comes with large wheels to make it easier for you to roll the cover after using it and to unroll it when you need to. The inner tube is around 3.25 to make it even stronger when holding the cover. The cover will not drag because it has a significant clearance from the ground.
Has stainless steel frame
Huge wheels
Easy set-up
Can be difficult to figure out the straps
2. Deluxe Low Profile Solar Cover Reel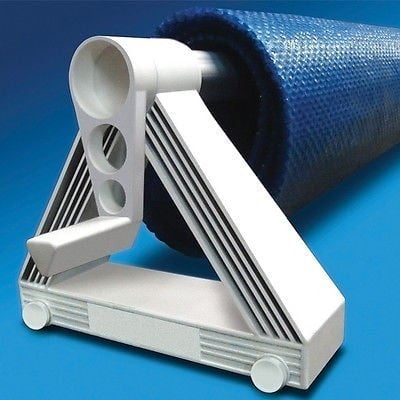 This cover reel is perfect for pools from 12 to 16 feet. It is triangular to help strengthen the reel and prevent it from tipping over or sliding into the pool. All the needed parts are included in the package, so you don't have to spend more for this product. The cover has no sharp edges which help extend the life of your cover.
Complete package
Smooth corners keeping the cover protected from getting damage
Triangular in shape for stability
It will be hard for one person to roll it
Too small for a 16-foot pool
3. Aqua Splash In Ground Swimming Pool Solar Cover
If you need a versatile pool cover, the Aqua Splash is the best option. It makes removal of the blanket effortless. It is designed to fit 16- feet wide pool. This solar pool cover had many convenient features and was manufactured to last. Its unique three-way end design enables permanent placement, mobility, fence mounting, and its taupe shade matches any pool decor. You will notice pre-drilled holes for easy-lock castors. The roller has wide-track bearings to make rolling and turning easy. It offers a three-year warranty.
A versatile pool cover
Hand crank for convenient rolling-up
With a three-year warranty
Setting up is not easy
Not very durable
4. Rocky's 3A In-Ground Pool Solar Reel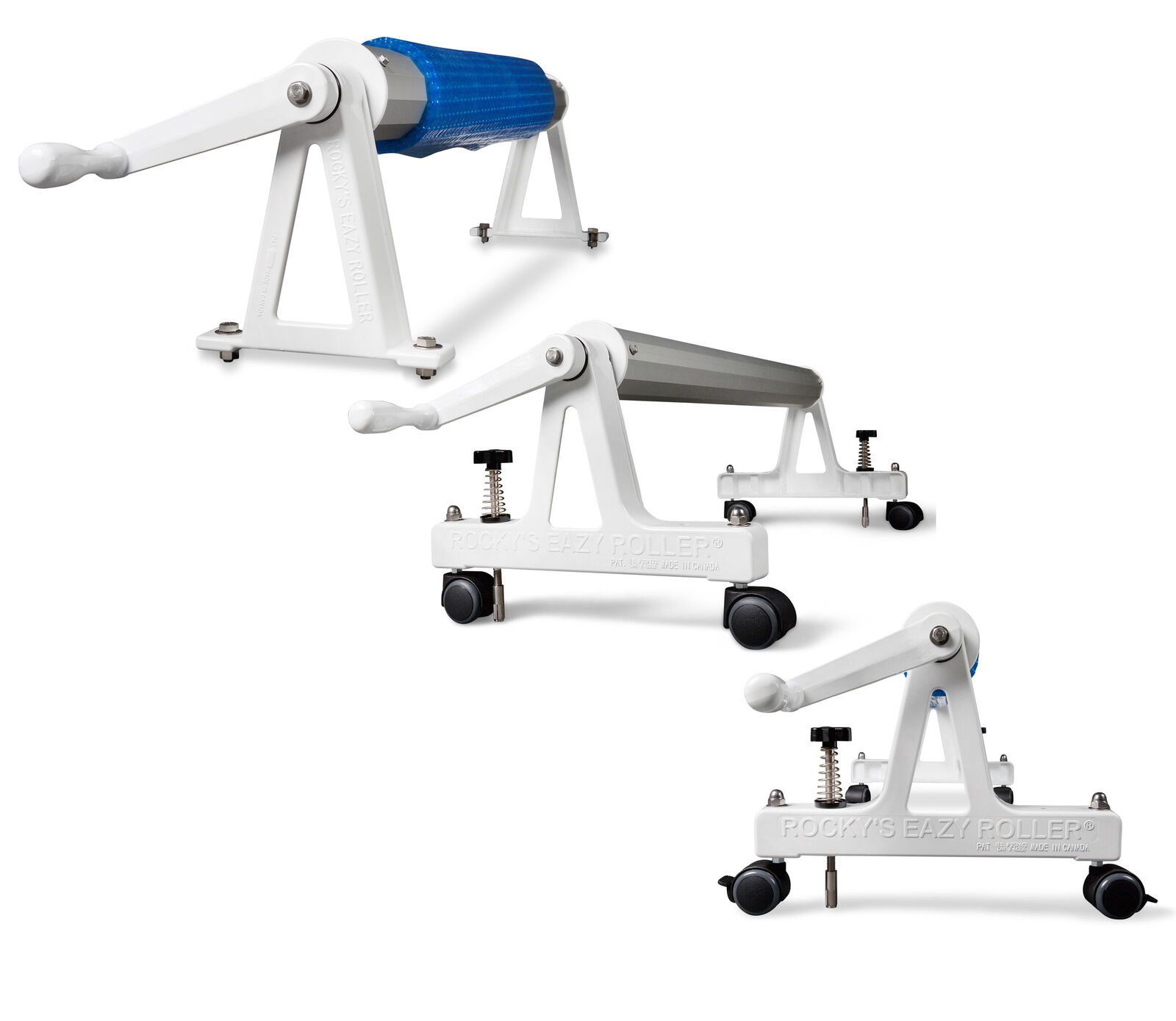 It is designed for pools up to 20 ft. wide. For easy rolling when not in use it has castors. The package includes everything you need to install the solar cover. The reel has robust die-cast aluminum and has baked enamel finish for better durability and quality. It features 3 inches, 12 sided adjustable an-iodized steel tubing to lessen sagging and makes sure of lateral strength.
It has castors for easy rolling
Made of aluminum which makes it lightweight and durable
Complete package
With an-iodized steel tubing to reduce sagging
5. SOLAR ROLLER Solar Pool Cover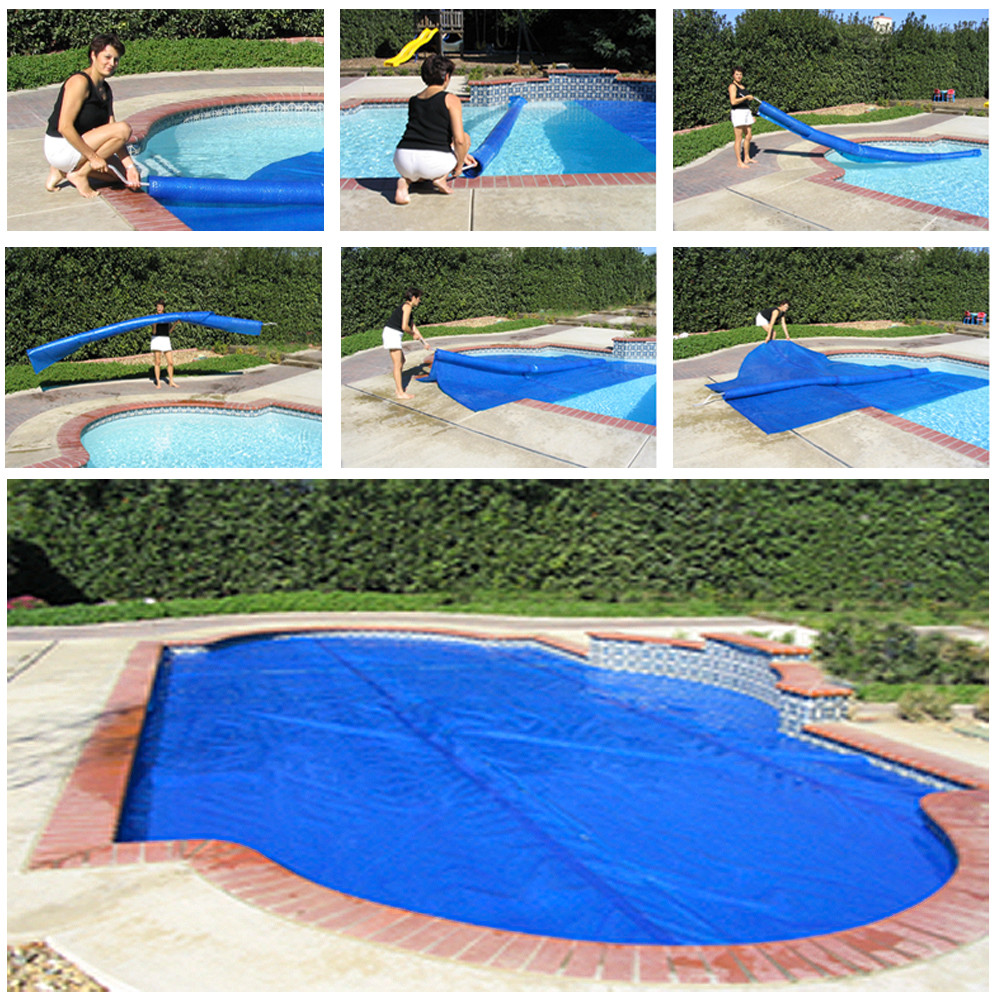 The Solar Roller pool cover can be used both for in-ground and above-ground pool. Rolling starts in the middle which removes the strain off the cover and helps extend the lifespan of the cover. You don't have to connect anything so there are no holes drilled in your pool or deck and can be removed if not in use.
No holes required in your deck or pool
When not in use simply roll it away
Recommended both for in-ground and above-ground pools
The material can break easily.
6. Kokido Solaris Cover Above-ground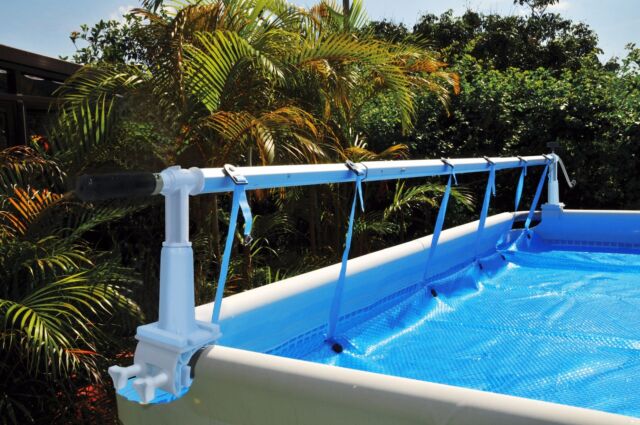 It has an aluminum reel that is designed to be connected directly to the side of the pool. It can cover up to 18.6 feet. The solar cover is anti-rust which makes it last longer. The Kokido Solaris also has a crank to help in rolling up the cover.
The body is anti-rust
Connected directly in the pool
The plastic becomes brittle after too much exposure in the sun and rain
7. Whirlwind Aluminum Solar Reel Above Ground
This above-ground aluminum cover reel is made of high-quality grade aluminum that fits 18 to 28 inches' width. It is built with sealed, very durable nylon bearings for easy one individual operation. For ease of crank and cover removal, it has a socket mount. It has all the straps needed for attaching the solar blanket. This comes with a 5-year warranty.
Built from high-quality commercial grade aluminum
Designed with durable nylon bearings for easy rolling
For ease of rolling, it has a socket
It requires two individuals to roll it back.
8. Doheny's Deluxe Above Ground Solar Cover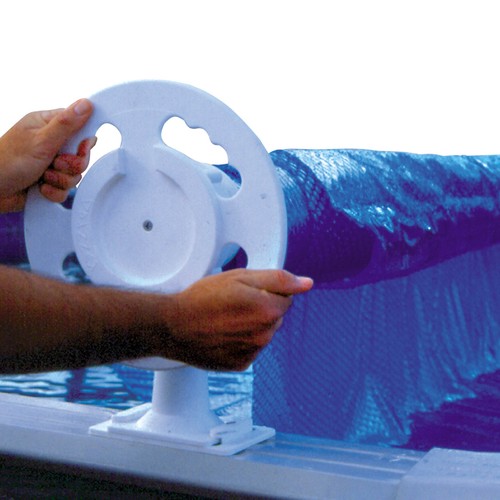 The Doheny's Deluxe Cover in-ground mechanism is the wheel that can be attached directly to the ground on the pool deck or wall. It can pivot away as the pool is in use. It can cover up to 18 ft. and can be used for round or over leaped pools. This pull cover is reliable and well-maintained.
Can be attached directly on the pool
Trusted composition
Revolves away during the pool use
Hard to follow instruction
Conclusion
All the products included in this the best pool cover reel review are durable and easy to use. Your choice would ultimately depend on your budget and the features that matter to you (e.g. whether it can help prevent evaporation of pool chemicals). Before making your choice, make a list of the pool you have and consider the degree of insulation you need, as well as how frequently you will need to use the pool cover.