Pool Floats is an integral part of our pool accessories. Whether just relaxing on the pool, or playing at the beach, pool floats are the best vacation companions. It will give you a fun pool experience, and guarantee an enjoyable bonding time with children or friends. Swimming isn't the only activity we can enjoy in the pool, river, lake, or the beach, we can relax with our children with the best pool floats for toddlers, or have a tan with the best pool lounger available today.
Why do I Need Pool Floats?
Pool Floats are essential if you have kids in the family because not all kids are excited to swim. Some are afraid to dip into the water feeling they would drown. This is where pool floats come into action. Children can enjoy floating in the waters without the fear of sinking with the help of kiddie pool floats. You can also relieve your stress by sitting in a reclining floater lounge and enjoy a bottle or two of your favorite beer. You can also lie down in a floating water hammock to refresh yourself on a hot humid day. Whatever reason you have for going to the pool, you'll make the most of these hot days with friends or family with the best pool floats in the market.
Benefits of Pool Floats
Pool floats generally offer dual purpose. First, they are specifically designed for fun and for playing. They are very handy in times where you feel too tired to swim and find yourself at the deepest portion of the pool. It can act as a life saver as it will keep you afloat if the need arises.
Another benefit that pool floats offer is the fact that even smaller children can enjoy the waters of the pool, if supervised by adults. I remember the endless fun I experienced pulling my son around in one of the best baby pool floats that I bought on the internet.
Review of the best pool floats available in the market
1. SwimwaysSpringFloat Recliner XL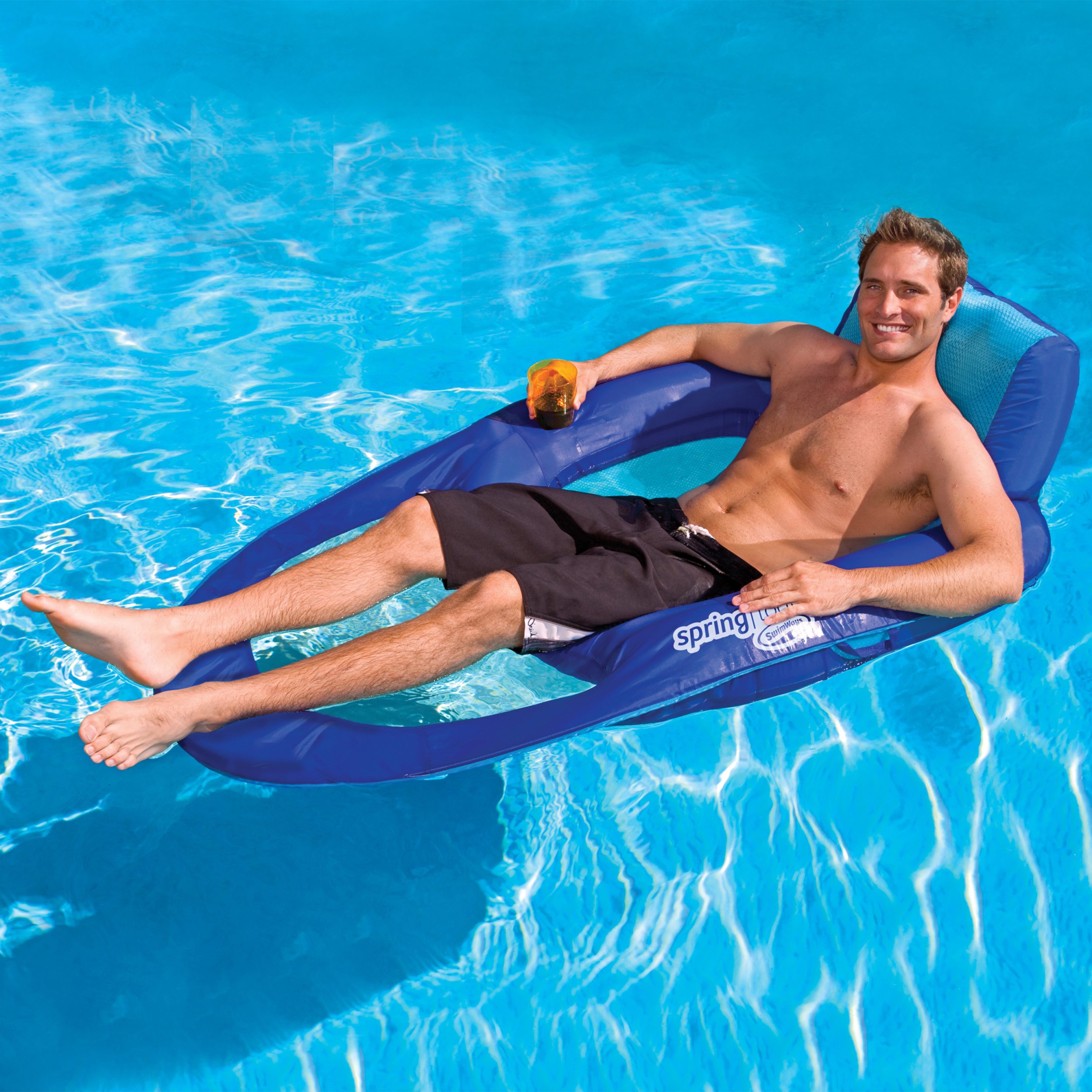 This product is made from durable vinyl material and is fabric covered for more comfort and durability. It has the Jet Valve Technology, which means it can inflate and deflate easily. It features a headrest, integrated backrest, ottoman and a cup holder. This new release is 20 % larger than its predecessor, with wider leg area and seating space. The seat mesh is specially designed to keep your lower body in the water and is perfect for those hot days. It sells for which is reasonable considering it's popularity.
PROS:
High Weight Capacity
Its length is conducive to taller people
Doesn't bend despite carrying a lot of weight
Affordable price
No air pump needed
CONS:
The material easily puncture
Some items seem to be defective
Not built to last
2. INTEX River Run II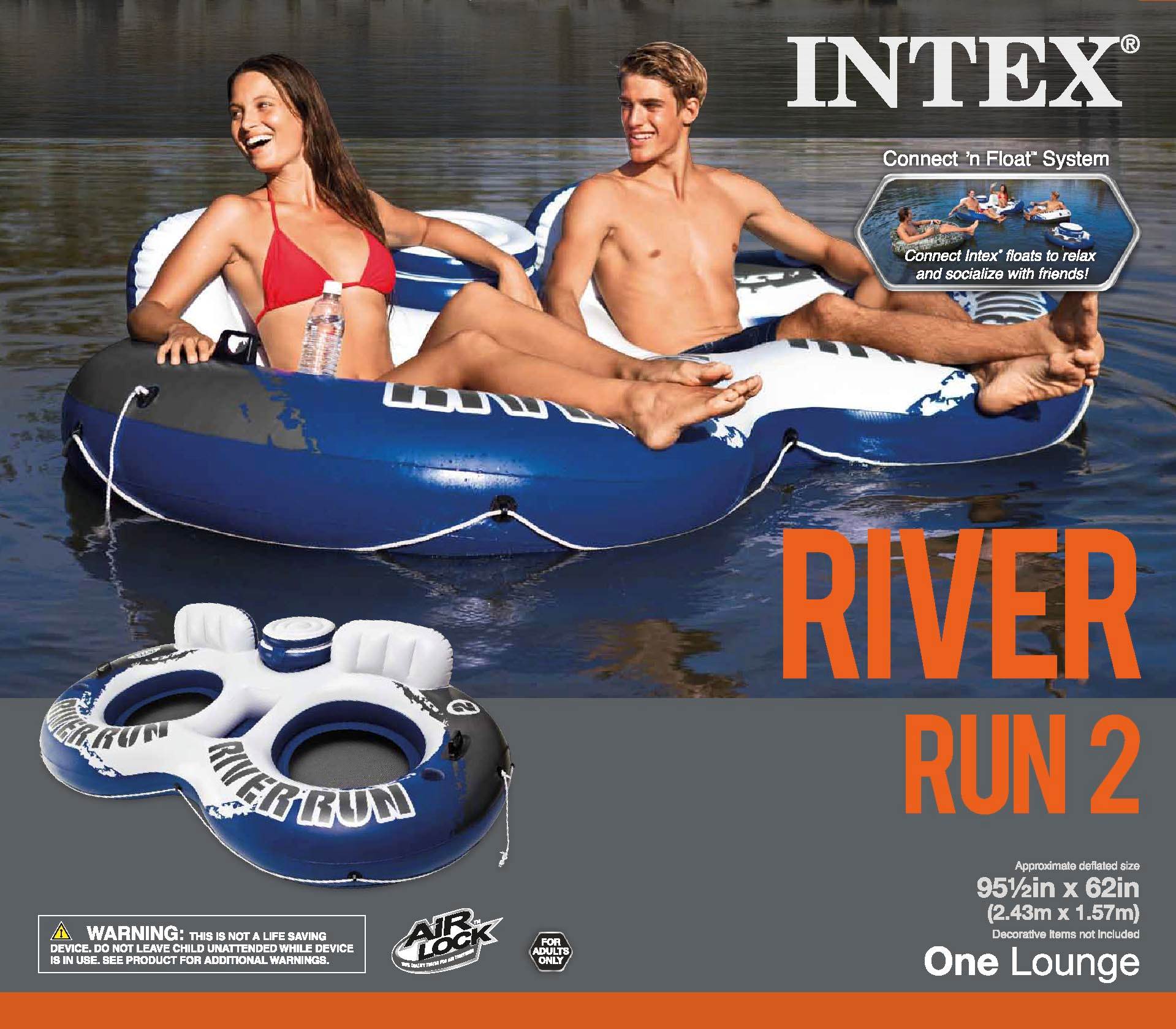 Intended for couples, this two person double float is perfect for your river adventures. It has a beverage cooler that keeps those beers and colas ice cold. The seat is mad from mesh material, so you'll stay wet underneath, but the rest of your body is high and dry. It is made from reliable vinyl material. It is ideally priced.
PROS:
5 Air Chambers for added durability
Repair kit included
Includes All around grab rope
Handles are sturdy
Large cooler
easy close cover
CONS:
Hard to maneuver
Big and cumbersome
Seat holes are too big to keep your undersides out of water
3. Swimways Baby Float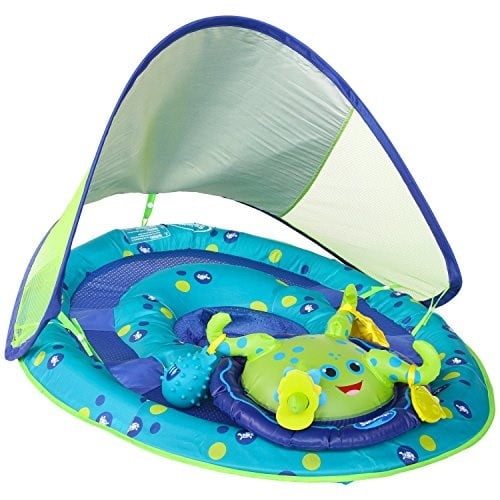 Introduce your child to the water with the Swimways baby spring float. Intended for infants and babies ranging from 6 – 24 months, it may be the best infant pool float on the market today. It includes all the toys infants and babies need such as rattles, squeakers, teether, and stacking rings. It has an adjustable canopy that can provide shade when needed and can also be removed.
PROS:
Removable, adjustable canopy
Folds easily
Inter active Play station
Easy Setup
Easy to inflate
CONS:
Valves are too hard. Needs redesign.
Children couldn't reach the water with their hands
Blow up octopus in front is too big, the child cannot see around
4. Tan Dazzler Inflatable Float lounge
As the name suggests, this pool float is perfect for people who aims to get a nice tan. It is very large, so you have a lot of room to move around. Float walls surround the float, so you can put a little water inside to keep you wet and cool. It measures 71 inches by 47 inches. It features a 13 gauge rugged vinyl and 2 air chambers.
PROS:
Can be used on deck or at pool
Comfortable due to its large size
Tall people can comfortably fit inside
CONS:
Low quality control, some product have holes upon opening
Doesn't close properly and couldn't maintain air
Air valve isn't too tight after few uses
5. Intex King Kool Inflatable Lounge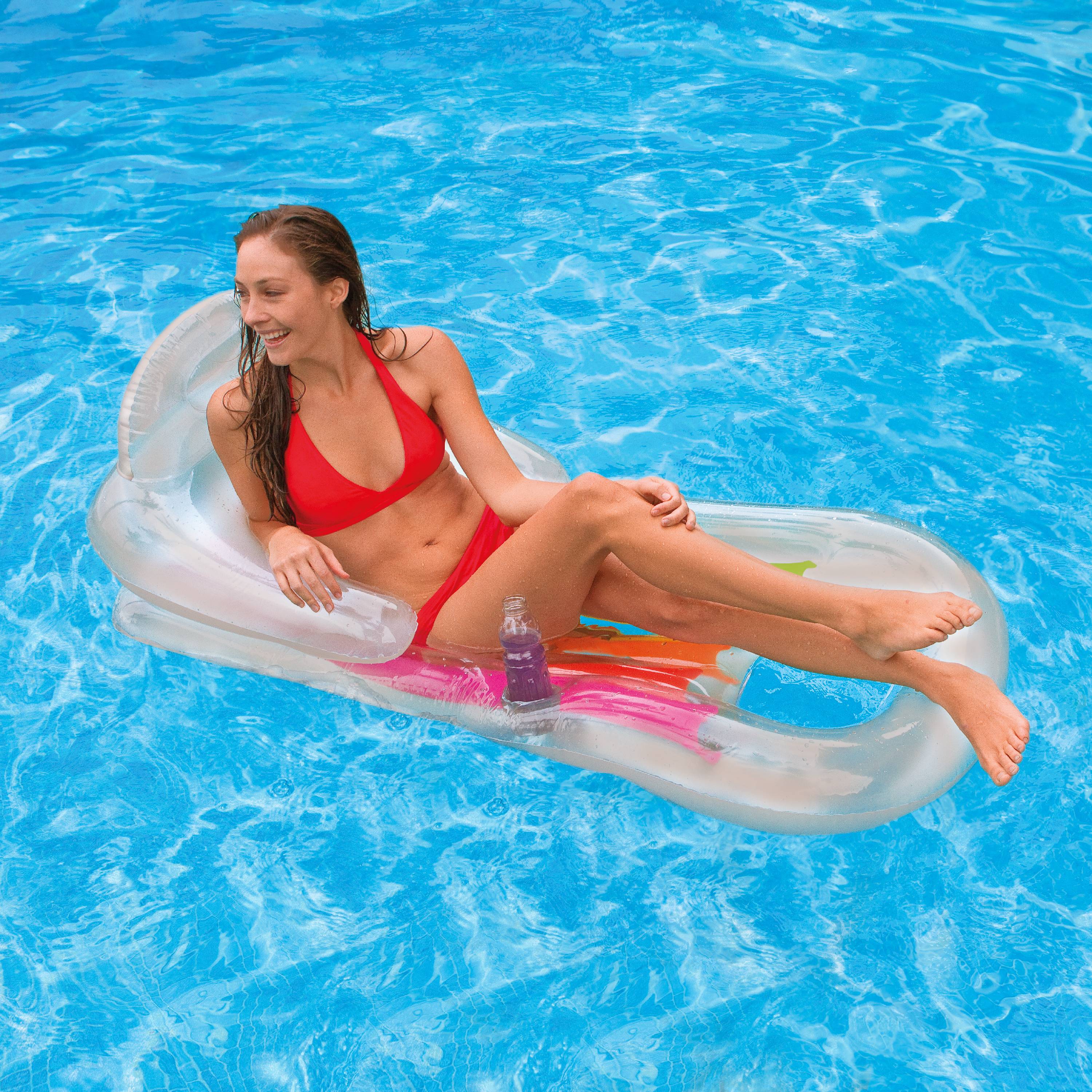 The Intex King Kool may be the best pool lounge float in its price group. It features a transparent design, paired with multi colored beams that gives it a nice look. A drink holder is situated on its right side, and it includes a backrest as well as an armrest. It doesn't offer the build quality that other pool floats have, but it is definitely worth it's cheap price.
PROS:
Very cheap
Made by a world class brand
Value for money
Pool comfort is great
Free repair patch
CONS:
Quality not guaranteed
Generic design
Comes in different color, but doesn't have option to choose
[/su_note] [/su_column] [/su_row]
6. Kelsyus Floating Water Hammock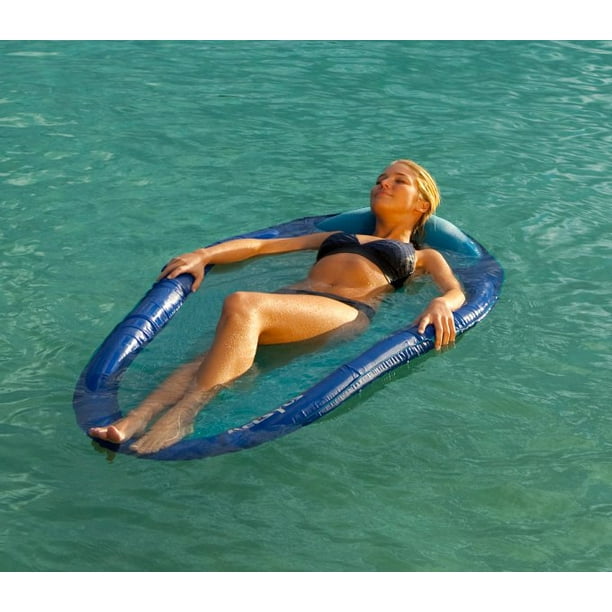 The Kelsyus water hammock is big enough to be lied on comfortably despite its slim frame. It is made from high quality polyester, but is reinforced with PVC and Steel. This feature gives it a strong quality and guarantees a longer lifespan. The mesh bed keeps your body submerged in water for those hot and steamy days. It gives great stability because of its buoyancy.
PROS:
Portable. Can easily be folded and stored
Patented inner spring gives great comfort
Side clips included for tethering to boat or dock
CONS:
Mesh quality not strong. Easily ripped
Squeezes you in from the side
Issues with Air nozzles. Nozzle plugs not secured well, causing float to deflate.
Hard to inflate
7. Pink Flamingo Pool Float & Tube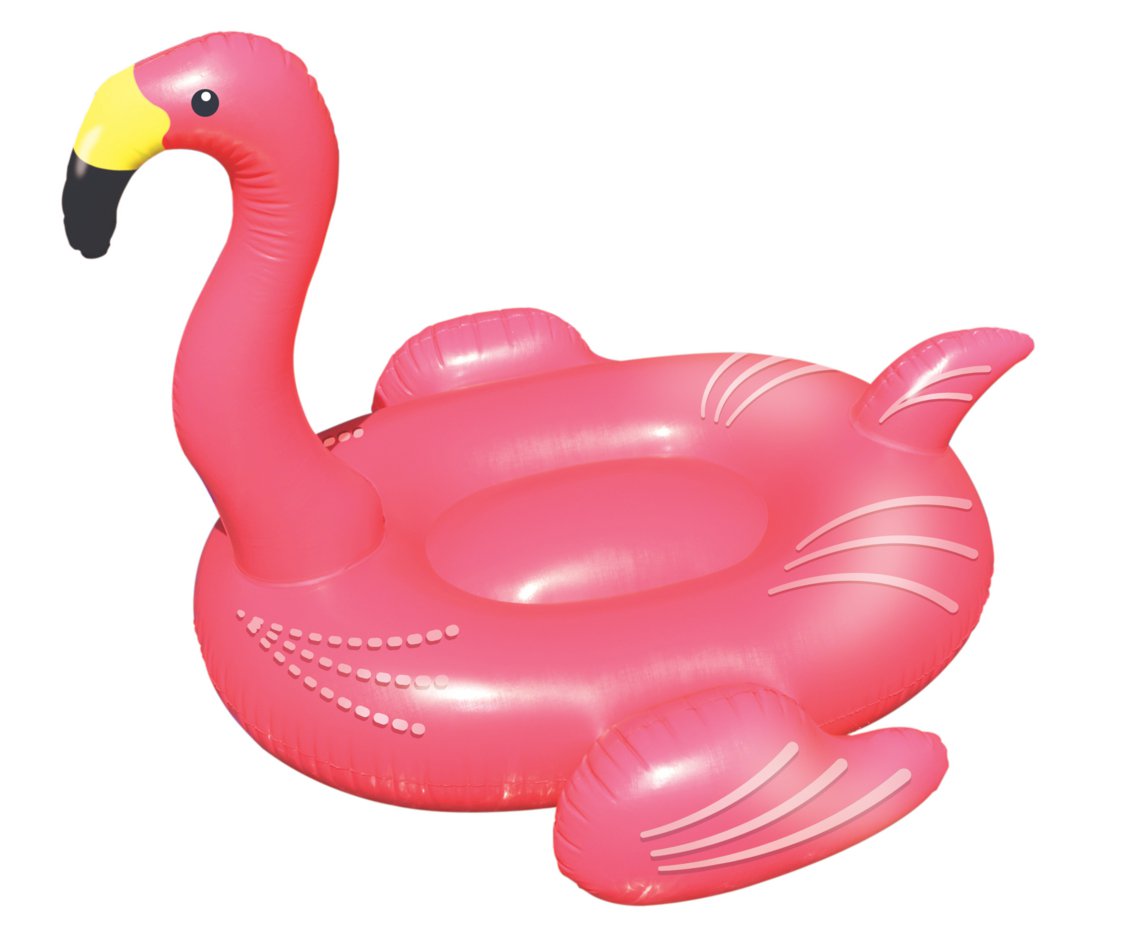 Another good option to buy is this flamingo shaped pool float. Unlike most pool floats in the market, this one is extra soft. It is made from top quality vinyl so you can ensure its durability. It is really huge at 80 inches and you can comfortably sit on it without getting wet. The price is really worth every penny.
PROS:
Additional air valves for fast blow up
High quality material
Big design and great comfortability
High weight capacity
CONS:
Not portable. Cumbersome
Easily punctures
No patch repair kit included
8. Swimways Kelsyus Floating Lounger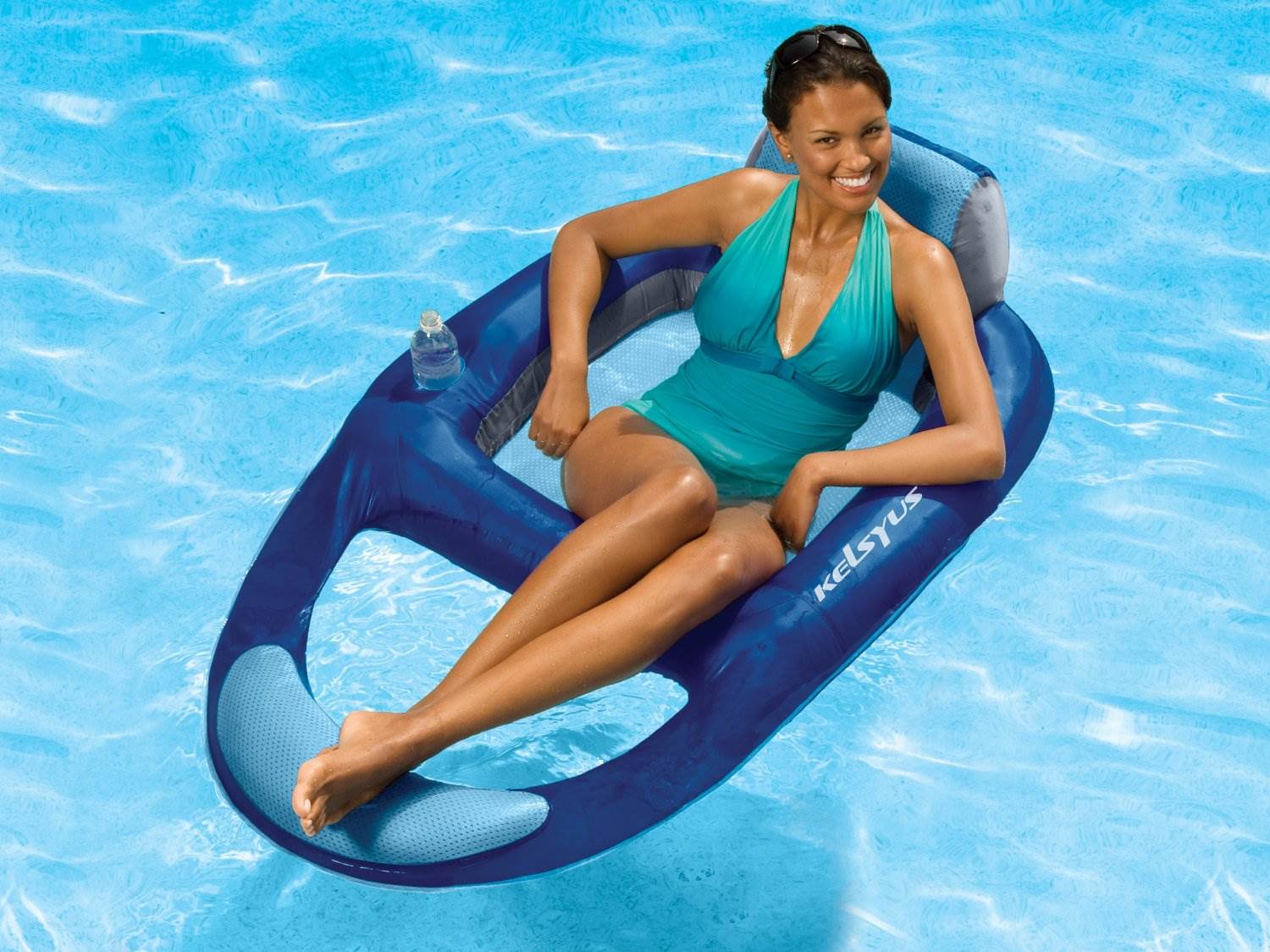 One of the floats that has the best customer feedback, the SwimwaysKelsyus Lounger is one of the best in the category. It comes in a chair like form, which is perfect for relaxation. The float has a comfortable feel, and the mesh seat is suitable for those hot summer pool days. Another good feature is the backrest which is rarely found in other floats. It sells at price which is reasonable considering its quality.
PROS:
Portability in its finest. Folds flat for easy storage
Comfort and stability combined
Affordable without sacrificing quality
Good back support
CONS:
Some valves are closed
Some items have factory defects
9. Inflatables 

Gigantic Donut Pool Float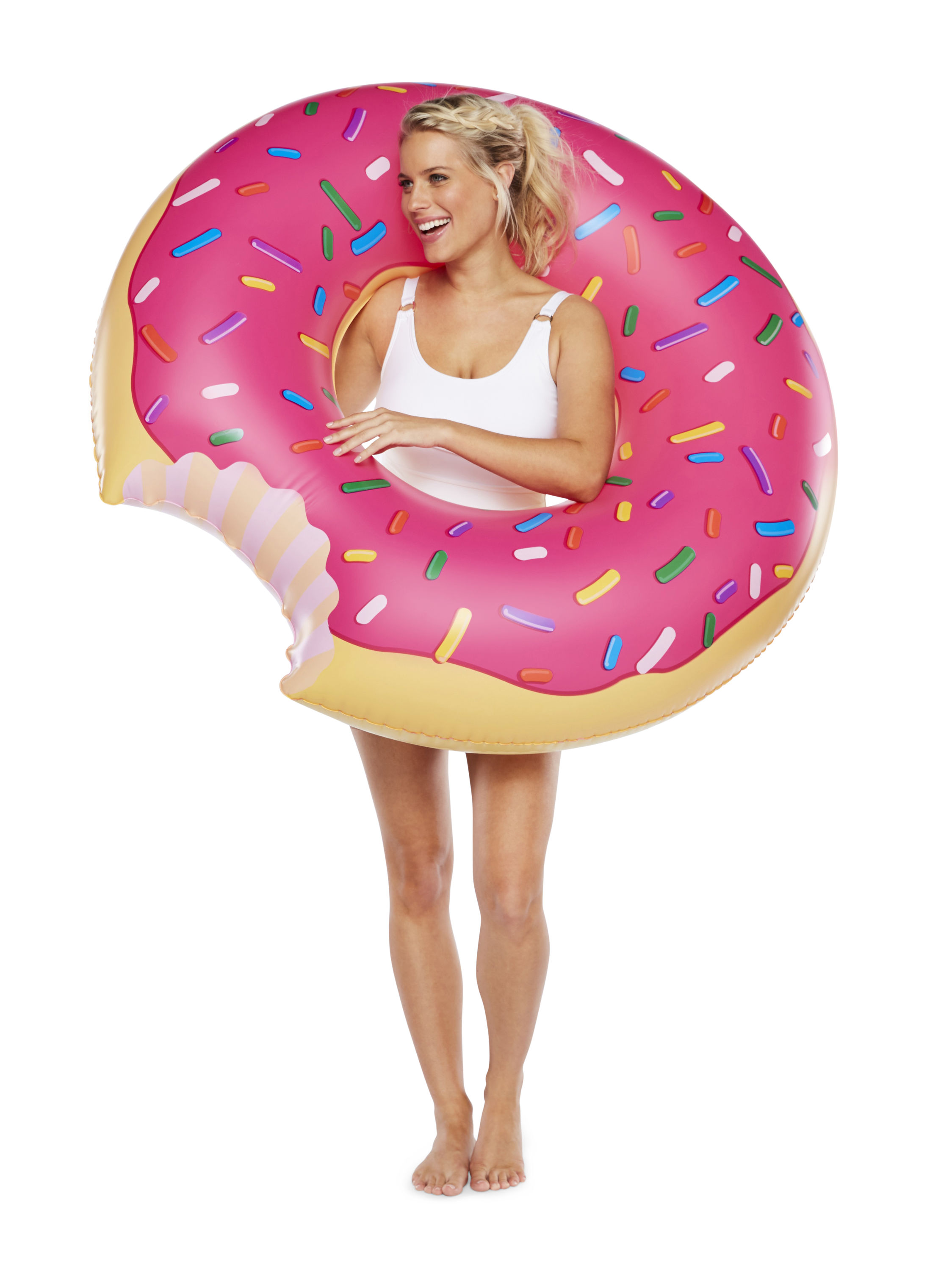 This donut inspired pool float is super strong and is made from thick premium vinyl that guarantees long life. It also comes in two different colors, Strawberry and Chocolate. It is perfect for for all ages and has a high weight capacity.  You can enjoy your money's worth.
PROS:
Sturdy and stable
Easy deflating
Durable
Great design
Has UV protection
CONS:
Some items come with factory defect
Hard to inflate
10. Poolmaster Pool Float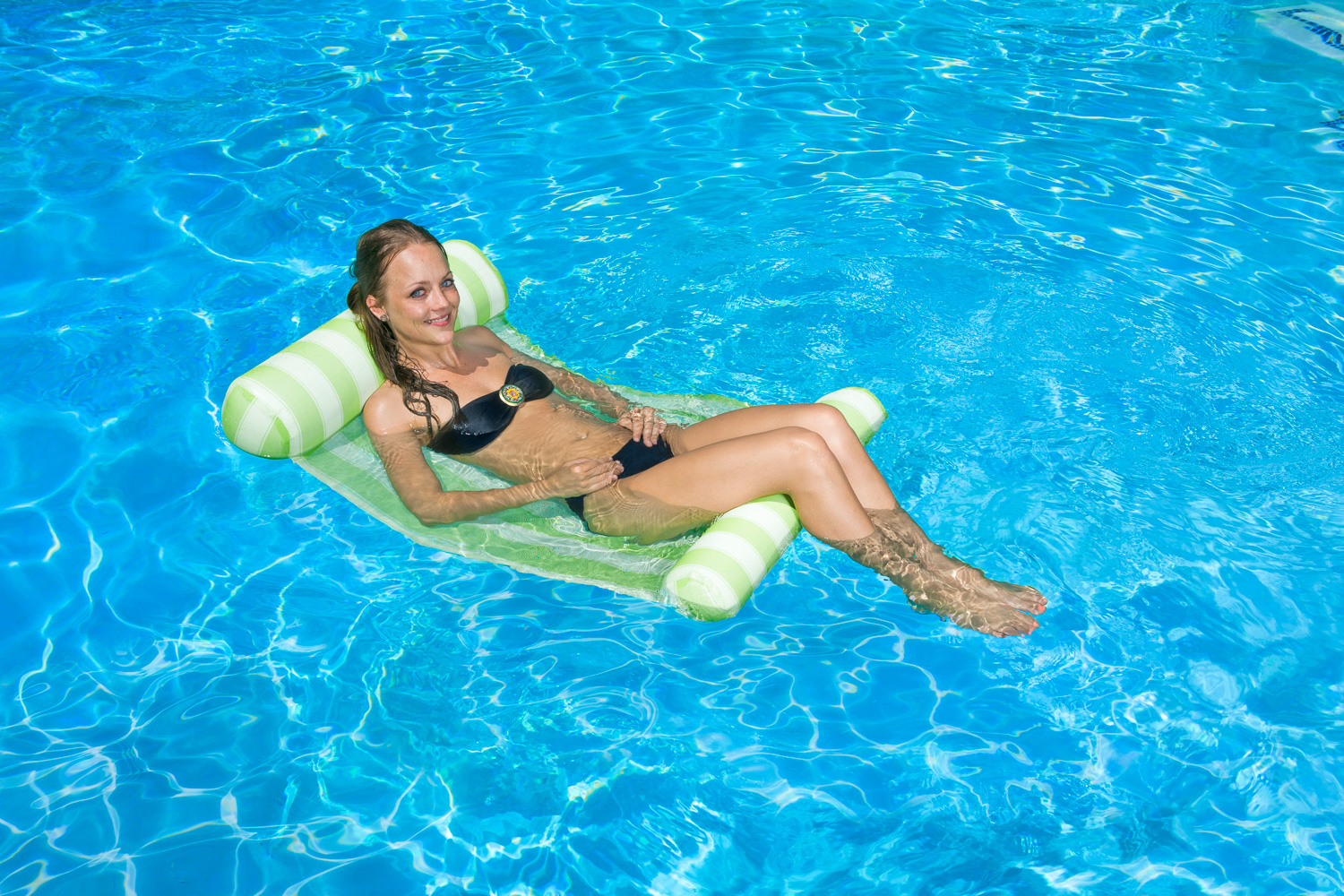 It offers a traditional design with a hammock style feature. The material used is Texteline, which guarantee years of use. It comes in different colors such as blue, green, and pink. It is measured at 52 inches by 26 inches and is best recommended for adults. It is one of the more affordable pool floats in the market.
PROS:
Footrest and headrest stay afloat
Easy to carry around
Lightweight
Easy packing
CONS:
Tubes under the knees are small
Flimsy tubes
Things to look for in a good pool float
Pool floats come in all sizes and shapes. From the basic air mattresses to the best pool floats for adults, there really is a pool float for everyone. But in choosing the best pool loungers or floats, you need to be aware and consider some factors before buying the product. Here are some things to look for in a good pool float:
It should be portable. You should be able to carry it easily and it should be conveniently stored after use.
It should be made of durable material. Vinyl is the most commonly used material in making pool floats because it is sturdy and is known for its durability. PVC and strong Nylon are also recommended.
It should have high weight capacity. This is important for adult pool floats since there are people who are on the heavy side, and the tendency of some floats is to sink.
It should come with free patch kits. Most pool floats are not immune to punctures and small leaks, so having free patches to go along with the product is a real plus factor.
Best Ways to use the Pool Floats
In using these pool floats, the primary thing we need to consider is safety. Although it may serve as a life preserver, it is not its primary purpose. Life jackets are necessary for people who do not know how to swim. It is also recommended that we use an electric pump or even a foot pump in inflating these pool floats. Never try to manually inflate them because you will end up running out of breath. Lastly, adult supervision is needed for young children who will use the product, regardless if you bought the best baby pool float in the market today, because despite its safety and durability, the accident may still happen.
Conclusion
We have taken up 10 of the best pool floats in the market today, so now comes the biggest question. Which of them is the best? What is the best pool lounger and float for 2019? On choosing the best, we considered many factors. Quality is of utmost importance; the float should be of durable quality and can last a long time. The reputation of the brand is also critical. We want to purchase from a manufacturer that has been in the industry for a long time. Affordability is also a factor, since we all want value for our money. Lastly, and for me, is the deciding factor, would be the positive feedback the product received from its customers.
So upon considering all of these factors, my personal opinion is that the best pool float in the market today is the SwimwaysSpringFloat Recliner XL. Its advantages outweigh its shortcomings and the customer review are fantastic. It has an advance Jet Valve Technology that other floats doesn't have. It also rates high in the comfortability department.