The operation of the pool pump controls the whole operation of the swimming pool. Without the main pump, the cleaning system generally cannot function, and the water cannot filter adequately. It is, therefore, crucial to use the best pool pump you possibly can afford and be aware of its proper operation.
Top 10 Best Pool Pump Reviews
1.  Hayward SP1580X15 Power-Flo LX Series 1-1/2-Horsepower Pump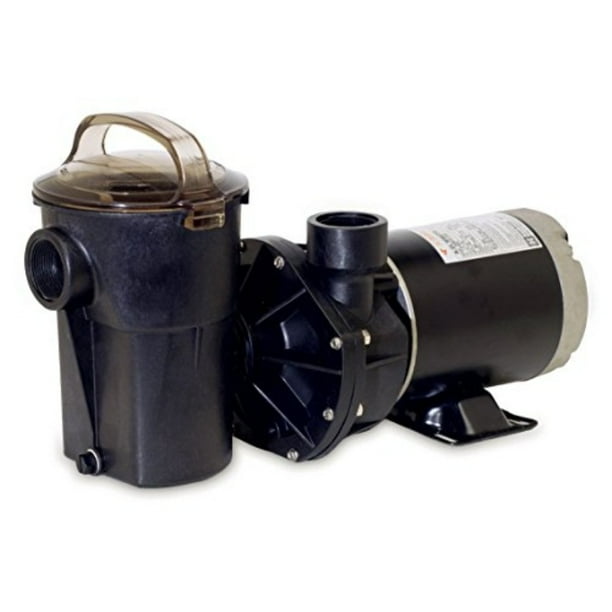 This pool pump is one of the best above ground pool pumps in the market. Aside from above ground pools, it can also be used on in-ground pools. It is very useful and can deliver good results to pool owners.
Furthermore, it has durable corrosion-proof construction which makes it long-lasting; this means that this pump will be of long service to you. This product offers true value for money and high-level performance which every pool owner will love.
In addition, its advanced design reduces the requirement for frequent maintenance and cleaning. Plus, its easy-to-install feature will make your pool a lot easier to maintain. This is a pump that can perform best for your pool without too much cost. And as from pool owners, Hayward is one of the best brands when it comes to pool pumps.
Features:
Heat-resistant double-sized seal
1 ½ inch intake and discharge impeller
Clear cover to easily see the amount of dirt in the basket
Drain plug
Corrosion-proof reinforced thermoplastic housing
Dependable
Quiet operations
Energy efficient
Easy set-up and installation
Difficult to remove the lid from the basket
No filter and heater included
Customers say:
'I was surprised at how easy to install and how powerful it was'
'Great above ground pool pump'
2.  Harris H1572730 ProForce 1.5 HP Pool Pump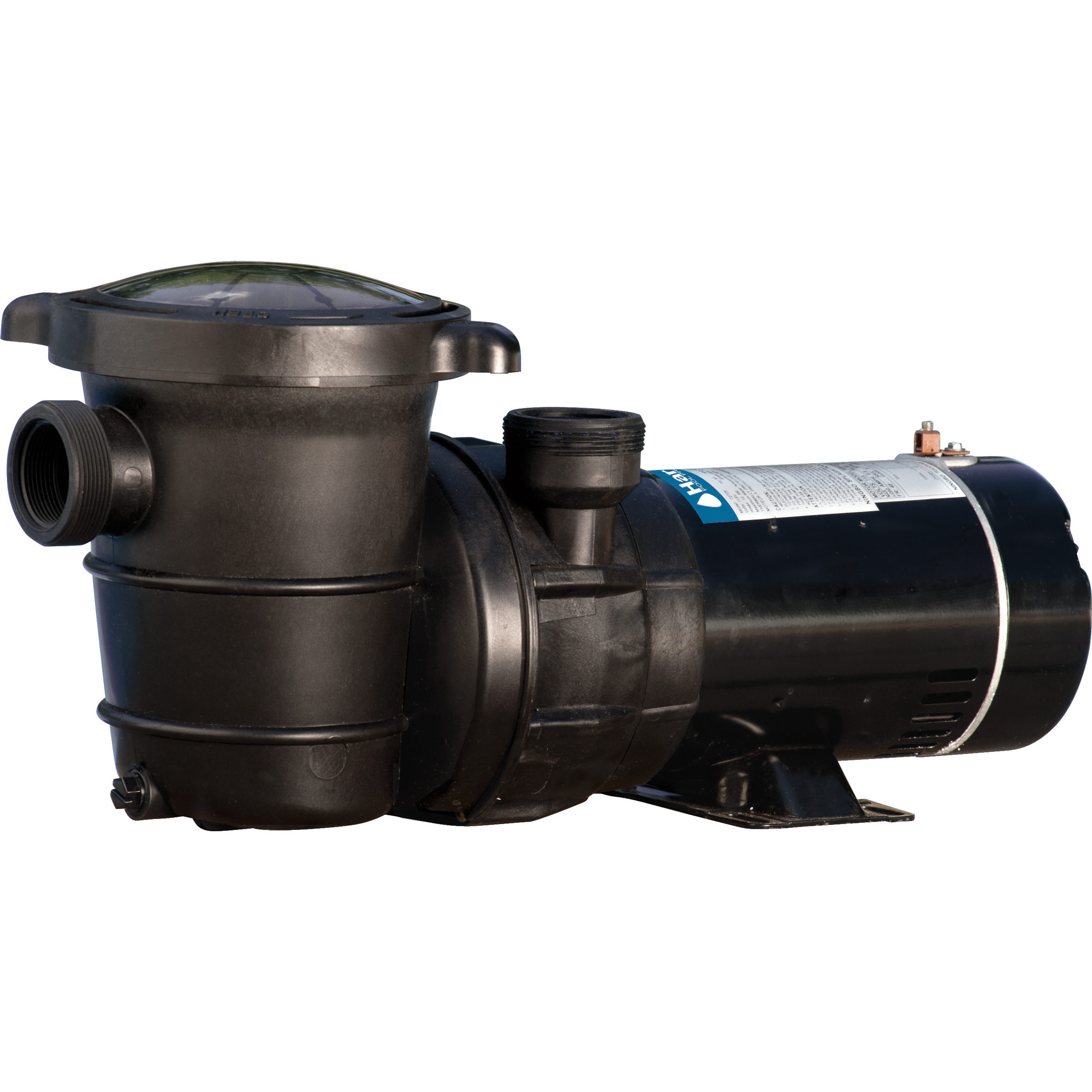 Harris is one of the best brands to check on when it comes to pool pumps. This type of product is a lot affordable when compared to the big brands of the pool pump around. Though it is lesser in price, it can still keep up with the performance and efficiency.
You can take advantage of its value for money, as you do not have to spend big to keep the water flow in your swimming pool running. This pump is best for the above ground pool and will provide effective water circulation.
Furthermore, it has advanced engineering for high-efficiency and optimum performance promising you the best from an inexpensive product. This pump offers a motor that is easy to maintain giving you a hassle-free time of usage. Best of all, it meets and even exceeds CSA and ETL requirements ensuring you that this product is of good quality.
Features:
Efficient motor to perform perfectly
Varying horsepower fitted for pools of different sizes
Stainless steel 1.5 hp motor shaft
Comes with standard three-prong plug connection
Easy maintenance
Affordable
High motor performance
Noiseless operations
Customers say:
'Excellent replacement for an Intex pump'
'Quiet little workhorse'
3.  Blue Wave NE6171B Maxi Replacement Pump, 1.5 HP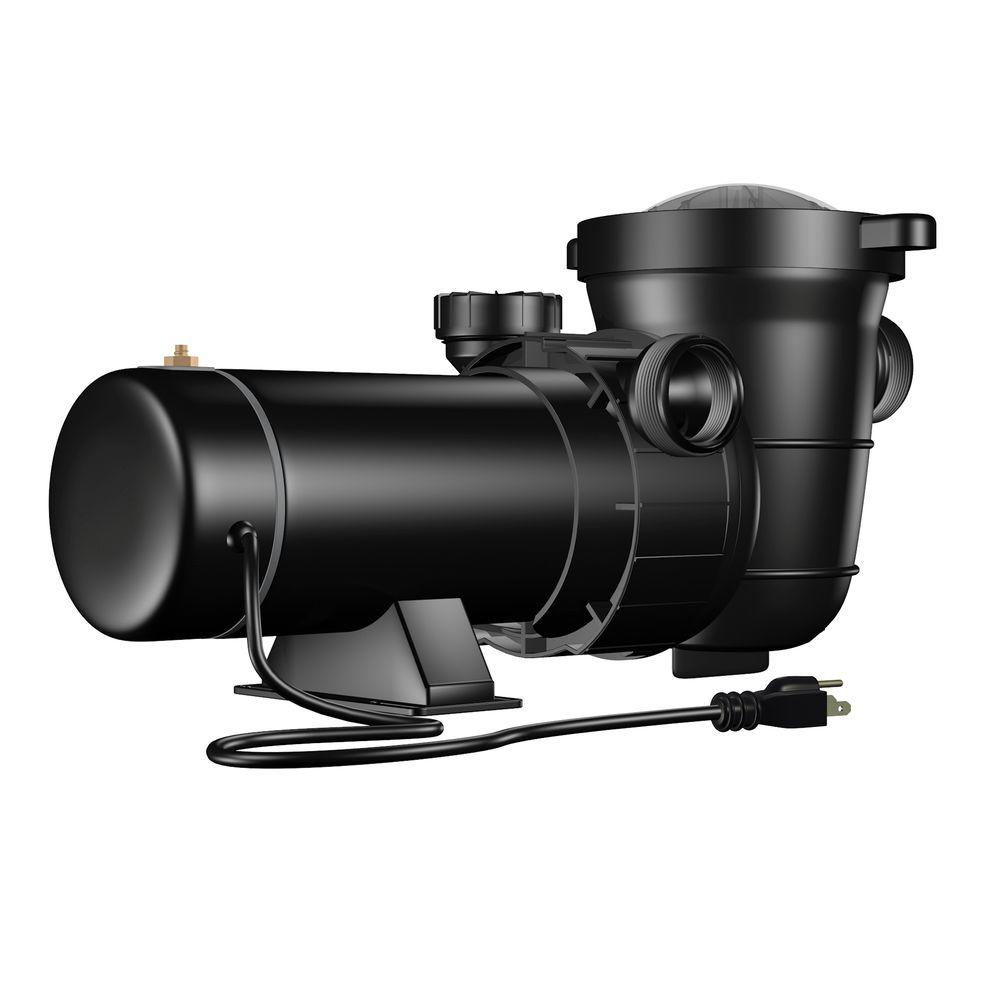 It is best to choose a pool pump that can give you service for many years. This above ground pool pump from Blue Wave is of high performance and can deliver many years of reliable use.
You will be able to use this pump for a long time, as long as it is used properly and maintained. Its self-priming capability makes this pump more durable and heavy-duty; this can be your best replacement for your inefficient pumps.
It promises a durable and long-lasting service that any pool owner would want to have. In fact, this pump has the highest satisfaction ratings among satisfied customers. So, you can now get rid of your old pool pumps that just keep you spending big to achieve proper pool water circulation. This pump can do its job and purpose effectively at a low cost.
Features:
Self-priming pump
Made of durable materials
Interchangeable connection
Durable polymer construction
Clear lid for easy cleaning
Lightweight
Reliable
Quiet
Efficient
High-performance pump
Customers say:
'Good value'
'Good pump can't go wrong'
4.  Hayward W3SP2607X10 Super Pump, 1 HP
Power is what this pool pump banners. As compared to other pool pumps, this product is so powerful that your pool will have effective water circulation. This pump is considered by many pool owners as the best inground pool pump around in the market today, for it has set the industry standard for its efficiency and reliability.
This is reliable and can give utmost satisfaction to pool owners and users. It is also part of the world's best selling medium-head pump. This brand also brags its unique no-service design that has 4-bolt access to all internal components. It is specifically designed for in-ground pools but can also be used for spas of all types and sizes.
This is highly useful, efficient, and worth keeping. The best thing about this pump is that it can withstand wear and tear effectively despite heavy-use. Pool owners will enjoy its long and efficient service for their pools.
Features:
High power motor for efficient pool water circulation
Airflow ventilation for noiseless operations
Extra-large debris basket
See-through strainer covers that allow you to easily see the debris in the basket
Corrosion-proof thermoplastic construction
Noiseless
Heavy-duty functionality
Easy installation
durability
Customers say:
'Meets all needs'
'This pump saved me big bucks'
5.  Pentair 340039 SuperFlo High Performance Single Speed Pump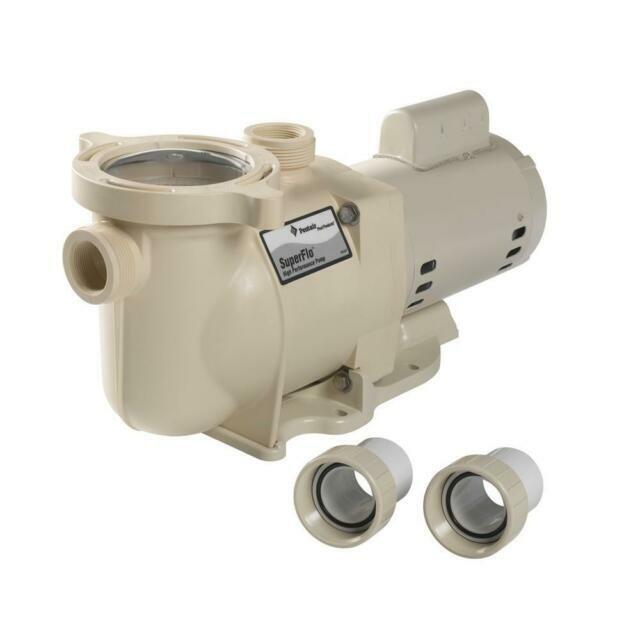 If you want to use a pool pump smoothly and quietly, then this is the pump that you should choose. This is considered to be the best single speed pool pump in town mainly because of its ability to pump in more water efficiently, which helps in lowering the operating cost.
This has thick-walled body parts that assure you of better durability and strength; thus, this pool pump will last longer and can provide the utmost efficiency for your pool. Because it performs with less effort, it is less susceptible to wear and tear.
Furthermore, it is designed with the most durable materials so that it can stand the most demanding conditions. If you are looking for a pump that is effective enough to keep water circulation going properly but will help you save money, then this is the pool pump for you.
Keep in mind that Pentair is one of the most preferred brands when it comes to pool pumps because of their high-quality and efficient products.
Features:
Self-priming for easier startup
Performance and pressure tested
Cam and ramp lid
Unionized fittings
Noiseless
Smooth operations
Quick and easy startup
Energy efficient
Fast worker
Power saving motor
Only offers 1-year warranty service
Customers say:
'Great pump, quick, and powerful'
'Super quiet, easy, and powerful'
6.  XtremepowerUS 2HP Pool Pump 220V Dual Speed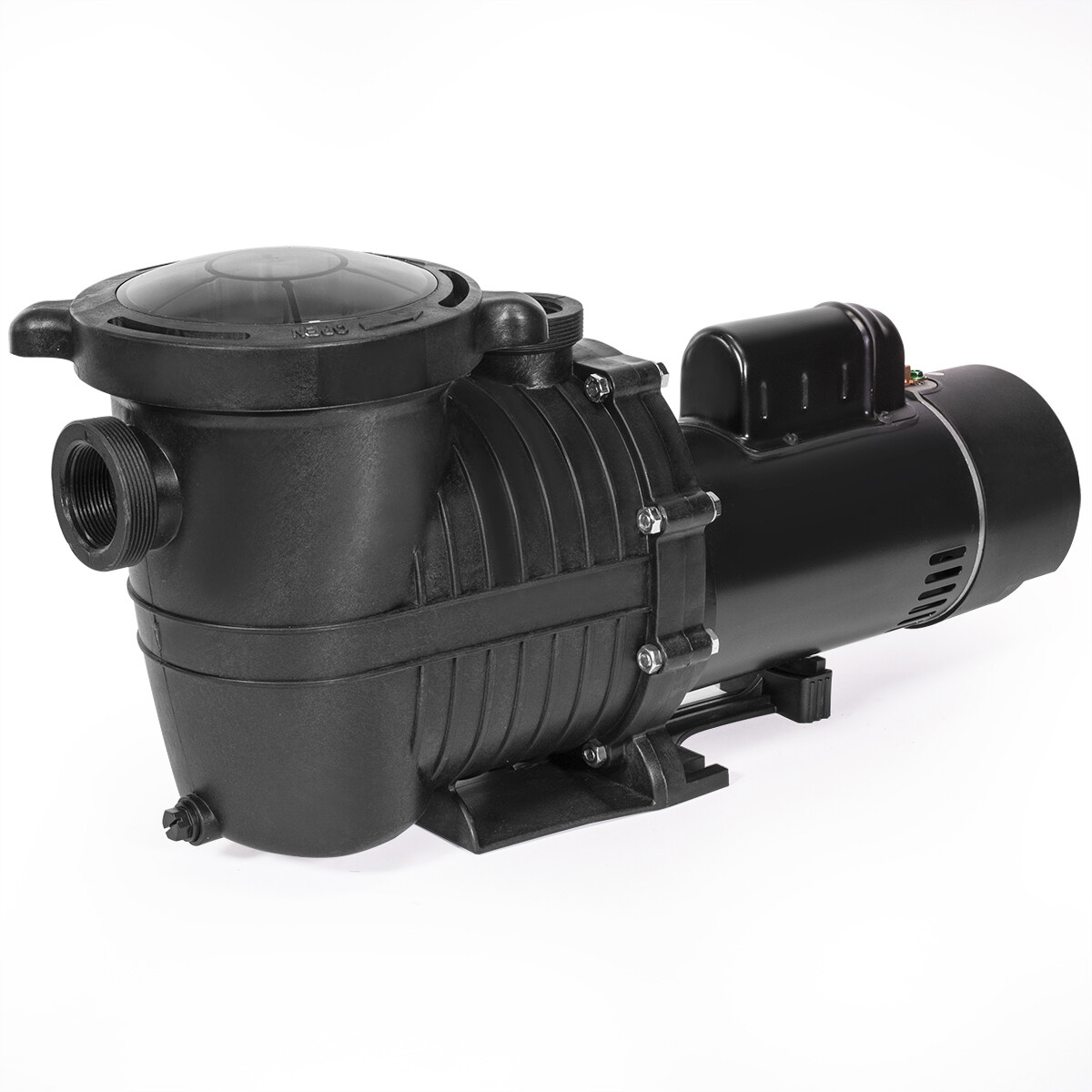 Durability and power are two of the characteristics that a pool owner is looking for in a pool pump. This heavy-duty and high-performing in-ground pool pump offers efficient water flow for your swimming pool. This self-priming pump has a corrosion-proof polymeric material to ensure long life and better performance.
Furthermore, its durable motor gives smooth running time and operations. This pump is also compatible for use with solar heating and other in-floor cleaning systems. You can now replace your low performing in-ground pool pump with this better product.
This can be used for swimming pools, hot tubs, and spas. It is best in providing easy maintenance for the pool especially that it gives proper water flow. In addition, this is a pool that can provide you the efficiency in water circulation that you are looking for. With this pump, you get high performance at value for your hard-earned money.
Features:
Airflow ventilation for quiet operations
Extra-large debris basket to avoid frequent cleaning
2-inch union connections for suction and discharge ports
Powerful motor
Durable
Quiet
Effective pool maintenance
Easy installation
Long-lasting service
Service and mechanical issues
Customers say:
'Extremely satisfied, 100% recommended'
'Great pump at a great price'
7.  PentairSuperFloVariable Speed Pool Pump, 1 1/2 Horsepower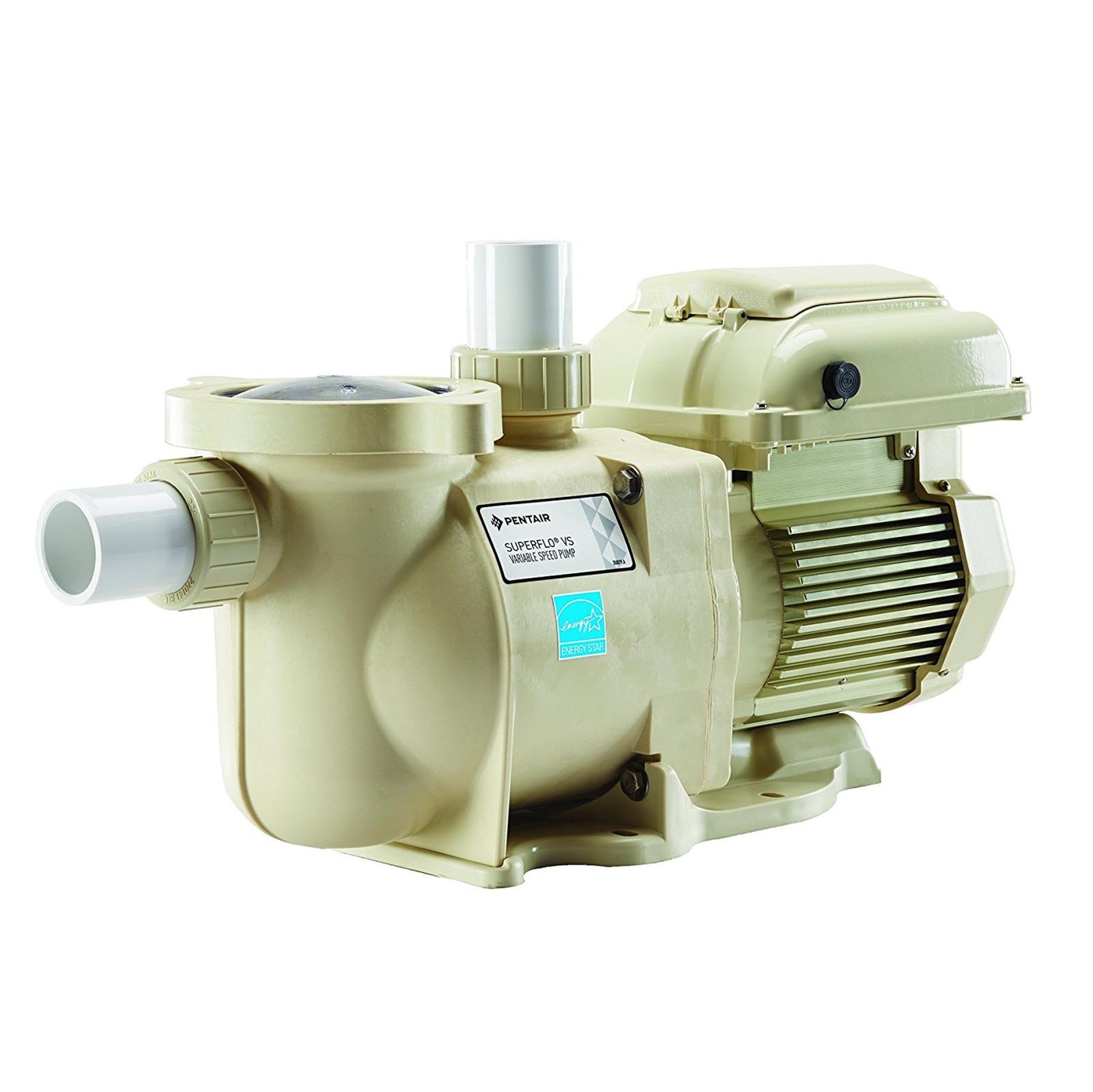 There are pool pumps that give pool owners huge expenses, and this is why variable speed pool pumps are preferred by many pool owners. It is because this kind of pumps is energy-saver and cost-efficient.
This pump from Pentair is considered the best variable speed pool pump, as it gives its owner considerable savings. This is best for standard swimming pools that require up to 1.5 hp pump. This pump can work well with everyday pools by moving water more efficiently at lower speeds, so it can reduce energy costs.
It can also work well with swimming pools of any size. Likewise, this is a kind of pool pump that can give huge savings to the pool owner but still be able to get the best benefits that a pump can offer. Pool owners will save a lot when this pool pump is used.
Features:
Variable speed technology for different swimming pool needs
Real-time clock with 24-hour memory retention
Programmable user interface
Three-operating speed settings
Energy-efficient
Simple and easy to operate
Easy installation
Override capability
Customers say:
'The pump is excellent'
'Pentair was a great pump while it worked'
8.  Hayward W3SP3206VSP TriStar VS Variable-Speed Pump

Variable speed pool pumps are the favorite of many pool owners because of the savings that it can give even when the pump is used heavily. This variable speed pool pump from Hayward gives the ultimate energy efficiency. Even its installation is easy, as there is no expensive rewiring needed.
Pool owners are particularly looking for a pump that is effective in improving the water circulation and flow but will not empty their pockets. Because of its intelligent all-in-one controllability, it can easily integrate with new or existing automation system. Likewise, it is easy to use from installation to operations making it an ideal swimming pool pump to own. Pool water operations have never been this cheap but very efficient.
Features:
Upgraded motor drive
Dual-voltage capability
Totally enclosed fan-cooled motor
Integrated and programmable digital interface
Speed and timer controls
Energy-efficient
Easy installation
Efficient in keeping water circulation flowing
Reliable with long-lasting service
Customers say:
'Truly saves money and headache'
'Great pump worth the money'
9.  Pentair 011018 IntelliFlo Variable Speed High Performance Pump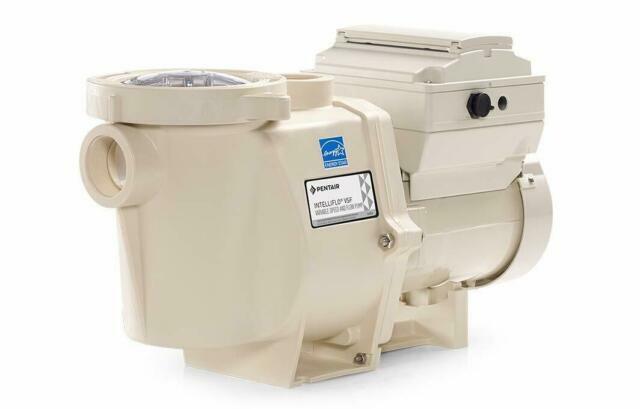 Extreme power with huge savings; this is what pool pump from Pentair offers. This pool pump promises the utmost water quality, better filtration, and lower operational costs, even if it is running for quite some time. It works at lower speeds so that the circulation of water can be more effective.
This pump will last longer because of its built-in diagnostics, and it is reliable to perform the utmost efficiency. This pool pump will also help lower the expenses, as it is cost and energy-efficient. Savings can be achieved from this swimming pool pump.
This pump offers efficiency even with heavy use, but it can still provide the savings in its operations. It is best to choose a pool pump that has great features but still very easy to install and operate. This way, your pool will gain all the benefits from it while you enjoy its easy usage.
Features:
8 programmable speed settings
Built-in timer
Sun-touch control systems
Intellitouch
Easy touch settings
LCD screen display
Integrated keypad
Quiet operations
Easy touch control
Cost-efficient
Energy efficient
Easy to install
Customers say:
Customers say:
'Solid product great performance and much lower energy bill'
'Worth every penny'
10.  Hayward SP3400VSP Ecostar Variable-Speed Pump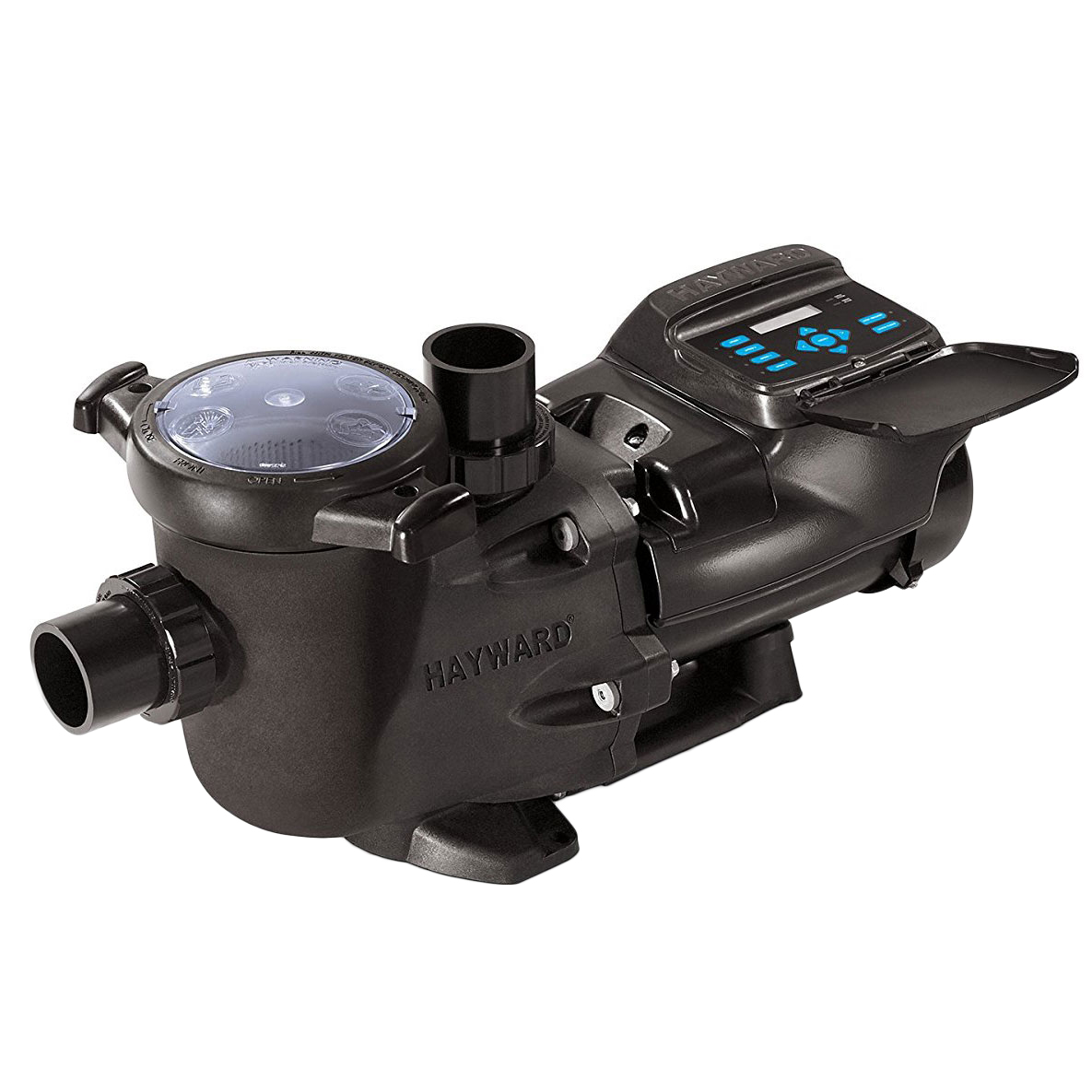 Any pool owner would like to have a pool pump that can last for a long time so that they will never have to keep buying pool pumps over and over again. This pump from Hayward is considered as one of the most energy-efficient pool pumps in the market. It is Energy Star certified and compliant, which assures you of its good quality.
It can be installed in any application like in stand-alone mode or competitive control systems. With this pump, pool owners can enjoy the pleasures of having a pool without spending too much on the water circulation and flow.
This pump is high-quality with a good level of efficiency and power. Longer life span and powerful performance will be the banner highlights that this pool pump can offer to pool owners.
Features:
Totally enclosed fan cooled motor
Fully programmable
Extra-large basket
Automatic protection from priming failures
Auto-priming capability
Powerful
Cost-efficient
Can be used in large pools
Efficient and reliable
Heavy-duty
Long-life span
Provides too much water flow
Customers say:
'Fantastic pump'
'You can do it yourself. I did and would do it again'
Roundup:
Among the pool pumps mentioned in the pool pump reviews and according tothe customers as well,the Hayward W3SP2607X10 Super Pump Pool Pump meets the satisfaction of many customers and swimming pool experts. Though it is a bit more expensive than the other pool pump brands, users find it worthy of its cost. Its powerful and noiseless operations made it a lovable product for pool owners. Best of all, it can stand pool conditions and still work effective performance. Pentair 342001 SuperFlo VS Variable Speed Pool Pump comes in second. It is best to choose the pool pump that is suitable for your pool and its needs, to have good water flow and circulation.
What Is Pool Pump?
Basically, the pool pump is the heart of the flow system of the swimming pool. Its role is to draw water out of the pool through the main drain and the skimmer; push it through the filtration system, and then send it back to the pool.
The components of the pool filter pump are:
Motor – a pool pump has an electric motor that uses 110 or 220 volts and spins at 3,450 rpm. Since it is air cooled, it is not completely sealed from its surroundings. For this reason, you need to be careful not to let excess water enter the motor via the cooling vents underneath the housing.
Impeller – this is attached to the end of the motor's shaft. It generates high water pressure in the centrifuge and is driven by the motor. When the impeller turns, it pushes water to the outer edges of the impeller. The water exits through a pipe that leads to the filter.
Hair and lint trap – this prevents debris from going into the impeller assembly.
Pool Pump Speed Options
Single speed pool pump
A single speed pool pump has an induction style electric motor. It is thus only able to operate on one single constant speed. This means you cannot increase or decrease the pumping power. The only control is by turning it on and off. Its standard speed is set at 3,450 rpm.
The single speed pool pump is the oldest type of pool pump around. The induction AC (alternating current) motor, and current producing torque in order to allow it to turn makes use of electromagnetic induction. This model tends to make a lot of noise, and although it is basic and cheap, uses a lot of energy, making it expensive to run in the long run.
Very effective at pumping water
One speed makes setting constantly at 'high', ensuring great water circulation throughout the pool
Very popular due to being around for so long and thus has a proven track record
A really affordable pool pump that is easy to find and replace
Although relatively cheap, a single speed pool pump is not energy efficient as when compared to other pool pumps
It uses more electricity than other pumps because it constantly pumps at a high speed
It creates much more noise than other pool pumps
The cause of the high noise levels includes the high water flow, the pressure on the bearings and pump from the high motor speed, and the head pressure
Dual speed pool pump
A dual speed pool pump usually operates like a single speed pump and operates using an induction style electric motor. It only operates on either a high or a low speed. The low-speed setting is typically at 1,725 rpm, while the high speed is at 3,450 rpm. This distinction is achieved with the use of a frequency inverter or toggle switch. The low speed is often used for basic filtration and circulation purposes and the high speed is for certain operations that need more power, such as running the pool heater and vacuuming a pool.
You can, however, save more money with the dual speed pool pump as compared to the single speed pool pump if you choose to run it at the lower speed most of the time, only using the higher speed for cleaning or heating purposes.
A dual speed pool pump is more versatile than a single speed pool pump
It is used mainly for water filtration and circulation
It has a low-speed setting that can be used more often, ensuring energy saving and a quieter operation
The high-speed option, when turned on as needed, ensures greater water movement and better suction
Although increasingly popular, it is more expensive than a single speed pump
The low setting is usually too low for most pool heaters to operate
Provides too little flow when used in above ground pools
It requires the operator to change settings manually
It may be just as noisy as a single speed pool pump, depending on the setting used
Variable speed pool pump
Variable speed pumps save you a lot of electricity consumption as when compared to single speed pumps. Although most people scoff at this statement, they soon see the benefits money-wise in their utility bill. The pump does not need to run all day. You can set it up to run just long enough to ensure your pool stays clean and fresh. And this is done easily by pushing a few buttons. But what makes this feature so great?
This feature is great in that a variable speed pool pump is designed to pump extremely large volumes of water, getting the job done quickly, and efficiently.
But when it comes to which model to buy, you would most likely need to do some pipe sizing, as this gives you the ability to accurately determine the variable speed pump size you need.
A newly built pool, for example, typically has, at a minimum, two-inch section, and return lines, while older pools may have 1.5-inch piping which may be a problem for some larger variable speed pumps. This is because the pipe's size dictates your flow of water and thus determines the pump side you can install.
Another factor to consider is that all variable speed pumps require a 230 Volt power supply. If your pool pump does not have this power supply, you may need to run new cabling to fulfill this need. The higher your voltage, the more efficient your pump is.
A variable speed pool pump offers flexibility. You can adjust it exactly to your preferred speed or the required speed to finish a specific task. It has multiple speeds – low to high, plus many speeds in between.
A variable speed pool pump operates on a permanent magnet motor (PMM)
The best types of variable speed pool pumps last longer, run quieter, and are cooler than other types of pool pumps
It is energy efficient, saving you money on energy costs
The pump can be programmed to pump only according to what is necessary for the health of your pool
A variable speed pump can adjust the speed automatically as and when the pump needs to carry out different tasks
Initial costs associated with this model is a lot higher than with a single speed pump, while it is slightly higher than that of a dual speed pump
Things Consider When Choosing Swimming Pool Pump
There are numerous swimming pool pump models and their prices vary greatly. This sometimes makes it hard to choose the best swimming pool pump that is right for your needs.  Pool pump reviews can provide the youthe information you need on the quality and reliability of these products and help you make a choice.
Every pool pump has different specifications, so here are the things you need to consider:
Pump capacity
This is commonly based on the volume of water of the swimming pool. The volume suggests the horse power to use. A typical domestic pool uses 1 to 2-HP, but if you are hesitant to use a 1-HP motor, you can opt for 1.5-HP.
Number of users
This impacts the maintenance of your pool. If there are more users, the more frequent maintenance is needed to pump or clean the water. For quick pumping, the best single speed pool pump is right for the task.
Frequency of maintenance
If you are likely to do the cleaning or pumping in both low and high speed setting, but not as often as the case mentioned, you may choose a dual speed pump. This type of pump works great for alternating services. It works best as well if you are using pool heaters. Larger pools tend to have more users and require more frequent maintenance because debris may be heavy. This means you need a heavy-duty pool pump like the variable speed pool pump. This works in various ways; it filters the water and sucks the pumps in different speeds. While the operation may be complicated, the result is truly satisfying.
Price
Some pool pumps are considered high-end, but offer inferior quality than cheaper ones. Consider your needs first, and then go for the price range that suits your budget.
Conclusion
In summary, choosing the best pool pump may be difficult, but these reviews can make your decision easier and more convenient. The choice depends on the use of the pool pump. Most pool owners have different applications that require different approach.
Consider the type of pool pump you need – single, dual, or variable speed pool pump. While single speed pool pumps are old-fashioned, they can still do the task. You may opt for the dual speed pump for alternating services and in conjunction with other machines. As for the variable speed pump, it is much more efficient and offers a range of speeds.
Choose the variable speed pool pump if you can afford its initial cost. You can save more money in the long run because it is energy efficient. This pool pump type is also durable. It can last up to three to five years or even longer.