Some people love the cold breeze of the wind and enjoy the winter season in particular. However, some people prefer to bathe in the warmth and heat of the sun. People who are used to the sunny climate usually have a hard time living in colder places.
And this leads to the creation of the best portable electric fireplaces. While central heating is a great system to keep you warm and cozy all throughout, investing in a portable fireplace is a smart thing to do if you are just in for a short vacation.
Unless you plan to make your stay permanent, it is practical to just buy the best electric fireplace, one that you can transfer in any room you want.
Below, we've listed the top 7 fireplaces to buy:
7 Best-Value Portable Electric Fireplace Reviews
1.  DuraFlame 3D Indoor Infrared Fireplace
DuraFlame is one of the most trusted brands of fireplace heater. In fact, this 3D Infrared electric fireplace is a consistent favorite in many portable electric fireplace reviews.
This is simple yet functional space heater that is suitable to use in any types of room, may it be your bedroom or office. The sturdy square construction of the fireplace makes it easy to move the item.
Best Features:
Provides 5,200 BTU of heat
Suitable to heat 1,000 square feet room area
Has a 3D flame effect which looks realistic
Equipped with an automatic shut-off feature when the fireplace starts to get too hot
Adjustable thermostat using a digital panel
Easy to control the temperature, brightness and speed settings
2.  E-Flame USA Hamilton Portable Fireplace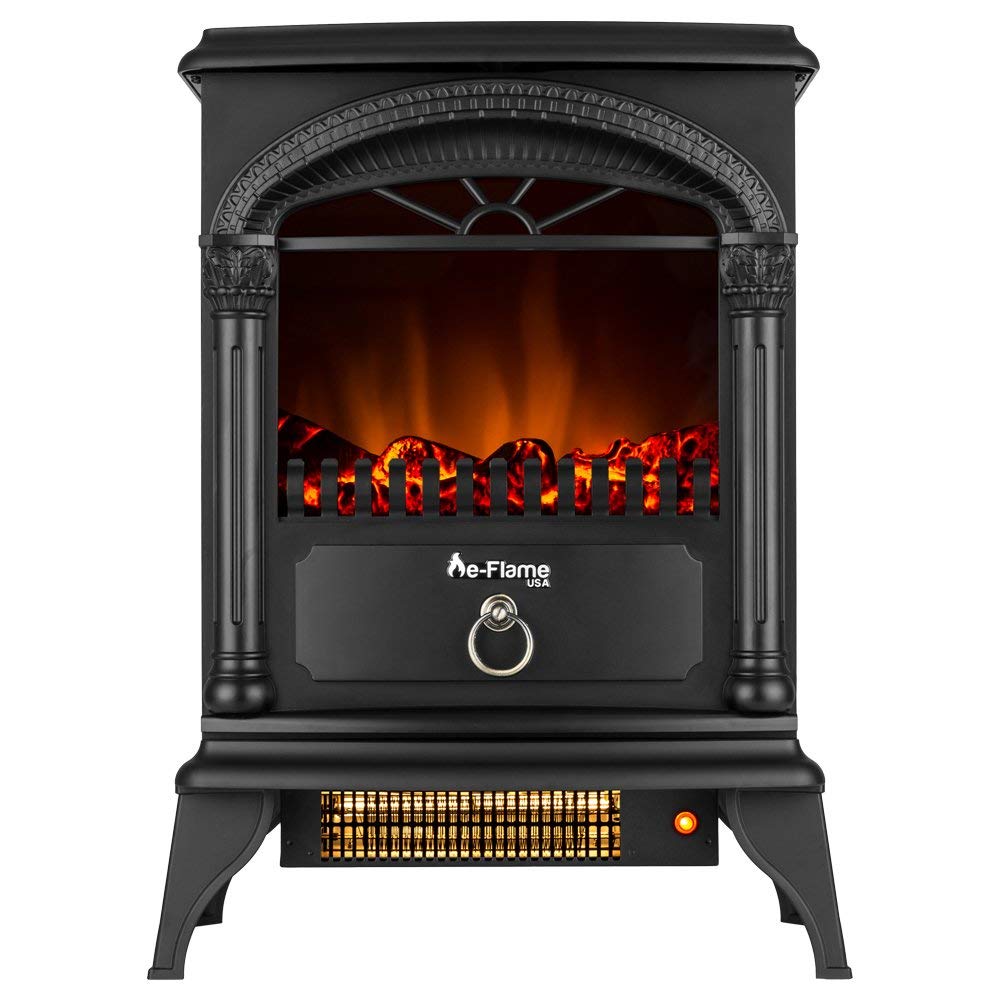 This Hamilton portable fireplace heater is a best-seller from the E0Flme USA brand. Out of all portable electric fireplaces on this list, the Hamilton is highly favored for its rich rustic red color and 90% efficiency.
If you are looking for a mini space heater that works wonders, then this is an amazing fireplace to check out.
Best Features:
Provides a total of 5115 BTU of heat
Can warm the room with a space of 400 square feet
Classic design with a vintage color, perfect for adding character to a room
Allows you to use about 90% less energy
This heats up the room quickly.
Has a realistic wood burning flame effect
With automatic shut-off setting to prevent overheating
Safe to use around kids and pets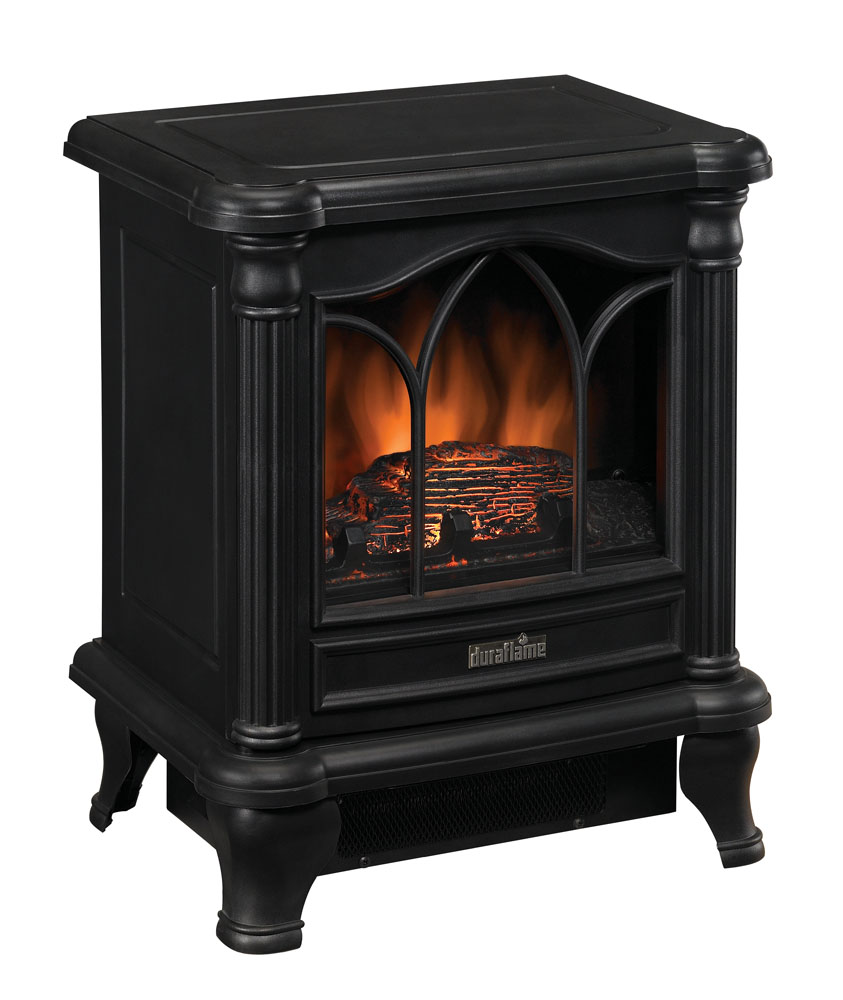 Another entry from DuraFlame Electric is this Carleton portable fireplace stove. It is equipped with a space heater to warm up your room.
Because this is considered to be a mini portable heater, you can bring it anywhere with you. This doesn't take up too much space, making it perfect for studio and apartment owners.
Best Features:
Supplements zone heating of up to 4,600 BTU
Can heat up room area of 400 square feet
Overheating is prevented as it has an auto shut-off setting
Can fit in under the table or in any narrow spaces of your room
You can use it with or without activating the heat or the dancing flame effect
The heat is gentle and suitable even for babies' sensitive skin.
4.  Ameriwood Home Bruxton Cherry Fireplace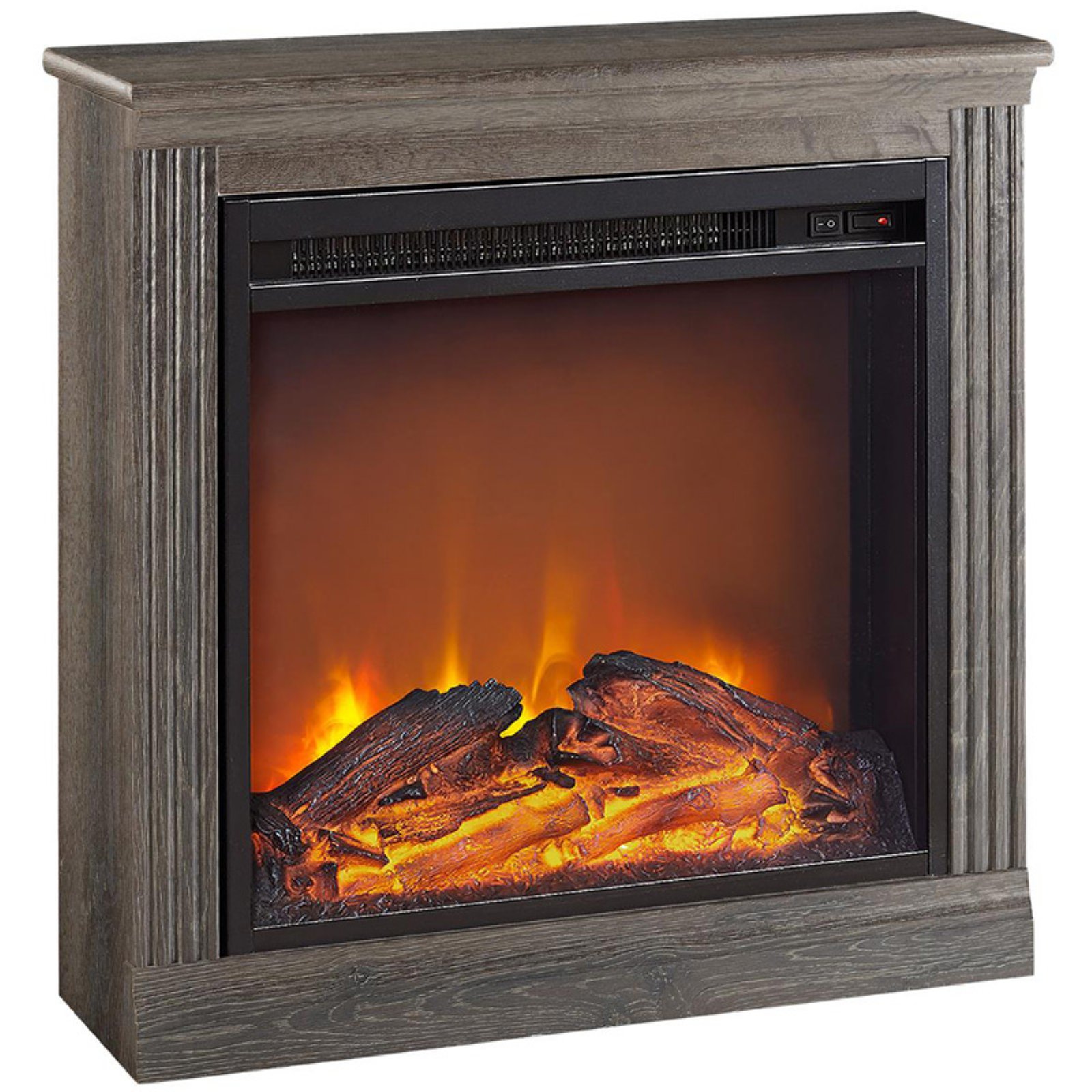 When it comes to the best electric fireplace with advanced technology features, Ameriwood Home is an excellent brand to check out.
This Bruxton electric fireplace may be small, but it can effectively heat up your room in an instant. It is also equipped with an LED technology which makes the fireplace maintenance-free.
Best Features:
Provides 5,100 BTU of heat
With AltraFlame patented technology which is responsible for the realistic LED lights and flame effects
Has a lifespan of 50,000 hours
Can be used and plug in into a standard wall outlet
The design allows you to insert it on the wall or as a stand-alone heater.
It is already fully assembled.
With cherry wood grain pattern that is easy to incorporate in your existing décor
5.  Donyer Power Mini Portable Electric Heater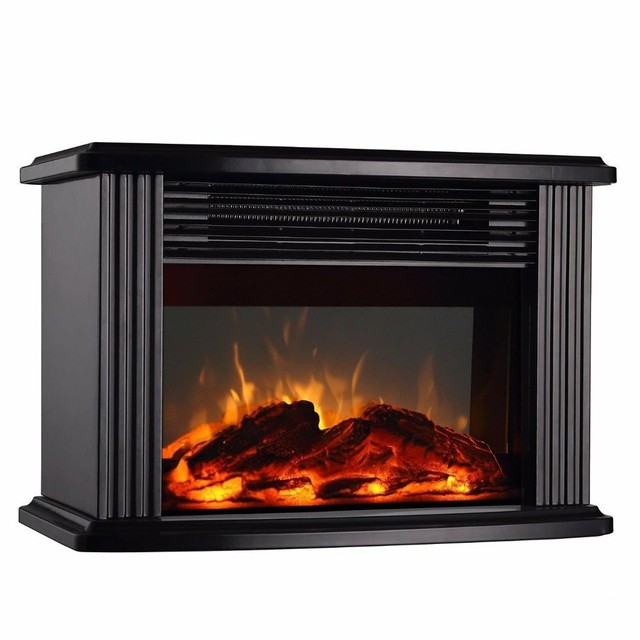 Those wo love to keep everything in their home white and spotless would certainly love this mini portable electric fireplace heater from Donyer Power. This tabletop fireplace heater is perfect to use during intimate dinner or family gatherings, whether indoor or just outside your patio.
We love the pristine white color with a minimalist look to it, giving you full control on how you should style or integrate this one to your current home interior.
Best Features:
Provides high to low heating, from 750 watts to 1,500 watts
Can warm a room area of 200 to 400 square feet
No installation needed and is ready to use upon purchase
No foul or odd smell when in use
This can be the perfect ornament while also providing enough heat while you chill out in your patio or balcony at night.
Very easy to use and can be moved anywhere you want
With 1-year warranty service
6.  Turbro TS20 Fireplace Heater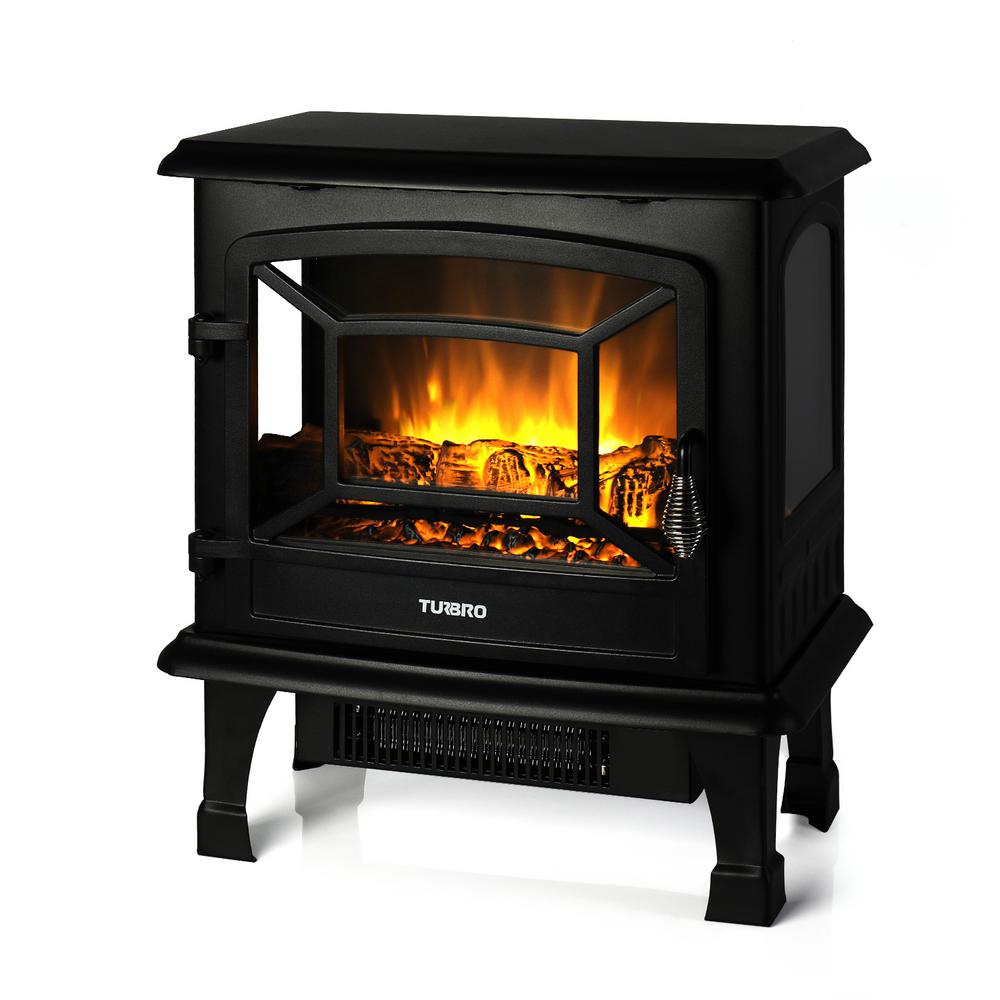 This effective and antique fireplace heater has won the hearts of many people because of its charming look and optimum heating.
Despite being a mini portable fireplace, Turbro TS20 electric fireplace heater is branded as one of the best portable electric fireplaces that provide efficient yet comfortable heat.
Best Features:
You can enjoy a consistent and even supply of heat of 4,777 BTU.
Looks elegant and vintage, making it the perfect portable heater for those who fancy antique and rustic decors at home
This item is certified safe with CSA certifications, one of the mist reliable safety and standards certifications in North America.
Can be shut-off automatically to avoid overheating, thus making the product last longer
Guaranteed to be smokeless, odorless, and safe portable electric fireplace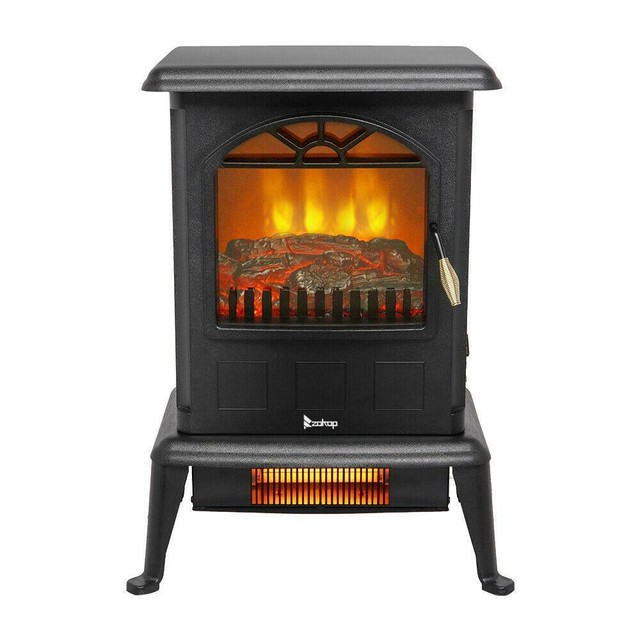 This long-lasting portable fireplace heater lands a spot on our list because of its compact yet lightweight design. Moreover, it has a realistic LED flame effect, as well as a burning log effect that can instantly make a room cozy and homey.
Best Features:
Provides an infrared heating system as high as 1,400 watts
This is the best portable electric fireplace for indoor use.
Suitable for 400 square feet room area
Very compact and lightweight, thus easy to carry around
Has 4 ceramic infrared heating elements
With safe and reliable LED lamp that provides dancing flame and burning log effects
Automatically shuts off when overheating is detected, thus protecting the unit and making it last for a long time
CSA approved, thus guaranteed safe and high-quality
With 1-year warranty service
Conclusion
All these 7 portable heaters received great feedback from the users, and some of these we particularly tried and loved. Among all the amazing portable fireplace heaters on the list, we highly recommend none other than the DuraFlame 3D Indoor Infrared Electric Fireplace.
We are impressed with the heaters high BTU levels and the fact that it can heat up a room of up to 1000 square feet. The infrared quarts heating elements are also a key-selling point since it allows the room to heat up fast.
How about you? Kindly share your favorite best portable electric fireplace below!