Portable propane heaters are the best when it comes to convenience of having a heating solution whenever needed. Whether you need a propane garage heater or a simple outdoor propane heater, these heaters are a great solution for your heating needs. Of course, you'll need to have the best propane heater if you want high quality heating.
10 Best Portable Propane Heater Reviews
1.  Mr. Heater F232000 MH9BX Buddy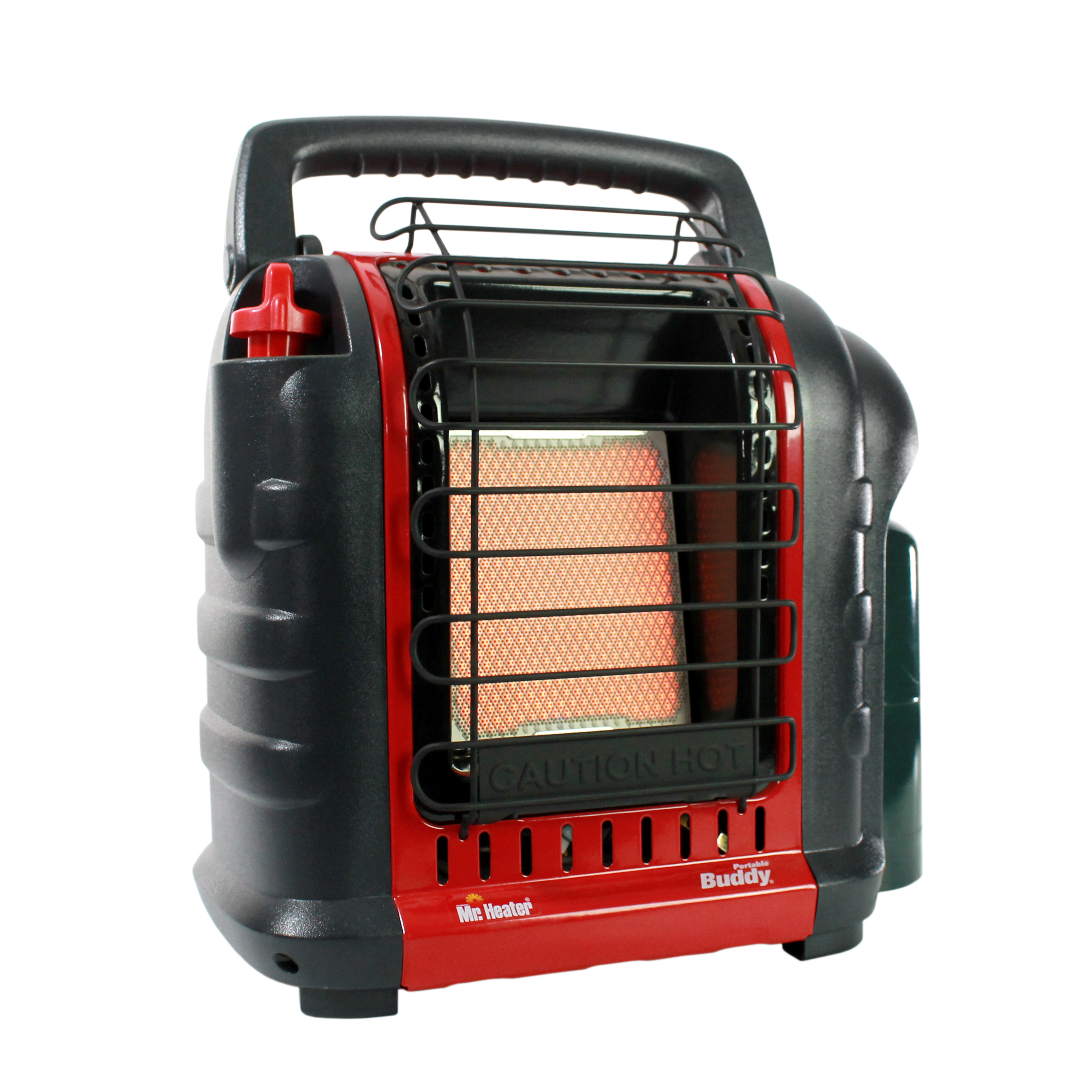 This heater is known by a lot of customers for its large heating surface and its overall portability. It has two heat settings so you can control the power of your heat. It also has a high-temperature wire guard to keep from overheating.
Comes with two types of heat control setting
Has a low oxygen shutting mechanism
Comes with a tip over safety system
Has a swivel regulator
Foldable mechanism to save space
Has a max BTU of up to 9,000
Made of plastic which may make it soluble
Cannot withstand medium to strong winds or breezes
2.  Dyna Glo Liquid Propane Heater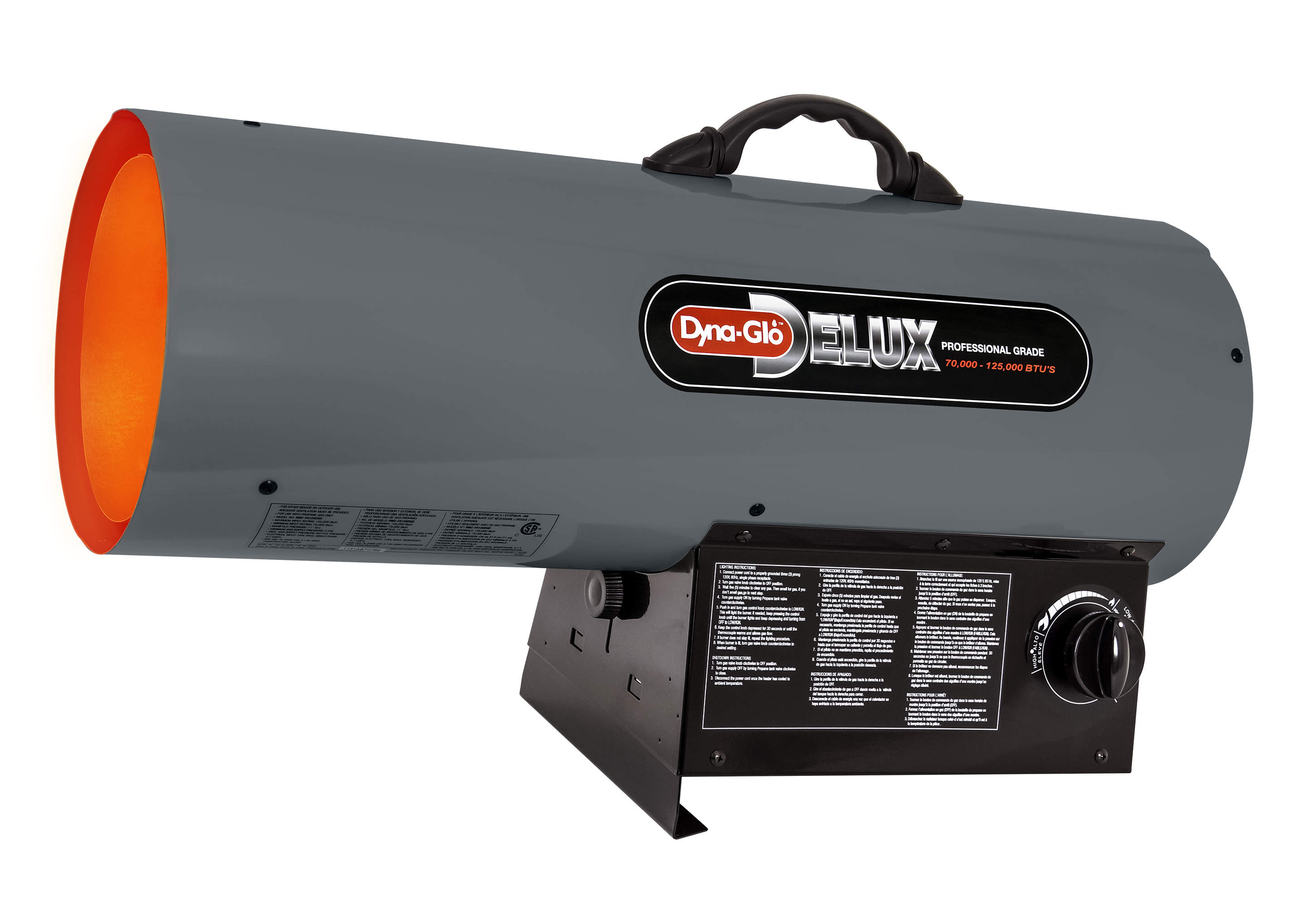 This brand is known for its very strong heating capabilities which can go up to 125,000 BTUs. Most reviews would state that it is quite durable and has a lot of great safety features like the overheat auto shut off protection and the variable heat control.
Has the ability to produce 70,000 to 125,000 BTUs
Covers up to 3,100 square feet
Includes an overheat shut off system
Features a continuous variable heat control
Adjustable heat angle
Very durable and long lasting
Not suitable for smaller spaces
Eats up gas pretty quickly
3.  Outland Firebowl Propane Gas Fire Pit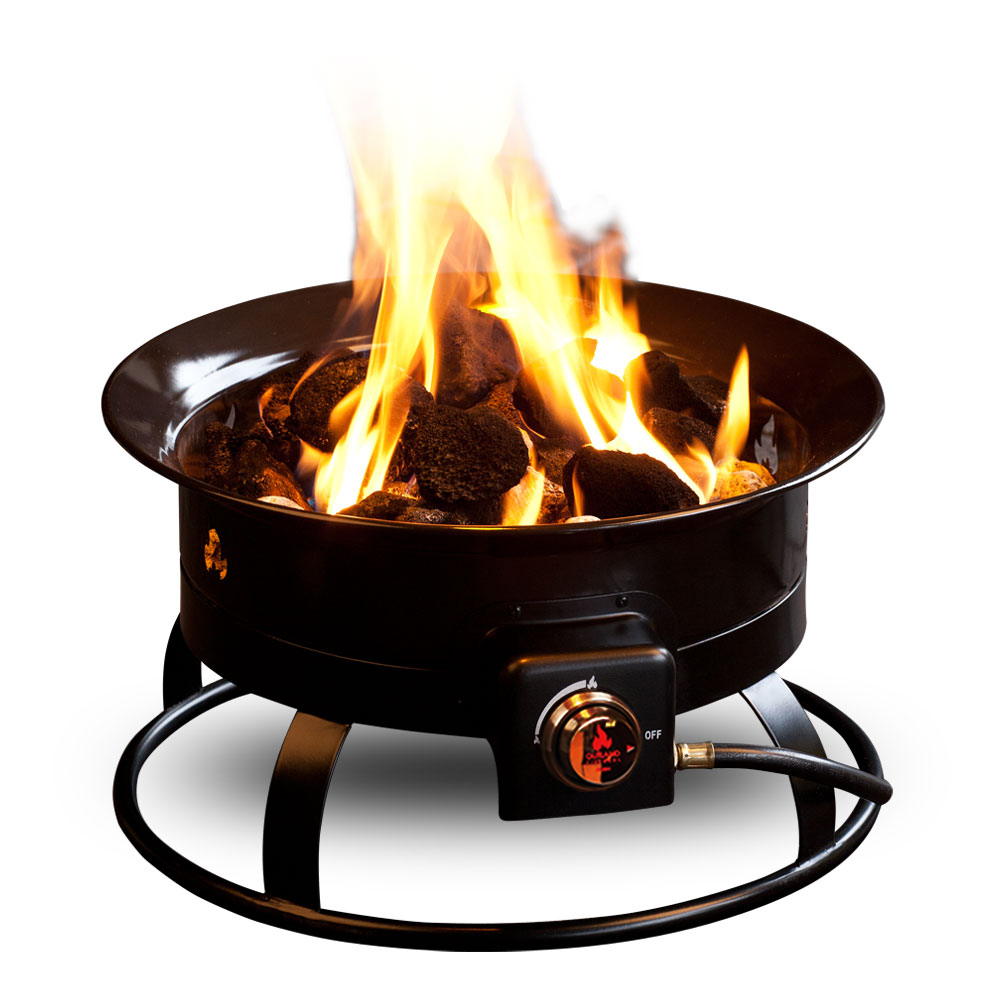 This heater is very practical for those who like to go camping. No longer will you have to look for firewood and clean up the ashes of the remains. With this propane heater, all you have to do is bring some gas with you and you'll have a fire. It is also quite compact and easy to bring around.
Does not leave a mess after use
Easy to bring around
Comes with a 10-ft hose
Can produce a total of 58,000 BTUs
Comes with an adjustable regulator
The flames are a bit weak
Does not have an ignition
4.  Pro-Temp Variable Propane Heater
This is a lightweight propane heater that may be quite good indoors. It can heat up to 1,500 square feet with a 60,000 BTU output. It is quite known for its long operating time of 11 hours straight along with its variable heating settings. The features make it a good choice for an indoor heater that people may want to try.
Produces up to 60,000 BTU with a coverage of 1,500 square feet
Weighs only 11.2 pounds
Has variable heat settings
Can last for 11 hours straight, sometimes even longer
Cannot be used in basements
5.  Texsport Portable Propane Heater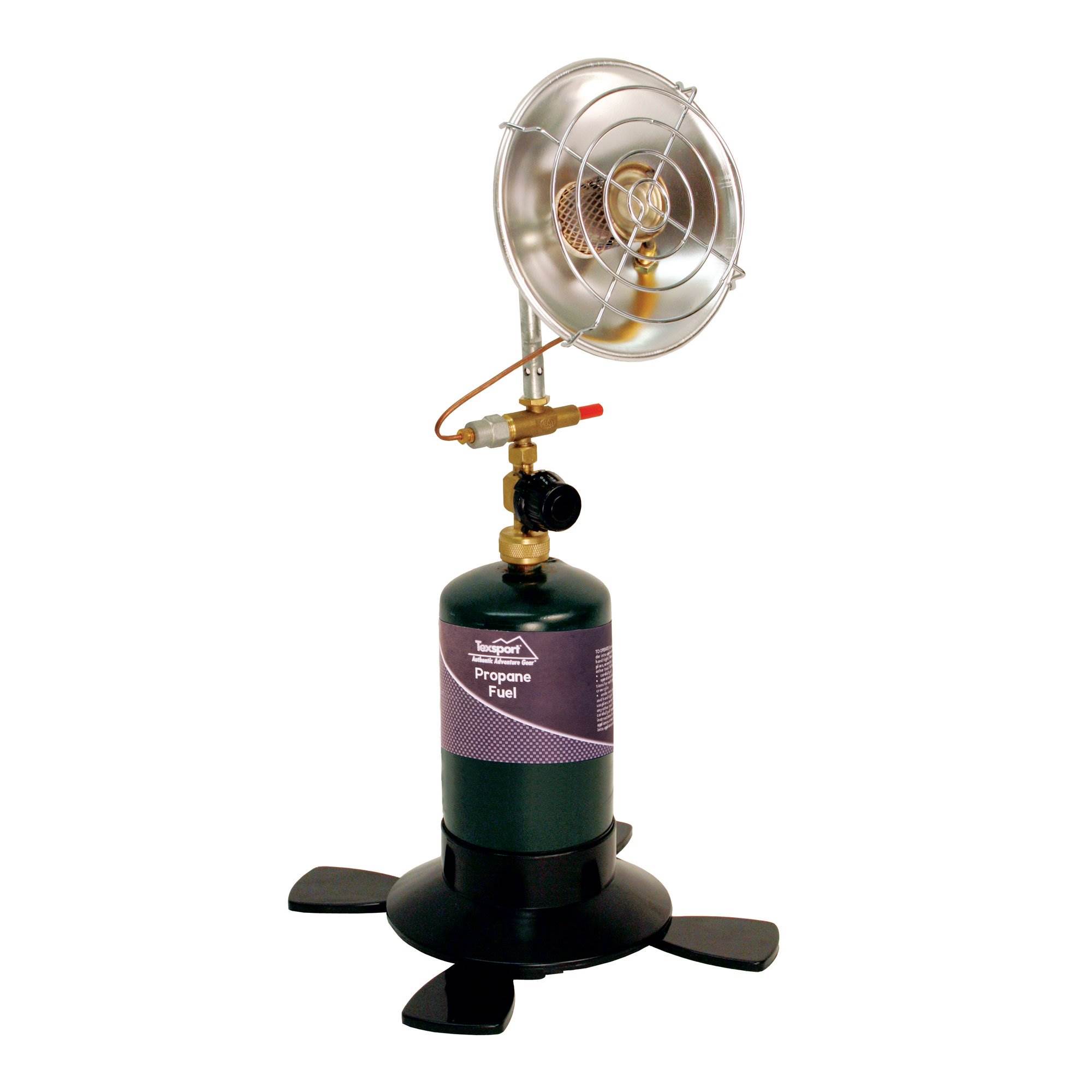 The Texsport portable propane heater is built for outdoor activities. It is possibly one of the best outdoor heaters that you'll be able to buy in the market. It can heat up to 2,890 BTUs and has 16.4-oz propane fuel cylinders. It also has an auto shut off valve just in case the fire burns out.
Has a large foot base to keep the heater stable
Comes with a safety grid
Able to heat up to 2,890 BTUs
Ideal for use in camping and hunting activities
Has fumes that are too strong for indoor use
Slightly flimsy design
6.  AZ Patio Forced Air Utility Heater
The AZ Patio heater is an outdoor heater that produces up to 40,000 BTUs. It is a rather robust air heater that is built for stability as well as heating power. It also comes with an anti-tilt switch so that accidents won't happen.
Includes a carrier handle
Includes a propane hose
Can cover up to 1,000 square feet with 40,000 BTU of heat
Operates on 20 pounds of propane
Does not include a remote
Directions in the manual were not too clear
7.  Dura Heat Portable Propane Heater
The Dura Heat propane heater is often used for garages and development areas. It is lightweight and has an ergonomic design. It possibly provides heat instantly as long as you have an outlet ready. It has a variable heat setting to allow you to choose how much heat you want emitted.
Lightweight and portable design
Has an adjustable heatangle
Has a porcelain finish
Compatible with a 100-pound propane tank
Able to cover 1,500 square feet with 60,000 BTU of heat
Not for indoor use except garage
8.  Mi-T-M Propane Heater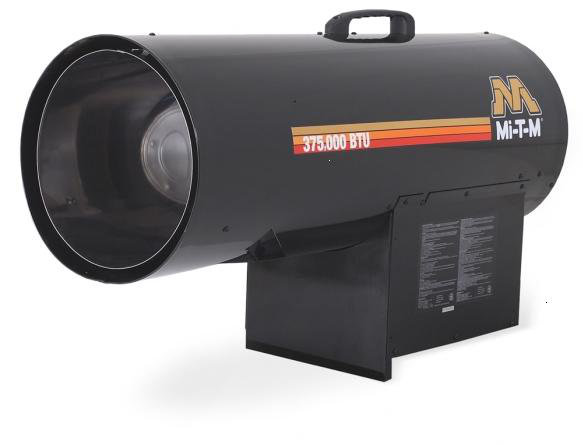 This one is known for being made of a very high quality steel, making it able to withstand extreme heat. In fact, the metal may even enable the heater to last longer than most plastic heaters. It also contains gas controls and an ignition for easy use.
Has a high-grade cooling fan
Comes with a handle
Has an auto shut feature
Made of heavy-duty metal
Quite expensive
Hard to bring around
9.  Thermablaster Infrared Propane Heater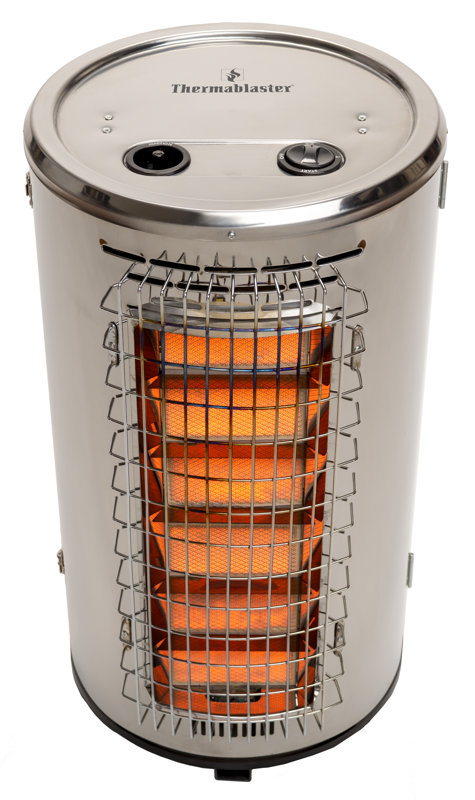 The Thermablaster can offer campers and outdoor enthusiasts convenience and power. It is able to produce 32,000 BTUs of heat and has top mounted controls with an igniter. This makes it rather easy for customers to use. This is why a lot of reviews regard this as both a powerful and easy to use heater.
Fitted with a 20-pound propane tank
Has top mount controls
Has 3 locking canisters included
Ideal for tailgating
Able to produce 32,000 BTUs of power
Can last for 14 hours
10.  Frost Fighter Portable Heater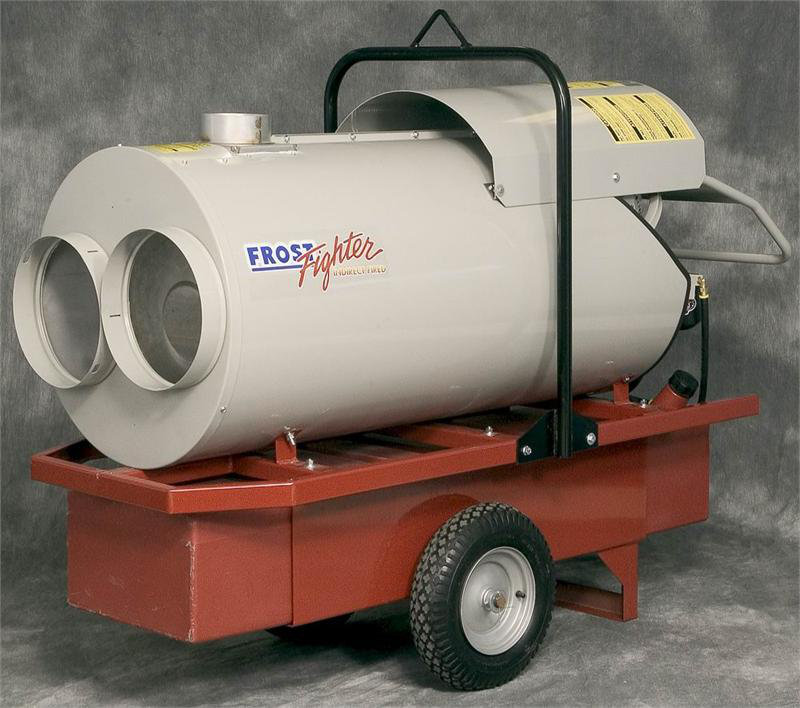 This brand has a lot of features that may appeal to a lot of buyers. First, it has a filter that allows it to produce clean heat air without the fumes. It also has a very high coverage of up to 3,100 square feet with 420,000 BTU of heat. Lastly, it comes with a vent so that it can also be used in smaller areas.
Comes with a remote control
Has a duct at the front for allowing wider coverage
Comes with a thermostat
Has vent for use in confined areas
Uses a fan for distributing heat air
Able to switch from propane to natural gas
Has a very high quality burner
Quite heavy and expensive
How to Choose the Best Portable Propane Heater
Before you choose which one out of the 10 choices is the right portable propane heater for you, it's always best to consider a few factors so that you'll know which suits you the most. This set of criteria can be used when selecting the best portable propane heater:
The first thing that you have to consider is heating capacity. This is usually measured in BTU or British Thermal Unit. The BTU your heater should have will depend on its heating area coverage and size. Here's a breakdown of BTU to heating area:
150 to 350 square feet requires 6,000 to 8,000 BTUs
350 to 550 square feet requires 8,000 to 12,000 BTUs
550 to 1,200 square feet requires 12,000 to 21,000 BTUs
12,000 square feet or higher requires 23,000 BTUs and higher
Take note that a higher BTU doesn't make it a better heater. You always have to consider the coverage and size of your place so that you won't heat it too much.
One of the biggest concerns when using a propane heater is safety. The more safety features the heater has, the better. Some safety features to look out for would be an auto-shutdown feature (also known as tip over safety system which is used for shutting down the heater when it is too hot), overheating protection system, and oxygen depletion system (an alarm that goes off when oxygen levels reach too low).
Other features you may want to look for would be a built-in thermostat so you can monitor the temperature easily, a timer so that you can save energy, or a remote control so that you don't need to manually adjust the heater every time.
Tips to Use and Maintain Your Propane Heater
If you're new to using a propane heater, then there are a few things you have to take note of when you use it. You'll want to use and maintain it properly so that it doesn't wear out quickly. Here's how:
Always turn off the heater after use.
Regularly vacuum the outside of your heater and the heater grilles to keep it clean.
Use a paintbrush to take out the dust found in deep places such as the tight grilles and the ignition.
Regularly dismantle the heater and clean the inside with warm water.
Vacuum each part from time to time to avoid buildup of debris.
Safety Tips for Using a Propane Heater
A lot of accidents may happen if you don't know how to properly handle a propane heater. So for the sake of new users, here are a few safety guidelines for you to follow:
Always turn off the heater before you move it.
Never leave it unattended.
Always check for gas leaks.
Do not place any flammable substance near the heater such as air fresheners, perfume, or deodorant.
Don't go too close to the heater.
Don't place any object too close to the heater, otherwise, the object may burn.
Do not use the heater to dry anything such as clothing.
Place the heater in the corner so that you may escape if ever something goes wrong.
Always read the instruction manual before using.
Conclusion 
The best out of the 10 choices mentioned above is definitely the Frost Fighter Heater. This heater has arguably one of the best burners. It is able to cover a huge area with its burning capacity, but it can also work well in confined spaces because of its built-in vent. It also comes with a thermostat and good safety features such as a cooling fan and an auto shutoff system. It also can use natural gas instead of just propane. Basically, it's an all-in-one heater for many purposes.
The winner was chosen by comparing it with the features of the other choices. Out of all the choices, this one has the most uses and features that match to the buying guide that we've provided above. While it is pretty costly, it is a rather good investment if you need a heater for both indoors and outdoors.