Say you are swimming and then the high salt content of the seawater or the chlorine in the pool water gets in your eyes.
That stings, isn't it?
Another scenario is that you cannot fully see what's underwater because you've got a prescription.
That makes swimming no fun, yes?
Now you do not want to ruin your swimming session nor do you want to cut it short. Therefore, wearing the best prescription swimming goggles is a must.
Read on as we tackle the things to bear in mind when buying one, as well as the 7 best reviewed swimming goggles today!
How to Choose the Best Swim Goggles
If you think that all swimming goggles are the same, then this section is a must-read. Check it out below:
It is best to choose a reliable swimming goggles brand that offer a wide range of prescriptions. This means that whether you are nearsighted or farsighted, you will get the best pair of goggles that perfectly fit your eyesight.
Also, just in case your prescription changes in the future, you can just change the lens instead of replacing the entire goggles.
Also check the design of the goggles. Make sure it has an ergonomic design and is very comfortable to wear. For this, you have to consider your face shape and head size. Don't get a pair of goggles that is too tight on your head. This can cause headache and can affect your sense of balance while underwater.
The strap material of most best swimming goggles is usually silicone. Silicone is very light but also durable and these make it the perfect strap material for goggles that are constantly submerged in water.
However, silicone can irritate sensitive skin, so choose one with hypoallergenic stamp. For people with extremely sensitive skin, it is better to make cleaning your swimming goggles before and after using them a habit.
Adjustable straps are also a key-feature to look for. Also consider how many sizes you can adjust the strap into. For a start, choose one that has at least 3 sizes. This allows you to set the strap a little bit higher or a bit lower around your head without problems.
Believe it or not, but some swimming goggles do not offer replacement warranty. This puts you in a lot of disadvantage. Why? Well, for one, you cannot fully know the full performance of the goggles until you actually used them.
So, no matter how many features the goggles claim to have or how many great reviews you have read, you cannot guarantee that these also work for you. Having a no question asked guarantee from the brand that sells them gives you confidence in buying. Also, this serves as your protection just in case you get a defective product.
7 Best Prescription Swimming Goggles Reviews
1.  TYR Prescription Corrective Swimming Goggles
TYR is a brand well-known for being a top choice among swimming athletes. TYR is specifically designed for supporting athletes in achieving their fastest and most advanced performance.
This is a corrective optical goggle with a unique step diopter goggle spherical lens. Specifically, this is ideal for those with -2.0 to -8.0 diopters.
What's more is that it has a lightweight design and has a comfortable plastic rubber gasket. The gasket is comfortable to wear and doesn't leave any unpleasant mark around the corners of your eyes.
Best Features:
A very comfortable pair of swimming goggles that is easy to wear and is very light.
It has a leak-proof goggle lenses that prevent the water from coming in and irritating your eyes.
The polycarbonate lenses are graded and ready to be worn.
This is also equipped with adjustable straps.
It also has an anti-fog feature that makes swimming easier.
Easy to clean with just a wipe that is alcohol infused
2.  IST RX Swimming Goggles
This pair of prescription goggles from IST is packed with amazing features that you cannot find in most average swimming goggles. This is recommended for swimmers with symptoms of nearsightedness and farsightedness.
If you are looking for goggles with sun protection and is also shatterproof, then this is the perfect swimming goggles for you.
Best Features:
It has a very smart design with a customizable feature.
Can be adjusted to suit the user's prescription for nearsightedness or farsightedness.
The strap is made from comfortable silicone that is split to hold on wider area and to prevent from slipping.
This also has a UV protection to prevent harmful rays of the sun from damaging your eyes.
To top it all, this one's also hypoallergenic that is made of soft and liquid-injected silicone material that is sensitive to the skin.
3.  Aguaphile Prescription Swimming Goggles
Another outstanding pair of swimming goggles that is popular in the market recently is this pair from Aguaphile. These soft and anti-fog swimming goggles are a top pick for many because of its feel-great material and look-great design.
It has a sleek look to it and a lightweight material to keep your swimming pace fast and really comfortable. This is our recommended pair for those seeking for goggles with excellent warranty.
Best Features:
This has the clearest lenses that allow you to see everything underwater.
The silicone strap material is very soft and easy to stretch to strap around your head.
Design-wise, this one has leak-proof lenses that can be adjustable up to 3 sizes.
People that wear corrective glasses can easily find a pair with their prescription as this pair of goggles are available in different diopters.
You can get this with an unconditional lifetime refund and a replacement warranty.
4.  Aikotoo Swimming Goggles
Aikotoo is a unique swimming goggle brand that knows their target market. If you prefer glasses with light reflective lenses rather than the traditional ones, then Aikotoo is a brand to look out for.
This particular pair of swimming goggles, for instance, has an anti-UV protection up to UV400. In addition, you get so much more than what you paid for as it is also equipped with amazing features such as anti-fog and adjustable prescriptions.
Best Features:
The UV400 sun protection of the goggles is what makes people buy them. This gives the users protection from the damaging UV sunlight.
The anti-fog feature makes swimming and diving much easier and safer as you can see if you are near the bottom or the edge of the pool.
It is also equipped with shatterproof lenses which guarantee that the goggles can withstand strong impact from diving or from the water current.
Featuring an ergonomic 3D design that perfectly fits the eye sockets.
You can choose a wide range of selections to match your prescription.
5.  Zionor RX Prescription Swimming Goggles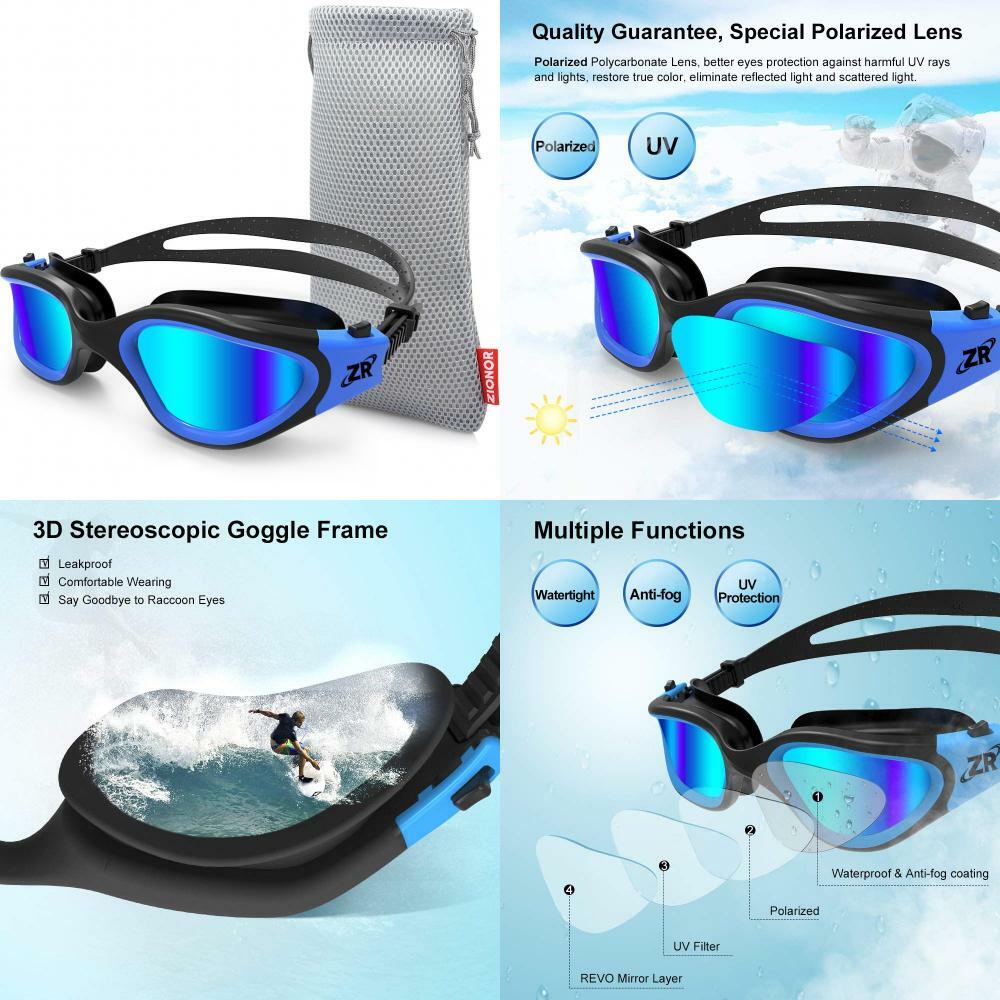 While it is great to choose a style that fits your gender, there is also nothing wrong if you want to be practical and choose a pair with a uni-sex design. Just like this prescription swimming goggles from Zionor that is suitable for both men and women.
Optimum performance is what you'll get from this pair of goggles. We also recommend this one to those with sensitive skin and can easily get allergic to silicone straps.
Best Features:
A very comfortable pair of goggles with optimized cushion around the frame. Thus, you won't get a mark even if you wear it for a long time.
This is also fog-free swimming goggles, so you can easily see everything underwater.
The high-quality and toxic-free silicone strap is safe and hypoallergenic that does not trigger any allergic reaction.
The lenses are also impact resistance.
Can fit round and narrow face shapes as this can be adjusted.
6.  Splaqua Swimming Goggles
For female swimmers who want to look a bit more stylish and prefer wearing goggles with bright colors while swimming, then Splaqua has great selections for you.
This adjustable goggle, for example, is set in a baby pink frame color, although you can get this one in five other colors too. The design is accurate and precise that does not interfere your swimming pace and performance.
People love this pair because of its wide range of prescription choices, as well as its fun and vibrant strap colors.
Best Features:
This one has a one-piece silicone strap that stays in place even when swimming fast.
It also includes an ear protection to prevent water from accidentally getting inside your ear that may affect your swimming performance.
The entire goggle is very light and very comfortable to wear.
You can also get this in various prescription lenses from 0-150 to -1000.
Comes with a travel carrying hard case which protects the lens from scratches and dirt.
7.  View+ RX Swimming Goggles
Last on our list is this View+ RX prescription goggles. This premium pair of swimming goggles uses mixed lenses depending on the strength of your eyes. You can even choose a different prescription for the right and the left eye.
Plus, this too has 100% UV protection, so the bright rays of the sun cannot get into your eyes and damage them in the long run.
Best Features:
This is a very sturdy pair of goggles and can be worn by both male and female.
The super anti-fog feature gives the clearest view even when swimming underwater for a long time.
It is also available in various prescription ranges, so you can choose the one that fits you the most.
A very durable pair that can withstand strong impact and water current
Our Top Pick!
All of the 7 prescription swimming goggles on our list have great reviews from people who have bought and used them. Some of these goggles we tested personally.
But out of all the 7 choices on the list, we think that the one that gives the best value to money is the Aguaphile Prescription Swimming Goggles.
Some people might argue with us on this, but the unconditional refund and replacement warranty of the product speaks a lot about the brand's confidence in their product. And after actually using one, we think it is a great pair of goggles that delivers what are promised, such as the anti-fog, comfortable fitting, and the adjustable strap features.
Conclusion
The narrow selection of options and quality products are some of the reasons why people with glasses prescriptions find it hard to get the right swimming goggles for them. Hopefully, this list has helped you with that and you can now shortlist the brand and even the style that you are looking for.
Thanks for reading and update us whenever you have bought your own pair of swimming goggles.