Sauna was first introduced to Americans by Finns in the early 1600s. Since then, it has been a part of their lifestyles.
With the growing number of sauna heaters, you might find it difficult to find the best sauna heater for your sauna room. Read through our reviews to know more.
The Best Infrared Saunas and Their Many Benefits
Types of Sauna Heaters & Pros and Cons
Electric Sauna Heater
Most saunas today use this type of heater. An electric stove is used to heat the stones. This stove comes with a timer and a thermostat to regulate the temperature of the stones.
Convenient
Fast in heating up sauna
Easy to use
Available in different sizes
Doesn't need a chimney
Clean operation
Increases electric consumption
Not useful during blackouts
Gas/Propane Sauna Heater
This type of heater is ideal for an outdoor sauna. It can be also used in an indoor sauna, which has an exterior wall vent.
Convenient
Heats up faster than other types of sauna heaters
Cost-efficient long term option
Works even when electric is out
Initial costs are more expensive than wood-fired and electric heaters
Wood Fired/Wood Burning Sauna Heater
This is the oldest type of heater. Many people are still using this today to get a feel of the traditional sauna experience.
This is a good choice for a barrel sauna.
Offers authentic sauna experience
Cost-efficient long term option
Doesn't rely on electricity or gas
Heat temperature is difficult to control
Initial cost is expensive
Won't work without wood
Requires a chimney
Infrared Sauna Heater
This is the newest technology in sauna heating. An infrared sauna heaters makes use of ceramic or carbon heaters.
The infrared sauna is not considered by sauna enthusiasts as real 'sauna'. They prefer to call it a 'therapeutic room' than a sauna since it does not produce 'loyly' or steam.
This type of heater is commonly used by athletes to help relax their muscles.
Less expensive to operate
Offers least authentic sauna experience
How to Choose a Sauna Heater
The first thing to consider before buying a sauna heater is your residence.
If you live in the country where there are plenty of woods, a wood-fired sauna heater may be the best option you have. This will cost you less in the long run.
If you live in an urban area, it is wiser to have either a gas or electric-driven heater. Unlike wood-fired heaters, these heaters do not create ashes.
A gas heater might also be a better choice if your house has a gas heating system or a low supply of electricity.
Other things to consider when choosing your heater include the following:
Electric Sauna Heater
An electric sauna heater's outer shell may either be made of stainless steel or pre-painted steel. Stainless steel as an outer shell is better at preventing rust formation and lifting off substrate as compared to pre-painted steel.
This heater may either be floor-mounted or wall-mounted. In a residential setting, a wall-mounted heater is ideal to be used since it occupies lesser floor area. Floor-mounted heaters are mostly used in commercial saunas since these are larger in size, they can accommodate heavier rocks.
The size of your heater must match the size of your sauna. A small heater might be a better cost-effective option if you have a small sauna room.
Choose electric heaters that have US or CSLA certifications for safety reasons.
Wood-fired/Wood Burning Sauna Heater
This heater does not have CSLA or US certifications, so it might not be approved for use in your home. Plus, it might not be covered by your insurance.
Some wood-fired heaters come with a porcelain finish. This might be a good choice if you want a durable and tougher outside finishing.
Infrared Sauna Heater
This type of heater does not warm up the surrounding air. It can only heat up the surface it is pointing to.
Benefits of Sauna
Some of the benefits of sauna include the following.
It improves blood circulation.
It helps reduce muscle soreness and joint pains.
It improves skin conditions.
It relaxes the mind and body.
It increases the body's resistance to illness.
It promotes weight loss.
It relieves allergies and sinus congestion.
Review of the Best Sauna Heater
1.  Finlandia FLB-60 Sauna Heater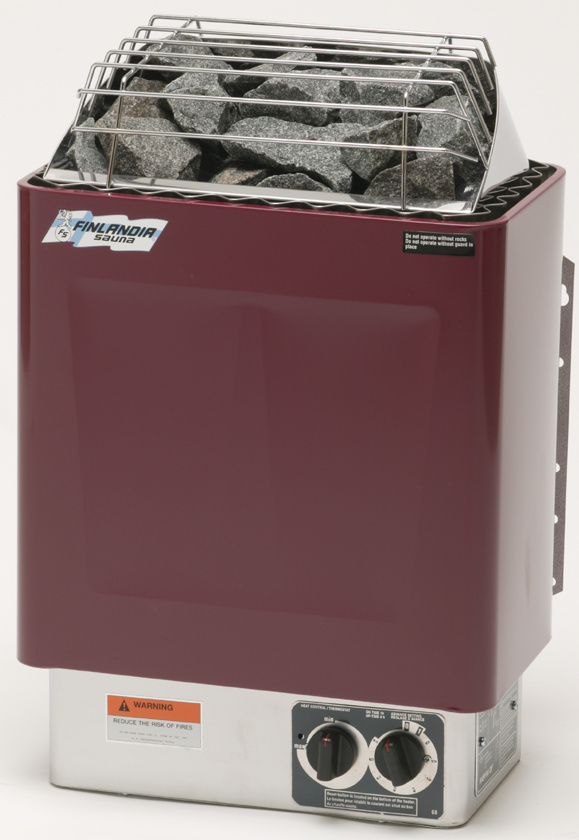 Harvia Manufacturing of Finland made this electric sauna heater, which can heat up 300 cubic feet (L x W x H) 7' standard sauna room.
We like this heater's interior and heating elements because they're made of stainless steel. Stainless steel does not rust, which contributes to this heater's
Other products in the market are only CE certified, which means they have only passed European's safety standards. Finlandia FLB-60 Sauna Heater
is ETL certified, which means that it has passed the US OSHA's safety standards.
Another good thing to like about Finlandia FLB-60 Sauna Heater is that it comes with large rocks. So, you won't have to bother looking for some.
Made of stainless steel
CE certified
Inclusive of rocks
With built-in control that features a one to eight hour preset
Unclear wiring instructions
2.  TUM20A TURKU Electric Controller Type Wet & Dry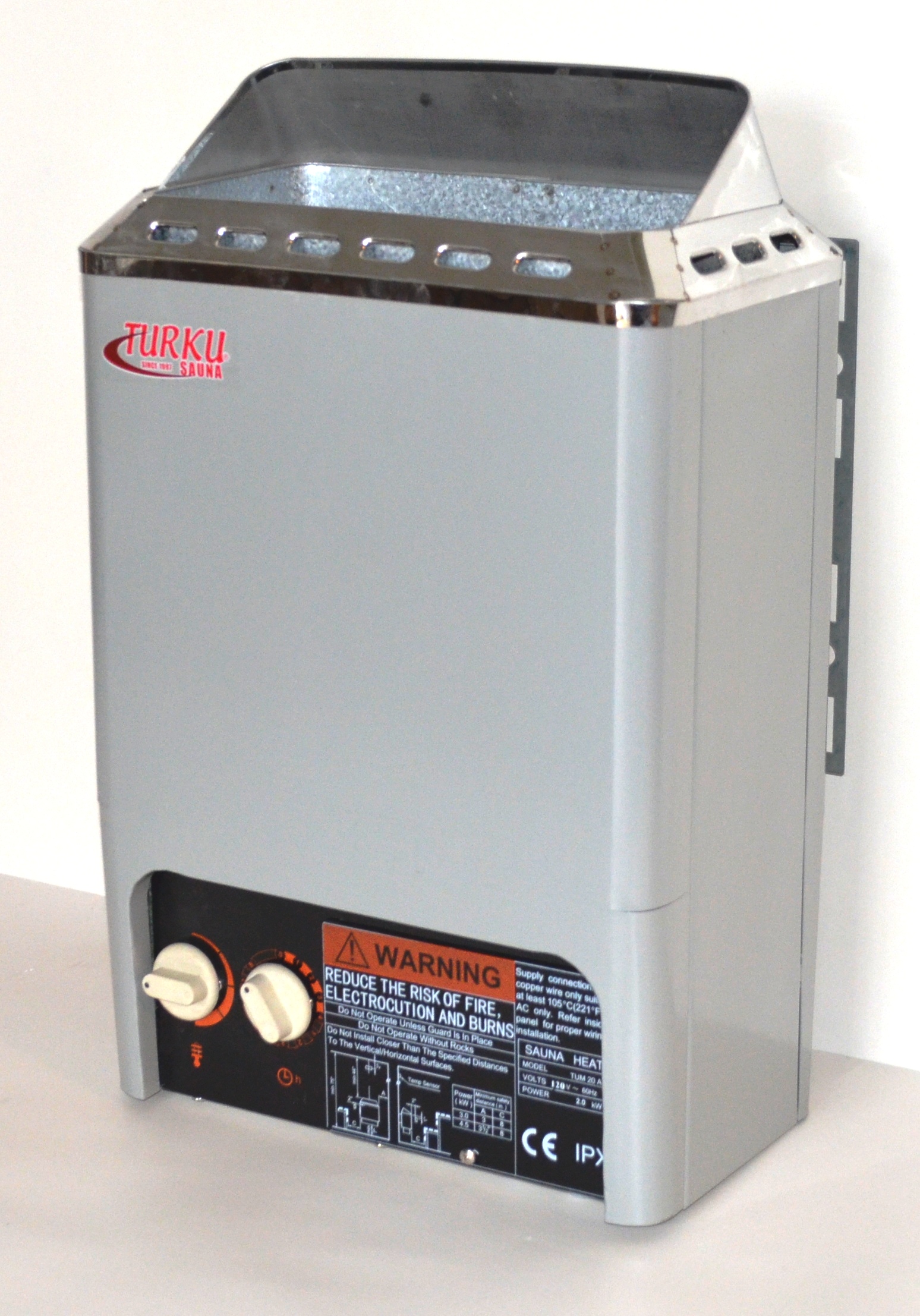 This compact mini electric sauna heater from Turku is CE and ISO certified.
It is an excellent choice for those who prefer an 110V or 120V unit and to those who have small sauna room. This heater is ideal for use in a 45 to 90 cubic feet sauna room.
We like this product's versatility because it can be either used for a wet or dry sauna.
This product has a built-in controller, which is great because it is much easier to wire it that way.
With built-in controller
Heats up fast
Can be used for wet and dry sauna
Does not include sauna stones
Does not come with a plug
Does not have a vent system at the bottom of unit
Timer may stop working after a month
3.  TU90WD Residential TURKU Controller Traditional Saunas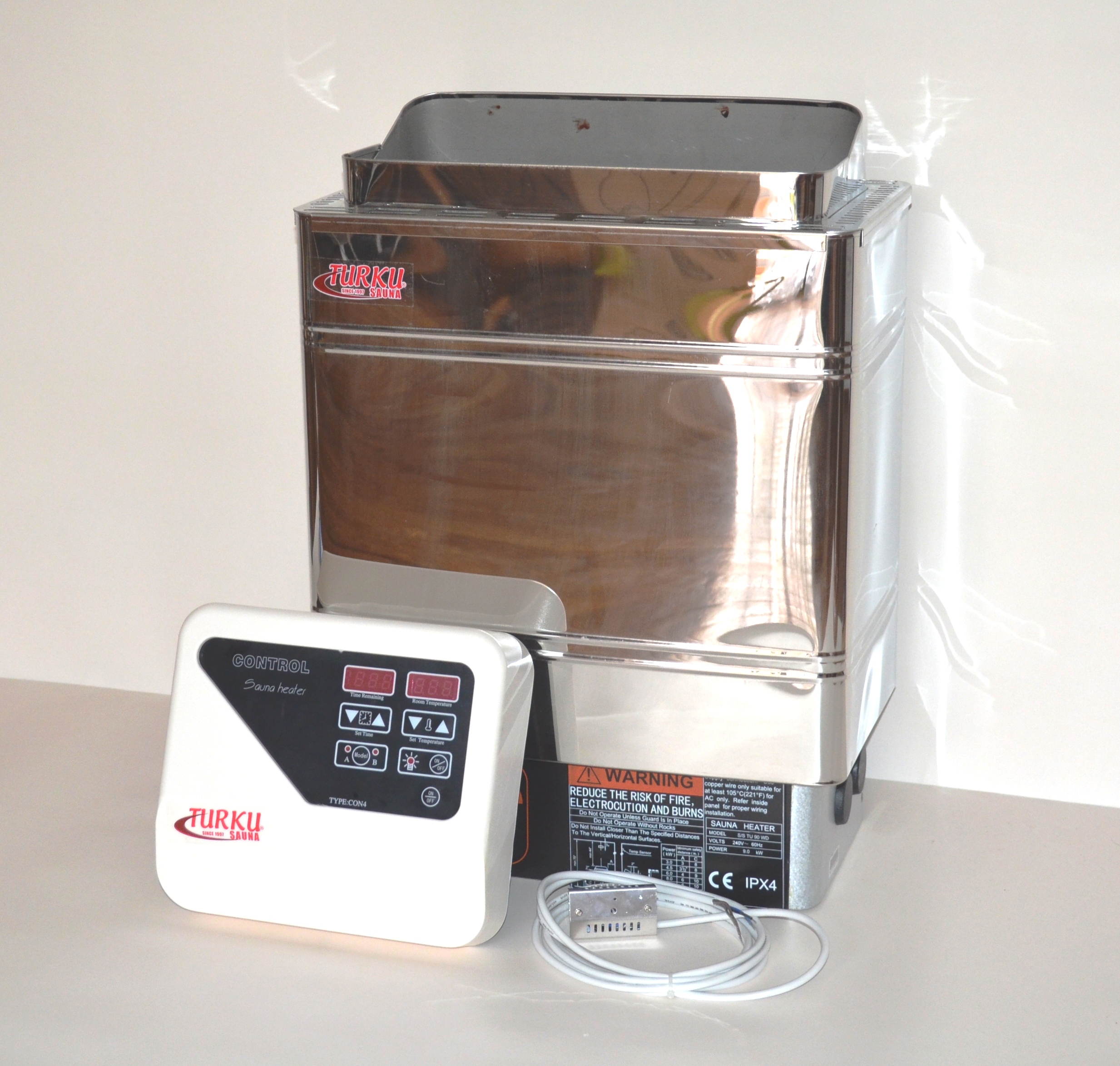 This electric heater comes with a stainless steel modern design, which makes it a durable product. It can be used for wet and dry sauna, but not with infrared saunas though.
Other good features of this product include its aluminum thermostat sensor casing and high grade Teflon coating elements.
We also like this product's digital controller, which does not produce any ticking sound.
Unlike other heaters, this heater can be pre-set up to 12 hours.
This product is CE and ISO certified.
Heats up fast
Made of stainless steel
Can be pre-set to 12 hours
Can be used for wet and dry sauna
No inclusive rocks
Not ETL or UL certified
4.  Propane Gas Sauna Heater
This heater features a 100% stainless-steel body, which prevents corrosion or rust formation that can be caused by exposure to elevated temperatures and moisture.
This product comes with an extra large tray, which can hold 160 pounds of rocks and eight gallons of water. This capacity turns your sauna into a steam sauna in a short span of time.
We also like it's built-in thermal cutout, which protects this heater from overheating.
Another good thing about this product is that its sealed combustion heaters do not need flue or gas connections inside the sauna.
Made of stainless steel
Has low operational cost
Does not require electricity
Produces high quality heat
With large steamer tray
Does not require gas or flue connection
5.  Harvia 20 DUO wood burning sauna heater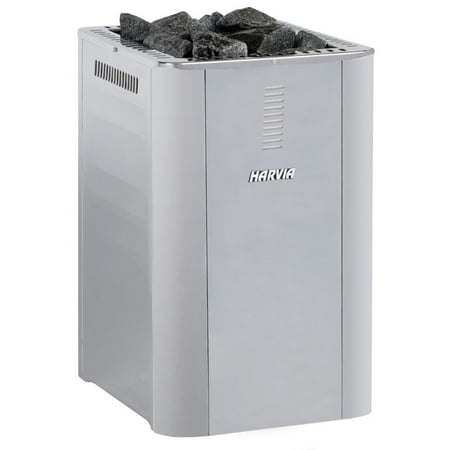 This wood burning sauna heater is a product of Harvia of Finland, and is a great choice if you have a small sauna room.
A unique feature of this product is its dual function. This can be used as a fireplace and as a wood burning sauna stove.
We also liked that this heater comes with 2 boxes of genuine Harvia sauna stones. This means that you can start using it once you received it.
Another good feature is its stainless steel outer casing, which adds up to this product's durability.
This product can work well with accessories like chimney kit, chimney pipe, chimney pipe extension, and water heater.
Made of stainless steel
Has dual function
Inclusive of 2 boxes of sauna stones
See HOW TO – Installation Of Harvia Wood-burning Stove on Youtube
Conclusion
All of the products we have reviewed have quality features, but based on our standards we pick Finlandia FLB-60 Sauna Heater as the best sauna heater.
This heater is durable for its stainless-steel casing. This is also the only product with ETL certification, which means it has passed the standards of US-OSHA.
We also liked that this heater comes with the sauna stones.