Many of us take a shower first thing in the morning in order to wake up or take one last thing at night before going to bed, allowing the soothing water to wash over our bodies, taking the stress of the day with it. But choosing the best shower head could be a problem, as there are so many different varieties around.
Well, the good news is that we have tried and tested a large variety of the best shower heads around, and listed some shower head reviews to get you started.
Best Shower Head Reviews – Top Picks on The Market
There are so many different shower heads available in stores, that making a decision as to which is the best shower head for you is a daunting task. Our shower head reviews take a look at a number of shower heads for your perusal and hope it helps you make the right choice for you.
1. Delta In2ition 2-in-1 Shower
This shower head can be used either as a shower head and hand shower, shower head only, or hand shower only. This shower head is made of brass metal and plastic.
Read more: Delta Shower Head Reviews
It has a pause feature that allows you to conserve water while you lather soap or shave your legs in the shower.
It is easy to clean as its nozzles are made of soft rubber that you can get rid of lime and calcium build-up with just one wipe.
Its hose is ultra flex, meaning you can twist it without issues.
Including its spray patterns are full, pause, and massage.
This is available in different finishes, so you can choose the one that suits your bathroom interior. This is available in chrome, brilliance champagne bronze, Venetian bronze, and brilliance stainless.
It is guaranteed to be drip-free, so no need to tightly twist the shower when turning it off.
It also features a WaterSense certification. Shower heads with WaterSense certification can save up to 2,900 gallons of water per year.
This can be used both for commercial and residential purposes.
If you're looking for made in the US product, then this is not for you. This is manufactured in China, but its quality is superb.
It only has a limited product warranty.
2. Kohler Handheld Shower Head With Aerating Technology
This shower head from Kohler has a contemporary design complete with a spray head, slide bar, and a metal shower hose in 60-inches length. With a flow rate of 2.5 GPM and operating pressure of 80, this shower head is one of the favorites from the Kohler brand.
Read more: Kohler Shower Head Reviews
This features an aerating technology. Aeration helps remove the carbon dioxide and other gases from the water. It also oxidizes particles of dissolved hydrogen, iron, and other volatile organic chemicals.
This is ADA compliant, meaning people with disabilities can use this shower head easily.
This is available in two finishes, namely vibrant brushed nickel and polished chrome.
It has four types of spray pattern: 1) invigorating spray, 2) encompassing spray, 3) water-saving/ reduced-flow spray, and 4) gentle aerated spray.
It is only recommended for commercial uses.
This is expensive.
3. AKDY Shower Head & Hand Shower Set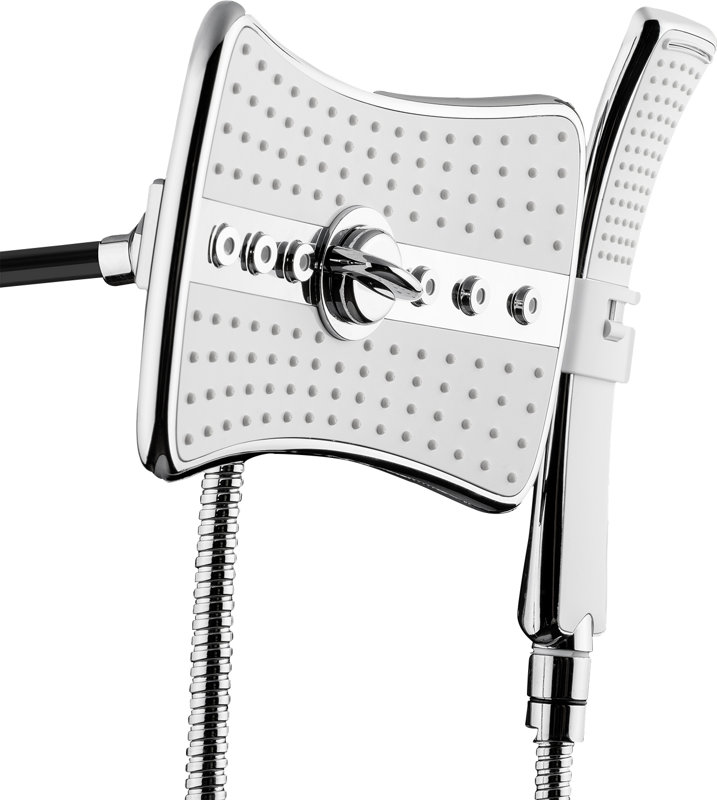 Looking for affordable shower head products? Then AKDY shower heads should be on your list. This adjustable shower head and hand shower set is packed with amazing features at a very affordable price.
Read more: AKDY Shower Head Reviews
It has a rainfall style shower head, perfect for those who want a rain spray shower experience.
This is also a waterfall shower head, which you can access through an easy-flick switch.
This is made of ABS thermo, meaning this is heat-resistant should you prefer to have a hot shower.
It has 1-year product warranty.
You can easily clean this shower head with a soft cloth.
This is very affordable.
This may not last long as the material is made of plastic.
4. Ana Bath Ant-Clog Shower Head and Hand Shower Combo Set
Another affordable shower head and hand shower set is from Ana Bath. This is the best shower head with an anti-clog system and affordable price. This shower head is coated with brushed nickel finish on all its parts, from the shower head to the shower hose.
It has five different functions: saturating spray, massage saturating spray, massage spray, bubbling spray, and bubbling saturating spray.
It has a longer hose option should you want one instead of the default hose.
Its anti-clog system lets you remove calcium-build-up and mineral deposits easily. Just push the nozzles and wipe with your fingers or a soft cloth.
It comes with a metal connector and two brass nuts for the hose.
The shower angle can accommodate two people.
This is made of plastic. Hence, it is advisable to use this for residential purposes only.
5. Moen Rain Shower Head With Magnetic Holder
If you don't want a fixed shower head for your bathroom, then this handheld shower head by Moen is for you. It's a 2-in-1 shower head combo with a 3-way diverter.
Read more: Moen Shower Head Reviews
You can add other shower heads of your choice since this features a 3-way diverter for rain shower head, hand shower, or both.
This is a mid-range shower head that is compatible with all standard showers.
It comes with a magnetic shower holder. Thus, even if it isn't a slide bar shower head, you can guarantee that your shower head is securely docked.
It has a highly reflective chrome finish, giving you a luxury shower head
It is ADA compliant.
It has a limited warranty, specifically returnable in 90-days.
6. Hydroluxe Full-Chrome 24 Function 3-way 2 in 1 Shower Head, Handheld Shower
A shower system combination that can have you either buy each shower separately or together at the same time. The all chrome shower system has twenty-four water flow patterns, ensuring you get the perfect shower at any given time. Plus, if buying both together, you have a 'standard' shower with the benefits of a hand shower to boot.
We liked the following features:
Both showers have five settings – power rain, massage, water-saving economy rain, stay warm mist, and a pause function.
It comes with an angle-adjustable overhead bracket attachment.
The hand shower has a 5-foot flexible stainless steel hose.
You don't need tools for installation.
The 4-inch chrome face has a 3-zone click lever dial and rub-clean
The 3-way water diverter has an anti-swivel lock nut.
7. Culligan Hand Held Filtered Shower Head with Massage
An NSF International certified against NSF/ANSI Standard 177 for the reduction of free available chlorine in water, this handheld shower head is a winner. Each cartridge lasts for up to six months before needing replacement, giving you the assurance your family gets a chlorine reduction of up to 97% while taking a shower. This protects both your skin and hair from the harmful effects of chlorine.
Easy installation without the need of tools.
A shower head that has anti-clog rubber spray nozzles.
Five spray settings.
A filter cartridge that is included and may filter not only chlorine but also scale while getting rid of any sulfur odors in the process.
A filter media bacteriostatic that limits the growth and passage of bacteria.
Water temperature ranging from 40 to 120 degrees Fahrenheit.
8. Vida Alegría Handheld Shower Head
Easy to install, the Vida Alegria has a flexible stainless steel hose that stretches anything from five to seven feet, making cleaning your bath a breeze. Additionally, the hi-tech AVS face not only repels hard water, keeping it clean, but has a stay-put holder as well. This means no twists in the hose.
Additional features of this model include:
A two-part removable flow restrictor.
5+ spray modes that are easy to adjust with one hand only, i.e. drenching rain, gentle rinse, full rotation massage, two mix modes, and a drizzle mode.
9. Hansgrohe Raindance Air 3Jet Handshower
The organic fusion of air and water enhances your shower experience. Simple to install, the hand shower combines air and water, giving a great, invigorating showering experience.
Read more: Hansgrohe Shower Head Reviews
Features that enhance this shower:
5-gallon water flow per minute.
Hand shower has three functions: full, massage, and intense.
A durable chrome finish.
It has a rotating control lever ensuring easy operation.
10. Speakman Multi-Function Shower Head
This adjustable shower head has a unique look, making it popular for those who want a quirky design for their bathroom. This is an all-metal shower head available in chrome finish.
It has six retro jets.
This features an AnyStream technology. Thus, you can easily switch from one spray pattern to another.
It has a patented plunger system, which guarantees that no matter the spray pattern you choose, you'll get powerful streams.
It has self-cleaning nozzles, which means this is a low-maintenance shower head.
It comes with a shut-off valve in its package.
It has a limited lifetime warranty.
This is made in China, but its users said its durable enough.
Cleaning this shower head requires you to prepare a vinegar and water mixture.
11. Kohler Wall-Mount Shower Head
Yet another entry from Kohler, this wall-mount shower head also features an aerating technology. With an all-metal material, you can guarantee that it can last longer.
This is manufactured in the United States. Thus, you know it is tested and compatible with the standard in the US.
This is an adjustable shower head with a revitalizing massage spray.
Its aerated spray is gentle and soothing.
You can choose from four different finish: vibrant brushed nickel, vibrant brushed bronze, polished chrome, vibrant polished nickel.
It has three spray pattern, namely aerated spray, massage spray, and wide spray.
This is ASME compliant, which means it meets the required standard.
This is also CSA, UPC, and IAPMO certified. So, you can assure its quality and performance.
It is only recommended for commercial use.
Classified as a GREEN shower head, the High Sierra shower head gives the impression of having much stronger flowing water while actually saving you money in both water and electricity. The compact design of this product makes it great for where space is of the essence, e.g. in apartments and schools.
Features that make the product memorable include:
Metal construction with a highly polished chrome finish.
A 1.5 GPM
A uniquely compact design.
A cost effective shower solution.
13. Delta  Single-Function Shower Head with H2Okinetic Technology
A product that meets all specifications, replacement parts are easily obtainable on this product, while the stringent testing gives the buyer an air of confidence that he is getting a quality product. The waterwise Delta is a user-friendly K2O Kinetics showerhead with a great contemporary design.
Dual flow settings.
A volume control lever on the showerhead.
ensures a 36% water savings per shower.
Operates at either 2.5 or 1.85 gallons per minute.
The unique transitional function showerhead saves you water, energy, and, of course, money, while it gives you a great shower to boot.
Features incorporated into the product include:
The turbine technology sees pressurized water dispersing from the showerhead, resulting in an even, energized and refreshing water flow.
The showerhead has three functions – turbine spray, full spray, and combination spray.
A fully adjustable spray angle that can easily adapt to your height.
15. Shower Head 6 Function, Wall Mount, Adjustable Showerhead – Indoor & Outdoor  Bath Spa
Sturdy and easy to install, each showerhead needs to pass stringent quality assessments, ensuring an installation perfect product. The easy twist on installation and different spray modes make showering a pleasure.
Product features that need mentioning:
There are six different settings, namely, saturating power blast, pulsating massage, gentle rain, water savings, and two mixed modes.
There is a removable restrictor so you can increase your water pressure when you wish to.
The nozzle is self-cleaning and prevents a build-up of calcium.
The icon has a timeless silhouette and is built entirely of brass. The six plungers give you a multitude of sprays, making it adjustable to suit your specific needs.
Features associated with the product:
A solid brass construction.
Six adjustable jets giving you 48 different spray settings.
A 2.5 GPM
It fits standard US plumbing.
Self-cleaning nozzles.
17. WantBa 57Jets Massage Rainfall  Wall Mount Shower Head Powerful
Easy to install, imminently adjustable, and a consistent powerful spray performance, the WantaBa is a hotel-quality shower that ticks all the boxes.
Prominent features include:
A six-inch wide shower head face.
57 jets that ensure broad coverage.
A metal swivel ball that allows for easy adjustment of angles.
A rubber, self-cleaning nozzle.
A consistent, powerful spray even under low water pressure conditions.
A polished chrome finish.
18. Alfi Brand Square Rain Shower Head
Want an ultimate shower like that of a rain? No problem! This square rain shower head from the Alfi Brand is the best rain shower head on the market. What makes it even a better choice is that this wall mount shower head is also the best ceiling shower head for a modern bathroom.
It can be mounted on the wall or ceiling.
This is made of solid stainless steel, which is rust-resistant.
It does not hold any fingerprint when you touch it.
You can angle the shower head using its swivel shower adapter.
It comes with five nozzles for replacements.
Cleaning is very easy. Just use a soft and absorbent cloth to wipe away the lime and calcium build-up on the nozzles.
It has a total of 324 nozzles.
This can be used for commercial, residential, industrial, and business purposes.
It only has one-year warranty that is only exclusive to manufacturing defects.
This is not an adjustable shower head.
Its maximum flow rate is only 1.8 GPM, a bit lower than most shower head with 2.5 GPM flow rate.
19. Moen Velocity Immersion Round Rain Shower Head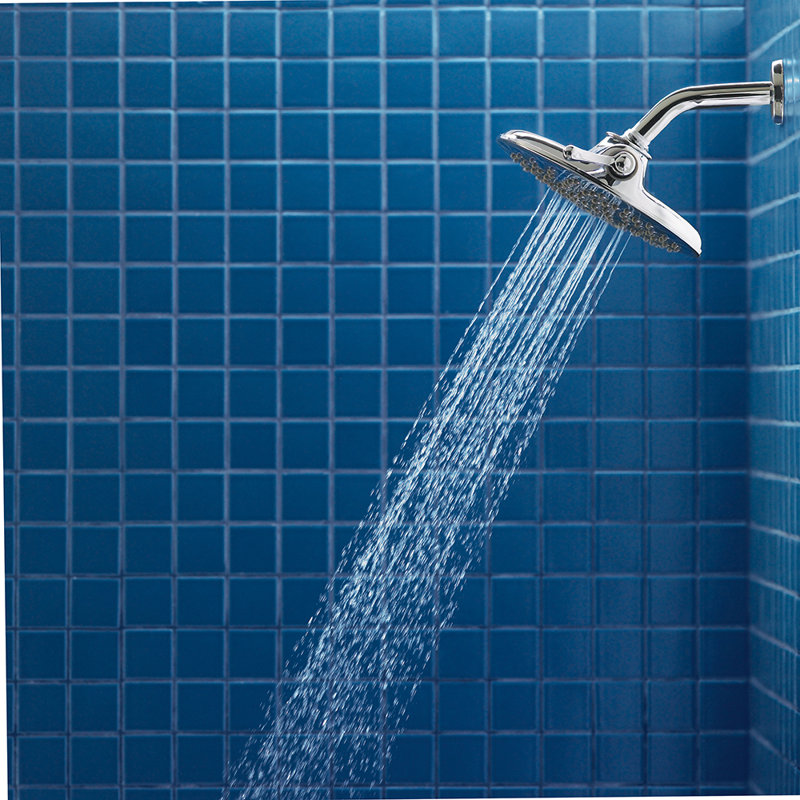 This shower head from Moen features a minimalist design with a simple round shape and metal material. It is a dual shower head, giving you both rain shower and full shower experience.
This is made in the United States of America, so you can rely on its quality construction.
This has a self-pressurizing immersion technology, thus giving you three times more spray power as compared to most rain showers in the market today.
This is a drip-free shower with adjustable spray.
It also has an adjustable water flow, from 2 GPM- 2.5 GPM flow rate.
You can choose from 4 types of finishes: chrome, antique bronze, brushed nickel, and oil rubbed bronze.
This requires an additional part. You need to purchase a shower arm separately.
This is a bit expensive, but not the most expensive on the list.
20. Whitehaus Collection Starburst Shower Head
This luxury shower head from Whitehaus is a rainfall shower head. But what makes it popular among shower head buyers is its stunning starburst shape. If you want a shower head that makes a statement in your bathroom, then this starburst rainfall shower head is the way to go.
This is an adjustable rain shower head.
This is a ceiling shower head, which means you can actually enjoy a shower like a rainfall.
This is available in polished chrome finish and brushed nickel finish.
This is the best shower head for individuals with a unique taste.
The diameter of the shower is 8 inches, perfect for a full shower experience.
It only offers one-year warranty limited to manufacturing defects and workmanship.
The spray is not adjustable. This means you can't adjust the spray pattern of the shower head. This only features a rain spray pattern.
21. American Standard Rainfall Shower Head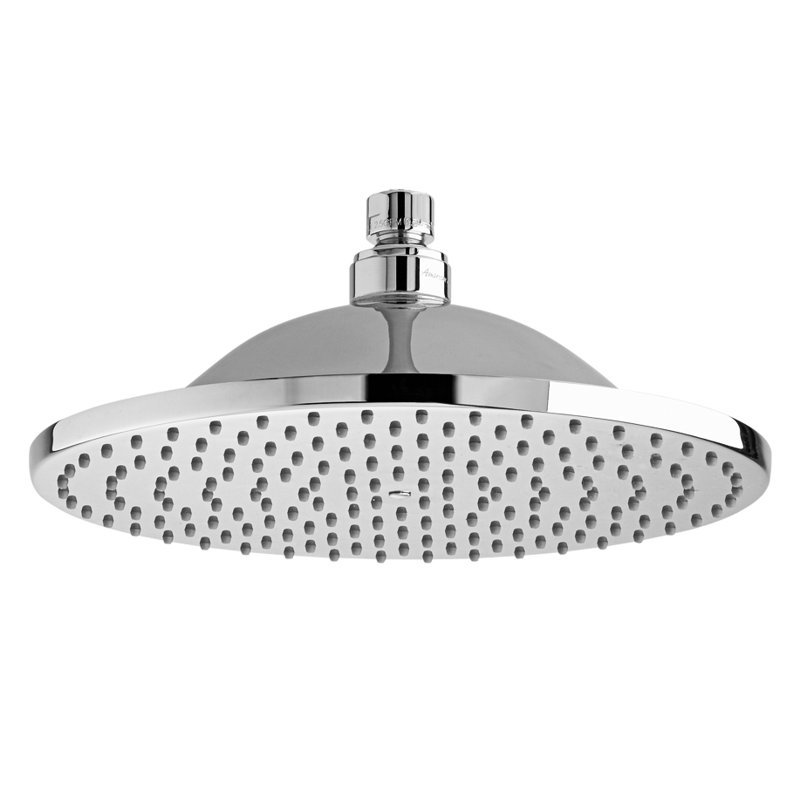 This is another premium ceiling shower head, but this time, it's from American Standard. This ceiling mounted shower head has a 2.5 GPM flow rate with adjustable spray.
The shower head's water flow is adjustable.
It has a round yet minimalistic design, allowing you to integrate it in your home, office, or business establishments.
It produces a rainfall-like spray.
You can get this rain shower head in two finishes: polished chrome and satin nickel.
It only has one function, just a ceiling shower head.
This doesn't come with a hose, so you need to purchase it separately.
22. Vida Alegria Square Rain Shower Head
Do you want a consistent and evenly-distributed rain shower? This square rain shower head from Vida Alegria is one of the best options in the market. It has 144 jet nozzles and has a straightforward design.
It is available in three different finishes, chrome, brushed nickel, oil-rubbed bronze.
It has a 3-year full warranty that is unconditional.
You can easily contact the manufacturer through email and phone anytime.
It jet nozzles are made from a silicone material that is very flexible.
The nozzles are also easy to clean. You just have to flick to de-clog the nozzles.
The customer service is amazing.
The design is very simple, so we do not recommend this for luxury bathroom.
It doesn't come with shower arm extender, so you need to purchase that separately.
23. H2oVibe Rain Showerhead Jet with Wireless Bluetooth Speaker
The H2o Vibe Rain Showerhead has all the perks. You get the benefit of a great, powerful shower while singing to your favorite song or pressing a button to answer a call.
Features that caught our eye include:
An ultra-wide shower head.
Enhanced noise reduction.
A dual microphone.
A push button so you can talk on your phone while in the shower.
Great sound that connects (wirelessly) to a distance of up to 33 feet.
Fast, easy installation.
24. Moen Velocity  2 Function Rainshower Showerhead with Immersion Technology
Incorporating immersion technology, the Moen Velocity shower head provides an innovative system that gives you three times the spraying power than you have with most rain showers.
Features that make this product a great option:
An eight-inch shower head that gives wide coverage.
Increased spray power due to immersion technology.
An adjustable water flow allows easy switching between concentrated and rinse
A shiny chrome finish.
25. Hansgrohe  Raindance Downpour AIR Shower head
The large showerhead adds to your shower experience, while the air enriched droplets give you skin a great cleaning, leaving it soft and radiant.
Special features that need mentioning:
A large 0,375-inch shower head.
A fully chrome-plated spray disc.
The product has a quick cleaning, anti-calcification function minimizing limescale deposits.
Water is enriched by means of air power
A water flow rate of 2.5 GPM.
26. KOHLER Contemporary Round Rain Showerhead
Boasting Kohler excellence, the shower head gives a great spray performance, while the spray face design creates a denser, more uniform spray pattern that gives a consistent coverage.
Features we have to mention include:
A great, low-profile contemporary design.
An optimized spray face that creates a uniform spray pattern.
A spray face and nozzle that resists mineral buildup.
A flow rate of 2,5 gallons of water per minute.
27. Delta  Universal Showering Components, Touch-Clean Raincan Showerhead Assembly
A great statement piece that does its job well.
Features worth mentioning include:
A water flow of 2.5 gallons per minute.
The product boasts a 5-inch spray face.
A showerhead length of 2.5 inches.
Soft rubber spray holes allowing for easy cleaning.
180-degree high-arc spout swivels.
28. Symple Stuff LED Shower Head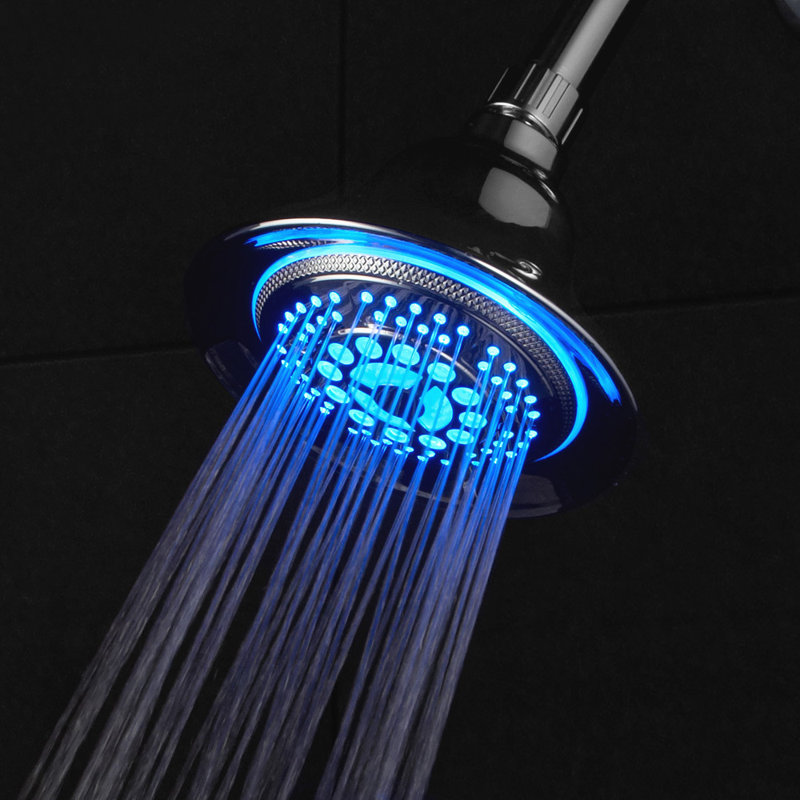 Introducing the most advanced and best LED shower head, Symple Stuff presents this innovative shower head. It has LED lights that change color, depending on the water temperature. Individuals who want a quirky yet fun addition to their bathroom interior must get this LED shower head.
The LED lights of this shower head are powered by running water, no batteries needed!
It has water temperature sensor. This technology is responsible for the LED lights changing of colors.
It has three colors for the LED lights, namely blue, green, and red.
This is an adjustable shower head.
It has a three-zone dial with a click-action lever.
The rub-clean jets make it easy for cleaning. Just wipe with your fingers or use a soft cloth.
It only features one-year limited warranty.
This is manufactured in China, so users looking for the US made shower head is not its target buyers.
The product is finish with chrome, but the material is made of plastic. Hence, this is less durable as compared to a metal shower head.
29. Fitiger 7 Color Changing  Rainfall Square LED Top Shower Head
A fun way to start or end the day, the changing colors while showering relaxing, getting your ready for what lays ahead. The elegant design and finish of the product sees your water transferred into a waterfall of brilliant, ever-changing colors.
A small, built-in electric power generator that turns off when you turn on the water and turns off when you shut the water off.
An operating voltage of less than six volts.
Light activation as soon as the water is turned on.
30. DreamSpa All Chrome Water Temperature Controlled Color Changing 5-Setting LED
Installation of this product is a breeze – it connects to any standard plumbing without the need for any tools. The color settings are dependent on water temperature and do not reflect a color spectrum.
Great product features include:
LED lights that are powered by running water.
Five shower settings: power rain, pulsating massage, hydro-mist, economy rain, and water savings pause.
Easy to clean jets.
The product has a click action lever.
Three color changing water temperature sensor allows LED lights to change color according to heat, i.e. Blue = cool, green = warm, red = hot, and flashing red = temperature is very hot.
The shower head has five different angle settings.
31. Luminex PowerSpa 7 Color 24 Setting LED Shower Head
An overhead and hand-held shower duo with LED lights powered by running water makes this system a winner in all respects.
24 settings
No batteries needed as LED lights are powered by running water.
Seven colors changing automatically.
Both shower heads have an air jet designs that maximizes water pressure
Showerheads have 4-inch faces with four different settings: rain, massage, rain with massage, and water-saving pause mode.
They are both adjustable with regards to different angles.
Hand shower has a five-foot stainless steel hose.
32. HotelSpa 7 setting LED Hand Shower
For those who want the hand shower/fixed shower experience in one, the product can be used as either a hand-held or overhead shower by installing a bracket that allows you to do so. It is a quick and easy installation.
Product features include:
Seven different settings, including power rain, pulsating massage, hydrating mist, mist/massage, rain/mist, economy rain, and pause.
A color changing temperature sensor.
Powered by running water negating the need for batteries.
A 3-zone spiralflo
Rub clean jets.
An angle-adjustable overhead bracket.
Flexible stainless steel
Installation needs no tools.
33. AKDY Dual Shower Head with Thermostat Technology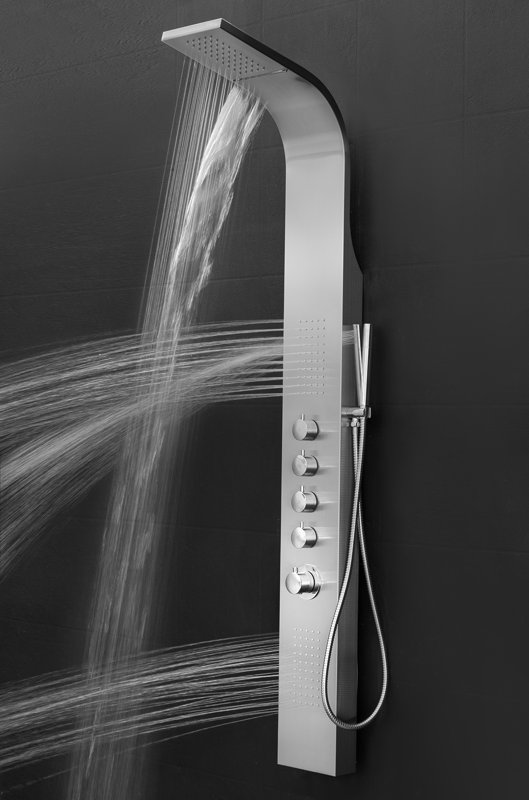 This amazing product from AKDY is the best shower panel that also functions as an overhead shower. This is made of stainless steel, making it last longer.
You can simultaneously use the shower as an overhead and handheld shower.
It includes a shower hose for the handheld shower.
It also comes with a transfer valve in the package.
It has a thermostat technology for a perfect water temperature.
It only has one-year warranty.
The spray is not adjustable.
34. Ello & Allo Six-Function LED Shower Head
This is another LED shower head on the list. This LED shower head from Ello & Allo packs amazing features such as multi-function system, fingerprint-free body and jets, as well as a full 2-year warranty service.
This is an LED shower head that features a temperature control, allowing you to select the ideal water temperature for your shower.
It has different water effects, which you can control through the multi-outlet switch.
This can be used as an overhead shower and a handheld shower.
Its default water temperature is set at 38-degree Celsius, perfect for a lukewarm shower.
The hand shower is plated with PVD, which is a decorative and durable coating.
It comes with 59 inches shower hose for the hand shower.
This has the best shower panels that allow you to use both the overhead and hand shower at the same time.
Contacting the customer support might be difficult.
A few of the LED bulbs are defective.
35. Blue Ocean Aluminum Shower Panel Tower Rainfall Shower Head
This is luxury redefined. The product complies with the ISO-911 standard, and the body of the shower panel is made of a high-quality aluminum alloy. It sports various luxurious features, ensuring a memorable shower experience.
Special features supplied by this state of the art shower include:
Eight different adjustable nozzles.
A rainfall showerhead as well as a handheld shower head.
A tub spout.
Functions that work independently.
Two controllers that control all functions as well as water temperature.
A chrome plated shower hose.
Standard plumbing connections.
Easy to install.
The Different Types of Showers Available
Essentially, we find five main different shower types, each having their own function, pros and cons attached.
Digital Showers
Digital showers are probably the most modern type of shower and gaining in popularity. One of the main reasons for this is that you have absolute control of your heat settings, ensuring a shower at your preferred heat with the minimum of fuss. These showers, depending on the model, also have multiple program functions, adding to their allure.
The pros of digital showers:
They are usually kitted out with an electronic control panel. This allows you to choose your preferred flow pressure and temperature.
Having a choice between shower heads with a LED panel that tells you when your desired shower temperature is reached, certainly adds to its appeal as a luxury shower head.
You get to decide where you want your control panel installed – up to a maximum of thirty feet from your shower.
The cons of digital showers:
Digital showers, as compared to other types of showers, are quite expensive.
They need a specially installed power unit.
The services of an electrician are essential for installation.
Electric Showers
Electric showers are probably the most common choice for most homeowners. It is a system whereby cold water is drawn into the unit and heated by means of running over an element. This means, essentially, that you never run the risk of running out of hot water, as hot water is made on demand.
The pros of electric showers:
You do not run out of hot water, no matter how long you shower or how many people shower.
They work 100% even in the coldest climates.
They are comparatively cheap.
Electric showers are more eco-friendly than other shower types.
The cons of electric showers:
Water flow may be a problem, so you need to consider this before deciding on this option.
If your water flow is very low, the water could heat and burn you.
Mixing water and electricity has a risk of electrification.
Correct installation is of the utmost importance, as all wiring needs grounding while the shower head needs its own circuit.
Mixer Showers
Mixer showers use both hot and cold water, pushing it through the shower head at the same time. You thus need to determine your water temperature manually by manipulating your water outlets.
The pros of mixer showers:
Mixer showers are compatible with gravity fed low-pressure water systems as well as combi broilers.
They are much more powerful than electric showers.
Mixer showers come in a variety of modern designs.
Temperature control is relatively easy.
There is no unsightly water temperature control box.
The cons of mixer showers:
If you have low water pressure, you may need to install a water pump to improve your flow rate.
They may be a little more expensive than electric showers.
Installation of this system needs the services of a qualified plumber.
Power Showers
A power shower is usually used in areas where the water flow is very low. These showers have a built in pump, that forces water through the shower head at a high pressure. They draw and pump out both hot and cold water.
The pros of power showers:
These showers boost the flow rate in areas where the water flow is low.
Hot and cold water are mixed inside the unit.
The cons of power showers:
Power showers are not cost effective.
They can't be used on a combi boiler system.
They are not eco-friendly.
Eco Showers
Eco showers are designed to use less water by means of aeration. Air is aerated when it is pumped through the shower flow.
You save on utility bills due to using less water.
Aeration ensures a decent water output.
They are usually self-cleaning.
They do not increase your water flow.
Actual water temperatures may cool due to the mixing of warm and cold water.
Understanding the Different Types of Shower Heads
Besides the type of shower, your showerhead plays an important role in your bathroom experience, and the choices are many and varied, as are your choices of shower doors or when installing your shower in the best bathtubs around. And while we are at it, let's not forget the myriad shower enclosures available to pick from. Your bathroom experience is the start, or end, of a long day. Going that extra mile to ensure it is a pleasurable one is something you owe to yourself.
A single spray shower head is most probably your most basic type of shower head available on the market. The setting is fixed, and not adjustable.
A water-wise option, the best low flow shower heads uses two gallons or less water per minute while saving on energy as well. Although a fixed spray most of the time, you do get an aerating option.
High-Pressure Shower Head
A poor shower experience is usually due to a low water flow. The best high-pressure shower heads on the market maximize your water flow, giving you a power spray and great showering experience.
Whereas conventional showerheads are wall-mounted or hand-held, a ceiling shower head is mounted directly overhead. This allows for a wider coverage, with the advantage that you do not need to adjust your body in order to get maximum coverage. It also allows for a more rain-like spray and feel to your showering experience.
The best rain shower heads are designed in such a way that they give you the experience of showering in the rain. Many have multiple settings. This allows you to choose one that suits you, ranging from a light drizzle to a more constant, steady downpour. These showerheads are available is many different shapes and made of a variety of materials.
Multiple or Dual Shower Heads
Multiple or dual shower heads is a system whereby two (or more) shower heads are positioned at different angles, giving you an invigorating blast of water from different sides. These systems are perfect for when showering with someone else, or when you want a perfect home spa experience.
A sliding bar shower head is perfect for when you have a walk in tub. The shower head is mounted on a bar, allowing you to adjust the height according to your specific needs. It is thus the perfect solution for those who are in a wheelchair or the elderly who prefer to sit on a chair while bathing due to limited movement ability.
A handheld shower head attaches to your shower or bath taps via a hose. It is perfect for 'spot' cleaning, as a shower (getting to all the places that need getting to), or for use with a baby bathtub.
LED shower heads have many of the same characteristics as other showers, i.e. you could opt for a rain shower head or even a dual shower head if you wish. What makes them unique, however, is that they have LEDs built into them. When water moves over a little turbine within the shower head, the water temperature actually makes the LEDs change color, showing a different color for cold, hot, or moderate water temperatures. Other LED showerheads, however, display a variety of different colors, a phenomenon known as mood lighting. So, deciding on which option appeals to you the most will help you pick the best LED shower head for your needs.
A Bluetooth shower head has a Bluetooth and speaker fitted into the shower head. This gives you hours of showering pleasure while listening to your favorite music at the same time.
You might wonder whether you need a shower filter. Well, strictly speaking, you do not, but it has a number of benefits. For example, regular tap water is filled with chemicals, e.g. chlorine and fluoride. The thing is, many people are allergic to some of the chemicals found in tap water, yet are constantly bombarded with it in their drinking water. Of course, you can opt for bottled water, but you are still exposed when taking a bath or a shower.
A shower filter, on the other hand, removes the problem safely and may be a great option for your shower head.
Shower Head Buyers' Guide
While buying a shower is subjective, depending on what it is you want, there are a couple of things one needs to keep in mind before purchasing:
1. Space – what is your space like? Do you have a designated shower enclosure, or is your shower in the bathtub, for example?
2. What is each model's water flow output?
3. Does the model you have in mind have the settings you want?
4. Price does not equate quality – a cheaper model may actually be a much sturdier product, so do your homework.
5. Do you mind paying someone for installation, or are you looking for a quick, do it yourself shower?
What are the Advantages of a Shower Versus a Bathtub?
While there is nothing that beats a long soak in the bathtub at the end of the day to soothe aching muscles and relax, a shower does tick certain boxes that a bath just cannot do.
The advantages of a shower:
In today's homes, space is a factor, or at least, lack of it. A standard bathtub takes up a much larger floor space than a standard shower. This allows you to fit in so much more into your bathroom. Additionally, doing away with a soaking tub frees up space that allows you to fit in a spa-like shower or even a steam shower.
2. Energy efficiency and water consumption
With the cost of utilities rising, taking a shower compared to taking a bath is worthwhile when it comes to your pocket. Taking a shower uses much less water and consumes much less electricity than taking a bath. Of course, if you like standing under a shower, letting the water flow over you for an extended period, a bath might be a better option, although the water tends to cool down after a while.
3. It gives easy accessibility
Climbing into, or out of, a bathtub tends to get more difficult as we get older and become less mobile. It is also difficult for those who have limited mobility due to illness or a health condition. In such cases, a shower is a better option as it is easy to access while adding rails to hold onto is relatively easy to do. It also allows less mobile people more independence, as they are easier able to enter or leave the shower cubicle while they may need help when a bathtub is concerned.
You can, of course, decide to have the best of two worlds and opt for a handheld showerhead. Most of the best handheld showerheads allow you to fix them to the wall, allowing you to take a shower while standing in a bathtub.
The negative aspect of a shower:
1. It may influence your home's resale value
While most homebuyers love having the convenience of a shower in their prospective new home, they do tend to also want a bathtub. It is thus best to ensure that your home has at least one bathtub to overcome this problem at the time of resale.
2. Depending on certain factors, taking a bath may be cheaper
There are two things that influence the water usage of a shower. These are the duration of the shower, and your water flow rate. Although most showerheads are compliant with the standards set by the US regarding flow rate, some showerheads to not comply and exceed the maximum limit. This means, depending on how long you shower, you may use much more water taking a shower than you would taking a bath.
Initiatives to promote energy conservation have also played a role in determining shower flow rates. This was an attempt to reduce the use of electricity and natural gas when heating water for washing purposes. Exceeding a maximum of 8.2 minutes per shower, and using non-compliant showerheads, increases your consumption of either electricity or gas, causing a marked increase in your utility bill.
In such cases, and taking into consideration that modern bathtubs have a tendency to be smaller and shallower than their predecessors, taking a shallow bath may just be a more viable option than taking a shower.
There is only one negative aspect to installing a shower, and that is when it comes to the resale value of your home. While most homebuyers love having the convenience of a shower in their prospective new home, they do tend to also want a bathtub. It is thus best to ensure that your home has at least one bathtub to overcome this problem at the time of resale.
How to Clean Your Showerhead
A showerhead often stops spraying correctly. This is usually due to a buildup of minerals in the holes. Cleaning these holes out, however, usually solves the problem, but most of us find that cleaning out each hole individually takes too much time.
Clean your shower head easily using the following method:
Slip a rubber band over the shower head
Fill a plastic bag large enough to go over your shower head with vinegar
Slip the plastic bag over the shower head and secure with the rubber band
Leave for about an hour
Remove the plastic bag and rubber band
Turn on the shower to see whether the problem is solved
Buff the shower head with a clean cloth for a beautiful shine
Sometimes, however, you need a little extra to get the job done.
Disconnect the shower head
Turn the shower head around under running water and try to get it as clean as possible
If there are still mineral deposits, scrub with an old toothbrush and vinegar
For really persistent deposits, soak the shower head in vinegar overnight and repeat the scrubbing process
You know how a regular shower cleaner is harsh on your hands? Make your own! Mix equal parts dishwashing detergent and warm vinegar in a bottle. Then spray on your shower's surface area, wait a minute or two, and wipe off. It gets rid of soap scum quickly and effectively1
Read more: 21 Easy Tips On How To Have A Sparkling Clean Bathroom
How to Improve the Water Pressure of Your Shower Head?
Even if your bathroom faucets have great water pressure it does not necessarily mean that your shower head has the same. Water usually needs to travel upwards quite a distance to reach the shower head, and this can make the water pressure much weaker.
There are, however, a few things you can either check or do to make your showering experience a better one!
1. Check your water volume
Check the gate valve feeding into your property. Is it entirely open? If not, open it, and see the difference in water pressure!
2. Is your showerhead clean?
In many cases, lower water pressure is due to a dirty, clogged shower head. Follow the directions to ensure a clean shower head.
3. Get rid of the flow restrictor
Many shower heads have a flow restrictor that is built into them. This is usually a small white plastic disc with holes in it. Open your shower head and remove the flow restrictor. This should result in a much better flow of water while showering.
4. Consider a different shower head
An amplifying shower head is perfect for those living in areas with constant low water pressure. This type of shower head conserves water while increasing water velocity, resulting in a perfect, high-pressure showering experience.
Shower Head FAQs
What functionality could a smart shower head provide that a normal shower head does not?
A smart shower head is designed to conserve water and reduce electricity consumption while giving you a great showering experience.
How do LED shower heads work?
And LED shower head looks like a normal shower but has LED lights that light up when you use the shower. The color usually turns blue when the water gets too cold, or red when too hot. This type of shower does not have a battery. Instead, it has a little dynamo engine that is powered by the flow of the water that causes the lights to go on.
What is the difference between taking a shower and taking a bath?
The obvious difference is that a bath has you sitting in water while a shower has you standing under running water. When bathing, any dirt coming from your body tends to float in the water around you. Showering, on the other hand, has all dirt from your body running off you and down into the drain.
Conclusion
At the end of the day, the best shower head for you needs to be the one that ticks all your personal boxes. However, for us, the clear winner was in the luxury department, i.e. the ELLO&ALLO Stainless Steel Shower Panel Tower System LED Rainfall Waterfall Shower Head 5-Function Faucet Rain Massage System. It checks every single box and a few more. Now, the only question is, how do I get to incorporate a designated shower space in a tiny, compact bathroom to install it?