Basically, a shower pan is created to catch the water used when taking a shower— that may percolate through the grout and tiles— and then lead the water to the drains. It can be made out either of vinyl or lead that is formed to resemble a pan and placed on the tile floor.
Having a shower pan in the bathroom will help reduce the time for cleaning the shower area every after use. Hence, the product's maintenance is one of the characteristics to be considered when choosing the best shower pan.
How to Choose the Right Shower Pan
Finding the best shower pan can be confusing, as there are a lot of brands to choose from— all of which claim to offer the best features. As a consumer, it is your responsibility to do your research on the specifications or qualities to look for in a shower pan before you even go shopping. This is not only to make the most of your purchase but also because the shower pan serves as the foundation of a shower.
Carefully choosing the best shower base will help reduce the chances of getting the common problems in a shower such as leaking, molds, and high-cost maintenance. If the problem is a huge and serious one, this could even result in a renovation of the entire bathroom area, thus doubling your cost.
If you want the best shower base, consider these 3 things when buying a shower pan:
1.  Material
While we do not recommend choosing a shower pan based on its cheap price, we also don't want you to spend too much on this bathroom amenity. The initial purchase price of most shower amenities, such as shower door and shower pan, depends on the quality of the material.
For instance, acrylic shower base is preferred by many because of its quality and value as compared to fiberglass shower base. Acrylic is known to last longer, easy to clean, and cost less in terms of repairs and maintenance.
Fiberglass, on the other hand, has a cheaper initial price, but they tend to get defects easier, thus causing you to shell out more cash for repair and maintenance.
2.  Style
If remodeling the bathroom is the reason why you opt to look for a shower pan, then you are already determined to change the style of the shower area. A stylish shower comes with unique colors and shape. Hence, expect that finding an elegant style on a mass-produced and cheap fiberglass pan is nearly impossible. As mentioned earlier, most fiberglass shower pans are available at a cheaper price. Thus, their style and design are likely to be average.
However, we have listed down some amazing ideas to help achieve a pleasant-looking shower without breaking your budget. Check them out below!
Choose a shower pan with vibrant color/s.
Shower pans usually come in various colors, so you can already get rid of choosing dull white or beige types. Play with colors to brighten up the shower area.
Opt for a shaped acrylic shower pan.
Some manufacturers offer shower bases in custom shapes. This allows you to choose the most efficient shape for your bathroom space while adding your personal taste to it.
For instance, a curve acrylic shower base is a cost-effective way to give your bathroom a stylish look. Don't forget to pair it with a contemporary curve shower enclosures to complete the design.
Go original with a custom-made tile shower base.
Aside from colors and shapes, you can also enhance the look of your shower pan by getting customized tiles. If you want the classic look, get the brick style tiles. Others also consider adding creativity and resourcefulness like using old coins on the tiles. There are actually a lot of DIY ideas you can find online (click here).
Designing the shower pan together with the walls for enclosures will also save your money intended for buying stylish shower curtains. Bring out your creative side while trying to achieve a stylish shower kit without spending that much.
3.  Cleaning and Maintenance
Cleaning the shower should also be considered when choosing the right shower pan. If you can't afford to pay a shower cleaner service regularly, consider a grout-free shower floor. You can also make a choice between cultured marble, acrylic, or a solid surface.
Top 7 Shower Pans— Full Product Reviews
If you are still struggling to find the right shower pan for your bathroom, here are 7 shower pan reviews to help you narrow down your list:
1.  DreamLine SlimLine H Center Drain Single Threshold Shower Base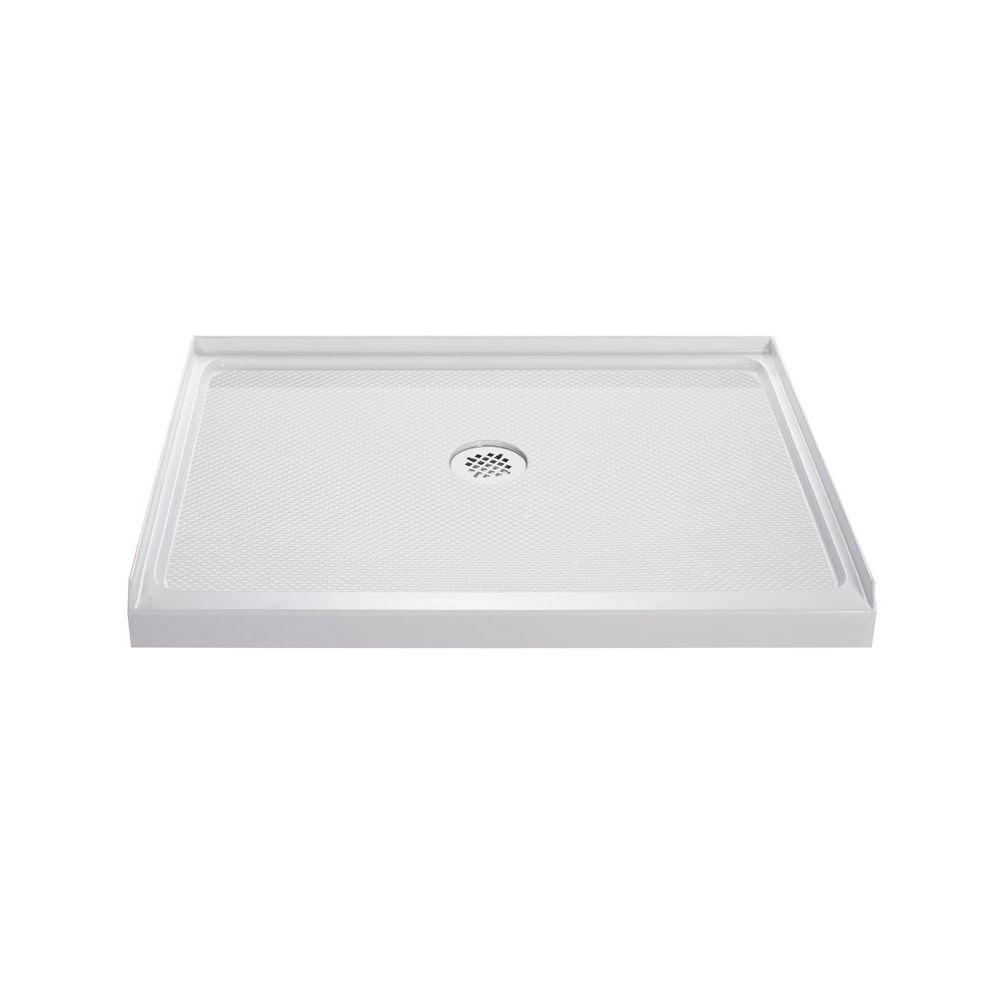 This shower pan offers perquisite high-gloss acrylic that is augmented with fiberglass for more durability. It also comes in a modern, low-profile design. With a textured floor surface, the safety of everyone who enters the bathroom is guaranteed. It is also available in different colors to compliment the style of your bathroom.
Construction of this product eliminates the chances of flexing at the base, allowing a quick and easy installation.
Product Highlights:
Easy to install
Slip-resistant for the safety of the users
Easy maintenance
Heavy-duty
Multiple colors available
2.  Ove Decors SB36 36″ x 36″ Shower Base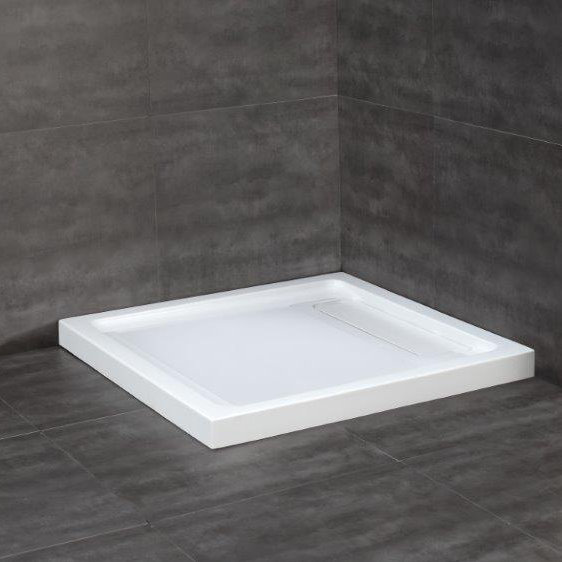 This square-shaped product is made from acrylic and has a side hidden drain to avoid the chances of leaking. With a remarkable clean look and a spa quality surface, this product gives your bathroom a modern day look.
Product Highlights:
Slip-resistant Surface
Stylish side hidden drain trench
Made with flanges for glass panel, tile, and acrylic walls
3-inches high for an easy access
3.  Kohler Single Threshold Left-Hand Drain Shower Base
This shower base brings out a sleek style for your bathroom with a clear and contemporary view of the Groove shower base. This rectangular base provides a low threshold design intended for easy access, presenting a recessed left-hand drain. For a cleaner and finish look, throw in a removable teak or aluminium cover over the drain.
Product Highlights:
Made of durable acrylic
Built with a low-threshold design for an easy egress
Provides a recessed left-drain
Has individual threshold for alcove or three-wall installation
4.  Tile Redi 1-Person Curb Single Threshold Shower Base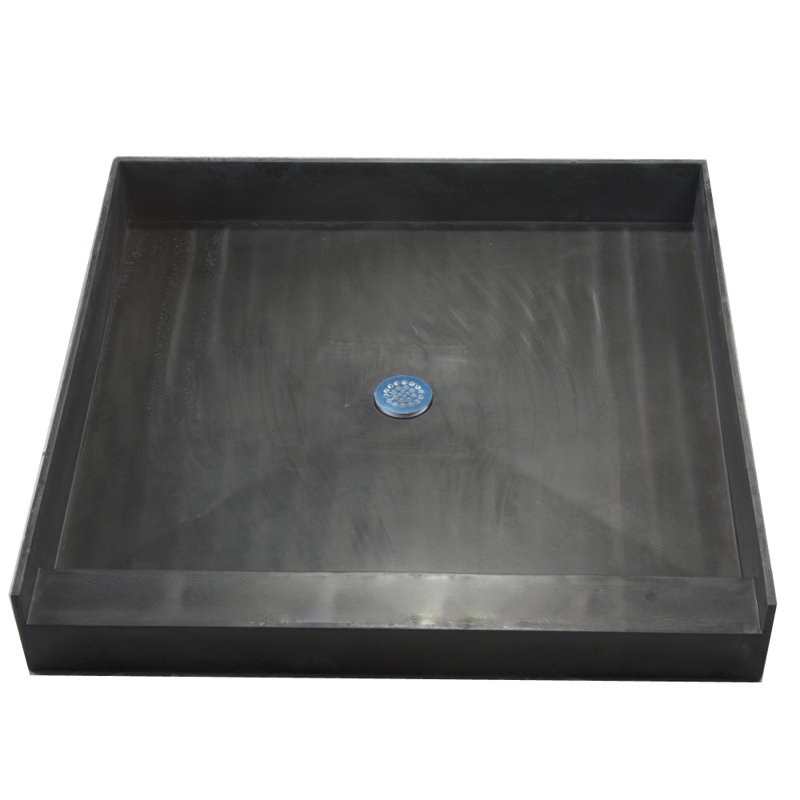 This square shower base is integrated with a 2-inch Polyvinyl Chloride (PVC) drain. It is also adaptable to cast iron and acrylonitrile butadiene styrene (ABS). With a structural ribbing combined curve, the tile of this shower base is set directly on the shower base surface.
Product Highlights:
Leakproof
Mold-free
No hot mopping or mud setting required
Easy to install
Rigid shower base
No further waterproofing
5.  Swanstone R-3636-010 Single Threshold Shower Floor– White Finish
This shower base is made from Veritek material without a surface coating to avoid chances of acquiring scratches or even cracks. This compression-molded item is highly durable, non-porous, and will not generate molds or mildew. It also includes a new Fit-Flo molded in-drain.
Product Highlights:
Affordable
Easy maintenance
Wear-resistant
Slip-resistant bottom
6.  Bestbath 30″ x 30″ Step-in Shower Pan in White

This one-piece shower base is made from reinforced gelcoat and fiberglass for a guaranteed durability. Built with an integral level or wood-cored supported bottom, it also offers exceptional strength.
Product Highlights:
High-quality scratch and stain resistant
Slip-resistant textured floor
Easy to install
Easy to clean
No mud setting required
7.  American Standard 36WLD100 Fiat Cascade Double Threshold Shower Base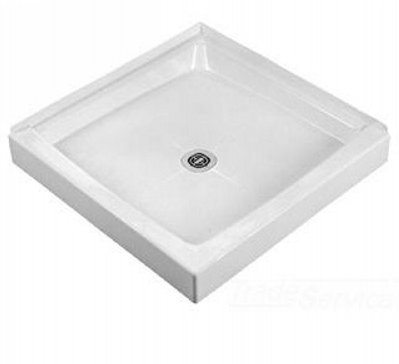 This Fiat collection shower base comes with an integral molded drain and a plastic strainer. Since it is a double threshold, it is perfect for corner showers that require a center drain. A protective coating is also included to each of the receptors.
Product Highlights:
Slip-resistant surface
Easy to install
The Verdict
A smart buyer can no longer be swayed by a cheap price nor a stunning design of the shower pan alone. Instead, quality and performance are the top considerations. While the rich wouldn't mind spending a lot to get a luxury shower experience, the opposite can be said for average people.
Hence, just like in choosing your shower head, bathtub, shower door, and other bathroom accessories, it's important that you have the know-how of the best qualities to look for in a shower pan. Hopefully, our guide and reviews above have helped you in the decision making.
Overall, after reviewing all the eight shower pans on the list, our top pick for the best shower pan is the Kohler Single Threshold Left-Hand Drain Shower Base. Aside from the stylish look of the shower pan, which is perfect for a modern bathroom, it also provides an easy access to the user with its low threshold design. This makes it user-friendly for people with disability.
In addition, this shower base is made from acrylic material, ensuring you of its durability and low-cost maintenance. It may cost a bit higher as compared to other brands on the list, but the features and the quality of the product are definitely worth it.
<strong>Read more:</strong>